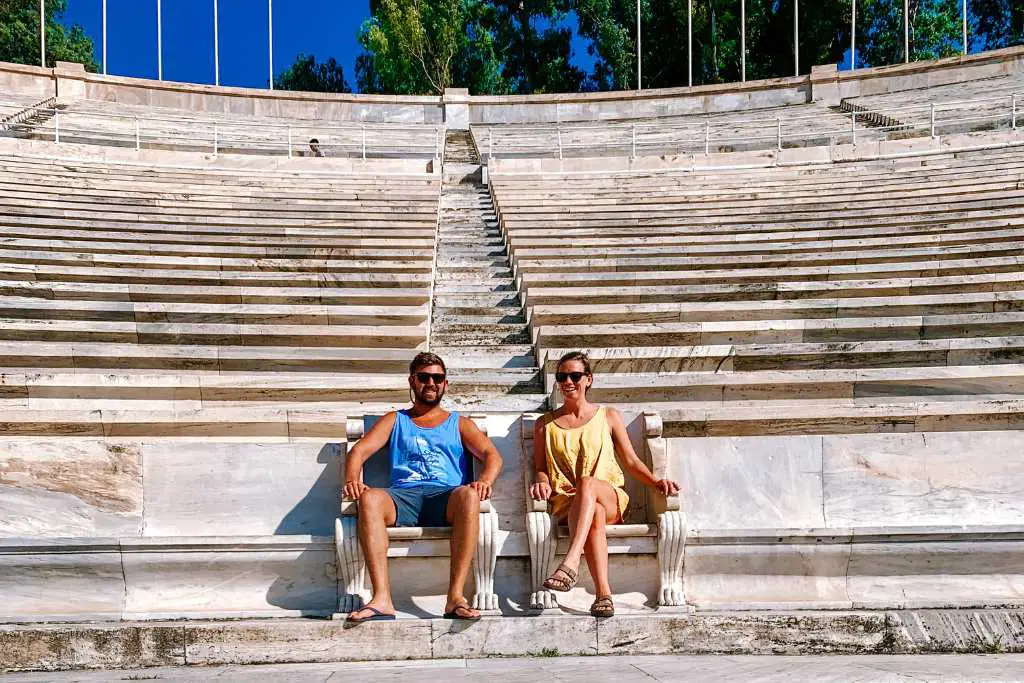 One of the greatest things about travel is how truly accessible it is to any budget. Traveling on a budget absolutely does not need to take away from your overall experience and actually, we believe that budget travel can add to the experience! It's amazing how much you can save when you really put your mind to it and cut down on extra expenses. We became experts at traveling cheaper on our six month trip around the world. Even nowadays when we travel and aren't on such a small budget, we still implement these ways to travel cheaper because some are so practical that it just makes sense!
This guide on how to travel cheaper is broken down into 7 different resource sections. You'll be surprised how simple some of these are and really will not impact your overall travel experience. Ultimately remember that research is your best friend. If you take the time to learn the tips and tricks for different destinations, you will be prepared to save during your travels!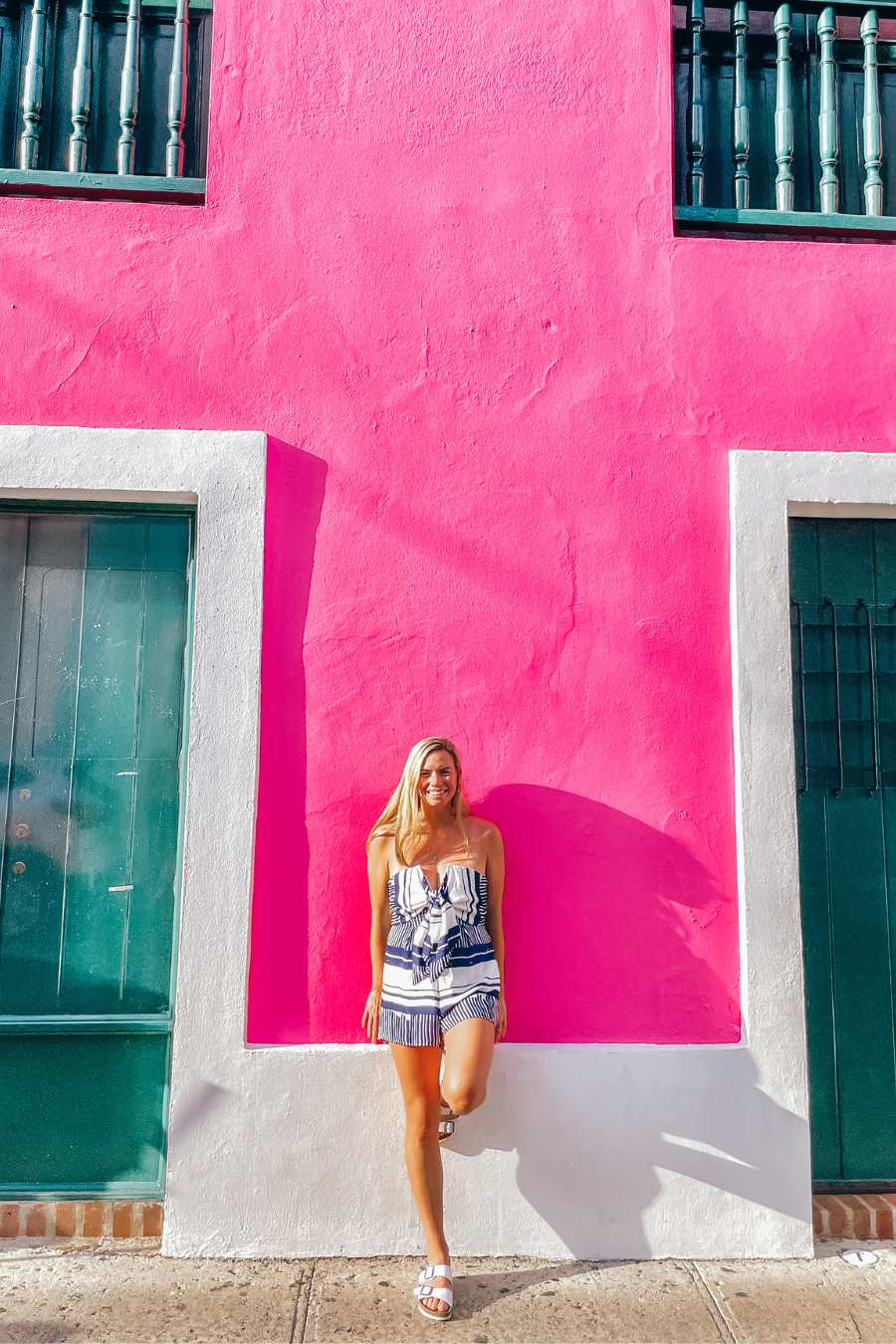 How to travel cheaper: Planning
1. Be flexible with your destinations and dates
Depending on your work and home situation, you can save tons of money on travel by being flexible with your travel dates. Most of the time there is no rhyme or reason why it is cheaper to fly on some dates than others. Especially if you book your trip early, simply adjust your exact timing and book the cheaper travel dates!
We use a combination of Google flights, Skyscanner and Hopper to gauge flight costs. Hopper will tell you what the average flight costs will be to a destination, so you know if you are getting a good deal!
We also love subscribing to Dollar Flight Club and Scott's Cheap Flights. These companies basically search the internet for cheap flights! If you are flexible with your travel, you may end up traveling somewhere really cool for super cheap. Dollar Flight Club is how we ended up going on our honeymoon to Ireland for $300 roundtrip!
2. Travel in the off-season
Every country has their popular time of the year to visit and the reality is that it is probably just as fabulous during the off-season, just cheaper! We backpacked through Asia at the beginning of the rainy season and the weather rarely impacted us. We know that we saved on housing costs during this time compared to the same housing options in-season.
3. Get travel insurance
World Nomads makes travel insurance so affordable and it is 100% worth the investment. They will cover thousands of dollars of costs depending on your situation if something happens. Get the insurance!
4. Travel to budget friendly destinations
If you are traveling on a budget, be practical about your destinations. There are tons of countries and cities to explore that are just simply cheaper to travel to than others. We ended up cutting out Switzerland on our backpacking trip around the world because it would have made a huge dent in our overall budget. We will go another time when funds aren't as tight!
Here are some of our favorite budget friendly countries:
Vietnam
Poland
Czech Republic
Italy
Croatia
5. Plan your daily budget
Knowing your budget is essential to traveling cheaper! Learn here how to plan your travel budget. Trail Wallet is the best app for keeping your budget in check!
6. Book early
Last minute travel is typically the most expensive to book! Do your research early and plan your trip early.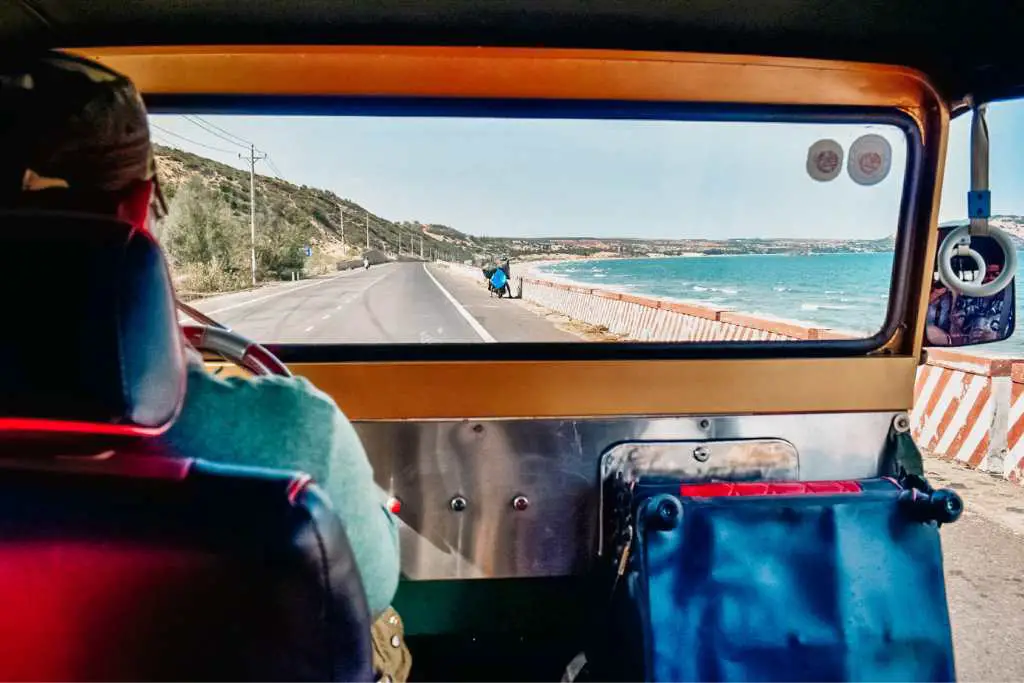 How to travel cheaper: Transportation
7. Fly during the week
Similar to the point above about being flexible, cheaper flight options will typically be during the week. Flight costs can be a big chunk of your travel budget, so save here when you can!
8. Use public transportation
What's a better way to learn a city than mastering public transportation? You got this! Not only will you become a more experienced traveler but it will usually save you tons!
9. Take overnight transportation for long travel days
This is a tough one, but it is a true way to travel cheaper. Overnight transportation is typically cheaper than standard hours and on top of that, you save on a night of housing. Budget travel is not always comfortable!
10. Research different transportation options between cities
Rome2Rio is the best website to see all of your transportation options! There are typically different priced options between train, plane or bus to get to a new city. We took a 7 hour overnight bus from Vienna to Poland instead of a quick flight because it saved us a couple hundred dollars. Figure out the cheapest way to travel between destinations.
11. Research different airport options
Make sure to check all of the nearby airport options for the city you are flying to! We have been to Florence multiple times and rarely fly into the actual Florence airport because it is so small. Both Milan and Rome are bigger airports, which usually means cheaper flights. They are both an easy train ride to Florence so we end up saving on the roundtrip travel.
12. Download the local transportation apps
While Uber or Lyft do exist in a lot of places, they are not the only rideshare apps around the world. There are others like FreeNow (Europe) and Grab (Asia) that are very important to download. There may also be an app specifically for public transportation.
Research what the transportation options are before you go to a new city and make sure you have them ready on your phone!
Use code JLJ10 for 10% off all eSIM purchases.
13. Carpool (safely!)
Carpooling is a great way to save some money while traveling. Did you stay at a hostel and there are other travelers going to the airport at the same time? Split the cab! Now safety first, do not get in the car with a complete stranger from the airport. Never sacrifice safety for your budget!
14. Walk when you can
Walking is the best form of free transportation and a great way to explore a new city.
15. Avoid transportation when there is a surge
This is not something that you think about until you are in that situation where the uber to the airport is 3x the costs. If you can, avoid needing a ride at rush hour or right when the bars close.
When we were living in San Juan, all of the bars closed at 12am due to the pandemic. We made the effort to leave the bar 15 minutes early to grab a car before the rush. A typical uber was $10-$15 to get home and with the surge it was $50-$60. This saved us tons for a small effort! Another example is getting a car to the airport. If you have a late evening flight, consider getting to the airport on the earlier side to beat rush hour and avoid the surge.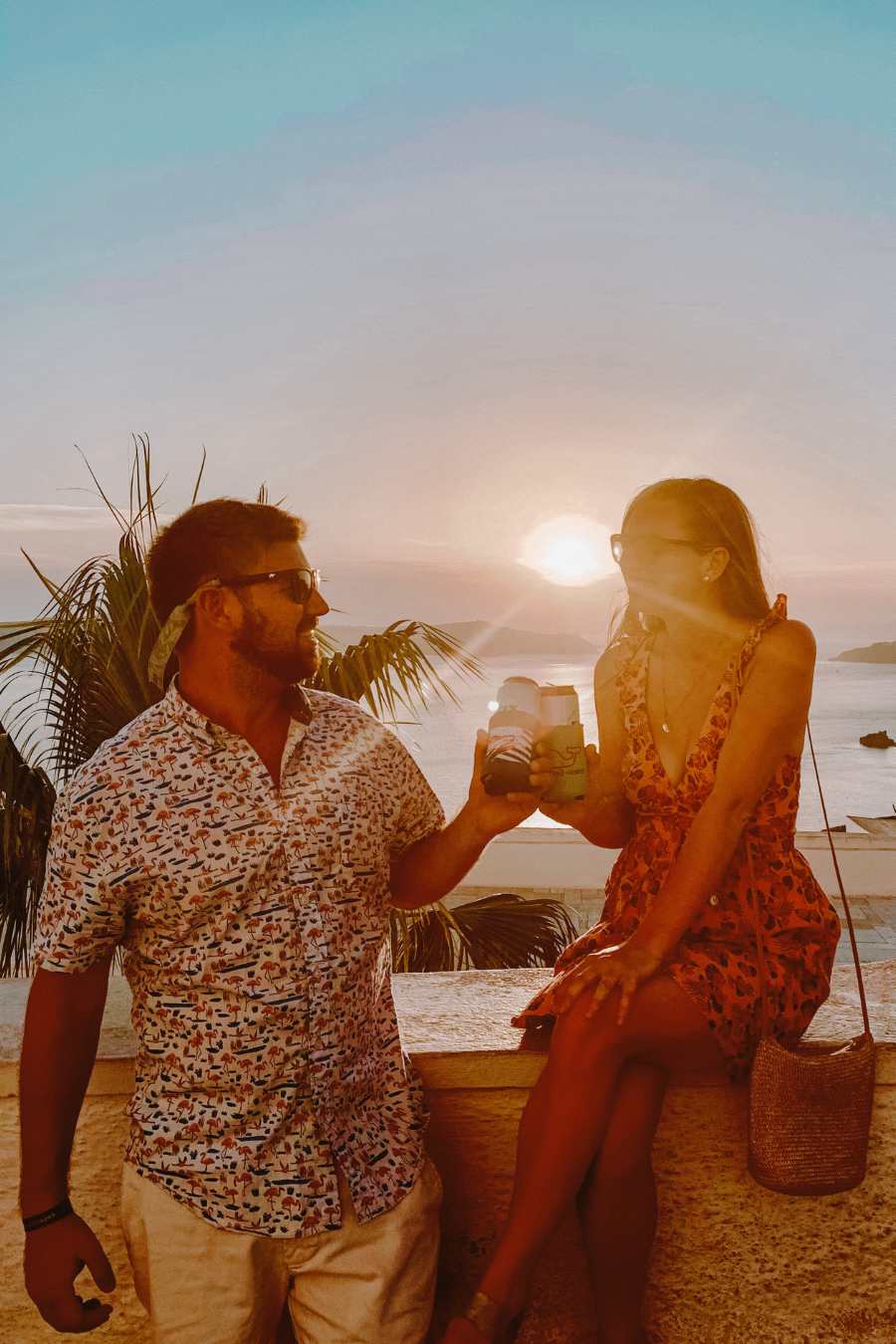 How to travel cheaper: Dining and drinking
Food and drink costs can really make or break a travel budget! Luckily there are tons of ways to experience a city without spending your money on expensive dinners or fancy cocktails. These are a few of our favorite ways to cut down our food and alcohol costs while traveling!
16. Limit your restaurant meals
There is really no need to dine out every meal when you are traveling. If dining out is important to your travel experience, choose a few restaurants in each city that are a must and make those your only meals out!
For your other meals, go to the local grocery store. We used to eat breakfast in Europe for ~$3 each. We would grab a croissant, piece of fruit and a coffee – it's certainly not gourmet, but it is cheap and sets you up for the day! If your housing has a fridge and kitchen, grab supplies to cook or make sandwiches. This will end up saving you so much money!
17. Research local happy hours
Happy hour is a budget traveler's dream! This is the best way to treat yourself and try a bar or restaurant that you normally would not be able to fit in your budget. We have happy hour hopped through cities by starting at the earliest one and ending up at the latest one – make it an event!
18. Check the tipping standards in each country
Each country has a different standard on tipping so it is important to check the rules or ask the locals what is expected. Just as much as you don't want to undertip, you also don't want to overtip! Australia is a great example of this. It is very uncommon to tip in Australia because the servers and bartenders are paid a full salary vs dependent on tips. This is an opportunity to save some money while traveling.
Again, we do not endorse being a cheap tipper. Even if you are traveling on a budget, always take care of your servers and bartenders!
19. Drink in public respectfully (if it is allowed!)
This is what we call the SM Sports Bar (Seth and Maddy Sports bar). It is located anywhere in the world and also budget friendly! This is the easiest way to limit your bar tabs. If it is permitted in the country you are visiting, grab some beers or wine from the grocery store and happy hour in the local park! The SM Sports bar has been to some cool places like watching a sunset in Santorini, under windmills in Belgium and of course under the sparkling eiffel tower.
20. Ask the locals where they eat
Most likely the locals are not dining at the most expensive restaurants. Ask your bartender or your airbnb host where the locals go to eat! This will give you a budget dining option and also a true local experience. Our surf instructor in Puerto Rico gave us some of the best recommendations that we did not find on the internet!
21. Always keep healthy snacks on hand
Grab some healthy snacks from the grocery store to help manage your hunger and keep them with you. This will limit your urge to buy a meal out and hold you over until you are back at your housing to cook your meal!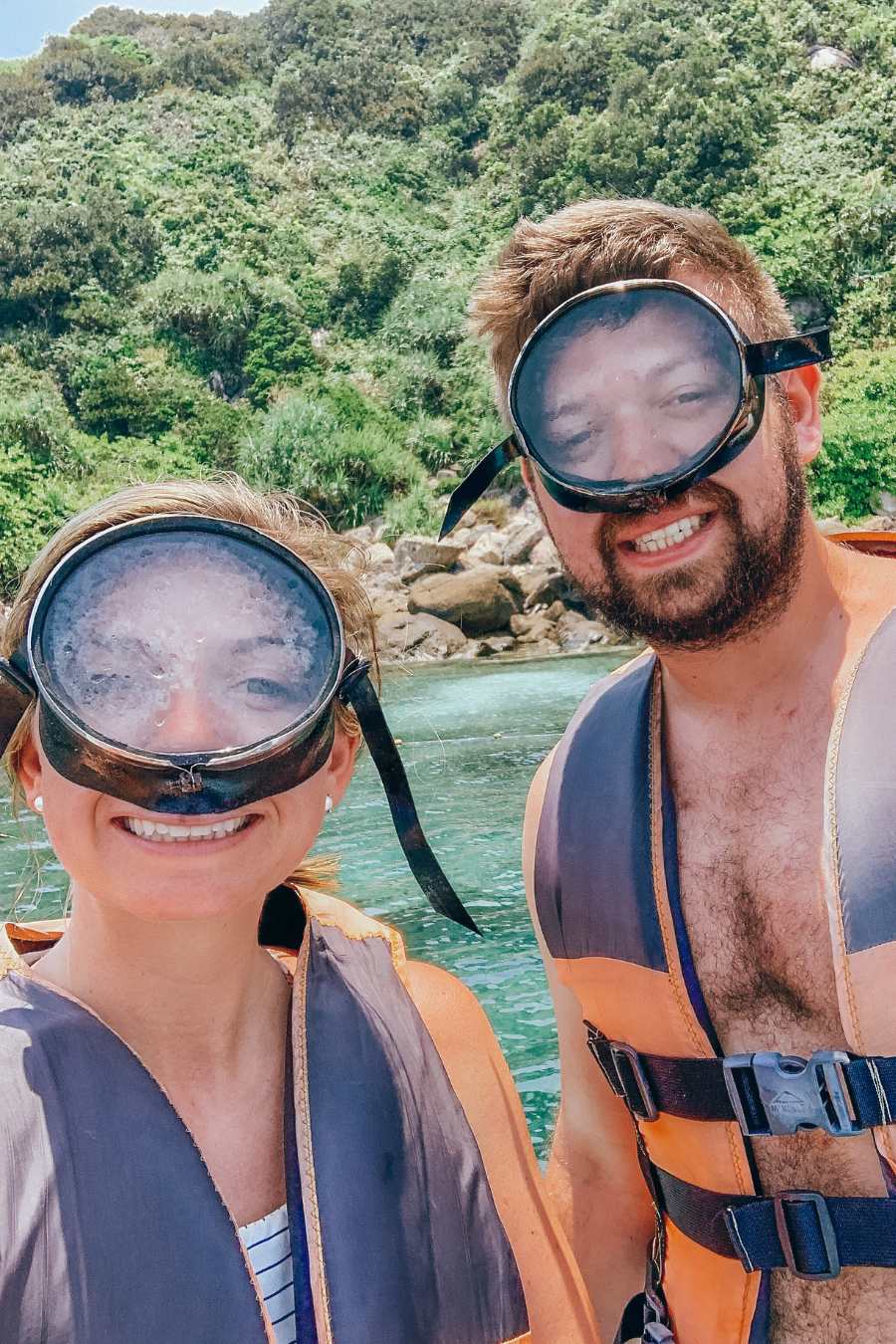 How to travel cheaper: Tours and experiences
Tours and experiences are another way to quickly work through your travel budget. Here are a few workarounds to still experience all of the culture while traveling on a budget.
22. Plan your own tours instead of hiring a company
This is actually very doable with enough research, especially for walking tours! One of the best things about the travel community is the amount of free resources out there. Research if this is doable and do a tour on your own time for free!
We read multiple blogs about the Game Of Thrones locations in Dubrovnik, Croatia and did it all ourselves. We did the same for the Sound of Music Tour in Salzburg, we rented bikes and led our own tour to all of the different sites.
23. Research free activities in each city
There are tons of free activities in every city! Check out all of the free parks and museums. When in doubt, people watching in a park is a great way to spend an afternoon.
24. Visit museums when they are free
Many cities in Europe offer their museums for free on the first Sunday of every month. Take advantage of days like this to visit those pricey museums!
25. Research student discounts
If you are a student, many museums and activities will offer student discounts. This is a great way to travel cheaper!
26. Skip the trinkets
Many travelers love to pick up a trinket from each city they visit. If you are traveling on a budget, consider skipping this tradition and remember your travels through pictures and journals! One "trinket" we like to purchase in each city is a postcard. This does not take up any space in your bag and is usually around $1.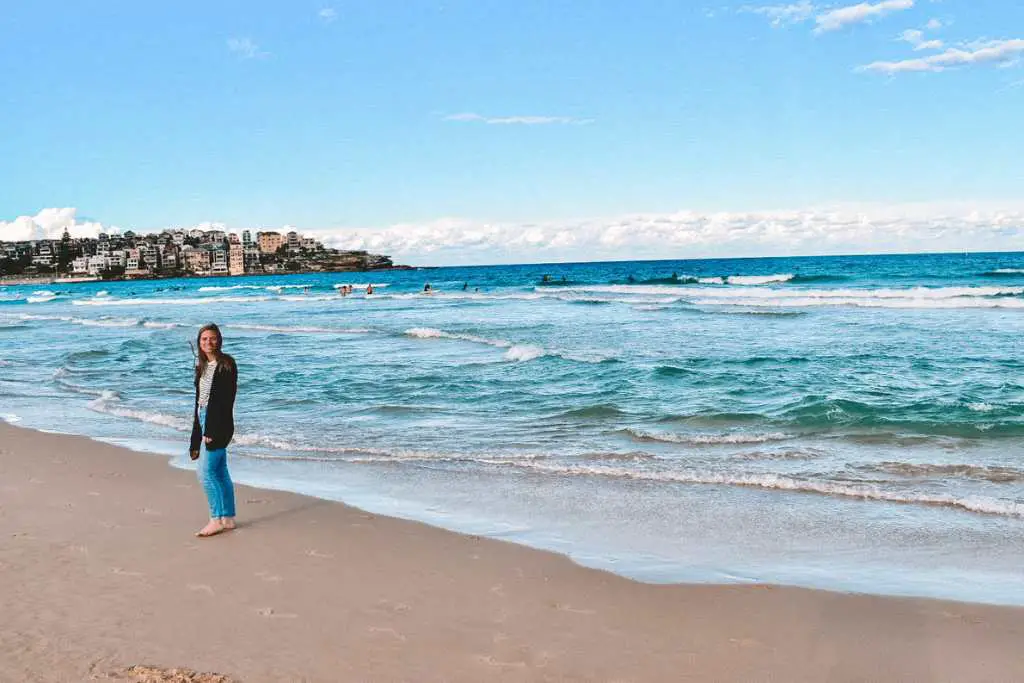 How to travel cheaper: Housing
Housing expenses can really add to your overall travel budget. Here are some ways to travel cheaper through your housing choices.
27. Visit friends
The best kind of housing is free housing with friends! If you are truly traveling on a budget and looking for a getaway, consider visiting a friend to save money on housing. Depending on your location, this could save you $500+!
28. Compare all of your housing options
Each city varies with what housing is cheapest depending on your group size. Airbnb will be your best option in many destinations in Europe and the US if you are traveling with a few friends. If you are traveling solo, hostels will most likely be your cheapest option for travel!
We always browse Booking.com and Hostelworld to gauge hotel and hostel pricing. Then do a quick search on Airbnb or VRBO to see which will be cheaper per person.
Shared rooms will always be cheaper than private rooms. For the cheapest option, go with a bed in the biggest room in the hostel. It's a great way to meet other travelers and as long as you are prepared with an eye mask and ear plugs, you'll be just fine!
30. Book housing with a kitchen
This refers back to the point earlier about cooking instead of dining out. Utilize the kitchen in your housing to save money on food while traveling.
31. Travel with a buddy
We totally encourage solo travel but sometimes the reality is that it is cheaper to travel with a buddy or a group. You can save a lot of money by sharing housing, rides, meals etc…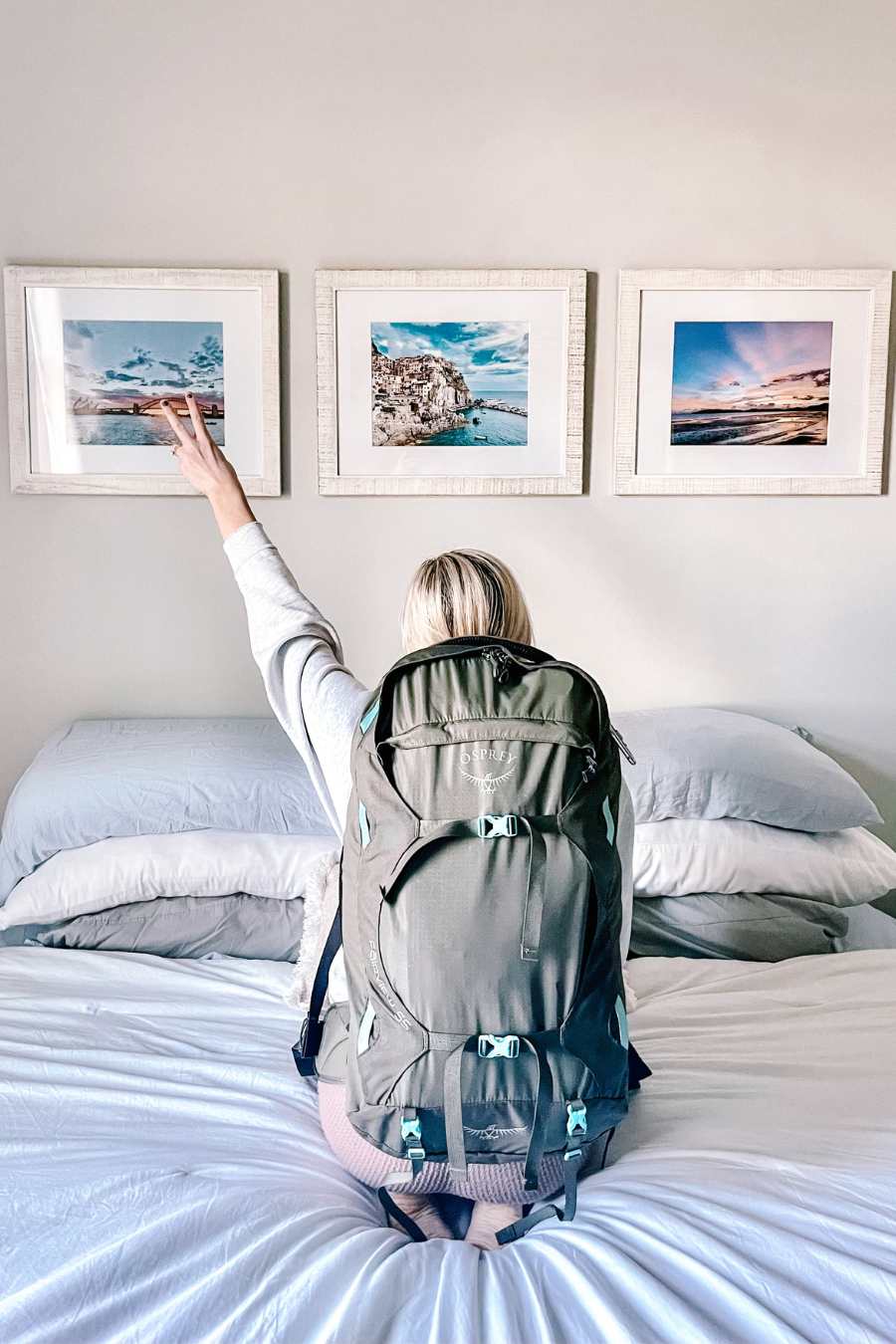 How to travel cheaper: Packing
32. Pack light!
The less you pack, the less you will pay for travel. Read how to pack light for travel to become a packing expert and ultimately save you money!
33. BYO water bottle
Always travel with your own water bottle! It is so much more cost effective to fill up at water fountains rather than paying for water bottles whenever you need a new one. It is also eco-friendly!
34. Invest in refillable toiletry bottles
I love refillable toiletry bottles to save money while traveling. It's a great way to buy larger bottles of your favorite products and fill them up when you are traveling rather than buying travel sized toiletries for every trip. Here is a list of the best toiletries for travel!
35. Use hotel amenities
When you are traveling on a budget, it is not the time to be picky about your products. If your housing provides soap/shampoo/conditioner/lotion, use them! They are free. And bring extras from housekeeping to your next destination.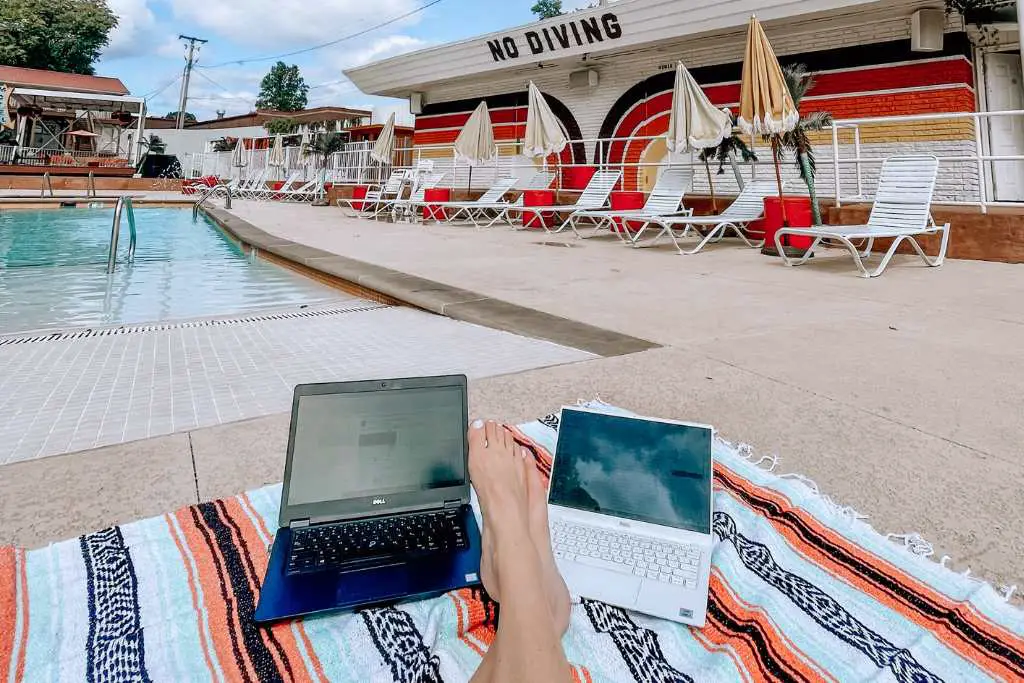 How to travel cheaper: Banking and logistics
Banking is not always fun to talk about but it is super important that you set yourself up for success before traveling! Many of these logistics are discussed in more detail in our guide on How To Prepare for Long Term Travel. These expenses really add up, especially when you are traveling for a long time. If you have your finances set up with the right companies, you'll ultimately travel for cheaper!
36. Get a local sim card
Unless you have T-Mobile, international roaming fees are expensive and add up. A local sim card is the cheapest way to use your phone internationally.
37. Be aware of ATM charges or better, get a debit card with no international ATM fees
Make Charles Schwab your new travel budget best friend! This is the best bank for international travel because they will reimburse foreign ATM transaction fees. We saved thousands on ATM fees during our six month backpacking trip. Some ATMs will charge up to $15 to withdraw cash. That amount will really add up!
38. Earn points with your credit card
Credit card points are truly one of the top ways to travel cheaper. We use Chase credit cards to earn as many points as we can on travel. We like to use our points in locations that do not necessarily fit in the budget. If there is a city that you want to visit but the hotels are crazy expensive, use your points to book your stay! It doesn't cost you any extra and you earned it.
39. Get priority pass with your credit card
Think about the last time you were in an Airport for a couple hours, how much money did you spend? Gaining access to airport lounges with Priority Pass ends up saving you so much money on travel because you do not need to buy anything in the airport! You can eat a meal, fill up your water and take snacks on the go before your flight. Plus even though you are traveling on a budget, you feel like a baller when you are hanging out in the lounge!
Europe and Asia have some of the best airport lounges in the world. Some travel days we like to get to the airport early to enjoy our time in the lounge before the flight!
40. Avoid exchanging money when you can
Somehow you always end up losing money when you exchange money. Try and gauge how much cash you really need to take out in a certain country before traveling to a new country. The more accurate your estimation, the less money you will lose on the exchange rate and can simply take more cash out at your next destination.
Additional budget resources:
See, there are so many ways to travel cheaper! Travel really is accessible to anyone who is on a budget, you just need to make smart decisions with your money.
Traveling on a budget absolutely does not need to take away from your overall travel experience. Hopefully these tips on how to travel cheaper will help you pursue your dreams and travel the world. Let us know in the comments any of your favorite budget tips we may have forgotten!
SAVE THIS POST FOR LATER