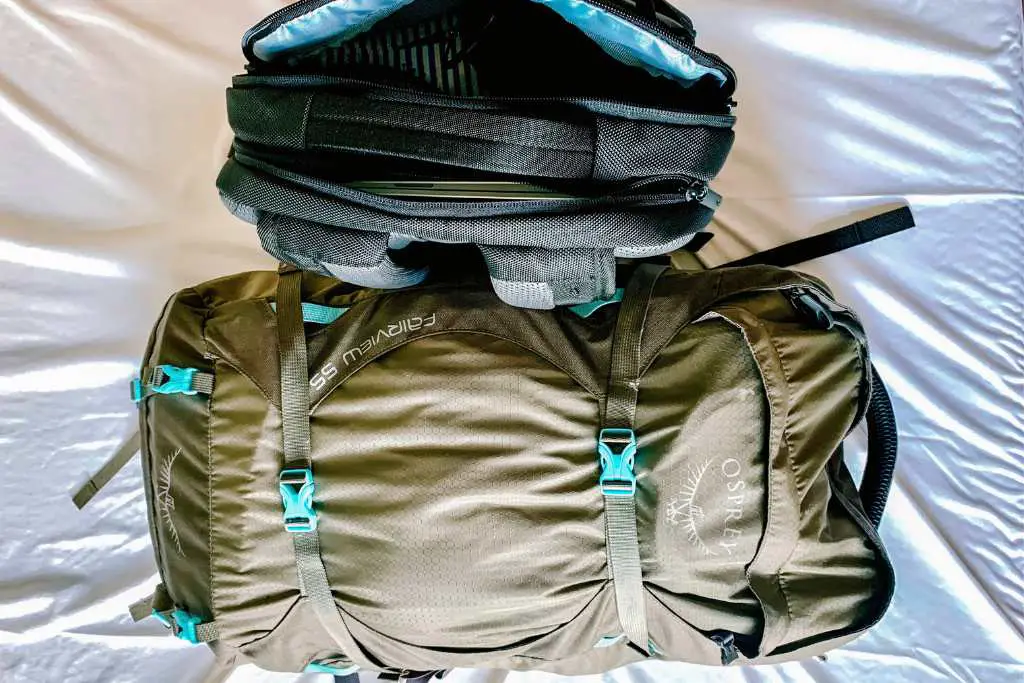 Lightweight and efficient packing is essential when traveling for an extended period of time. This can seem like an intimidating task when looking at a closet full of clothes. Don't worry, there are a variety of ways to narrow down your list to essentials and still look great while on the road.  It can actually be very freeing to pack light. You know exactly what your options are and where they are located in your bag. 
When you figure out how to pack light, it also saves you money. The less you have to carry, the less you pay every time you take a flight. Typically flying with only a carry-on is cheaper than paying to check a bag. It is always important to keep your carry-ons within the weight limit of those cheap-o airlines. From our experience, it was hit or miss if those airlines would actually weigh our bags. It is always better to be safe than sorry in this case since the $70 penalty at check-in or the gate can really throw you off your budget. 
Many of the items listed below to help you pack light like a luggage scale, packing cubes and other great packing tools can be found in our Backpacking Essentials list! You can either shop these items through our blog post for head directly to our Amazon Storefront.
Read below for our favorite tips and tricks on how to pack light for long term travel.
Narrow it Down
Lay out everything you would love to have on your trip and then pick out what items are an absolute must have vs nice to have.
Just this exercise alone will shrink your pile by at least half and is a great start to learn how to pack light. If you haven't worn the shirt in the last month, then it is most likely a "nice to have". Each article that you pack should be on your favorites. Think of it like your absolute go-to playlist on Spotify, every song that comes on is one of your all time favorites! 
Mix & Match
Pick clothes that can be mixed and matched to make several outfit options.
Think of your clothes as a puzzle. If you have 4 shirts and 3 pairs of pants, how many outfits can you make? You should be able to create a multitude of outfits from your limited amount of clothes packed. This does two big things. One, it will make it seem like you packed five times as much. And two, creates a variety of different outfits when it feels like you have limited options. 
Versatility is Key
Finding ways to combine uses for clothing items will save you serious space and make it easier to pack light.
Seth found t-shirts that worked both for hiking and visiting museums or a nice dinner. For women, wearing dresses that can be worn touring a city during the day and also to the bar at night are a great way to save space. Another option is a sun dress that can double as a beach cover up or shorts that can also be a bathing suit.
Pack for 7 Days
No matter where we were in the world, it is always very easy to do laundry.
A lot of housing options in Asia will offer a full laundry service for relatively cheap. You can also find laundry areas where you can do it yourself for incredibly cheap. In Europe, there is practically a laundromat on every block. We would wake up in the morning, put our clothes in the wash, go find a nice café for breakfast and then toss them in the dryer while we got ready for the day. We also purchased a portable washing machine which allowed us to do laundry in small loads in our bathroom and hang dry our clothes to save money. The best part is that the washing machine was incredibly lightweight and would clip onto the outside of our backpacks.
Organize your Toiletries
Toiletries can add unnecessary weight and space to a bag, making it difficult to pack light.
If you are someone who has an intense skincare routine, consider narrowing your routine down to 2-3 items a day. Sorry but what can I say, long term travel requires serious sacrifices. The biggest thing to remember is that you can always refill your toiletries. Most countries have the same if not similar products that you find in America. Also if you are sticking to the carry on size, your liquids can only be 2 fluid oz. to fit on the airplanes. Before you leave, have a separate compartment that all of your toiletries fit in and keep it organized. Just like any good system, organization is key. This is one of my favorite toiletry bags! 
Consider Durability & Weight 
Some articles of clothing are simply going to be heavy and bulky. Think through your options.
Jeans for example, can usually go a few wears between washes but they also weigh more. It's not worth packing more than one pair. It is similar logic with sweaters and outerwear. Depending on the weather, you probably do not need more than one sweater. 
Use code JLJ10 for 10% off all eSIM purchases.
You Can Always Buy New
It is important to remember that you can always purchase more clothes.
You don't want to overpack and be left dealing with clothes in your backpack that you are not wearing. It is better to leave the questionable items at home. If you feel like you are missing something, buy it while you are traveling. For example, I realized when we were in Asia that I desperately needed a pair of Birkenstocks. The only shoes I originally packed were a pair of strappy sandals and sneakers. Most days it was too hot to wear sneakers and the strappy sandals were not great for walking around all day. It was easy to buy a new pair of shoes when I realized I was lacking in that department! It is the same thing with clothes, there are H&Ms in almost every country and you will find what you need. 
Consolidate your Electronics
This one can be tricky for long term travelers who are working on the road. Camera and computer gear can weigh a lot and take up extra space. These are of course essential to your livelihood but there are ways to consolidate. If you have multiple apple devices like your cell phone and iPad, consider only packing one apple charger. Lots of speakers and portable devices use the same type of charger like a micro B. See which of your devices can use the same charger and consolidate. There is nothing worse than untangling unnecessary chargers. If one breaks while you are on the road, there are always electronic stores to replace those pieces.
This is by far my favorite electronic organizer! Trust me, it will save you tons of space and keep your electronics organized.
Wear your Heaviest Items
If you are wearing your heavy clothes, they are not being weighed during your airline check-in.
We learned this hack from a fellow traveler and it saved us multiple airline fees. If you know you are flying one of those super cheap airlines that will nickel and dime you for every pound, wear your thickest items to the airport and load up your pockets. Even if it is hot out, put on those jeans and sweater and it will take pounds out of your carry-on. It might sound ridiculous but I promise it works. If you are really cutting it close, take the locks off your bag and put them in your pockets. They aren't going to weigh you! Load your pockets up with anything you can fit to get through bag check. Once you are through the gate, you should be able to readjust as needed. As I've said before, long term travel isn't easy but always worth it.
---
We hope all of these tips and tricks help you pack for your next trip! Whether you are planning for long term travel or just a short trip, packing light is always a good idea and organization is key. Please reach out to us if you find this post helpful or have anything to add. Happy traveling!