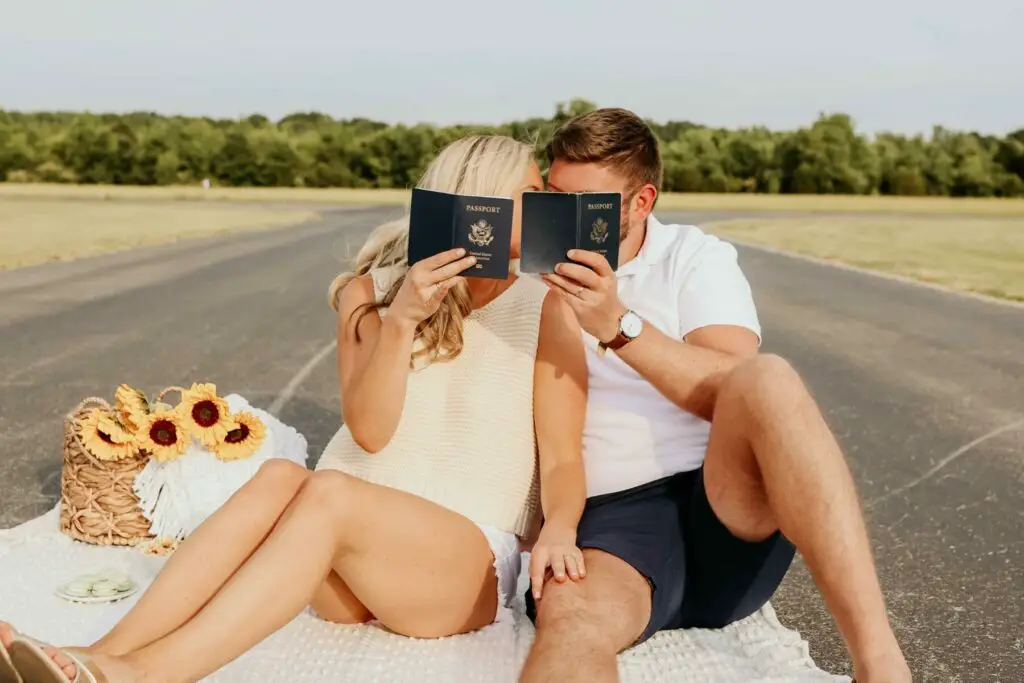 About The Jet Lag Journey
Hi friends! We are Maddy and Seth. Welcome to The Jet Lag Journey and thank you for stopping by! In 2019 we made the decision to ditch our 9-5 jobs and travel to 27 countries on 3 continents. At the moment we are living in Nashville, TN and jet setting as much as we can. Immediately after we started dating, we discussed traveling the world together someday and we now accomplished that dream. We took our first trip together to Florence in 2017 and never looked back.
We are here to encourage anyone that has the same dream to make it happen.
How did we decide to take six months off work completely and travel? After a 10 day trip around Europe we both returned to work for a few days and the travel bug bit us hard. We knew that we needed to take initiative to make this journey around the world happen. A few weeks later and a couple glasses of wine in, we were browsing flights and found $300 flights to Beijing. We booked it immediately. The timing is never perfect to leave your whole life behind for a long period of time. But the longer it is put off, the more likely it is to never happen. We had to get serious about saving and planning for this journey that we will remember forever. This is not something that just fell into place. It takes serious dedication to plan and budget for this type of adventure. We are just two average young adults telling you that if you set your mind to it, it is 100% possible. At first, we received a lot of skepticism when we told people that this was going to happen. One of our favorite responses was, "Oh yeah sure, every young couple says they are quitting and traveling." To that we just thought, "Wait and see…" and now we can successfully say we made that dream happen.
The Jet Lag Journey is all about making the best of whatever situation you find yourself in. Life is not perfect and there will always be a reason to complain. We are making the decision to ENJOY every moment. We are going to remember how lucky we are to be seeing so much of this beautiful world both while we are getting massages on a beach in Thailand and while we are on a crowded overnight bus in Poland. After 15 hours in an airport there will still be a reason to smile.
Choose Your Adventure means that you control your destiny. Not everyone is as crazy as us and decides to quit their day job. Each individual has their own idea of what they wish they could do or somewhere else they want to be. Life happens and there will always be setbacks, but the reality is that if you want something, you have to go out and get it. Life will not hand the adventure to you and it will not be easy. We want to encourage you to identify your unique adventure and make it happen!

Follow along our adventures and reach out with any questions! We love to share, meet new people, and learn from fellow travelers!
Meet Maddy
Having been a D1 athlete in college, studying abroad was never in the cards for me. Therefore, I lived vicariously through my friends that studied abroad and watched them have best semesters of their lives through social media. I immediately started working in marketing after I graduated and was again finding myself envious of the friends who took time off in between college and "adulting." There were a few times in between roles and promotions that I debated taking the leap, but it never worked out. Some would say that I made the right choice to immediately start building a career, but I couldn't help but feel like I was missing out on a great adventure I so desperately wanted to go on. After I met Seth, it felt like fate to find someone who had the same dream. I bought a ticket to go to Italy with him before we were even dating because I was so eager to journey overseas. I have now completely fallen in love with traveling and feel so accomplished to have seen so much of this beautiful world.
I am obsessed with building a life that I love and The Jet Lag Journey is truly what I am passionate about. I've gone through some challenging times in life and will no longer settle for anything that I do not love. This website and this brand are my obsession and I hope that everything I write really does help your travel experience!
Meet Seth
I took my first trip abroad when I was thirteen to go visit my brother in Florence, Italy. I loved it and his program so much I actually made sure to confirm with the University of Delaware that I could do that exact program junior year before accepting my admission to go to university there. During my time studying there I became involved in the travel community and was offered a full time position to live there after college. When I told people about the opportunity everyone— and I mean everyone— lectured me about how I was throwing my career and any chance of success in life away by not taking my job offer from a major investment bank. Maybe I was young and foolish, or maybe I was just determined to go back to that city I fell in love with nine years prior, but I took the leap and moved to Italy knowing only the owner of my company and two bartenders.
Looking back taking that leap might have been the smartest move I could have ever made both for myself and my career. Living the fast paced life of a nightlife promoter, marketing/sales manager, traveling tour guide and adviser to the students in the study abroad community forced me to leave my comfort zone behind. I went from the kid who was terrified every day in his public speaking class in university to finding out on a Thursday morning that I had to learn and lead a walking tour of a foreign city just the next morning to a group of 50-100 students. On top of the great personal and work experience I gained in Italy, it very much taught me one thing, I loved to travel and did not see an end to that love in sight. After two years I moved to Washington D.C. where I only knew a handful of people, got a great job and started "adulting."
A few short months later the itch was back and I knew I needed to get abroad again as soon as possible. One morning I looked up flights and by that afternoon had purchased one for a month later back to Florence just for four days to see some friends. A couple weeks later I met Maddy and prior to us even dating she took a leap and booked a flight to come with me. At the time I didn't know that this trip would be the one that would start us on the journey we are now embarked on but here we are.
Contact Us
We would love to hear from you if you have any pending questions or just want to connect!
Connect with Us
Connect with us on social media to stay up to date on our latest adventures! As always, never hesitate to message us with any questions or comments.