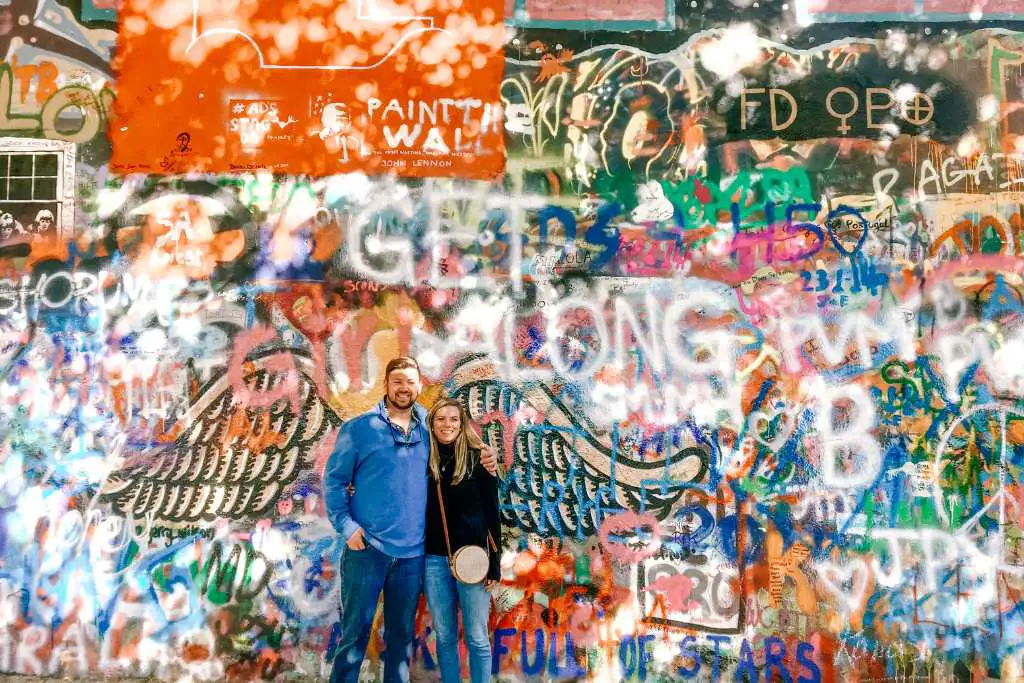 Prague is one of our favorite destinations in both Europe and the world for so many reasons! Prague is a truly magical city filled with history, beautiful architecture and epic food and beer. When Seth lived in Florence for a few years, he actually ran tours every week to Prague so he became very familiar with this city. We have been there together now more than once and are always looking for a reason to go back!
This complete city guide will walk you through where to stay, eat, drink and explore during your visit to Prague.
When to visit Prague
One of the greatest things about Prague is that there is no bad time to visit! Prime season is May – October but that just means that housing and flights may be more expensive. Definitely don't be afraid to go any other time of the year.
Summer in Prague is great because it is not too hot and there are tons of bars and restaurants with outdoor dining options. Prague is also a very walkable city. While it is cold in the winter, the Christmas markets are some of the best in the world. As long as you are prepared for cold weather travel, the winter is a great time to visit Prague!
Read our complete Europe Christmas market guide here!
How to get to Prague
Most travelers will fly into PRG – Václav Havel Airport Prague. Depending on your location and other travel plans, it is also easy to take a train or bus from other destinations in Europe. One of our trips to Prague, we took a beautiful 6 hour train ride from Munich. Prague is easily accessible from anywhere in the world!
When you arrive, it is easiest to take an Uber or Bolt from the airport to your housing. If you are staying near the city center, an uber from the airport is approximately $20 total.
Currency and Tipping
While Prague is in Europe, it has not adopted the Euro yet. The Czech Republic uses the Czech koruna, also known as the Czech crown. The exchange rate changes daily but for ease we use a 20 to 1 comparison between crown and USD. Obviously that is not exact, but that is the simplest way to round how much something costs. Prague is known to be a cheaper city to visit in the world. The average beer costs ~$2 and a meal for one person is ~$10. Prague is a great city to visit on a budget!
When it comes to tipping, it is not expected to tip in the Czech Republic but it is always polite. We recommend tipping 5 – 10% on your final food or drink bill, more for great service.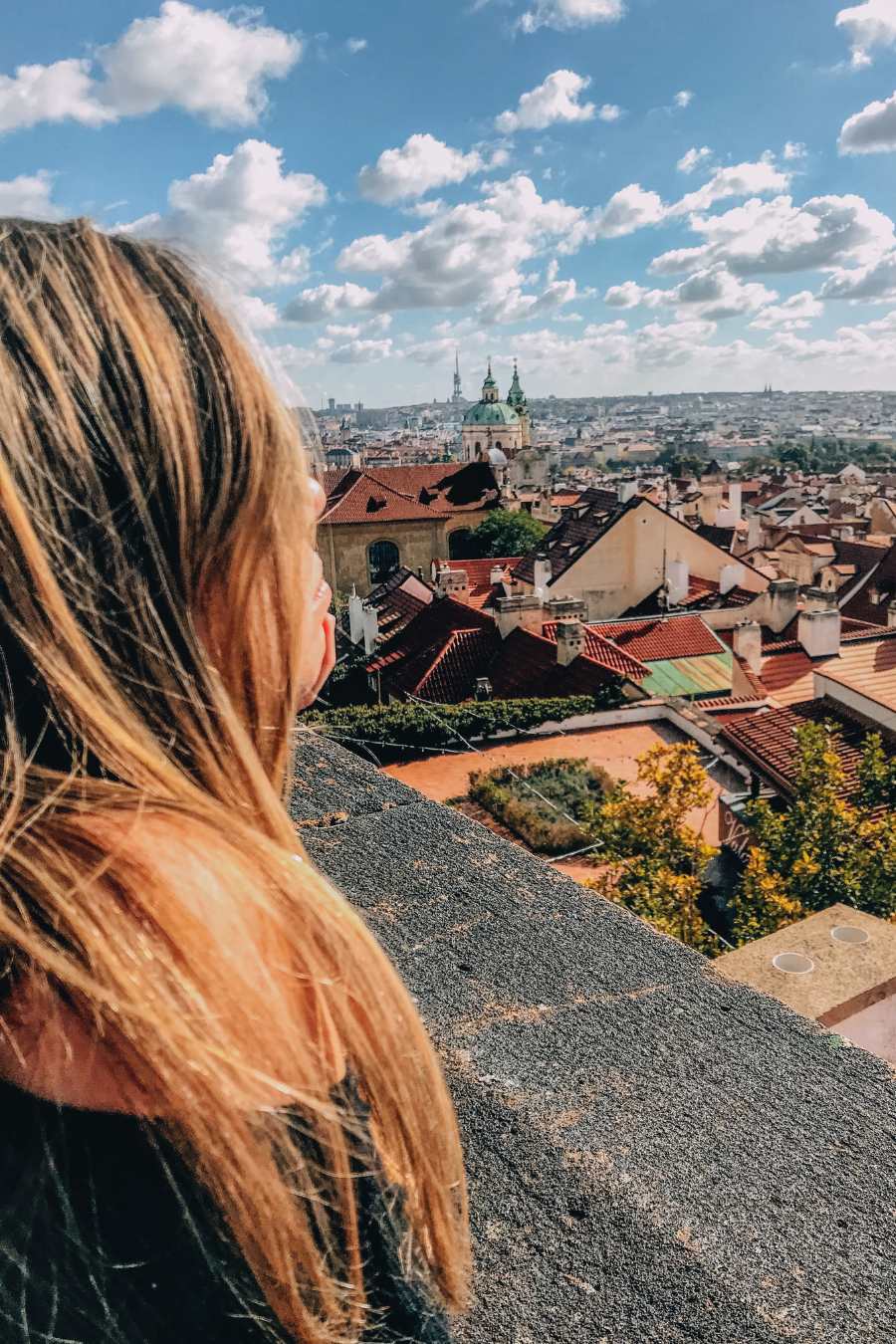 Where to stay in Prague
Prague has housing options for any group size and budget. There are luxury hotels for couples and cheap hostels for backpackers. There are also tons of stunning Airbnb options for larger groups! We prefer to stay in an Airbnb when traveling with a few friends. Just make sure to always read the reviews thoroughly before booking a rental property.
The best location for housing in Prague
We always recommend staying in Prague 1 or 2. Unlike other cities in Europe, there are still affordable housing options right in city-center and you will be much closer to all of the sites, bars and restaurants.
Recommended housing options:
Luxury hotel: Grandior Hotel Prague
Boutique hotel: Mosaic House Design Hotel
The best mid-range hotels:
Best options for traveling to Prague on a budget :
Food in Prague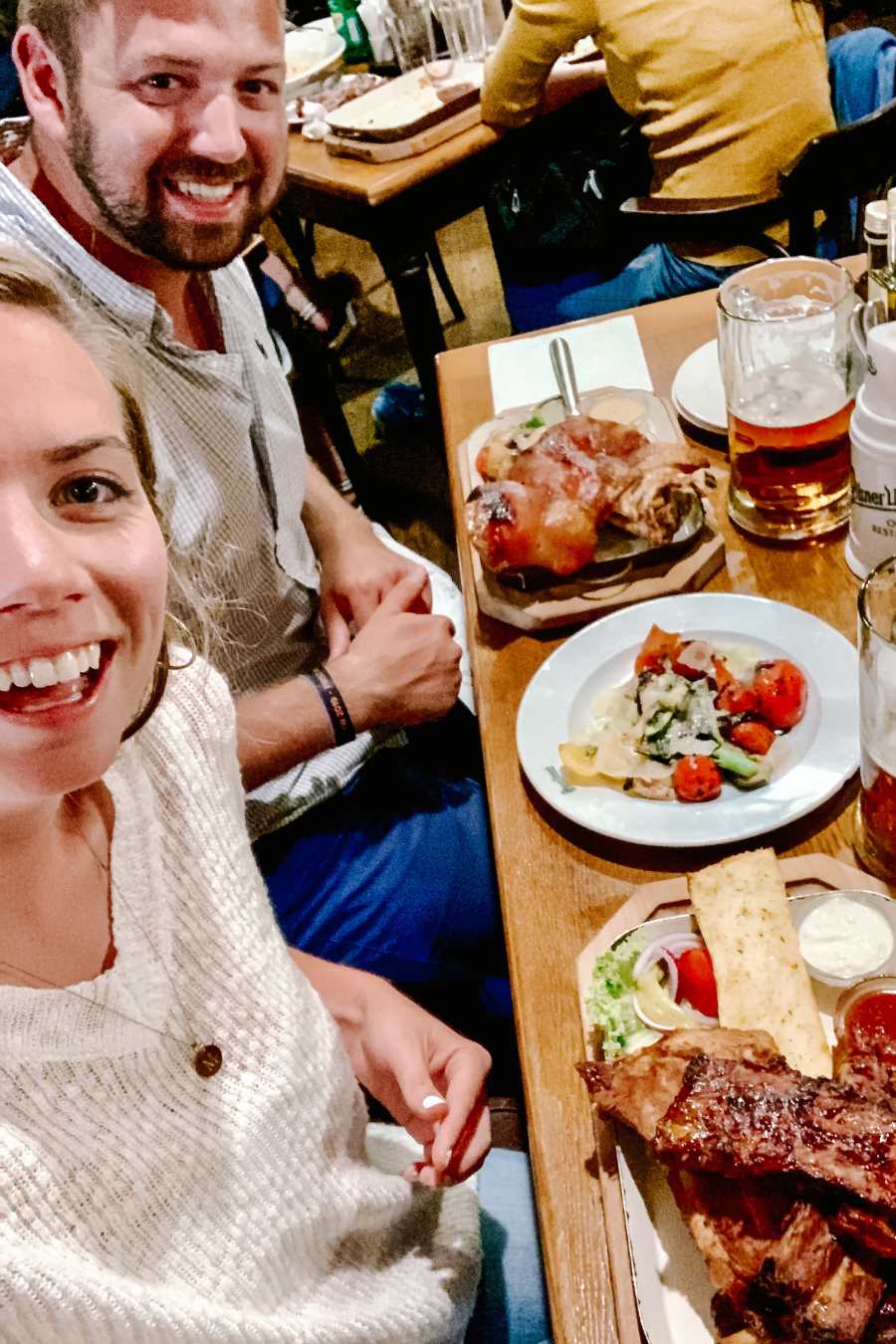 Famous food to try in Prague
Goolash: A delicious stew like dish with beef and potatoes.
Pork knuckle: A meat lovers dream! This is Seth's favorite meal in the world.
Trdelnik: This is a sweet street food that is the perfect desert for walking around after a meal. There are even a few Trdelnik stands that will serve this with ice cream.
Moravian Sparrow: A traditional Czech meal with pork, sauerkraut and dumplings.
Where to eat: The best restaurants in Prague
Pro tip: Save all of these locations in your Google Maps so that you have it handy while walking around the city and planning your days!
This beer hall in Prague is consistently considered one of the best restaurants for fresh and local fare. Make sure to book a reservation ahead of time because it is always busy here!
Kolkovna Celnice is located right near the Palladium. This is a great spot to enjoy traditional Czech food after spending some time shopping in the city center!
U Medvidku is a 500+ year old brewery/restaurant with several different rooms. Personally, we love the back room which has long beer hall tables. This is a must try in Prague!
While this cafe is on the pricier side, it is world renown and the interior is designed in the styles of the First CzechoSlovak Republic. Stop in here for a trendy brunch to start your day!
This low key restaurant is a great place to grab a bite on a budget in Prague. We loved dining here on our six month trip around the world!
Vietnamese Restaurants
Due to its history of communism, Prague is home to a large Vietnamese population from exchange programs. All three below are delicious Vietnamese restaurants to try for a change of pace.
Where to drink in Prague: The best breweries, pubs and nightclubs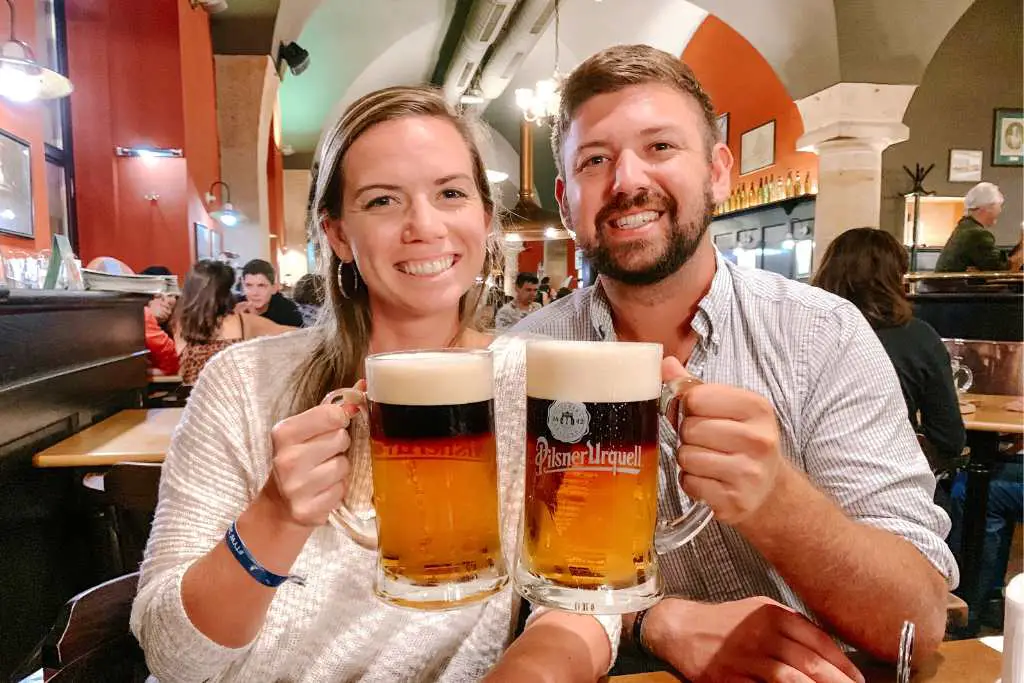 Local breweries
As said before, Prague is known for a wide beer selection that is one of the best in the world. Experience the local beer at these historic breweries!
Pro tip: When ordering beer in Prague, it is best practice to order the "light" or "dark" beer. Each bar or restaurant will typically only serve those two options. We recommend trying both as you may be surprised which you like more!
Take a stroll up the hill from Prague to this monastery and brewery. Even if beer is not your thing, this is a must visit in Prague!
Originally established in 1499, this is both a local Czech restaurant and also known as one of the oldest breweries in Prague.
Established in 1869 and now owned by Molson Coors, this brewery exports beer to 37 different countries in the world and is the second largest in the Czech Republic.
Use code JLJ10 for 10% off all eSIM purchases.
This 15th century brewery turned inn is one of our favorite stops when in Prague. It is home to the original Budvar beer, otherwise known as the original Budweiser!
This brewery is especially unique because it is actually on a ship! It features two decks under the Stefanik bridge.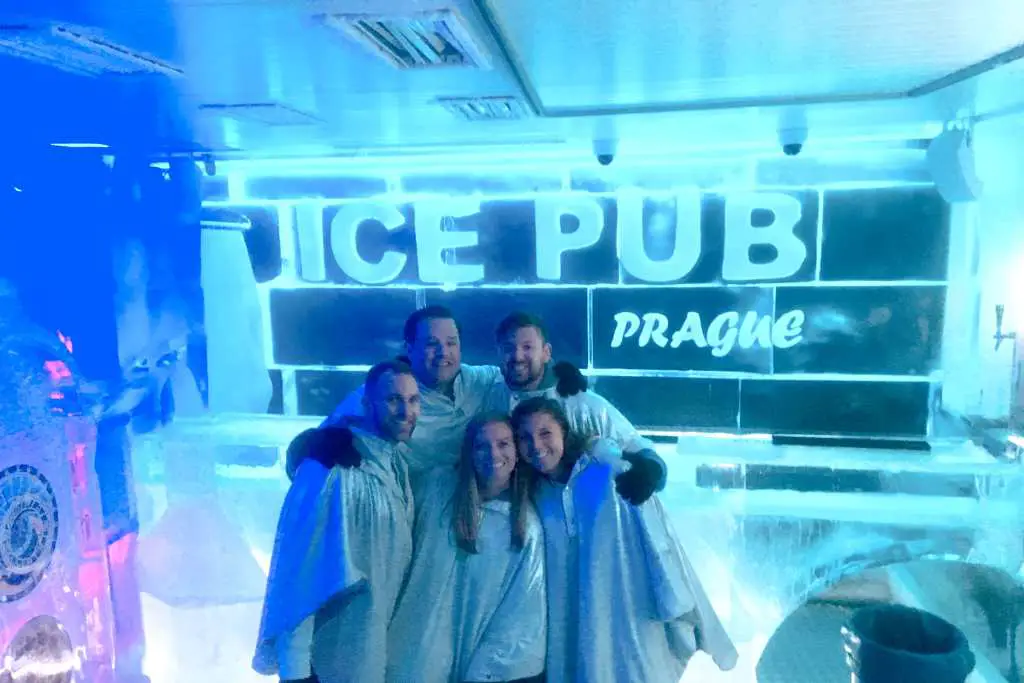 The best bars and pubs in Prague
While the breweries listed above are also great pubs, Prague is known for its bar scene beyond breweries. These are some of the best bars to try while exploring Prague both during the day and experience the nightlife!
There are a series of bars in Prague and across Europe that are all the same theme. Pub features beer taps in the middle of your table that track the volume of beer drank, meaning that you pay for every millimeter poured instead of by the beer. This also enables the pub to track which table is drinking the most beer at your location, as well as across all of the locations with the same theme across Europe.
Pub is a great stop for a group of travelers to compete in a beer drinking competition with other tables locally and around Europe!
This bar consists of a series of smaller rooms below the ground featuring a room with a stage, a room with foosball tables and a couple dogs wandering the bar. You could spend hours exploring the multiple rooms in this bar! This bar is basically an adult playground and is a truly unique experience.
U Sudu consists of a series of bars each going further and further underground. This is definitely a one of a kind experience but beware that if you go at night, the ventilation is lacking. The deeper you go, the more potent the smoke in the air is from cigarettes.
This is one of the most famous bars in Prague designed with James Dean in mind. Spend time here as a classic diner or also a nightclub. Either way, it is a must visit in Prague!
Karlovy Lazne is the biggest music club in all of central Europe and totally worth the hype. It is known for its multiple floors, each representing a different decade! Our favorite is the oldies floor with a light up dance floor. There are tons of activity options in this club!
Prague's famous ice bar is actually located within the club listed above. Make sure to book a reservation ahead of time as this is one of the most popular activities in Prague!
Prague beer museum is located near Old Town Square and known as having one of the largest varieties in Prague.
This is definitely more of a local bar featuring DJs and a club in the basement. The upstairs bar is great for an afternoon or evening beer and the basement club is a great place for nightlife fun!
While this isn't going to be much different from an Irish pub anywhere else in the world, it is a good spot to watch some sports and play pool.
This is one of the best rooftop bars in Prague. It is located on the top floor of this hotel, just off of Old Town Square. This bar is the perfect spot to grab an afternoon cocktail and enjoy the view of the square! Depending on the day and time, you may want to try and make a reservation because it is well known for the views.
U Kunstatu is located near Old Town Square and is one of the only craft beer bars in Prague. There are outdoor seating options and also a cool stone cave bar inside!
This is one of those funky bars that you may have seen on social media. You can literally drink cocktails while relaxing in bed! It is also right off of Old Town Square.
Absinth is not known to be a tasty drink but maybe that's just because you haven't had it made professionally! This bar is located in Old Town and is the best spot to try a professionally made Absinth cocktail. Give it a chance and might just surprise you! This is also one of the most uniquely decorated bars in the world.
Lucerna is a dance club that has a 90s night every Friday. There are great vibes and music videos projected throughout the club!
Roxy's is not as touristy as the other nightclubs, but is a very popular club in Prague.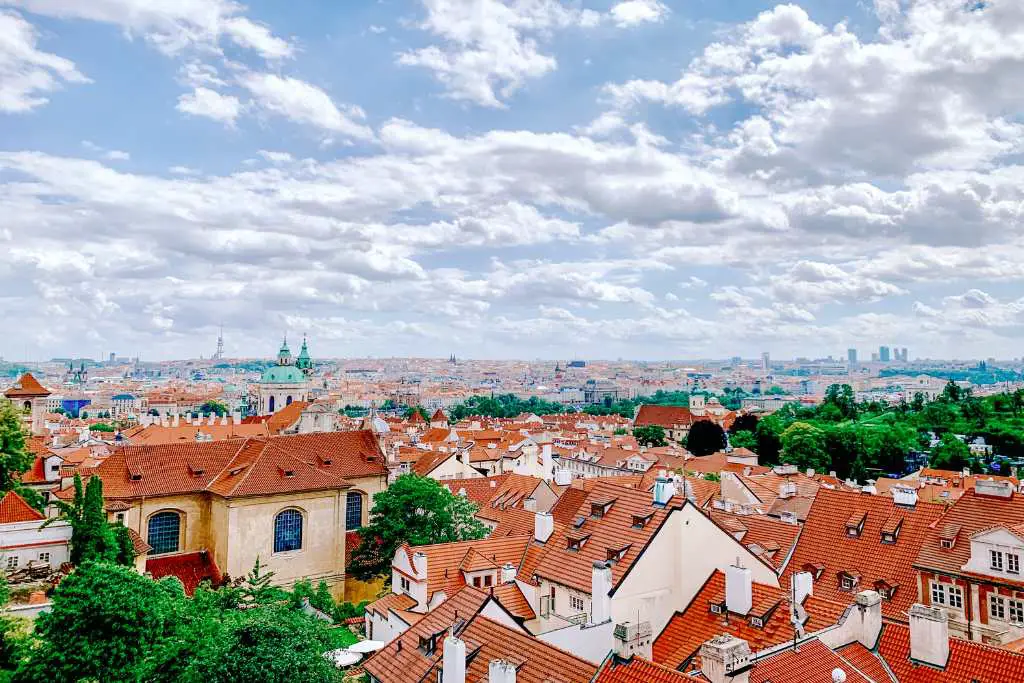 Things to do in Prague: The best sites and museums
Do a walking tour of the city
There are tons of free walking tours to go on with an official tour guide. There is so much to learn about this historical city!
Explore the top sites:
Explore the different markets
Christmas markets – Prague is famous for the epic Christmas markets. If you visit Prague between October – December, it is such a treat to stroll through these markets!
Other local markets – There are also other pop up markets throughout the city. One time when we were there in early September, there were a line of markets at the top of the city near the castle. Research before your trip to see if there are local markets happening during your visit!
Go on a river cruise
The view of the city from the Vltava is absolutely stunning. What better way to take in those views than cruising on a boat?
Yes, this is serious, you can actually bathe in beer while drinking unlimited beer. Talk about an experience!
Visit one of Prague's famous museums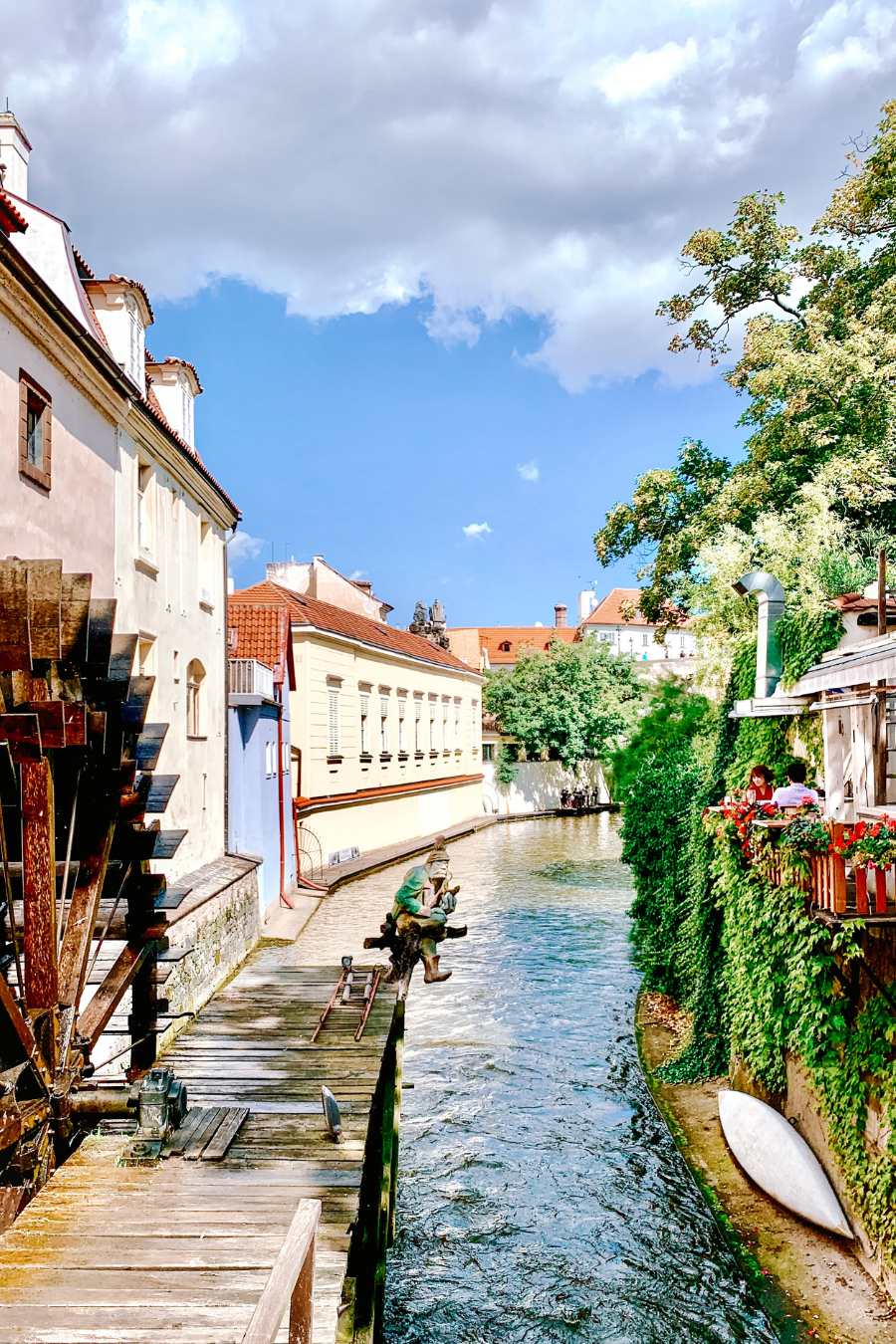 The best day trips from Prague
If you have a few days in Prague, one option is to take a day to see some of the amazing surrounding areas outside of the city. Here are a few day trip suggestions!
This small town 2 hours from Prague by train is home to the Sedlec Ossuary, aka the bones chapel. The inside of this church is decorated with bones from over 40,000 people, most that died during the Black Plague. This is a historical and eerie experience in one!
Karlstejn is a 14th century gothic castle surrounded by cafes and restaurants on top of a hill. This castle is roughly 40 minutes from Prague by train. This is a great day trip to experience some more local history!
Dresden is slightly over 2 hours away by train and located on the Elbe River. It is famous for its magnificent Baroque architecture. The most famous sites to see here are the Zwinger Palace and Frauenkirche church.
This is another town 2 hours away from Prague by train. It can easily be a day trip or extend the stay overnight to enjoy this Czech town. Karlovy Vary is known for its 12 natural hot springs built within the town. Either fill your thermos for free from one of the many spring fountains or visit one of the medical spas for treatment.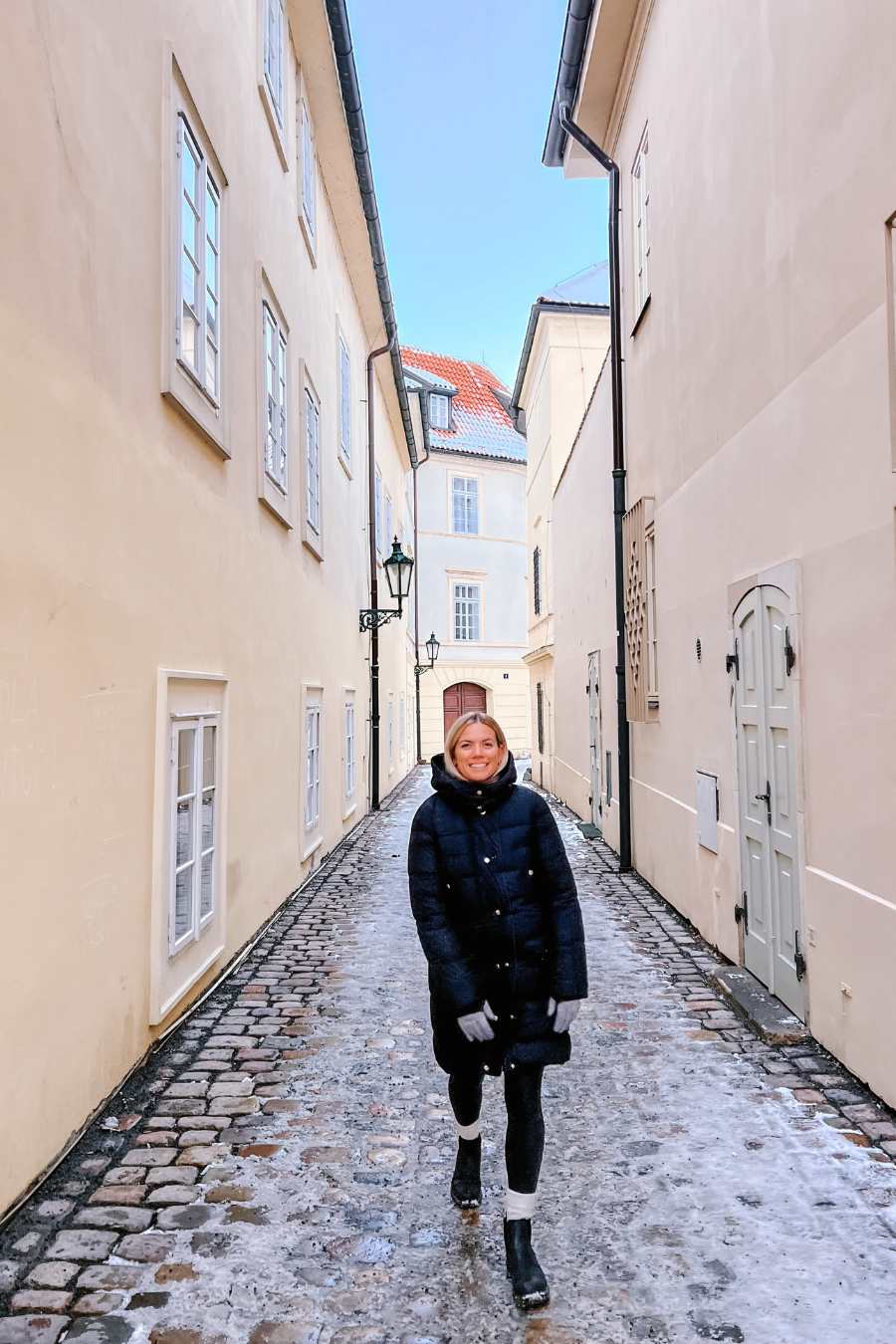 How to get around in Prague
Public transposition
Prague has it down when it comes to public transportation. There are plenty of options for you to live like a local and take a bus, tram or the metro to move around the city.
Walking
Once you are in city center Prague, it is easy to walk to most bars and restaurants.
Biking
Many people opt to bike around Prague using the public bike rentals. This is a great option if you are traveling in a small group and know your next destination!
Uber and Bolt are easily accessible in Prague! They are relatively affordable to get around the city if it is too far to walk.
Safety in Prague
Just like any big city, there is crime in Prague but this should not deter you from visiting! Typical crimes against tourists are theft and pickpocketing, especially in crowded tourist areas. Always stay alert when walking and keep your belongings safely zipped on your body. For example, never put your phone or wallet in your pocket without a zipper or flash expensive jewelry.
Make sure to purchase travel insurance with World Nomads before your trip to cover any incidents!
Pro tip: One important note on safety is taxi rides, especially late at night. There have been occurrences of taxi drivers taking advantage of tourists. If you opt to take a taxi because you are unable to get an uber, look for the AAA taxi. This is a known trustworthy taxi company in Prague.
---
We hope that this complete city guide on what to do in Prague helps plan your trip to this fabulous city! We would love to hear if you use any of these recommendations and what was your favorite. Happy traveling!
Additional Resources: