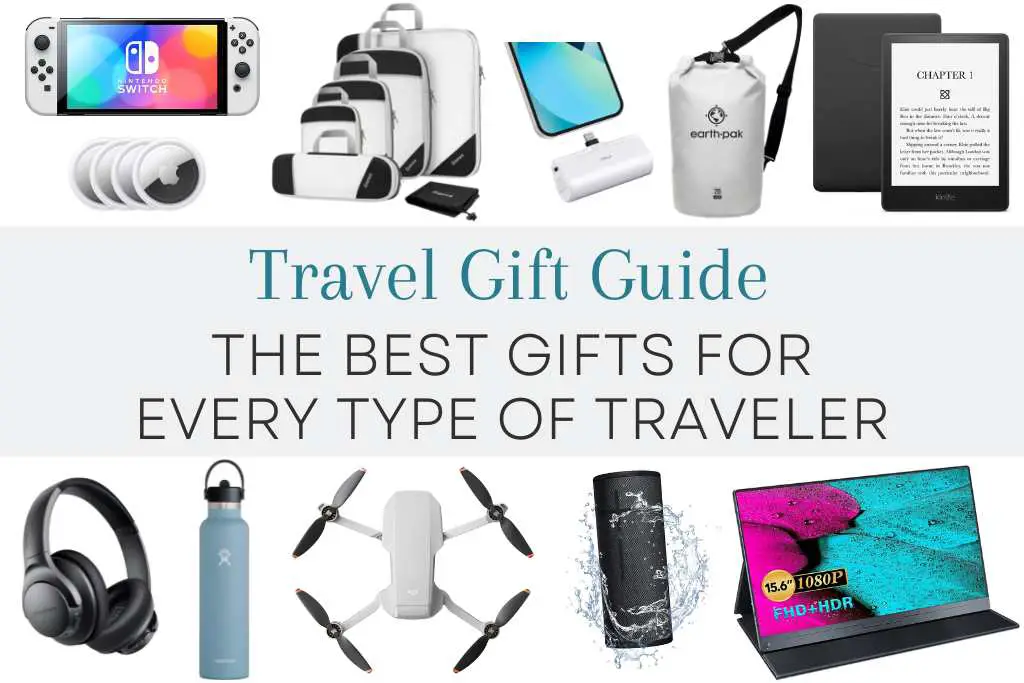 The holidays are here and I bet you are brainstorming the best gift to give to your favorite traveler. The items in this travel gift guide will work for any type of traveler!
This guide includes items with a wide variety of prices. If you are looking for lower price point options, be sure to read the best gifts for travelers under $20.
AirTags are so popular right now for good reason. I keep one in every one of my bags and it is so easy to keep track of your belongings! An airline recently lost our bags and we were only able to track them down because of AirTags. They are a great travel gift!
These are our tried and true packing cubes that we absolutely swear by. We've also converted TONS of other travelers to love these cubes as much as we do. They are a total travel gamechanger and make a perfect gift for any traveler who does not already have a set of these!
We were gifted these last year and now we use these portable monitors almost daily. With remote work becoming more common, this is such a practical gift for a traveler that they will absolutely love and use regularly!
We absolutely love our UE Boom Speakers! We travel with them everywhere and if you have more than one they can all link and play together.
This is another great speaker to gift a traveler at a lower price point than the UE boom. This mini speaker will fit in any bag that a traveler may be using.
Travelling with hardcover books is difficult and takes up so much extra space in bags! Gift your favorite traveler the luxury of reading as many books as they want while traveling.
This is such a fun gift for a traveler! We love playing our switch while traveling. It is compact and great for entertainment while on long flights or train rides. There are also tons of games for individual play.
This is our everyday water bottle that we absolutely love. The 24oz size with the flex straw is the best option for travel because it can fit in the side water bottle pockets in personal backpacks. The straw makes it easy to sip while traveling as well! There are also tons of color options to choose from to gift a traveler.
This is the best water bottle when traveling to destinations where you are not able to drink the tap water. This water bottle is able to purify any water to make sure it is completely safe to drink!
This is a great price point for noise cancelling headphones. Seth has used this pair for years now and they are still going strong!
This is by far my favorite portable charger. It is so small, holds a charge for hours and doesn't require any other annoying cords in your bag! This is the perfect gift for a traveler who is constantly on the go and needs a phone charger.
We were given our drone as a gift and absolutely love it. It is so compact for travel and reasonably priced for the quality and how easy it is to use!
A new GoPro is also a great gift for a traveler. They are really impressive cameras and perfect for content creators or capturing memories on any vacation!
This 3 in 1 foldable charger is such an efficient way to charge all of your devices while traveling. Give the gift of less cords and more charge!
This is the best dry bag for warm weather vacations. It also can be packed laying flat in a bag so it takes up hardly any space!
This is a great device to gift a traveler! This allows you to connect multiple Bluetooth devices to one system. This is perfect for couples who want to watch the same thing on an airplane or for someone who would prefer to watch a show with their headphones rather than ones given by the airline. There are so many uses for this device.
This is a great gift for someone who travels often for work or formal events. The travel steamer folds to take up minimal space in a bag and works great to get the wrinkle out of clothes after a long travel day!
How fun is this mini projector? This would be a perfect gift for a traveler who loves watching TV or movies wherever they may be in the world.
A VPN is so important for international travelers to use. This is a really thoughtful and unique gift for travel!
Still Searching? Check out our other gift guides:
We hope this guide on the best gifts for travel help you find the perfect gift for any traveler in your life! Let us know in the comments which one of these gift options are your favorite.