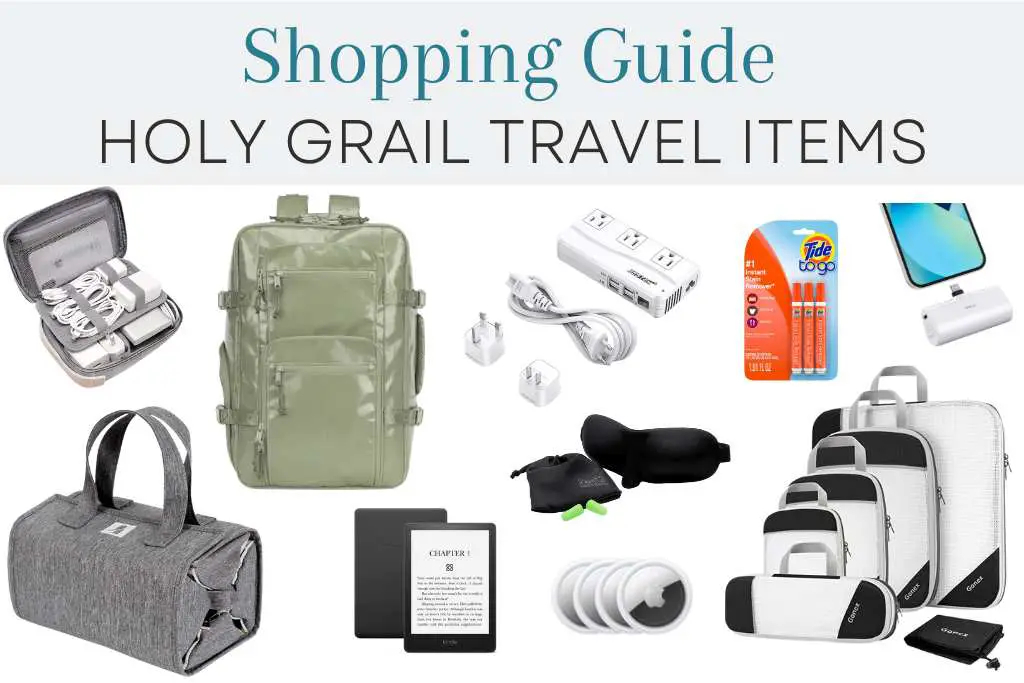 We have traveled to over 30 countries and one of the most commonly asked questions we get is what are your absolute favorite travel products? Well we took this question seriously and put together this complete list of our holy grail travel items. We truly do not leave the house for a trip without all of these travel products.
This list of travel items is not specific to the time of year or location. No matter where or when we are traveling, we use these products!
Packing Cubes
These packing cubes are an absolute travel gamechanger. Not only do they compress your clothes to give you tons of extra space in your bag, but you can also use them to organize your clothes. We typically have specific cubes for certain clothes like pants in one and cube and shirts in another! You can pack so much more in your bag if you use these packing cubes.
Universal Adaptor
This is the best universal adapter for travel. We use this adapter everywhere we go because you can use it in any country and plug in multiple devices at once.
iWalk charger
You always need a portable charger when traveling! We love how compact this portable charger is and it fits in every bag. We always have this handy to plug in our phones.
AirTags
If you follow us on social media, then you know about our obsession with AirTags. Airlines are losing luggage more and more these days and AirTags make it possible to know the exact location of your bags.
Self-Cleaning Water Bottle
We love traveling with this water bottle, especially in countries where you cannot drink the water. This water bottle uses UV light to clean the water inside!
Calpak backpack
This backpack changed the game for us. It fits as a personal item on an airplane and holds so much inside! It is officially one of our favorite travel products.
Airalo e-Sim
Airalo is the first ever international e-sim that gives your phone service anywhere in the world. It is significantly cheaper than a phone provider's international option and there is no physical sim card required.
Use code JLJ10 for 10% off all e-Sim purchases!
Toiletry bag
This toiletry bag is another travel gamechanger in many ways. First, the compartments are clear so it is easy to send it through security at the airport. Second, the little compartments also detach so you can move things around as needed within your bags and only grab ones that you need. Some trips I only need to pack 2-3 of the compartments which saves space.
Electronic organizers
As digital nomads, it is so important to have all of our electronics and cords organized. With these organizers, it is easier than ever to grab exactly what we need while traveling.


Crossbody small bag
We both carry one of these little bags while traveling. It is the best bag to keep a passport, portable phone charger, hand sanitizer and wallet on travel days.
Joggers
We are officially jogger obsessed and both wear a pair on travel days. They are so comfortable and come in handy in any location we are visiting as well on chillier days or when we want to wear something comfortable. They also have handy zip pockets!
Kindle
We are both big readers so a kindle is a travel necessity for us. It is the best way to read as much as you want while traveling because physical books take up way too much space in your bag.
Travel insurance
It is also a good idea to purchase travel insurance before any international trip and World Nomads makes it easy and affordable. Get a free quote before your next trip!
Microfiber towel
This towel comes in handy no matter where you are traveling. It is lightweight and dries quickly!
Eye mask and earplugs
You never know what the lighting and noise situation will be at a new housing while traveling. Be prepared with this eye mask and earplug duo.
You'll especially want these if you are taking an overnight flight! Read our favorite overnight flight tips here.
Tide To Go Pens
Let's be honest here, spills happen and laundry is not always accessible when you are traveling. Tide To Go Pens are a travel essential to keep your favorite clothes clean!
---
Do you feel ready to travel now? We hope this list of our absolute favorite travel items helps you pack for your next adventure. Make sure to browse our other packing guides!