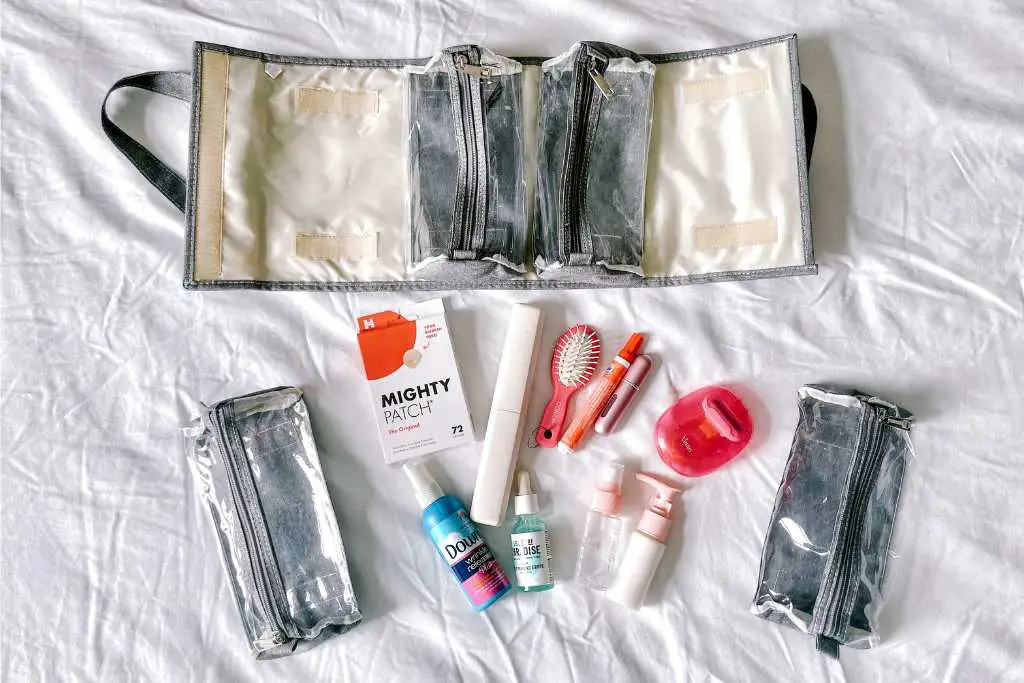 A toiletries packing list can be very difficult to put together, especially if you are new to travel. This list of the best toiletries to pack will not only lay out exactly what you need but also help you pack lighter and smarter.
Some basic tips for packing toiletries
Invest in a bag that you really love!
You may think that you can get by with a mediocre bag but especially if you are booking any type of long term travel, you will want something that holds everything you need and is easy to keep organized.
This is my personal favorite toiletry bag!
Once you figure out a toiletry packing system that works best for you, write it down.
I have everything written in a note on my phone so anytime I am packing for a trip, I can quickly go through my checklist of toiletries to pack.
This also helps if you are moving between destinations. You can quickly go through your checklist to make sure you have everything you need!
Always double check TSA rules before carrying-on your toiletries.
The last thing you want is to be forced to throw something out because it is not approved! The standard rule is to keep liquids under 3.4 ounces or 100 milliliters.
Travel with your liquids zipped in an extra plastic bag, even if they are in your toiletry bag.
I've experienced nail polish, face creams, and moisturizers leak during flights and it is a huge hassle to clean it up! That little extra protection will save you extra cleanup in case of an accident.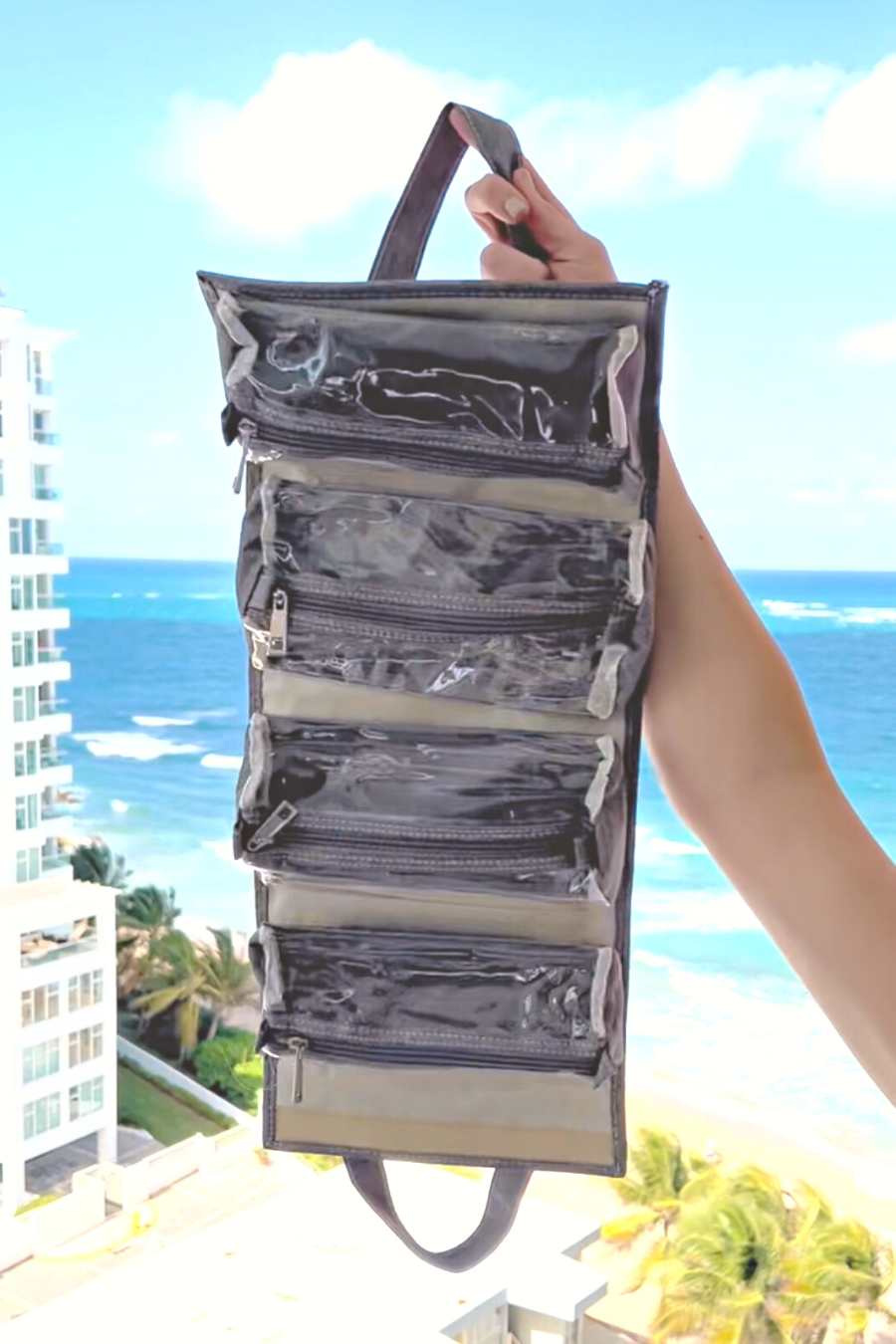 Toiletries packing list: The 20 best toiletries to pack on your next trip
Silicone bottles for liquids
These are a toiletry packing essential for travel. I buy all of my skincare products and lotions in bulk and then refill these anytime I go on a trip. This gets a little more complicated for long term travel since these only fit a limited amount of product. For long term travel, I try to stick to generic products that I can buy anywhere around the world. That makes it easy to refill these while on the road!
While I don't love this actual toiletry bag, the bottles that come with this set are some of my favorites. It comes with multiple different tops so that they work with all sorts of products. For example, one of them is a spray nozzle which is perfect for refilling my toner!
This is also a great set of silicone bottles. They are super secure and can be attached using carabiners!
Tide To Go
If you're a klutz like me, then you need Tide To Go sticks while traveling. I always spill coffee, sauces and whatever else on my clothes which why I need this on my toiletries packing list. Tide To Go is the perfect solution to not need to do laundry on a regular basis while traveling!
Small Razor
I've had this small razor with a case for years and it is the best shaving toiletry for travel. Simply keep the base and replace the razor head when you are due for a new one.
Pimple patches
I really wish these existed when I was in Highschool because I swear they diminish my blemishes within 24 hours and are discreet enough to wear in public. These pimple patches come in thin strips that weigh practically nothing which makes them perfect for travel. I take them out of the main box packaging to save space!
Makeup remover
Makeup remover is a tough toiletry to pack. Wipes can be bulky and are not the most practical because they are a one time use product. I prefer to use Ponds cold cream cleanser and makeup remover when I am traveling for a long period! It lasts months and is just as effective as a makeup wipe.
If you are looking to splurge, the Elemis cleansing balm is a fan favorite for the same purpose. This is a great product if it is within your budget!
Toothbrush holder
It is essential to protect your toothbrush while traveling. There are so many great options out there to keep your toothbrush covered.
We love these toothbrush covers as a budget option.
If you prefer to use an electronic toothbrush, Quip is by far the best travel option out there!
Floss
You never know when you are going to need to floss while traveling. The best floss to use in this circumstance is the original kind! Those fancy floss sticks are not practical because they take up more space for less uses.
Shampoo and conditioner bar
I don't always travel with shampoo and conditioner because most housing will provide an option. Although if you are preparing for long term travel, shampoo and conditioner bars are the best option for travelers! Liquid shampoos and conditioners will run out quickly compared to these bars that last for months. These are staple amongst the travel community!
Mini hairbrush
I never travel without my mini hairbrush. This is great because it takes up minimal space and can fit in my toiletry bag or a day bag while exploring a city!
Mini wrinkle release spray
Let's be real, clothes get wrinkled when you travel. There is not always the time or resources to iron out every article of clothing. Mini wrinkle release spray is an effective alternative! It also smells refreshing in case your clothes start to smell a little dingy after sitting in your bag.
Isle of paradise tanning drops
Ok this might not be an essential for everyone, but it is for me! I have tried all sorts of tanning products and this is by far the best option for travel. The bottle is small enough to carry-on and lasts for weeks. Simply mix a few drops with your everyday moisturizer for a natural glow. I also find that I barely need to wear any makeup if I use this consistently, which cuts down on makeup products taking up space in my bag.
Microfiber Towel
Microfiber towels are the best and were designed with travel in mind. I always travel with this microfiber towel and it consistently comes in handy!
Use code JLJ10 for 10% off all eSIM purchases.
Extra hair ties
Yes you can always purchase new hair ties, but it is a good idea to have extra handy. You never know when you or someone you meet will need one!
Nail clipper
Hangnails are the worst, and even more so when traveling! Add nail clippers to your toiletries packing list just in case you need them.
Tweezers
Tweezers, similarly to nail clippers, are a great addition to your toiletries packing list. You never know when they will come in handy and you or a fellow traveler will need them!
Mini first aid kit
Always travel with a first aid kit! You should have some different sized bandages, antibiotic ointment and some basic medicines for nausea and pain.
Hand sanitizer spray
This is a toiletry necessity because you never know when you will need to clean your hands. I like spray over gel because it is more secure in the bottle. I've had hand sanitizer gel spill in my personal item and it was not a fun clean up!
Pill organizer
If you have vitamins or pills that you take regularly, it is a good idea to organize them rather than just throwing them in a plastic bag. Also pack some extra medicine in case you get sick on the road like cold and flu and stomach medicine. I love how this organizer has different sized compartments!
Refillable perfume spray
I've had this mini refillable perfume bottle for years and it is one of my travel staples. I refill it easily with my favorite perfume every couple of months. This way I can still wear my favorite perfume without purchasing overpriced miniature bottles.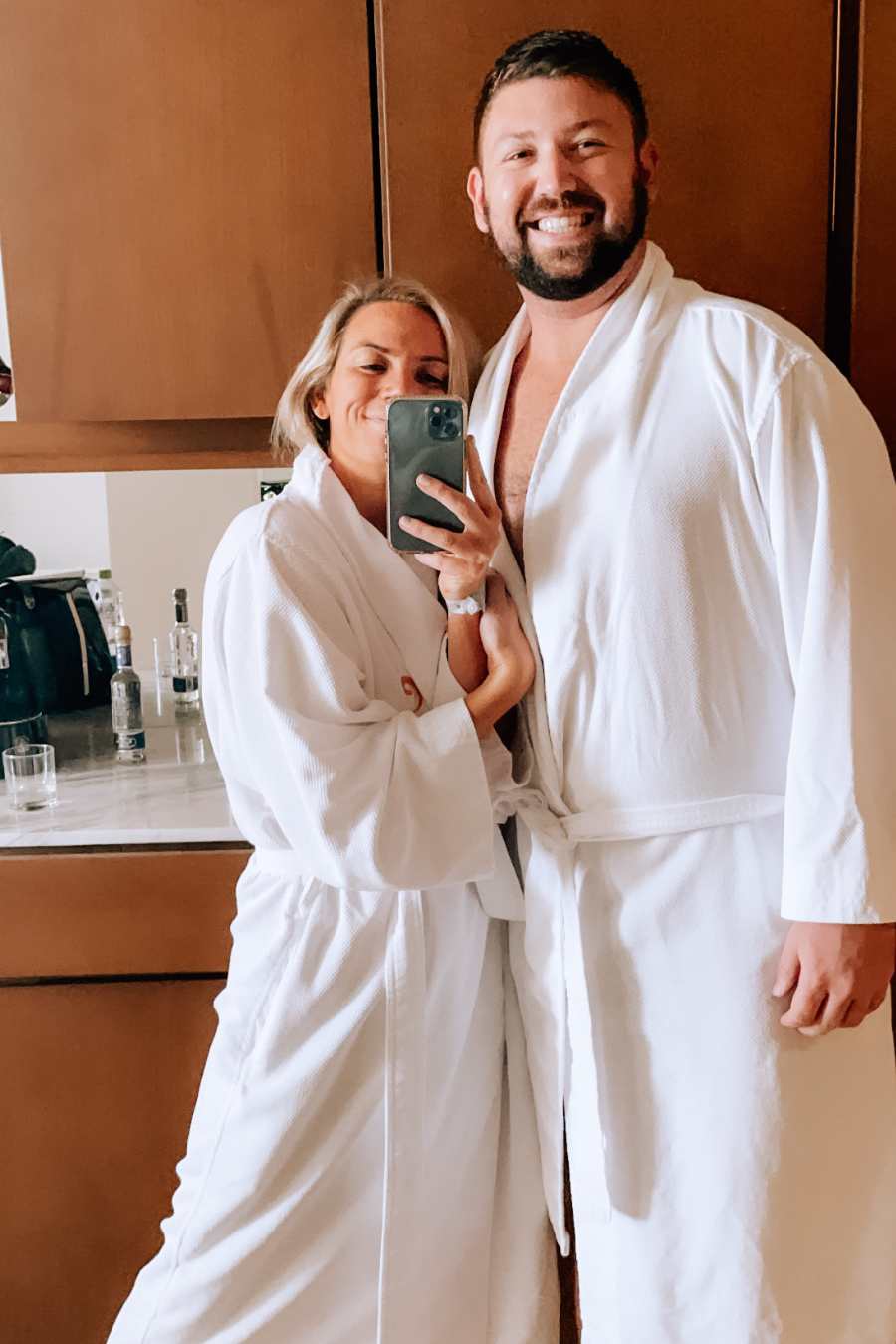 Tips for packing less & better toiletries
Lightweight travel is tough to master, but through trial and error anyone is capable of it! Here are a few tips for packing efficiently with less toiletries.
Narrow it down to the necessities
Think through your daily routine and see what you can cut out for the sake of travel. Travel is not the time to do the extended skincare routine or splurge on extra bath products. I limit my skincare routine to 2-3 steps in the morning and night to limit how many skincare toiletries I really need to pack while traveling.
Find multipurpose items
Here at The Jet Lag Journey, we love 2for1s. Multipurpose toiletry items are another example of that! A few examples are 2for1 shampoo/conditioner, blush/lip makeup combinations, and BB cream or moisturizer that has SPF built in.
Skip the bulky items
Unless absolutely necessary, there is no need to pack your bulkiest toiletries like a straightener and hair dryer. Most hotels will have these available to you! If you are backpacking, then you really don't want to take up space with these items. It is not worth it for the weight or space in your bags.
What toiletries NOT to pack
Unsealed Liquids
This might seem obvious but just double check that all liquids are secure. Use extra plastic bags around liquids to make sure there is no spillage during travel time!
Liquids and bottles that are larger than 3.5 oz
Always check that your liquids are below the TSA limit. You don't want to be forced to throw anything away when going through security!
Anything you don't plan to use every day
Unnecessary products take up space and will just be a hassle while traveling. If you don't use it everyday, leave it at home.
Here are some other helpful resources:
Perfecting a toiletry packing list is no easy task. Hopefully this list provides some clarity!
Let us know in the comments if there is anything you think should be added to this list.