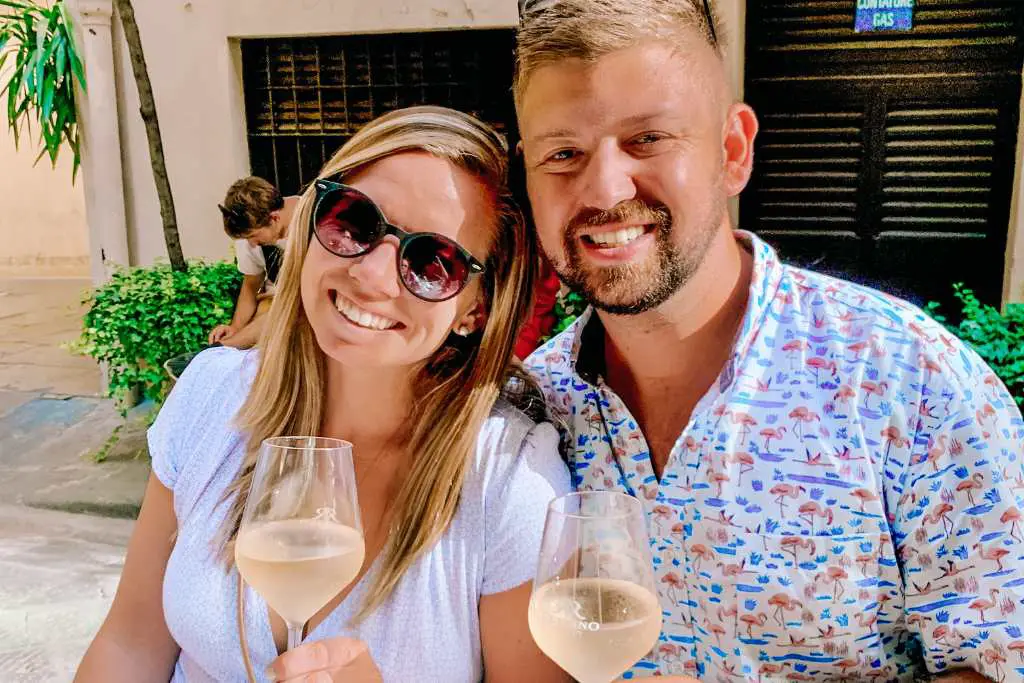 Let's be honest here, travelers from all over the world visit Florence for one main reason – the food! The restaurants in Florence are some of the best in the world. This ultimate Florence food guide will tell you all of the best places to eat in Florence! This guide will cover everything from fine dining, pasta, pizza, sandwiches and Aperitivo.
Seth lived in Florence for over two years and we have spent months there together over the years since 2017. We are super passionate about the food in Florence, I am drooling thinking about these restaurants right now! This is a tried and true list personally tested by us and everyone we have recommended these to. Hopefully these recommendations of the best places to eat in Florence add to your trip to this truly amazing city!
The best fine dining in Florence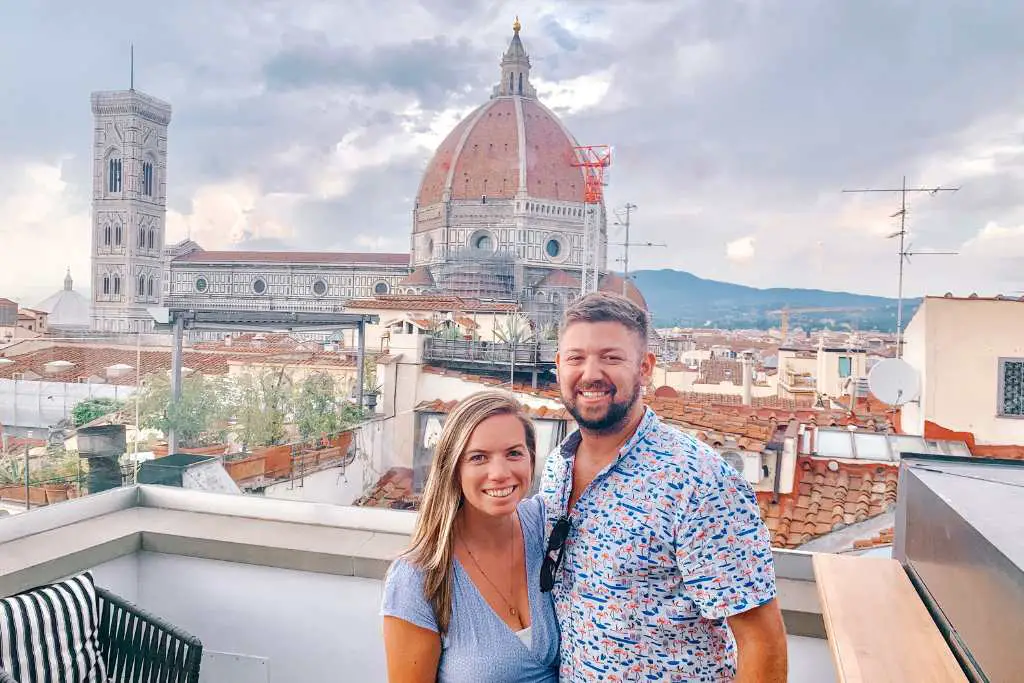 A true Fiorentine restaurant, it's no wonder that this is our favorite restaurant to eat Bistecca Fiorentina. That is the famous Florentine Steak that I'm sure you have read about! For a true fine dining experience, try and get a reservation downstairs in the wine cellar. The upstairs will still serve the world's best steak, but is a much more casual experience.
This restaurant is so true to Florence that if you come into the restaurant sporting any sort of Juventus attire, you will be asked to leave as they are Florence's rival in soccer. If you want to try Bistecca Fiorentina the true way, order it "still bleeding" which is just a little bit below rare.
Located just down the road from the Central Market, Za Za's is a great restaurant to stop in to end the day. Tourists and study abroad students have been raving about this restaurant for years for a reason, every dish is truly delicious!
If dining like you're a celebrity is on your list, head on over to La Giostra. There have been countless celebrities that have eaten here. Our favorite is Bruce Springsteen who will not travel to Florence without dining here!
Just off the corner of the bustling Via Ghibellina lies Acqua al 2. This restaurant originated in Florence and was so successful that one of the owners actually moved to Washington, D.C. to open a sister restaurant. Our favorite thing about Acqua al 2 is that it is very common to order in family style so that you will get to try multiple types of pasta as well as steak, including their famous blueberry steak.
Just over the Ponte alle Grazie and most likely on your walk home from Piazzale Michelangelo is La Buchetta Food & Wine Restaurant. Although this restaurant has a very intimate inside, our personal favorite is to grab one of the few tables outside right on Via de Benci for some people watching while we enjoy our meal.
Osteria Santo Spirito is one of our all time favorite restaurants in Florence and located right in Piazza Santo Spirito. By far our favorite thing on the menu is the truffle gnocchi! It is very rich though so we suggest splitting that and another pasta with a friend. This way you can also try multiple dishes and not fill up too quickly.
The best fine dining in Florence on a budget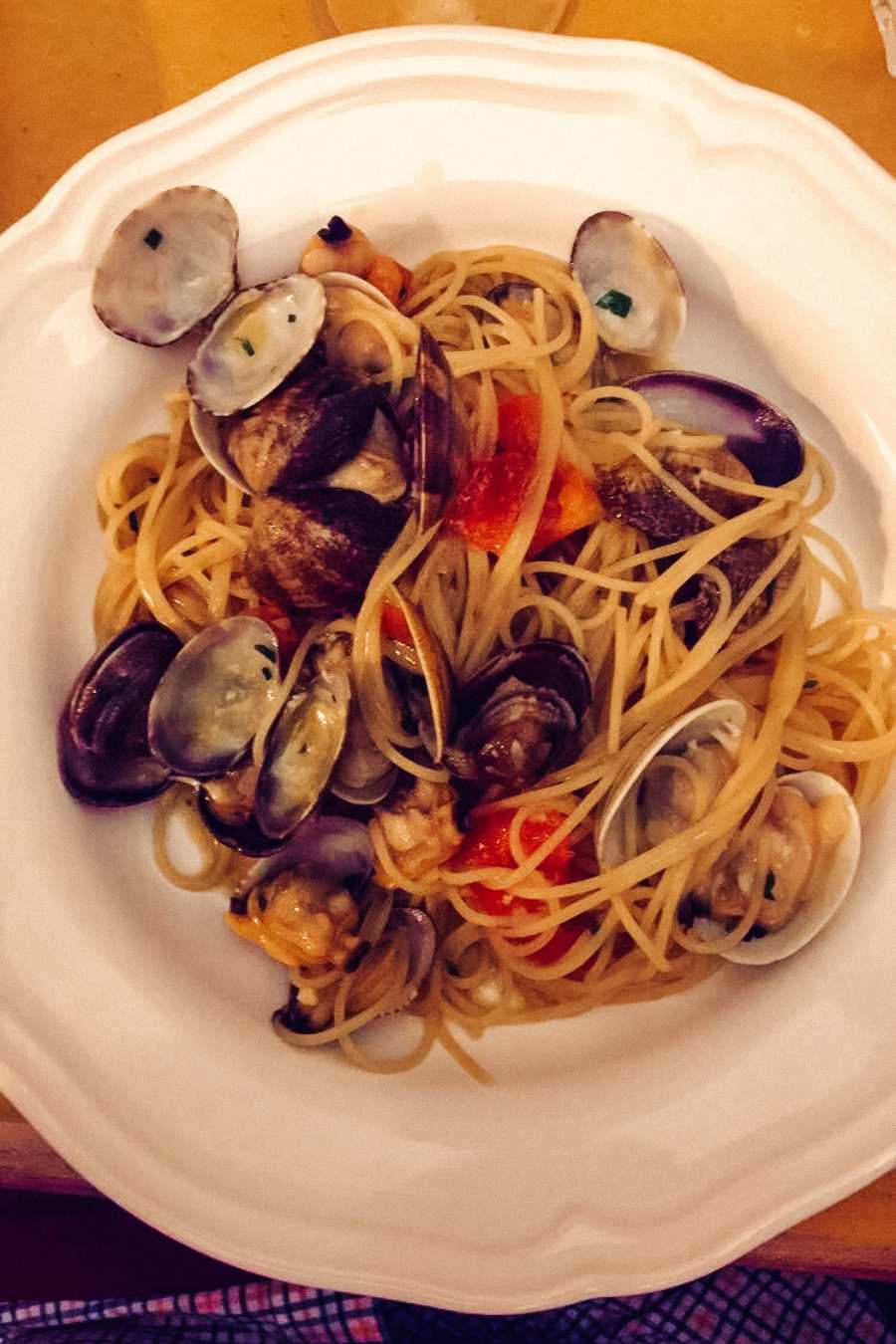 All of the restaurants listed above are totally worth the bill if your travel budget allows it. Although if you are on a tighter budget, it does not mean that you can't enjoy some fancy sit down dinners in Florence! Florence actually has some of the best dinner options that won't break the bank.
Since we have been to Florence multiple times on a strict budget, we have a complete list of the best places to eat in Florence on a budget! Below are a few of our favorites from that list.
This is a small hole in the wall family run restaurant with only ten tables. Everything on their menu is made that day and it is possible that your initial choice might be done for the day. Luckily, everything on the menu is delicious! A big selling point here is that a liter of wine is only €7.
This is a great restaurant to try coccoli which is a typical tuscan starter of fried dough, prosciutto and stracchino cheese. During the lunch hours you can also order from the counter for take away at a discounted price.
This is a bit more touristy of a restaurant so be sure to make a reservation in advance to do family style. Rubaconte is on our best places to eat in Florence on a budget guide because of the family style prices. It is €15 per person for family dinner and €25 to also include steak. The family style dinner includes appetizers, a variety of pastas and ample wine. Whether or not you opt for the steak, this is a great way to try several Tuscan favorites without breaking the bank.
This is a perfect spot to stop for dinner on the way up to or down from sunset at Piazzale Michelangelo. I'm drooling thinking about the pasta they make here! Their house wine is delicious and the Fagottini pasta is a must try. It is best to share that and another pasta dish with a friend because it is rather rich.
Situated a little outside the exact center of historic Florence, this restaurant is in perfect location to break up the walk from Piazza Repubblica and the green expanse that is Parco delle Cascine. They serve huge portions of pasta, so great for leftovers the next day or to split a dish with a friend. We recommend the Seafood Tagliatelle!
Mastrocilegia sits in the quaint Piazza di San Pier Maggiore where there are a few sandwich shops and The Lions Fountain, a lively Italian owned Irish pub that is a great home to travelers. Mastrocilegia has a variety of delicious menu options and is perfect for both pizza and pasta lovers. We recommend the Diavola pizza and pesto linguine with calamari.
Best places to eat pizza in Florence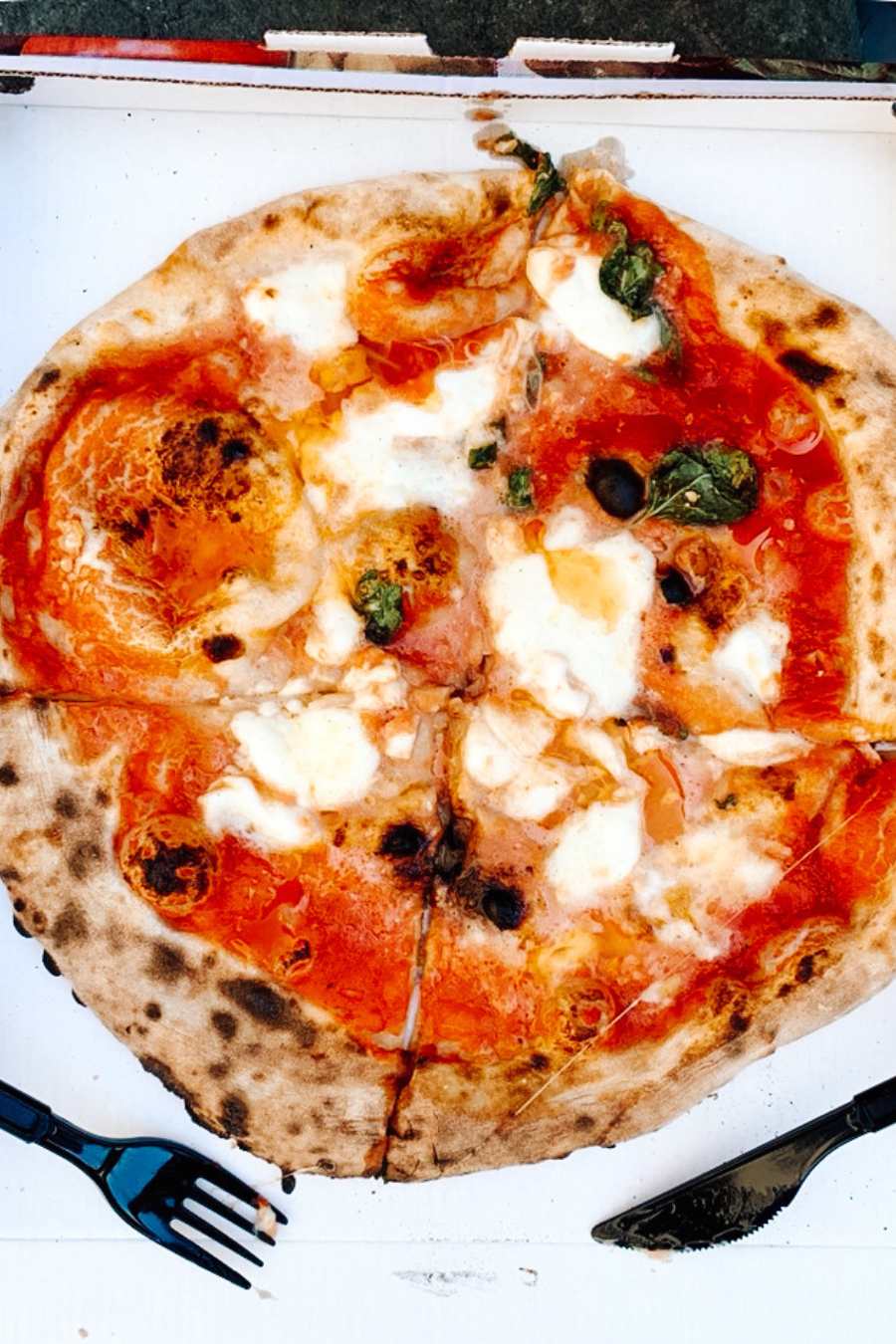 Gusta Pizza has been featured on countless blogs and even on Guy Fieri's "Diners, Drive-Ins and Dives", so needless to say it is one of the best places to eat in Florence.
The menu consists of five pizza options and one calzone with a bonus pizza of the day. Due to the size and popularity of the restaurant, if you opt to sit inside a staff member will help place you at a round table and you will most likely share this space with other travelers. One of our favorite things to do is to order it as take out and go enjoy it in Piazza Santo Spirito just a few steps away.
Also located in Piazza Santo Spirito are their other two establishments. These are Gusta Osteria, which is more of a sit down restaurant, and Gusta Panino, which is a sandwich shop listed below in the sandwich section.
Use code JLJ10 for 10% off all eSIM purchases.
This pizza hot spot is located near Stazione Santa Maria Novella and Piazza Santa Maria Novella. This is arguably the best pizza in Florence. We recommend the Contandina Pizza. The pizza chef's hours are difficult to keep track of but luckily if he's away, they also have great pasta dishes to try!
This wouldn't be an ultimate food guide to Florence is there wasn't a late night pizza option! While they don't serve the best pizza in Florence, they will take care of you after you hit the clubs and all of the options listed above are closed.
Best Sandwiches in Florence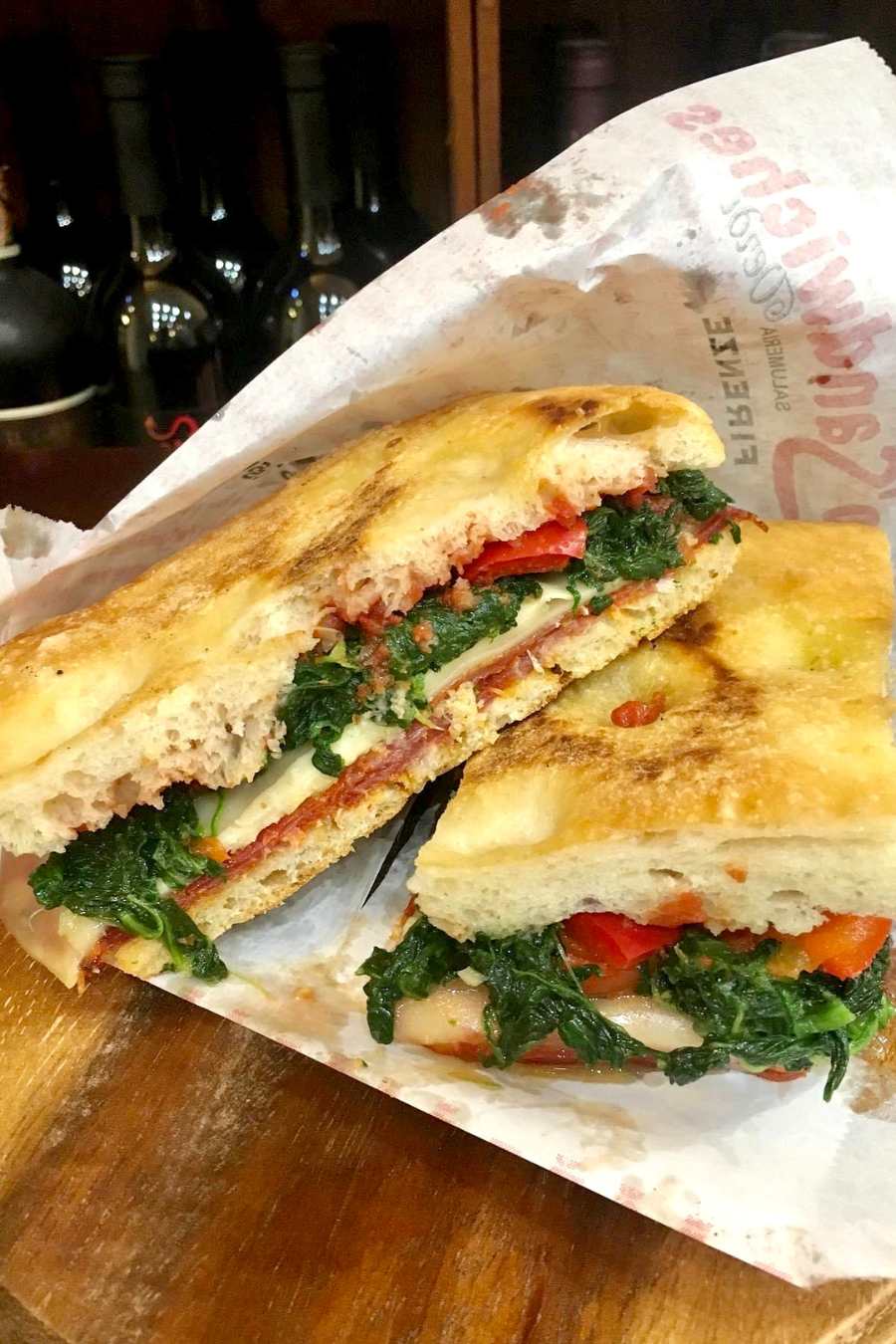 When people think about the best food in Italy, their minds typically go to pizza and pasta. However, there is one other carb heavy meal that tends to get overlooked – sandwiches! Italy is the home of prosciutto and mozzarella, both of which are great additions to a sandwich. On top of that, there is pepperoncino oil, multiple kinds of pesto, and the freshest olive oil and balsamic you will ever taste. Not to mention more types of bread than you could ever imagine. All in all, Italy is a sandwich paradise.
Being sandwich lovers to the point that our love of sandwiches was included in Seth's brother's Best Man speech at our wedding, it's safe to assume that we take our Florence paninos very seriously. If you ask anyone who has been to Florence for even just a week, they will swear by one shop and one shop only. For us, our favorite by far is Pino's. To be fair judges though, we have eaten at all of the shops below and they all are delicious.
Each and every shop has their own strengths, from different types of bread to special sauces for your sandwich. You really can't go wrong when it comes to paninos in Florence. These are just a few of our all time favorites!
Pino's Sandwiches is by far the best place to eat sandwiches in Florence. Sandwiches are around €4.50 and the service from Pino and his family is an added bonus.
For years Pino, his wife Antonella and daughter Martina have been the family to study abroad students living overseas for the first time. We have known Pino since 2012 and every time we are back in Florence, it is as if we have never left.
All of his sandwiches are amazing but they also make fresh pasta and sides daily. A secret about Pinos is that on Fridays they make seafood pasta that you can purchase a large plate of for only €5.00.
You can also schedule the best wine tasting in town through Pino where you will sample olive oils, balsamic vinegar and wine all with specific meat and cheese pairings. We make a point to do this at least once every time we are back in Florence.
This is one of the most well known sandwich shops in Florence and sandwiches cost around €6. It is always crowded but the sandwiches are delicious. We learned a trick while living above this establishment. There are two All'Antico Vinaios directly across from each other and usually only one has a line. It seems to be that wherever the line starts that day, that is the one that all of the tourists think is the only one. You can easily skip the line and go to the opposite side of the street as it is actually the same shop.
After grabbing a sandwich here, take it up the road to Piazza Della Signoria to eat while sitting among the statues.
This sandwich shop located across the street from the larger restaurant. The cute small sandwich shop has only a couple tables inside. They offer wine tastings and sandwiches that cost around €5.00. You can also purchase a charcuterie board to go along with your meal!
This hole in the wall is located in the tunnel connecting Piazza di San Pier Maggiore and Via dell' Oriuolo. It is a great spot to grab a sandwich on the go when other establishments are overcrowded with long lines.
This is located in Piazza Santo Spirito and is a great option for sandwiches on the other side of the Arno. Their famous pizza spot, Gusta Pizza, is just down the block if you want to hit both for a meal!
Depending which locals you ask, this is one of the best sandwich shops in Florence. There are no tables or seating around, so feel free to grab a sandwich and sit on the street side. Watch out for pigeon poop here though! We've been hit before.
Best places to eat Aperitivo in Florence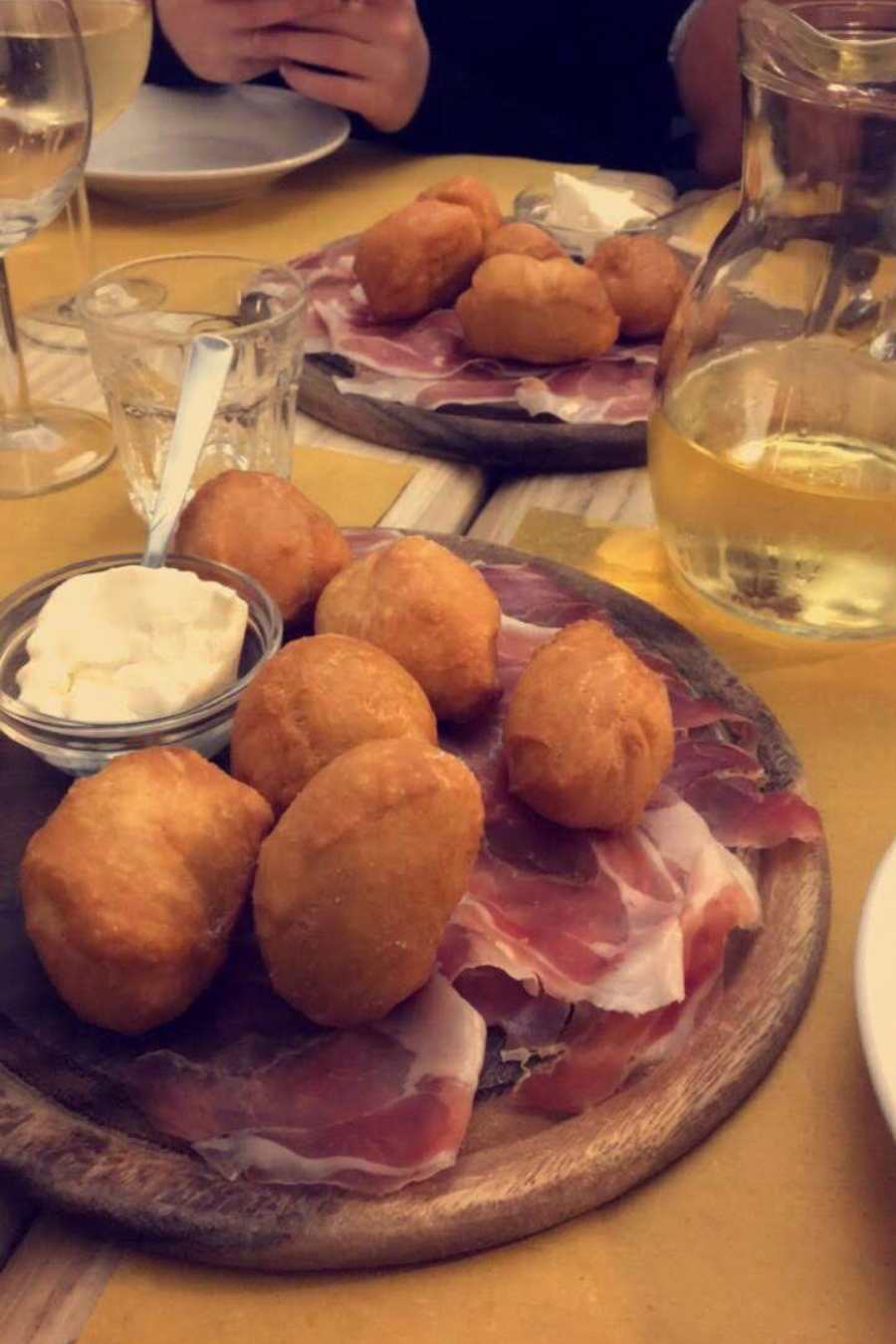 Aperitivo is an Italian tradition similar to happy hour. This is a time to meet for a drink and snack on some small plates to prepare for dinner. Whether you plan to partake in this the traditional Italian way or are looking for a meal on a budget, this is a must do when in Florence. Simply purchase a drink and you have access to all of the food laid out in buffet style.
Colle Bereto is an aperitivo staple in Florence and located steps away from the famous theater in Piazza degli Strozzi. We tried lots of Aperitivos during our time and this was our favorite! Colle Bereto is definitely the best bang for your buck and has absolutely delicious cocktails.
Moyo features ample outdoor seating as well as a couple small rooms inside. It is also steps from the Ponte Alle Grazie.
This is located near Piazza Santa Croce. This is a cafe by day and typical aperitivo spot by night.
Located in Piazza di San Pier Maggiore and is a great place to grab Aperitivo before hitting the nightlife! You can pop over to The Lions Fountain or any of the nearby bars.
Victoria Lounge Bar is a total vibe in the center of the action in Florence. They are known for their specialty cocktails!
Golden View is located on the other side of the Arno and sits right on the river with a beautiful view of the Ponte Vecchio. While it is a little pricier for Aperitivo, it is worth it for the view!
Additional Florence restaurants FAQs
Do you tip at the bars and restaurants in Florence?
There is usually a €1-2 service charge for your meal. You you are happy with your service, it is polite and customary to tip 10-20%.
What should I drink with my meal?
Wine! We always order the house wine with our meal just because it is the cheapest and still beyond better than anything you would ever get in America. As always, treat yourself to a pairing that the server recommends if that is what you want. Also, be sure to try an Aperol Sprits at some point during your trip!
Other Florence resources:
Florence is truly one of the best places in the world for so many reasons, but the food is top of the list! We hope that you enjoy all of the food options listed in this guide of the best places to eat in Florence.