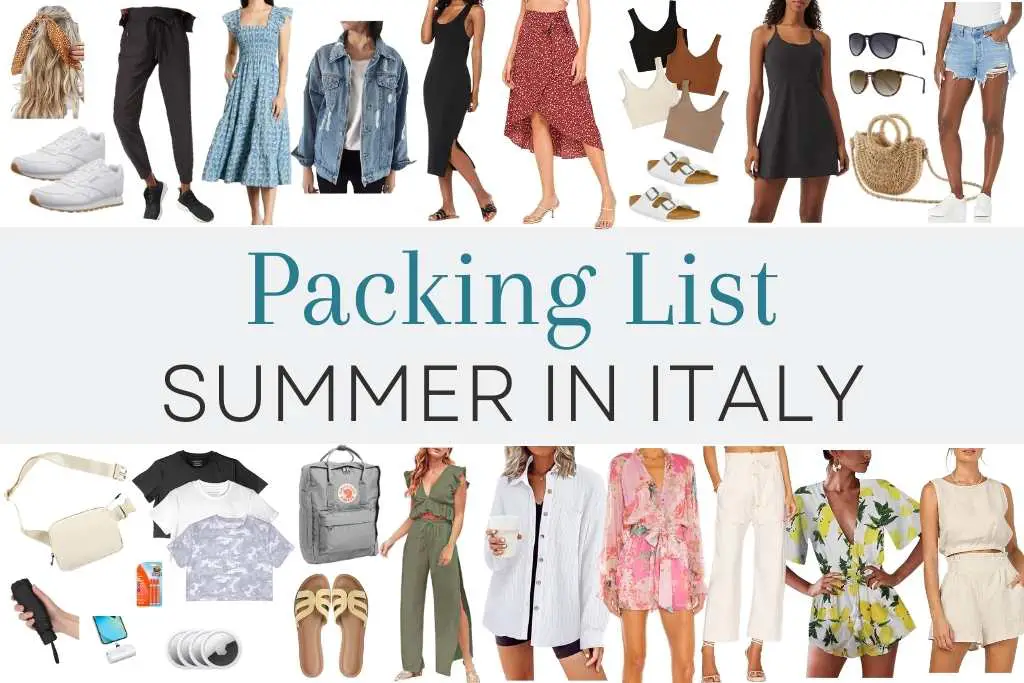 Packing for a trip to Italy this summer? YAY! You are about to dive into a vacation filled with endless pasta, culture, cobblestone streets and wine like you've never had before. Italy is one of the most iconic and amazing destinations in the world and there's no doubt your trip will be amazing! The summer is one of the most popular times to travel to Europe and there is so much to do in Italy this time of year. It is important to be both comfortable and stylish when choosing what to pack for your trip to Italy. It is absolutely possible to build an Italy packing list without sacrificing either of those!
What weather to expect in Italy in the summer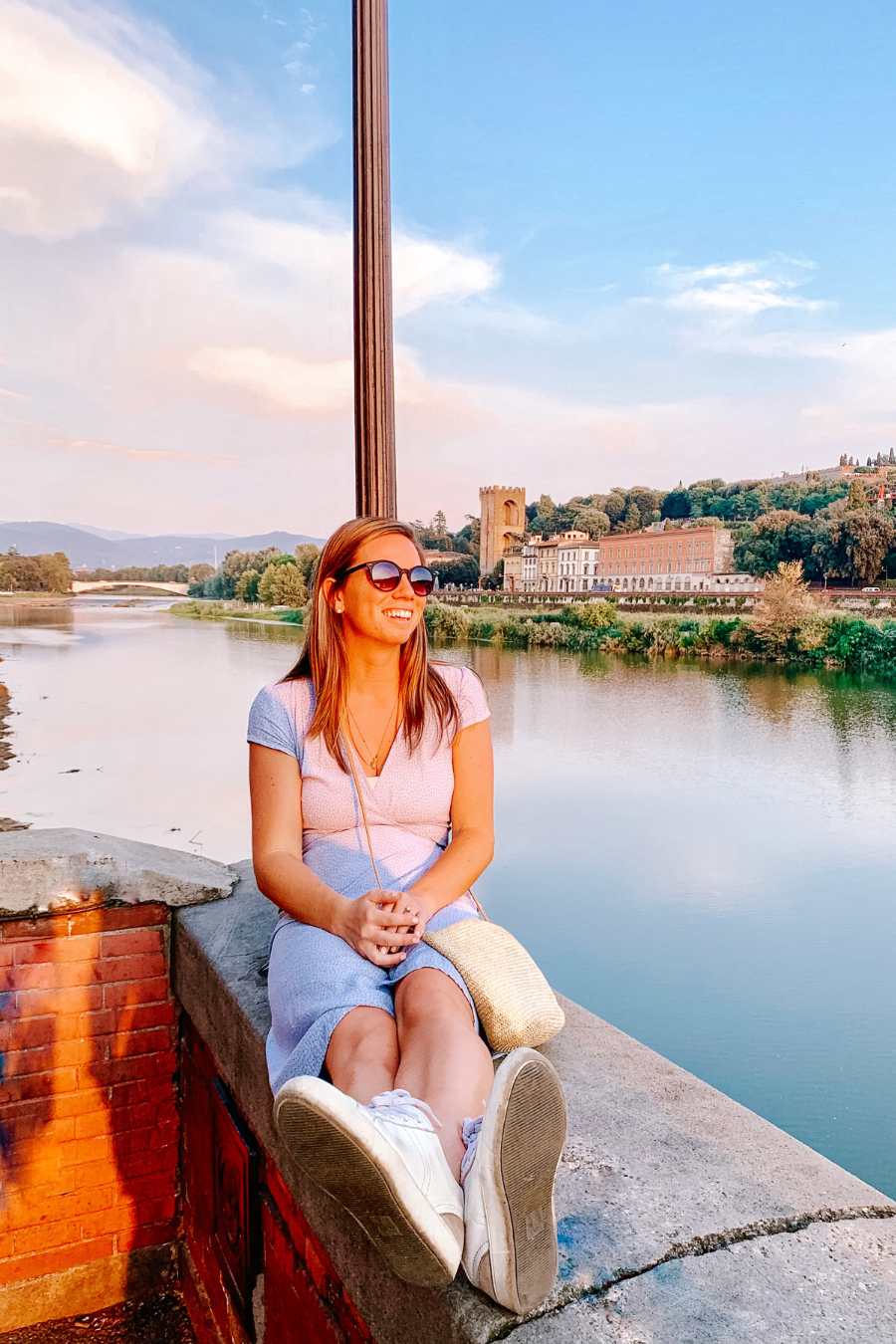 The summer in Italy will be hot! There's no way around it. May – June will be more mild but August will be humid. You will want to wear lightweight clothing that is loose and comfortable.
Skyscanner is one of our favorite tools to find cheap flights around the world. Browse your options here!
Basic packing tips for summer in Italy
Staple pieces will go a long way
Italy is one of the most picturesque places in the world to travel to and you will want to take pictures everywhere you go! Some basic staple pieces will allow the backdrop to speak for itself. Simple styles with a few accent pieces are a perfect combo when choosing your outfits in Italy.
Be respectful of cultural standards
No matter the time of year you are visiting Italy, you will need to dress appropriately when entering any religious establishments. Even in the warm summer months this is easy to do with a lightweight coverup to keep in your day bag. You should be prepared to cover your knees and shoulders if entering religious establishments.
Use packing cubes
Packing cubes are an absolute travel packing game changer and you need them for a trip to Italy in the summer. By using packing cubes, you will be able to both fit more clothes from your packing list and also keep you organized. You can use the packing cubes as drawers so you know exactly where each article of clothing is packed.
Browse all of our favorite travel products here.
Take pictures of your outfits before you go
This is one of the best packing hacks for any trip! Take pictures of all of your different outfits and save the pictures in an album on your phone. This way when you get to Europe, you do not need to try on multiple looks before heading out! You can refer to your camera roll to decide what to wear.
Pack an extra bag to bring home in case you go shopping
This is a tip anytime you visit Europe but especially important if traveling to Italy because it is home to some of the best shopping in the world! Pack a compressible duffle in the bottom of your bag on the way there in case you purchase things while you are traveling and need to check an extra bag on the way home.
A complete Italy packing list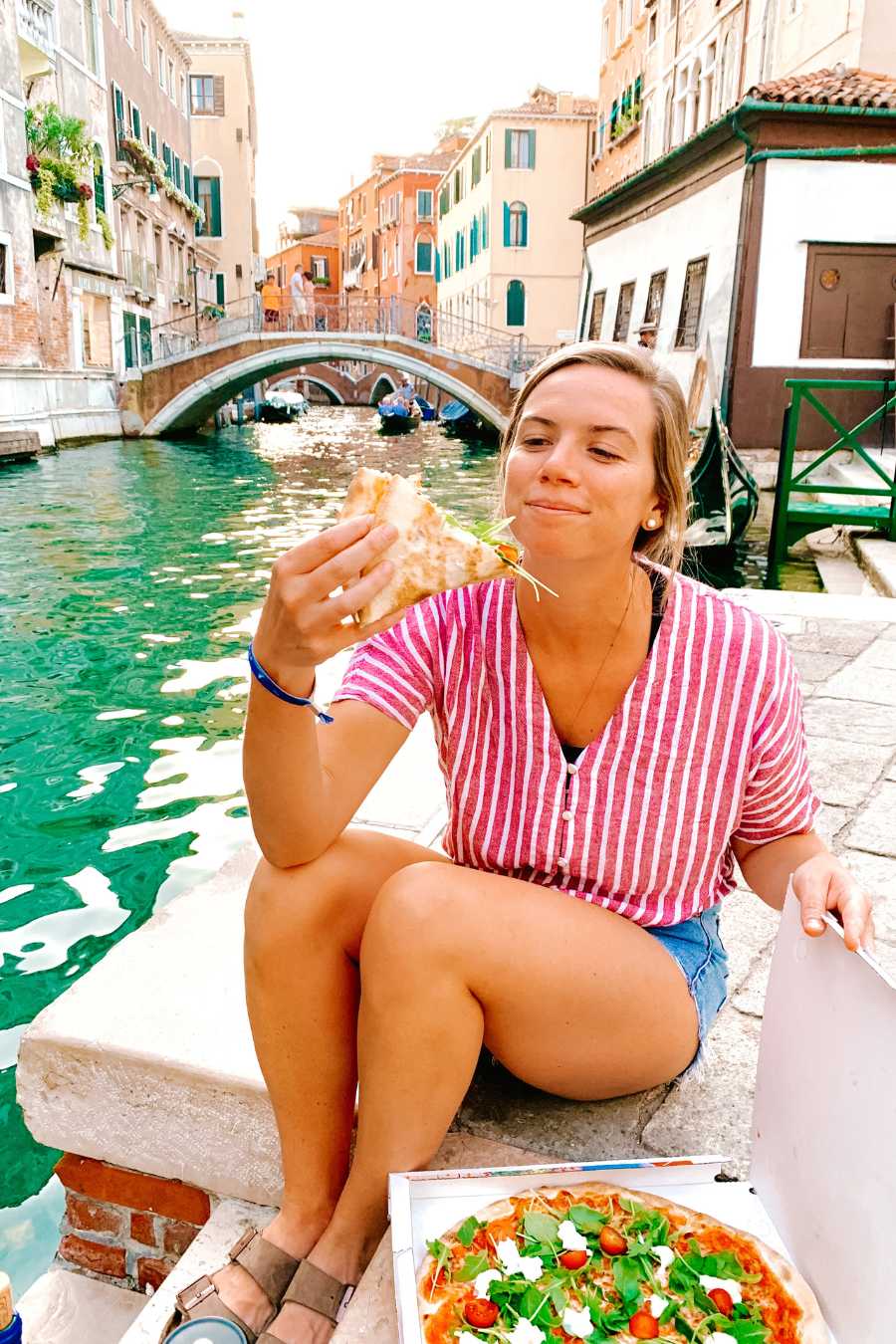 I'll dive into more details below but here is a quick snapshot of an Italy packing list.
Dresses
2x long dress
1x short dress or romper
Bottoms
1x joggers
2x shorts
1x loose pants
1x skirt
Shirts
2x tank tops
2x Lightweight shirts
1x lightweight button down
Outer layers
1x jean jacket or lightweight outer layer
1x rain jacket
Swimwear
1x Swimsuit
1x beach cover-up
Shoes
1x sneakers
1x walking sandals
1x dress sandals
Bags
1x day bag
1x small crossbody
1x dinner bag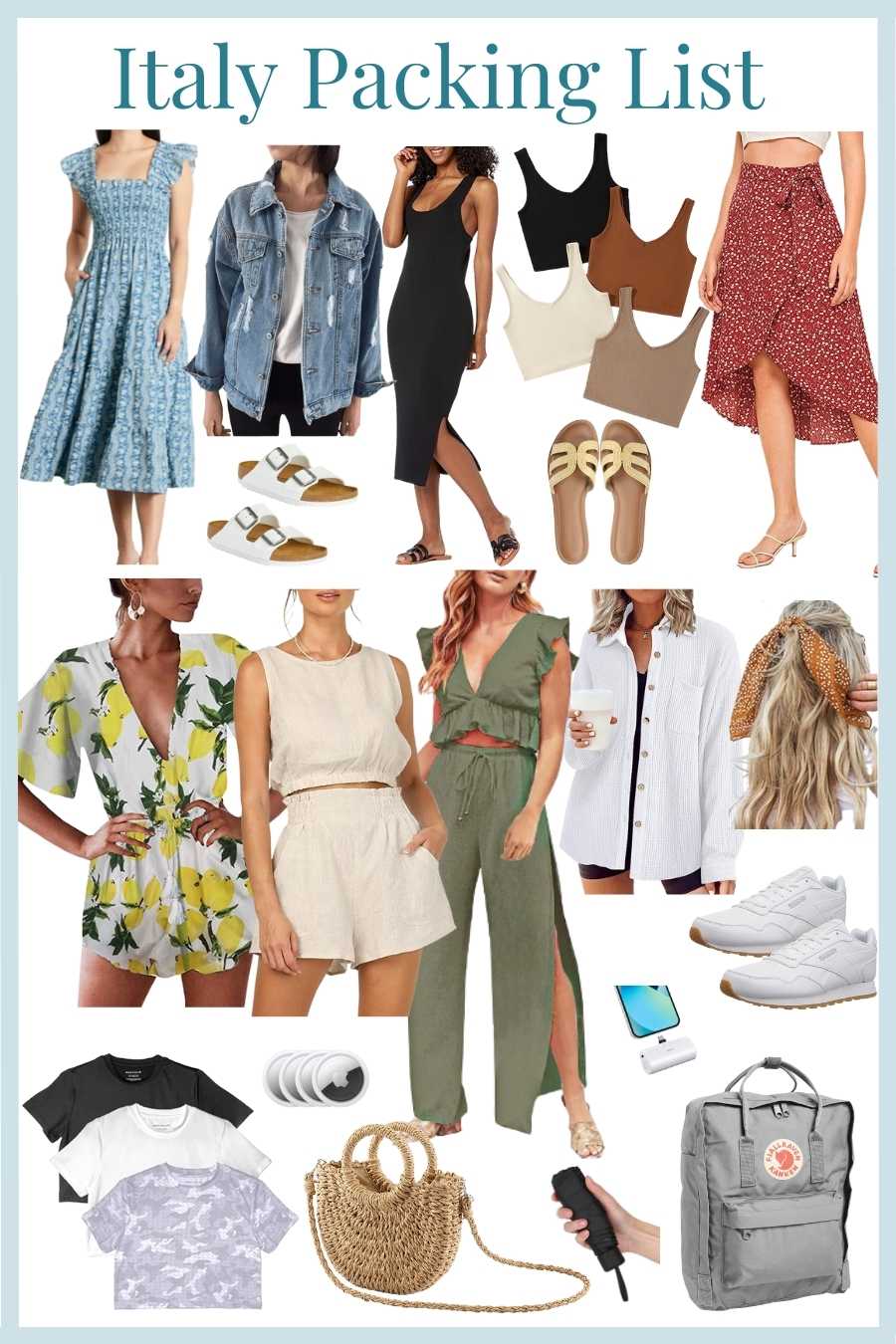 Dresses to pack for Italy
Lightweight dresses are the best articles of clothing to pack for Italy because they can be comfortable during the day and be dressed up at night. They are also great to wear with your sneakers or dressier sandals for a nice candlelit dinner. This simple Amazon dress is very comfortable and comes in tons of colors.
You should also have some fun with the dresses you pack for Italy in the summer! Add some florals or patterned staple pieces that make you feel confident and stand out while you live your best Italian life on your summer vacation. This Hill House classic dress comes in so many colors and patterns to choose from. These dresses are also a good length because they cover your knees in case you are entering churches during the day.
This lemon romper is also perfect to pack for Italy, especially if going to the Amalfi Coast!
Tops and Bottoms to pack for Italy
Bottoms
I'm a huge fan of packing staples that you absolutely love and then they can easily mix and match with each other. This is why it is important to take pictures of your outfits before you go so that you can remember all of the different combinations that your clothes can make with each other!
A classic pair of jean shorts that you love is a must pack for Italy. You will likely end up wearing these almost everyday. Similarly, a simple loose neutral colored pair of shorts will get lots of use. Something like these are easy to dress up and down whether you are going for your morning espresso or evening aperitivo.
I also love to pack a long skirt or fun flowy pants to add versatility to an Italy packing list. This is a great transitional outfit from daytime to evening activities. This matching set from Amazon is so comfortable and the top and bottom can also be mixed and matched with other pieces!
These joggers are simply the best pants to wear on a long flight. I wear them anytime I am traveling and they are a great comfy pair of pants when lounging on the road.
Tops to pack for Italy
Similar to packing pants and skirts, you want a healthy mix of neutral tops with some fun ones! Make sure that you have an outfit in mind with every top that you pack. You should be able to mix and match your looks to create a variety of outfits with fewer clothes.
This three-pack of shirts from Amazon has lasted me years and they are so comfortable. They can be dressed up or down. The same can be said about these tank tops, you can layer them underneath everything so you still have a complete look together when you shed some layers!
These button down shirts are great for adding a light layer. They can be worn as a staple shirt alone or used as a lightweight outer layer.
Outer layers to pack for Italy
Since Italy in the summer is hot, you should not need to pack many outer layers on your trip. A jean jacket may come in handy if it gets chilly at night. This sarong will be perfect to add to your day bag in case you enter any religious establishments during the day. This way you will still be comfortable outside but ready to cover up if needed. This lightweight button up shirt will also suffice as an outer layer in Italy in the summer!
Shoes to pack for summer in Italy
In all of my Europe packing lists, I talk about how cobblestone streets are not friendly when it comes to wearing platform shoes. The streets in Italy are no different. You will be walking tons when traveling in Italy so it is essential to choose shoes that you will be comfortable walking in all day long. I wear my white Birkenstocks when it is hot in Italy in the summer. A comfortable pair of sneakers will also suffice and match everything on the packing list. These Tevas also come in lots of colors and can be worn day or night.
I prefer to skip the platform shoes and bring this comfortable pair of slip on sandals when dressing up an outfit. They hardly take up any space in your bag and are comfortable enough to wear for dinner and a night out!
Bags
There are three major bags that you need to pack for a trip to Italy. A day bag will be necessary for any long day trips that you go on to hold everything you need all day long. I personally use this backpack on every trip I take to Europe! You will want a basic crossbody bag to carry your essentials zippered safely on your body. And then this rattan tote bag is great for dinner and a night out to dress up your outfits!
Italy travel outfit inspiration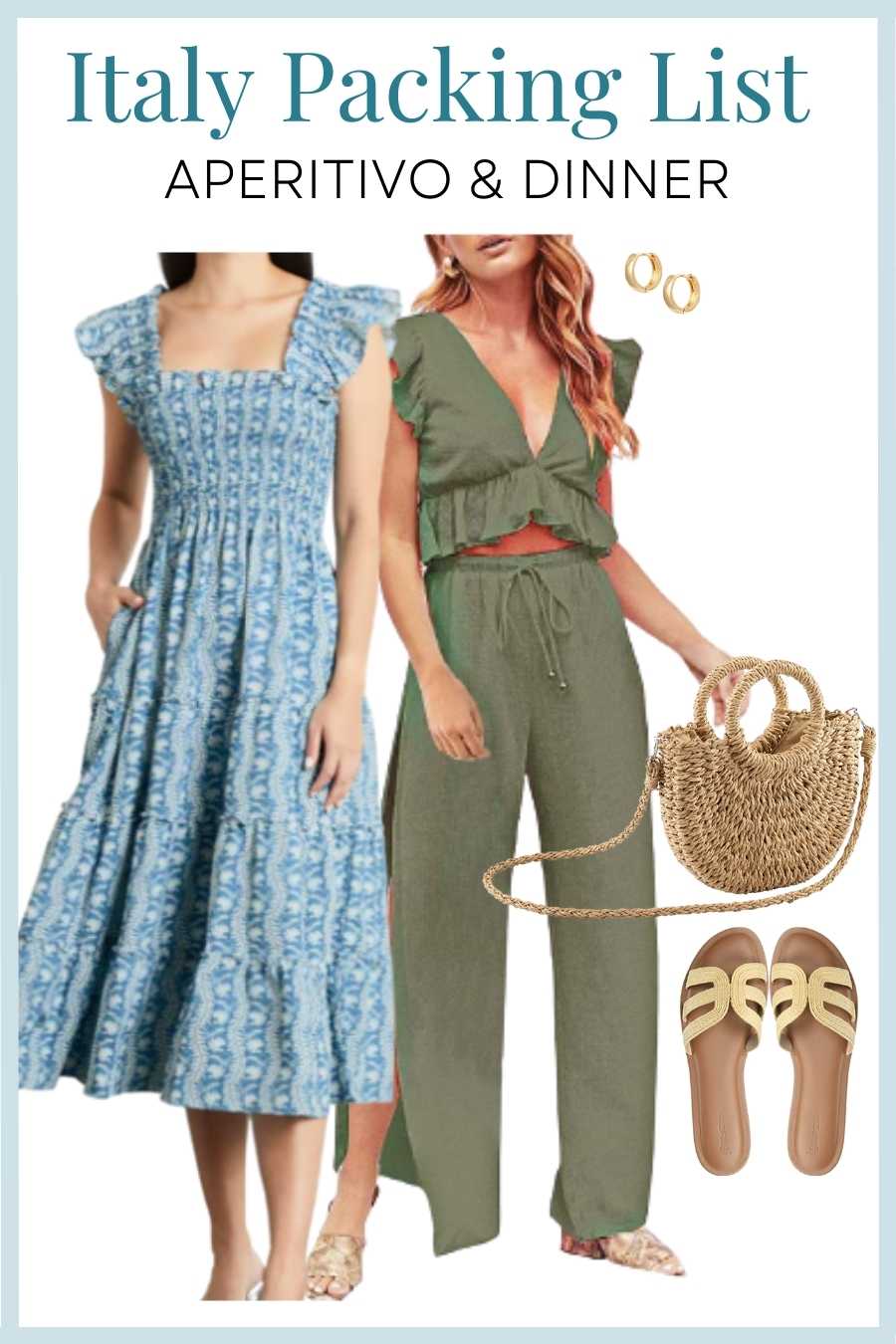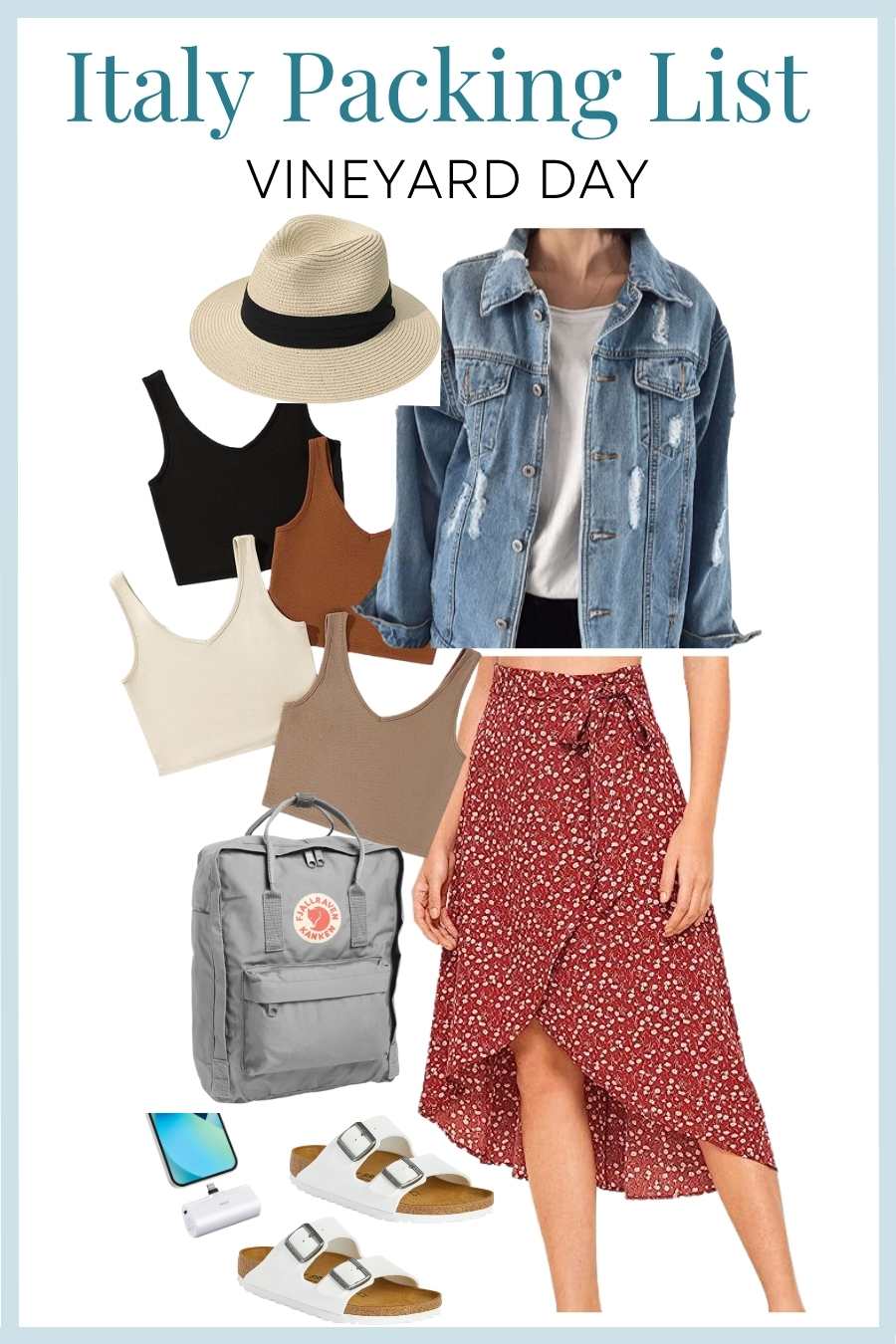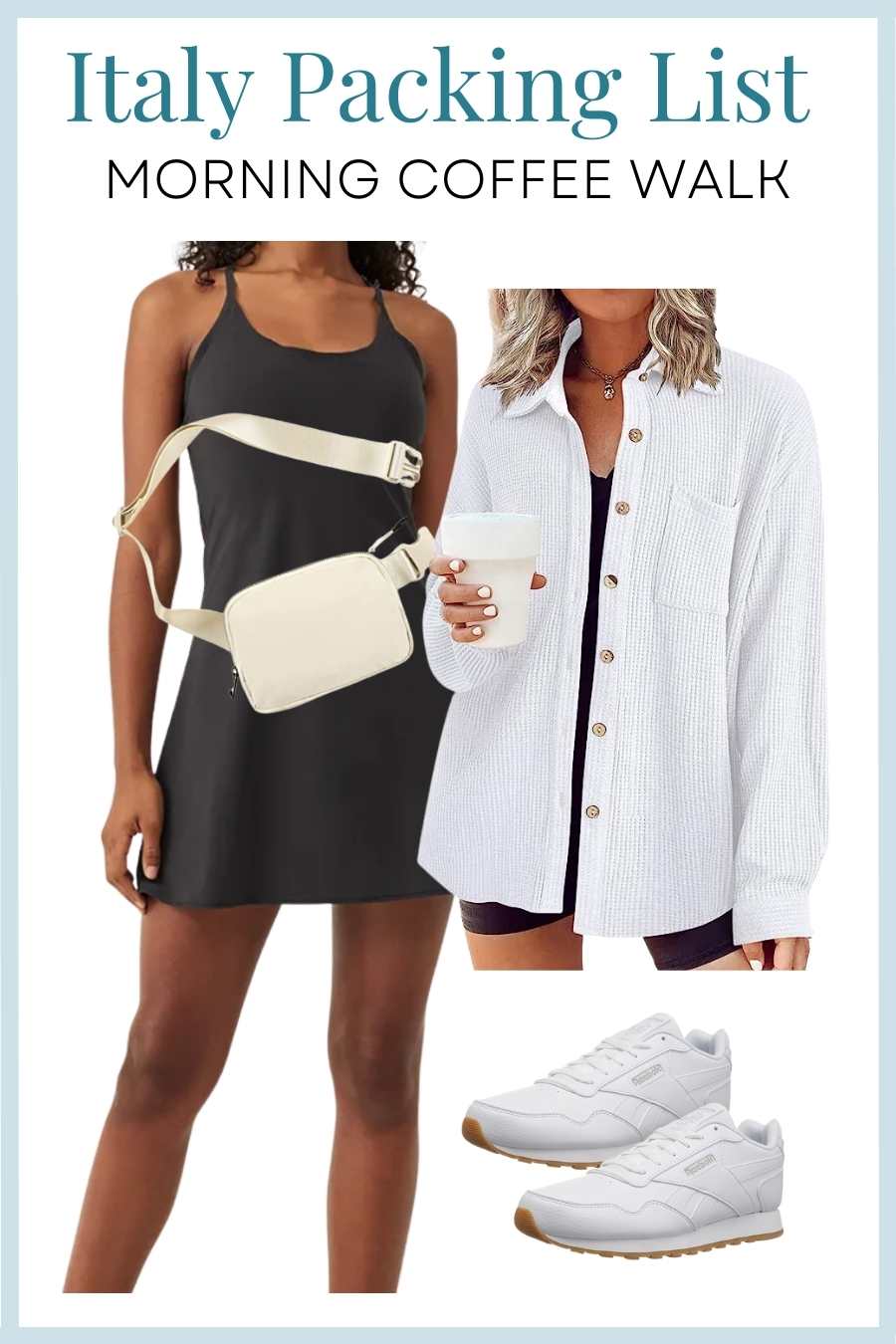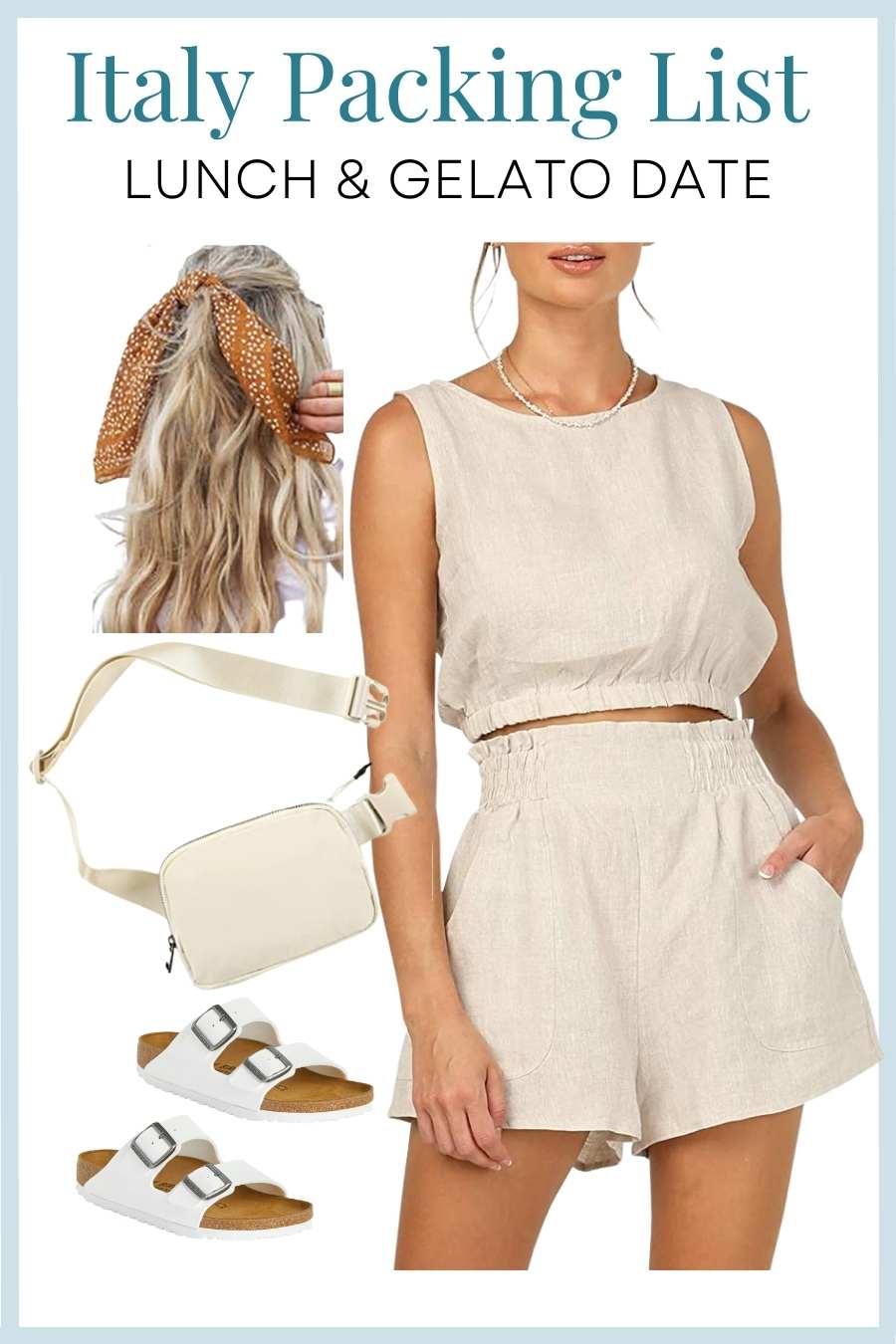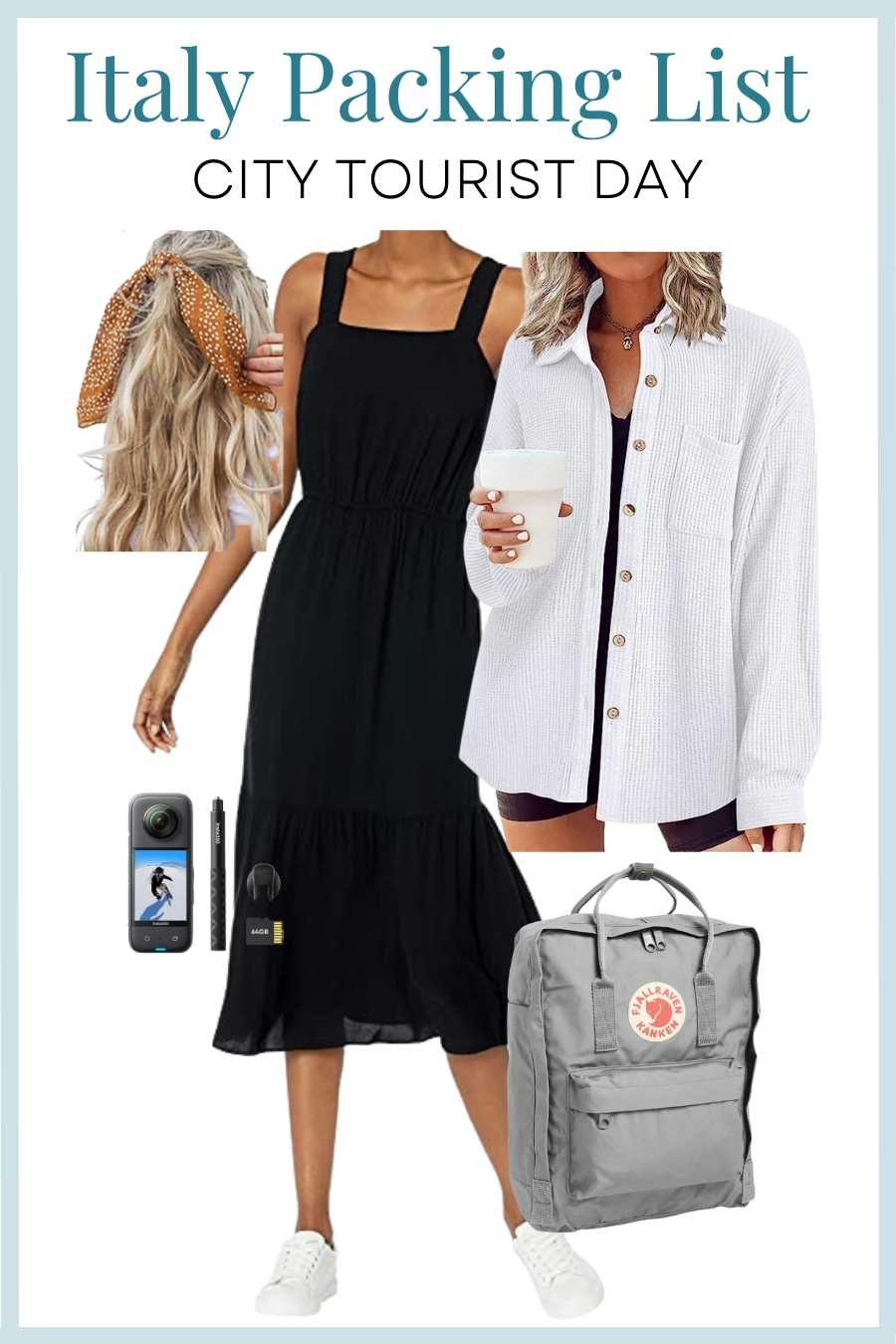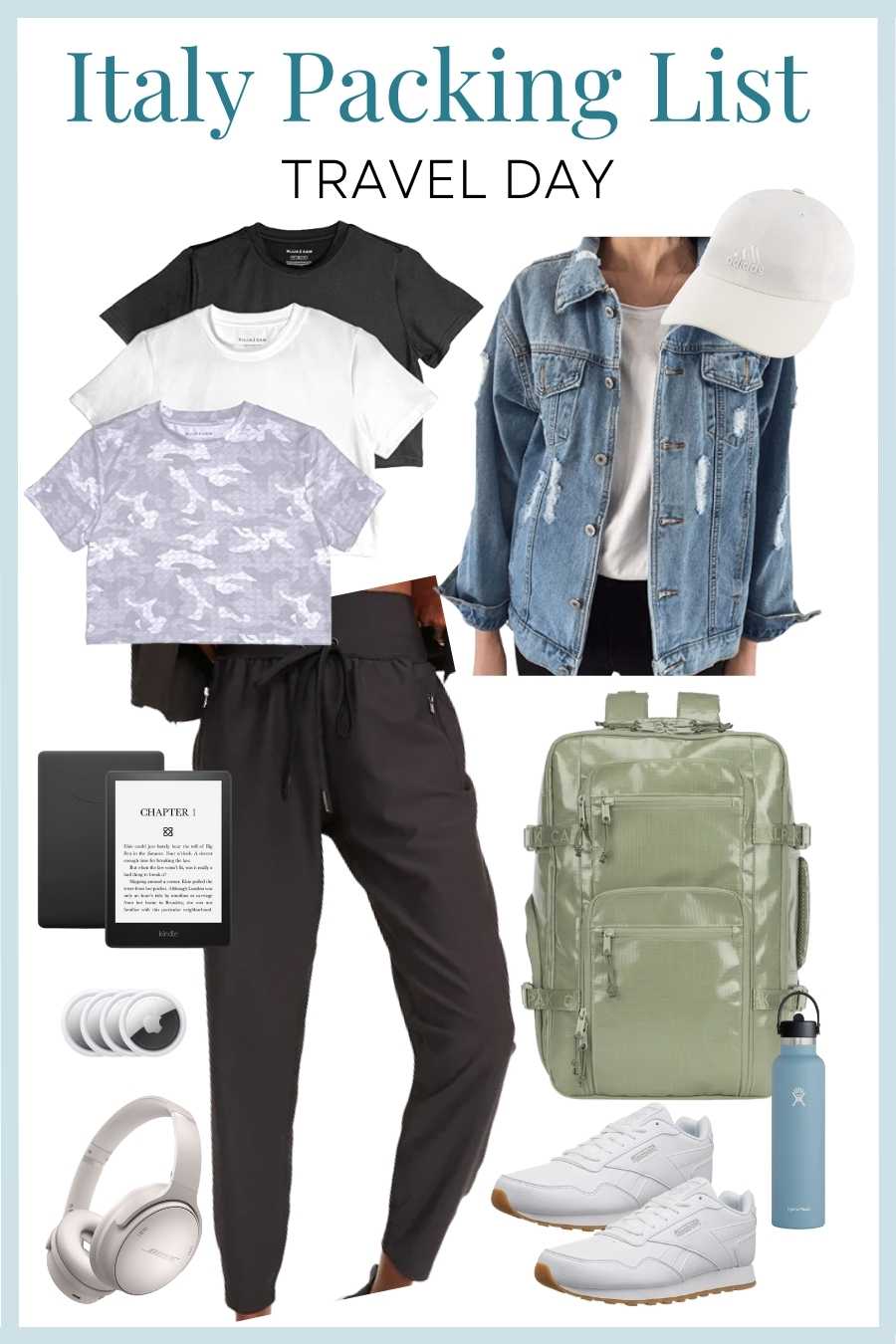 Other Europe packing essentials
I hope this Italy packing list helps you pack for your upcoming trip! Be sure to tag us on social or comment if you are wearing anything we suggested because we love to see it. Happy traveling!
Additional Europe resources