Europe is truly one of the best places in the world and the spring is a great time of year to visit because you will beat both the heavy summer crowds and scorching heat. Packing for travel in the spring is a challenge because it is tough to plan for that in-between weather. This post will walk through exactly what you need to pack for a trip to Europe in the spring with my favorite tips and tricks to pack more efficiently without sacrificing style.
What weather to expect in Europe in spring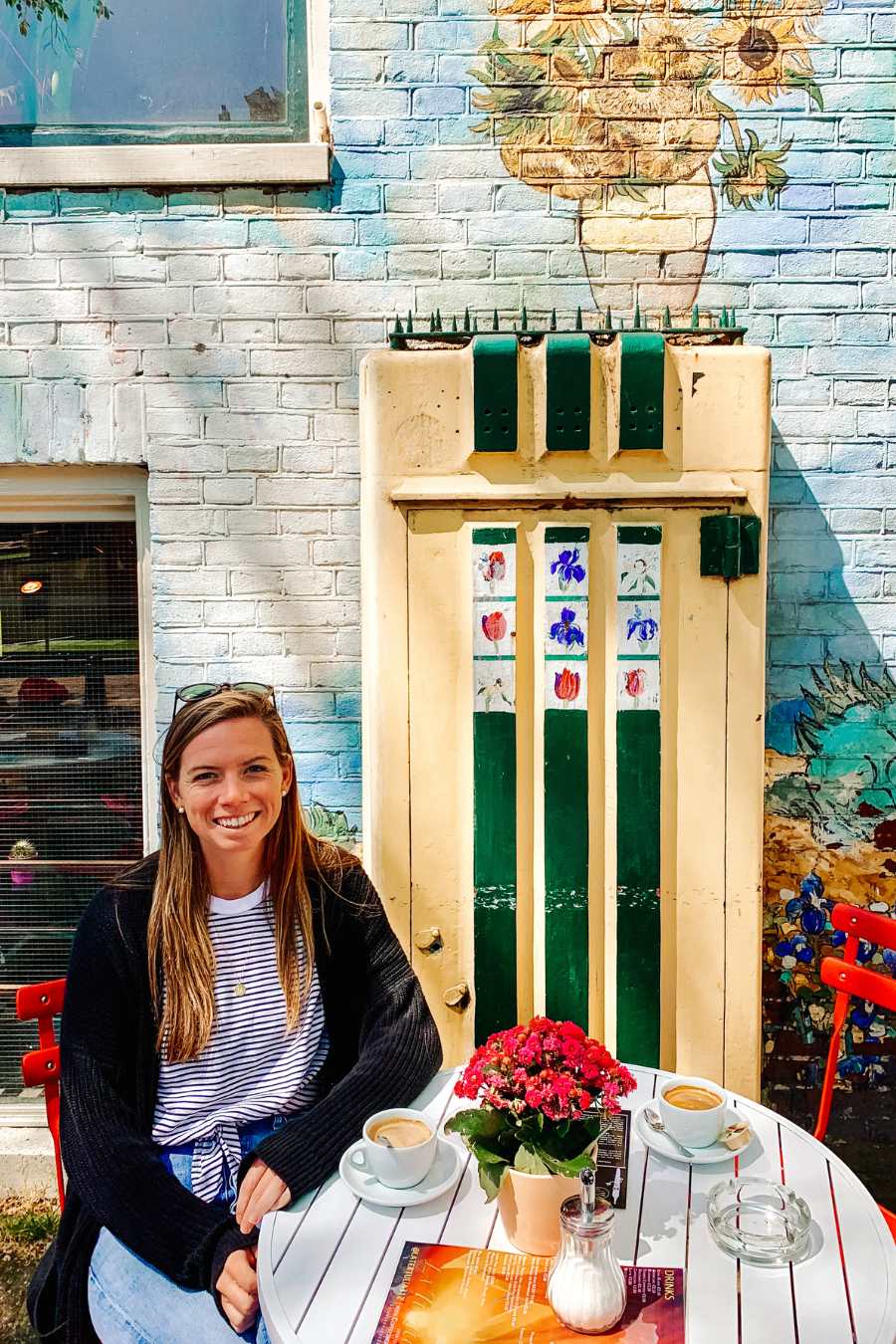 Depending on the exact location of your spring Europe trip, temperatures will vary but one thing you can expect is for temperatures to fluctuate throughout the day. You may wake up and it be a brisk 40 – 50 degrees and then rise up to 75 in the middle of the day. Packing proper layers will be essential to your spring Europe packing list.
Hopefully it is sunny where you are traveling to but you should also prepare for some rain showers throughout the day.
Basic packing tips for Europe in the spring
Layers are key
Layers are truly the key to this Europe packing list! I'll talk through more detailed examples below but think about wearing a tank top, light shirt, light outer layer and a thicker outer layer. This may seem unnecessary but if temperatures fluctuate drastically throughout the day, you do not necessarily want to go home and change. Layers will allow you shed some weight as it gets warmer throughout the day.
Use packing cubes
Packing cubes are an absolute travel packing game changer and you need them for a trip to Europe in the spring. By using packing cubes, you will be able to both fit more clothes on your packing list and also keep you organized. You can use the packing cubes as drawers so you know exactly where each article of clothing is packed.
Pack neutral outer layers
Since you'll be layering outer layers, you want to choose ones that are relatively neutral and match everything. By packing neutral outer layers, you will limit the amount that you need to pack on your spring Europe trip.
Take pictures of your outfits before you go
This is one of the best packing hacks for any trip. Take pictures of all of your different outfits and save the pictures in an album on your phone. This way when you get to Europe, you do not need to try on multiple looks before heading out! You can refer to your camera roll to decide what to wear.
Use code JLJ10 for 10% off all eSIM purchases.
A complete Europe spring packing list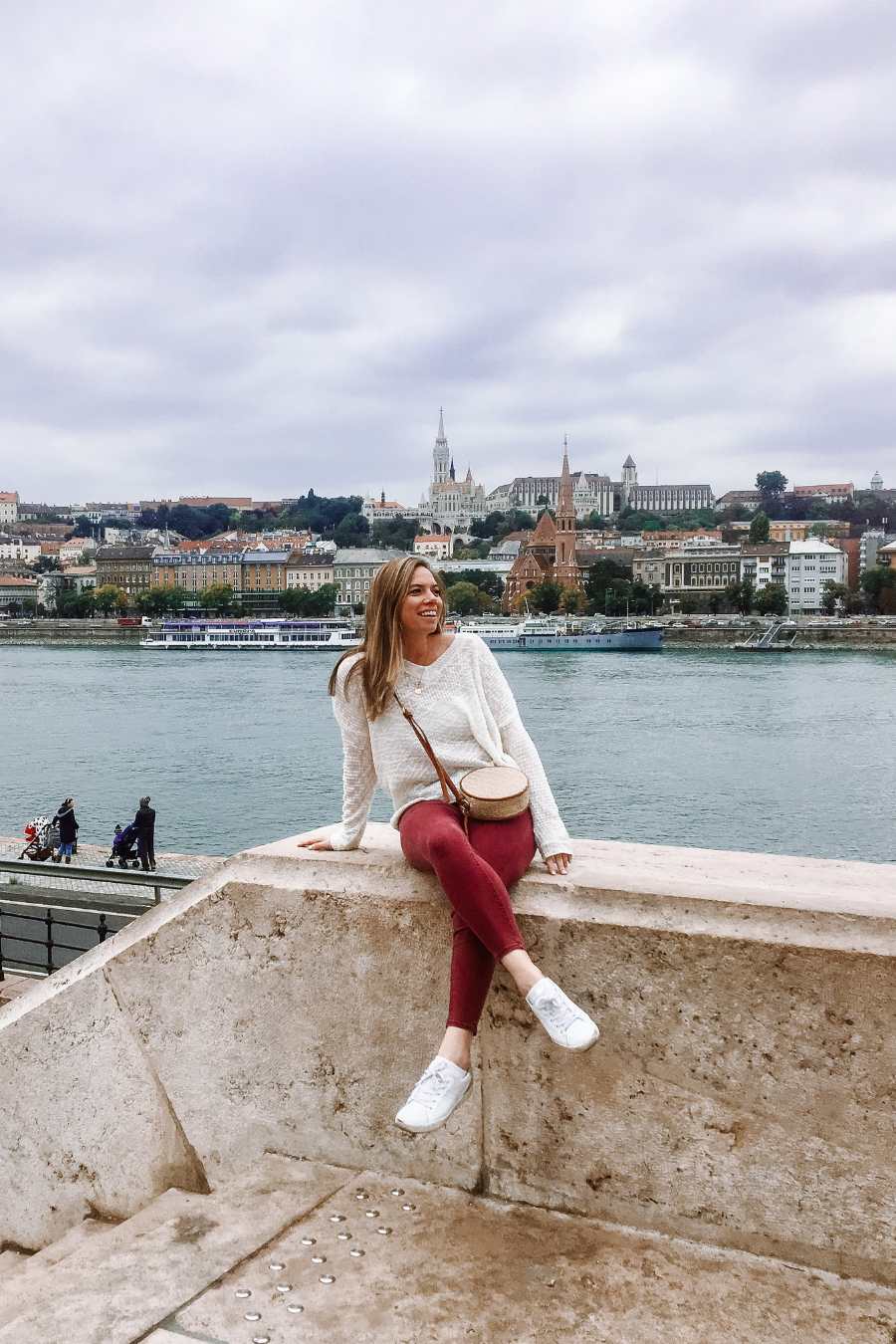 I'll dive into more details below but here is a quick snapshot of a Europe packing list:
Bottoms:
1x joggers
1x jeans
1x colored pants
1x leggings
1x skirt
Shirts:
2x tank tops
2x Lightweight shirts
1x lightweight button down
Dresses:
Outer layers:
1x leather jacket or jean jacket
1x shacket or thicker jacket
1x rain jacket
Swimwear (depending on location and itinerary):
Shoes:
1x sneakers
1x loafers or slides
Bags:
1x day bag
1x small crossbody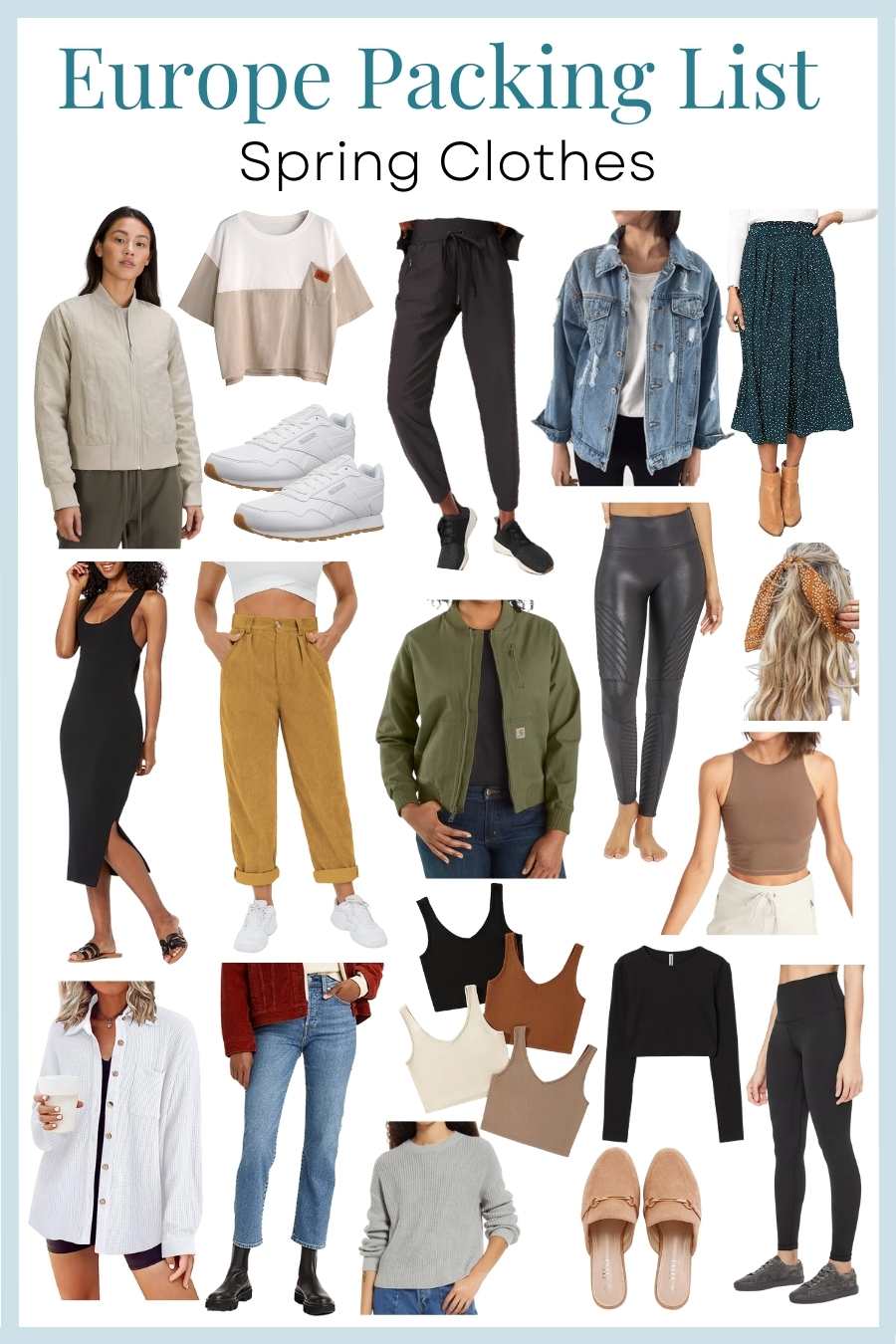 Bottoms
I'm a huge fan of packing staples that you absolutely love and then they can easily mix and match with each other. This is why it is important to take pictures of your outfits before you go so that you can remember all of the different combinations that your clothes can make with each other!
A classic pair of jeans that you love is a must pack for spring in Europe. You will likely end up wearing these almost everyday. Similarly, a simple pair of leggings you love will get a lot of use when layering clothes.
These joggers are simply the best travel pants! I wear them anytime I am traveling and they are a great comfy pair of pants when lounging on the road.
I love the idea of adding a pop of color to your Europe spring wardrobe with a pair of pants or a nice long skirt. These will be great to dress up for a night out or keep it casual during the day.
Spring tops to pack for Europe
Similar to packing pants and skirts, you want a healthy mix of neutral tops with some fun ones! Make sure that you have an outfit in mind with every top that you pack. This is where layering will really be important. You want to be able to layer your tops so that your outfit still works when you take a layer off. This will ensure that you are comfortable all day long!
This three-pack of shirts from Amazon has lasted me years and are so comfortable. They can be dressed up or down. The same can be said about these tank tops, you can layer them underneath everything so you still have a complete look together when you shed some layers! You can easily add this ribbed long sleeve over top as well that are lightweight and will match every outfit.
Button down shirts are great for layering spring outfits. They can be worn as a staple shirt alone or used as a lightweight outer layer. If going to a chillier destination in your Europe, I also recommend packing a thicker sweater for the mornings.
Dresses to pack for Europe in the spring
Depending on your exact itinerary, you may or may not need some dressier outfits. I like to pack at least one dressier look for a night out or going to a nice restaurant. A long dress will be perfect for this because it won't take up too much space in your bag and you can easily dress it up or down depending on which shoes and outer layers you wear with it.
Outer layers to pack
Neutral colored outer layers are key to this spring in Europe packing list. You may be comfortable with just a jean jacket if you are traveling to warmer destinations in Europe. If traveling to chillier destinations, I recommend also bringing a jacket or thicker coat. You can wear your heaviest layer on your flight so it does not take up any space in your bag! This Carhartt bomber jacket would be a great outer layer to last all day!
Shoes
In all of my Europe packing lists, I talk about how cobblestone streets are not friendly when it comes to wearing platform shoes. You really only need two pairs of shoes when traveling to Europe in spring – a pair of sneakers and a dressier pair of slides. Depending on your exact itinerary, you could probably get by with just a pair of stylish sneakers. Any shoes you pack for Europe should be comfortable enough to walk around all day and should match any outfit!
Bags
Similar to outer layers, you can keep the bags you pack for spring in Europe pretty simple. I recommend bringing one small day bag backpack for long days of tourism and a smaller crossbody bag when you do not need to carry around lots of items or going out at night.
Spring in Europe outfit inspiration
Here are some ways to mix and match the clothes you pack on your spring Europe trip.
Travel Day Outfit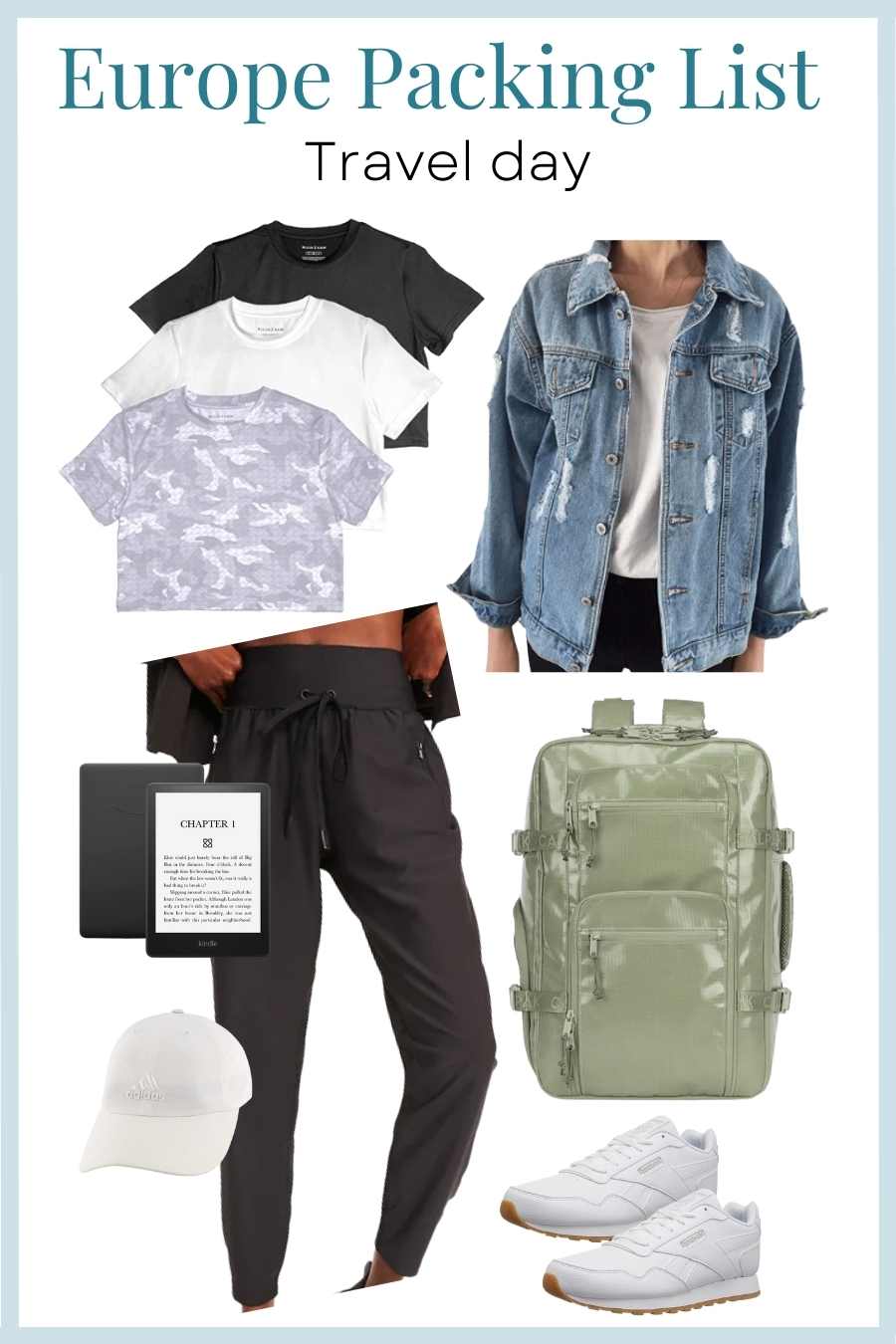 Walking Tour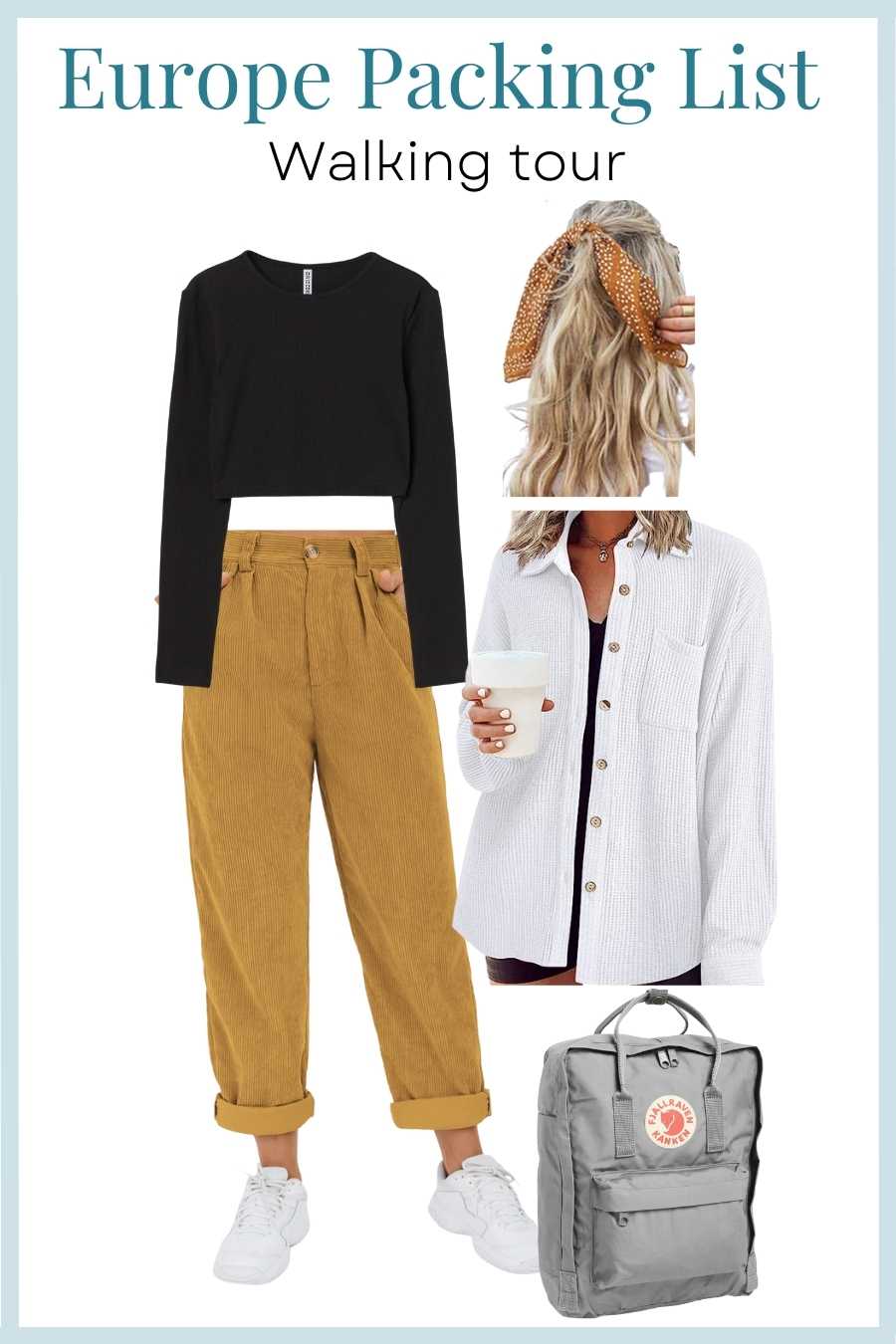 Dinner and drinks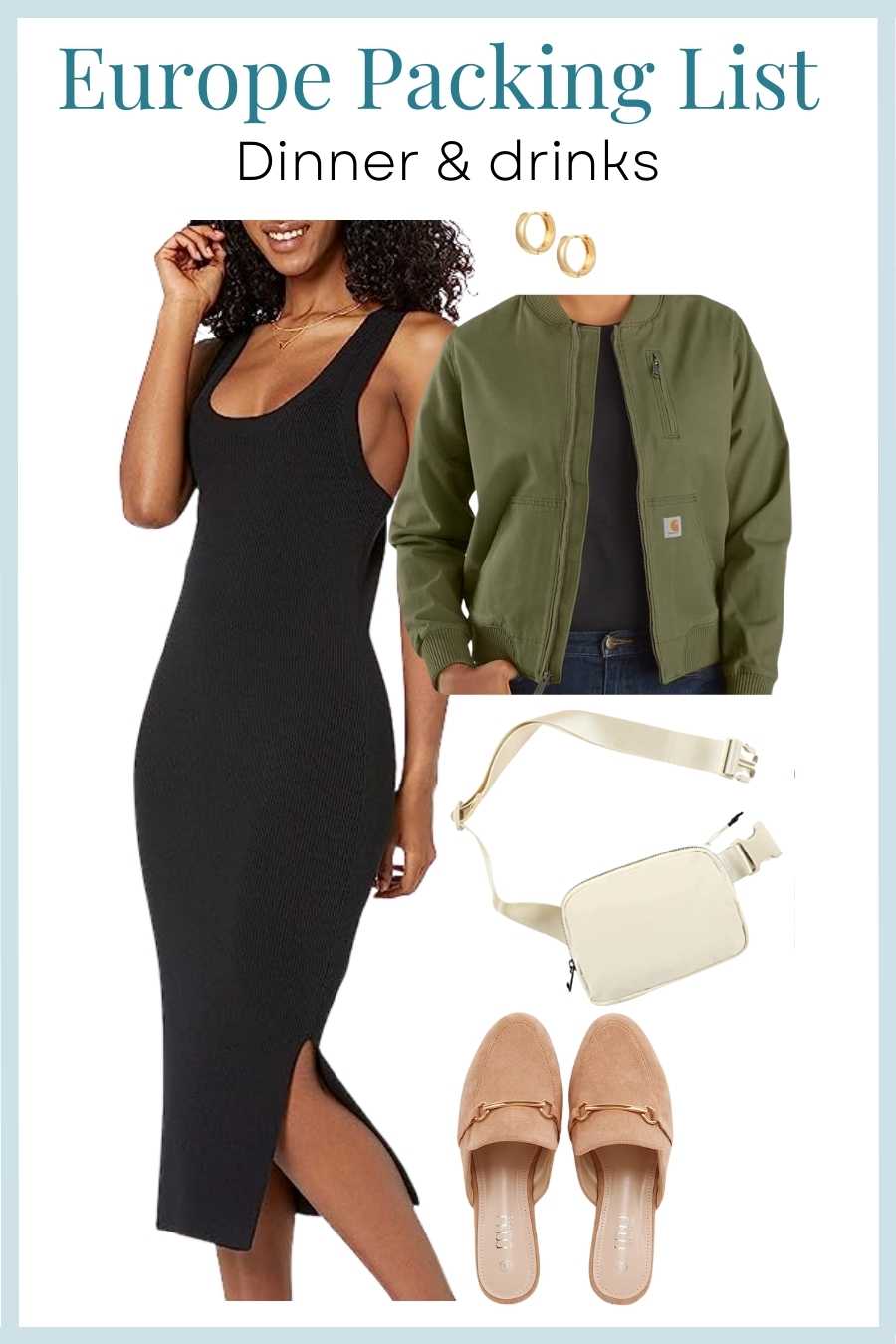 Rainy day in Europe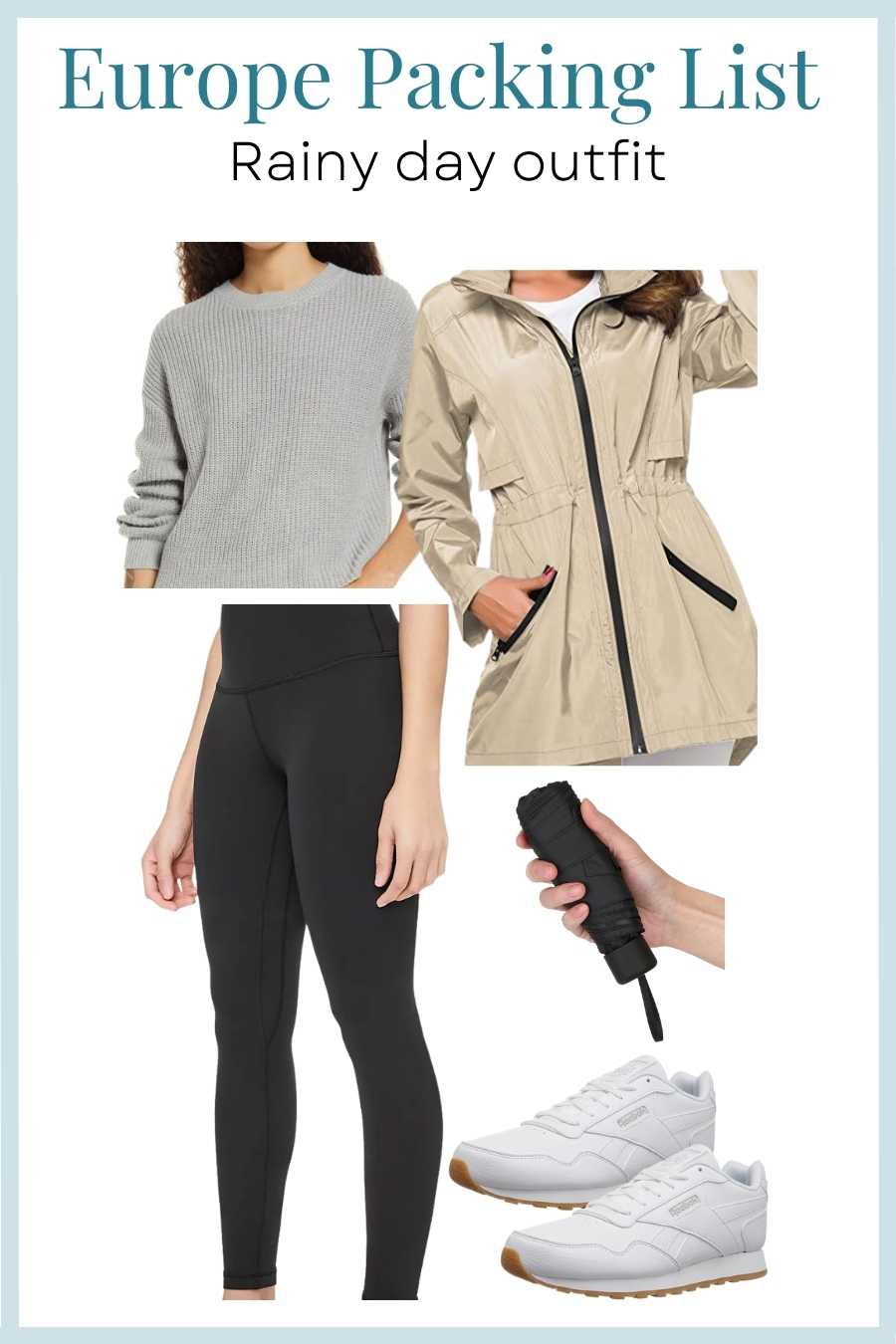 Brunch and Museum tour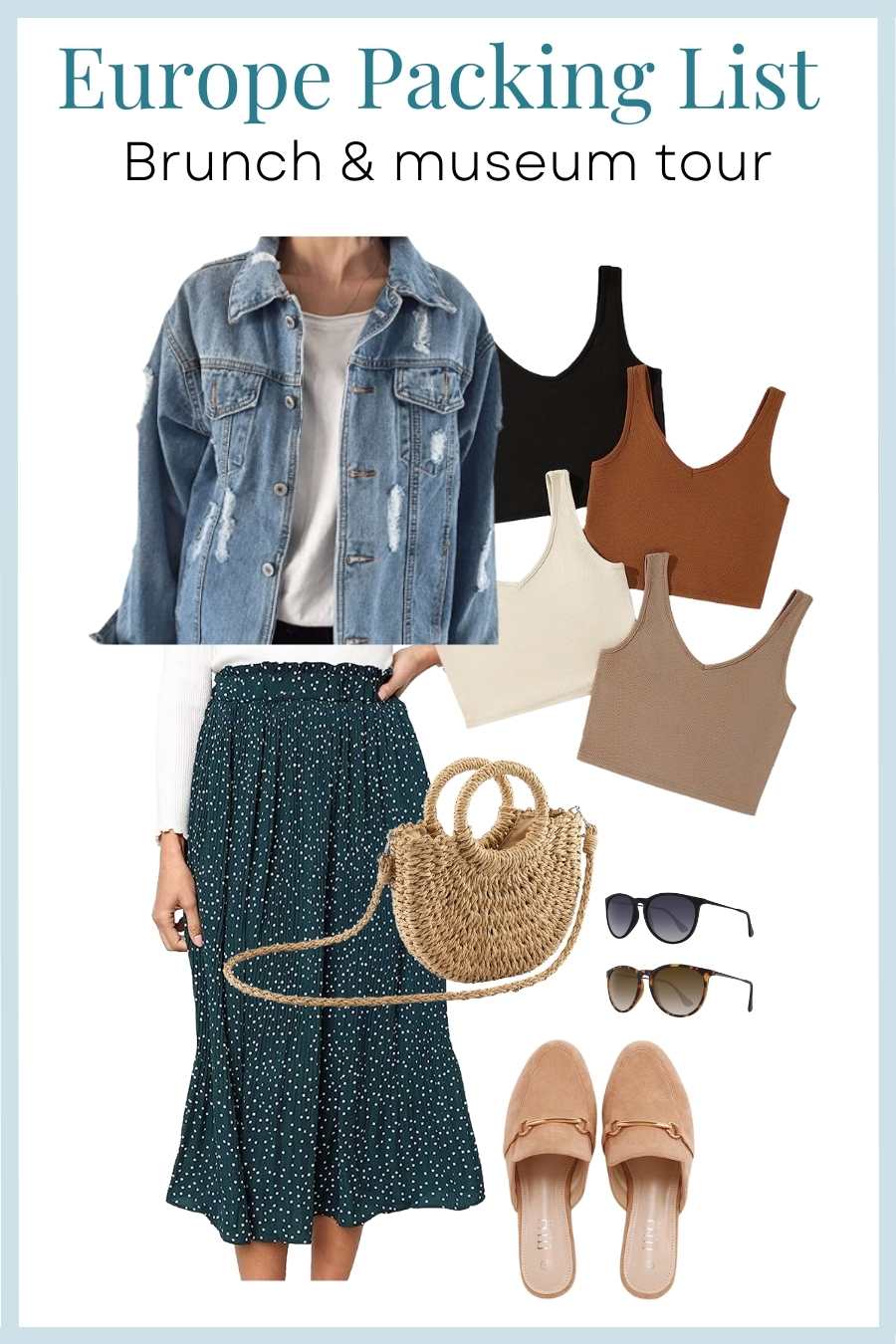 Day trip in Europe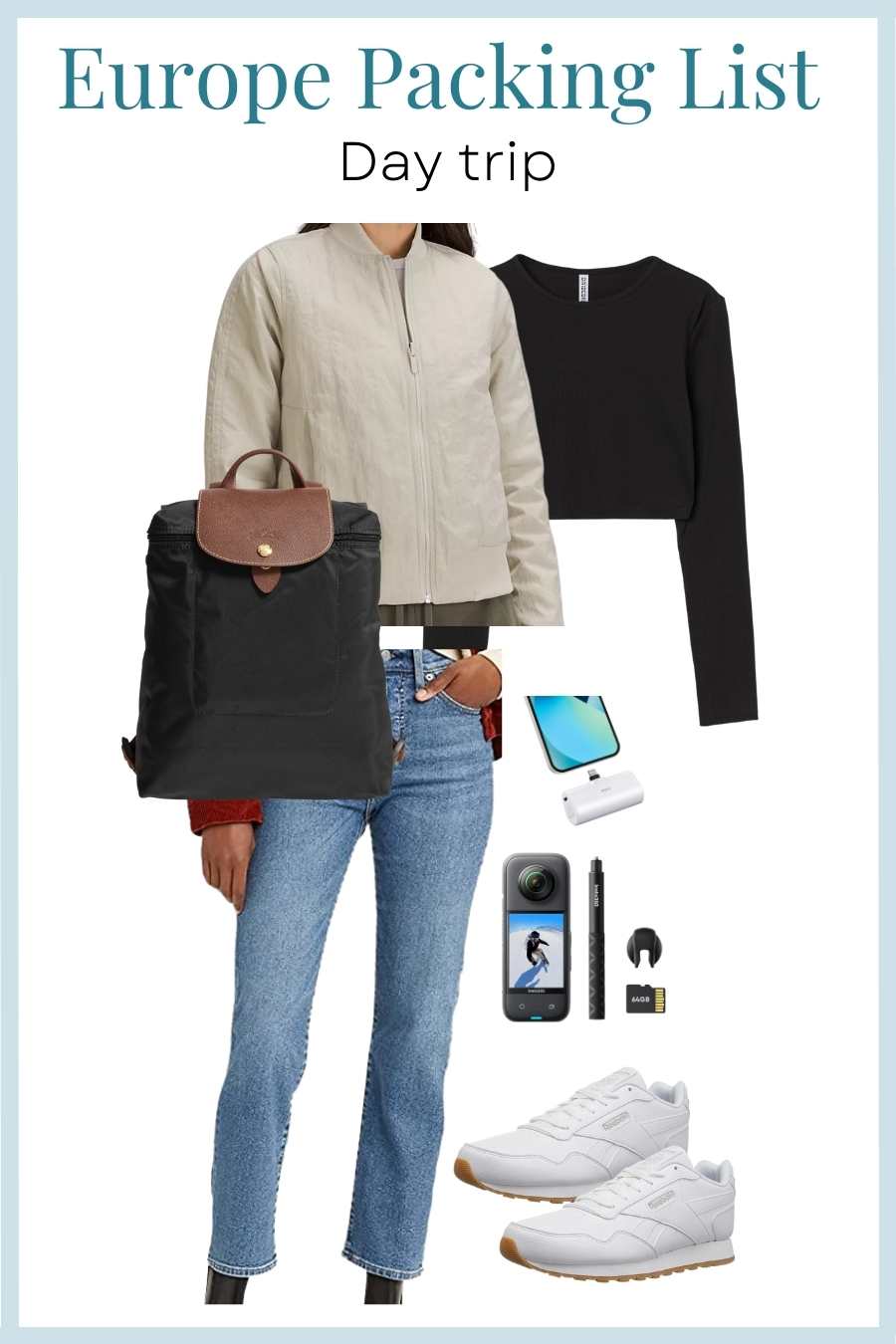 Other Europe packing essentials
Additional Europe Resources
---
I hope this spring in Europe packing list helps you pack for your upcoming trip! Be sure to tag us on social or comment if you are wearing anything we suggested because we love to see it. Happy traveling!