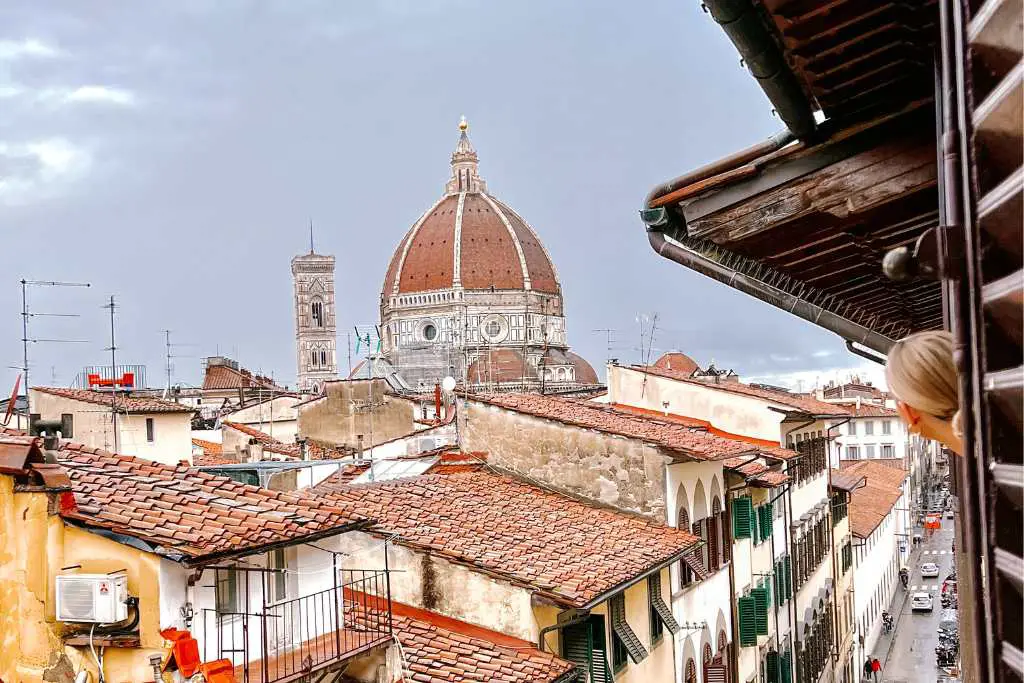 Florence, Italy is one of the most historic and beautiful cities to visit not only in Italy, but also the world. It is our absolute favorite city and there is no doubt that we will buy property here one day and (hopefully) even retire here! Seth lived in Florence for two years after college and we have now been back there together multiple times. We have become Florence experts over the years and curated this list of the best things to do in Florence from our own experiences.
There is truly something for everyone in Florence. With an endless list of things to do, places to eat and day trips to take in Florence, you will have to prioritize your time with the top things on your list. It is also important to leave downtime to simply wander the streets and explore this beautiful city at your own pace.
If you are reading this post, we hope this means that you will experience this incredible city for yourself in the near future! If you are debating whether or not a trip to Florence is right for you, take this as a sign that a trip to Florence is right for everyone.
Best time to visit Florence, Italy
There is really not a bad time of the year to visit Florence. May – September are peak tourist months and will be the most crowded. We suggest avoiding August because it is very hot and many Italians go on holiday for the month so some local businesses will be closed.
There is still great weather in April and October if you want to visit when it is less crowded.
Florence is also magical around Christmas time with lights lining almost every street. The Christmas markets are open from November 19th – December 18th.
How to get to Florence
There are multiple ways to get to Florence and the best way to get to Florence will vary based on where you are coming from.
Getting to Florence by plane
Florence does have its own airport and there several direct flights in Europe, but if flying from overseas you will need to connect through another European airport.
Oftentimes it makes sense to fly to Milan, Rome or Pisa and then take the train to Florence from those airports. Be sure to check price options to each of these cities before booking your flight!
Getting to Florence by train
Taking the train from another city in Italy is the most popular way to get to Florence. The Italian train system is great and easy to use for every level traveler!
Use Rome2Rio website to browse train times and book your ticket.


How many days should you stay in Florence?
Florence is a central hub to easily access the rest of Italy. We recommend using Florence as a home base for 5 days for your first time visiting and take a few of those days to venture out to other surrounding cities.
Need help packing for your trip? Here are the best bags for international travel!
Currency and Tipping
Florence, Italy uses the Euro which is almost equal to the USD.
Do you need to tip in Italy?
Tipping is not mandatory in Italy but it is a kind gesture to leave 10-15% if you receive great service.
Traveling to Italy? Make sure to purchase these travel essentials!
Where to stay in Florence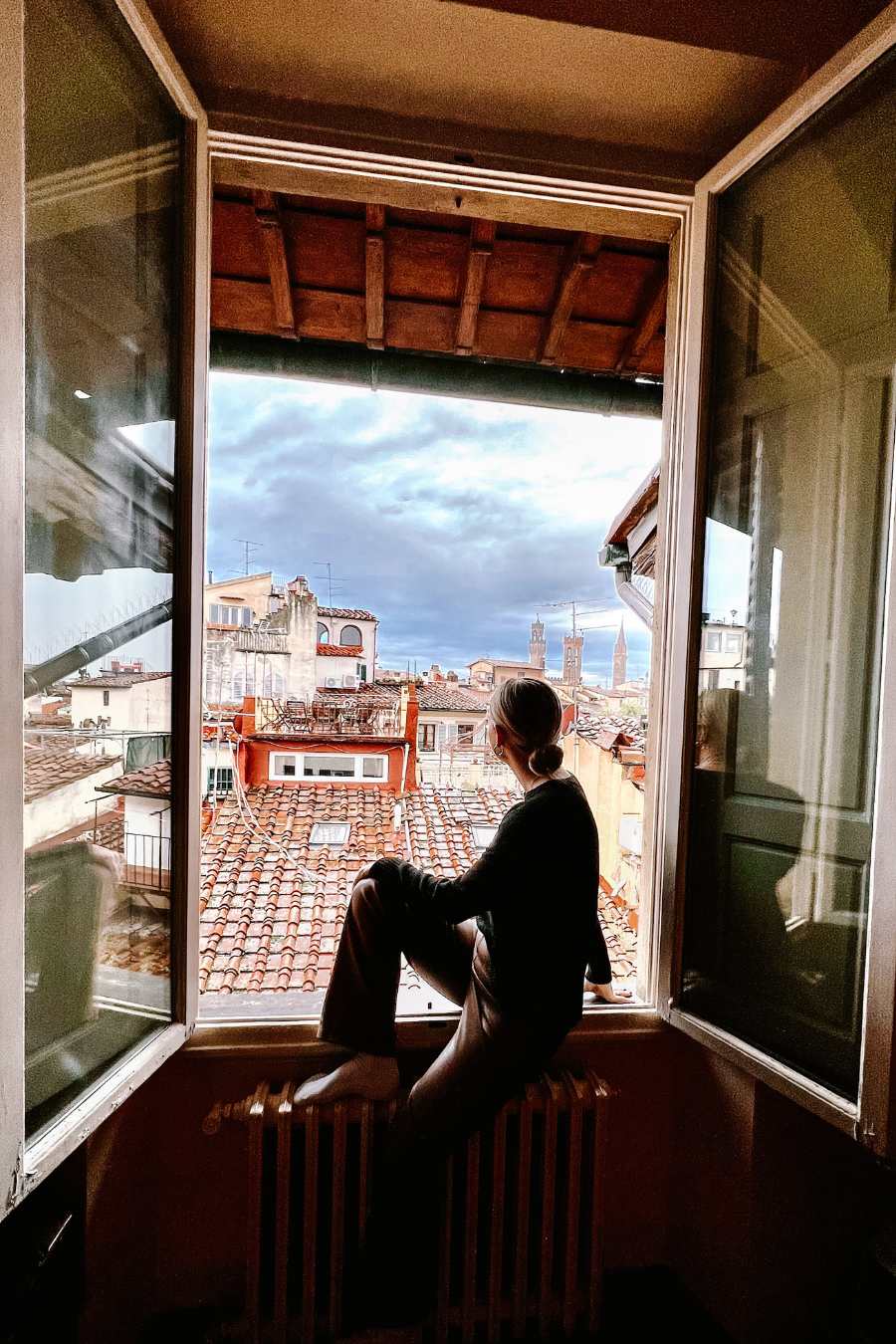 There are a variety of housing types and location options when deciding where to stay in Florence, Italy. Depending on your group size and budget, an Airbnb may be a better option over a hotel. If you prefer a hotel, there are tons of historic and beautiful options all in Florence city center!
For more details on which neighborhood is right for you, read our post about where to stay in Florence.
Browse the best places to stay in Florence
This is a great option to enjoy your morning coffee or evening wine with epic views of the Arno River.
This is a beautiful and historic hotel located right in the middle of the city. The location really can't be beat!
This beautiful hotel is located just steps away from the Duomo and is reasonably priced considering the quality and location. Even if you stay elsewhere, stop here for a rooftop drink with a view of the Duomo!
Famous foods to try in Florence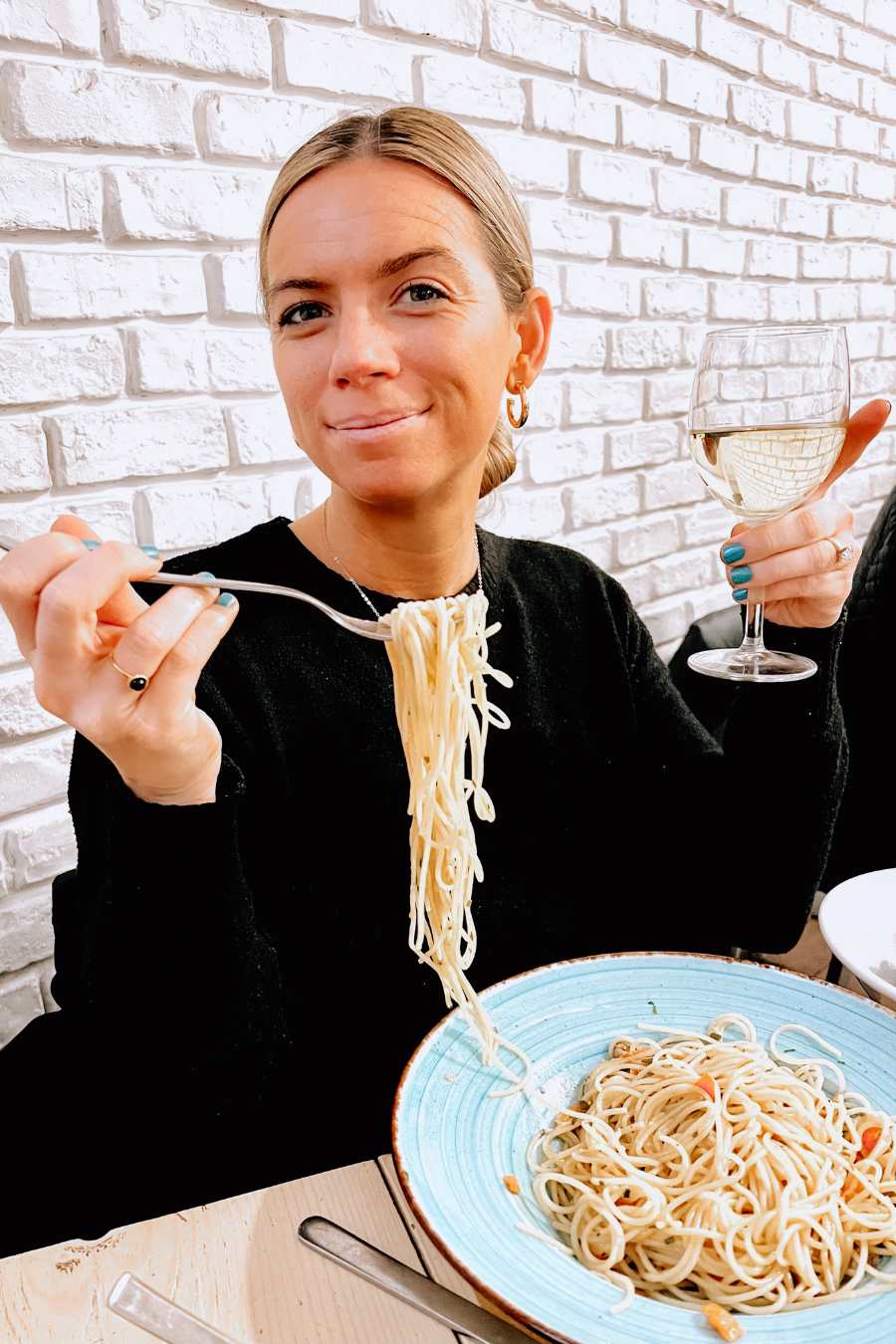 Bistecca Fiorentina
If you love steak, then this is a must try. It is cooked rare to perfection and is one of the most loved meals in Florence.
Coccoli
This friend dough with stracchino cheese and prosciutto is a must try in Florence. It is the perfect appetizer for any meal!
Pappardelle al ragù di cinghiale
This is a traditional pasta dish made with boar meat from Tuscany that is simply delicious.
Where to eat in Florence
The food in Florence is one of the top reasons that travelers from all over the world visit this amazing city. Italy as a whole is a top food destination, but Florence in particular is simply the best. There are so many amazing restaurants to try in Florence so we tried to narrow it down to our absolute favorites on this list.
If there is a restaurant you really want to try in Florence, we recommend booking a reservation in advance if you can. Florence is a very popular place to visit all year long and you'll want to ensure you can experience every restaurant on your must-try list!
For a more extensive list on where to eat in Florence, read our ultimate Florence food guide!
This is the most famous restaurant in the city and many celebrities travel to Florence just to try the food here. It is one of the more expensive restaurants in Florence, but absolutely worth it to splurge on a once in a lifetime meal.
This restaurant is now most famous for being the original story of the Netflix show, From Scratch. The tasting menu is the perfect way to try a variety of local flavors!
This is the best place to get a sandwich in Florence, no question about it. Not only is all of the food incredible, Pino and his family will make you feel right at home in his shop!
This is one of our all time favorite restaurants in Florence and it is more affordable than La Giostra or Acqua Al Due. Our favorite dish here is the truffle gnocchi to share with the table.
All of the dishes made at this little local spot are simply incredible and it is the best place to try Coccoli in Florence.
This restaurant is the perfect stop on your way back from watching the sunset at Michelangelo. We recommend trying the Fagottini pasta but all of the dishes are delicious.
This is the most famous pizza shop in Florence. We recommend getting a pie to go if you can and sitting on the nearby steps to enjoy your meal!
This is a chic cocktail bar and restaurant that serves some of the best aperitivo in Florence. Aperitivo is a typical Italian snack where you have a drink and small plates before heading to your full meal.
This is a trendy restaurant and wine bar with a delicious menu located on the opposite side of the Arno from the Duomo.
Use code JLJ10 for 10% off all eSIM purchases.
Where to drink in Florence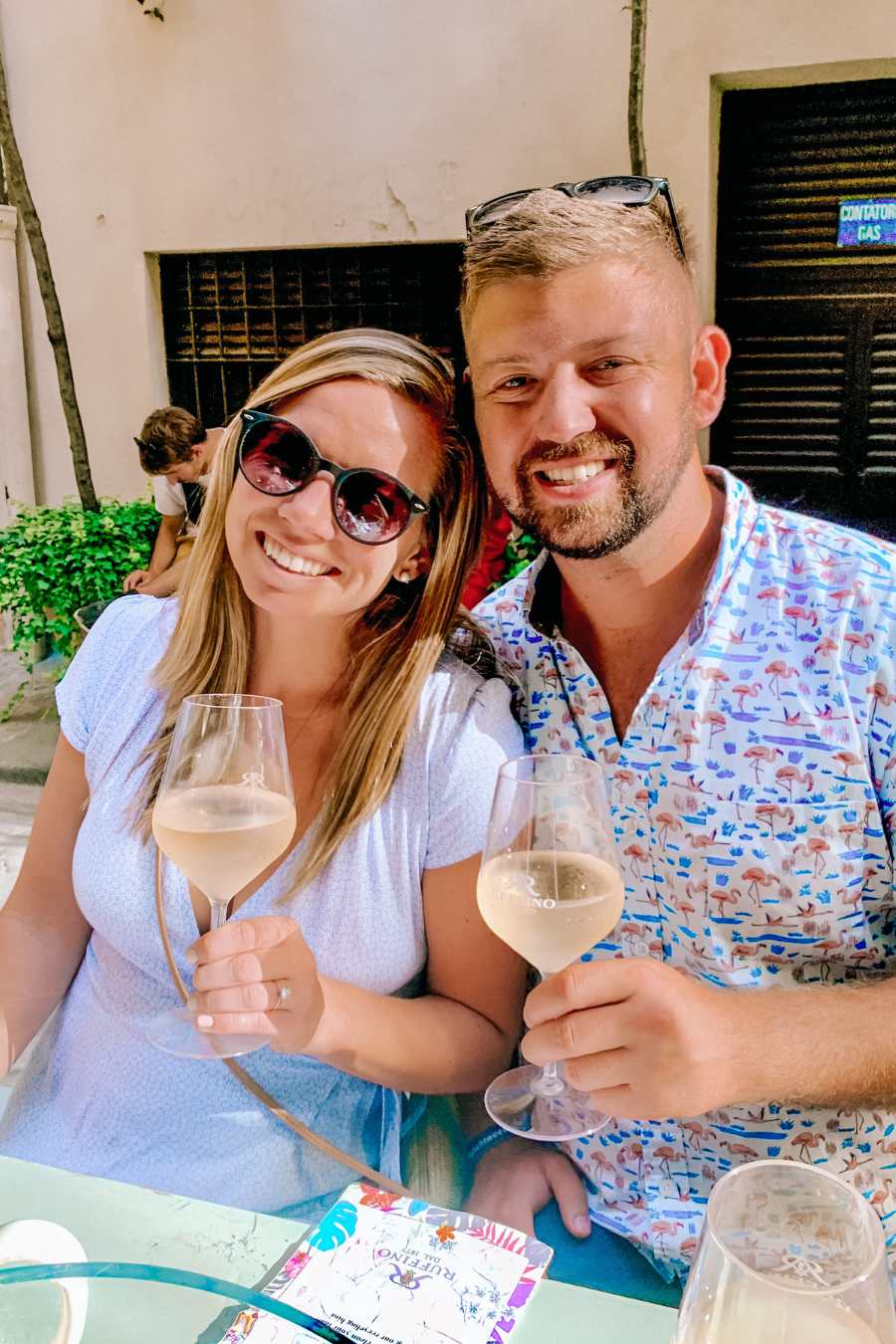 Florence has one of the best bar scenes in the world and there are all sorts of bars to choose from. You can enjoy a night out with friends or just go for a casual cocktail. No matter what, the bars in Florence are always a fun time!
For a complete list of where to drink, read our guide on the best bars in Florence!
Pro-tip: Check for local happy hours because there are always deals around Florence. This is a great way to try out a new bar at a lower cost!
The best bars in Florence
This cozy bar is located in Piazza della Repubblica. If possible, grab a seat outside with a spritz or glass of wine and enjoy the people watching!
This is the best rooftop bar in Florence to grab a cocktail and take in views of the Duomo.
This vibey wine garden is tricky to find because it is hidden on a quaint side street. It is also the sister bar to Serre Torrigiani, a restaurant listed above!
This is a local bar to watch a soccer match or play a game of jenga. Kikuya is home to the famous "dragoon" beer. You heard it here first, only drink one dragoon as it has a very high percentage of alcohol!
This is a cozy cocktail bar located right in Santa Croce.
If you are looking for a party in Florence, this is a famous Irish pub and one of the most popular spots for a night out.
This is an awesome whiskey bar with whiskey from all over the world. While known as a whiskey bar, they also have other cocktails and craft beers.
This is another great cocktail bar to stop in and try a specialty drink.
The best things to do in Florence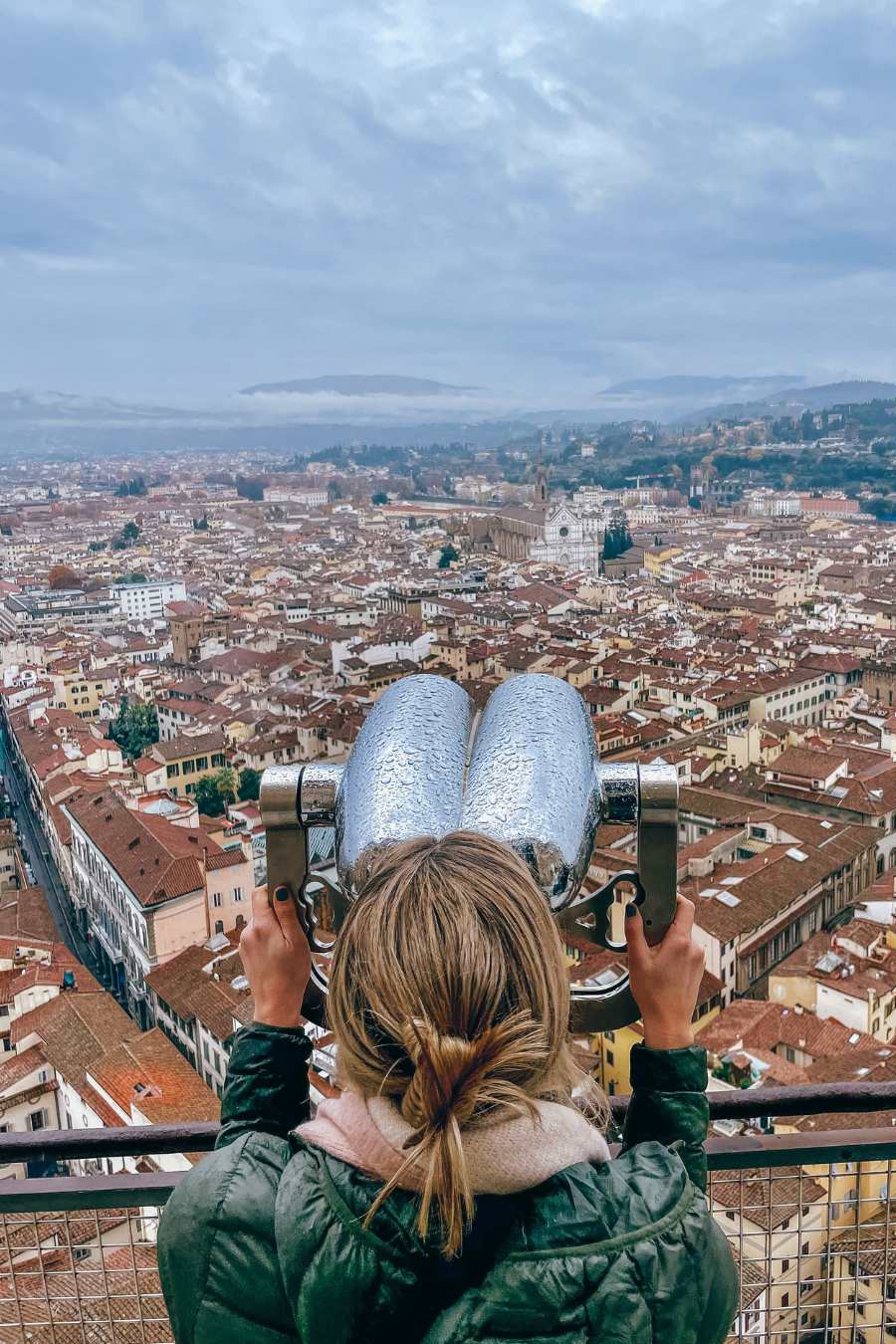 There are honestly an endless amount of things to do in Florence so most likely you will need to narrow down your itinerary based on the items that are top on your list. The good news is that you can always come back to tackle the rest of your Florence bucket list!
To help narrow down your list, here are our 10 favorite things to do in Florence!
If you plan to visit multiple museums like The Uffizi Galery, Academia and others, it might be cheaper to purchase a Florence card. This card gives you access to tons of museums throughout the city for 72 hours. Browse all of the museums included in the card and make sure that there are multiple you wish to visit before jumping on this pass. Keep in mind that you will still need to reserve your time slot for many of these museums.
See if the Florence museum pass is right for you!
Our preferred partner for all activities in Florence is myTour. They offer incredible experiences both in Florence and surrounding areas! Receive 5% off any tour you book with myTours with the code JLJ5 at checkout.
Climb the Duomo and Bell Tower
This is the top thing to do in Florence for a reason. Climb to the top of these historic buildings to see absolutely epic views of the city. The Bell Tower is especially unique because you get to see the Duomo from a different perspective.
Skip the line and book your tour here.
Visit the Uffizi Gallery
The Uffizi Gallery is one of the most famous museums in the world. There are centuries of history stored in this museum and it is a must see in Florence.
The Academia and the statue of David
Take a tour of the historic Academia museum and see the original statue of David that is preserved in this museum.
Watch Sunset at Piazzale Michelangelo
A trip to Florence is not complete unless you watch a sunset from Piazzale Michelangelo. It is a bit of a walk to the top but is 100% worth it. Make sure to stop at a Conad on your way up for a bottle of wine and cups to sip on while experiencing this epic view!
Do a walking tour of the city
A (basically) free walking tour is a great way to learn the history of Florence and see all of the different piazzas.
Walk across the Ponte Vecchio
The Ponte Vecchio is one of the most famous bridges in the world. It is great for people watching and browsing the different shops!
Shop in the leather markets
We dare you not to buy something when walking through the leather markets. There are endless options of the highest quality leather in the world at very reasonable prices.
Browse Mercato Centrale Firenze
The central market is filled with delicious food and a variety of shops. You could easily spend an afternoon taste testing and shopping around this market!
Do a cooking class in the city
Learn the tricks to cooking amazing Italian food by taking a cooking class with a local. You'll shop for ingredients at the central market and then prepare a meal with the chef!
Browse different cooking classes to try in Florence.
Do a local wine tasting
The wine in Florence is simply superb. Immerse yourself with the rich flavors by doing a wine tasting with an expert!
Book a half day small group wine tasting tour here.
Day trips to take from Florence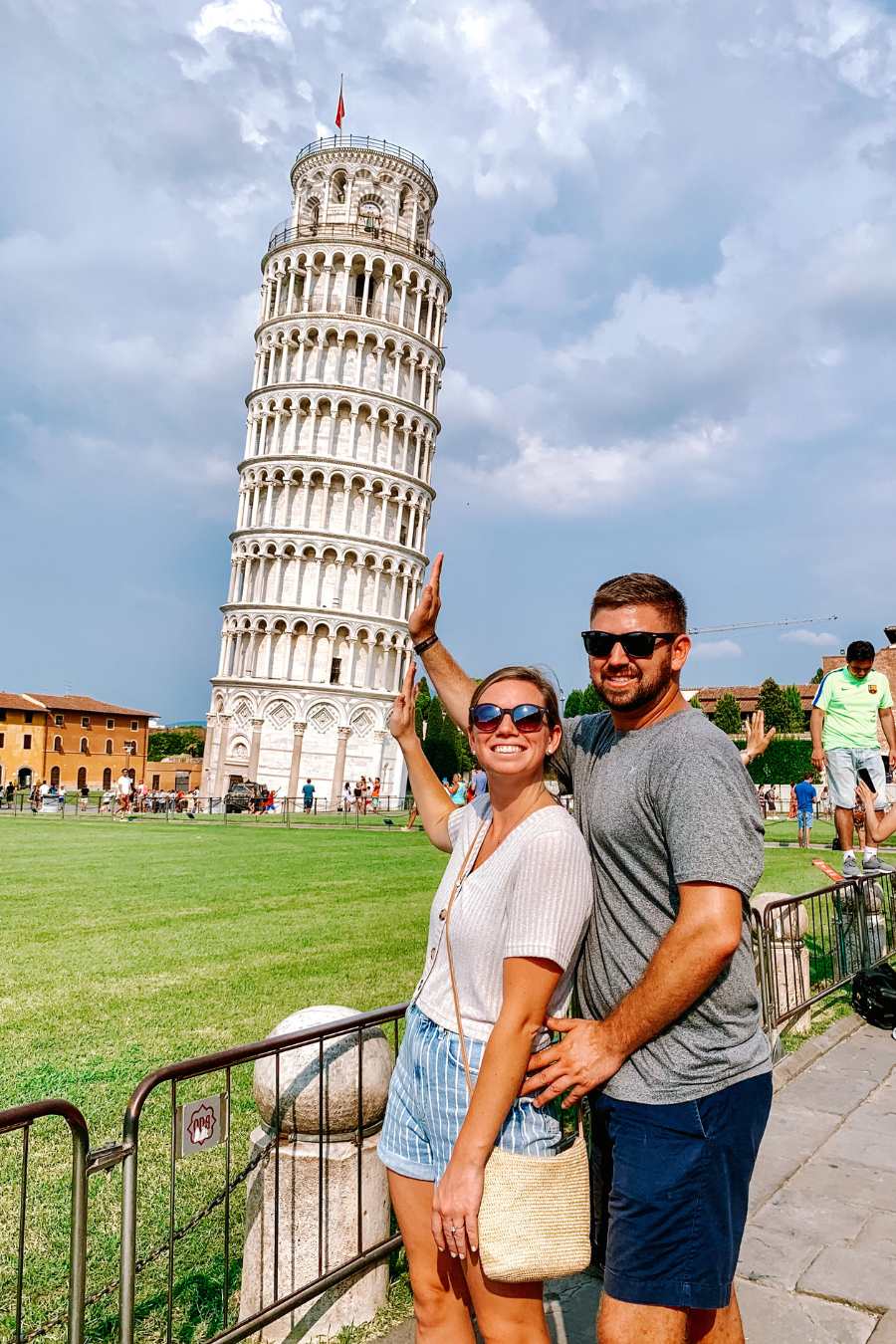 One of the main reasons to stay in Florence when visiting Italy is because of the easy access to other parts of Italy. There are tons of day trip options that you can take and make it back to your housing before bedtime!
Cinque Terre
Experience the iconic coastal towns of Cinque Terre on a 12 hour day trip from Florence. While it is a long day, it is not common to stay overnight here.
Tuscany tour through Sienna, San Gimignano and Pisa
Explore the beautiful Tuscan countryside on this day tour that includes lunch at a winery. This is a great way to soak up the beautiful hills and see a few more Italian cities while you are staying in Florence.
Florence to Venice in a day
It is absolutely possible to visit Venice in a day from Florence. You can either take the train on your own or book a guided tour.
See if a tour is right for you.
Take a cooking class at a local farmhouse
What better way to immerse yourself in the Italian food scene than to cook it yourself? This tour is in the beautiful countryside just outside of Florence.
Go on a vineyard tour
A vineyard tour through the rolling hills of Italy? Yes, please! This is a great activity to do with a group of friends or solo to meet other travelers.
Go truffle hunting
If you love truffle, this is a completely unique experience to do in Florence. Hunt for the famous white truffle with the expert dogs and then taste it for yourself with a home cooked meal with wine pairing.
Transportation in Florence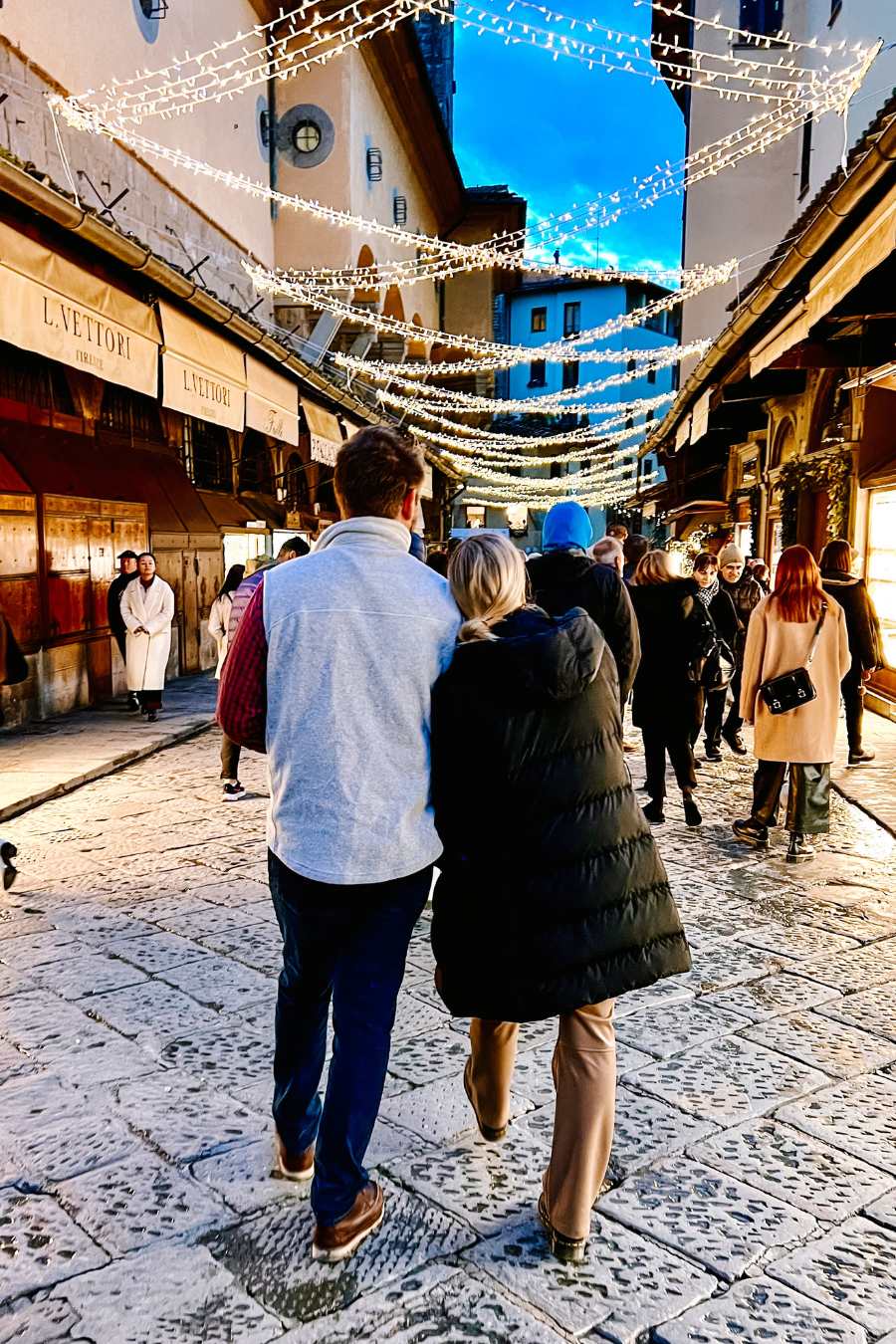 One of the greatest aspects of Florence is that it is a very walkable city. You should be able to walk between all of the major sites and your housing as long as you stay in a central area.
Uber unfortunately is not available in Florence but there are taxi services all around the city and the train station. It is typically cheaper to grab a taxi from an actual stand rather than to call one to an address and there are taxi stands in most main piazzas.
Safety in Florence
Florence is known to be a very safe city to visit. Just like any major city, be aware of your surroundings and keep all personal belongings safely zipped on your body to avoid pickpockets. Avoid walking alone late at night.
---
We hope this ultimate Florence city guide helps plan your trip to this beautiful destination. We are truly obsessed with Florence and hope you love it as much as we do! Let us know in the comments your favorite part about visiting Florence.