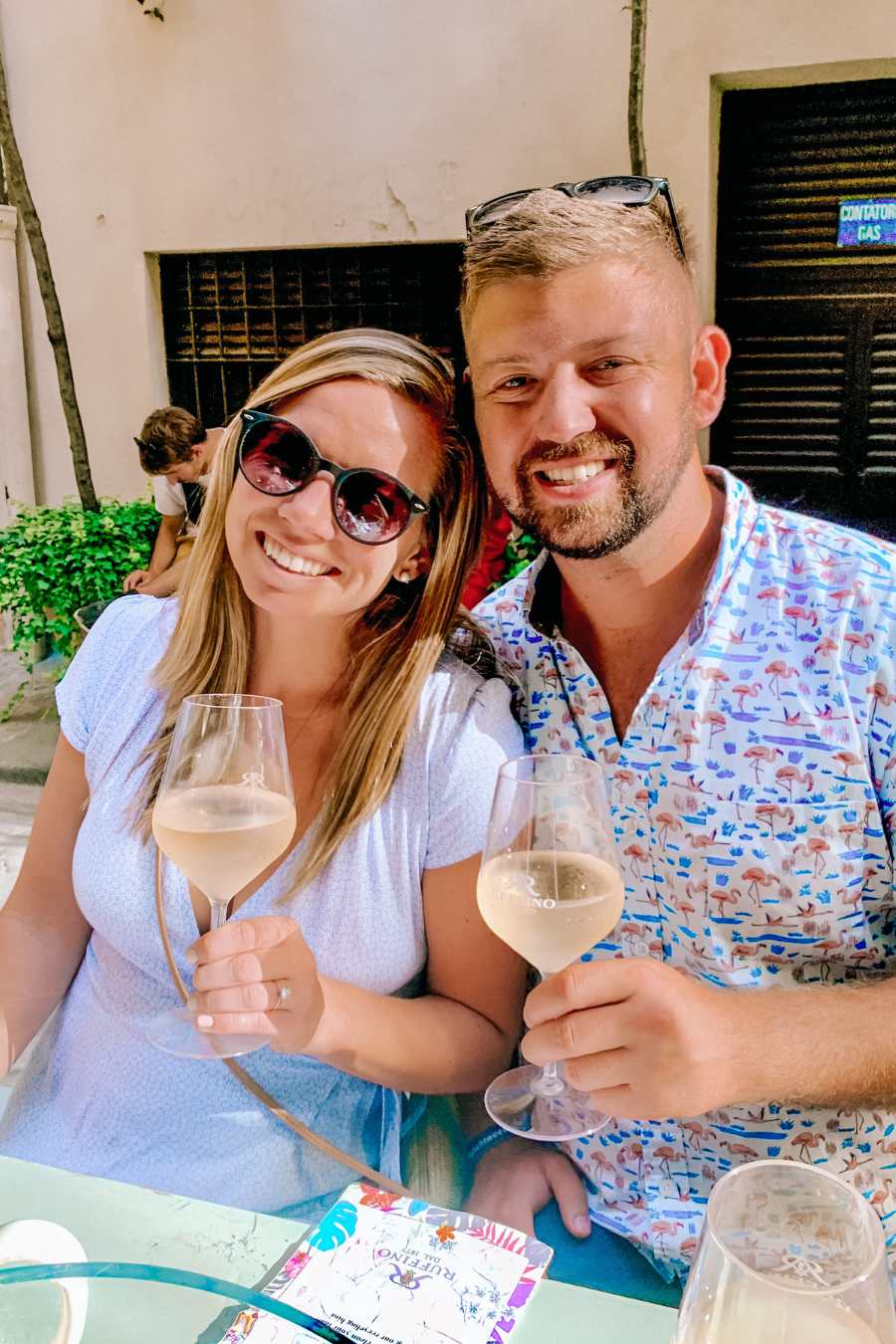 Florence, Italy is known for its rich history, architectural beauty, Chianti wine and of course delicious food. However, did you know Florence's bar scene is also one of the most diverse scenes offering something for every type of bar goer? You can enjoy a glass of wine while people-watching, a casual cocktail, a night out with friends or bar game competitions. If you know us, then you know we are very skilled at finding the places to drink in every city. Florence is no exception especially since we have spent the most time there! Here is a complete list of the best bars in Florence.
For more things to do in Florence, make sure to read our complete city guide!
The best bars in Florence for Aperitivo
Aperitivo is an Italian tradition that includes gathering with friends for a drink and snack before your actual meal. Since Italians typically eat dinner later, this is a snack to hold you over until your bigger meal later on. Aperitivo differs from "happy hour" because typically you pay full price for a cocktail, but do not pay for the snacks that go along with the drink.
If you are looking for the most bang for your buck, not only does Colle Bereto have delicious cocktails, they have one of the most extensive aperitivo spreads in the city with a mix of hot and cold dishes.
Colle Bereto is also on our list of the best places to eat in Florence!
Located just a couple blocks from the Ponte alle Grazie, Moyo is a great place to grab aperitivo on your way up to Piazzale Michelangelo for sunset.
Situated directly on the Arno, this aperitivo is a little on the fancier side but it's a great deal if you are looking to take in beautiful views of the Ponte Vecchio without having to order a full meal.
For a solid aperitivo with some great people watching, head to the oldest cafe in Florence. Caffe Gilli was founded in 1733 and continues the tradition of aperitivo from Ancient Rome to this day.
The best bars in Florence to relax and enjoy a glass of wine
This is a cozy bar located in Piazza della Repubblica. Try to grab a seat outside and enjoy the people watching in this popular piazza!
We like to call this a secret garden bar because it is hidden in between buildings on a quiet side street. It is the perfect place to hide from the hustle and bustle of the city with a glass of wine.
This small wine bar also features delicious sandwiches. Stop in here for a quick afternoon snack after exploring the leather markets.
The best bars in Florence to watch sports
This is a local bar to watch a soccer match or play a game of Jenga. Kikuya is home to the famous "dragoon" beer. You heard it here first, only drink one dragoon as it has a very high percentage of alcohol! Seriously, we can both put beers down like the best of them but there seems to be something else in a Dragoon.
This bar features a TV at every booth as well as a section of tables with great views of several TVs. The food here is delicious and the style is American pub food mixed with delicious steak. There is also a connected bar off of the restaurant that features live music or karaoke daily.
Use code JLJ10 for 10% off all eSIM purchases.
The best bars in Florence for a night out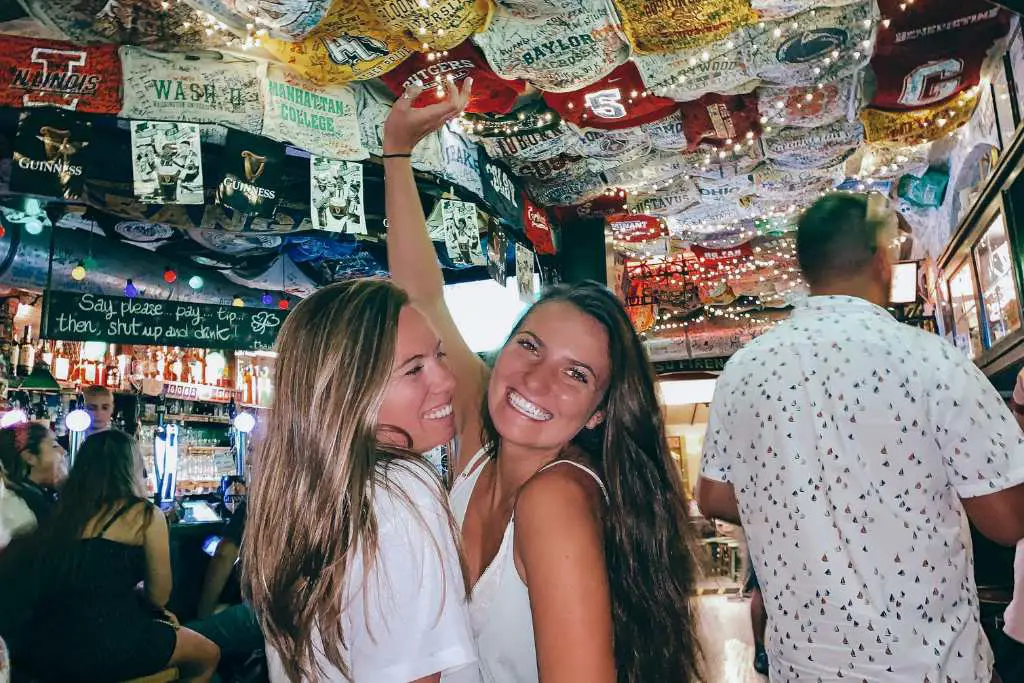 The Lion's Fountain is a famous Irish pub and one of the most popular spots for a night out if you are looking for a party. It is also a great place to go to watch sports games. If it's your first time here, take a look on the ceiling to find and sign your college shirt.
This bar has the best of both worlds. The main floor has outdoor seating right in Piazza Della Signoria and is great for people watching. If you are trying to have a more aggressive night, head down to the basement which is very divey but a great place to party the night away. The downstairs also features a foosball table so grab a beer and take on your friends or some other bar patrons.
The best cocktail bars in Florence
This is an awesome whiskey bar that serves whiskey from all over the world. While known as a whiskey bar, they also have other cocktails and craft beers.
This is a local favorite cocktail bar to stop in and try a specialty drink.
This is one of the only bars in Florence with a full view of the Duomo. Grab a drink and take in the epic views.
This is a cozy cocktail bar located right in Santa Croce. With its perfect location between Red Garter and The Lions Fountain, this is one of our favorite bars to stop in for a casual drink between more lively bars.
The best bars in Florence for bar games
This bar located in Piazza di Santa Maria Novella has pool tables in the back. It is the perfect place to pop in to escape the summer heat or winter cold and play a game.
This is the best bar in Florence to play darts. This is truly a barebones dart bar with several boards to play on and not a lot of frills.
Stop here for a beer and quick round of electric darts before heading across the street to our favorite Gelateria, Gelateria la Carraia.
Real dart boards are tough to find but at the Dublin Pub you can play a round on an electric board. They also occasionally have live music so check their website before going to see what you're in for.
This pub across the Arno has a foosball table and a large selection of board games. Escape the tourists and pop in here for a more local experience.
The best craft beer bars in Florence
Hidden in a small piazza, this was one of the first bars in Florence to carry craft beers. This is a great spot to stop in while walking between Piazza della Signoria and the Duomo.
This literal hole in the wall is right around the corner from The Lion's Fountain and is a good place to go for a drink when trying to escape the crowds.
This bar is a little further out from the center and makes their own beer. Mostodolce is also known to make delicious pizza and burgers.
Tips and things to know when going to the bars in Florence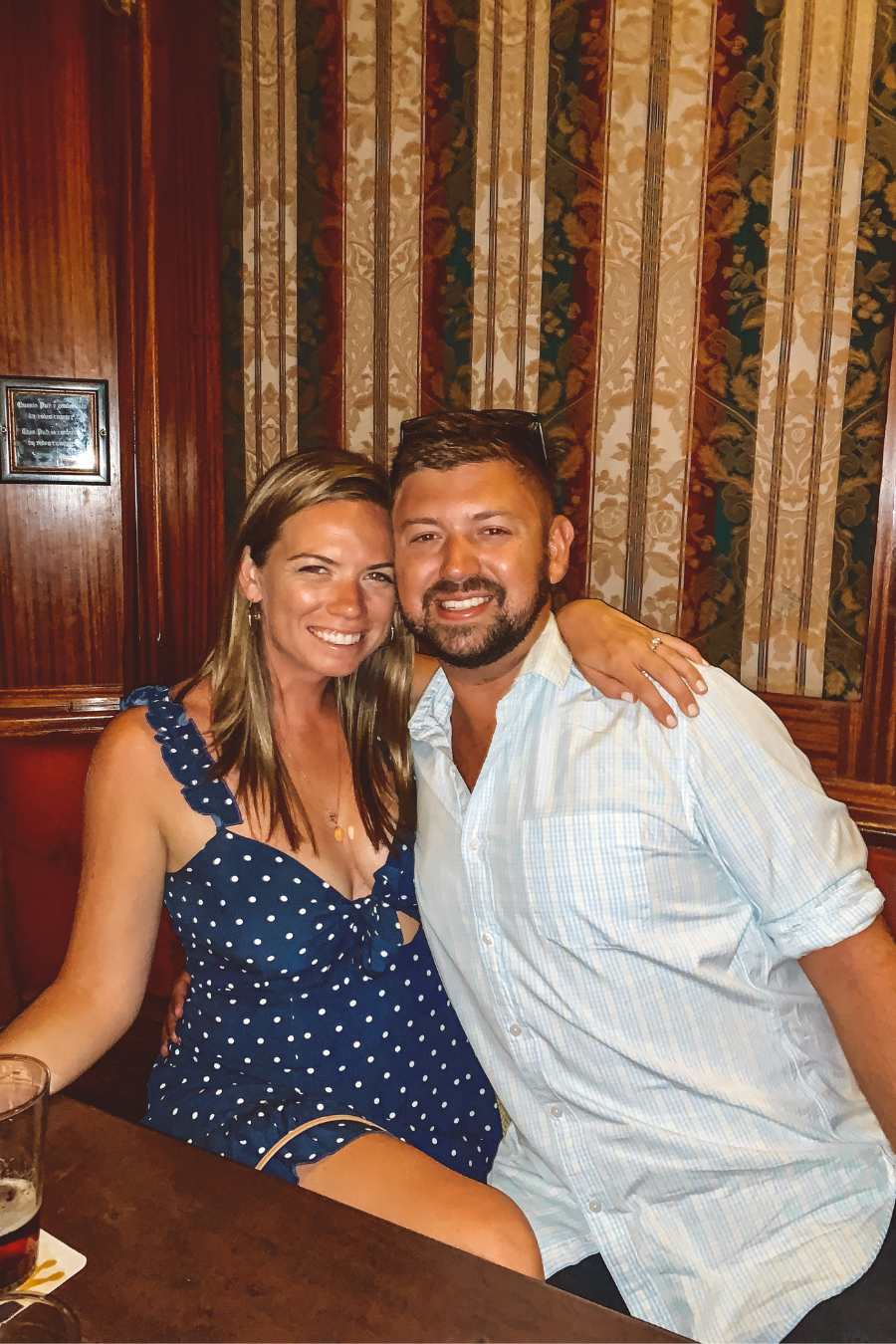 Check for local happy hours
We love a good happy hour deal and Florence is filled with them! This is a great way to try out a new bar at a lower price point.
Do you need to tip at the bars in Florence?
Tipping in Florence is not expected but it is polite to leave 10 – 20% if you received great service from the bartender. We especially recommend tipping if you order some sort of specialty cocktail!
You will get approached by gypsies
Gypsies will approach you with roses or other things for sale while you are both indoor and outdoor at a bar. No worries! Just politely tell them no thank you and they will walk away.
Drink responsibility
Trust us here, we have had our fair share of big nights out and the Florence bar scene can get very rowdy. Make sure to monitor your alcohol intake and stay hydrated!
---
We hope this list of the best bars in Florence helps plan your trip to this lively city! Be sure to check out our other guides to plan out your time in Florence.