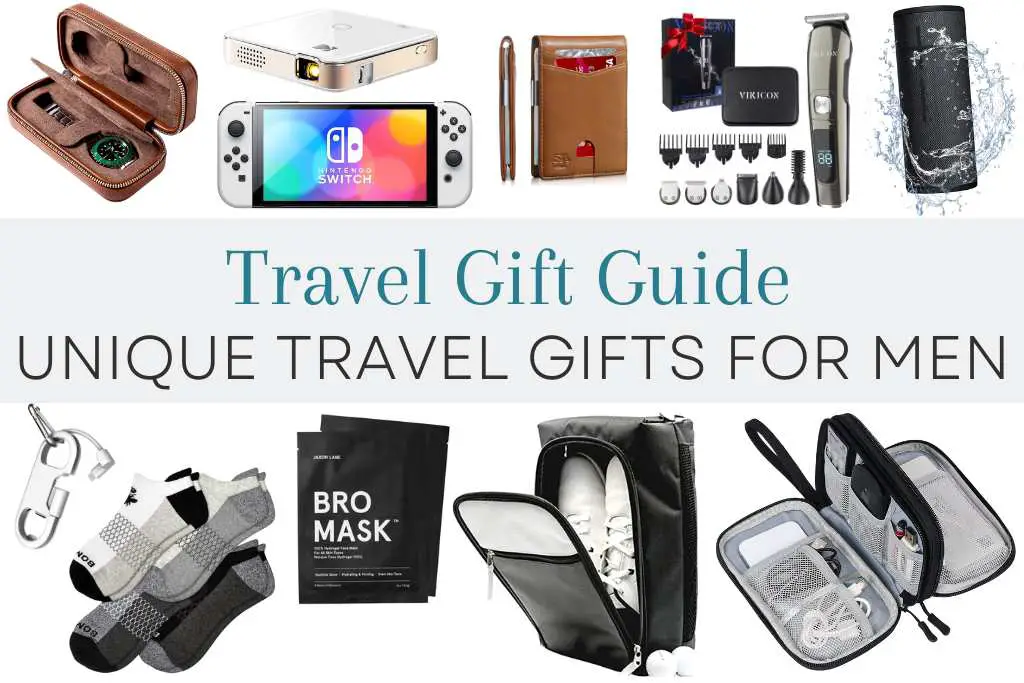 It can be really difficult to come up with the perfect gift idea for men! Treat your man to something on this list of unique travel gift ideas for men. This list includes a variety of products and prices.
You can ask any man who owns these pants and they will vouch that they are extremely comfortable. They can go from the plane to a fancy dinner without changing!
Similar to the pants above, these shorts are meant to be worn for a workout or with a nice button down shirt. We love versatile pieces of clothing because that means packing less in your bag!
This is a luxury travel gift for men because these socks are the most comfortable socks in the world. Once your man starts wearing Bombas, he won't want to wear anything else!
If there is a man in your life that does not already have this shaving kit, this is the perfect travel gift for him! It comes with a case to hold all of the different pieces so everything is organized.
Here is a fun gift idea for a man who loves his skincare. He can use these to brighten his face after a long travel day!
Typically a small toiletry bag will be more than enough for a man to fit all of his toiletry items. This is a great compact option to give as a travel gift! This one is also waterproof as an added bonus.
How cool is this keychain that is both a bottle opener and a phone charger? This is such a unique travel gift for a someone to open their beer and charge at the same time.
This is by far the best speaker for travel and makes a great gift for a man. It can also be hooked up to other UE Boom Speakers to extend the volume in a large space.
These would make a great travel gift for a man who will be getting off a plane and needs to go somewhere before he can shower. Oftentimes when you land after an overnight you aren't able to access housing for hours. These will be great to freshen up for the day!
These watch cases are the perfect travel gift for a man who travels with more than one watch. These will keep the watches protected and organized.
If your man is anything like Seth then he definitely needs a way to organizer all of those chargers and cords that seem to always be floating around. This cord and electronic organizer makes a great travel gift!
Is it time for a wallet upgrade? Gift a man in your life this secure wallet and money clip! It comes in multiple color options.
I love this as a travel gift for men because it is something they probably have not thought about. This shoe bag is perfect to protect golf shoes or any type of shoe while it is packed in the bag with all of their other belongings!
This is an amazing travel gift for a man because he can play games while on the plane, train or really anywhere. We love playing the Switch on long travel days! They can also play online with other friends.
Why is it always up to the women to bring the beach bag? This sleek water resistant bag is perfect for a man to load up and carry his things to the pool or beach. It can also be compacted to be packed in any bag for destination trips.
This is such a unique gift to be able to watch TV or a movie while traveling. It is so small and compact but powerful!
Still searching? Check out our other gift guides:
We hope this list of travel gifts for men inspires for holiday shopping this year! Let us know in the comments which one is your favorite.