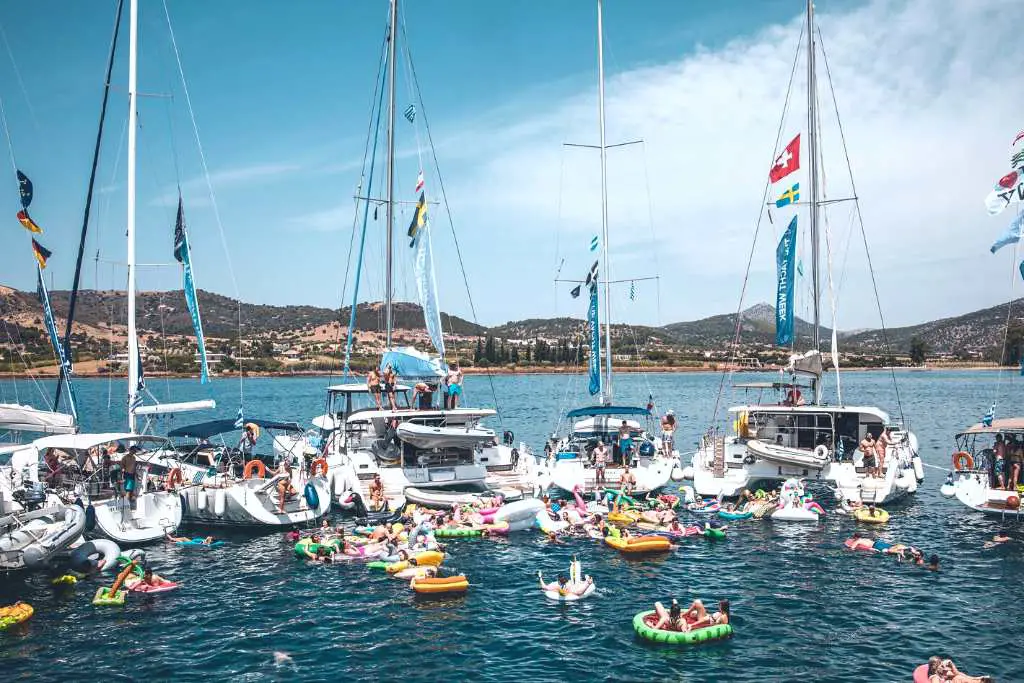 Packing for a sailing trip can be very overwhelming especially if it is your first time living on a boat. We have done The Yacht Week and planned our own sailing trips in Croatia, Greece and the British Virgin Islands and have curated the perfect sailing trip packing list.
Packing for a sailing trip is different from any other trip because space is very limited on the boat. You need to be as efficient as possible when deciding what to bring on the boat! There are also lots of very random things you need to pack on a sailing trip that you would not need on just your standard 10 day Europe trip for example. Below is a complete list of everything you need to pack on a sailing trip to ensure smooth sailing all week long!
Sailing travel essentials
Passport and printed copy of your passport
Obviously you need your actual passport if traveling internationally but we also always recommended having a printed version or at least an image of your passport easily accessible. This will save you a hassle if god forbid your passport is lost or stolen and you need to go to the embassy to get home.
Travel insurance
Travel insurance is essential for any international trip but especially important for sailing trips. We always purchase travel insurance through World Nomads! Click the banner above to get a free quote today.
Airalo phone plan
Airalo is the world's first ever e-SIM and is the most cost effective phone plan option for international travel. Click to banner above to browse options and use the code JLJ10 for 10% off any purchases!
How to pack for a sailing trip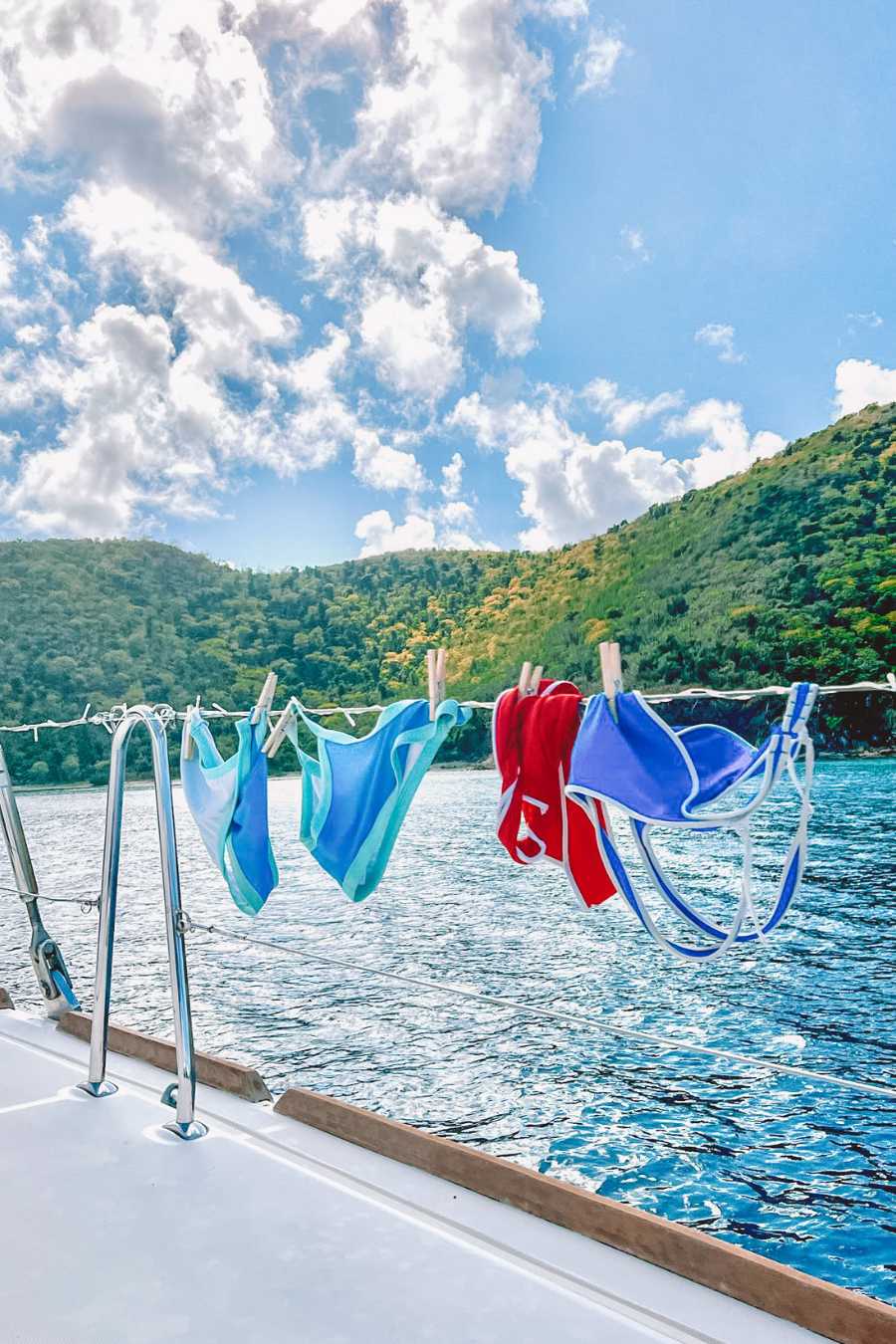 Packing for a sailing trip is different from any other international trip because space is very limited on the boat. You want to not only pack light and efficiently, but also everything you pack in should serve a specific purpose!
Soft side suitcase or backpack
If you follow any advice from this post, please pack in a soft sided backpack or suitcase for your next sailing trip. Hard cover luggage is nearly impossible to store on the boats! Your room is already limited on space and you do not want your bag to then take up the majority of the floor space because you are not able to pack it away.
Dry bags
Since most days will be spent on the water, you will need dry bags to keep your phone, wallet and other personal items dry. These are our favorite dry bags to pack on a sailing trip. They can easily lay flat and barely take up any space when packing your larger bag or backpack.
Day bag
You will need a day bag to take off the boat with you on different activities. Similar to the dry bags, these should hardly take up any space while packing.
Packing cubes
Packing cubes are essential when packing for a sailing trip to not only pack more efficiently but also help organize your clothes. We usually keep our things organized in the different cubes while on the boat so your clothes are not scattered all over the little room.
Toiletry bag
Organization is so important on sailing trips and there is little space to lay out all of your toiletries. Plus, anything left out will get shifted around as the boat moves. Keep everything safe and organized in a toiletry bag!
Travel mirror
This little travel mirror is essential to pack on a sailing trip because there is very limited mirror space on the boats. You can easily get ready for the day or night anywhere on the boat with this mirror and not have to fight for bathroom space!
Microfiber towel
Some towels will be provided on the boat but you will also need your own anytime you do an activity off of the boat. This is our favorite towel to pack on sailing trips!
Eye mask and ear plugs
Most likely the boat will be noisy at some point while you are trying to sleep whether it is because partying is occurring late at night or crew members are awake before you. Block out the light and noise with this eye mask and ear plug combo!
Medicine & safety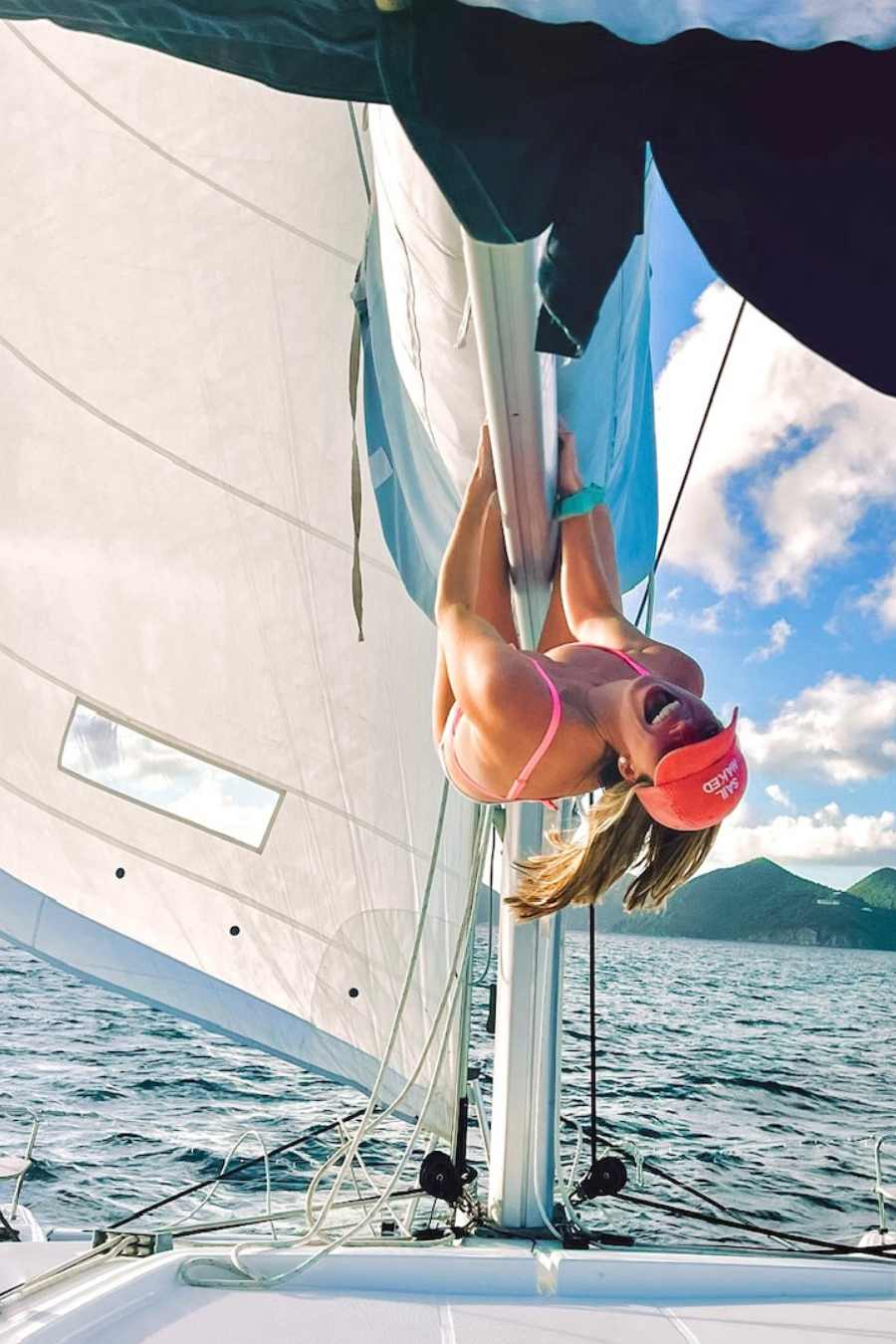 Seasickness medicine
Whether or not you are prone to seasickness, it is essential to be prepared because you do not know how your body will react to living on a boat. We recommend having all of these options handy! You can take the non-drowsy Dramamine during the day to avoid tiredness and then the regular Dramamine at night to help you sleep as well.
Hangover cures
Let's be honest, most likely you will be partying a bit while going on a sailing trip. Be prepared to fight off the hangover!
Bug Spray
Depending on the location of your sailing trip, you will most likely need to pack bug spray!
Mini first aid kit
Your boat will come equipped with a full first aid kit but it is always a good idea to travel with a personal one just in case something essential is needed!
Sailing trip toiletries
Eye drops
The salt water will dry out your eyes. Make sure to pack eyes drops for relief on your next sailing trip!
Body wipes
Sometimes you will just be dirty while on a sailing trip. Pack these body wipes to cleanse yourself when a proper shower is not in the cards.
Powdered dry shampoo
Similar to body wipes, you will most likely not be washing your hair as much on a sailing trip as you would any other trip. This dry shampoo will help your hair to look fresh as new!
Tide to go pen
There is no laundry on board. Handle any stain with a tide to go pen!
Wrinkle release spray
Your clothes will likely be wrinkled from packing and being stored in a small space. This wrinkle release spray will leave your clothes looking fresh!
Communal boat essentials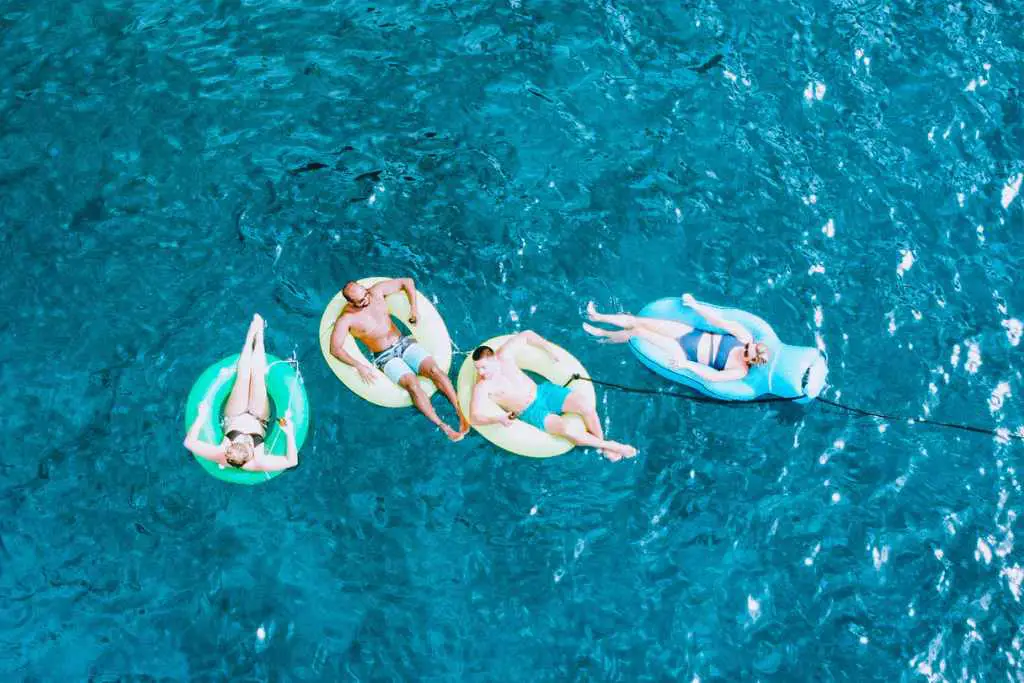 Permanent marker and clear tape
Sailing trip hack: Label which items are stored in which cabinets and drawers in the galley with clear tape and a sharpie. We came up with this hack on our last sailing trip and it helped everyone locate what they needed in the kitchen. The permanent marker also serves other purposes like labeling drinks.
Ziploc bags
Ziploc bags are an essential sailing trip packing item for a variety of things like organizing the kitchen and storing leftovers.
Mini trash bags
The bathrooms on the boat will need mini trash bags to put toilet paper in and you will want to replace it daily.
Clothespins
Most likely your boat will come with a few clothespins but it is a good idea to pack more on your sailing trip. They are used to dry swimmers and towels on the side of the boat.
On-The-Go Powdered Drink Packets
These flavor packets are the best way to make mixed drinks on the boat and they are not sold in every country. We recommend ordering these ahead and packing them in your bag for your sailing trip!
Electronics to pack for a sailing trip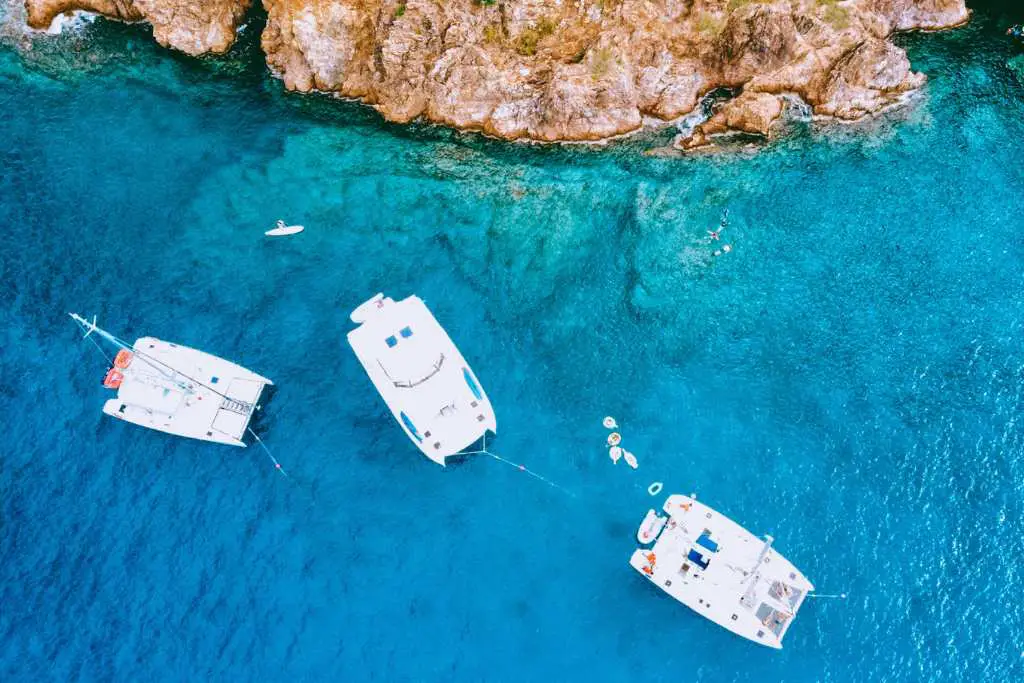 Car lighter adapter
There are typically outlets like this on board and they can be used to charge your devices while the boat is under sail. This is the best converter to use to plug in your power strip and charge multiple devices at once!
Converter power strip
This is the best combo outlet converter and power strip in one. You can charge multiple devices at once with any type of outlet, it can even be plugged into the car lighter adapter!
Waterproof bluetooth speakers
We recommend packing multiple bluetooth speakers on your sailing trip as a crew to keep the tunes playing all day long! It is even better if you have multiple of the same (like UE booms) because you can connect them to play at the same time.
Portable phone charger
It is always a good idea to travel with a portable phone charger and this will come in handy on and off the boat.
Cameras
Going on a sailing trip is really epic and all of your friends who don't go will be jealous. Make sure to capture the trip with these cameras!
Boat entertainment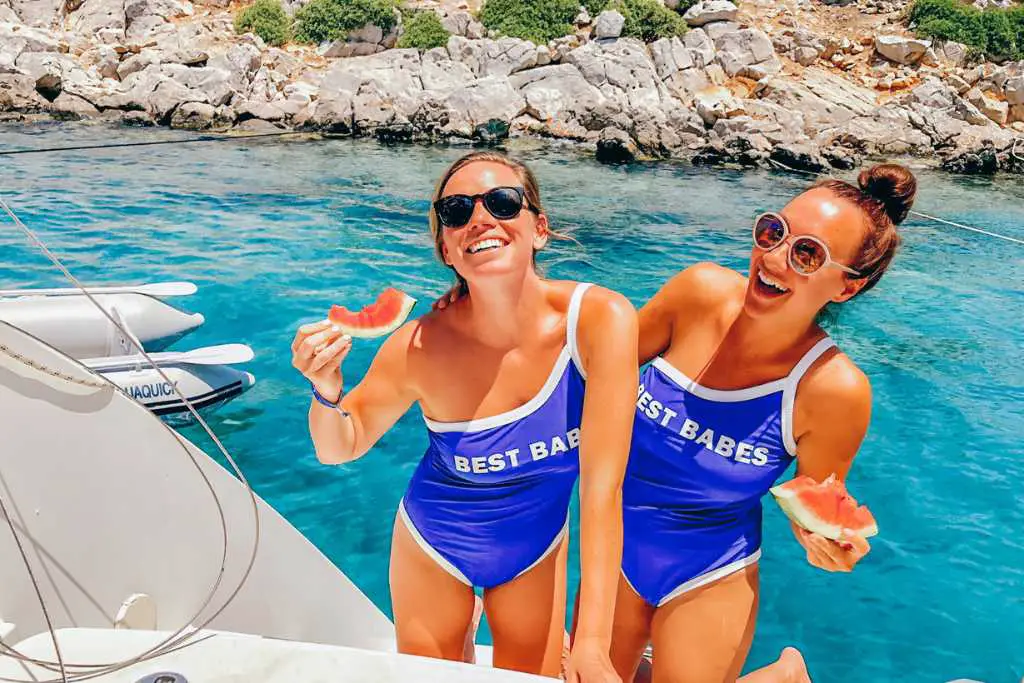 Waterproof deck of cards
There will be some downtime while on a sailing trip. We always love playing cards when we have some time to chill!
Kindle
If you love reading, a sailing trip is the perfect place to dive into a good book. Read while sailing on the open ocean!
Hammock
This isn't a necessity but is nice to pack on a sailing trip. A hammock provides another space to relax on the boat.
Boat Décor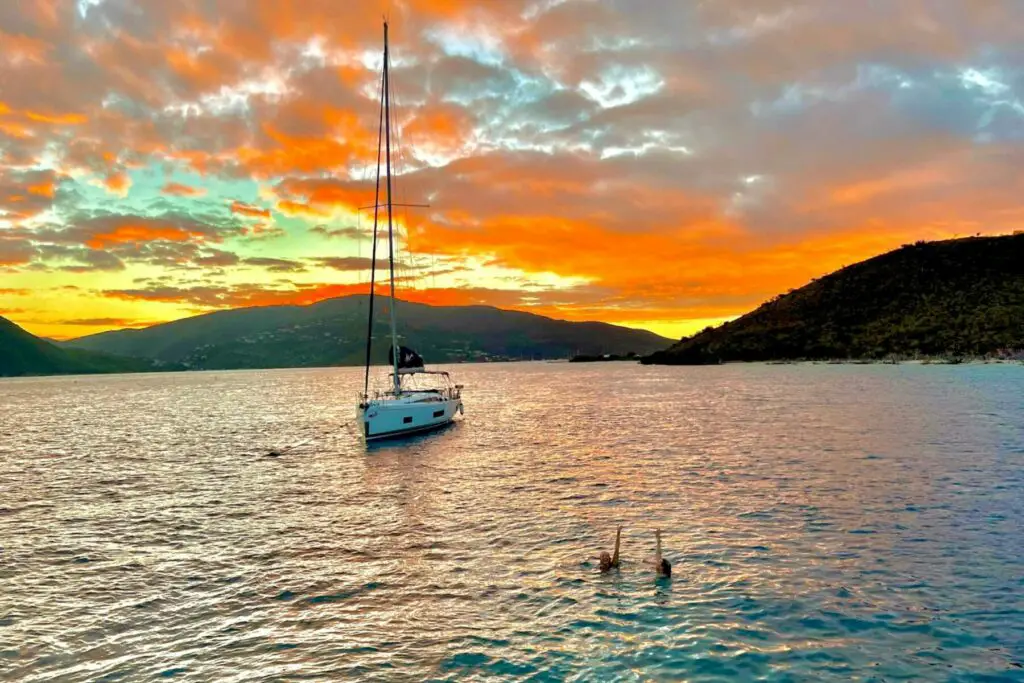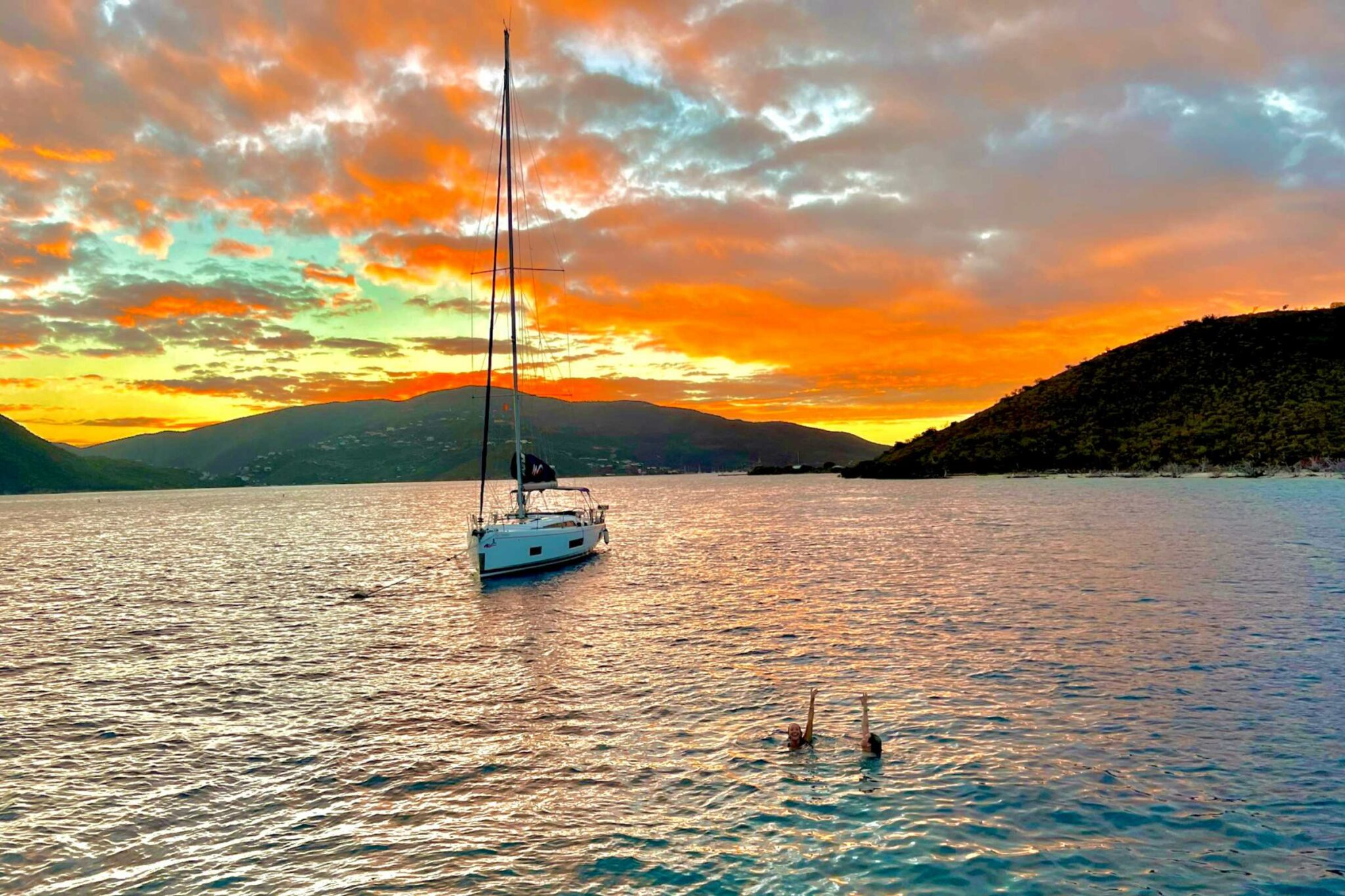 Solar powered fairy lights and zip ties
Most likely your boat as a whole will be poorly lit at night. You will want to line your boat with lights so you can socialize and find it amongst all of the other boats at night! We recommend 3 different packs of these lights, one for each side and one for the back of the boat. The zip ties will be used to secure the lights.
Floaties & air pump
Some ports will have floaties available for rent so you do not need to pack this on your flight but that is not guaranteed. Make sure to also pack this mini air pump if you plan on using floaties!
Flags
It is typical to hang your own flags to add some character to your boat and be able to recognize it when docked with tons of boats that look the same. Make sure to choose flags that will not be offensive to avoid any conflict.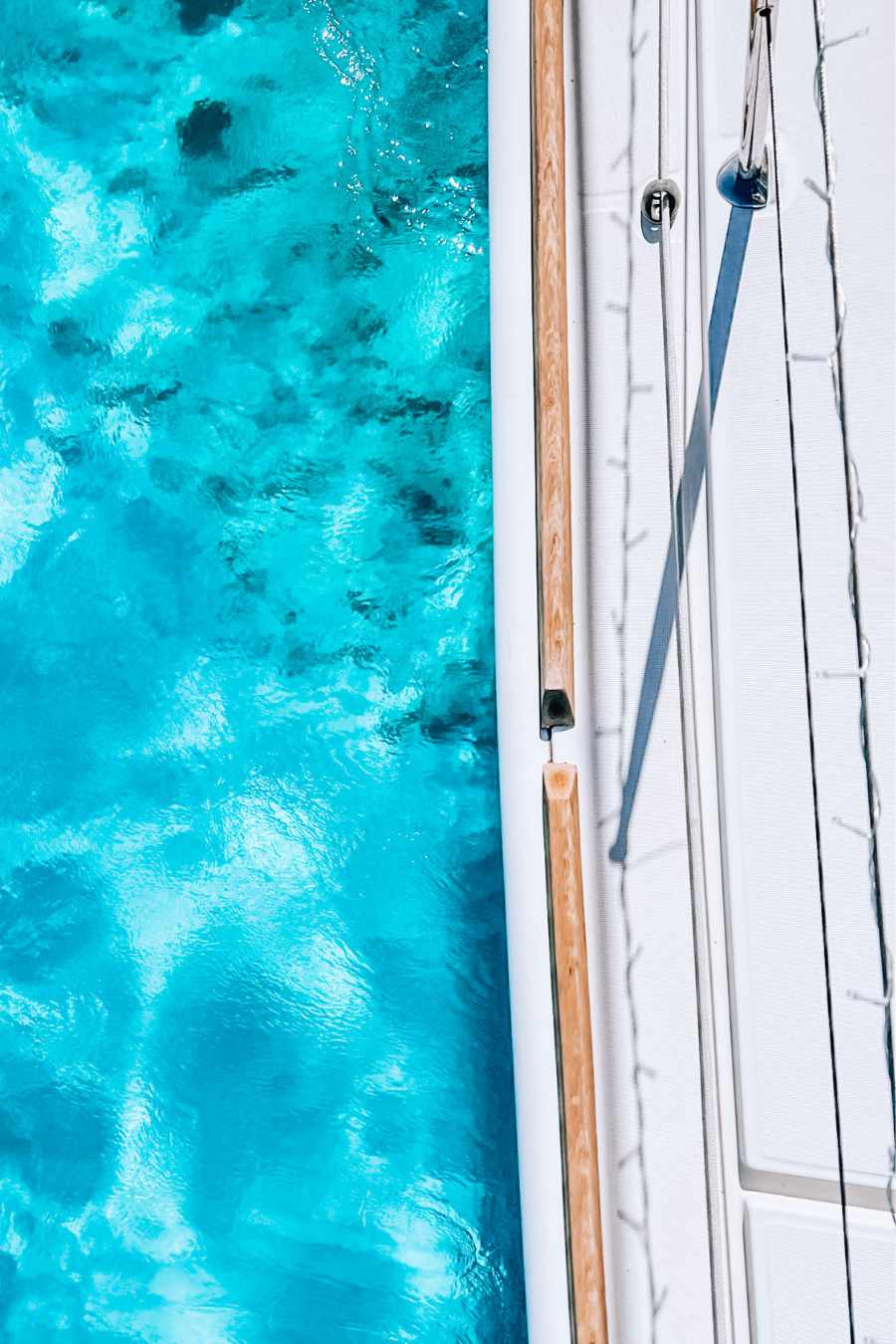 In summary, here is a complete list of everything you need to pack for a sailing trip:
Passport and printed copy of your passport
Travel insurance
Airalo phone plan
Packing for a sailing trip
Soft side suitcase or backpack
Dry bag
Day bag
Packing cubes
Toiletry organizer
Travel mirror
Microfiber towel
Eye mask and ear plugs
Seasickness medicine
Hangover cures
Bug Spray
Mini first aid kit
Eye drops
Body wipes
Powdered dry shampoo
Tide to go pen
Downy wrinkle releaser
Permanent marker and clear tape
Ziploc bags
Mini trash bags
Clothes Pins
Powder drink packets
Spices
Car lighter phone charger
Converter power strip
Waterproof bluetooth speakers
Portable phone charger
Cameras
Waterproof deck of cards
Kindle
Hammock
Solar powered fairy lights and zip ties
Floatie and air pump
Flag
Do you feel prepared to pack for your next sailing trip? Let us know in the comments where you are sailing! We absolutely love sailing and are so excited for you to experience it for yourself! Be sure to also read our other sailing guides to prepare for your trip.