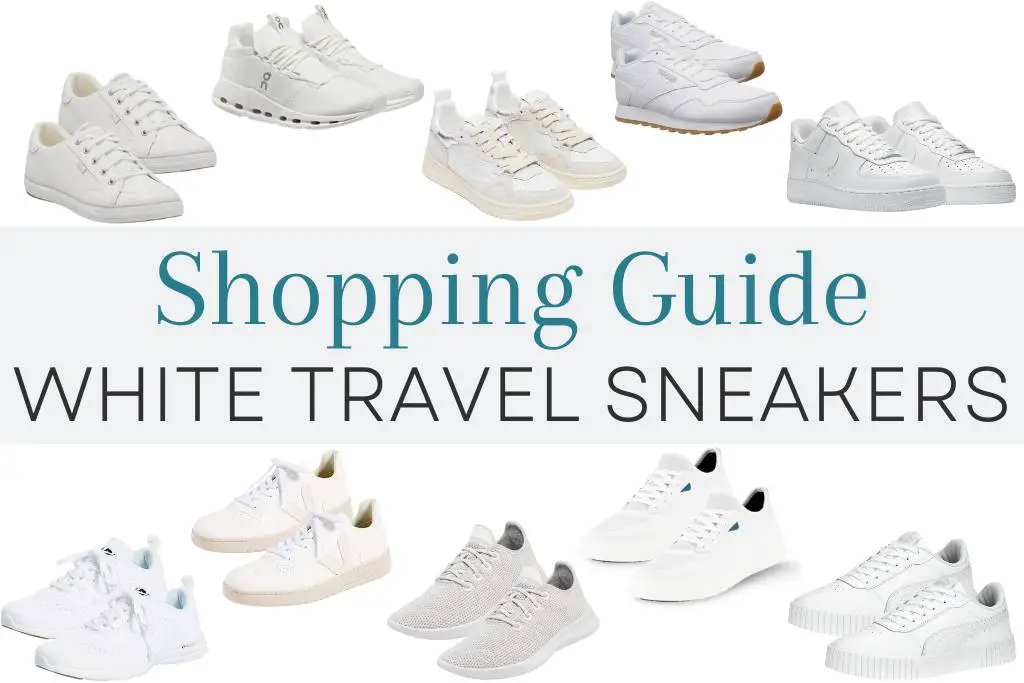 One of the most commonly asked questions I get as a full time traveler is, "What are the best white sneakers for travel?" There is nothing like finding the perfect pair of travel shoes that look great with every outfit and are also comfortable to wear all day long, no matter your itinerary. I've tried TONS of different brands and styles of travel sneakers and have narrowed it down to this list of the 11 best white sneakers for travel. Of course, everyone has slightly different style preferences so you may like some of these more than others!
In all of my packing guides, I include a simple pair of white sneakers as one of the few pairs of shoes to always pack while traveling. They are simply the easiest type of shoe to match your entire wardrobe and be comfortable all day long! I also believe that you do not need to sacrifice style for comfort when it comes to traveling. This list of the best white travel sneakers are all guaranteed to keep you comfortable all day long while also looking chic as you strut through a new city!
In this blog post, we'll take a look at the best practical and stylish sneakers for travel. We'll consider factors such as comfort, support, style and versatility when it comes to choosing the perfect pair for your adventure!
How to choose the perfect sneaker for travel
Consider your travel itinerary
Depending on the activities on your itinerary, you will need a different pair of versatile travel sneakers. For example, if you are going on a Europe trip and the only activities include walking around new cities, you will be comfortable choosing one of the basic stylish walking shoes listed below. If your itinerary also includes hiking and some more intense fitness, you may need to choose one of the options below that are meant for more movement.
Match with your packing list
Whichever white travel sneaker you choose to bring on your trip should match basically anything you pack. Especially in the spring and fall, you do not need to pack more shoe options than one of the white sneaker options below. Make sure to try on your outfits with your travel shoes to make sure that everything matches and you feel confident wearing them together!
Go with a pair you really LOVE
The sneakers you pack for travel will most likely be your most worn pair of shoes on a trip. Choose wisely! You will want to love the pair you choose and feel totally confident in every picture you take in them.
The 11 Best Sneakers for Travel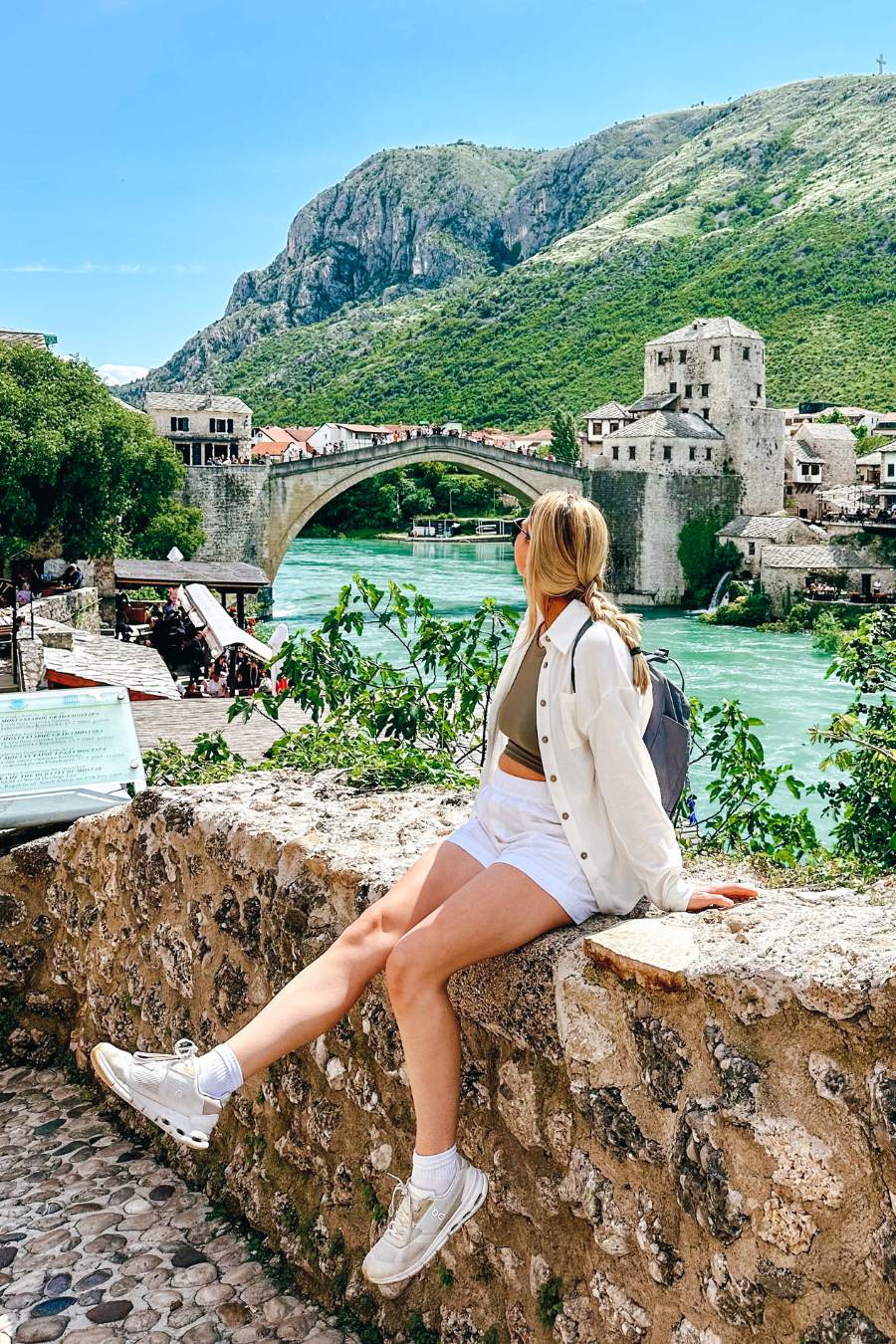 VEJA V10: The most popular travel sneaker
The VEJA brand has been on the rise the last few years and has recently peaked as the most popular casual white sneaker! They really are so cute and comfortable and will match any outfit. They can also easily be dressed up or down depending on your style!
One thing to note here, while these sneakers are comfortable enough to walk around in all day, they are not durable enough for a difficult hike or workout. If something like that is on your itinerary, then I'd recommend the OnCloud's listed below. If your itinerary just involves walking and some casual hiking, these VEJA sneakers will be perfect for your next vacation!
OnCloud Cloudnova: The most versatile travel sneaker
These are my personal favorite white travel sneaker because of their versatility. Since I typically travel out of a backpack for a long period of time, I prefer to only pack one pair of sneakers that work as both my every day and workout shoes. The Cloudnova's accomplish this and save me space in my bag since I only need one pair of sneakers!
APL TechLoom: The best combination of style and fitness
I read tons of travel polls and these APL TechLoom's landed top of the list of best travel sneakers time and time again! They are not necessarily the chicest pair on the list, but they will keep you comfortable all day long and are durable enough for hiking and more athletic activities.
New Balance Training Shoe: The most comfortable travel shoe
While these classic New Balance sneakers are stylish, they are also known as the "dad" shoe because they are a bit bulkier compared to the others on this list. With that said, they are also one of the most comfortable options that will support you through any travel activity. As long as the shoes match the items in your packing list, these are a great option for you to wear on your next trip!
Vessi Weekend: Best waterproof and lightweight travel sneaker
I had to include a pair of Vessi's on this list of the best travel sneakers because Seth has actually worn these for travel for almost 3 years now! We love that they are waterproof which makes a huge difference during those spontaneous European rain storms and they are also comfortable to wear all day long.
Reebok Classic Sneaker: A timeless and budget-friendly white sneaker
You can't go wrong with this classic pair of Reeboks. They are versatile for multiple activities and will look great with any outfit combination! They are also one of the cheapest options on this list if you need a more affordable white sneaker option.
PUMA 2.0 Sneaker: The best everyday Sneaker
I love these white sneakers for travel because they truly work for any occasion and make the perfect everyday sneaker. My friend wore a pair of these all around Ireland and was totally comfortable the entire time while looking cute in these little white sneaks!
Keds Center Sneaker: The best small and lightweight option
Keds are another classic sneaker brand and this particular style is loved by travelers. They are so easy to match any outfit! I definitely recommend trying these out for a day before committing your entire trip to them, but most people claim they are comfortable to wear all day long.
Allbirds Tree Runners: The most trusted travel shoe
There's a reason Allbirds have remained top of the market for travel shoes for years. They are comfortable, lightweight and a simple style that will match any outfit.
Nike Air Force 1: One of the most popular sneakers of all time
This is a classic white sneaker that comes back in style time and time again. They are a bit more casual compared to some other white travel sneakers on this list but nonetheless, will match any outfit you put together!
Steve Madden Everlie: The trendiest travel sneaker
This is a new style that Steve Madden released that are similar to the Nikes, but have their own unique flare. Steve Madden shoes are comfortable and durable, and these white sneakers are no different when it comes to travel! This style also comes in multiple accent colors if you want to add a little pop of color.
---
White sneakers are a must-have for any traveler! They're stylish, comfortable and versatile, making them the perfect choice for exploring new cities, hiking through forests, or just walking around town. I hope this list of the best white sneakers for travel helps make your decision easier about which shoes to add to your wardrobe for your next trip!