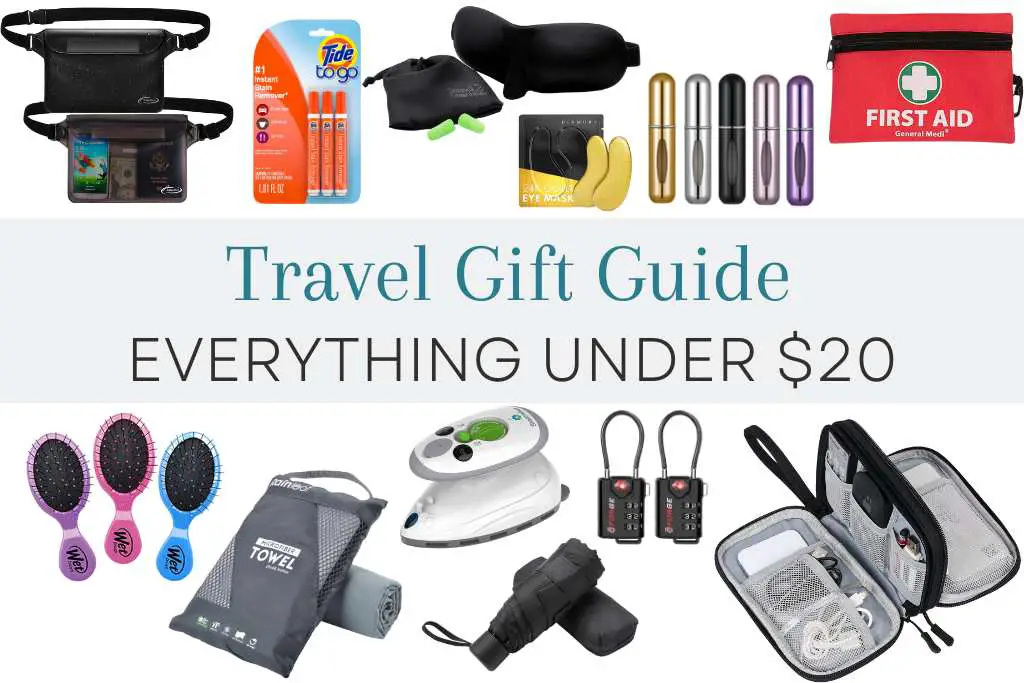 It's holiday season and I am sure you are looking for a fun gift for your favorite traveler. As I was making this list I realized that so many of my travel essentials are actually under $20. This is a list of the the best gifts for under $20 for every type of traveler.
These gifts for under $20 for a traveler will be perfect for a gift exchange or to use as a stocking stuffer!
This is the best dry bag at the beach or pool when a traveler needs to protect their phone, keys and money. I've tested tons of different small dry bags and this style is my favorite!
Every traveler needs a portable phone charger. I think I have one in every bag, so there is plenty to go around! This one is lightweight and will fit in every bag.
This is a great gift for under $20 for every traveler because it will keep them organized and sane when looking for a particular charger.
Gift your favorite traveler some sleep with this eye mask + ear plug set!
Treat your traveler to some puffy eye remedy after that overnight flight! These will leave them looking fresh even if they do not feel like it.
As a stain prone human, I need a Tide To Go constantly. This is a thoughtful under $20 gift for a traveler!
If your favorite traveler is known to overpack, help them out by gifting this luggage scale!
This is such a cheap and easy gift for any traveler! We use our waterproof cards on almost every trip.
These laundry detergent sheets were both a huge space and money saver when we were backpacking around the world. This is a unique and thoughtful gift for a traveler!
Similar to the laundry detergent, this clothesline is a great gift for a backpacker. There will be times they need to dry out clothes in unusual spaces!
You never know when a first aid kit will come in handy. Gift your traveler some safety precautions with this mini kit!
This is the best compact razor that every traveler will love.
This is the best universal towel for travel and is a practical under $20 gift for a traveler.
How fun are these? Hide your valuables in this very discreet packaging that will stay with you at all times. This also makes a great practical gift!
This mini steamer and iron is perfect to gift someone who travels for work or weddings. Their clothes will be fresh, no matter where they are staying!
How creative are these mini perfume bottles? These make a completely unique gift that your favorite traveler probably would not think of themselves.
This is a great water bottle to take on a trip! It collapses to take up no space in your bag when it is not filled.
I love how compact this umbrella is for travelling! It can easily fit in a purse or backpack for those unexpected rain showers.
I put these locks on every bag when traveling. Even without actually locking the bags, they are a deterrent to potential thieves. This is another practical gift for a traveler for under $20!
Clothes get wrinkled after being packed in a bag. Here's a quick fix to be ready to go as soon as possible!
This 3 pack of mini brushes is perfect for your traveler to have a brush accessible in all of their bags!
Pill organizers are a huge space saver when traveling and great to keep your different pills in designated spots.
Still Searching? Check out our other gift guides:
We hope this list of gifts for travelers under $20 makes your holiday shopping easier & affordable! Let us know in the comments which gift idea is your favorite.