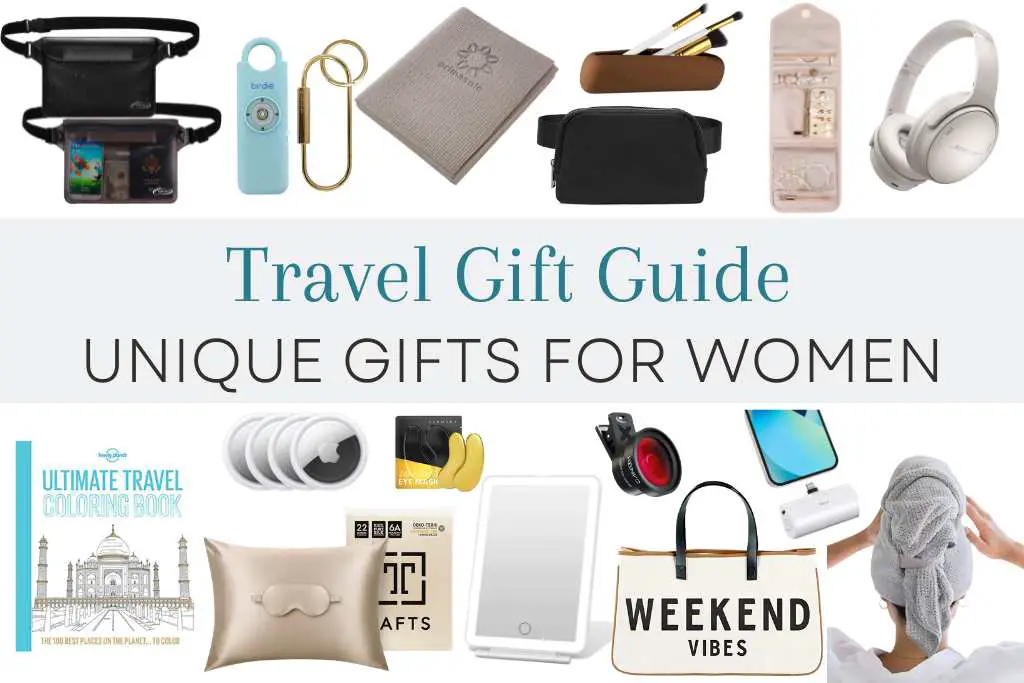 Do you know a woman who loves to travel? Whether you are buying for yourself or someone special, this gift guide is for you! This list of the best travel gifts for women will help you decide what to buy this holiday season.
This mirror is a unique travel gift for women who love girls' trips or are always getting ready on the go. There is simply never enough space in hotel rooms when multiple people are getting ready for a night out. Bring your own mirror to avoid this dilemma!
Every woman who loves to travel needs to organize her toiletries in some fashion. This is my favorite toiletry organizer to use for travel!
This is the best portable iPhone charger for travel. This fits in any purse or even in some pockets!
Yoga mats are very difficult to pack because they do not fit in most backpacks or suitcases. This folding yoga mat solves that problem! This is a great gift if you know someone who loves to do their exercise while traveling.
This famous Lulu Lemon belt bag is constantly sold out but the good news is that there is a dupe on Amazon that looks and functions exactly the same! Plus, it is more than half the price. This is a great surprise travel gift for women!
If you know someone who still travels with hardcover books, it is time to transition to reading on the kindle! It is much more practical and makes a great travel great.
This is the perfect gift for a female traveler who owns lots of jewelry. This jewelry organizer will keep all of her possessions safe and organized while traveling!
AirTags are the best way to track bags when taking multiple flights. Airlines are losing bags more consistently these days and with AirTags you are able to locate exactly where they are!
This is a thoughtful gift if you know a woman who often stays in hotel rooms alone. This will add an extra layer of security and safety!
Give your woman the gift of luxury with this travel silk pillowcase and eye mask. No matter where they are staying, they will be comfortable with their own pillow case that also protects hair and skin.
This is another luxury item to give as a gift. Personally, I never travel without my noise cancelling headphones. They are a travel gamechanger and will make a great gift!
Bring your own straw everywhere you go with these reusable collapsible straws! These are perfect for iced coffee and cocktails while traveling. I love how these can clip onto a bag!
These eye gels are a great gift for a woman with upcoming long travel days. These will leave eyes feeling refreshed and ready to take on the day!
This wide angle camera lens that attaches to a phone is the perfect gift for women who love to capture their travel adventures on camera. There's no need to carry around a large camera when this can simply attach this to the phone.
This safety alarm created by women for women attaches to a keychain and is a thoughtful gift for a female traveler. She will feel safer walking alone in new cities with this on her!
I bring this with me on every trip that involves a beach or pool. Easily keep all of your valuables safe on you while swimming and enjoying water activities!
This is the best beach bag for travel because it is lightweight and can be collapsed flat to fit in any bag when packing for a trip. This is a great gift for a women who loves to hit the beach or pool while traveling!
While compression socks may not be the cutest look, they are a very practical gift for a woman for travel. They make a huge difference in overall health, especially on long flights!
This is a very handy travel gift for a woman! She will be able to hang her purse or bag no matter where she is. This is great for bars and restaurants that do not have a clip to hang a purse so it does not need to be placed on the ground or back of the chair which makes it accessible to pickpocketers.
How fun is this weekend bag? This is a thoughtful gift for a female travel who loves to take weekend trips! This brand also has bags with other fun sayings.
I love this water bottle for travel and it makes a great gift. This size fits in most water bottle spots in backpacks! There are also lots of color options.
This is a great travel gift for a woman to protect her makeup brushes in any bag. This case has magnets inside so it stays closed!
This travel themed coloring book is such a unique gift for a woman. She will be entertained for hours while reminiscing or dreaming about new travel destinations!
This is the best travel steamer and is a practical gift for a traveling woman. This is perfect to easily make clothes look good as new after a long travel day.
This microfiber hair towel dries hair so quickly and can easily be packed in any bag.
Still searching? Check out our other gift guides:
We hope this list of the best travel gifts for women helps your search for the perfect gift this holiday season! Let us know in the comments which one is your favorite.