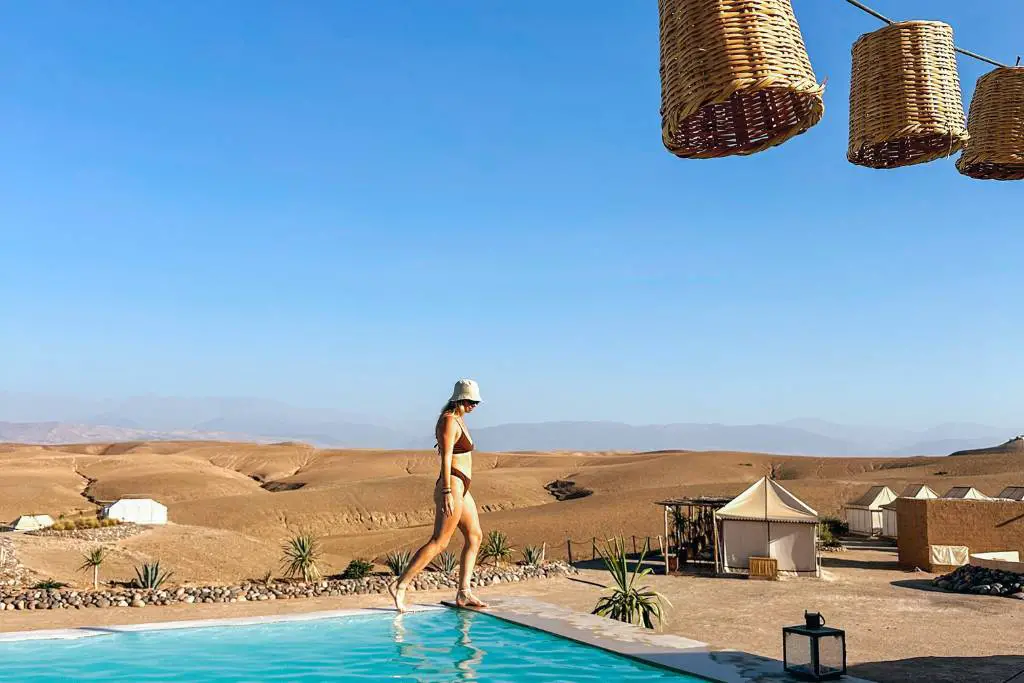 Morocco is a country on the Northeast side of Africa and a bucket list destination for avid travelers. Morocco is filled with so much beauty and history, and one of the best cities in Morocco to experience that is Marrakesh. On our last summer in Europe, we took two days to go to Morocco and explore Marrakech and the Agafay desert. Two days is not enough to fully experience all that Morocco and Marrakech has to offer, but it is enough to appreciate its uniqueness and check another item off of the bucket list! This two day Marrakech itinerary will tell you how to make of the best of your short time in Marrakech.
Keep in mind that this two day Marrakech itinerary is completely flexible! We opted to first go to the Agafay desert for a night of glamping before heading to Marrakech. You can easily flip your itinerary to do the opposite and go to the city first.
Day 1 in Marrakech: Spend the night in the Agafay Desert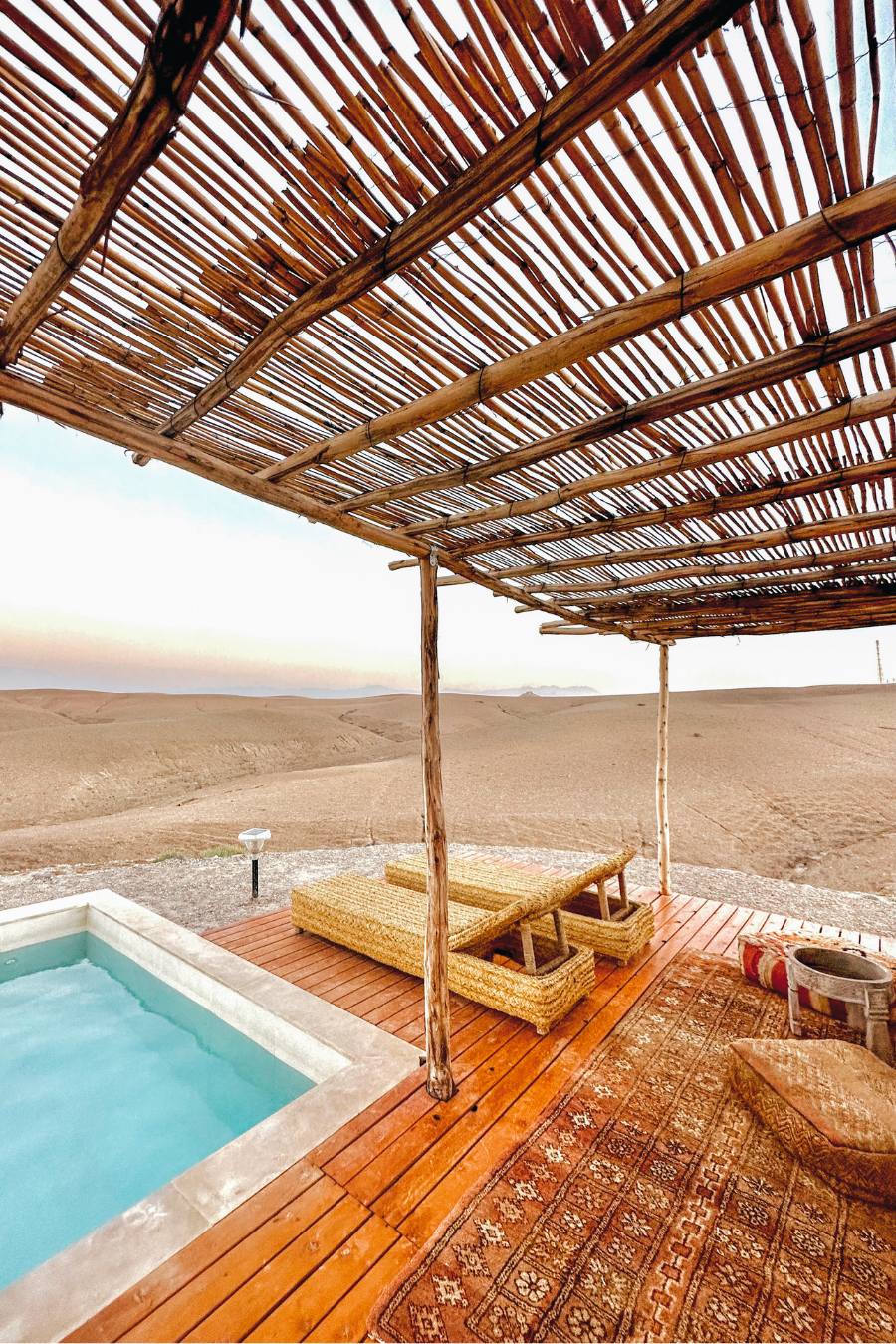 The easiest way to get to your housing from the Marrakech airport is to organize transportation with your housing. We went to the Agafay Desert first and it was very easy to find our driver waiting outside of the airport. The drive to the Agafay Desert is approximately 45 minutes to reach depending how far into the desert your housing is located.
Pro-tip: An important quick note about Morocco is that large drones are not allowed to enter the country. We got very lucky that our DJI Mini II was under the size limit and was not taken away while going through customs.
Night in the Agafay Desert
We stayed at Selina Nomad Camp Agafay for one night in the desert. We opted to upgrade to a luxury tent with a private pool and absolutely loved our stay here! The private pool and larger room were worth the extra cost to make the most of our one night stay here.
We spent our first day taking in the desert atmosphere, relaxing by both our private pool and the property pool as well as making friends with fellow travelers. Despite not having any other food options in the desert, the Selina Nomad Camp Agafay was actually very reasonably priced and delicious for food and drinks.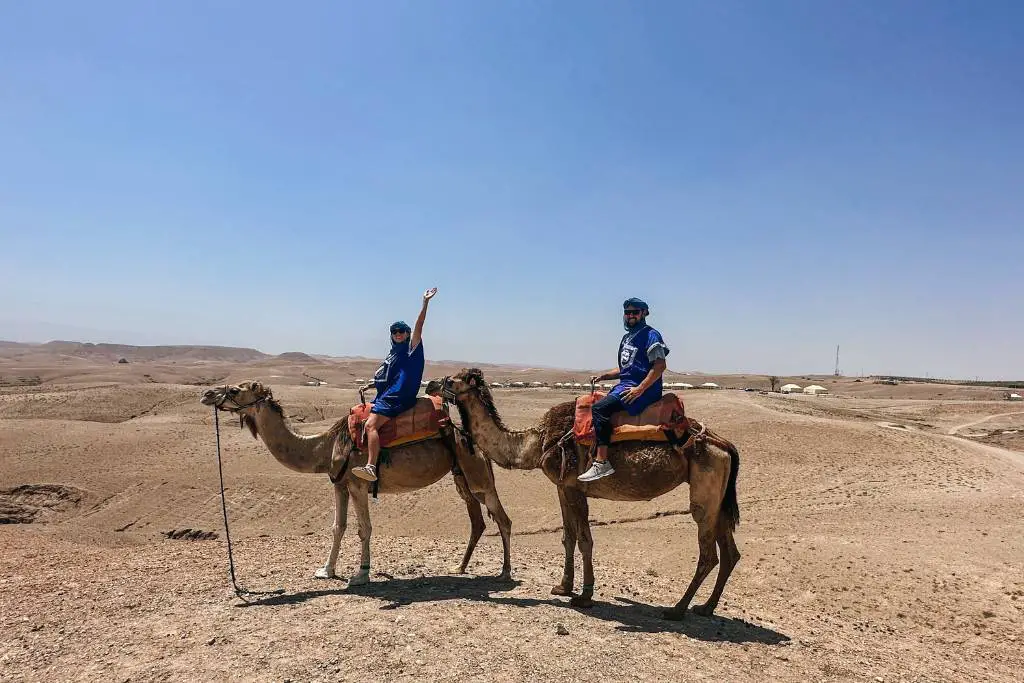 There are also a ton of activities that you can book at any of the desert campgrounds from ATVing, camel rides, or even a hot air balloon ride. Before booking any activities in advance, we would encourage you to check what the expected temperature is supposed to be throughout the day. It will get very hot in the mid-late afternoon in the desert!
After a day of relaxing by the pool or embarking on any activities, watch the beautiful sunset over the mountains and then spend some time stargazing before heading to bed.
Pro tip: The further into the desert your housing is, the more beautiful the night sky will be. Since the Agafay desert is not far from Marrakech, there are some city lights that impact stargazing.
Marrakech Day 2: Leave the Agafay desert and spend time in Marrakech city.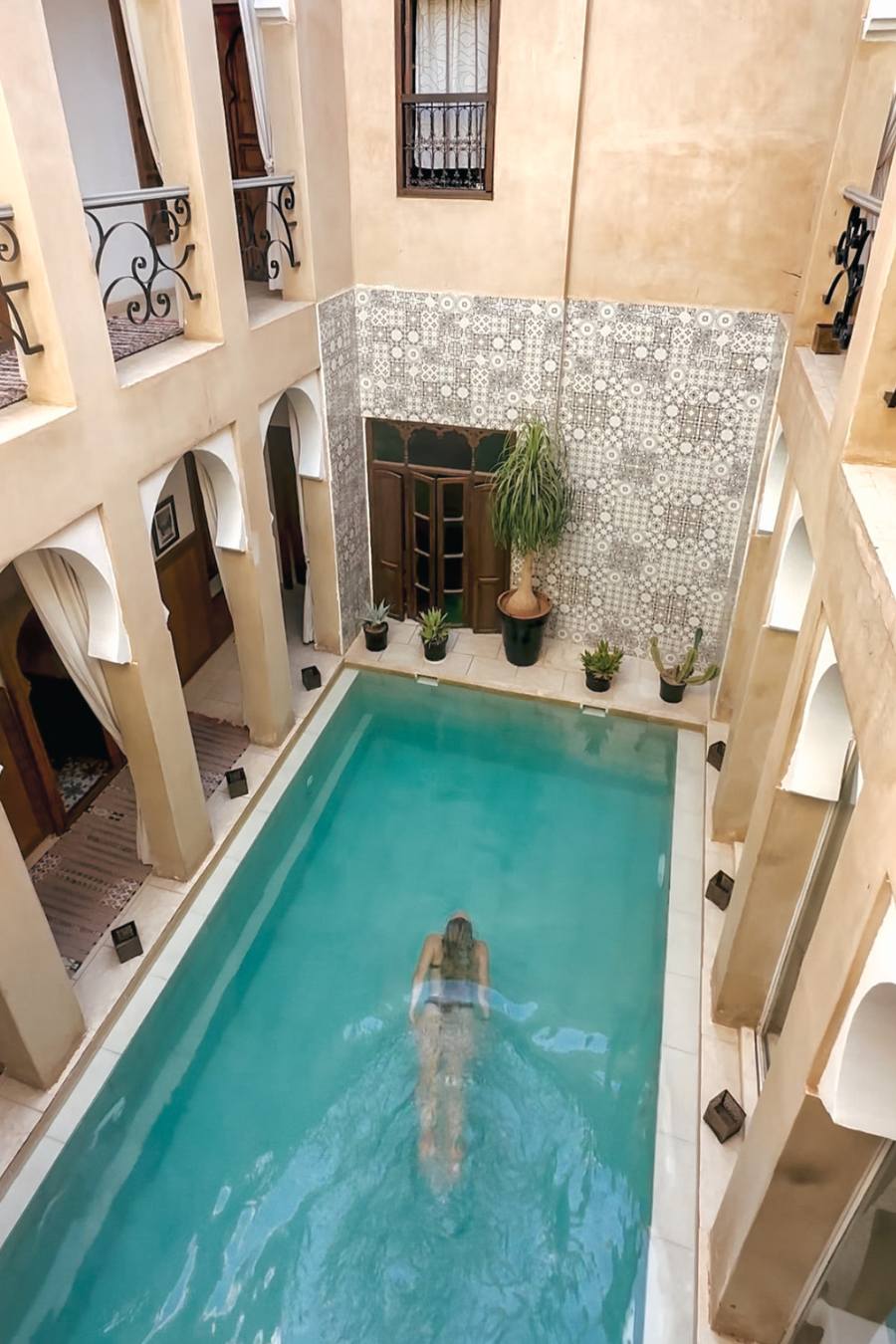 On our second morning in Marrakech, we woke up for the included breakfast and to enjoy some coffee while taking in the morning views in the cooler desert air. Since the morning tends to be cooler, this is when we scheduled our one activity which was a camel ride.
Depending on what activities are most important to you in Marrakech between the desert and the city, you will have more time to relax by the pool or embark on another desert adventure before heading to the city. Even though most check-out times are 10am, you should still be able to leave your belongings at the front desk and use the campground facilities for as long as you wish before heading to the city.
Similar to the airport, the easiest way to get to the city from the Agafay desert is to book transportation with your housing. You will be able to schedule a ride in advance and choose any time that works best for your two day Marrakech itinerary.
When we arrived at our Marrakech housing we were immediately taken up to the rooftop with a beautiful view of the city for a cup of tea with the owner of our Riad. We stayed at Riad Nafis for our one night in Marrakech.
Old Town Marrakech Walking Tour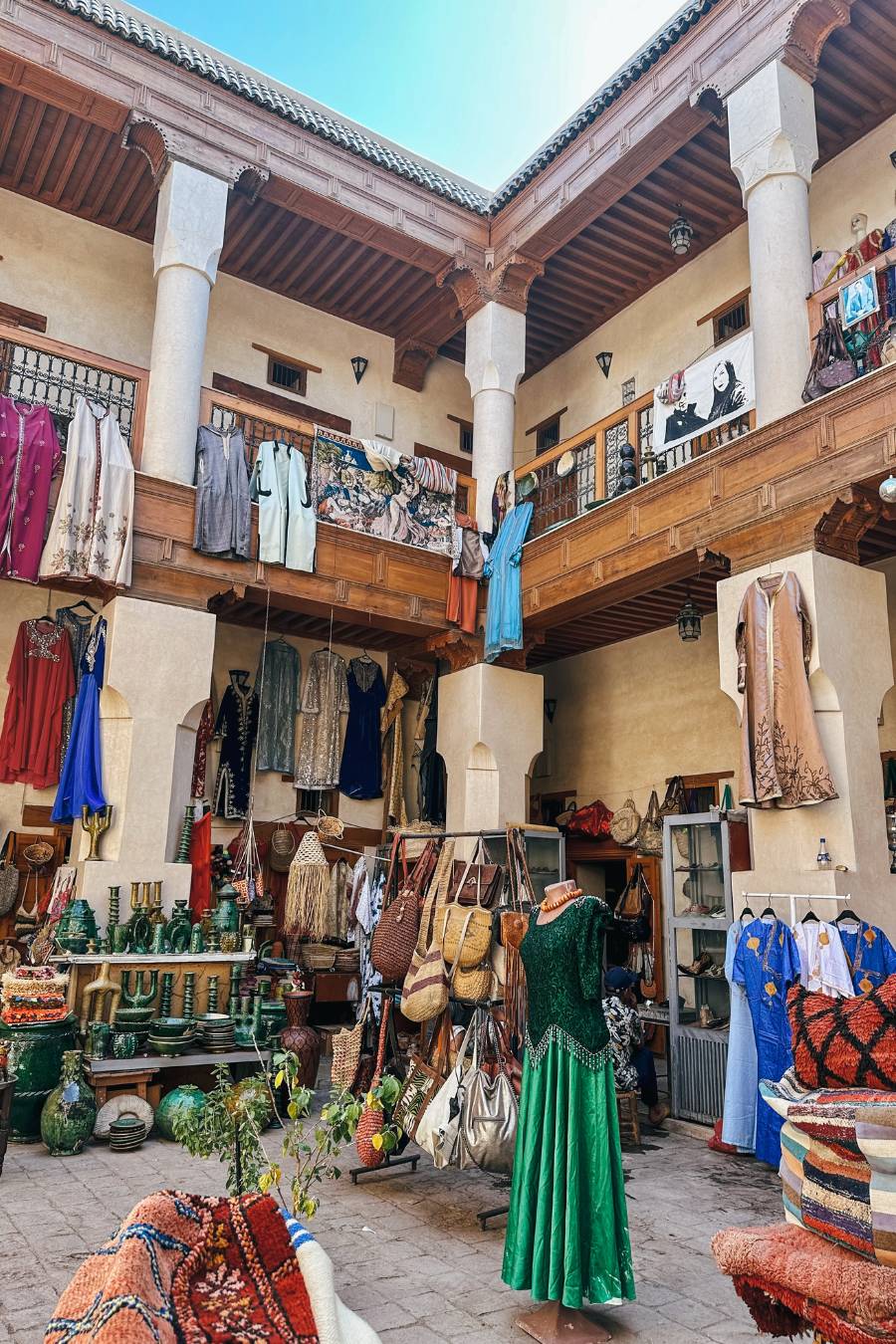 Once we were settled in our Riad, we organized our walking tour directly through the property. We booked a private three hour walking tour all over the old city of Marrakech. Typically we do all of our own research and prefer to wander on our own, but this private tour was more than worth the money. A large part of exploring Marrakech Old Town is wandering through the winding streets and alleys of the vast market. There is no way we would have been able to see everything without getting lost if we did not have our guide to lead us!
Our guide was a wealth of knowledge and we covered all of the major sights including the main square Djemaa El Fna, the secret garden, Koutoubia Mosque and all of the different specialty areas of the vast market. We highly recommend booking a private walking tour to make the most of your short time in Marrakech.
Most riads have a dipping pool due to the heat of Marrakech. After our walking tour we took a quick dip before showering and getting ready for dinner. At night, either relax in the riad or head back to Djemaa El Fna to see the square light up at night.
Tips to booking a trip to Marrakech, Morocco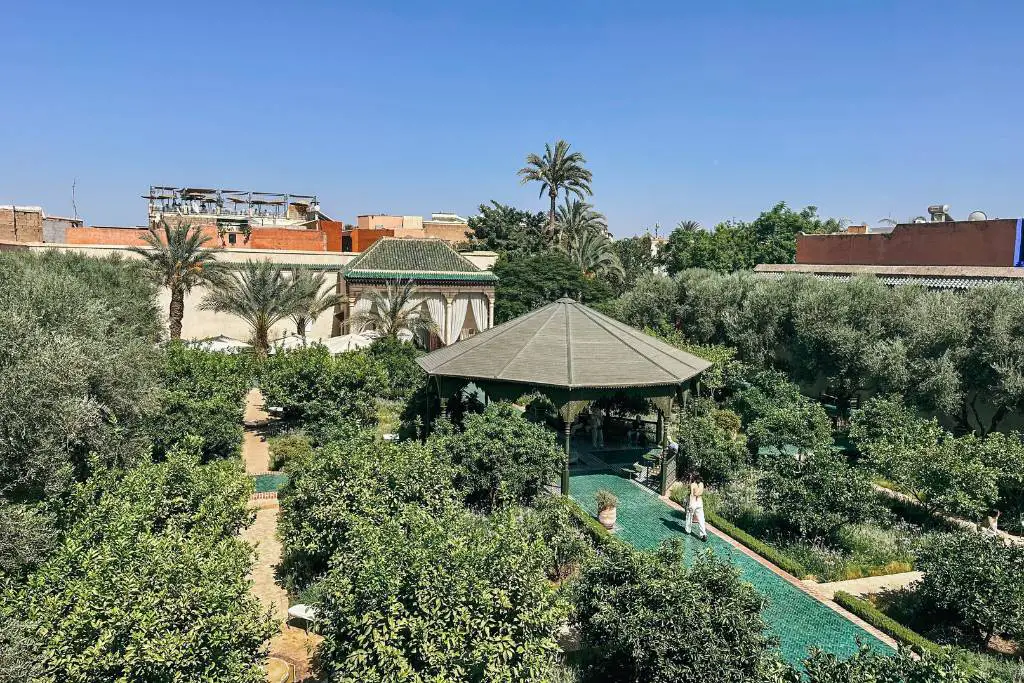 Book your transportation in advance.
As stated multiple times in this guide, the easiest way to get to the airport and different accommodations is to book your transportation with your housing in advance. It will be worth it to have peace of mind that a driver is ready to take you at a time that works best for you!
If possible, take out a small amount of local currency.
Since this was only a two day Marrakech itinerary, we were able to manage without taking out any local currency. Many places took credit cards and some vendors accepted Euro cash. With that said, there were times where it was problematic. Ideally, we would have gotten out a small amount of cash to pay for street vendors and a few other sights on our walking tour.
Watch out for pickpockets.
Our tour guide told us many times to be aware of our surroundings and watch out for pickpockets. Apparently, there has been an increase in these petty theft crimes in the last decade. While they typically target tourists, even the locals have been impacted. Keep all belongings zipped and close to your body. Do not hold your phone out when walking on a sidewalk because motorcyclists can grab it out of your hand before you even realize what is happening!
There are snakes in the main square.
As someone who is terrified of snakes, I was extremely apprehensive to go to the main square in marrakech because of the snakes that vendors both carry and have laying around. With our tour guide, we were able to avoid walking near them and did not have any issues. If you do not wish for the vendors to place the snakes near you or around your neck, do not walk closely or look interested in the snakes.
Be respectful of the culture.
Morocco and Marrakech in particular is a very religious city. When walking around the city, it is polite to wear clothes that cover your knees and shoulders as best you can. I wore a simple short sleeve short and long loose travel pants.
We did see groups of people in clothes that provided much less coverage, but it felt slightly disrespectful for people to dress that way.
Since we were swimming in the Agafay desert, we were less concerned with our clothing choices while staying there overnight.
---
While this itinerary is a bit of a sprint, it is definitely the best way to maximize your time if you only have two days to spend in Marrakech. We hope that our experience and recommendations on this two day itinerary are helpful for you to enjoy your time in this amazing city!