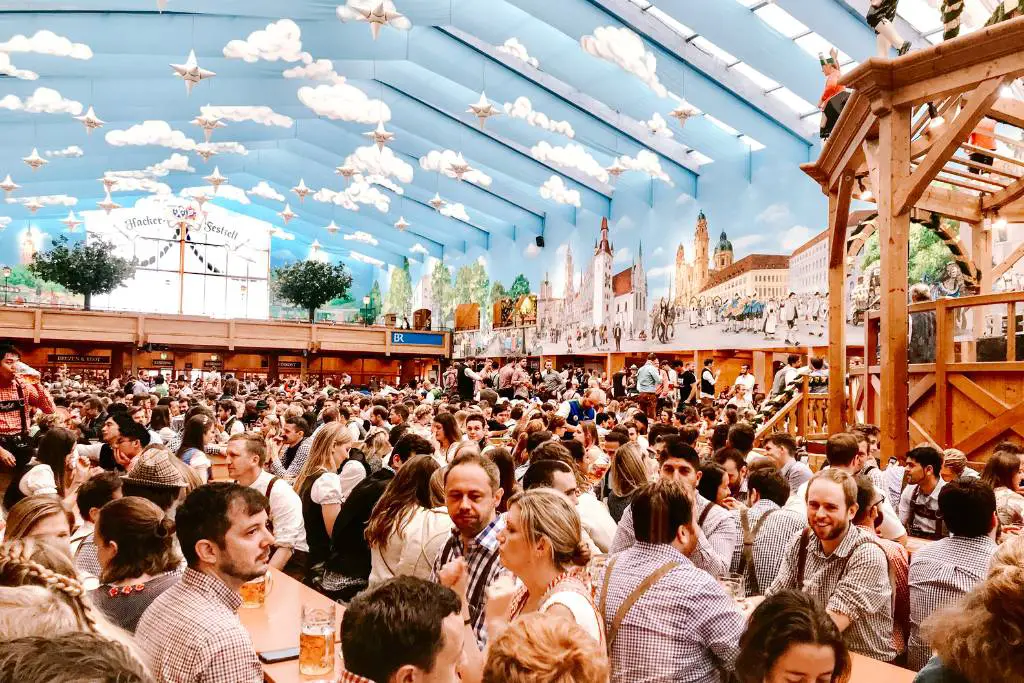 Oktoberfest in Munich, Germany is an absolute bucket list activity and one of the most fun events to attend in the world! Oktoberfest is an annual folk festival in Munich, Germany, that attracts millions of visitors from all over the world. The festival is held over sixteen days in late September and early October, and is known for its large beer tents, traditional Bavarian food and live music. We went to our first Oktoberfest together in 2018 and Seth has attended the festival over 5 times! We love the atmosphere, the beer, the clothes and everything that this iconic festival has to offer.
In this post we will take a closer look at the history, traditions and festivities of Oktoberfest. We will also share some tips for planning your own Oktoberfest experience! Whether you are a seasoned Oktoberfest veteran or a first-timer, read on to learn more about this amazing festival.
History of Oktoberfest
Oktoberfest began in 1810 when the future King Ludwig got married and invited the entire city to celebrate. The celebration consisted of a massive feast and horse races. The horse races were so popular that they decided to repeat them the next year and thus the tradition of Oktoberfest began! 1896 was the first year that the large brewery sponsored tents appeared on the fairgrounds.
Where is Oktoberfest held?
Although it is now celebrated globally, the main celebration of Oktoberfest is held on the original grounds in Munich. The field where it is held is named Theresienweise and is walkable from the main train stations in Munich.
Munich is one of the easiest cities in the world to get around on public transportation. No matter where you stay in the city, you can access the fairgrounds relatively easily!
When is Oktoberfest?
Despite its name, Oktoberfest primarily takes place in the month of September. Oktoberfest lasts for 16 days and begins on a Saturday in mid-September. It continues until the first Sunday in October.
When is the best time to go to Oktoberfest?
Oktoberfest encompasses three weekends with the second and third weekend being the only two weekends when the grounds are open Friday – Sunday. The second weekend, nicknamed Italian Weekend, is the most popular of the three.
Our personal favorite time to visit Oktoberfest is during the week. The tents will still fill up but you won't need to be in line at 6AM in order to guarantee you get a seat at a tent for the day! Also during the week, you should be able to go into multiple tents in the same day since it is less crowded. Many locals also opt out of work to attend Oktoberfest during the week, which adds to the overall atmosphere!
How much does Oktoberfest cost?
There is no cost to enter the fairgrounds or the different tents at Oktoberfest in Munich. The costs that you will encounter are for food, drinks, rides and souvenirs.
One thing to note is that you will not be able to bring water or other drinks into the tents. Water on the fairgrounds can be a bit pricey so make sure to bring ample water to hydrate while you wait in line.
What time does Oktoberfest open?
The Oktoberfest tents open at 9am, beers start flowing at 10am and live music typically starts around 12pm.
The line outside of the fairgrounds will start forming very early in the morning, especially on the weekends. Be prepared to wait in line a bit to be let into the grounds and enter the tents!
Transportation for Oktoberfest
How to get to Munich
The closest airport for Oktoberfest is Munich Airport (MUC), which is then an easy train ride from the airport right to the center of Munich.
Munich is also connected to many nearby countries by train. Munich Hauptbahnhof and Hackerbrucke stations are a 15 – 20 minute walk to the Oktoberfest fairgrounds.
In addition to planes and trains, several bus companies in Europe connect Munich to nearby countries.
How to get to Theresienwiese (Oktoberfest fairgrounds)
Theresienwiese is located in the center of Munich and is very walkable. It is roughly a 20 minute walk from Munich Hauptbahnhof and Hackerbrucke which are the two main train stations. If you are staying further out it can also be accessible by the Theresienwiese metro station.
While prices may surge during peak festival transportation hours. Uber is also very accessible in Munich.
Where to stay in Munich for Oktoberfest
Housing in Munich is expensive, especially during Oktoberfest. There are a lot of hotels and hostels a very short walk from the fairgrounds but they will book up very quickly. Be sure to book your accommodation as soon as you confirm your dates! If you are looking to save some money, you can stay further outside the center and take the train or metro to the grounds. There is even a campground outside the center that is a very popular stay during the festival.
Boutique hotels
A short walk from the train station and right in the center of Munich, this hotel features unique rooms that will transport you to farms and mountains.
The woodwork and art in the common areas of this hotel will take you back centuries. With modern rooms and a beautiful courtyard to enjoy your coffee, this is a great place to stay in the city center.
Mid-range hotels
Hotel Bayer's: 20 minute walk from grounds.
Located between the main train station and Marienplatz, the location of Hotel Bayer's can't be beat.
Buddy Hotel: 20 minute walk from grounds.
If you're looking for a centrally located hotel at a great price, then take advantage of the cheaper prices at Buddy Hotel. Be warned that the rooms are rather small but still comfortable!
Use code JLJ10 for 10% off all eSIM purchases.
Budget hostels
This hostel is located near the train station and is the perfect hostel if you're attending Oktoberfest.
Another centrally located hostel near the grounds of Oktoberfest and not far from Marienplatz.
A little further out located near the second largest train station in Munich, this hostel offers a rooftop bar with nice views and is still within a 30 minute walk of the center.
If you want to experience Munich but also enjoy some nature, this campground just under 4 miles from the center may be more your speed. Enjoy the Beergarden or chill out zone while camping in Germany.
Things to do at Oktoberfest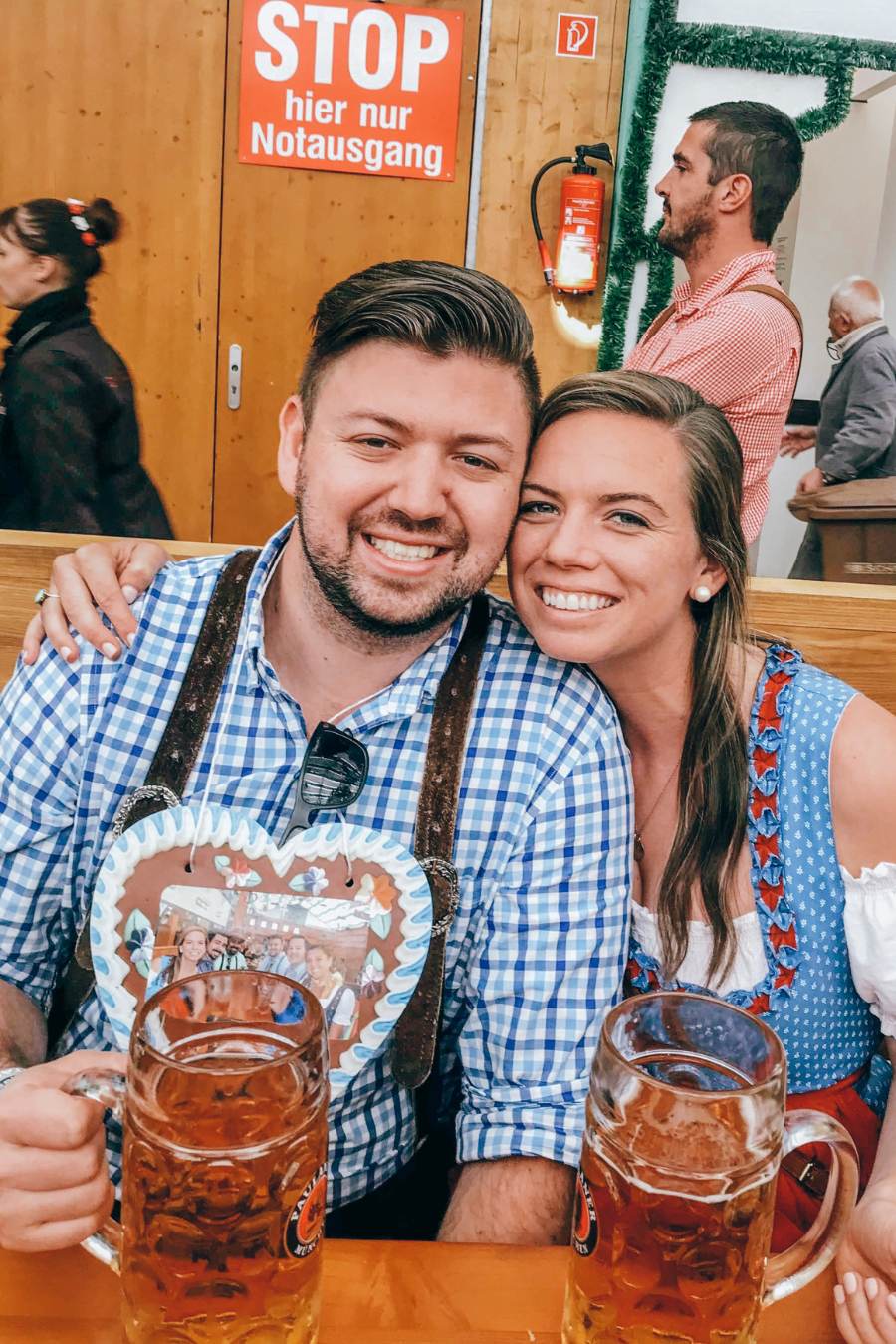 First and foremost, drink beer!
Oktoberfest is supplied solely by the six brew houses of Munich. Each brew house sponsors multiple tents and each tent is unique. In addition to the typical Oktoberfest beer, you can also get a weissbier (wheat beer) and radler (½ beer, ½ lemonade). Wine is served at a few tents as well.
FAQ: Do you need to tip at Oktoberfest?
A: It is customary to add a tip of a couple of Euro per round. In most cases, the more you tip, the faster your service will be throughout the day.
Eat food
While the most known foods at Oktoberfest are pretzels and sausages, there are several other foods to try as well. For starters, Seth's favorite food schweinshaxe (pork knuckle) can be found in any of the tents and throughout the grounds. Some of the other foods you should try are roast chicken, roast pork, Käsespätzle (cheese noodles), and Reiberdatschi (potato pancakes).
It's important to remember to eat throughout the day to soak up the alcohol!
Enjoy the live music
The bands in the tents will typically start playing polka music around 12pm and that is when the energy in the tents really comes alive. If you stick to a more typical German tent like Hacker Festzelt or Armbrustschützenzelt, you'll hear mostly classic German polka music. Hofbrau-Festzelt or Schottenhamel, which are more international tents, will play a mix of polka, rock and pop music.
Catch a thrill on the rides
When people first think of Oktoberfest, they picture how it is falsely portrayed in the movie Beerfest. In fact the tents, although incredibly temporary, are more like massive wooden structures. Most people are also not aware that there is also an entire carnival set up on the grounds! This isn't your local town fair as the rides range from small and simple to roller coasters with loops. There is even a swings ride that goes 90 meters above the ground giving you a view of the entire city!
Meet new people
The tables at Oktoberfest are long picnic tables and with how crowded it gets in the tents, all seats will be filled most of the time. Unless your group fills up an entire table, you will be sharing the space with other travelers! This is part of what makes Oktoberfest so great. Everyone at Oktoberfest is there to enjoy the beer, music, food and have a good time so it's great to get to know your tablemates and learn about where they are from in the world.
What to wear at Oktoberfest
While you can wear regular clothes to Oktoberfest, you will stand out because most people wear the traditional German outfits. To get in the festival spirit, we recommend purchasing a dirndl (women) or lederhosen (more common for men). It is actually much more common to wear the traditional clothing to the festival instead of regular clothes. You will fit in with the crowd if you commit to the experience and wear the outfit! Plus, it is always fun to dress for a theme.
I actually purchased my dirndl in Munich once I got to the city. If you order a dirndl ahead on Amazon, it tends to look more like a costume than a traditional German outfit. There are tons of stores set up with a variety of styles and colors, just be sure to try it on before purchasing!
This is one of the few times that the women's option is significantly cheaper than the men's, but true lederhosen are really built to last many years. Seth's first pair of lederhosen lasted 18 beer festivals in Germany plus multiple times that he wore them in the US.
Tips for visiting Oktoberfest
Wear comfortable shoes
Oktoberfest is not a formal event! Make sure to choose comfortable shoes that will last all day long.
Tip your servers well
Typically the more you tip your servers, the quicker they will serve your beer!
Bring a raincoat
Rain is common in Munich so pack a raincoat just in case.
If possible, leave your purse at home
It is very easy to misplace personal items at an event like this if you are not cautious and things are also likely to get stolen if left sitting around. One trick we learned when dressing for Oktoberfest, was to wear either a fanny pack or shorts with pockets underneath your dirndl so that you can keep your hands free all day! The dress is spacious enough that it should not be noticeable.
Bring lots of cash
Oktoberfest is a cash-only event. Come prepared to pay for your festivities all day long!
Learn a few German phrases
Embrace the fun of the German drinking culture by learning some common phrases. The most important phrase to remember is Prost, which means cheers in German!
Be prepared for crowds
Oktoberfest is one of the most popular destinations in the world (for good reason)! There's no doubt that you will experience crowds during your time at the festival. Have patience and enjoy the atmosphere.
Have fun!
There's truly nothing like the FUN you will experience at Oktoberfest. Bring your best attitude and get ready to embrace everything that this amazing festival has to offer!
Other things to do in Munich during Oktoberfest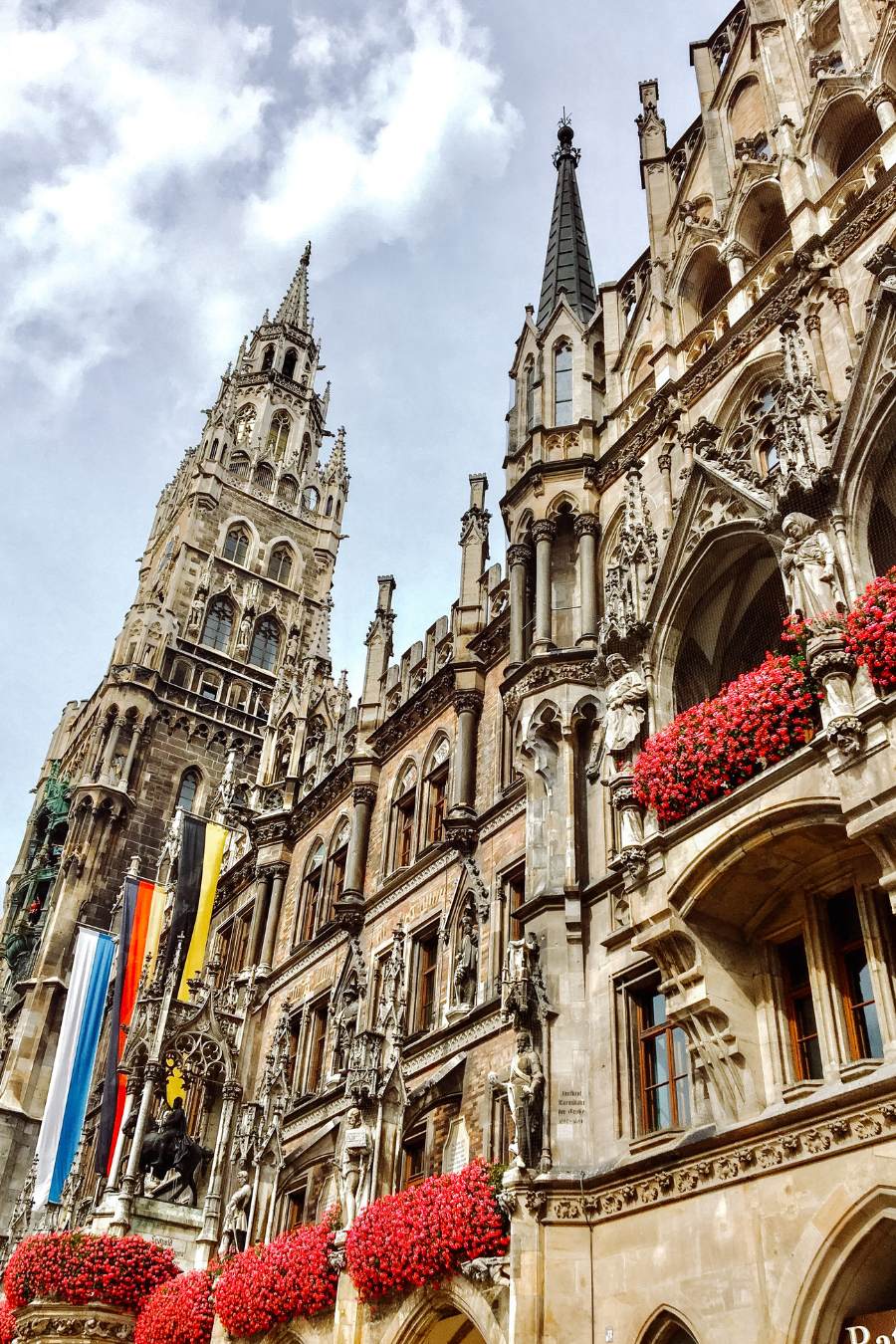 While you may be visiting Munich to go to Oktoberfest, take a day (if you have time) to explore the city outside of the festival! Munich is one of our favorite European cities, both during Oktoberfest and outside of festival times.
Take a bike tour of the city
Munich is an incredible city to bike around, especially when the weather is nice!
Go to the Chinese Tower for lunch and a beer
This is our favorite place to go for a meal in Munich.
Check out the river surfers
The Munich river surfers are one of the most famous things to see in Munich.
Walk around Marienplatz
Marienplatz is a stunning square in Munich filled with so much important history. Take some time to explore this area!
For other things to do in Munich during Oktoberfest be sure to check out our Things to Do in Munich post here.
Additional Europe resources
---
Oktoberfest is a once-in-a-lifetime experience combining history, a mixing of cultures and partying that cannot be missed. Munich is extremely accessible to other parts of Europe which makes Oktoberfest the perfect pairing to any fall Euro trip plan!