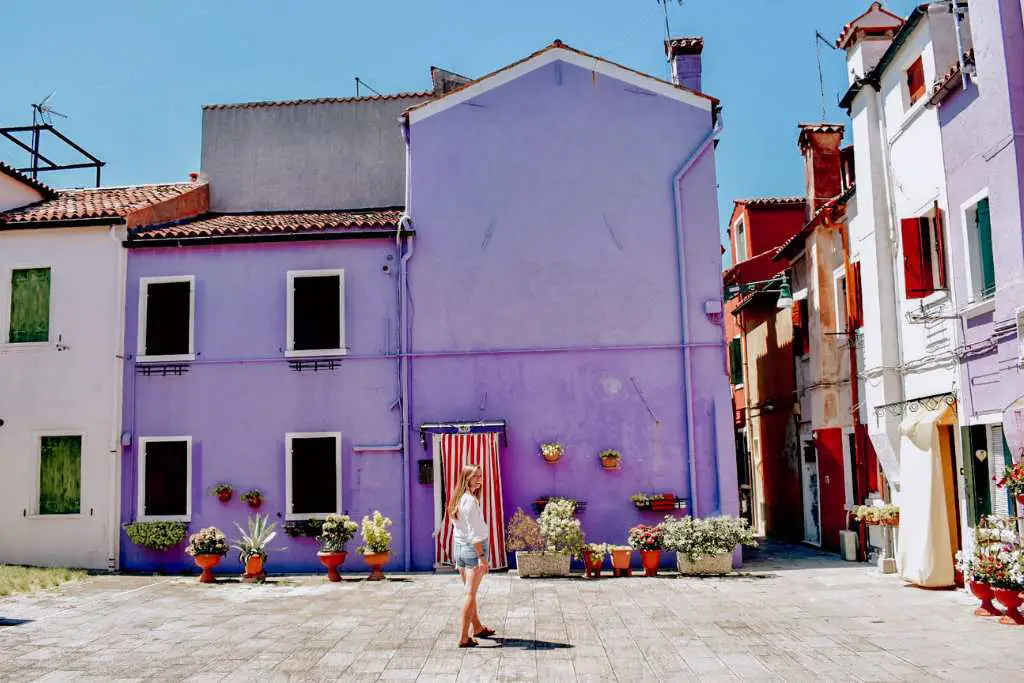 Europe is my absolute favorite place to travel and the summer is a common time to book an extended trip there. I spent the entire summer of 2019 backpacking Europe and have curated a complete packing list based on my experiences. The number one question I get asked about living out of a backpack is always, "How do you always look cute while traveling?" or "How did you decide what to pack?". The truth is, it took almost the entire six months on the road to perfect my packing list for backpacking Europe. When I originally packed, I included so many unnecessary items. I was not willing to sacrifice my style just to fit my life into a backpack, especially when traveling in Europe. All of these items in this post are inspiration for the ultimate packing guide while traveling through Europe.
Backpacking Europe in general can be very uncomfortable. You don't want to add to discomfort by wearing uncomfortable clothes and shoes. I love to find the balance between chic and comfort, without sacrificing the signature look I want to achieve. Packing in the summer is the easiest season because warmer weather means less clothes. A lot of these clothes will work for other seasons, you may just need a few more outer layers.
Versatility is also key when packing for a trip especially when backpacking Europe. Each item on your Europe packing list should be practical and serve multiple purposes. Everything I picked below can be mixed and matched with each other. This means that you can create multiple outfits with the same articles of clothing. For more tips and trick, read my post about How to Pack Light for Long Term Travel. Make sure to also read 15 Europe travel essentials to prepare for your trip. Even if you are going on a short trip, these items will make traveling so much easier!
Chic comfort clothes for travel days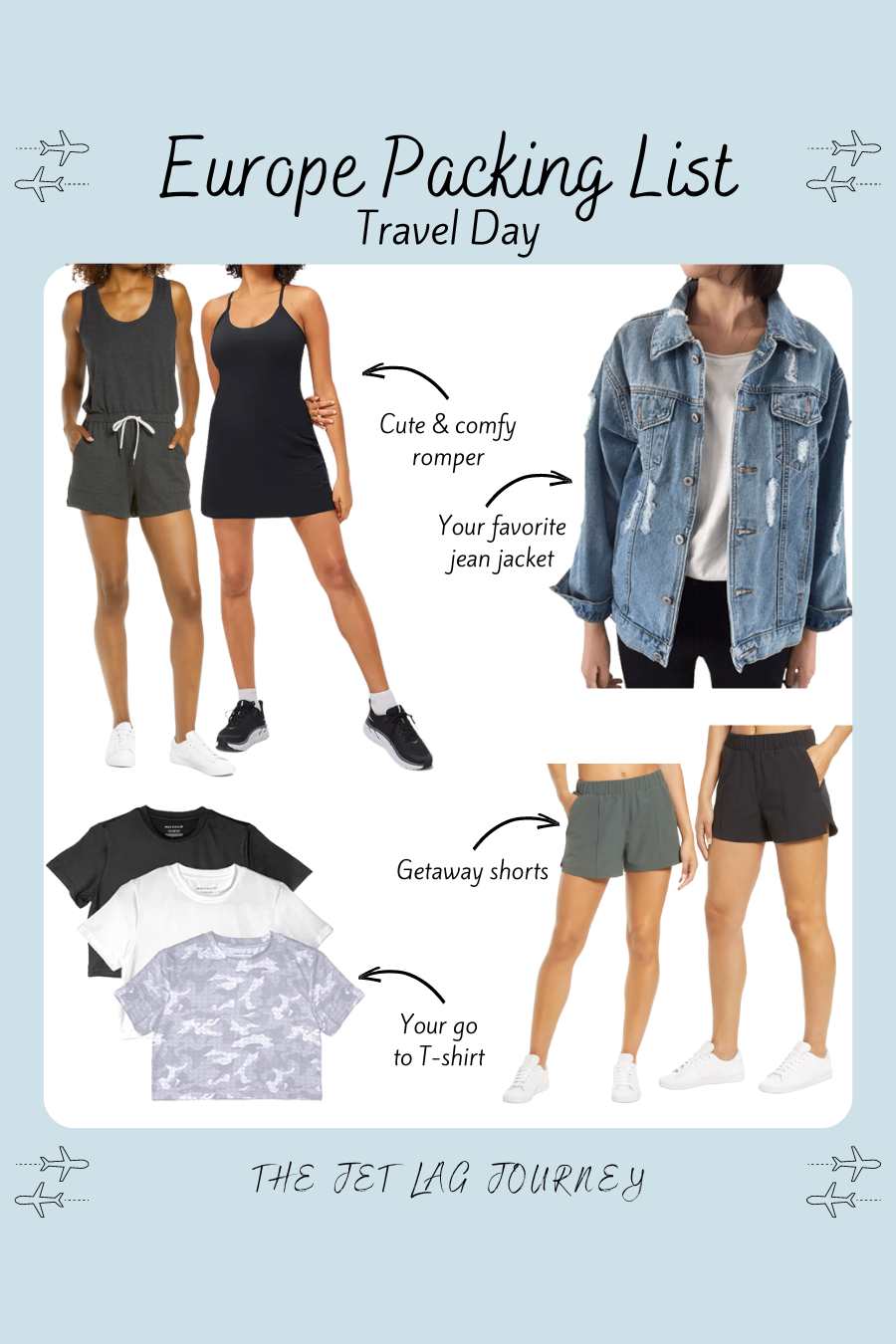 Shops these items for your packing list:
It is essential to have a travel day outfit on your backpacking Europe packing list. When you are on that eight hour plane ride after a two hour layover, you will want to be comfortable. Being comfortable does not mean that you have to look like a slouch. One easy way to consolidate clothes is to combine your travel day outfit with your workout or hiking clothes. You can look great hiking through the airport or up a mountain to amazing views!
I am obsessed with this exercise dress to add to your packing list. It is both chic and comfortable. Wear it with a jean jacket and your favorite sneakers to style your way through the airport. Something like this is also versatile because it can be worn as a beach or pool coverup.
Comfortable shorts paired with a classic cropped t-shirt is also a great travel day option. They also can be worn separately from each other with any of the tops or bottoms listed below!
Versatile Dresses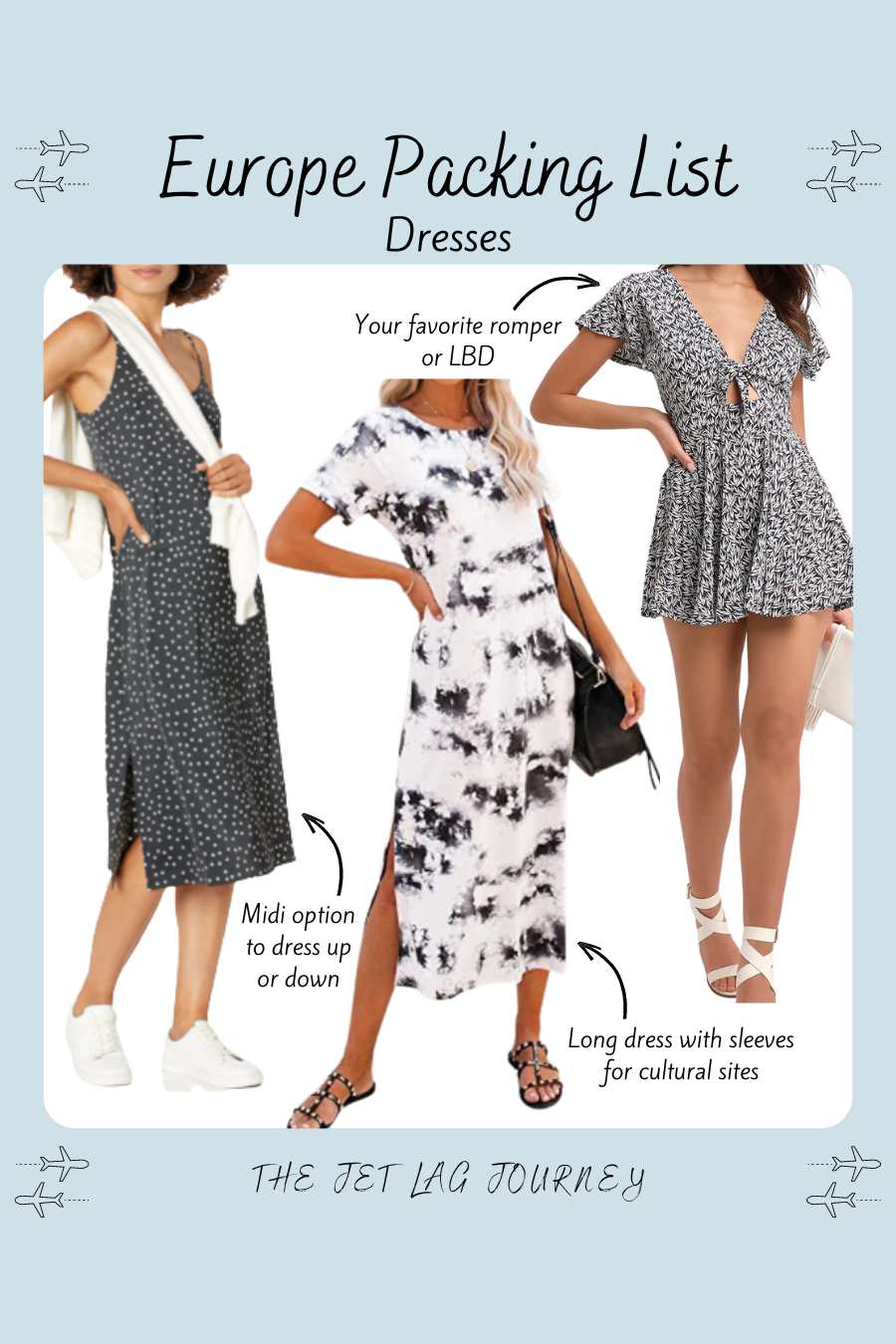 Shops these items for your packing list:
Dresses are by far the easiest items to add your packing list. They are cute and comfortable while backpacking Europe in the summer! A lightweight dress or romper is perfect for touring during the day, heading to a nice dinner and hitting the town at night. When touring around European cities, you will enter churches and different religious establishments. It is important to be respectful and follow the requested dress codes. A lot of those establishments require your shoulders and knees covered. A long dress is a great solution to not sacrifice your style and be respectful of those rules. This is one of my favorite long dress styles. It comes in multiple colors so if one fits you just right, buy it in multiple patterns!
Pants and shorts for your Europe packing list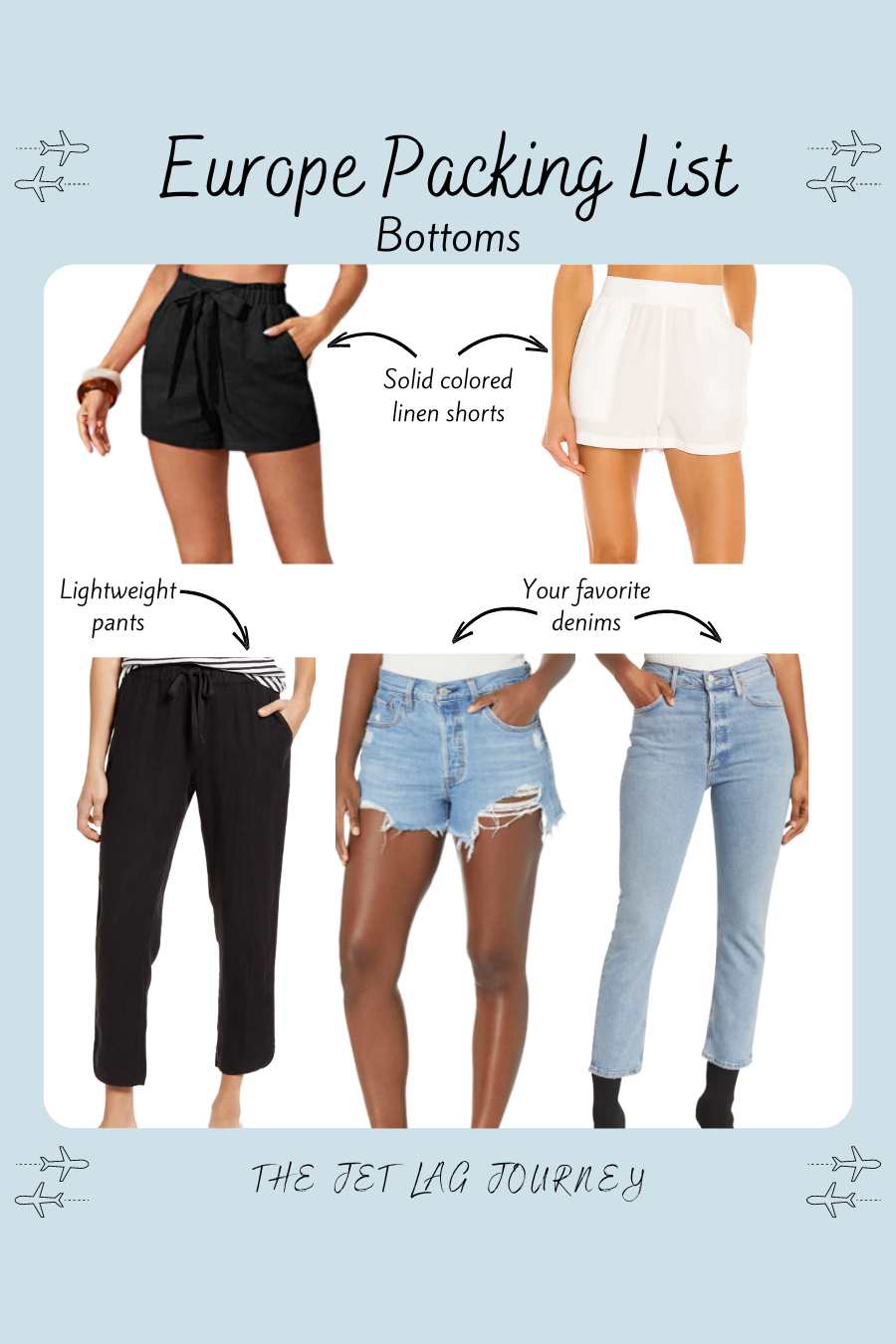 Shop these items:
Summer in Europe is hot! Some days it is just not practical to walk around in pants. I love to turn one pair of shorts into multiple outfits. Mix and match these with the shirts below to make each one of your clothing items go a long way. Jean shorts are a classic look that you can easily mix and match with any top and shoes.
Lightweight shorts are fabulous when it comes to travel. I basically lived in my lightweight shorts while backpacking through Europe and all over the world. It is such an easy way to be comfortable and look cute at the same time. These can also be mixed and matched with any top. These are also great to dress up or down depending on the occasion.
Jeans are a classic look on a chillier day. They are heavy, so take that into consideration if you are running out of space. I love that lightweight pants are back in style and they look great with everything. These classic lightweight pants work for any occasion. You can dress up or down and be comfortable the entire time.
Use code JLJ10 for 10% off all eSIM purchases.
Shirts to pack for backpacking Europe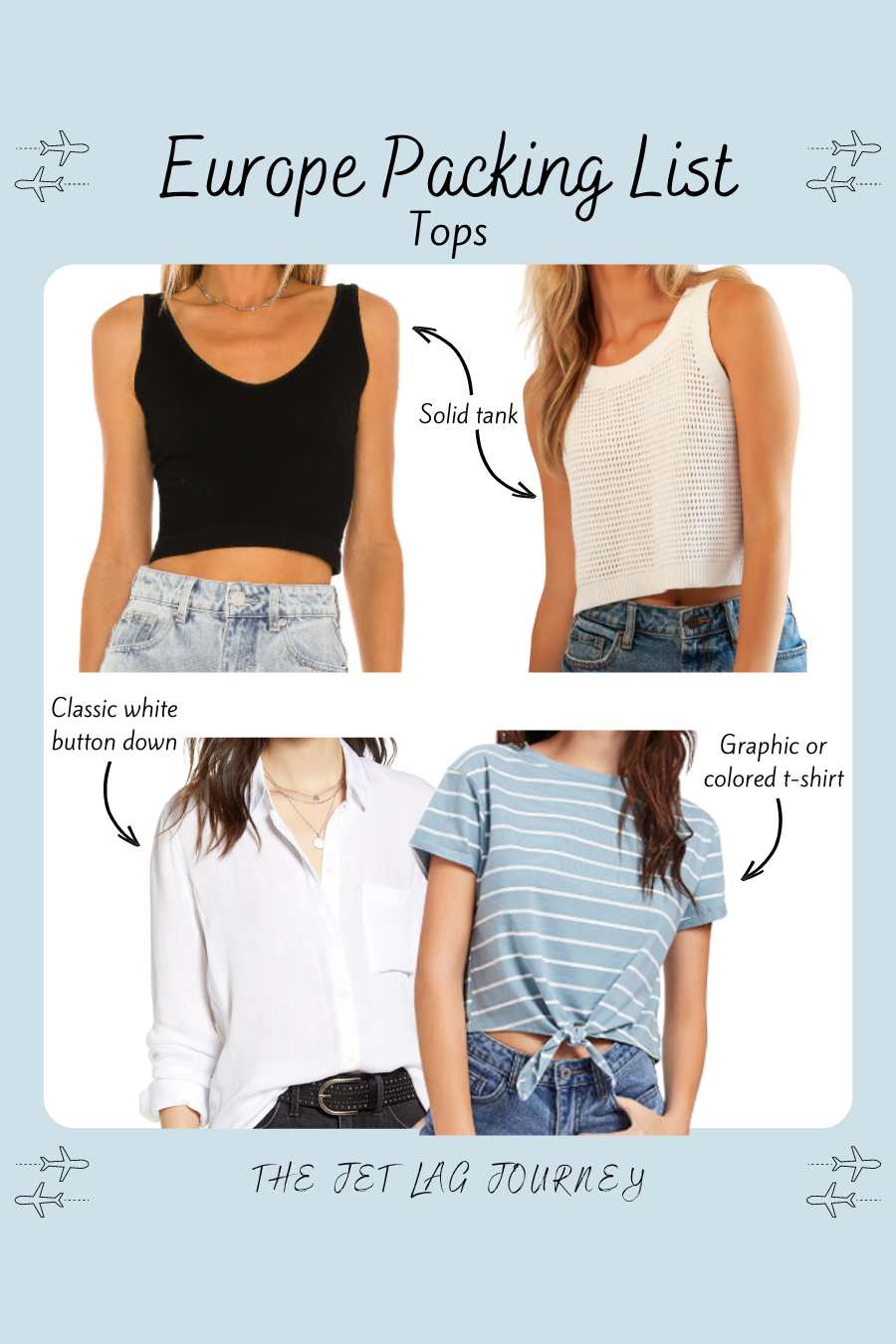 Shop these items:
Of course you need some shirts to go with those new shorts and pants on your backpacking Europe packing list. Similar to the dresses, versatility is key here. I love finding shirts that can be worn touring during the day and to bars at night. Pick a few lightweight shirts that match all of your shorts or pants and you will be set. I rotated between three of my favorites while backpacking.
A white button down is definitely one of my favorite shirts to travel with. It can be worn as an outer layer if it is a chilly night, walking around a city and as a beach cover up. I actually wore it on one of the chillier days in Paris and it was perfect for the occasion. This front tie shirt is my ultimate Europe travel vibe. You can tie it shorter to be a crop or let it hang loose. I also love this black crop to rock a classy and sexy look with any of the bottoms you have available.
Shoes to pack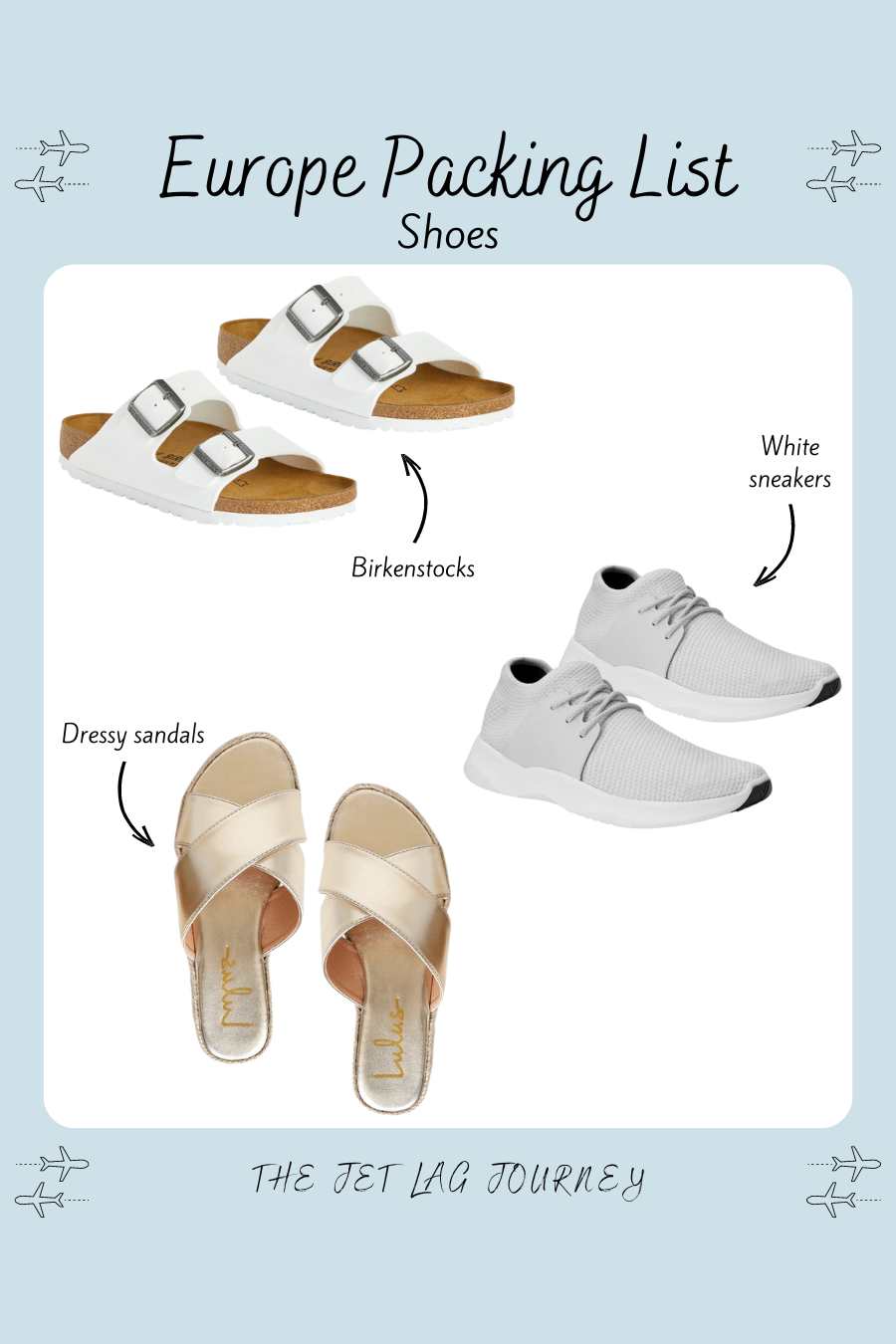 Shop these items:
Shoes can be tricky for any type of travel because they take up the most space in your luggage. Each pair that you pack should be comfortable and practical. As much as you may want to add those stilettos or pumps, they are not comfortable and need a bag of their own. Europe is also covered in cobblestone streets so your ankles will be in trouble if you go for the uncomfortable option. These are my tried and true shoes to travel with. You can never go wrong with a classic white sneaker and a pair of Birkenstocks. A gold pair of flats are a great addition because they won't take up too much space and dress up any outfit.
Backpacking Europe bags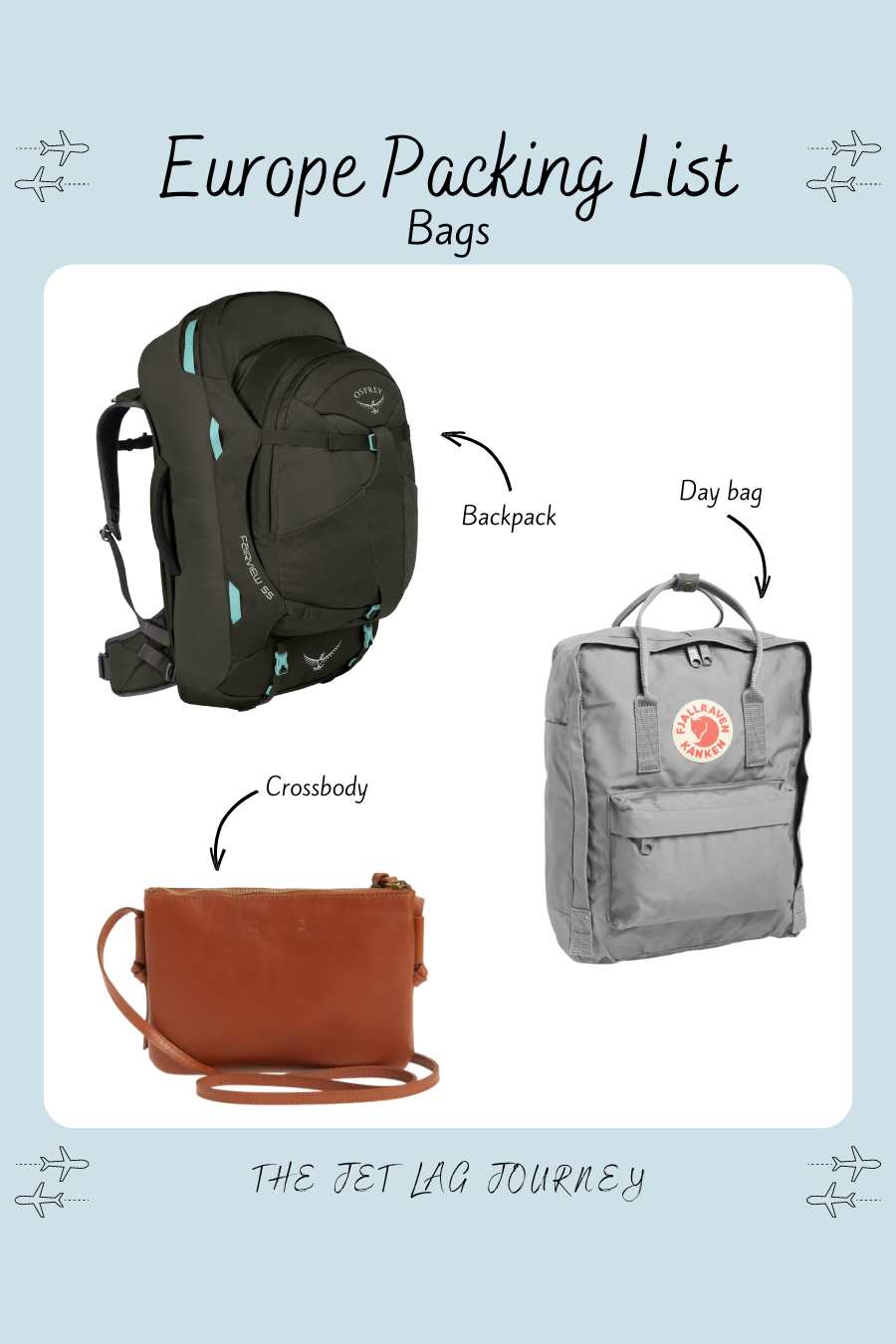 Shop these items:
Another tricky aspect to backpacking is choosing which bags to bring. In case you haven't picked up on the theme, we are going for fashionable and practical. I usually have one purse that can work for both day and night. I also always have a backpack for touring during the day. These are some of my favorite options!
Additional packing resources:
I hope that this list helps you put together a complete packing list for your backpacking trip through Europe. Always remember that you can buy clothes once you are over there. It is better to under pack in this circumstance and buy anything that you feel like you are missing.