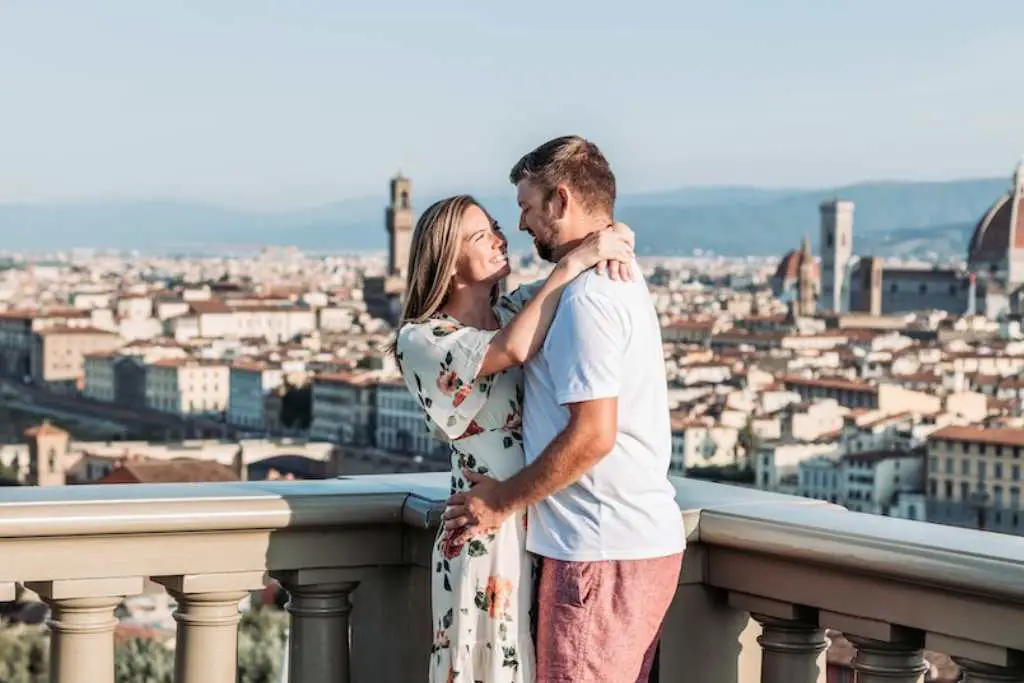 Florence is an amazing city for so many reasons and tourists flood from all over the world to take pictures in front of its many historical sites. This post is a step by step guide to the best photo spots in Florence. We got engaged while backpacking through Europe and I just knew we had to do our engagement photoshoot in Florence. We took our first international trip together to Florence and Seth lived there for two years after college. I spotted Rouzbeh, our photographer, taking photos in one of our favorite bars and immediately recruited him to do our engagement photoshoot. He did an absolutely amazing job and we are forever thankful! He was a trooper for meeting us at the Duomo at 6am to get these done. Before heading to these locations, make sure to read our post about How to Prepare for a photoshoot!
This link in google maps will give you the exact route we took for our photoshoot. Also below are more detailed descriptions of each of the best photo locations.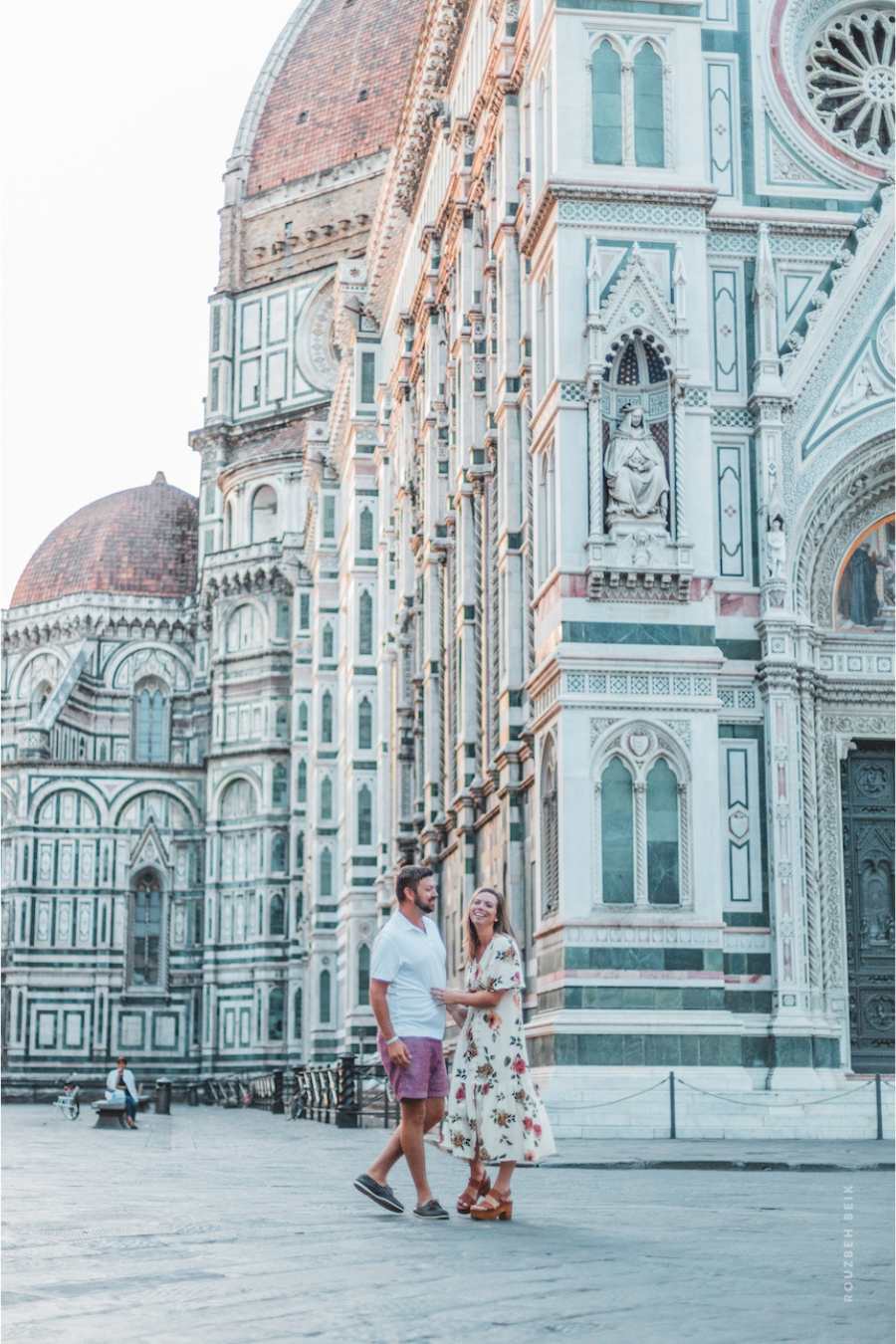 The Duomo
We started off at the Duomo first thing in the morning. This was our first stop because the Duomo is the most crowded piazza in the city and for good reason. It is impossible to capture all of it's awe in one photo. Even at 6am there was still a small crowd but we were able to capture multiple shots without anyone in the pictures!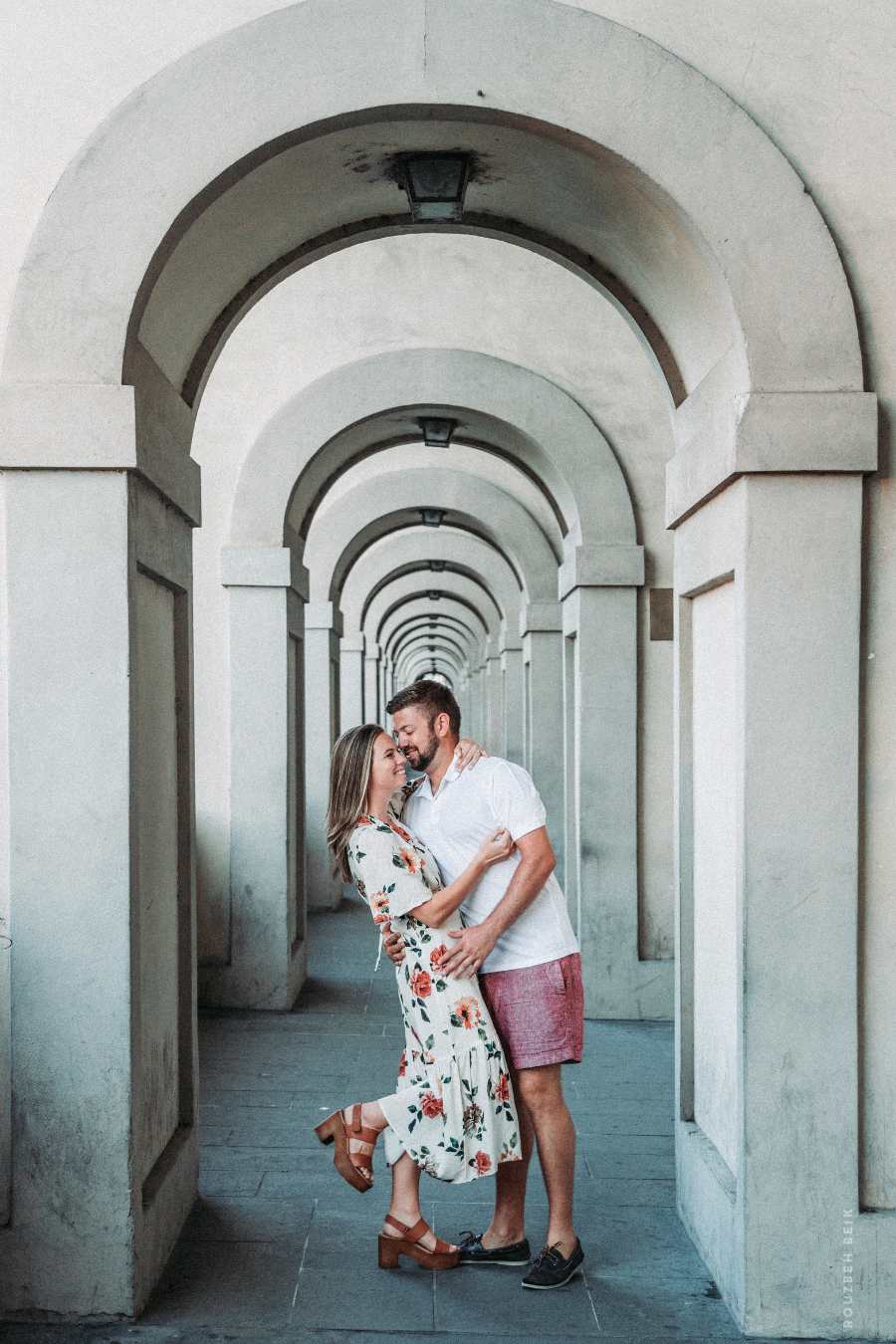 The Uffizi
The Uffizi is a monumental museum and is definitely one of the best photo spots in Florence. The nearby arches along the Arno are beyond beautiful to photograph underneath. There is also a dreamy courtyard with views of the river and epic columns. You can even photograph on the river with the Ponte Vecchio and other bridges in the background. This spot is a photographer's dream to play around with different angles.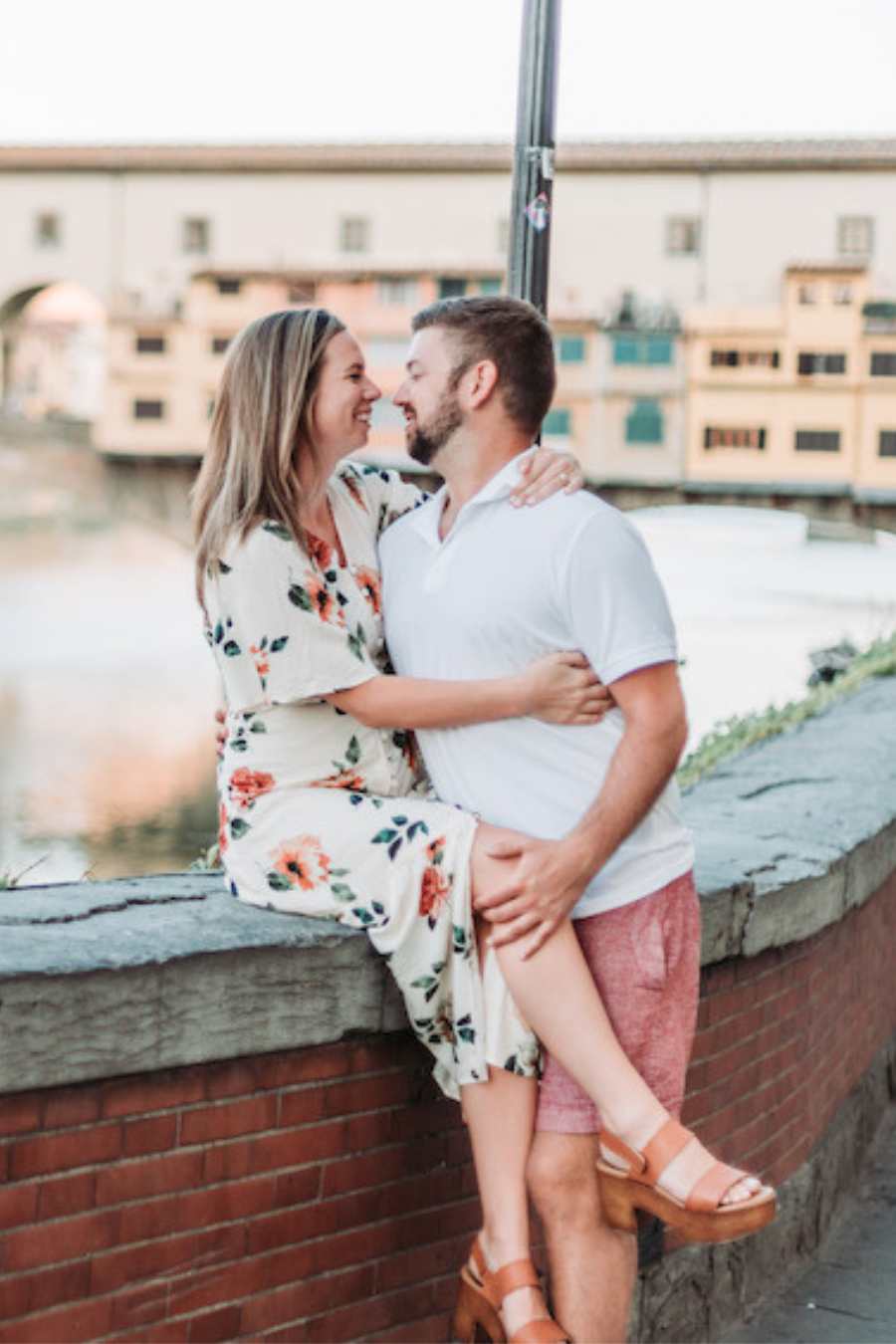 Ponte Vecchio
The Ponte Vecchio is perfect for some empty street pictures while doing a photoshoot in Florence. Please be extra cautious if walking around here when it is empty – it can be relatively dangerous at times. If you spot anything sketchy, avoid it altogether and photograph on one of the bridges just one block over!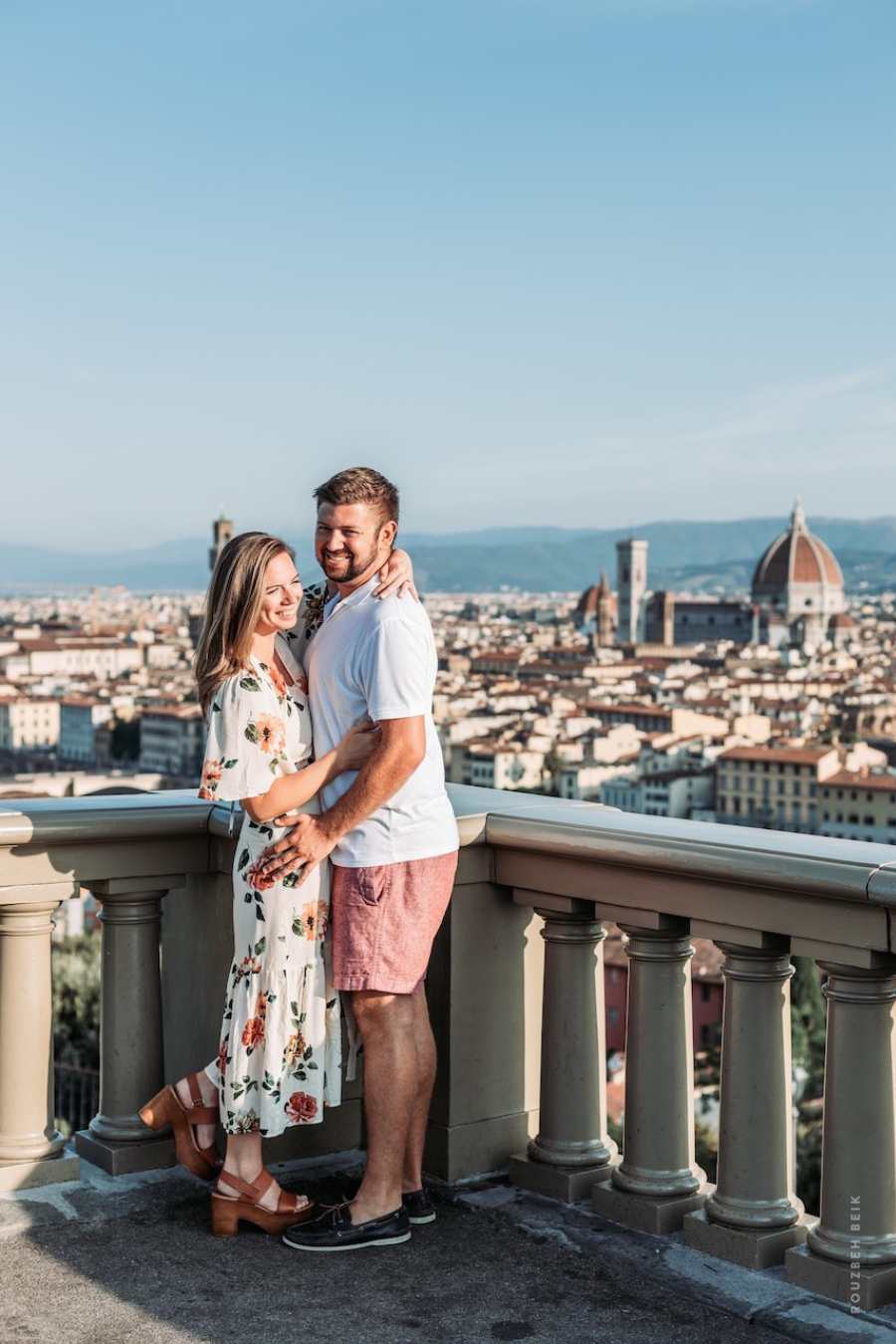 Piazzale Michelangelo
If you have ever been to Florence, you know that Piazzale Michelangelo is the spot for unforgettable city views. If you are here at sunset then you also know how hard it is to get a decent picture since crowds gather everyday to see the beauty of this city. Even when we were there around 8am, there were others with the same idea of getting that dream solo photo. It should be empty enough that you can respect each other's time and space and get the picture you are dreaming of!
Use code JLJ10 for 10% off all eSIM purchases.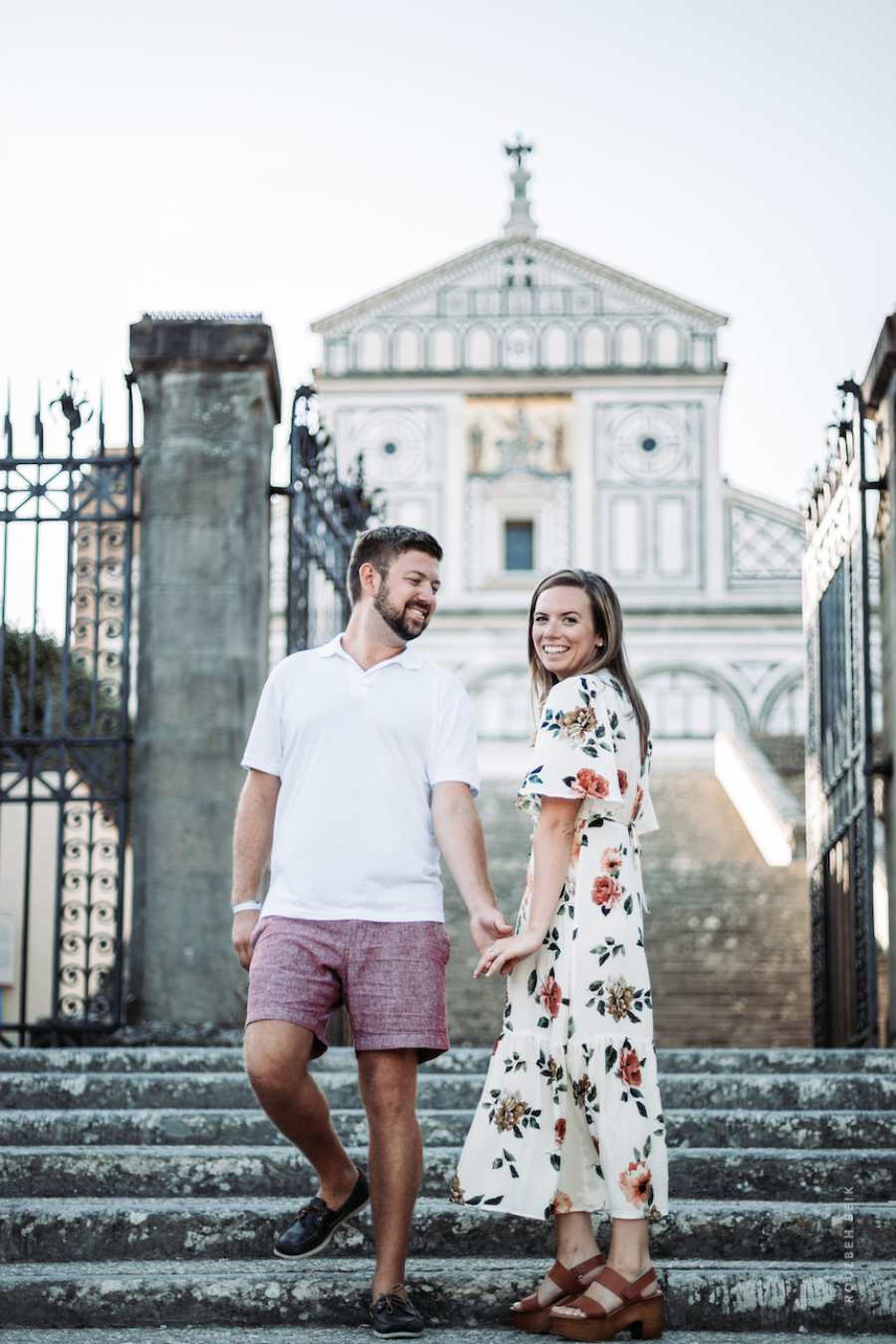 San Miniato Al Monte
This location is a hidden gem and deserves to be on the list of the best photo spots in Florence. A lot of people don't realize this but you can actually keep going past Michelangelo and there is a beautiful church overlooking both Michelangelo and the entire city. There is a beautiful staircase and grand doors. I mean, come on, the photo opportunities are endless.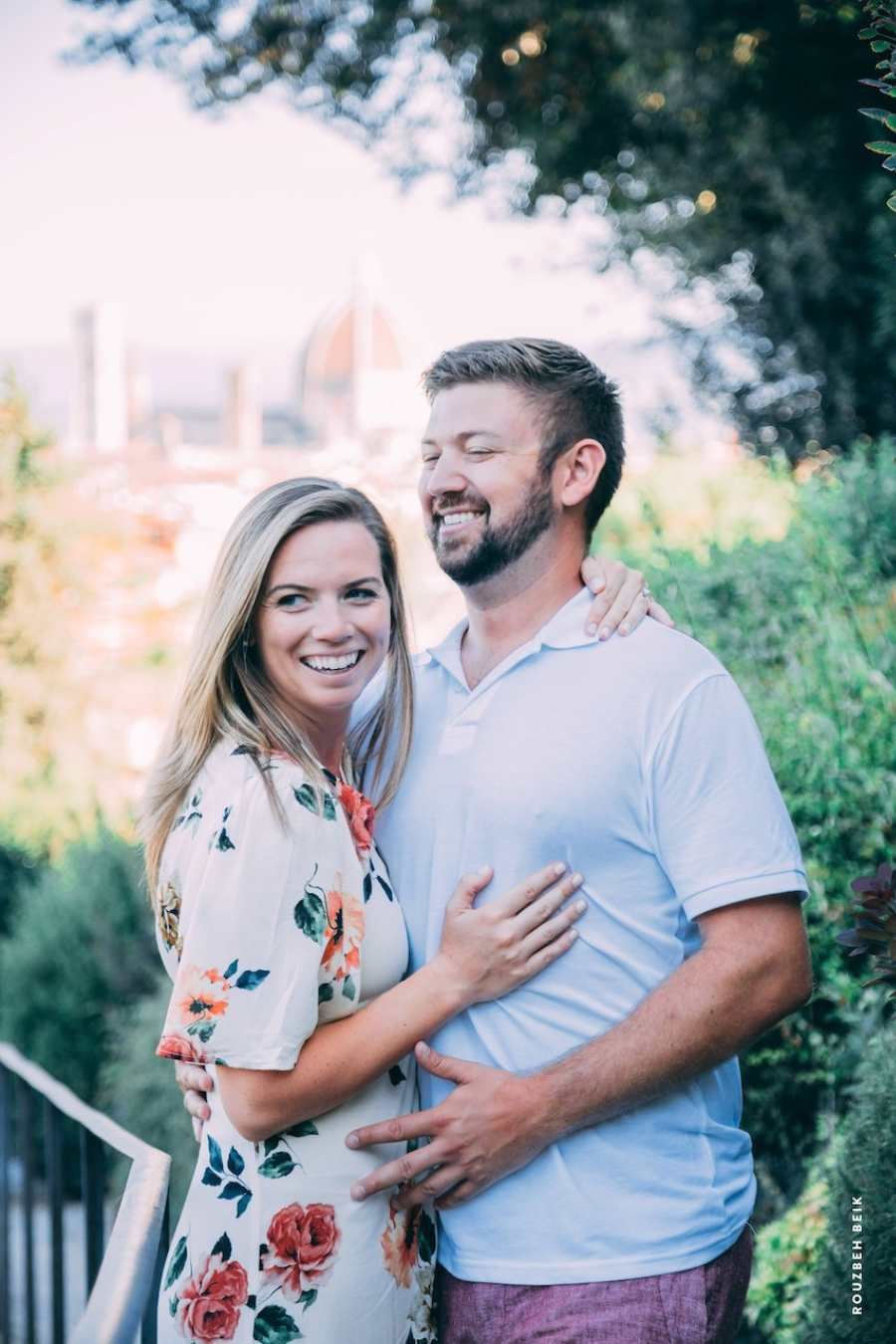 Florence Rose Gardens
On your way down back to the city, stop at the Rose Gardens to take more pictures with the Duomo beneath you. Also while you are working your way down, don't miss the beautiful white arches, another hidden gem in this magical city.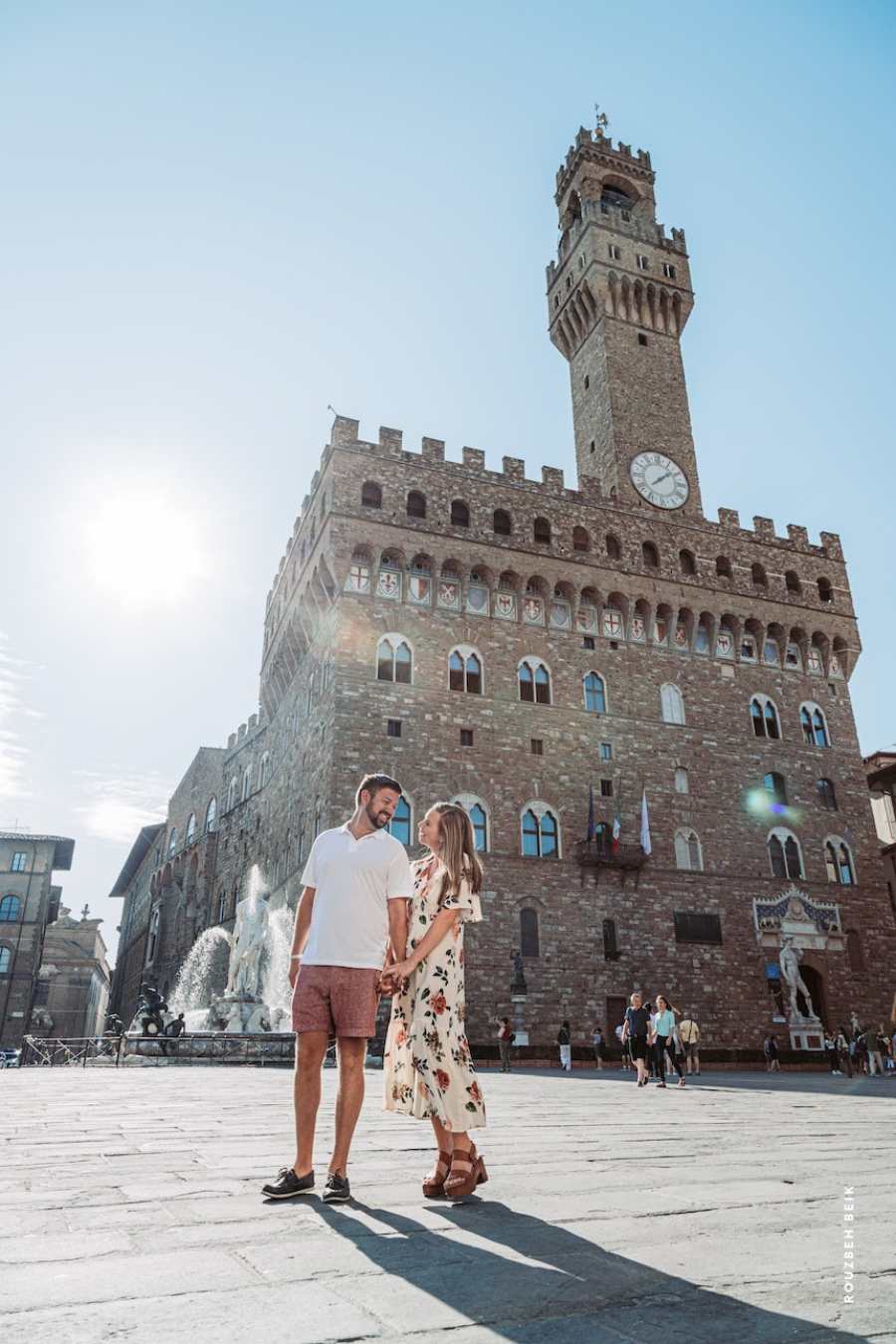 Piazza Della Signoria
Now that it is a little later in the morning, the crowds will start forming in these piazzas. Personally, I liked our pictures in the piazzas with a little hustle and bustle in the background. This shows the livelihood of this magical city. You will never see these people again so there's no reason to feel embarrassed posing in front of a crowd. It will be worth it to get the photographs you are dreaming of. If you prefer a completely empty piazza then you may have to break your photoshoot down into two days to cover all of these areas without anyone in the background.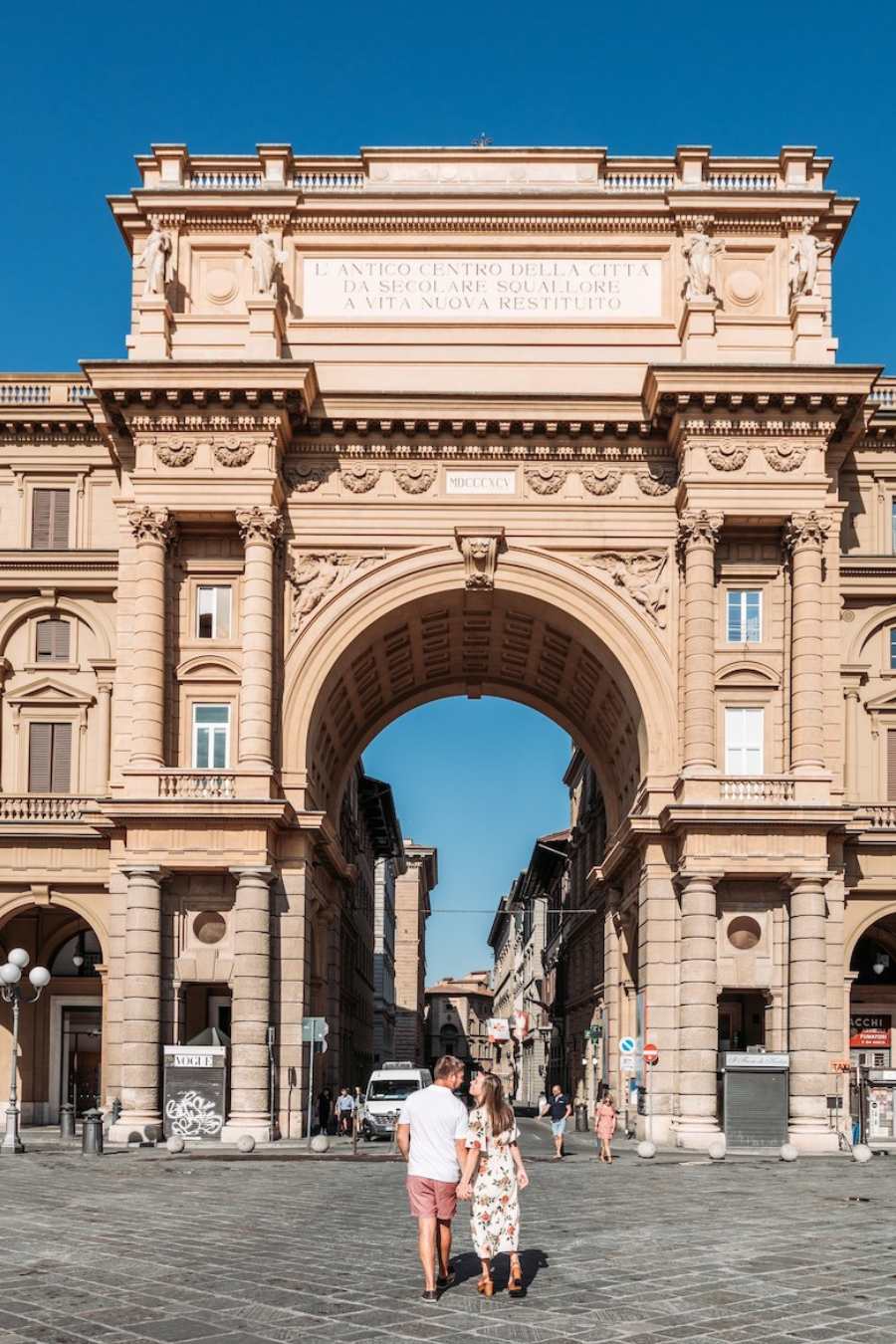 Piazza Della Repubblica
Again, this piazza will be a little more awake by this time in the morning. You will also probably be so exhausted by this time, I know we were! There's basically only two angles here to shoot, in front of the carousel and in front of the giant arch. The arch is the actual remains from when this was a Roman Agora. It is worthy of being on this list of one of the best photo spots in Florence. There is so much history in each piazza and it is such a great opportunity to photograph in these locations.

If you are lucky enough to do a photoshoot in Florence then you are lucky enough. I hope that all of your photography dreams come true and you capture all of the beauty of not only yourself but this historical and magical city. We feel beyond blessed that we did our engagement photoshoot here with the help of our dear friend Rouzbeh. This list is just a start to the potential photo opportunities in Florence. You can basically take a picture on any street and it will turn out amazing.
If you use this post to plan your photoshoot, please reach out to us and let us know how it goes! We would love to see the results. Read our post about How To Prepare for a Photoshoot before the big day. And when you are done, read our post about the Best Places to Eat on a Budget in Florence to celebrate all of your hard work.