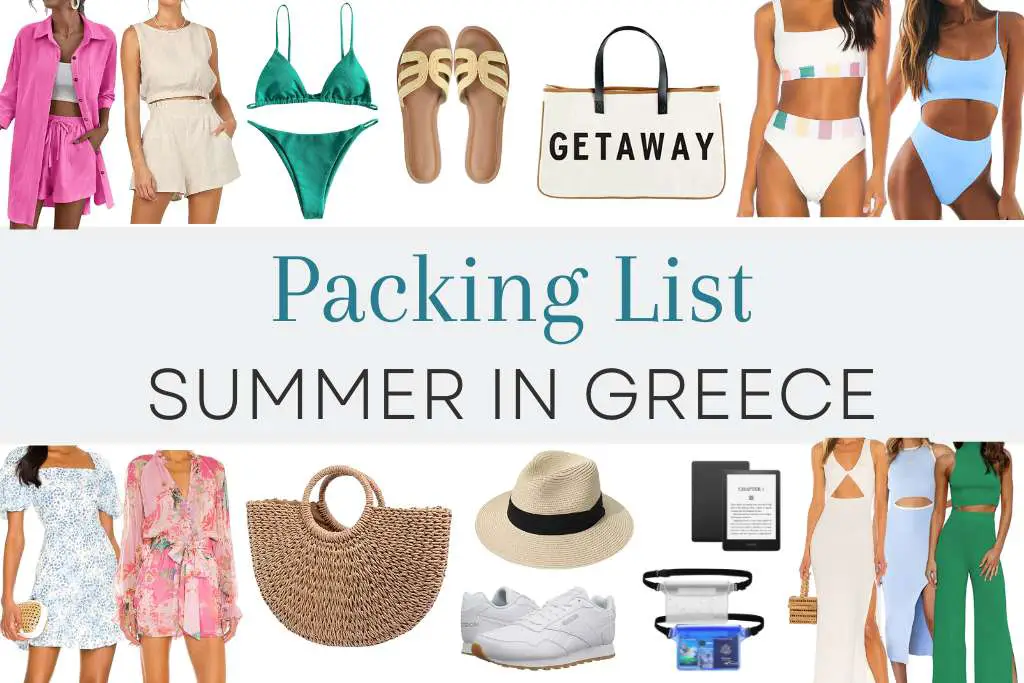 Greece is one of the most beautiful places in the world and people from all over flock here to see it for themselves. Many people travel to Greece for their honeymoon, cruises, girls trips or backpacking! We spent over two weeks in Greece during our original six months around the world and also on The Yacht Week. A Greece packing list should be fun! Greece is the perfect place to take risks with your packing list.
A good thing about packing to island hop in Greece is that you will be packing for warm weather. This means that you have more space to work with in your bag since you do not need thick winter clothes! When you pack for winter in Europe, you have to be much more diligent with your clothes selection. This is not a reason to overpack and weigh down your bag, but it does give you some space to pack fun items.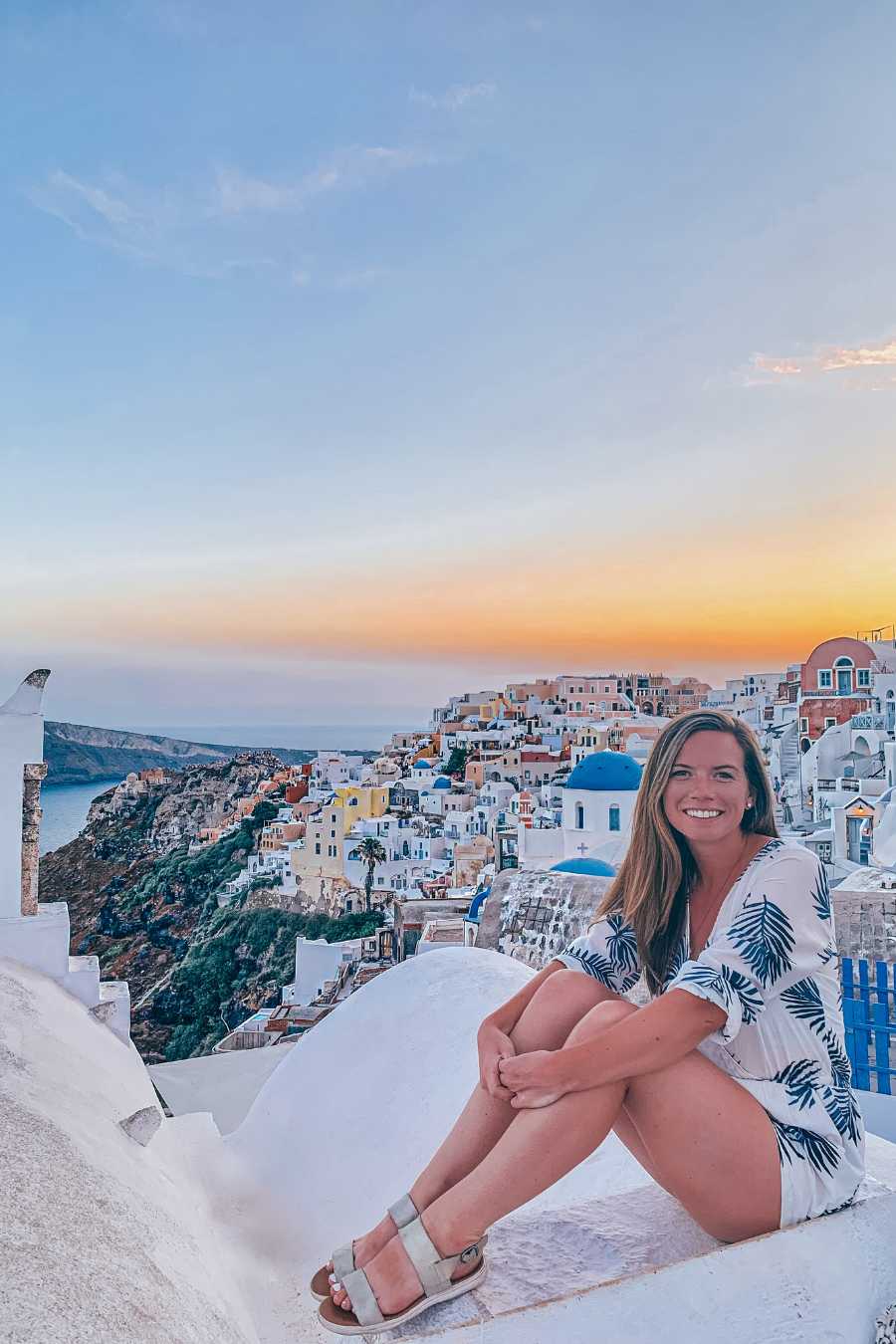 What weather to expect in Greece
The weather for your trip to Greece should be sunny and 75 – 85 degrees. Just like any warm weather or tropical destination, there may be the occasional rain shower but it should not last for long or impact an entire day. The weather is stunning in Greece from May – October.
Use code JLJ10 for 10% off all eSIM purchases.
Greece packing tips
Choose items you really love
Greece is one of the most photogenic countries in the world and it is the perfect vacation to capture all of your different looks. Every article of clothing that you pack should be something you love and are excited to wear on your vacation!
Use packing cubes
Packing cubes are an absolute travel packing game changer and you need them for a trip to Greece. By using packing cubes, you will be able to both fit more clothes on your Greece packing list and also keep you organized. For example, you can put your dresses in one cube and all of your swimsuits in another. This way, you will know exactly where you packed all of your different clothes!
Browse all of our favorite travel products here.
Pack neutral outer layers
The outer layers you pack for a trip to Greece should be neutral and match all of your outfits. Hopefully you do not need to use the outer layers often, but if you do, they should be comfortable and match your different looks. If you choose a neutral sweater or button down shirt, you do not need to pack multiple outer layers and have more space for fun outfits!
Take pictures of your outfits before you go
This is one of the best packing hacks for any trip. Take pictures of all of your different outfits and save the pictures in an album on your phone. This way when you get to Greece, you do not need to try on multiple looks before heading out! You can refer to your camera roll to decide what to wear.
Greece packing checklist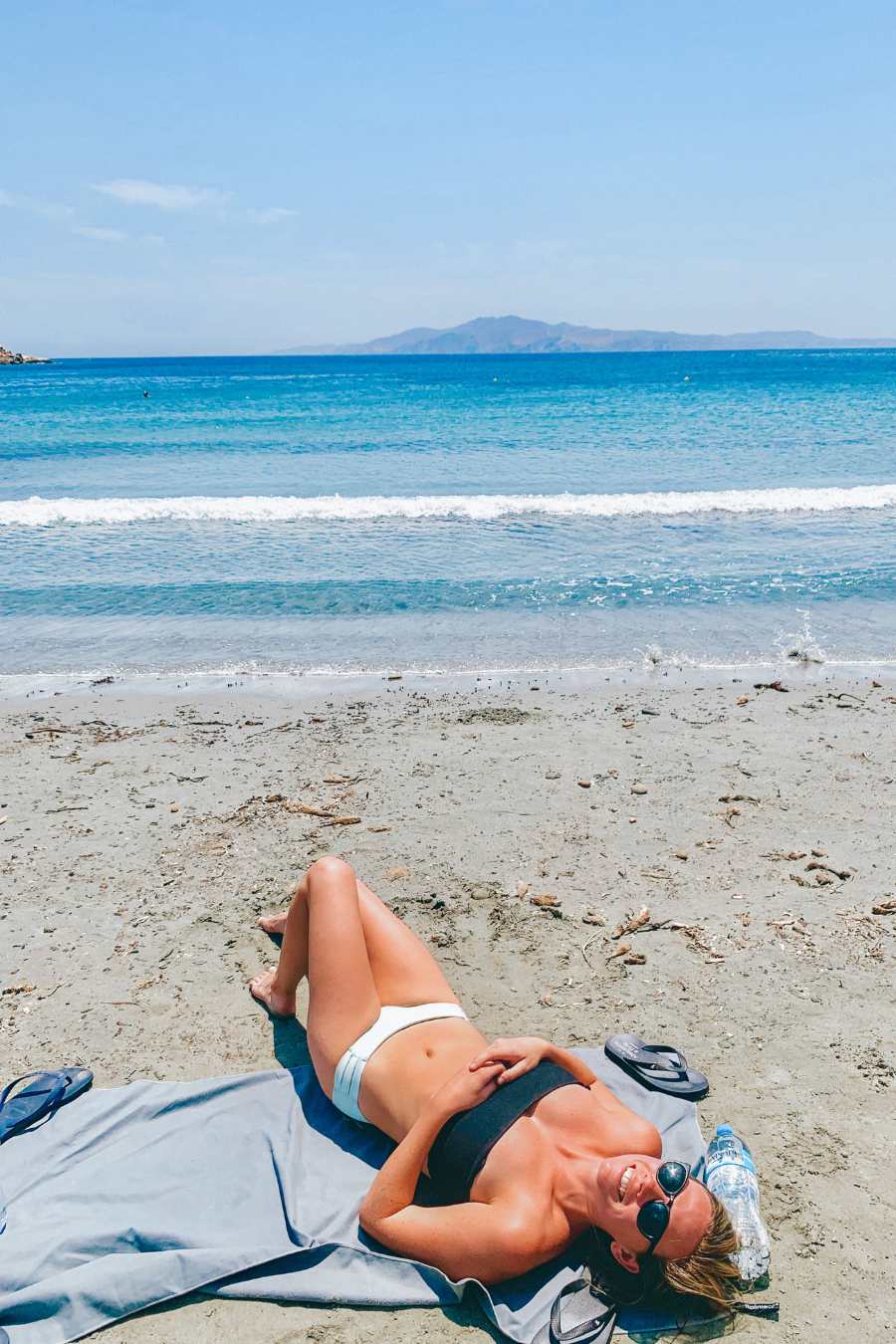 I'll dive into more details below but here is a quick snapshot of a Greece vacation packing list.
Swimwear
4x swimsuits
3x coverups
Bottoms
1x comfy Joggers
1x jean shorts
1x dress shorts/pants
2x workout sets
2x skirts
Shirts
3x tank tops
2x Lightweight shirts
Dresses
2x long dresses
1x short dress/romper
Outer layers
1x button down
1x pashmina
1x rain jacket
Shoes
1x sneakers
1x walking sandals
1x beach sandals
1x dress sandals
Bags
1x beach bag or backpack
1x day bag
1x waterproof backpack
1x dinner clutch
Swimwear and coverups to pack for Greece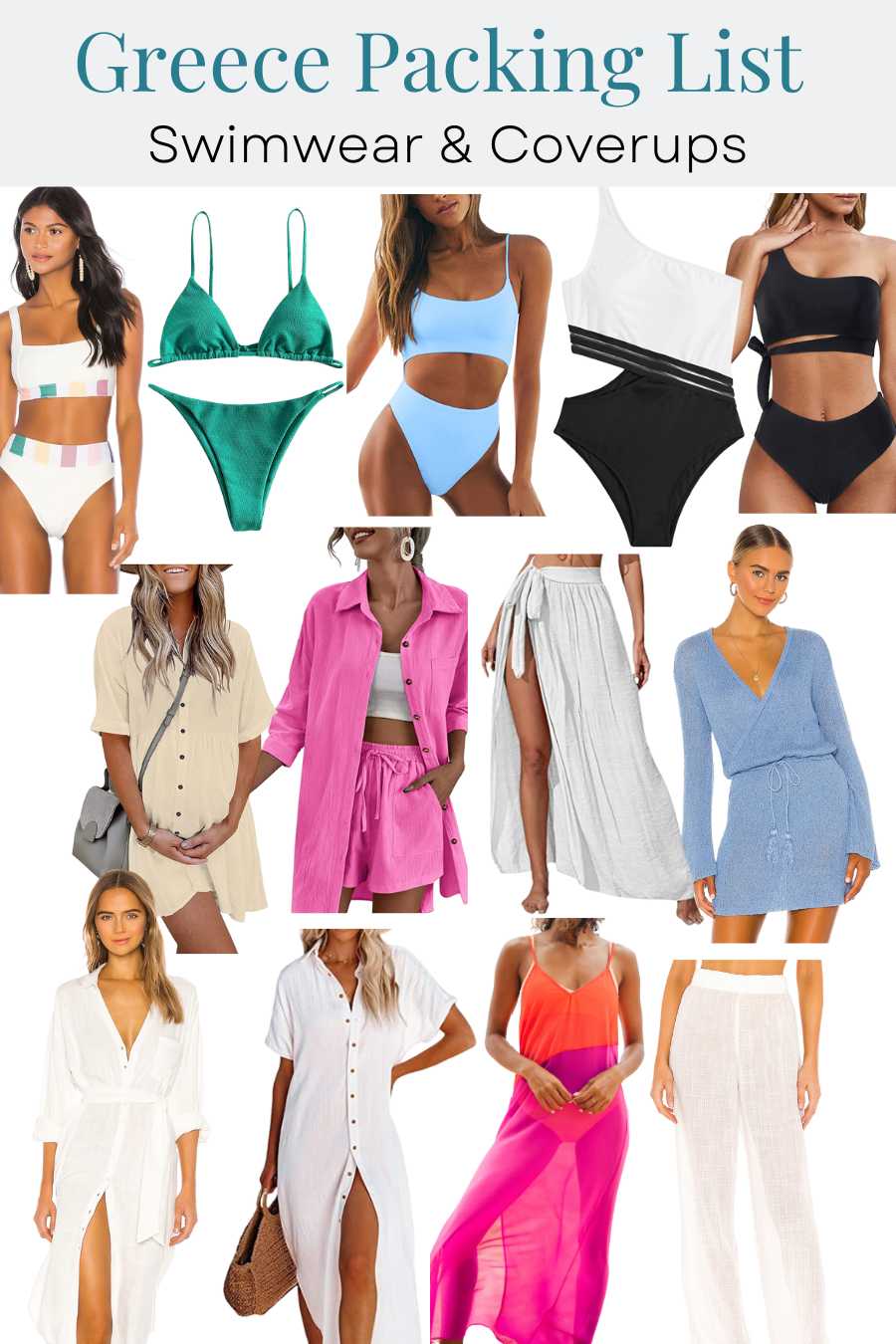 Swimwear
Like I said before, pack clothes that you feel confident in, this is especially important for swimsuits. Have fun with it and if you find a style that you really love, get it in multiple colors or patterns! Make sure to also include a dark colored swimsuit in case you do any excursions that include diving in volcanic mud, which is included in a popular day trip from Santorini.
Swim cover-ups
Most days will be spent wearing a swimsuit underneath your outfit as you split time between exploring island towns and beaches. You want to pack cover-ups that are also appropriate to wear in a bar or restaurant. Here are a few of my favorite beach cover-ups for Greece!
Tops and bottoms to wear in Greece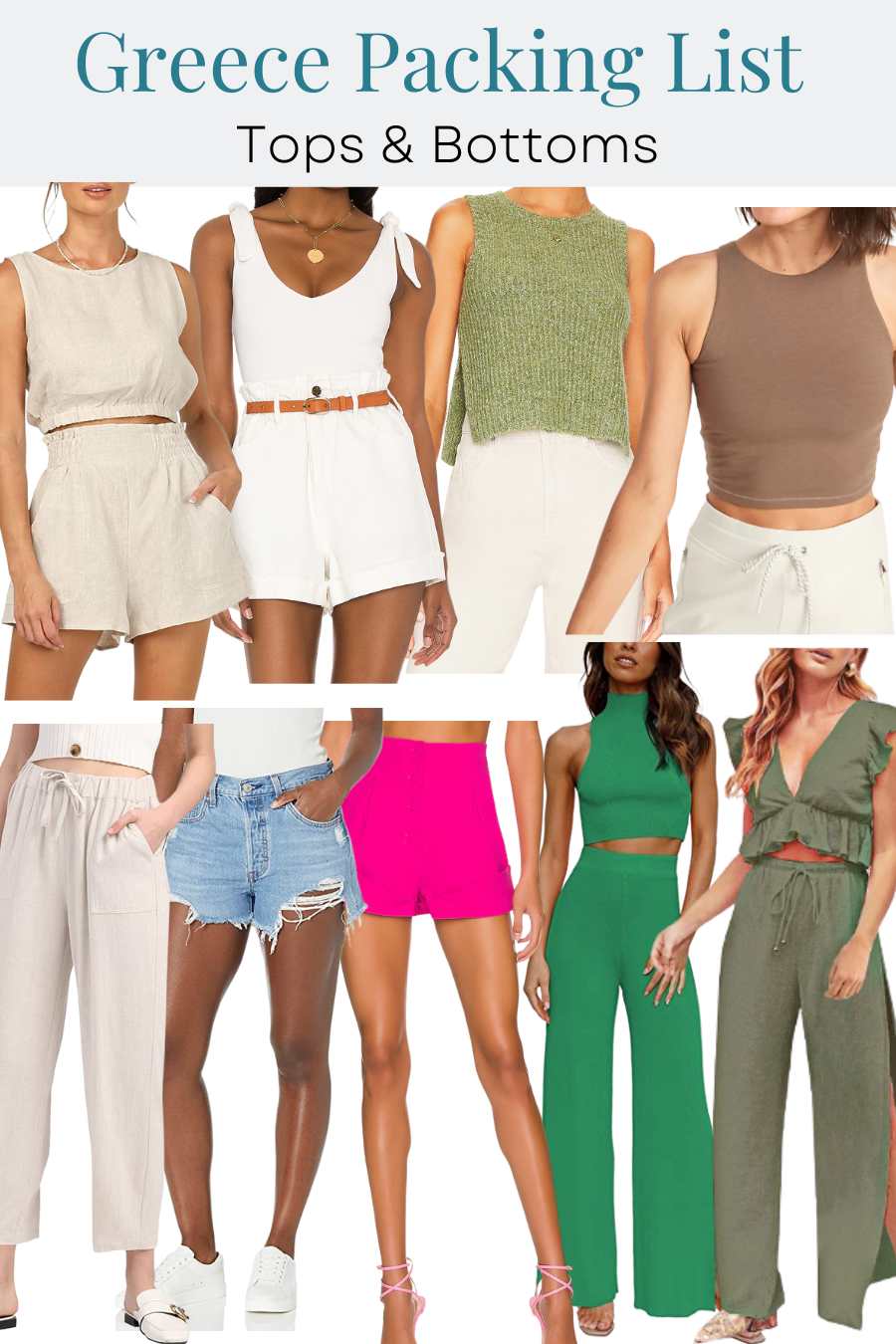 It is important to pack a healthy mix of neutral tops and bottoms with some fun ones for Greece! Make sure that you have an outfit in mind with every top that you pack. This will take the stress out of planning your looks after three glasses of wine at the beach and you are getting ready for dinner.
Pack some bottoms that you know will match any swimsuit or top that you are packing. Beyond the staples, have fun and include some fun, flowy, or colorful pants and shorts!
I also LOVE a good set that you can also mix and match with another top or bottom. Sets are a great way to expand your wardrobe without taking up much more space in your bag!
Dresses and rompers to pack for Greece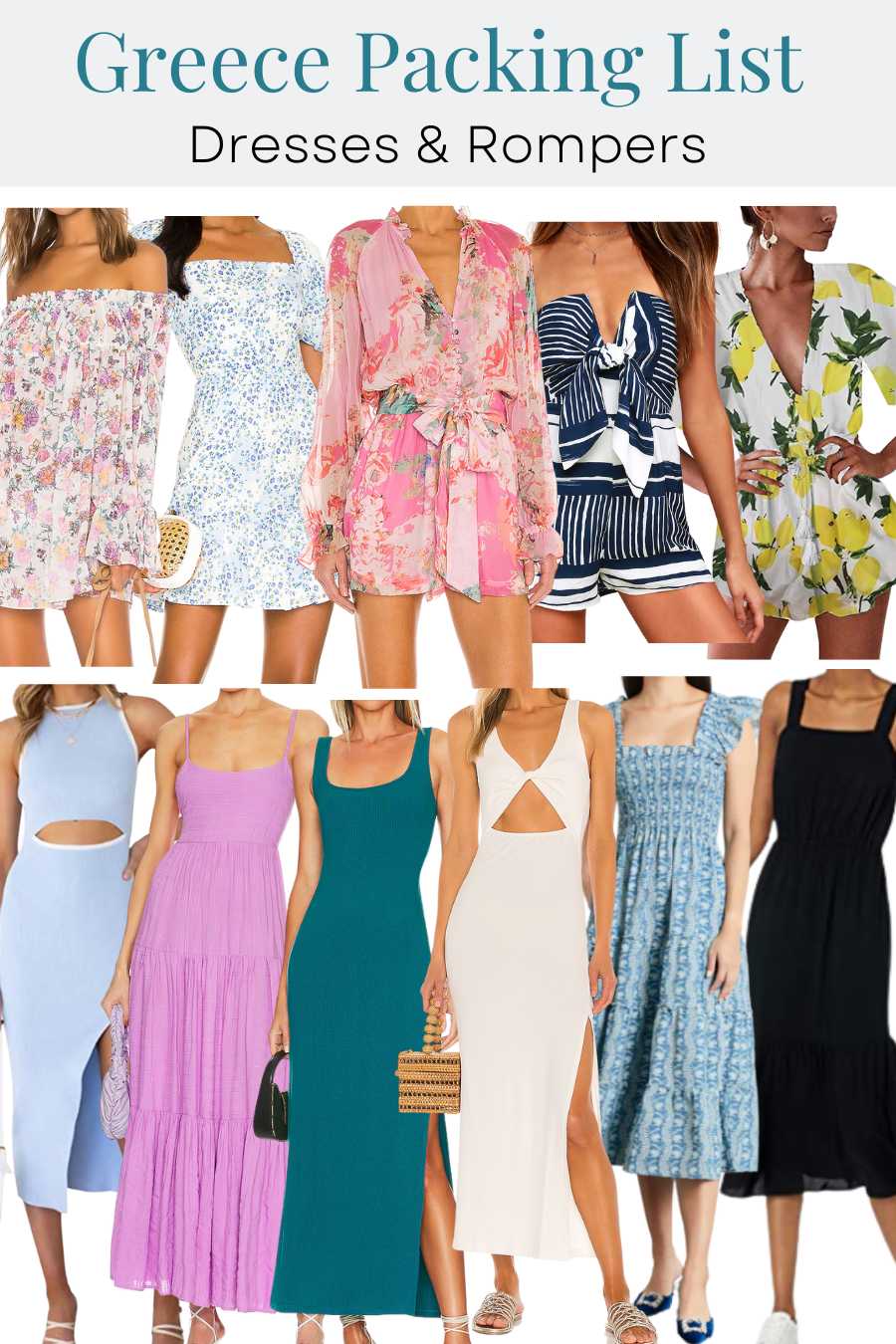 Now this is where the Greece packing list gets really fun. Greece is the perfect place to wear that gorgeous summer dress that you have been saving for a special occasion but never have any place to wear it! Bring it to Greece and show off your favorite looks. The backdrop in Greece is simply stunning and you will just add to its beauty with your new dresses and rompers. Feel free to mix in some bright colors or blue and white combos to match the setting.
Outer layers and travel day outfits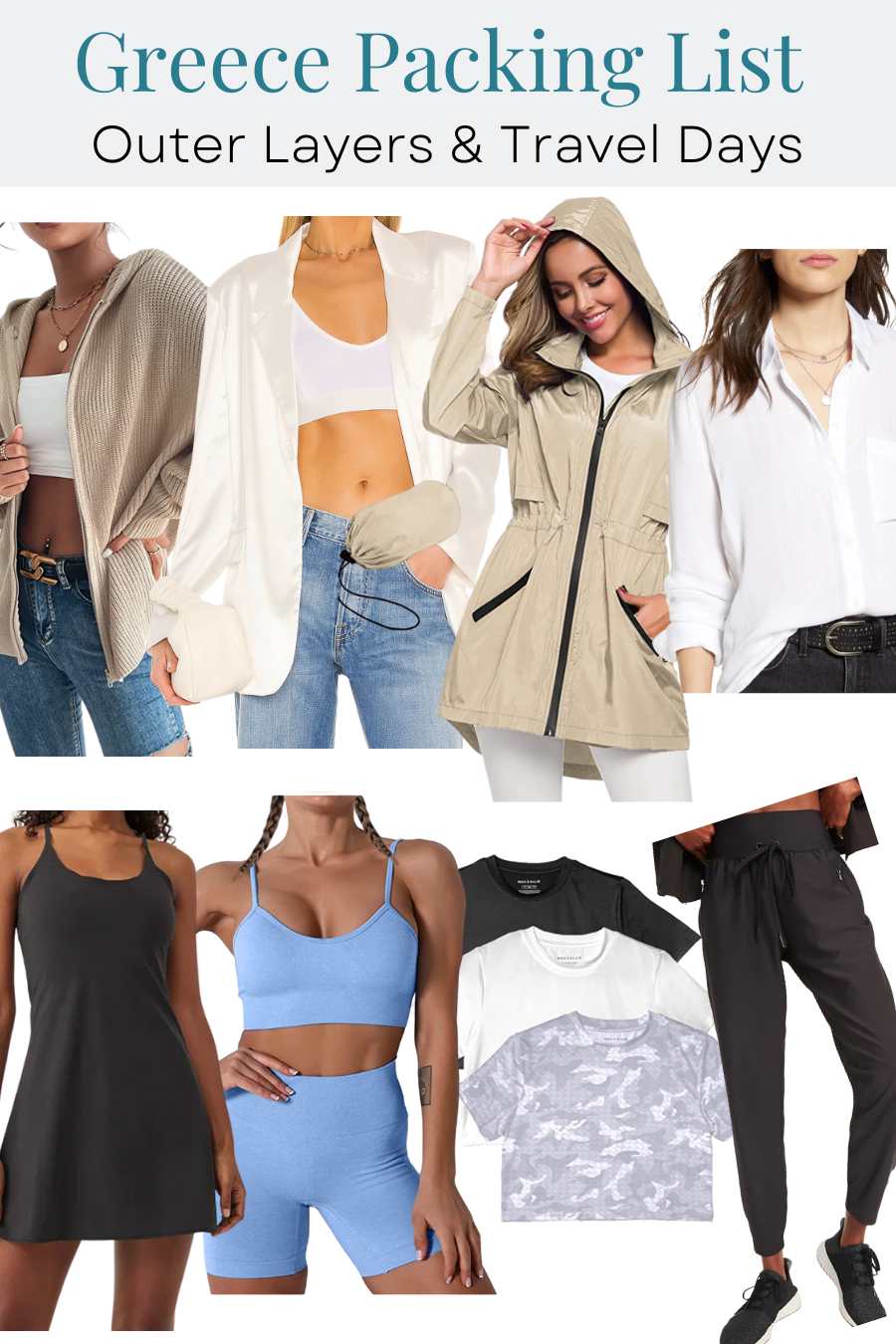 Workout and comfortable clothes
Depending on your itinerary, you will most likely need some comfortable or workout clothes in Greece. Greece is a great place to wear a workout dress or a fun set on a hike or relaxing in a coffee shop! Also don't forget to pack comfortable clothes for your overnight flight and travel days.
Outer layers to pack for Greece
Hopefully there is not much need for outer layers in Greece but it is good to be prepared if it gets slightly chillier at night. As mentioned before, pack neutral colored outer layers so they match all of your different outfits. I love to pack a neutral colored lightweight button down that you can dress up or down.
Shoes and accessories to pack for Greece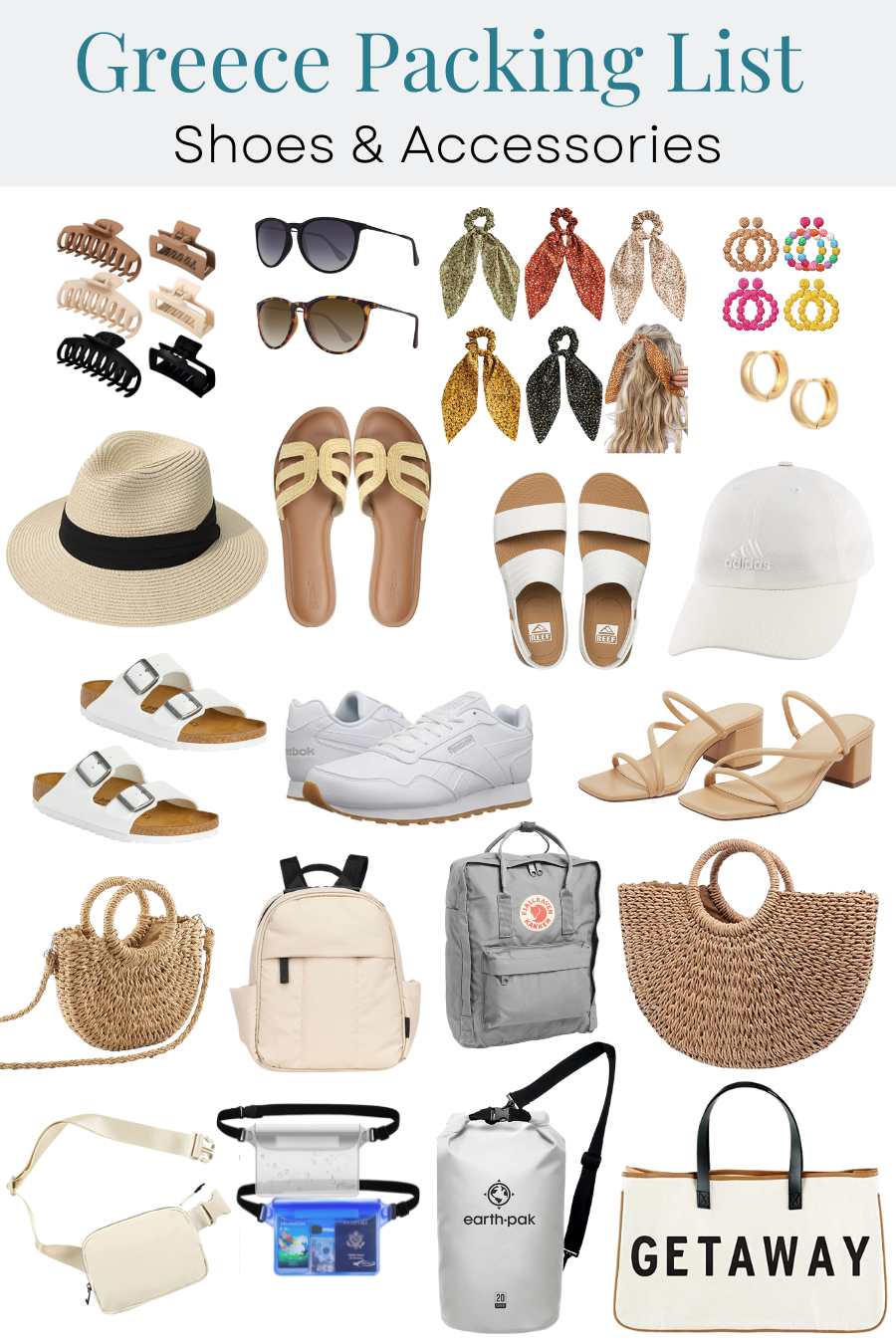 Shoes
In all of my Europe packing lists, I talk about how cobblestone streets are not friendly when it comes to wearing platform shoes. I completely understand if you feel the need to pack one pair of heels to go with those stunning dresses but really, neutral colored dressy sandals will suffice for most restaurants in Greece. You will also need a good pair of walking sandals, beach shoes and sneakers.
Greece accessories
Don't forget to pack some fun accessories for your trip to Greece!
Bags you need for Greece
You will need a variety of bags while traveling through Greece. It is important to have a day bag for when you are wandering around the islands, beach bag, waterproof bag for boat days and a dressier option to pair with your nicer outfits.
Read a complete list of our favorite bags for travel for more details!
Other Greece packing essentials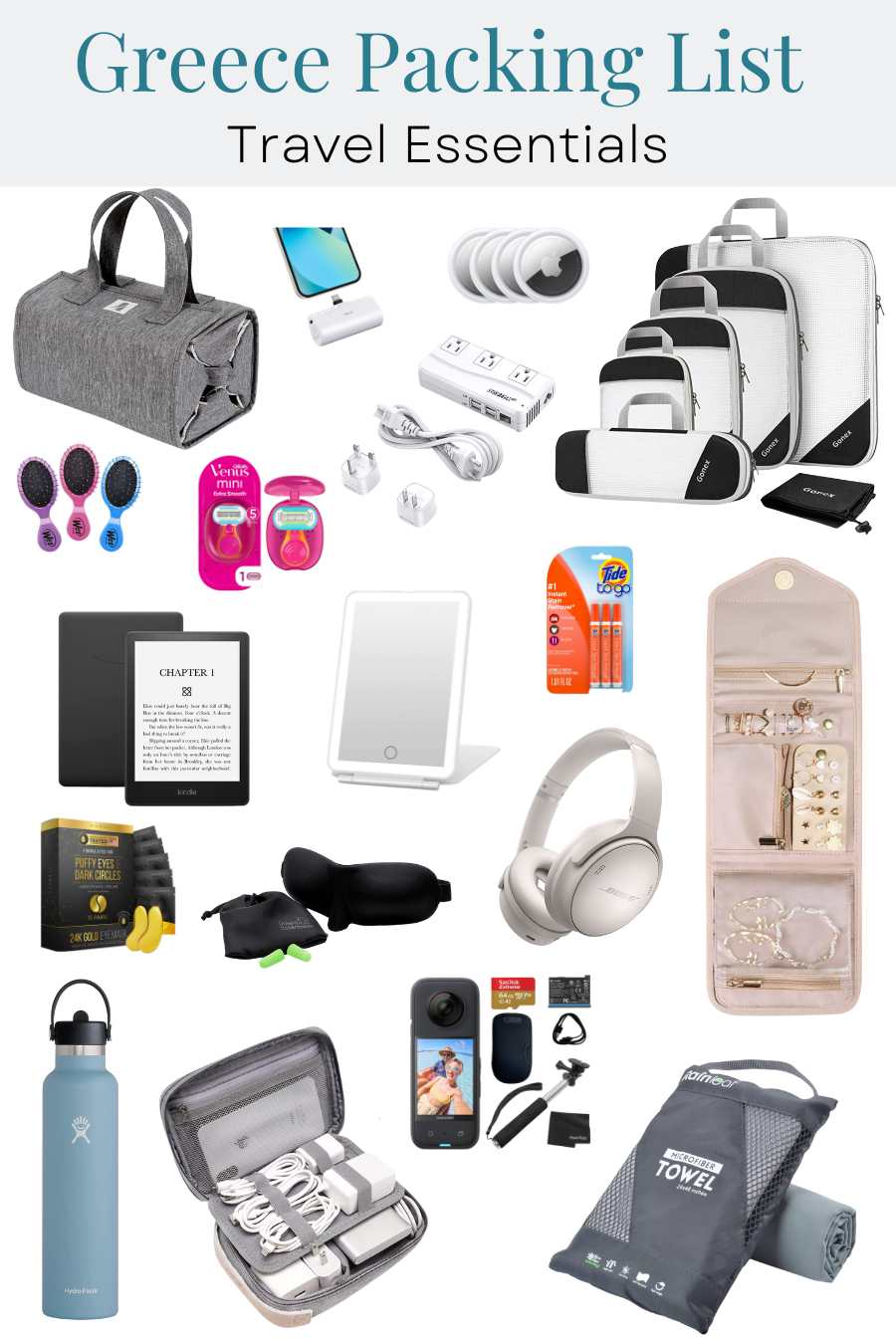 Remember to use and pack your travel essentials to make your trip easier!
We hope this Greece packing list helps you pack for your trip to this absolutely stunning country! Be sure to tag us on social or comment if you are wearing anything we suggested because we love to see it. Happy traveling!
Additional resources