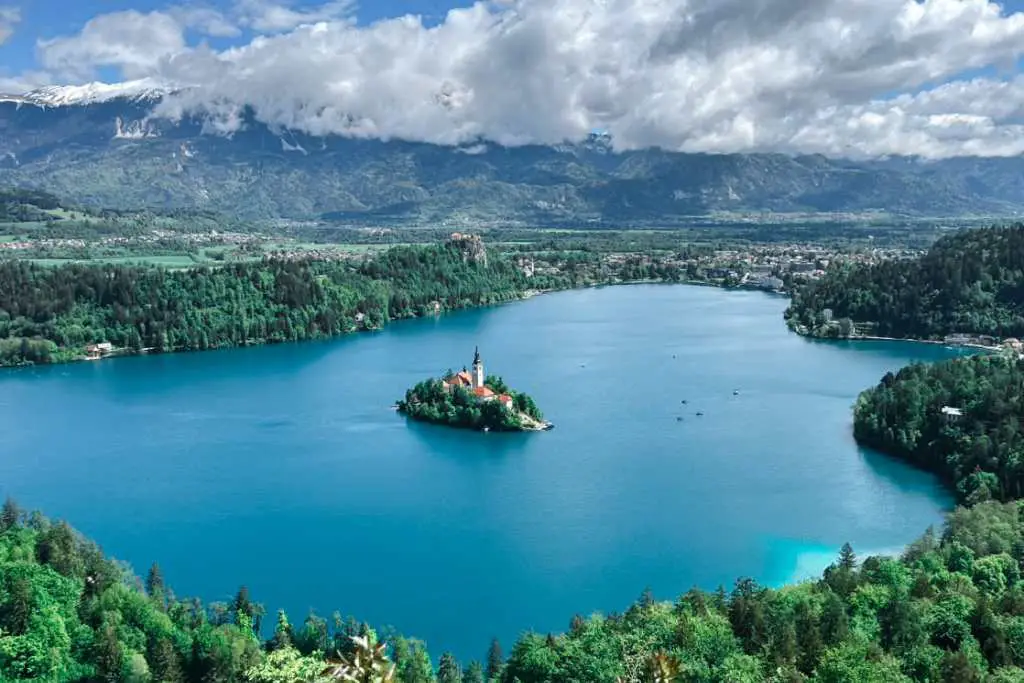 Lake Bled is truly one of the most stunning and unique destinations to visit in Europe. Lake Bled is a beautiful glacial lake located in the Julian Alps of northwestern Slovenia. It is a popular destination known for its picturesque scenery, including a castle perched on a hilltop overlooking the lake, a small island in the middle of the lake and hiking trails that offer stunning views of the surrounding mountains. This ultimate guide to Lake Bled will provide an overview of the best things to do in Lake Bled, as well as information on how to get there, where to stay and what to eat and drink. If you are someone who loves beautiful views, outdoor activities and delicious food – Lake Bled will be the perfect place for you to visit!
We first heard about Lake Bled while backpacking in Vietnam and immediately added it to our bucket list! After spending a few days there, we can safely say that Lake Bled is a bucket list destination that is 100% worth the hype. If somewhere like Switzerland is on your list but the cost is a deterrent, consider visiting Lake Bled instead. It has all the same views but is much more affordable!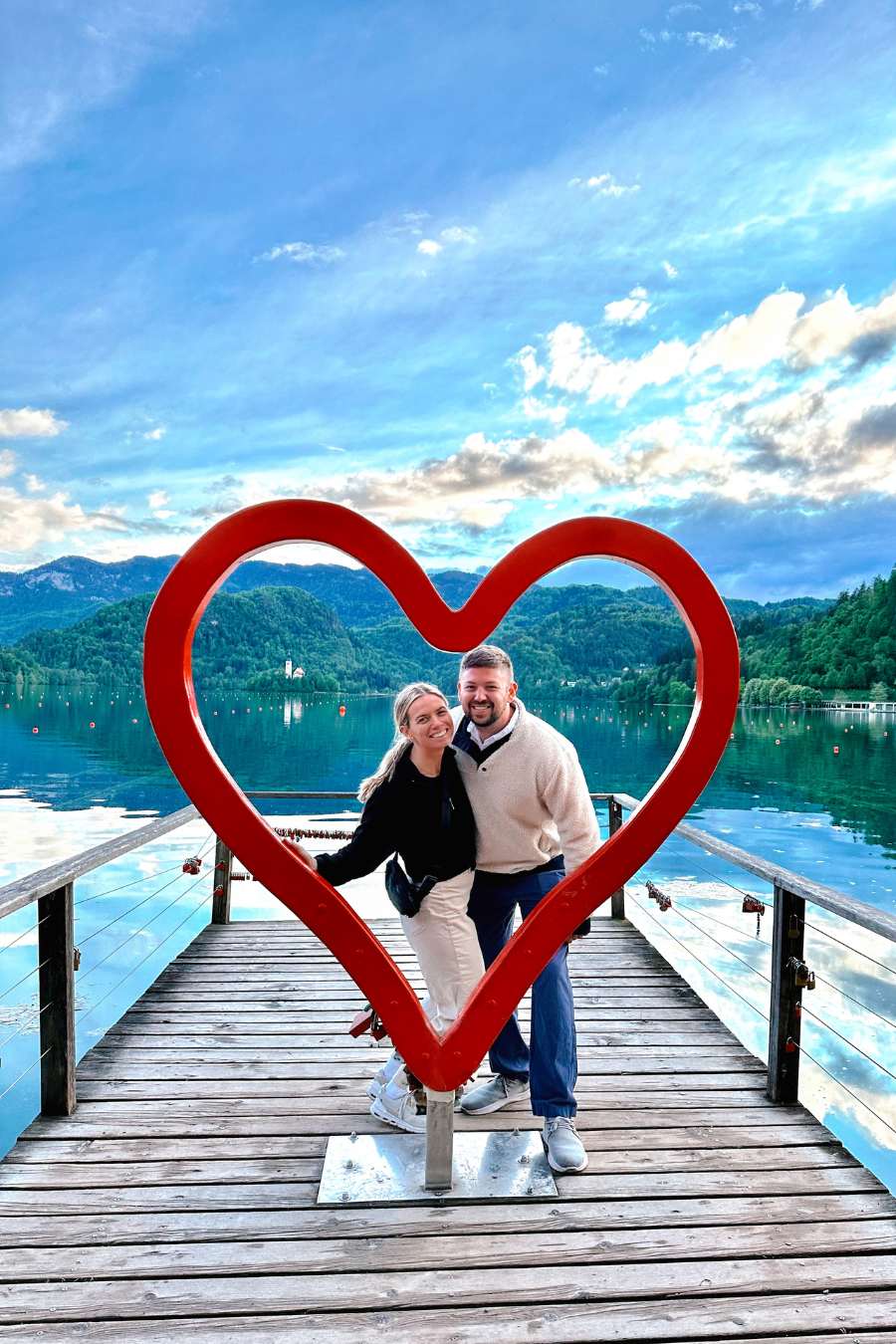 How to get to Lake Bled
The nearest airport to Lake Bled is Ljubljana Jože Pučnik Airport, which is about an hour and a half drive away from Bled. There are multiple ways to get to Lake Bled from Ljubljana.
Do you need to rent a car to visit Lake Bled?
We managed to spend 3 days in Lake Bled without renting a car and had no issues because we stayed very walkable to restaurants, bars and the lake itself in Bled town. With that said, depending on your travel preference and itinerary, you may want to have one to drive yourself to surrounding areas of the Lake Bled and the Slovenian Alps.
Getting to Lake Bled by car
Many people opt to rent a car to go to Lake Bled and drive themselves around Slovenia. The drive from Ljubljana to Lake Bled takes about an hour without any stops.
How to get to Lake Bled by bus
We personally opted to take a bus from Ljubljana center to Lake Bled. There are companies that offer bus routes but there is also a public bus available for only a few dollars. The bus took about an hour and a half and was very easy to locate in Ljubljana!
Train to Lake Bled
There is a train station in Lesce, which is about 4 miles from Lake Bled and the train journey from Ljubljana to Lesce takes about 30 minutes. Take into consideration that there are no Ubers available once you arrive in Lake Bled.
Use code JLJ10 for 10% off all eSIM purchases.
The best time of year to visit Lake Bled
The best time to visit Lake Bled is during the cusp seasons in the spring (April-May) or fall (September-October) when the weather is mild and there are fewer tourists. The summer months (June-August) can be very hot and crowded, while the winter months (November-March) can be cold and snowy.
Here is a more detailed breakdown of the best time to visit Lake Bled depending on what you want to do in Bled.
For swimming: The best time to swim in Lake Bled is during the peak summer months, when it will be hot. We visited Lake Bled in May and it was not warm enough to go swimming.
For hiking and outdoor activities: The cusp months in the spring and fall will be best for outdoor activities at Lake Bled. The weather is mild during this time and it is less touristy!
For skiing and winter sports: The best time to visit Bled for skiing and other winter sports is during the winter months, when the snow conditions are best.
How many days do you need to visit Lake Bled
While many people choose to visit Lake Bled on a day trip from Ljubljana, we recommend staying for at least 2-3 days. This will give you enough time to experience all that Lake Bled has to offer, without feeling rushed. Read our 3 day Lake Bled itinerary here!
Of course, if you have more than 3 days to spare, you could also visit other nearby attractions, such as Triglav National Park or the Vintgar Gorge. But even if you only have a few days, there's no doubt that Lake Bled is a destination that you will fall in love with.


Are you still overwhelmed with travel planning? Consider using our travel consulting services to take the stress out of travel planning! Not only will you get one-on-
Where to stay in Lake Bled
There are a variety of hotels, guesthouses, and apartments to choose from in Lake Bled. The best place to stay will depend on your budget and group's housing preferences. If you are not renting a car, we recommend staying a short walking distance from Bled town because you will want to try the local bars and restaurants. Here are a few recommended hotel options in Lake Bled!
The best things to do in Lake Bled
There are a variety of activity options for any type of traveler in Lake Bled! Lake Bled is the perfect travel destination for couples, families, solo travelers or a group of friends.
Take a boat trip to the island in the middle of the lake
One of the best things to do in Lake Bled is to take a boat to the island in the middle of the lake and visit the Pilgrimage Church of the Assumption of Mary on the island. There are a variety of boat options to choose from to get to the island!
This is not an activity that you need to book in advance because there are multiple vendors available as you walk along the lake. We chose to hop on a rowboat with other people for ~€20 each. You can also opt to rent a private rowboat to row yourself around the lake or there is also a public motorboat that will be your fastest option back and forth to the island that runs regularly.
Once you get to the island, it will cost an additional fee of €12 to go inside the church, clock tower and museum. It is considered good luck to ring the bell three times inside the Church of the Assumption of Mary. There is also a small cafe and restaurant on the island.
Hike to the top of Ojstrica Mountain
This hike takes about 20-30 minutes and is absolutely worth it for the stunning views of the lake and surrounding mountains!
Visit the Bled Castle
Bled Castle is one of the most unique structures in the world. The hike to the top is a bit of a challenge and it costs €15 to enter the castle. The ticket is necessary because you do not see any of the views until you go through the castle entrance. There is a restaurant and museum to explore inside the castle but in our opinion, your ticket pays for the incredible views. If you are traveling on a budget, we recommend doing the free hike to the top of Ojstrica Mountain for the views instead of visiting Bled Castle.
Eat Bled Cake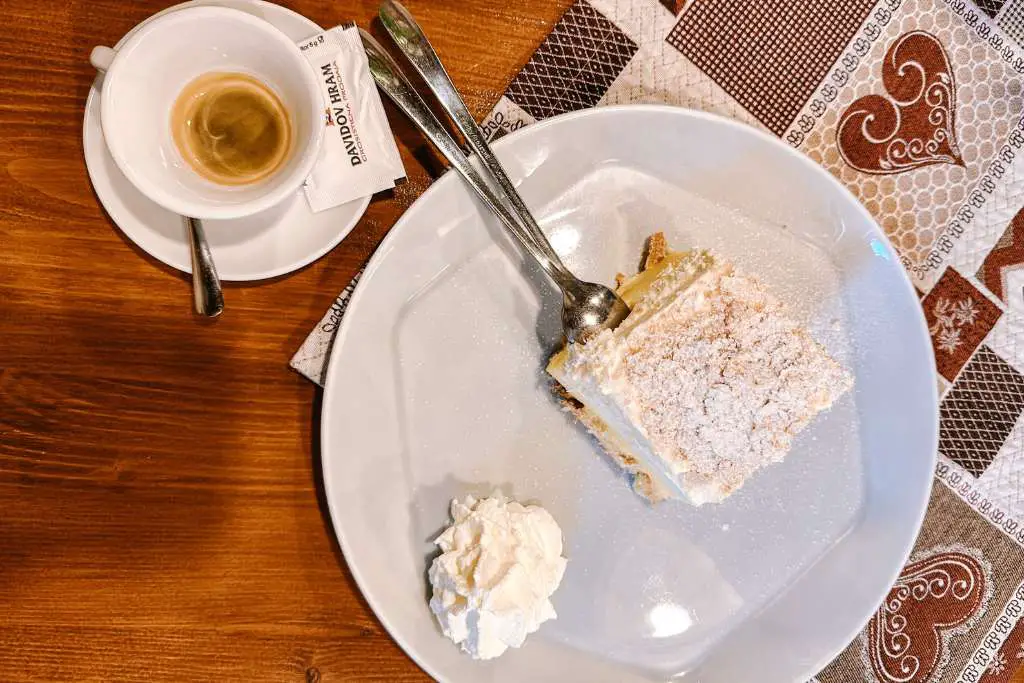 Bled Cake, also known as Blejska kremšnita, is a traditional Slovenian dessert and a local speciality in Lake Bled. It is made with a thin layer of puff pastry, a layer of vanilla custard and a layer of whipped cream. Bled Cake is often served as a dessert after a meal, but it can also be enjoyed as a snack. Bled Cake is served at almost every shop or restaurant in Lake Bled – you won't miss it!
Go for a swim in the lake
The water in Lake Bled is some of the purest water we have ever seen. If visiting during the summer months when it is warm enough to swim, jump in and enjoy the refreshing crisp lake water!
Walk around the full circumference of Lake Bled
There is a path that goes around the entirety of Lake Bled. It is great to see the Lake from all of the different areas! The walk takes 1-2 hours depending on your walking pace and how often you stop to take pictures.
Where to eat in Lake Bled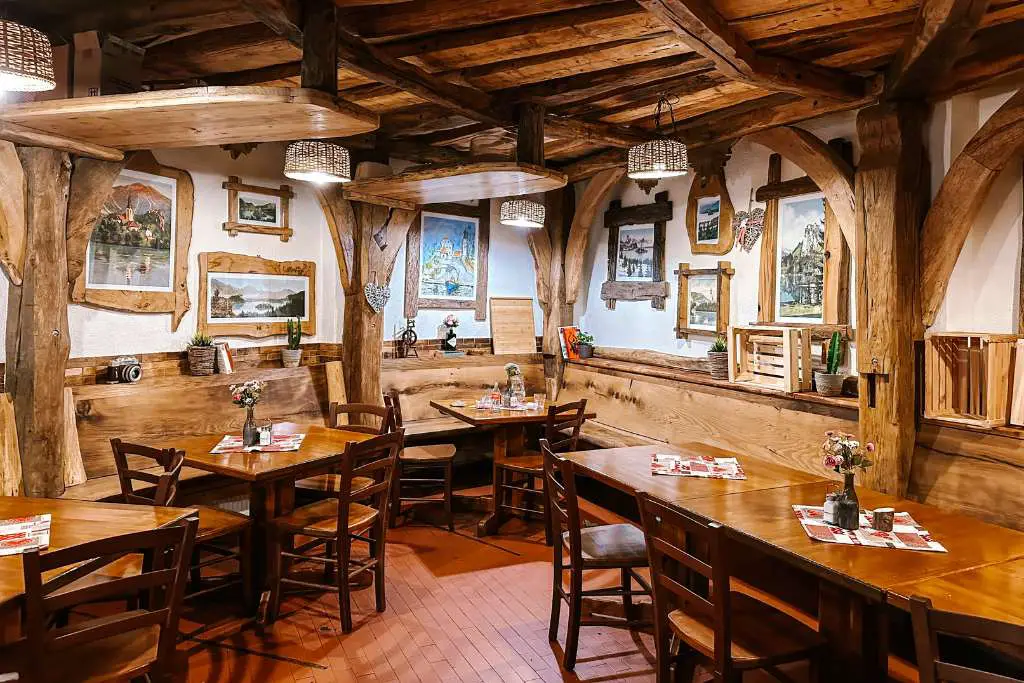 We were shocked by the large variety of restaurant options in Lake Bled. Everywhere we ate was delicious and reasonably priced. Here are a few options of where to eat while in Lake Bled!
The Best Restaurants in Lake Bled
Where to drink in Lake Bled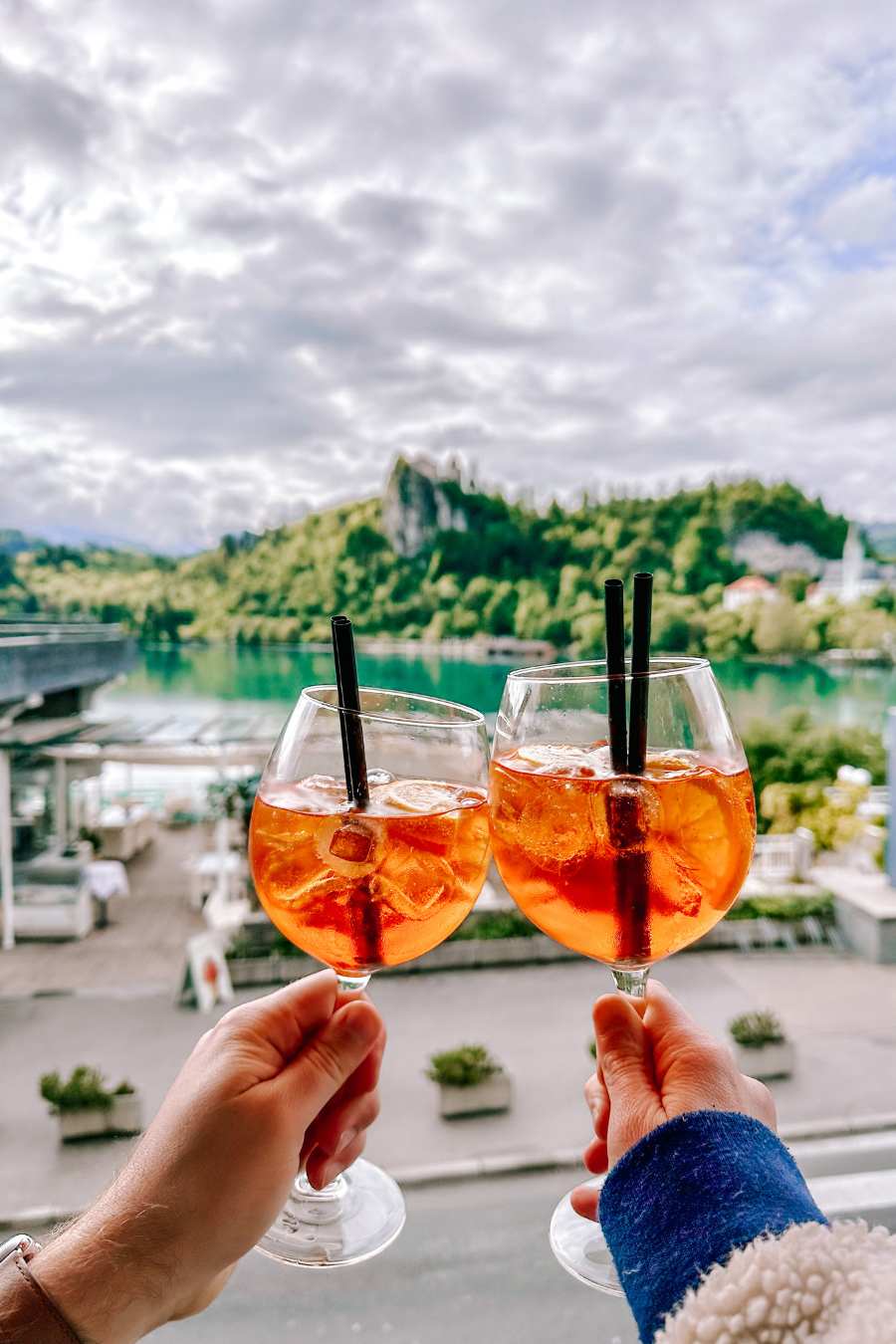 If you know us as travelers, then you know we love a good pub and finding the best bars in every city. Similar to the restaurant options in Lake Bled, we were surprised by the bar options and how many fun places there were to drink! We even managed to meet some fellow digital nomads and make friends in the pub. A typical beer in Lake Bled cost around €3-4.
The Best Bars in Lake Bled
The best day trips from Lake Bled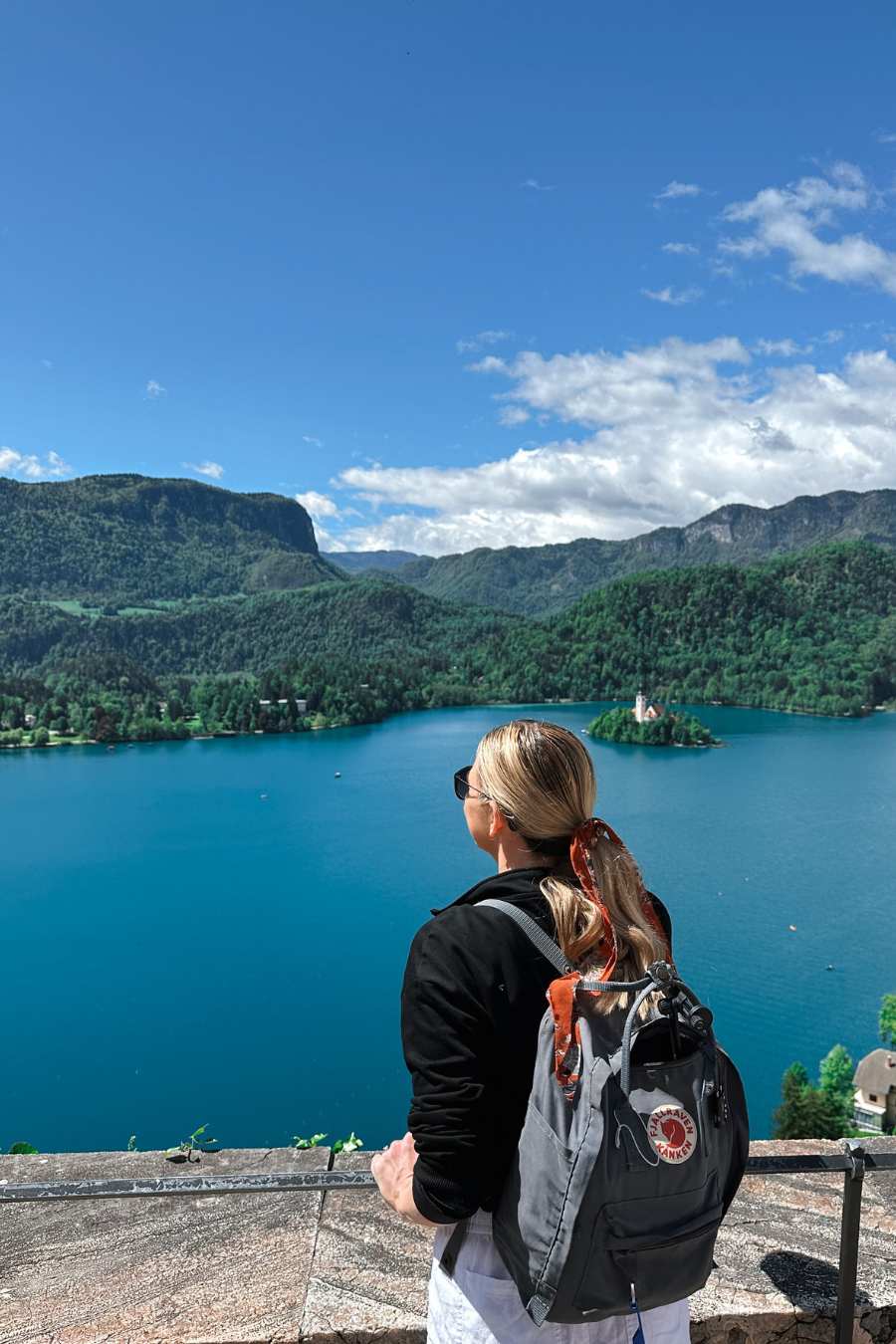 There are a variety of day trips to take from Lake Bled to see unique surrounding sites in the mountains. If you are renting a car, you may be able to drive to most of these sites. If you are not renting a car, there are tour companies that will take you there and back from Lake Bled. Here are a few of the most popular day trip options!
Vintgar Gorge
This is a beautiful gorge carved by the Radovna River. The gorge is about 1.6 kilometers long and is lined with towering cliffs. There is a walking trail that winds through the gorge. There are several viewing platforms where you can stop to take in the views.
Bohinj Lake
This is Slovenia's largest lake and is located just a short drive from Lake Bled. The lake is surrounded by mountains and is a popular destination for swimming, hiking and boating.
Triglav National Park
This is Slovenia's only national park and is home to some of the most beautiful scenery in the country. The park is home to mountains, forests, lakes and waterfalls. There are many hiking trails in the park to walk through and explore!
Postojna Caves
These are the largest caves in Slovenia and are a popular tourist destination because of their unique features. The caves are home to a variety of stalactites and stalagmites, as well as a subterranean river. Even if you drive yourself to the caves, there is a guided tour that will take you through the caves.
Predjama Castle
This is a medieval castle that is built into the side of a cliff. The castle offers stunning views of the surrounding countryside.
What to pack for Lake Bled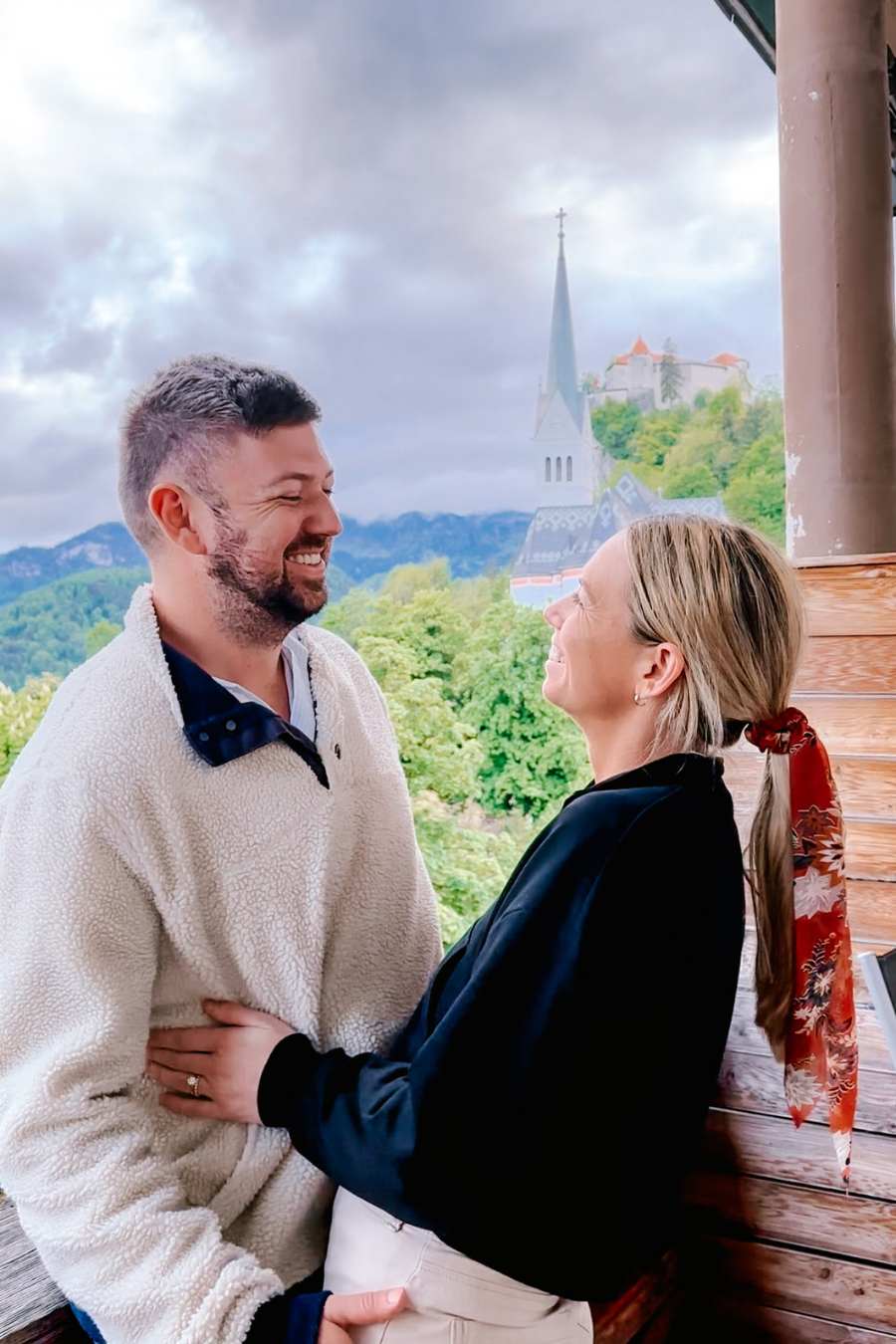 Since Lake Bled is a very outdoorsy destination so there is no need for any formal type clothes. It is very much a mountain and we fit right in dining at the bars and restaurants in our hiking clothes. We recommend packing comfortable hiking shoes and clothes, and then a few outer layers in case it is chillier at night.
Tips for planning a trip to Lake Bled
Book your housing early
Lake Bled is a popular destination to visit in Europe with limited housing options since it is a small town. If you are planning a trip to Lake Bled, make sure to book your housing as soon as you know your travel dates!
Wear comfortable shoes
Lake Bled is an outdoorsy traveler's dream destination! You will be doing lots of hiking and walking, it is essential to wear comfortable shoes during your visit to Lake Bled.
Be prepared to pay for some meals in cash
There are a few bars and restaurants that only accept cash as payment. Be prepared to have enough cash to pay for meals just in case they are only accepting cash!
Be respectful of the Lake
Lake Bled is truly one of the most stunning places in the world and we want to keep it that way. There are trash cans conveniently located all along the lake and town, always be respectful of its beauty and do not litter.
Read all of our favorite Europe travel tips here!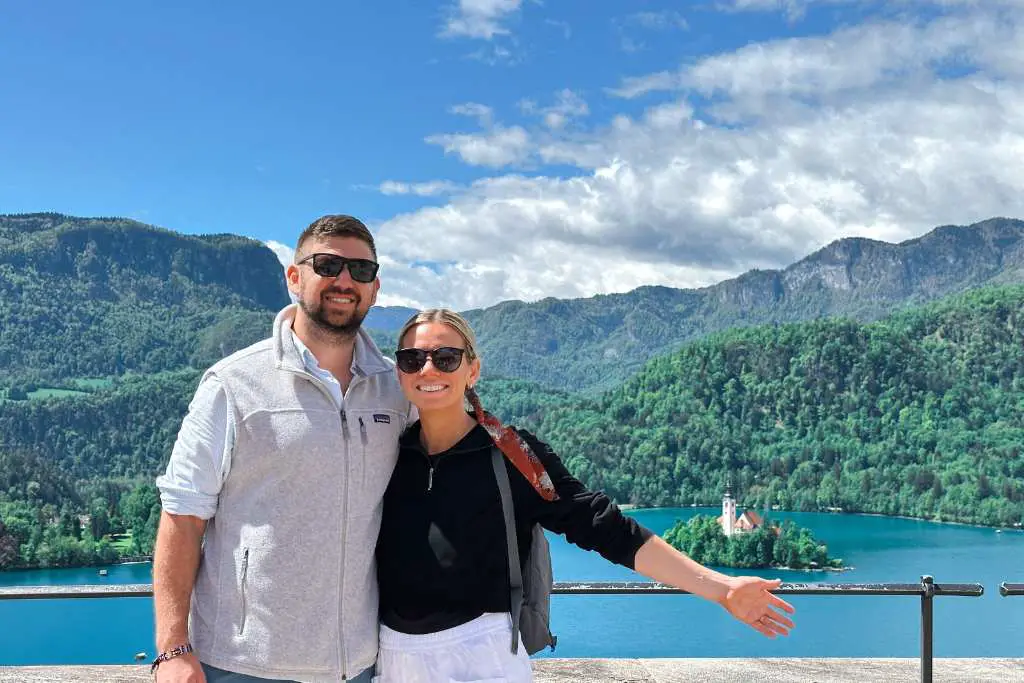 Additional Europe Resources
---
Lake Bled is a beautiful and charming destination that offers something for any type of traveler. We absolutely loved our time visiting Lake Bled and have no doubts that we will return again in our lifetime. We hope this ultimate Lake Bled guide helps plan your trip to this iconic destination! Let us know in the comments what you are most excited to experience in Lake Bled.