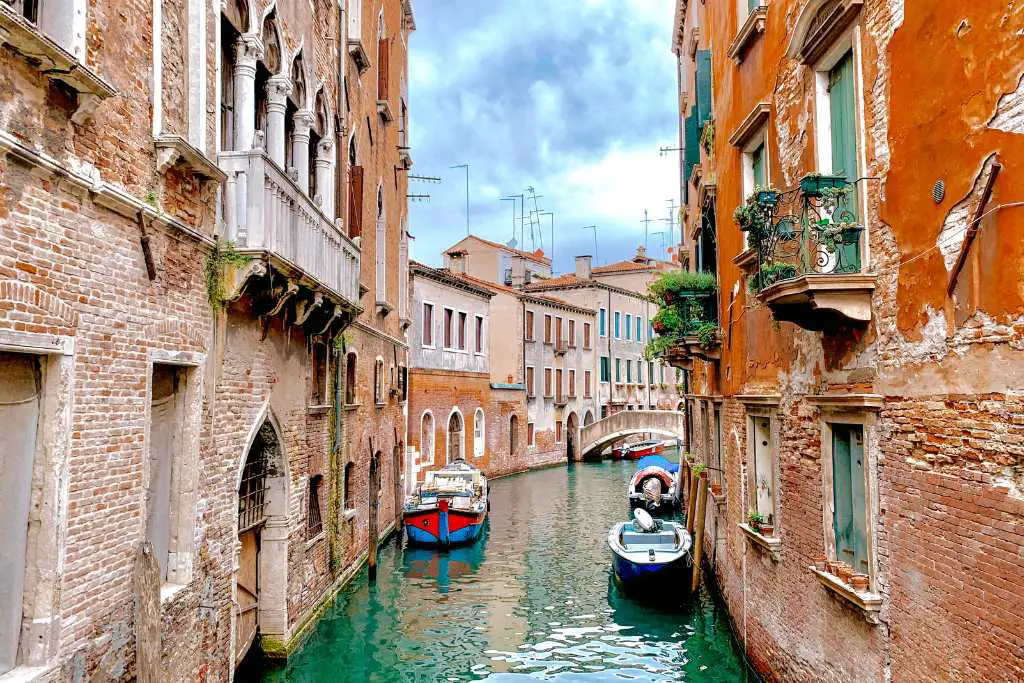 Venice is a city like no other in the world and it is a must-visit destination in Italy. Venice is known as the floating city and is filled with rich history, culture and winding walking streets along the iconic canals. Three days in Venice is a great amount of time to explore this amazing city! This three day Venice itinerary will walk you through how to optimize your time and ensure you experience all that Venice has to offer.
How to get to Venice
Where to fly to get to Venice
The closest airport to Venice is Venice Marco Polo Airport. Most likely you will be traveling to more destinations than just Venice in Italy so depending on your travel itinerary, it may make more sense to fly to either Rome or Milan and take the train from those larger airports to Venice.
Skyscanner is one of our favorite tools to find cheap flights around the world. Browse your options here!
Traveling to Venice by train
The train system is very efficient in Italy and if traveling to Venice for three days, most likely you will be coming from a different city in Italy. The Venice train station is an easy boat bus or boat taxi ride to the city center.
Pro-tip: Use Rome2Rio to see all of your different travel options and decide what makes the most sense based on your itinerary and budget!
Where to stay in Venice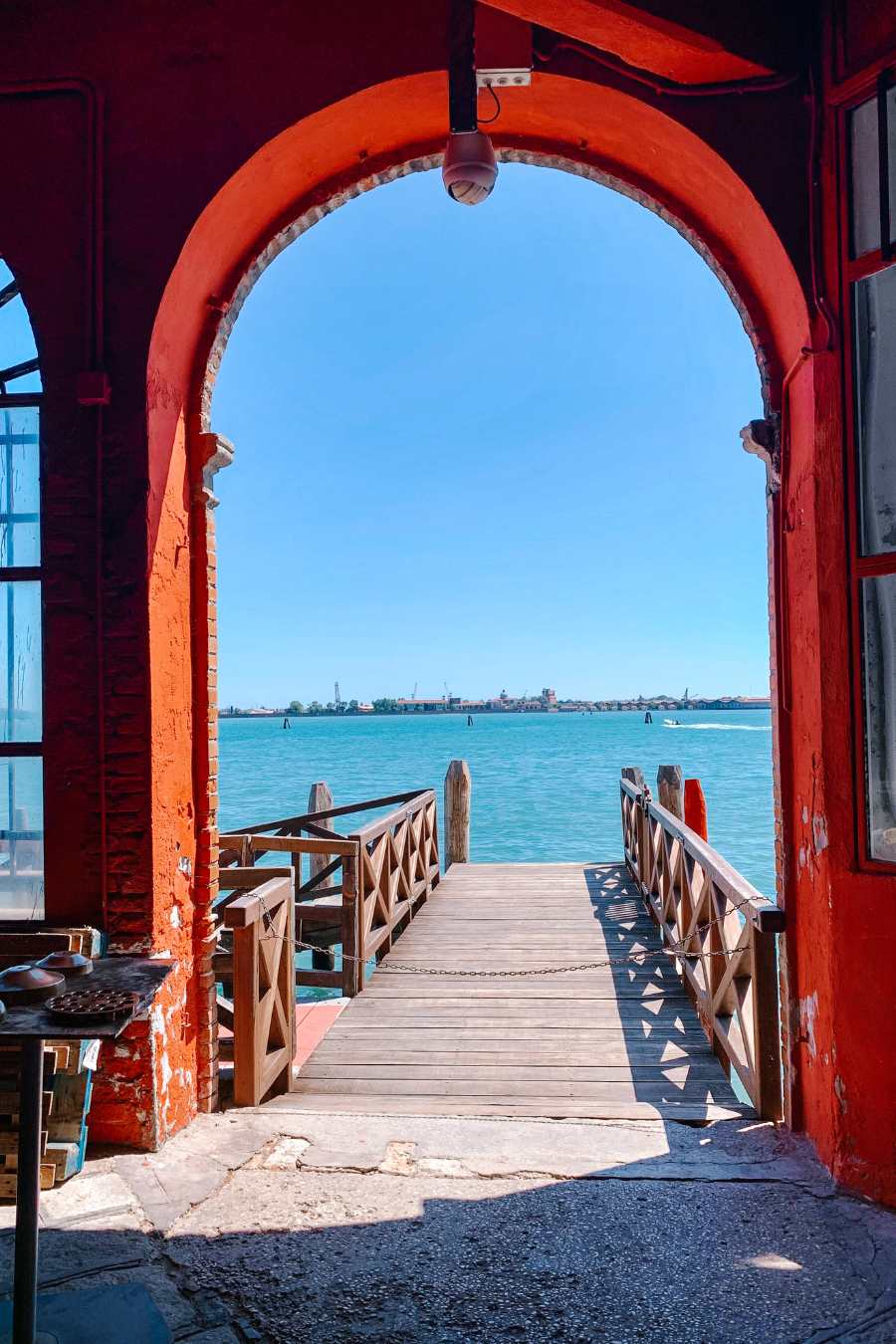 There are limited housing options in Venice since it is a small area of islands and one of the most popular places in Italy to visit. Venice is also a historically protected city so that means lots of the buildings are a bit outdated on the interior to preserve their historical charm and beauty. While there are luxury stays in Venice, many of the rooms and bathrooms have not been modernized.
Here are a few recommended housing options in Venice!
This is a reasonably priced boutique hotel with canal views in a great location.
We stayed here in 2019 and it was a perfect stay for 3 days in Venice. The rooms were spacious and the owners were extremely kind!
This is another great boutique stay in Venice in a great location.
If you are looking for a full luxury stay in Venice, we recommend staying at The St. Regis. The rooms are stunning and there are great amenities available to the guests.
This is a more affordable high-end luxury stay option in Venice.
Tips for planning a trip to Venice
Book early
Venice is one of the most popular destinations in the world to visit and there are limited housing options, especially if you want to stay in the city-center. We recommended booking your housing and any major activities as soon as you know your travel dates!
Use code JLJ10 for 10% off all eSIM purchases.
Purchase a Venice Card
Depending on everything you want to do during your three days in Venice, the Venice Card is a great way to save money on transportation, museums and other attractions in Venice. The card is valid for 24, 48, or 72 hours and it gives you unlimited access to public transportation, as well as discounts on many of the city's top attractions!
Learn more about the Venice Card here.
Be prepared for crowds and pigeons
As stated before, Venice is one of the most popular places in the world to visit. It will be very crowded in the piazzas. Be prepared to work with the crowds to visit all of the major sites. There are also tons of pigeons in Venice, especially in crowded touristy areas. They should not bother you as long as you are not bothering them.


Are you still overwhelmed with travel planning? Consider using our travel consulting services to take the stress out of travel planning! Not only will you get one-on-one access to ask us any travel questions, we will give you all of the tools you need to book and execute on your dream vacation with ease.
Three Day Venice Itinerary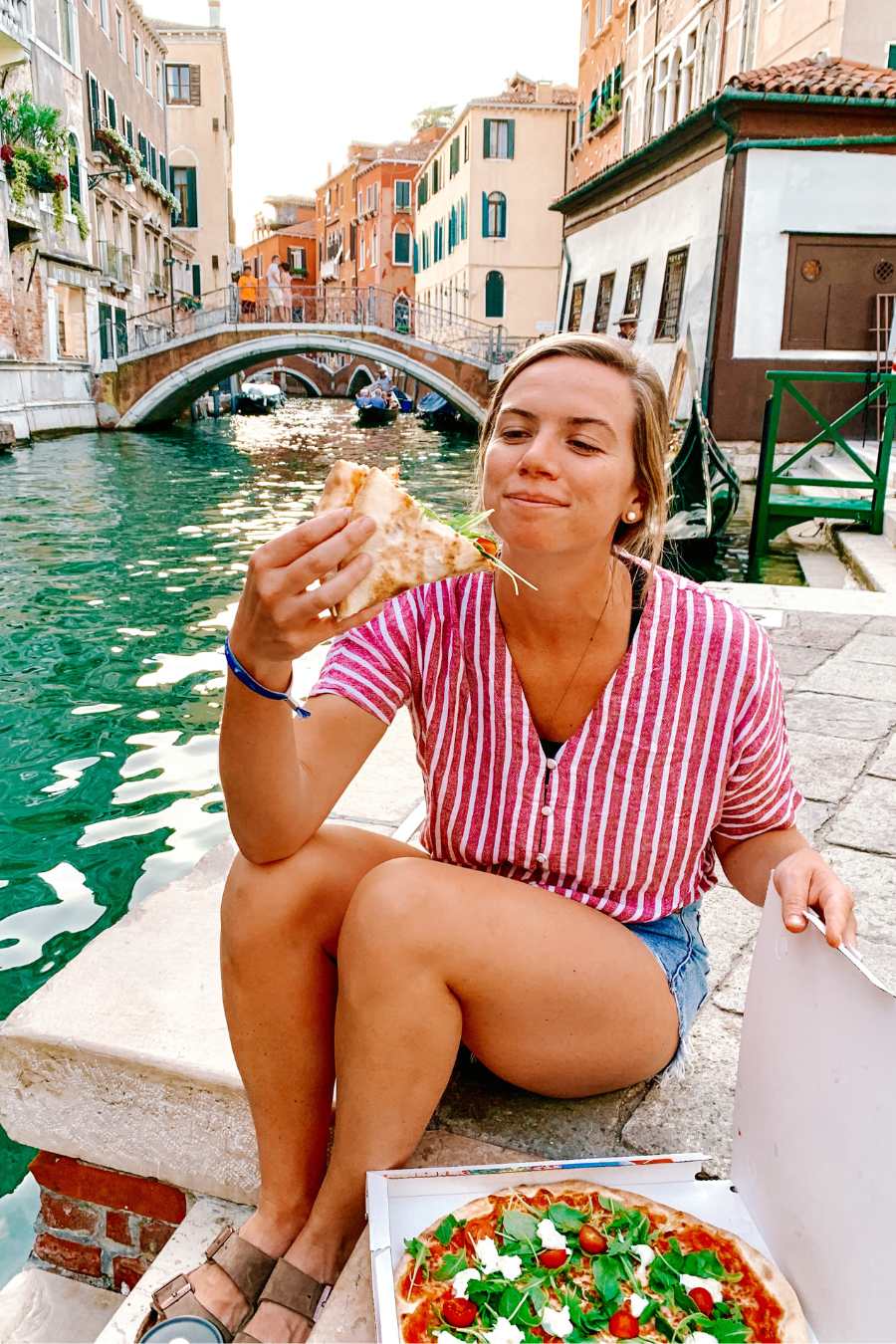 Day 1 in Venice: Explore Venice
On your first full day in Venice, we recommend exploring the main attractions in the city. There is so much to do just in the center of Venice. Venice is also a very walkable city – you should be able to get to all of the major attractions around the city from all of the major attractions.
Things to explore in Venice on your first day
St. Mark's Square and Basilica
St. Mark's Square is the heart of Venice and the top place to visit on a trip to Venice. The details on the buildings are historic and simply breathtaking.
Doge's Palace
Doge's Palace is located in St. Mark's Square and is one of the main landmarks in Venice. The palace was the residence of the Doge of Venice, the supreme authority of the former Republic of Venice. This historic building became a museum in 1923 and is now a UNESCO World Heritage Site.
Rialto Bridge
The Rialto Bridge is the most famous and picturesque bridge in Venice. While it will be crowded, it is a must visit during your three days in Venice!
Mercato di Rialto
Take some time to browse this historic market in the center of Venice.
Basilica di Santa Maria della Salute
The church is a masterpiece of Baroque architecture and is one of the most popular tourist attractions in Venice.
Teatro La Fenice
Teatro La Fenice is an opera house in Venice, Italy. It is one of the most famous opera houses in the world and has hosted some of the most famous operas in history. The theater was founded in 1792 and was destroyed by fire in 1836 and again in 1996. However, it was rebuilt each time and continues to operate today.
Take a gondola ride on the canals
Either in the evening or in the midst of exploring the city, make sure to take a gondola ride to see the city by water! This is a one of a kind experience in Venice. You can typically hop on a gondola ride with any vendor or you can schedule one in advance! Depending on your budget and group size, you can even book a private ride for just your individual party. The Venice Pass also includes a gondola ride with the purchase.
Go out for a nice dinner
Once you are done exploring for the day, make sure to reserve a table at Enoteca Al Volto for some of the best food in Venice!
Day 2 in Venice: Take a day trip to Burano and Murano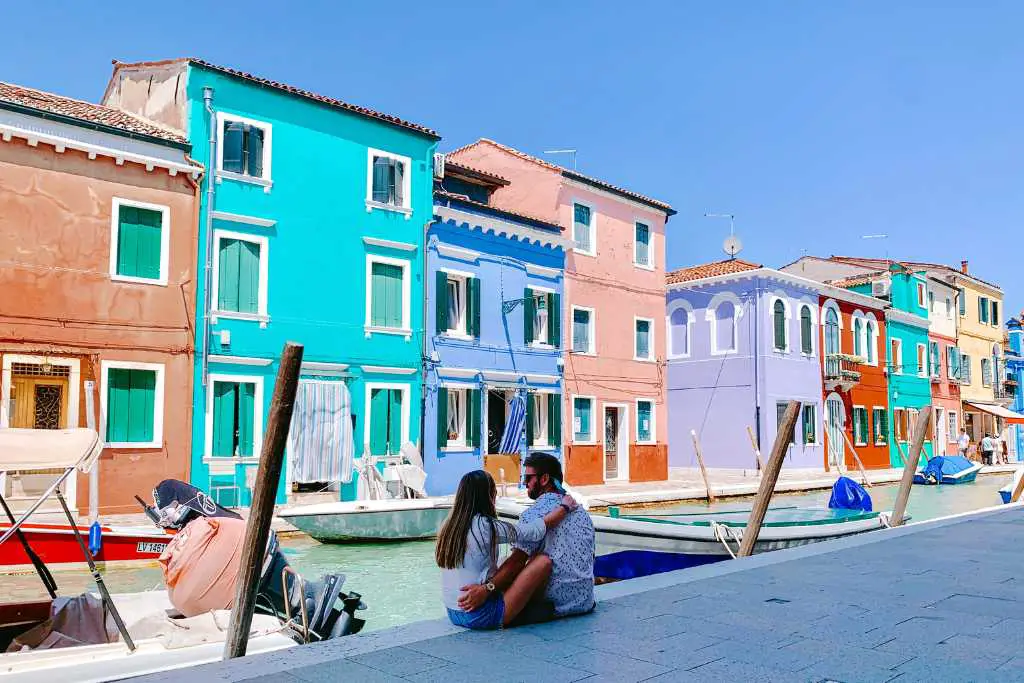 Burano and Murano are two islands near Venice and are a must-visit while spending three days in Venice.
Burnao is known as one of the most colorful towns in the world and it lives up to that description. Each building in Burano is colored a different color and it is mesmerizing to walk around the town for a few hours.
Murano is home to famous glass blowing labs and factories. Some of the most beautiful glass structures in the world are created here and you can actually witness them being made at a glass blowing demonstration!
A day trip to these destinations is very accessible through the public ferry. The ferry ride from downtown Venice to Burano takes about an hour depending on exact time and costs around 7 Euro one way. We recommend that you start your day trip in Burano and arrive in the morning in order to avoid the heavy tour crowds that arrive around lunchtime. Spend a couple hours wandering this gorgeous city and admiring all of the different colored buildings! We ate lunch at Trattoria Al Gatto Nero on the water before taking the ferry back in the direction of Venice to Murano.
Once you feel like you have explored all that Burano has to offer, take the ferry back towards Venice and stop at Murano. Murano is a very small city to explore but is still absolutely worth the trip! You can browse beautiful glass pieces in The Glass Museum (Murano) and also watch a glass blowing demonstration. Be sure to shop for some glass products yourself! Each glass piece that these experts create is truly a one of a kind work of art.
Once you arrive back in Venice for the evening, grab dinner at one of these many amazing restaurants.
A cute and rustic restaurant with outdoor dining options.
A cozy spot with potential canal seating and known for local Venetian dishes.
Here is another option for delicious traditional Italian food in Venice.
Day 3 in Venice: Relax on the canals and take a cooking class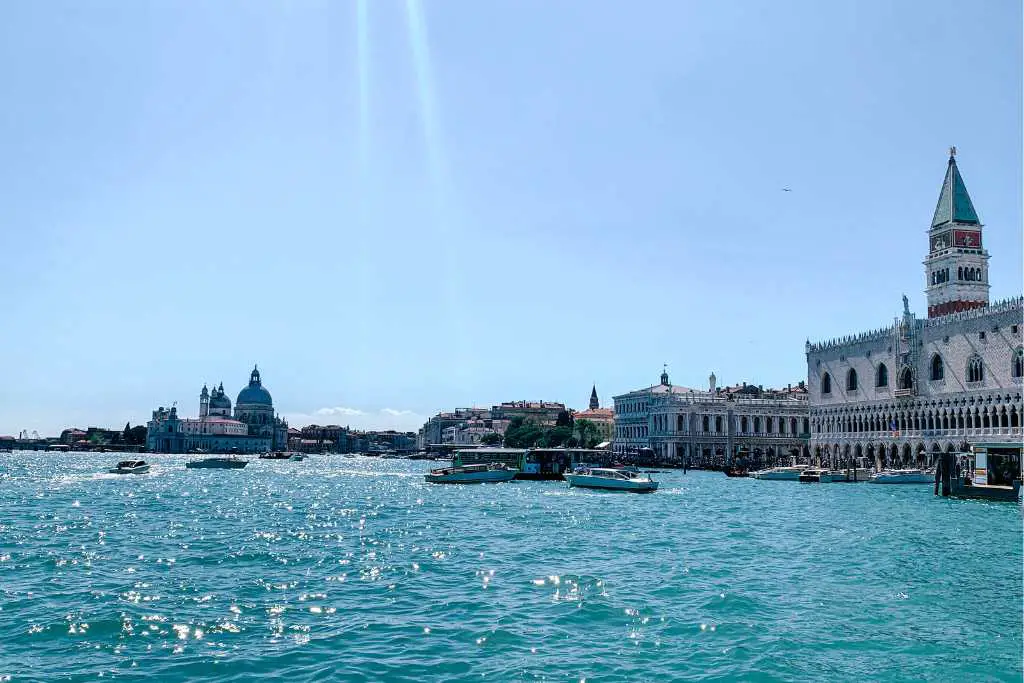 Your last day in Venice on this three day itinerary is perfect to do a cooking class! Be sure to check off any items in the city that you were not able to tackle on your first day and then try local flavors with a professional chef.
Other things to do on your last day in Venice:
Venice packing essentials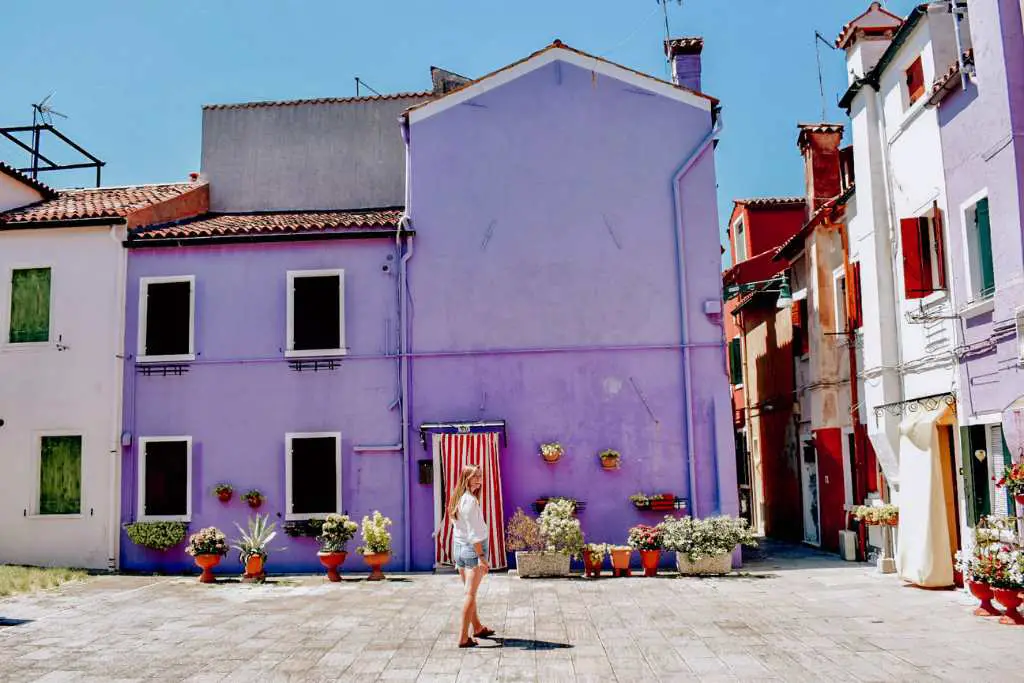 Venice's weather has a tendency to be somewhat unpredictable so it is important to pack layers! Check out our summer in Italy packing list with outfit inspiration for more detailed packing help.
Additional Europe Resources
---
We hope this three day Venice itinerary helps plan your trip to this historic city in Italy! Italy is truly one of the best places to visit in the world and we would love to hear in the comments what you are most excited to do on your Venice itinerary. Cheers & happy traveling!