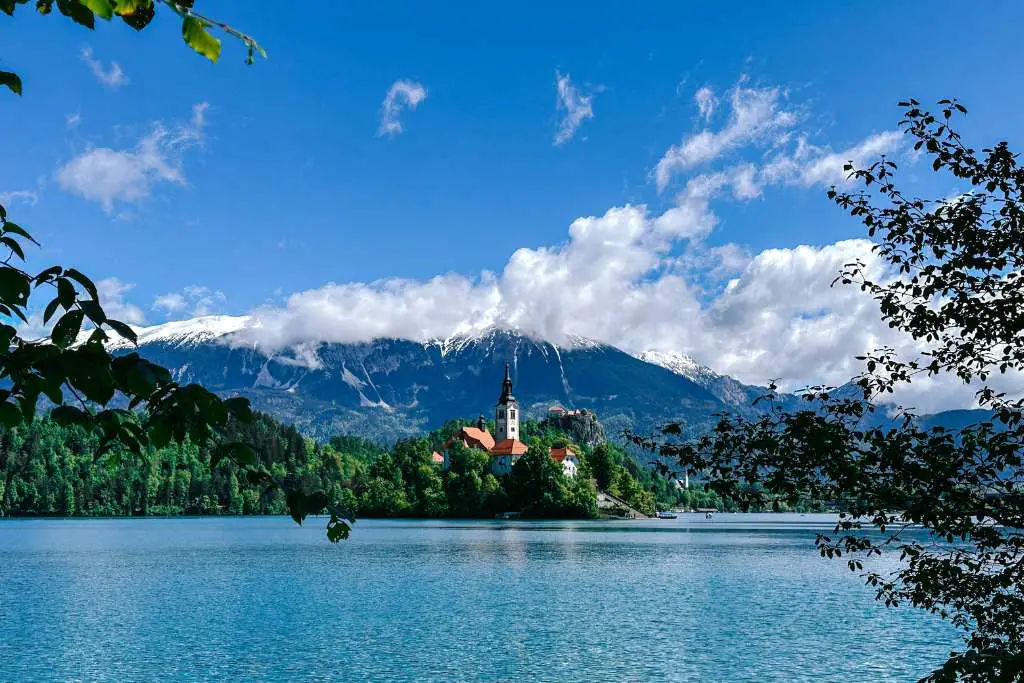 Lake Bled is a dreamy mountain town located in the Julian Alps of northwestern Slovenia. This is a great place to visit if you are looking for stunning views, great hiking and delicious food! Three days in Lake Bled is plenty of time to experience all that the Lake and surrounding areas have to offer without feeling rushed or overwhelmed. We spent three days in Lake Bled in mid-May and absolutely loved our time here. Even though it rained on and off while we were there, we were still able to tackle most things on this three day Lake Bled itinerary! This itinerary will help you plan your trip and make the most of your time in this stunning destination.
The three day Lake Bled itinerary below is simply a suggestion on how to spend your time there. Feel free to customize this itinerary based on your travel speed and preferences! For more details about where to stay and what to do in Lake Bled, read our ultimate guide to visiting Lake Bled.
Skyscanner is one of our favorite tools to find cheap flights around the world. Browse your options here!
Three Day Lake Bled Itinerary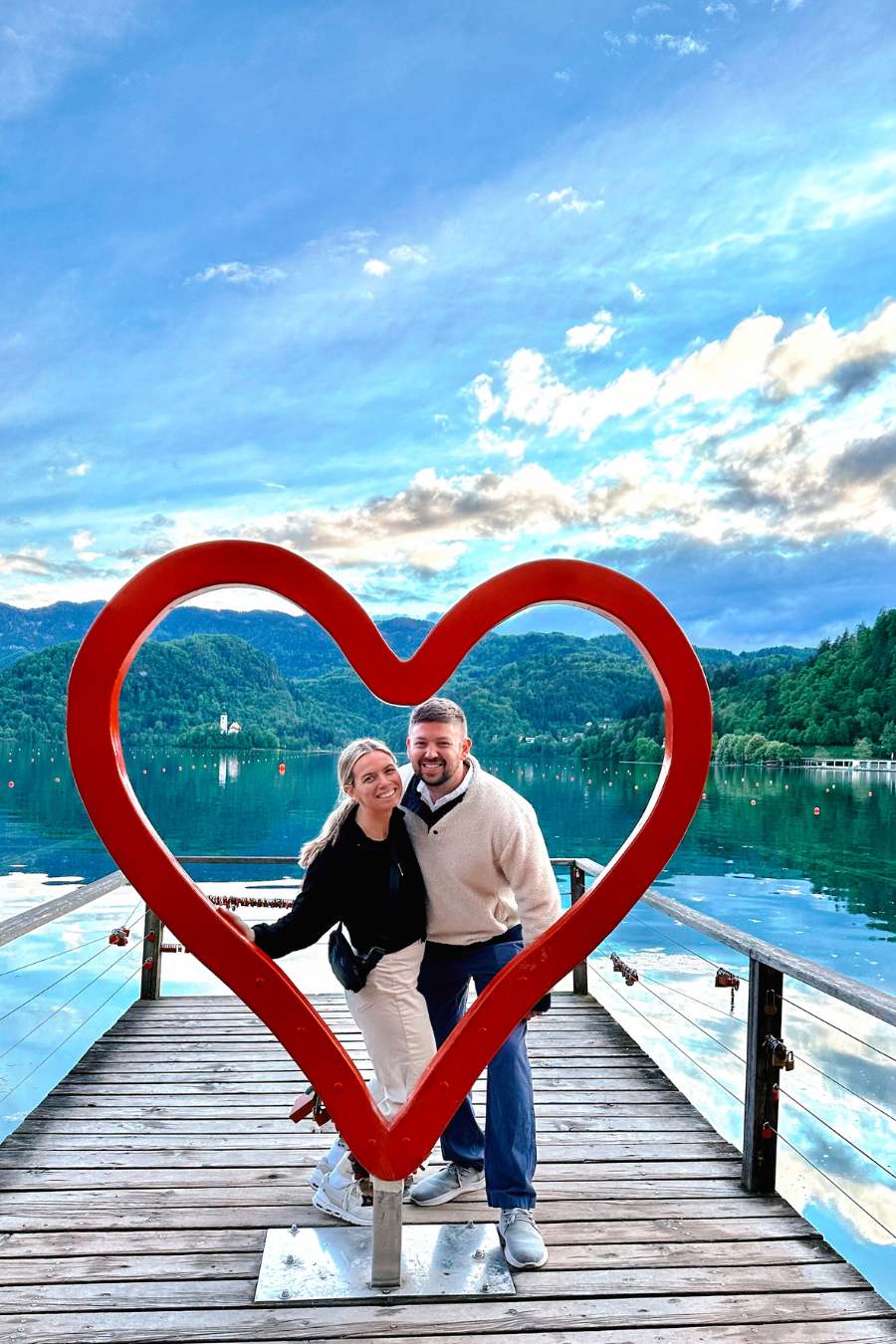 Day 1 in Lake Bled
Morning: Arrive in Lake Bled and check into your hotel.
Most likely you will not be able to check into your housing until the afternoon. Check with your hotel if you can drop your bags off before your room is ready. If the answer is no, there is a bag storage office at the bus stop in Bled town. When we arrived in Lake Bled, we were ready to start exploring and dropped our bags off there for a couple of hours!
Afternoon: Take a boat trip to the island in the middle of the lake.
A trip to the island in the middle of Lake Bled is a must-do for anyone planning a three day Lake Bled itinerary. The island is home to the Pilgrimage Church of the Assumption of Mary, a 17th-century church that is a popular pilgrimage site.
There are a variety of boat options to choose from to get to the island. The group rowboats are the most affordable option at €20 per person to get over to the island. Private boats are a good option if you want to have the boat to yourself, and they can be rented for around €20 per hour. Public motorboats are the fastest option to get to the island and they run regularly between the town of Bled and the island.
Once you arrive on the island, you can visit the church, the clock tower, and the museum for an additional fee of €12 per person. It is considered good luck if you make a wish and ring the bell three times inside the church! There is also a small cafe on the island where you can enjoy a snack.
Evening: Have dinner at one of the many restaurants in the town of Bled.
There are so many delicious restaurants to try in Lake Bled. One of our favorites was Central, which has many traditional dishes to choose from as well as gourmet pizza and burgers. Make sure to get a piece of Bled Cake for dessert with your meal! After dinner, stop in Pub Bled Troja or Devil's Cafe & Bar for a nightcap.
Day 2 in Lake Bled (option 1)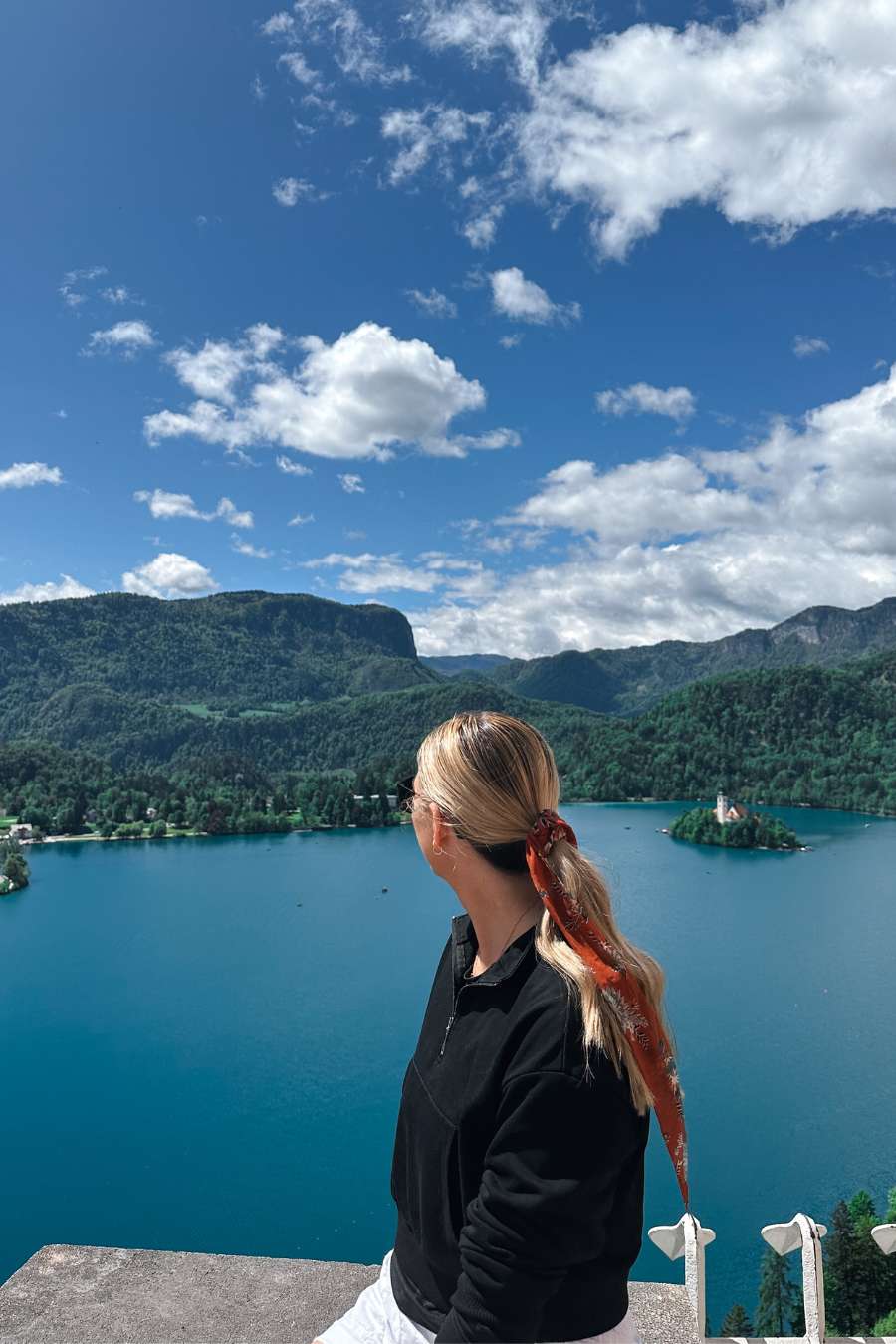 Morning & afternoon: Take a day trip to a surrounding attraction
Vintar Gorge: Vintgar Gorge is a beautiful gorge carved by the Radovna River and is a short drive from Lake Bled. You can drive yourself here if you opted to rent a car or there are tour companies that will take you there and back from Lake Bled.
Triglav National Park: This is Slovenia's only national park and is home to some of the most beautiful scenery in the country. The park is home to mountains, forests, lakes, and waterfalls. There are many hiking trails in the park to walk through and explore!
Postojna Caves: These are the largest caves in Slovenia and are a popular tourist destination because of their unique features. The caves are home to a variety of stalactites and stalagmites, as well as a subterranean river. Even if you drive yourself to the caves, there is a guided tour that will take you through the caves.
Day 2 in Lake Bled (option 2)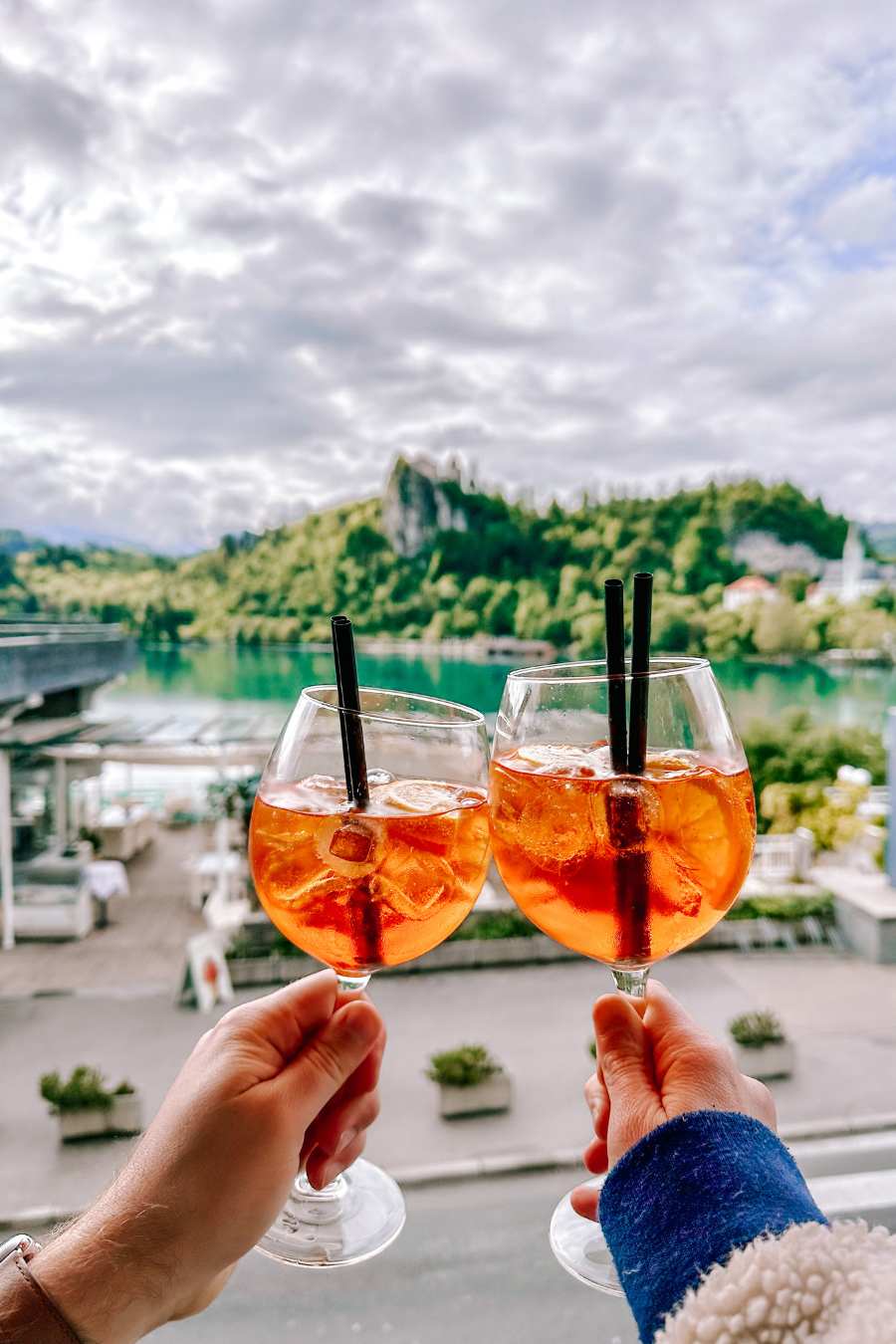 Morning & afternoon: Walk around the lake and hike up to Bled Castle
There is a walking path that goes around the entirety of Lake Bled. It is great to see the Lake from all of the different areas! The walk takes 1-2 hours depending on your walking pace and how often you stop to take pictures.
Once you are done circling the lake, hike up to the Bled castle. The hike is a bit of a challenge and it costs $15 to enter. The ticket is necessary because you do not see any of the views until you go through the castle entrance. There is a restaurant and museum to explore inside the castle but in our opinion, your ticket pays for the incredible views!
Evening: Eat dinner in Bled town
Try another delicious restaurant in Bled town on night 2 of your three days in Lake Bled! We recommend The Old Cellar or Oštarija Peglez'n.
Day 3 in Lake Bled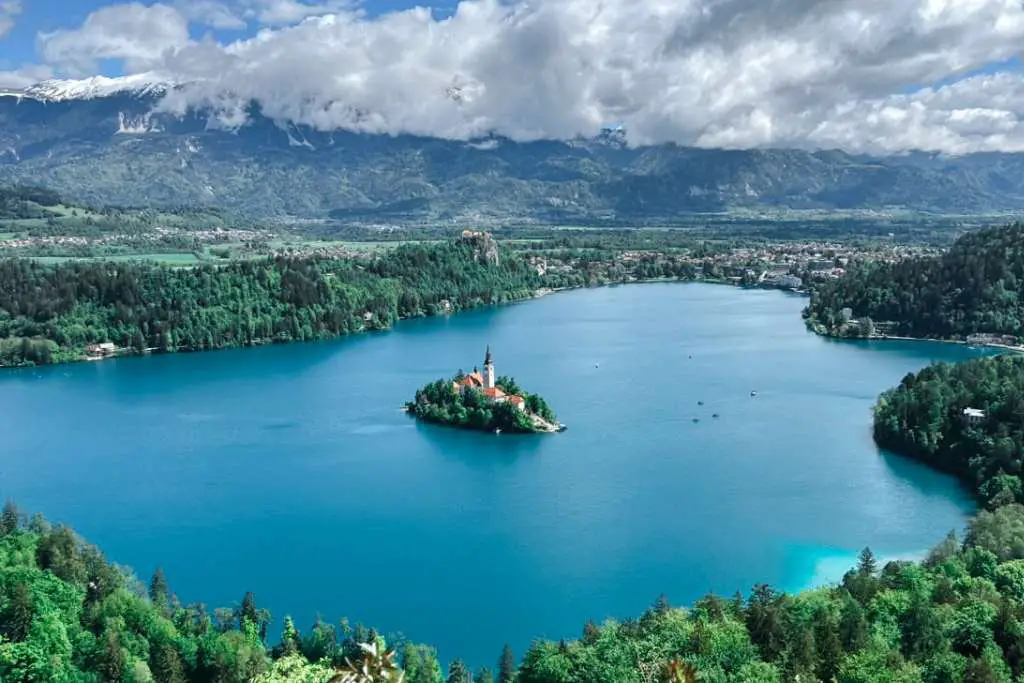 Morning: Hike to the top of Ojstrica Mountain
This hike to the top of Ojstrica Mountain takes about 20-30 minutes and is absolutely worth it for the stunning views of the lake and surrounding mountains! The view from the top of Ojstrica Mountain is from a completely different angle than Bled Castle, so it is worth it to do both activities.
Afternoon and evening: Walk around the lake or relax at a local pub
Take the rest of your time in Lake Bled to tackle anything else that is on your list or simply relax in a pub with stunning views of the Lake! It is essential to take in the views as much as you can on your last day in Lake Bled.
Use code JLJ10 for 10% off all eSIM purchases.
Tips for planning a trip to Lake Bled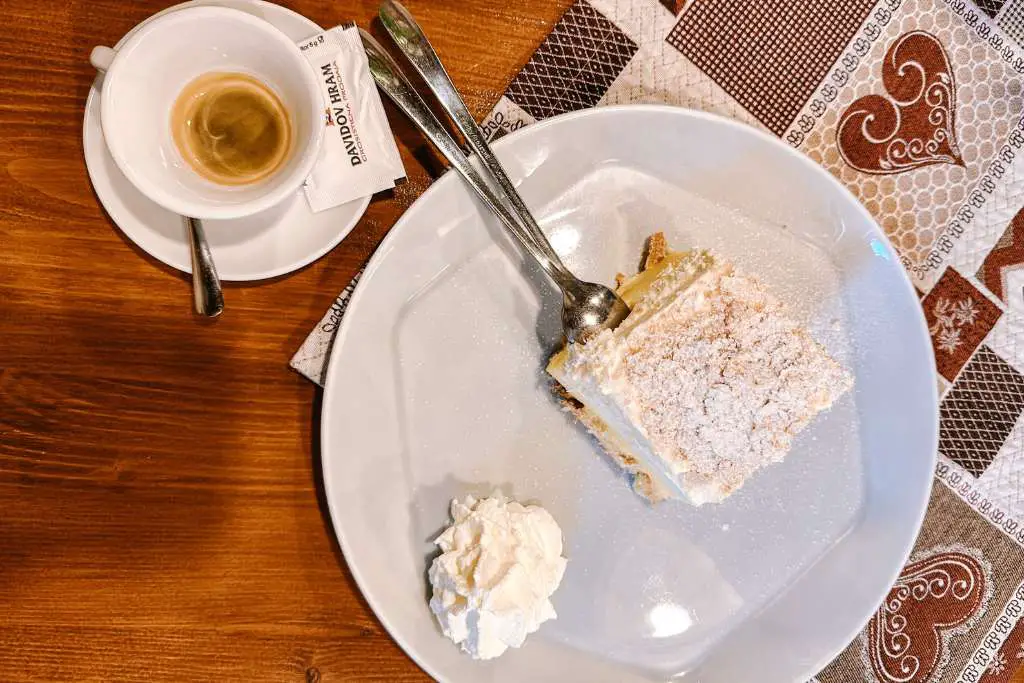 Book your housing early
Lake Bled is a popular destination to visit in Europe with limited housing options since it is a small town. If you are planning a trip to Lake Bled, make sure to book your housing as soon as you know your travel dates!
Wear comfortable shoes
Lake Bled is an outdoorsy traveler's dream destination! You will be doing lots of hiking and walking, so it is essential to wear comfortable shoes during your visit to Lake Bled.
Be prepared to pay for some meals and drinks in cash
There are a few bars and restaurants that only accept cash as payment. Be prepared to have enough cash to pay for meals just in case they are only accepting cash!
Keep the lake clean
Lake Bled is truly one of the most stunning places in the world and we want to keep it that way. There are trash cans conveniently located all along the lake and town, always be respectful of its beauty and do not litter.


Are you still overwhelmed with travel planning? Consider using our travel consulting services to take the stress out of travel planning! Not only will you get one-on-one access to ask us any travel questions, we will give you all of the tools you need to book and execute on your dream vacation with ease.
Additional Europe Resources
---
We hope this three day Lake Bled itinerary helps plan your trip to this beautiful destination in Slovenia! We had such a great three days in Lake Bled and hope you do as well. For more information about where to stay and other things to do in Lake Bled, read our Ultimate Guide to Visiting Lake Bled.