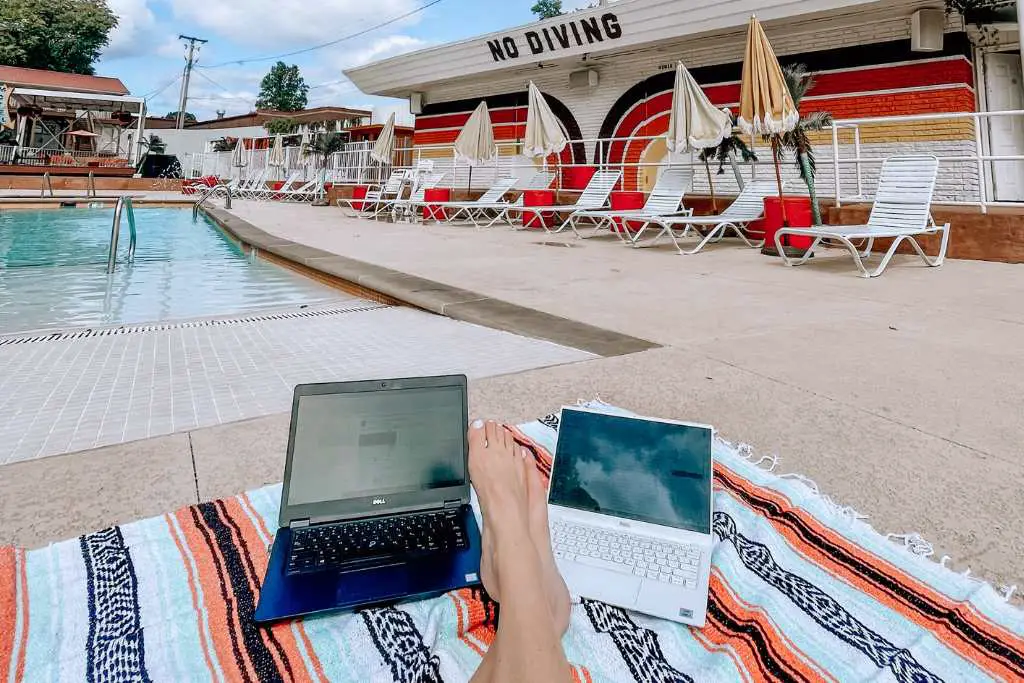 It is important to set yourself up for success while traveling and working remotely. These remote work essentials will give you all of the luxuries of an office anywhere in the world.
Like most people, I started working remotely in 2020. Then In 2021 I made a jump to independent contracting and now work full-time for myself. It has been life changing in the best way! I can now work from anywhere I want without any explanation. Honestly, I probably won't ever return to an office unless it is a really great offer and absolutely necessary.
With that said, there are some mindset adjustments that need to be made while working remotely. Some days I am most productive simply laying in bed. Other days I need to get dressed and walk to a coffee shop to focus. Every human is unique in what system works for them to increase productivity! No matter my location though, one thing that always helps me focus is to set up shop with all of these remote work essentials as if I am in an office.
15 Remote Work Travel Essentials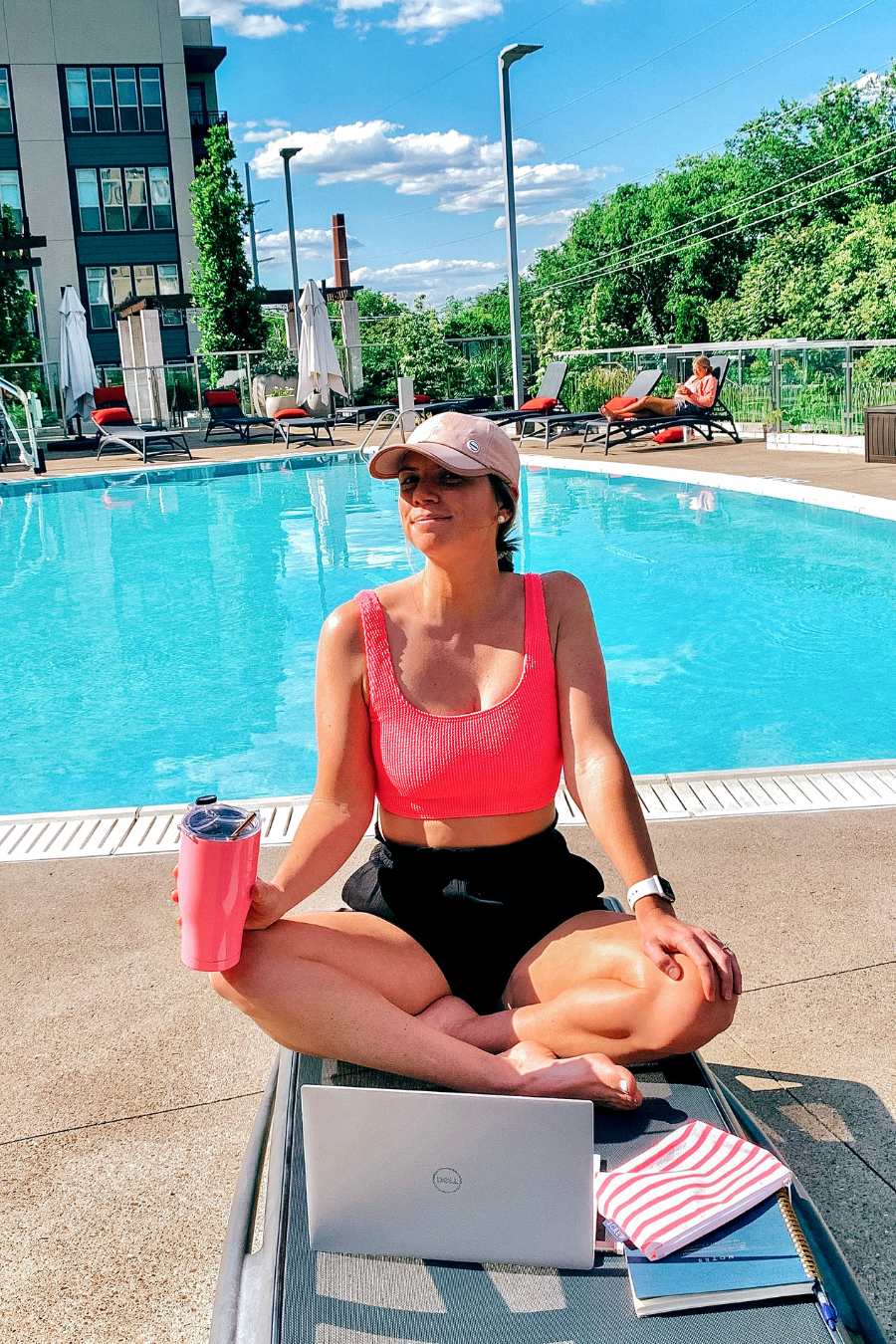 There is a statistic out there that says working with a second screen increases work productivity by 42% and I believe it. Whenever I have my monitor set up, I know it is time to focus and also I can work so much faster. I can research for a blog post on one screen and write on the other. I never travel without my second monitor which makes it a remote work essential!
This laptop stand is perfect to create a standing desk for yourself or just change the angle. This one collapses to fit in a backpack no problem! It also improves your set up when you add in the wireless keyboard and mouse.
I love working with wireless keyboard and mouse. There are so many options out there that are sleek and barely take up space in your bag. My mouse also fits in the electronic organizer!
I have worked in some crazy places and you never know when you will need to take a call or are just surrounded by outside noise and can't focus. Noise canceling headphones are a total game changer for focus while working remotely!
People prefer either ear buds or the full over the ear headphones. If you have limited space, you will be better off going for the ear buds even though they may block less sound than the over the ear versions. Do what is best for you and your packing situation!
If you are recording any podcasts or video calls, I would consider this a travel remote work essential. It does not pertain to everyone but definitely worth it if you need to look and sound your best anywhere in the world!
I can't tell you how many times I have set up shop in a coffee shop or a remote work area and there's no outlet! This retractable extension cord gives you so much more flexibility to set up your remote office anywhere. Goodbye to crowding around the only outlet in the room!
Leave your Wi-Fi worries behind and purchase this Wi-Fi extender. As much as traveling the world and working remotely sounds glamorous, unfortunately Wi-Fi is not always as reliable as hotels and Airbnbs say. This Wi-Fi extender is a lifesaver! It extends the Wi-Fi so you don't need to worry about dropping on your meetings.
I basically live in my blue light glasses! I used to get constant migraines from staring at my phone and computer screen all day. Blue light glasses will protect your eyes from the harsh light and there are so many affordable cute styles out there!
Use code JLJ10 for 10% off all eSIM purchases.
This is our favorite converter for travel. It even has multiple outlets! Not only does it adjust to work in almost any country, you can plug in all of your devices at once. Seth and I are always fighting over who can charge and comparing battery percentages. This ends that debate and you can charge everything you need in one spot!
I truly can't believe I used to just throw all of my cords and plugs into my backpack without a real system! This electronic organizer is a travel remote work essential because I have everything consolidated in one place and I know I am not forgetting any chargers. Everything has a place and when you travel for a long time, organization is key!
It is important to have a reliable bag with you that can hold all of these remote work essentials! This backpack holds two computers and has plenty of space inside to store cameras and any other items. It has protective padding so all of your pricey products are protected!
There's nothing worse than trying to be productive on a plane or long train ride and you find yourself without a charger! Or let's say you want to take your job to the pool, but you need an outlet. This heavy duty portable charger will charge your bigger devices so that you can keep up your productivity even in the most unique locations.
Again, if your job requires you to do virtual interviews or you simply just want to look your best, invest in a light to go around your computer camera. This one in particular takes up very little space and will enhance your remote work set up!
This is a remote work essential especially for content creators. There is never enough storage on phones and computers for everything we need from pictures, videos, website graphics and so on. This hard drive holds a ridiculous amount of storage and is super durable for travel!
Always travel with a VPN downloaded on your devices. It is sometimes impossible to access websites that you need when you are traveling in different countries! Also, some companies require you to work within the United States. A VPN is a workaround to still be able to access internal resources while out of the country.
Additional resources:
Remote work tips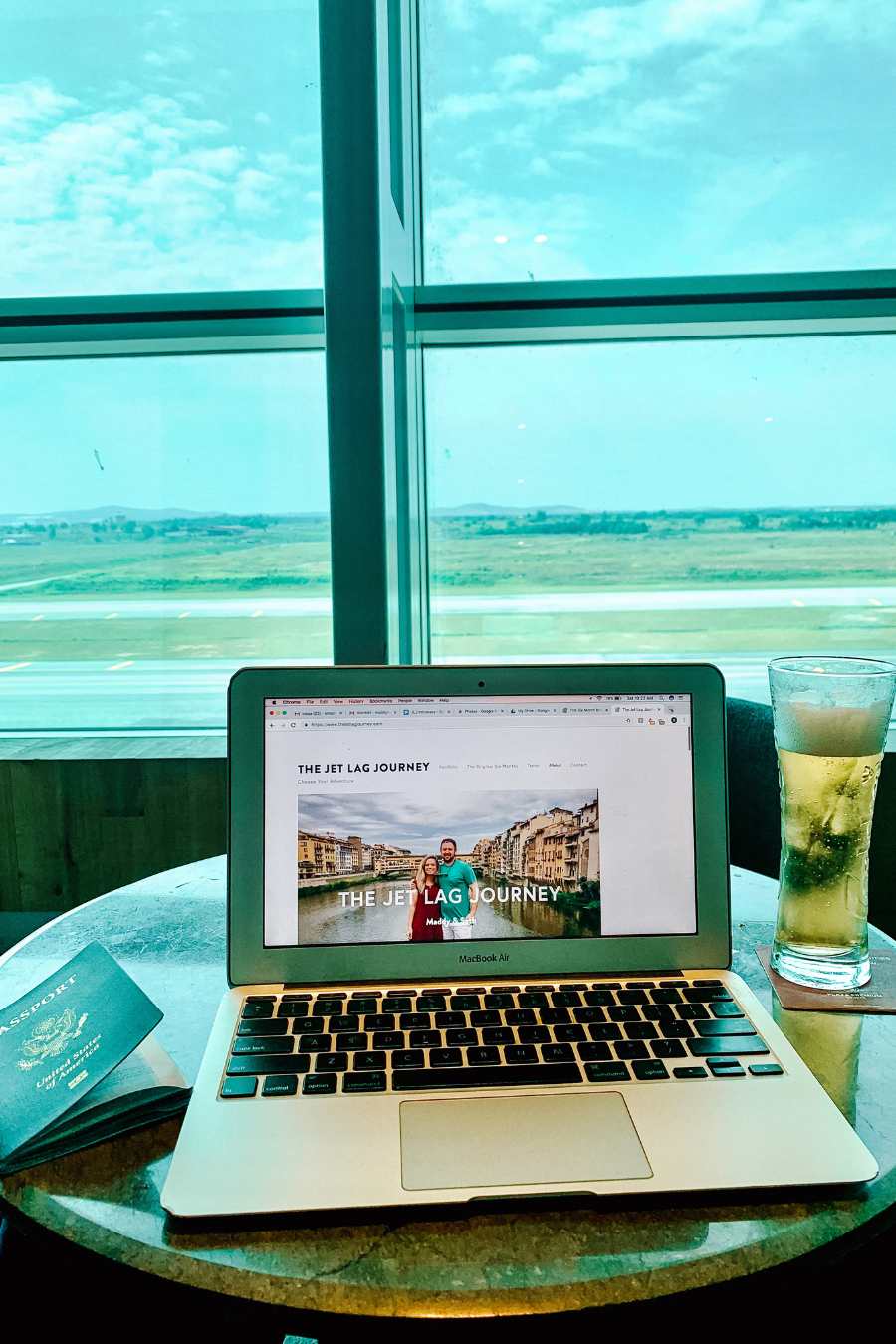 Set boundaries
When you work where you live, it is difficult to shut down the office hours. This is true whether you are traveling around the world or in your apartment. I found myself constantly replying to emails late at night when I first started working remotely because I thought, why not? My computer is right here. In reality, those emails could have waited until the next morning. When you close the laptop to take a break to workout or go to the beach, leave the work behind. Set boundaries for yourself so your brain is not always thinking about work.
Dedicate focus time
This is a huge one for me. Especially now that I work my own hours, sometimes it is hard to stay disciplined. I like to dedicate focus time so I know it is non-negotiable for me to work during that time. I will even add those hours to my calendar so it looks like I am in a meeting and I know another meeting will not be scheduled over that time. This also helps me stay focused because I know that once I get through my list, I can take a break!
Change your scenery
Some people prefer to always have a dedicated office space but I prefer to change the scenery. With all of the remote work essentials listed above, I can set up my office anywhere. Sometimes I am re-motivated by simply trying out a new coffee shop or even a different seat in the apartment!
It is amazing that remote work is growing which makes travel so much more accessible to everyone! These remote work travel essentials will increase your productivity, which will ultimately increase your revenue.