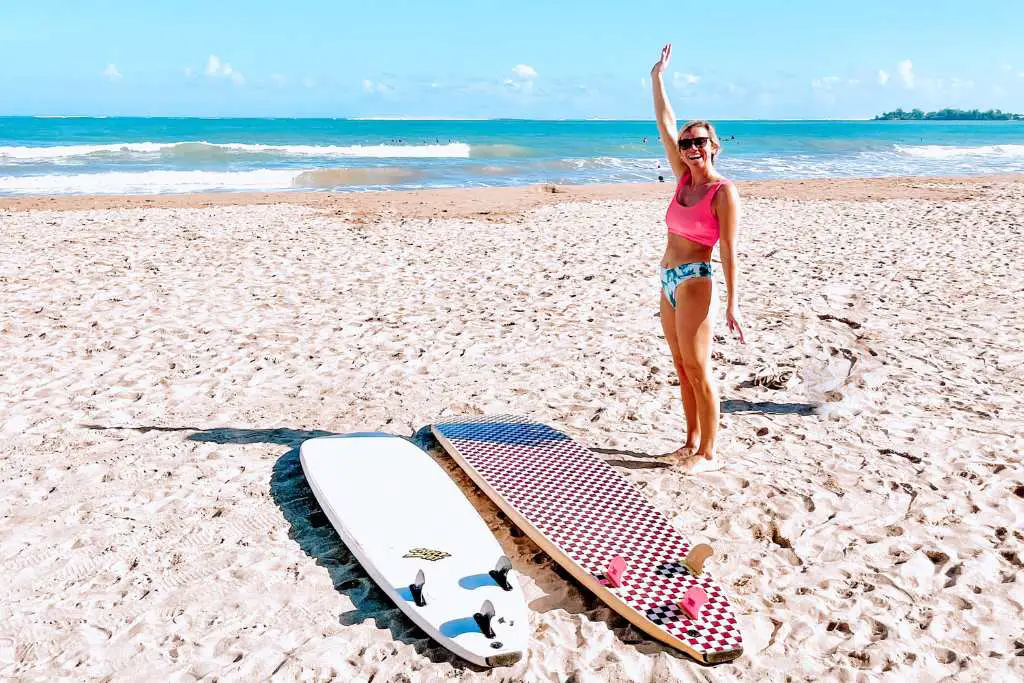 The entire San Juan coast is covered in beautiful beaches which makes it overwhelming to know exactly where to experience them for yourself. This list of the 5 best beaches in San Juan will help you decide which beach is right for you to explore!
We lived in San Juan for a month and loved exploring all of these different beaches. There are pros and cons to each but really all of the beaches in San Juan are stunning. People from all over the world fly to San Juan just to experience these beautiful beaches!
Safety on the beaches
Lifeguards on duty
Puerto Rico is known for its great surfing because there are some seriously big waves! For the most part, there are no lifeguards on duty on these beaches. If you are not an experienced swimmer, we do not recommend going in the water. If you are bringing your children, keep a very close eye on them while on the beach.
Theft
In our experience, the beaches in San Juan were very safe. Puerto Rico in general has a reputation for being sketchy and dangerous but honestly we never felt that. While we were on the beaches, we would freely go in the water during surf lessons and leave our belongings on the beach and never had an issue. At one point we even asked some friendly neighbors to watch our belongings while we went for a walk on the beach. We felt much safer here compared to beaches in Southeast Asia.
With that said, it is always smart to err on the side of caution. If you decide to go for a walk and leave belongings behind, take your electronics with you. If you go in the water and leave your belongings on the beach, at least hide your electronics within a bag or take your phones in with you in a waterproof bag!


Drinking on the San Juan beaches
In short, the answer is yes, you can drink on the San Juan beaches.
If you google "is drinking allowed on the beaches in San Juan?" the answers are very mixed and unclear. We were nervous about this before heading there. After proper observation, it was clear that there are no strict alcohol rules on the beaches. Most groups of people are freely drinking on the beaches. We would make our own cooler of beers and bring them down to save some money. On the weekends there are locals walking up and down selling different cocktails and beers.
It is always smart when drinking in public to use a koozie over your beers or pour your drinks into a cup!
Pro tip: Try the local beers! Medalla or Ocean Lab Brewing Co are our favorites.
How to get to the San Juan beaches
We chose not to rent a car in San Juan because Ubers are so accessible. We ubered all over the island to explore all of the best beaches in San Juan. If you are renting a car, keep in mind that parking may not be accessible in all of these areas. It may be tricky to find a spot nearby, although not impossible as it is common to rent a car in San Juan!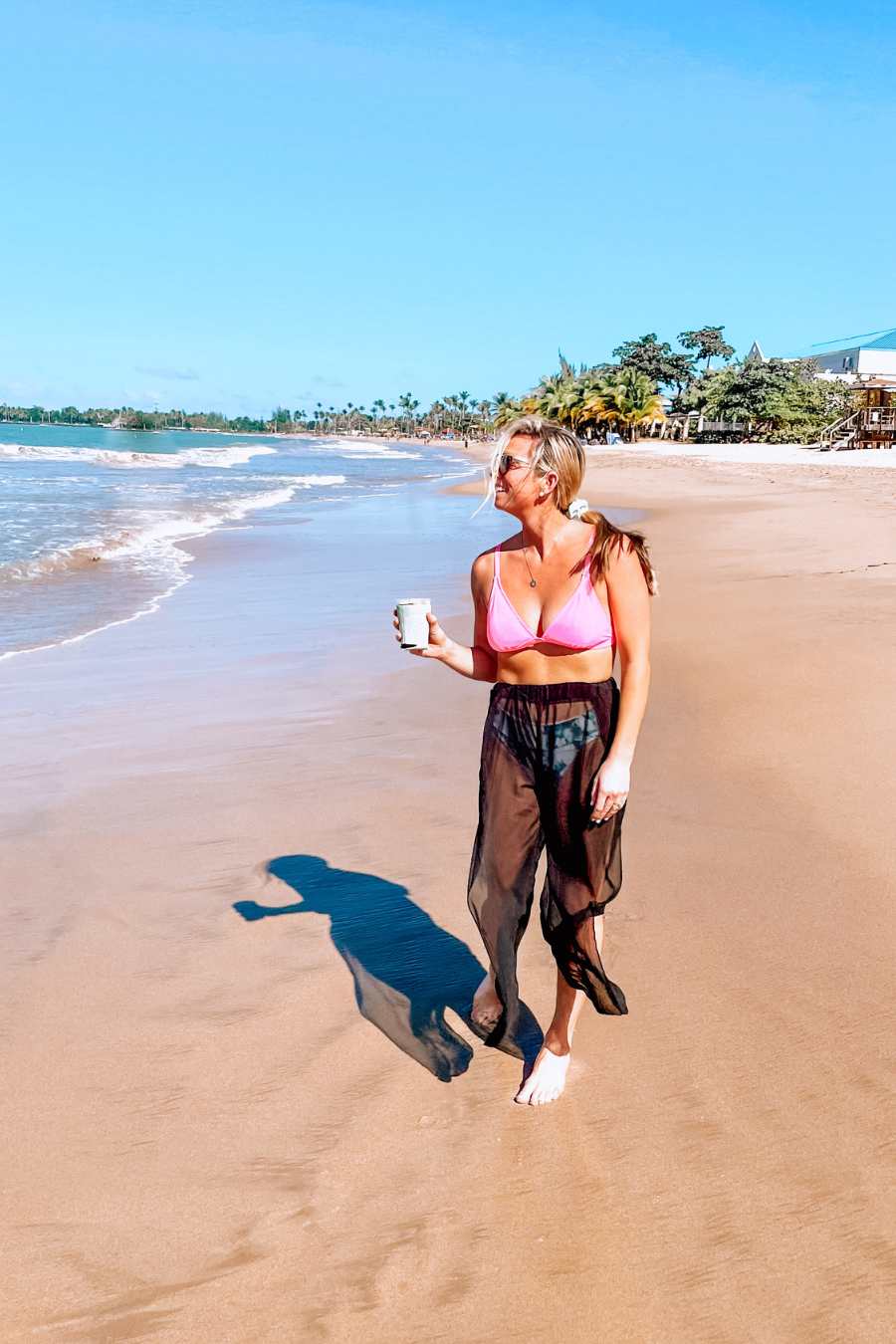 The Best Beaches in San Juan
Isla Verde
Isla Verde beach is located about 25 minutes from Old San Juan and very close to the airport. This is where the majority of beach hotels are located. Isla Verde is one of the best beaches in San Juan because of the stunning white sand coast and beach bars.
Our favorite area of Isla Verde is at Mojitos Bar which is located right on the beach with affordable mojitos. From what we saw, it is a little more laid back beach area. You can rent lounge chairs and just relax. The water is also pretty calm here.
Ocean Park
Ocean Park is our favorite beach in San Juan. It is located about 12 minutes from Old San Juan and is walkable from Calle Loiza and Condado, depending on where in Condado you are staying. Our airbnb was about a ten minute walk to Ocean Park along the beach!
What makes Ocean Park one of the best beaches in San Juan truly is the environment. There is always a fun crowd and good vibes. Normally beaches like this would seem crowded, but somehow it is lively without feeling packed!
There are bars along the beach in Ocean Park but it is very common to show up to this beach with your own chairs, bluetooth speaker and cooler of beers. Numero Uno Beach Hotel is one of the best bars in San Juan and a great place to enjoy a cocktail right on the beach. This is also an easy entrance to the beach! If you bring your own beers and run out there is a market one block from the beach behind Numero Uno Beach Hotel.
Aviones
Aviones is located about 35 minutes from Old San Juan and is a highly recommended beach by the locals. Our surf instructor actually told us about this beach area and it is worth the experience. This is a great area to vibe with the locals and watch some pros catch the surf!
Out of all of the best beaches in San Juan, this one has the most bars and restaurants directly across the street from the beach. There are also local food trucks and carts to try all along the beach.
Condado
Condado is probably one of the most famous beaches in San Juan. It is only about 10 minutes from Old San Juan and one of the more touristy spots to visit. Just because it is touristy though does not mean it is not one of the best beaches in San Juan.
This beach area is the one that feels the most like you are in Miami. There are hotels and clubs nearby lining the beach. Although the beach and water is very beautiful, the water here is very rough so swimming is highly discouraged.
Use code JLJ10 for 10% off all eSIM purchases.
Tortuga Beach on Culebrita Island
Ok so this beach is not per say near San Juan, but it is worth mentioning as an epic day trip during your time in Puerto Rico. Culebra island is a major day trip from San Juan with beautiful beaches. Tortuga beach on Culebrita Island is one of the best beaches that people visit while visiting San Juan.
Something to note: This beach can only be accessed by water taxi. It is much smaller and less touristy than other beaches on the island! It is absolutely stunning and known not only as one of the best beaches near San Juan but also in the world.
Additional San Juan Resources
San Juan is covered in a beautiful coastline and home to some of the best beaches in the world. Let us know in the comments if there are any other beaches that should be added to this list!