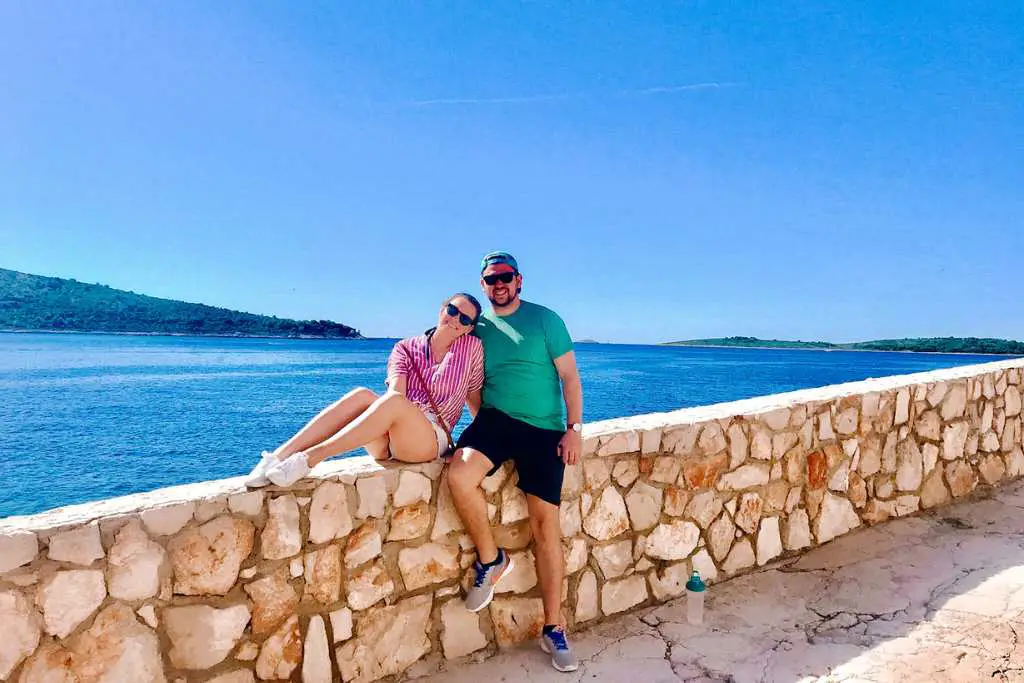 Croatia is by far one of our favorite countries and Split is the top of the list for places to visit in this amazing country! Split is filled with so much beauty, history and fun. It is also one of the more centrally located coastal cities in Croatia. Many travelers opt to use Split as a home base when exploring other islands around the country as well. This post will walk you through the best things to do in Split, Croatia. We will cover everything from where to stay, eat, drink and explore in Split!
When to visit Split, Croatia
Croatia has a similar climate to Italy, so technically it is beautiful to visit all year. Since the majority of Croatia is on the Adriatic Sea, it is definitely a great place to visit in the warmer months to enjoy island hopping on the beautiful water! The peak time to visit is between the end of May to the beginning of September.
You may get lucky with warm enough weather to enjoy some time on the water from mid April until the beginning of October. If you opt to visit Croatia outside of the high tourist season, the water will be warmer towards the end of September in comparison to April and beginning of May. If beaches aren't your thing, the Christmas market in Zagreb are consistently considered one of the best in all of Europe. There are also Christmas markets in Split, Šibenik and Dubrovnik.
How to get to Split
Depending on your Croatia Itinerary, there are three main airports to fly into.
Split (SPU) will put you slightly north of the middle of Croatia and in a perfect home base on the water to explore the popular islands of Brac, Hvar, and Solta. This is the best airport to fly into but may be more expensive as it is a smaller airport. You can either take a cab or an Uber from the airport to your housing.
Zagreb (ZAG) will put you in Northern Croatia, however, this capital city is located a few hours inland. Flights are typically cheapest to fly to this hub and there are buses that you can take to easily get yourself to Split!
Dubrovnik (DBV) will put you in the very south of Croatia in the city made famous from Game of Thrones as it is the location for King's Landing. Depending on your overall Croatia Itinerary, you can start your journey here and then ferry to Split!
Ferry: You can also ferry into Split and Dubrovnik from different parts of Italy. The ferries are easy to access and book to and from different islands!
Currency and tipping
Croatia started using the Euro in 2023. Typically you can expect the cost of a beer to be between $3 – $5, a cocktail to be between $5 – $7, and a glass of wine to be between $4 – $6. You should be prepared to pay for some meals or drinks with cash as many establishments are still cash only.
Tipping is not entirely customary in Croatia when out at bars or restaurants. However, if you really enjoy your service it is polite to tip 10-20%. If you are sailing in Croatia then it is customary to tip 15-20% of the boat cost at the end of the trip.
Where to stay in Split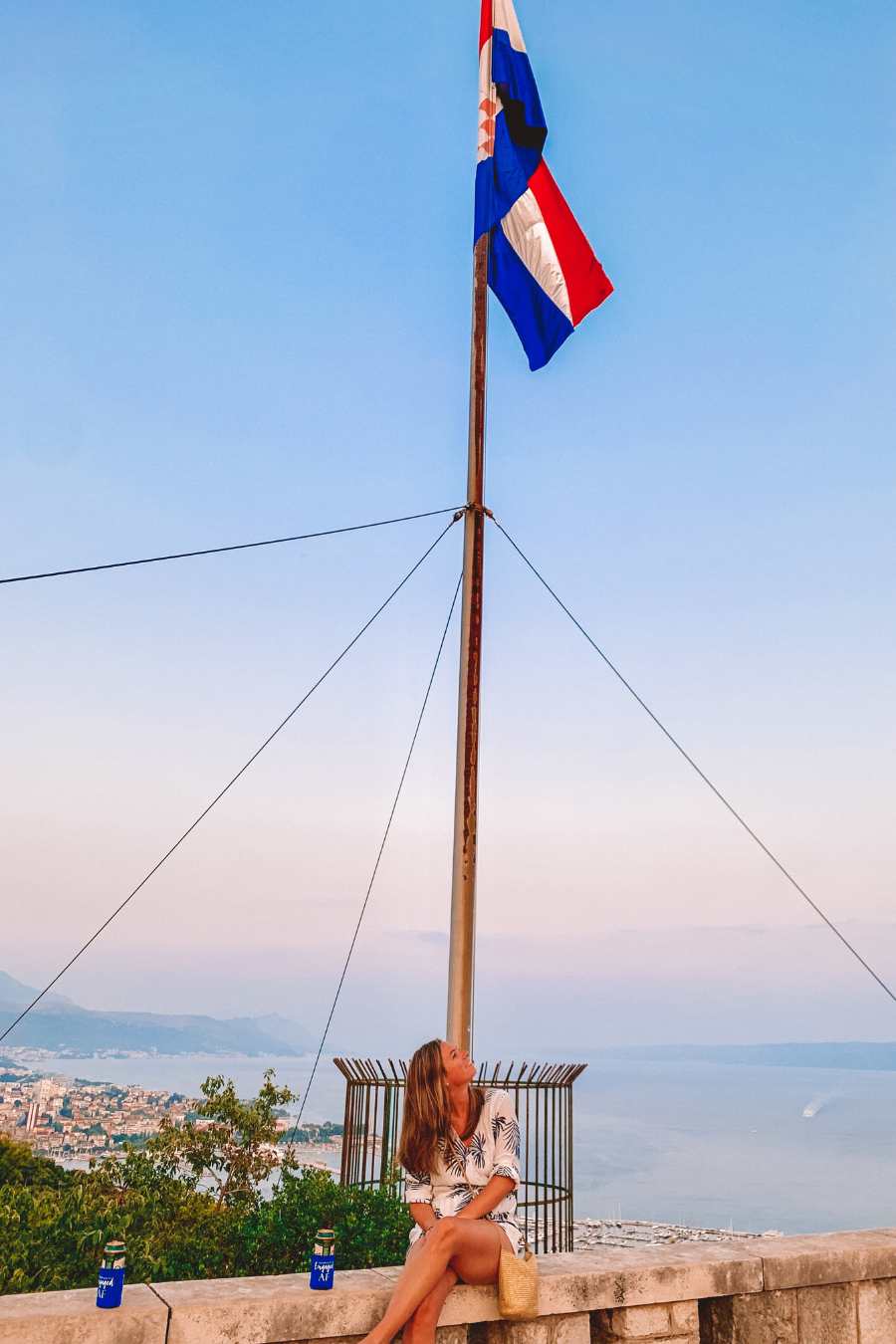 Since Split is such a walkable city, there is no wrong location to stay. We always recommend staying close to the Palace if possible because that is where most of the bars and restaurants are located. By looking at places near city center, you will also be a short walk to the water! Luckily Split is a great city to visit on a budget so there are lots of housing options close to the center.
Depending on your budget and group size, there are tons of great Airbnb options in Split. We highly recommend looking there before booking a hotel or hostel! Here are some other great hotel options if that is more your vibes.
Luxury hotels
The best mid-range hotels
Boutique Housing Options
The best place to stay in Split on a budget:
Food in Split: What and where to eat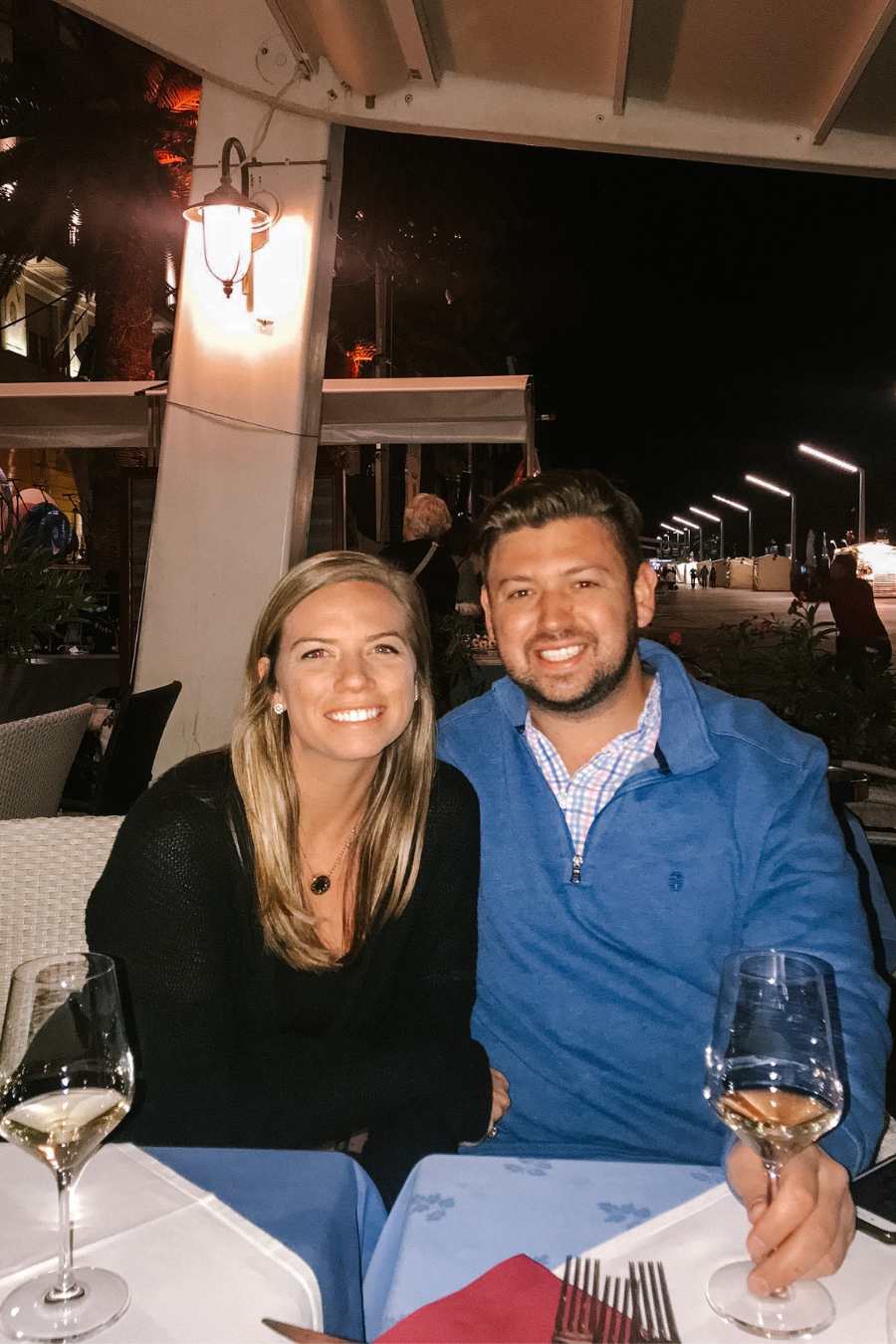 What to eat in Split
Split has an interesting history with from being the home to Roman Emperor Dioclesius, to a period of autonomy lasting until 1420. From 1420 to 1797 Split was ruled by the Venetians. Following the Venetian rule, Split fell under Austrian control and then briefly by the French.
Knowing the history of Split sheds a lot of insight into the food in the area. Due to the lengthy rule of Venice there are ample pasta and pizza dishes to be found. Since it is located on the Adriatic, our favorite food to eat there are varieties of seafood, pasta and pizza. From the Austrian rule it is also common to see Schnitzel served. There are tons of food options!
The best restaurants in Split
Where to drink in Split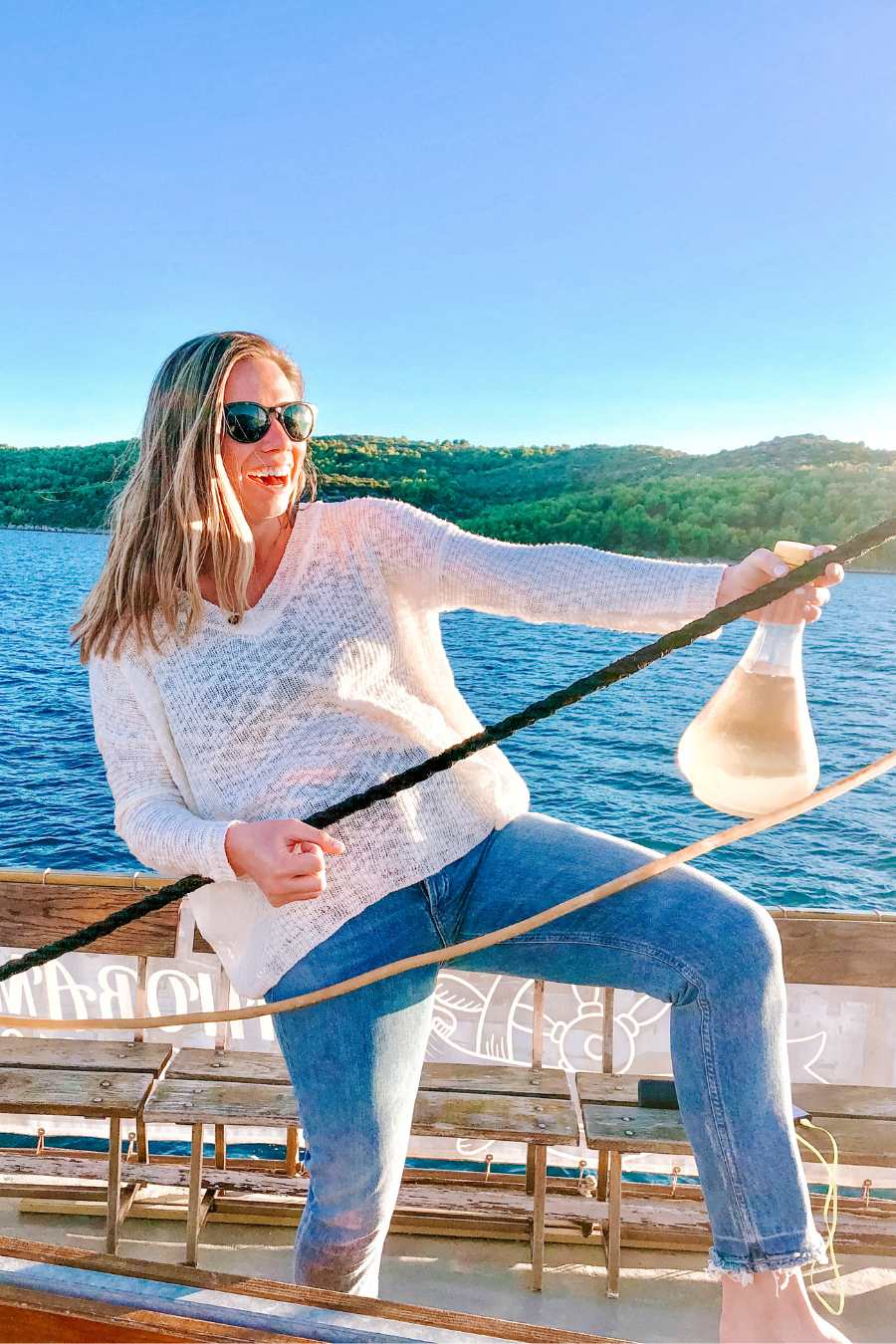 The Best Bars in Split
Split is home to some of the best bars in the world from sipping on a fancy cocktail to having a big night out with friends. Below are some of the best bars in Split!
Things to do in Split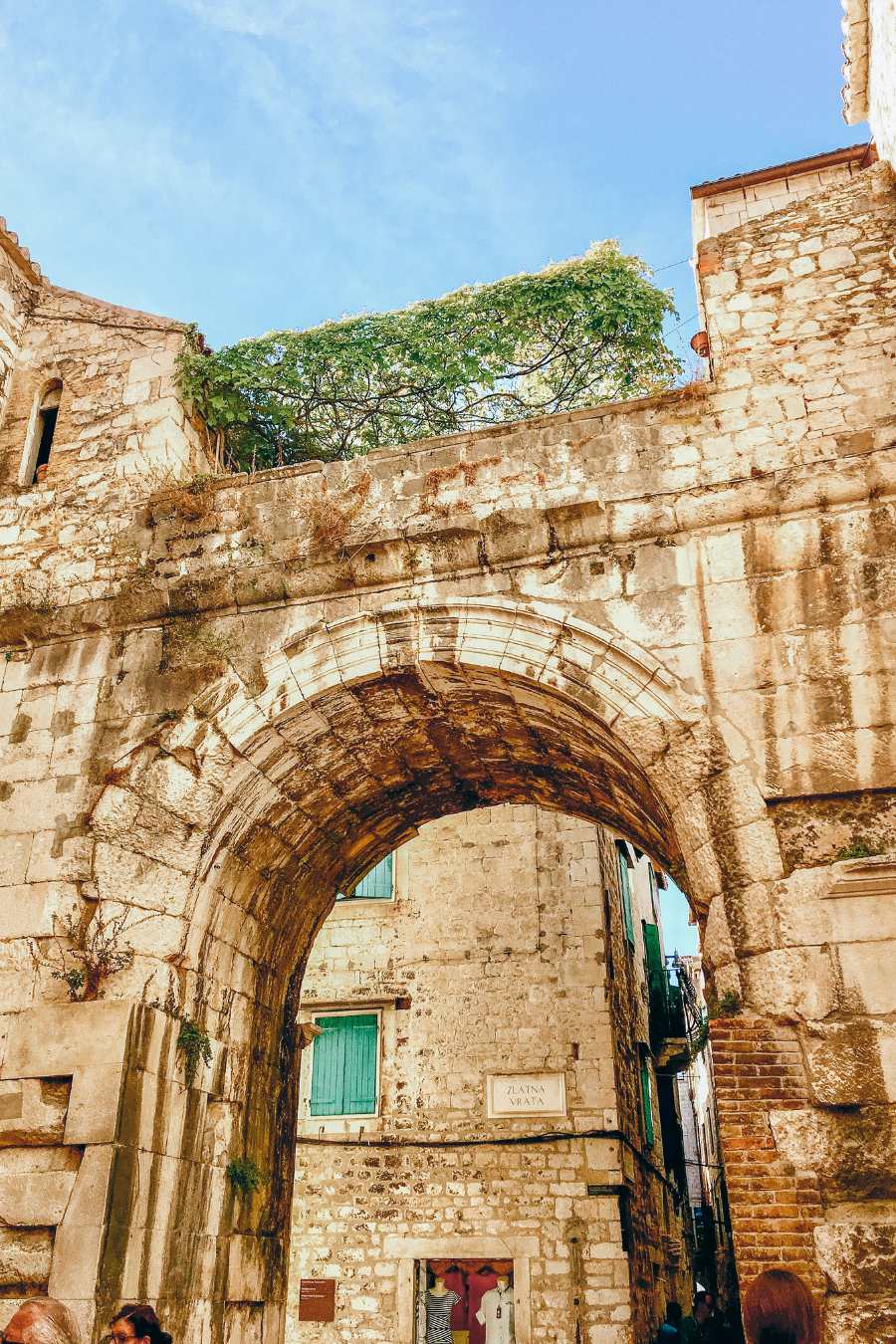 Do a walking tour of the Diocletian Palace
The Diocletian Palace is one of the most beautiful and fascinating palaces in the world. Every time we go back, we are in awe of the palace's complexities and beauty. Take time to walk around and learn the history of this landmark!
Explore the underground aqueducts
This is just one more example of the expansive history in Split. The aqueduct tour will take you through underground tunnels that used to be aqueducts and critical to the city's livelihood.
Watch the sunset at the top of Vidikovac
It is a bit of a hike to the top of the mountain but it is by far the best sunset spot in Split! You can see views of both Split and Trogir.
Use code JLJ10 for 10% off all eSIM purchases.
Climb to the top of the Peristil
Take in the views from the center of the Palace by climbing to the top of the Peristil!
Yacht shop in the Split Marina
This is one of our favorite activities in Split, especially when balling on a budget. The Split marina is filled with stunning boats of all shapes and sizes, grab a coffee and window shop your favorites!
Have a beach day at Bacvice Beach
This is actually one of the only sand beaches in all of Croatia! It is a great spot to relax by the ocean for the day and soak up the stunning weather in Croatia.
Day Trips to take from Split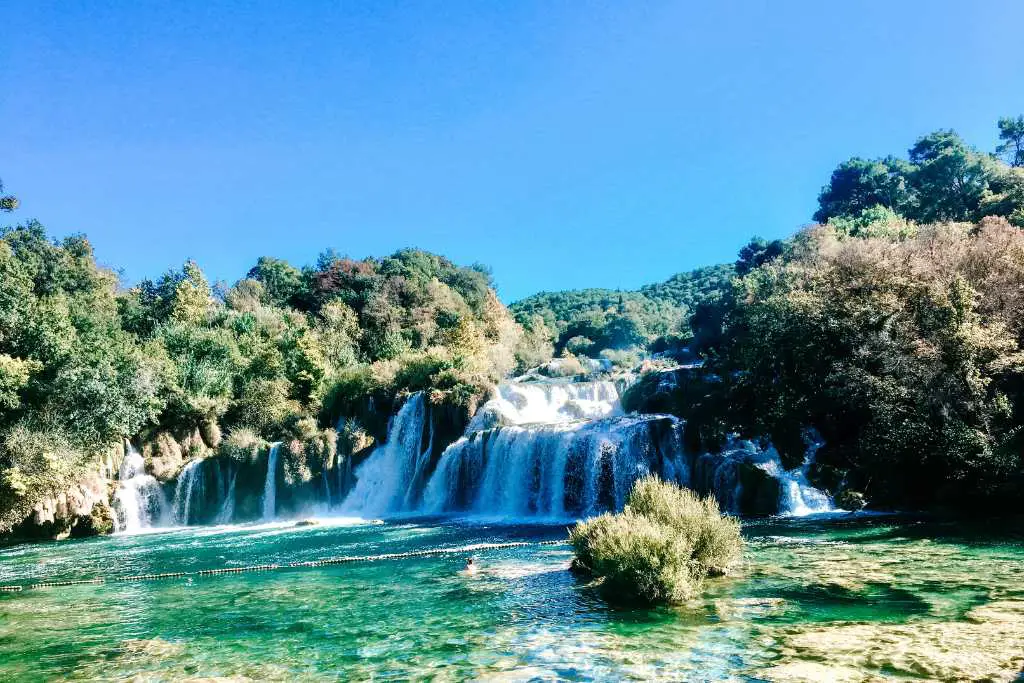 In our 10 day Croatia Itinerary, we recommend using Split as a home base to explore areas of Croatia. Ferries and cars are very accessible from Split and it is the hub to the rest of Croatia!
Krka National Park and Plitvice Lakes National Park
This is probably the most popular excursion in Split for good reason! This national park and the waterfalls are absolutely stunning. There are several companies that run organized trips to take you there from the city center or you can rent a car for the day and drive yourself.
Road trip up the coast
Rent a car for the day and drive up the coast to see absolutely gorgeous views and beaches around Split, Croatia. We recommend stopping in Primosten and Zadar before hitting Krka National Park. Due to the length of the drive and the time you will want to explore each location, this day trip will take about ten hours. If you decide to rent a car, we recommend booking through Discover Cars!
Visit the city of Zadar
Zadar, Croatia is a coastal town a little under two hours from Split. This is a great city to drive and explore a new area of Croatia! Zadar is not totally on the "hot" Croatia radar so the town is typically less crowded than other cities. It is also known for serving up amazing wine and seafood!
Explore the town of Primosten
This beautiful walking town an hour from Split is on a peninsula with a twin peninsula across the bay. Explore the streets and climb to the top of Primosten town for a beautiful coastal view. You can also walk to the twin peninsula across the way which is home to one hotel but otherwise uninhabited with beaches lining the entire peninsula.
Go explore the famous town of Hvar
Visiting Hvar Town can be a day trip from Split, however, we suggest spending at least one night in order to truly experience more of what Hvar has to offer. Hvar Town is a beautiful coastal town and known for some of the best beach bars in Croatia. There is also a castle at the top of the town that provides epic views of islands all along the coast of Croatia! The easiest way to get to Hvar from Split is by taking a ferry.
Check out one of the coolest beaches in Brac
Brac is one of the closest islands to Split and an easy ferry. The best way to explore the island from Supetar (the Brac ferry port) is to rent a scooter or ATV and go up and around the island. Brac is home to Zlatni Rat which is a beautiful beach extending into the sea which shifts slightly throughout the day with the tides. It is definitely one of the coolest beaches in the world!
The Three Island Tour to explore the Adriatic Sea
The Three Island tour is one of our favorite ways to spend the day on the water in Croatia and see different areas of the islands. The tour departs from Trogir which is only a 30 minute taxi or Uber from Split.
Take a bus to Klis Fortress
Croatia is known for their many filming locations of the famous show Game of Thrones. Klis Fortress was used as the filming site for the city of Mereen in Game of Thrones. You can pair this tour with a Game of Thrones walking tour of the Diocletian Palace.
Transportation around Split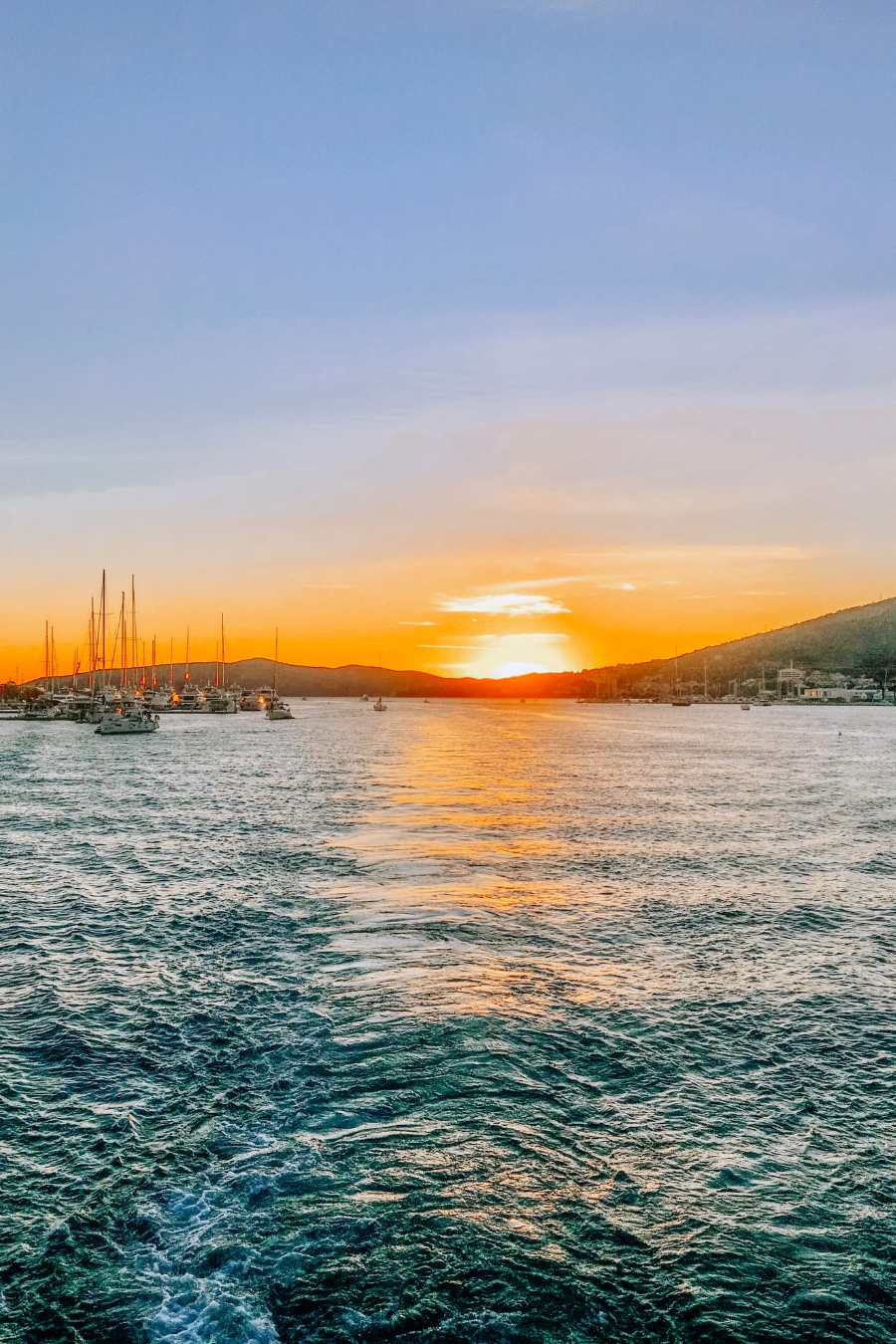 Split itself is a very walkable city so there are few places that you will need to taxi to while staying within the city itself. The easiest way to get to and from the airport, Trogir or the ferry terminal is a taxi or uber. Ubers have been hit or miss but taxis are still very prevalent in Split!
If you are taking any organized day trips from Split, they will most likely leave from the Split bus station which is a short walk from the Palace. If you plan on exploring any of the nearby towns and cities, the easiest way to do this is to rent a car and drive along the coast.
Safety in Split
Just like any big city, there is crime in Split but this should not deter you from visiting! Typical crimes against tourists are pickpocketing, especially in crowded tourist areas. Always stay alert when walking and keep your belongings safely zipped on your body. We have always felt safe walking around Split day and night!
Additional Europe Resources
---
We hope this post on the best things to do in Split, Croatia helps plan your trip this amazing city! Let us know in the comments your favorite thing about visiting Split or if we missed any big must-do activities.