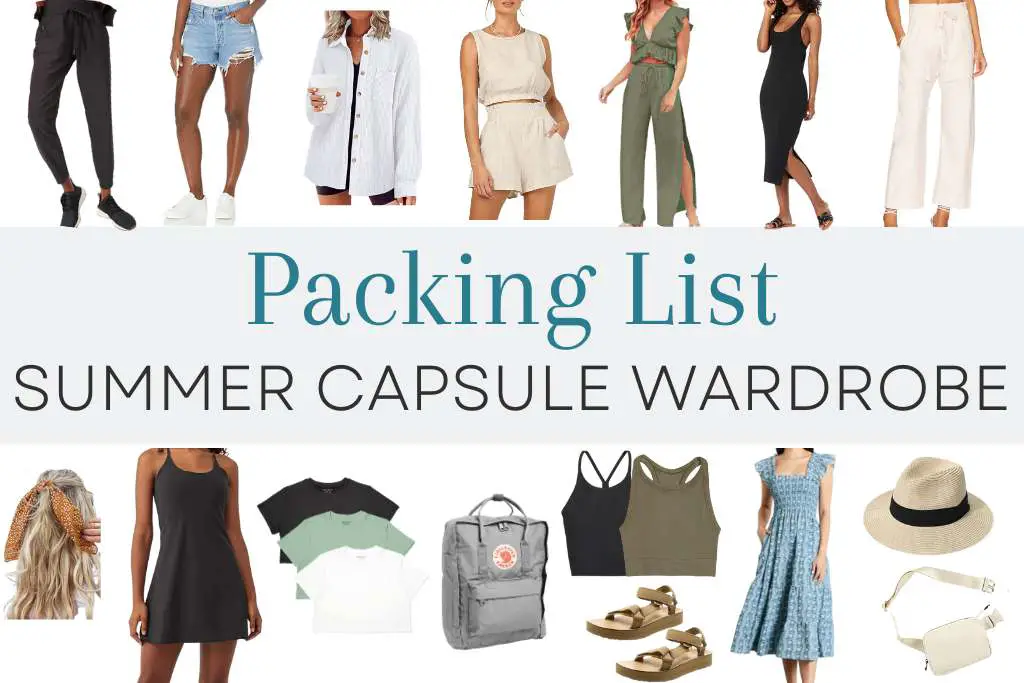 One thing I am extremely passionate about is building packing lists to travel more efficiently. If you're looking to pack light without sacrificing style, a summer travel capsule wardrobe is the perfect solution. I have traveled in a carry-on backpack since my first backpacking trip in 2019 and I want to encourage you to take the leap and start packing lighter. Packing lighter actually takes stress out of your trip when you know exactly what you will wear for any occasion!
Most capsule wardrobe blog posts only show very neutral colored clothes. Personally, I love adding a pop of color to my wardrobe. I believe it is absolutely possible to pack light and still create a capsule wardrobe while adding a few different color options! Of course if neutrals are your thing, then building a capsule wardrobe should be easy.
In this blog post, we'll share some tips to build a travel capsule wardrobe and a complete packing list. No matter where your next warm weather trip is, you'll be ready to pack light with this summer travel capsule wardrobe!
What is a travel capsule wardrobe?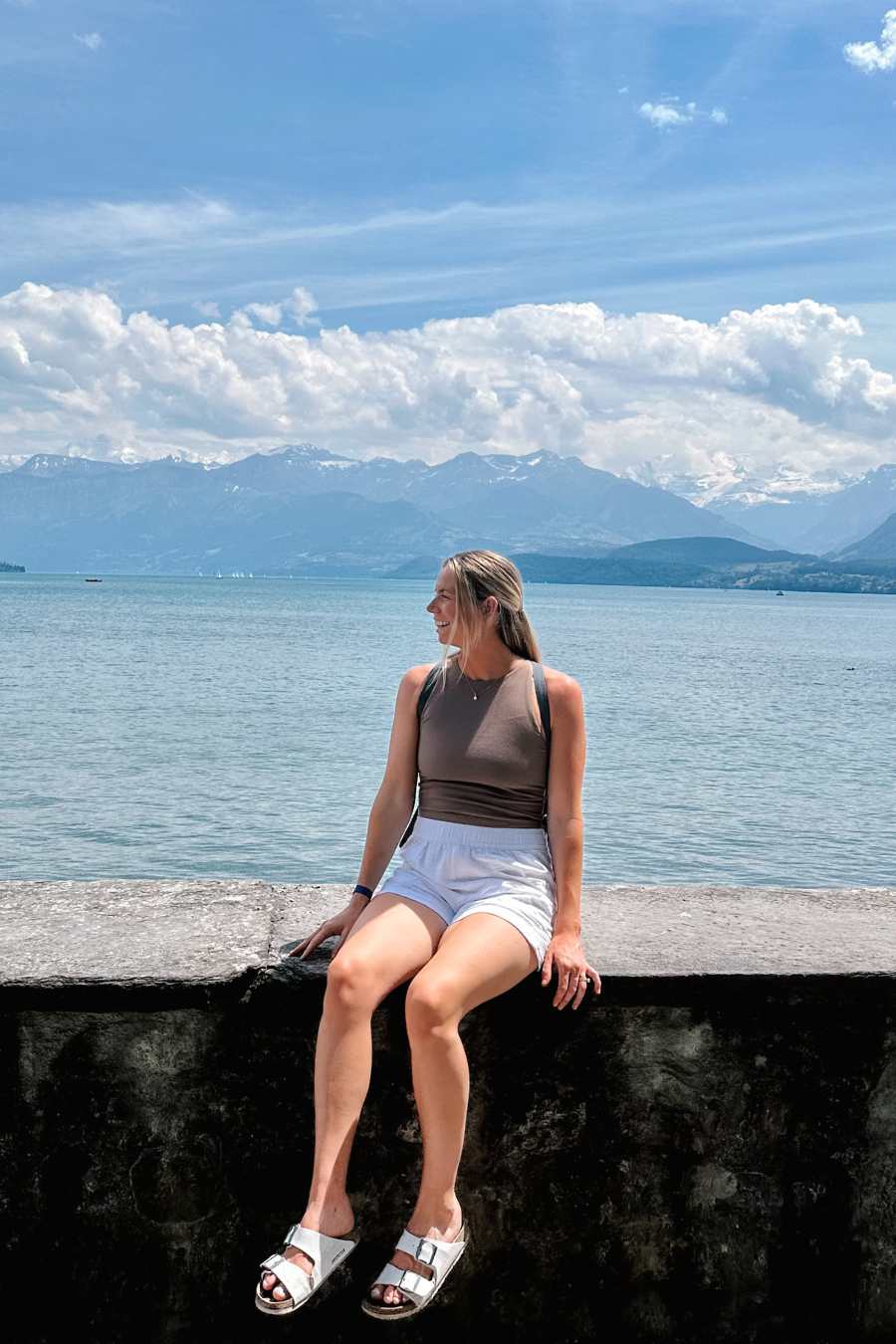 A capsule wardrobe is a small collection of versatile clothing items that can be mixed and matched to create multiple outfits. Building a capsule wardrobe makes it easy to pack for a trip, as you only need to bring a few essential pieces that will all match each other!
The best part about building a capsule wardrobe is that you tackle all decision fatigue before you leave for your trip. Have you ever been on vacation and thrown all of your clothes around your hotel room while trying to decide what to wear? That uses both your valuable time and energy that should be better spent while traveling! Instead of deciding what to wear, enjoy an extra poolside cocktail or chapter in a book. Packing light with a travel capsule wardrobe frees up time and space both physically and mentally.
Tips for choosing your travel capsule wardrobe
Only pack items that you truly love
Every item in your summer travel capsule wardrobe should be one of your favorite clothing items. Think of packing light for travel like listening to your favorite Spotify playlist – you never want to skip a song! You should look and feel totally confident in every single thing in your bag.
Choose a color palette
A basic color palette will help you narrow down your choices and make it easier to mix and match your clothes. While neutral colors like black, white, brown, gray and navy are the standard choice, feel free to choose a few pops of colors as well! Remember that just because you are trying to efficiently pack for travel, does not mean that your personality should not shine through your capsule wardrobe.
Choose items that match each other
Mixing and matching items is the key to becoming a capsule wardrobe professional. You should be able to turn your few items into multiple outfits by mixing and matching the different pieces of your summer capsule wardrobe! My personal favorite way to choose items that match each other is to pack neutral colored matching sets. These are the best to wear as a set or with any of your other tops/bottoms that you pack!
Choose versatile clothing items
Another huge factor in making the perfect capsule wardrobe is to find clothing items that work for multiple occasions. The best way to find versatile clothes is to look for items that can be dressed up or down. For example, a pair of white linen pants can be dressed up with a nice tank top and sandals for an evening out or dressed down with a t-shirt and sneakers for a morning coffee walk. There are also so many dresses that can be worn for multiple occasions. Keep reading to find some of my favorite versatile pieces to add to your capsule wardrobe!
Pack lightweight accessories
Accessories are a great way to add some flare to your summer travel capsule wardrobe without taking up much space in your bag. Accessories can bring out your unique personality and also help you dress up or down your outfits. Scarfs, hair scarfs and earrings are a few accessories that add pizzazz to your capsule wardrobe!
Organize your toiletries
Toiletries often take up way more space than they should when trying to pack light for travel. You don't want your perfectly crafted capsule wardrobe to go to waste because your toiletries are not packed efficiently! This is by far the best bag to organize your toiletries. For more information, here is the ultimate guide to packing toiletries like an expert for travel.
Summer Travel Capsule Wardrobe Packing List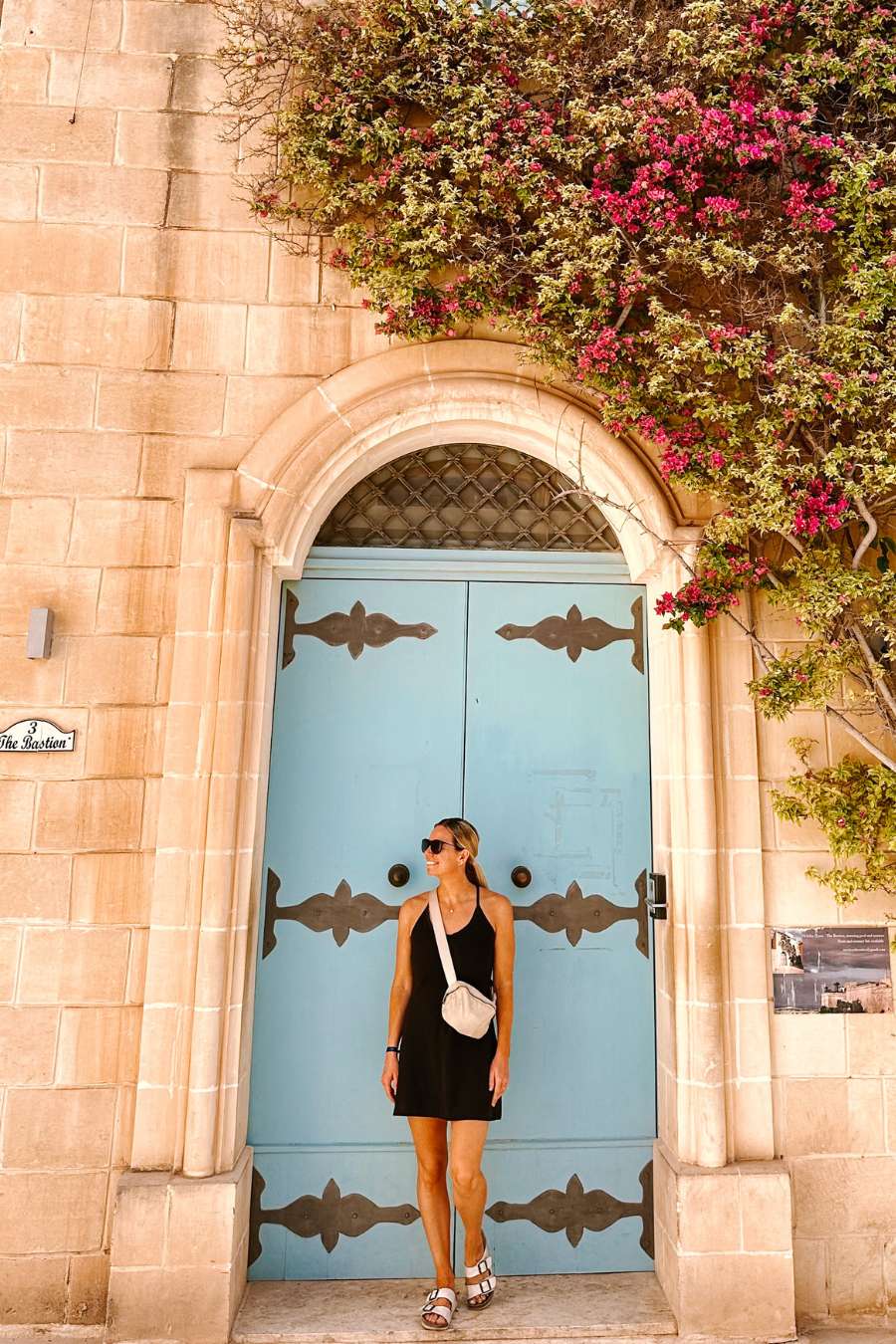 Below is a breakdown of all of the clothes you need for the ultimate warm weather travel capsule wardrobe. There is no need to check a bag from now on because this packing list should easily fit in a carry-on bag! If you are looking for the best carry-on bag to bring on your next trip, read the best bags for travel here!
Tops
2-3 t-shirts
2-3 tank tops
Bottoms
1 long pants
1 joggers
1 jean shorts
1 lightweight shorts
Dresses
1 short dress or romper
1 long dress
1 exercise dress
Swimwear
Outer layers
1 rain jacket
1 lightweight sweater
Accessories and bags
2 earrings
2 hair scarfs
1 wrap scarf
1 belt bag
1 day backpack
Tops to pack for your summer travel capsule wardrobe
T-shirts: Basic t-shirts are a must-have for any summer travel capsule wardrobe. They're versatile, comfortable and easy to pack. They can also be dressed up or down depending on the occasion! Choose a few neutral colors that you can easily mix and match. This three-pack on Amazon is one of my all time favorites to always pack for travel! This classic long-sleeve shirt is also a staple in my wardrobe for chillier days!
Tank tops: Tank tops are another summer travel essential because they will keep you cool and can be dressed up or down. Pair them with shorts or pants for a casual look, or dress them up with a skirt or dress for a more formal occasion. The Old Navy has some of the best tank tops I have ever found. This four-pack on Amazon is also great to match multiple bottoms!
Bottoms to pack for your summer travel capsule wardrobe
Long pants: Linen or any lightweight long pants are the only pair of long pants you need to pack in your summer capsule wardrobe. Choose a neutral color pair of pants that will match any of the tops listed above!
Joggers: A comfortable pair of joggers are perfect for travel days or lounging after a long day. This is my absolute favorite pair from Old Navy!
Lightweight shorts: Lightweight shorts are a great option for hot weather. They're cool and airy, and they're easy to pack! Also, they are perfect to dress up or down depending on the occasion.
Jean shorts: Jean shorts are a warm weather travel staple. Choose a pair that you absolutely love and will match any top that you wear with them! These classic Levi's from Amazon are my favorite.
Summer travel sets
Sets are my favorite clothing items to incorporate in a capsule wardrobe because you can actually make three outfits with this one outfit! By packing a set, you can wear it as the full set, the bottoms with a different top and the top with different bottoms. All of the sets below are versatile and will match all of the tops and bottoms listed above.
Dresses to pack for a capsule wardrobe
Short dress or romper: A short dress or romper is a great option for warm weather travel. These are great to transition from day to night and dress up or down. Have some fun here and choose a dress or romper that you really love and feel totally confident wearing!
Long dress: A long dress is another staple for warm weather travel. Choose a dress that is comfortable enough to wear all day long! Even though all of the color options are not neutral, this Hill House dress is my favorite travel dress. It is so versatile and can be worn to a museum during the day or a formal dinner in the evening. This is a great example of where to add a pop of color to your travel capsule wardrobe because you will not pair this dress with another article of clothing besides potentially an outer-layer. Below are a few other great long or midi dress options to pack!
Exercise dress: An exercise dress is a great option for a more casual look that can also be dressed up if needed. A neutral color will be your best option here since it will become one of your go-to easy outfits! I swear by the Outdoor Voices Exercise Dress.
Capsule Wardrobe Outer Layers
Rain jacket: Most likely you will need a rain jacket at some point on your trip! Choose a rain jacket that's lightweight and packable, so you don't have to worry about it taking up too much space in your suitcase.
Lightweight sweater or cardigan: A lightweight sweater is a good option if you're traveling to a place where it gets cool at night. Choose a sweater that's made from a breathable fabric, so you don't get too hot during the day. This button down is actually my favorite outer-layer for a summer travel capsule wardrobe because it can also be worn on its own and it will match everything!
Summer capsule wardrobe swimwear
When choosing which swimsuits to pack efficiently on a warm weather trip, it is best to choose neutral colors that you can mix and match with each other. Make sure to pack your absolute favorite swimwear so that you feel confident every time you put it on!
It is not necessary to choose a beach specific cover-up when planning your summer capsule wardrobe. It is best to choose a versatile dress that works as both a casual dress and also at the pool or beach!
Shoes to pack for a warm weather capsule wardrobe
Shoes are actually one of the easiest items to choose from when building your capsule wardrobe. It is straightforward – choose simple and comfortable shoes! You should be able to walk all day in each pair of shoes you decide to pack for the summer.
Versatile sandals: There are so many versatile sandals out there now that can be dressed up or worn casually on a beach day. Choose a neutral color and get ready to wear them almost everyday!
Basic sneakers: You will need a basic pair of sneakers that again, will match any of the clothes that are packed in your summer capsule wardrobe and are comfortable enough to wear multiple days in a row.
Capsule wardrobe accessories and bags
Accessories are the perfect way to add some unique personality to your travel capsule wardrobe without taking up more space in your bag! Be sure to add some accessories that will dress up your outfits for a night out.
Similar to shoes, the bags in your summer capsule wardrobe should be very neutral and versatile. A few examples of these are below!
Earrings: Choose a few pairs of earrings in different styles, so you can mix and match them to create different looks.
Hair scarves or hat: Hair scarves are a great way to completely elevate an outfit, especially if the outfit is all neutral colors. Choose a few hair scarves in different colors and patterns, so you can mix and match them to create different looks.
Lightweight wrap scarf: A wrap scarf is a versatile accessory that can be worn in a variety of ways. Use it as a scarf to cover your shoulders or a sarong at the beach!
Bags: The most important thing to consider when choosing which bags to pack for your capsule wardrobe is that they are able to be packed flat. They should not take up any additional space in your bag because they can be placed on the bottom of your bag or easily placed on top of your packing cubes! Two bags that I recommended bringing are a basic crossbody belt bag and then a small backpack to carry during a day trip.
Summer Travel Capsule Wardrobe Outfit Inspiration
This capsule wardrobe packing list would be incomplete with out showing some real examples of how all of the clothing items listed above can be worn as multiple outfits. See below how everything matches each other and with just a few articles of clothing, you have multiple outfit options!
Daytime outfits for a travel capsule wardrobe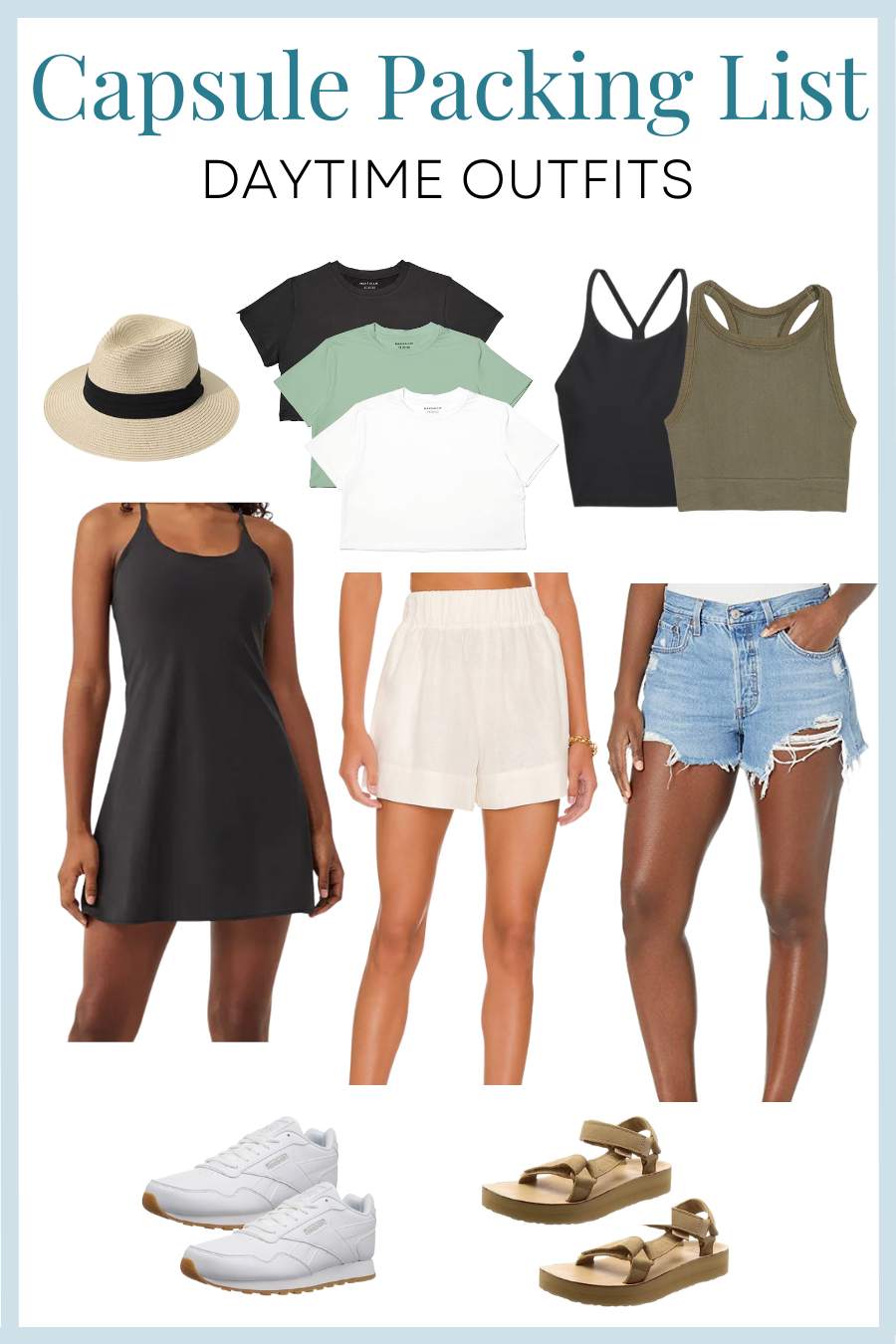 Evening outfits for a travel capsule wardrobe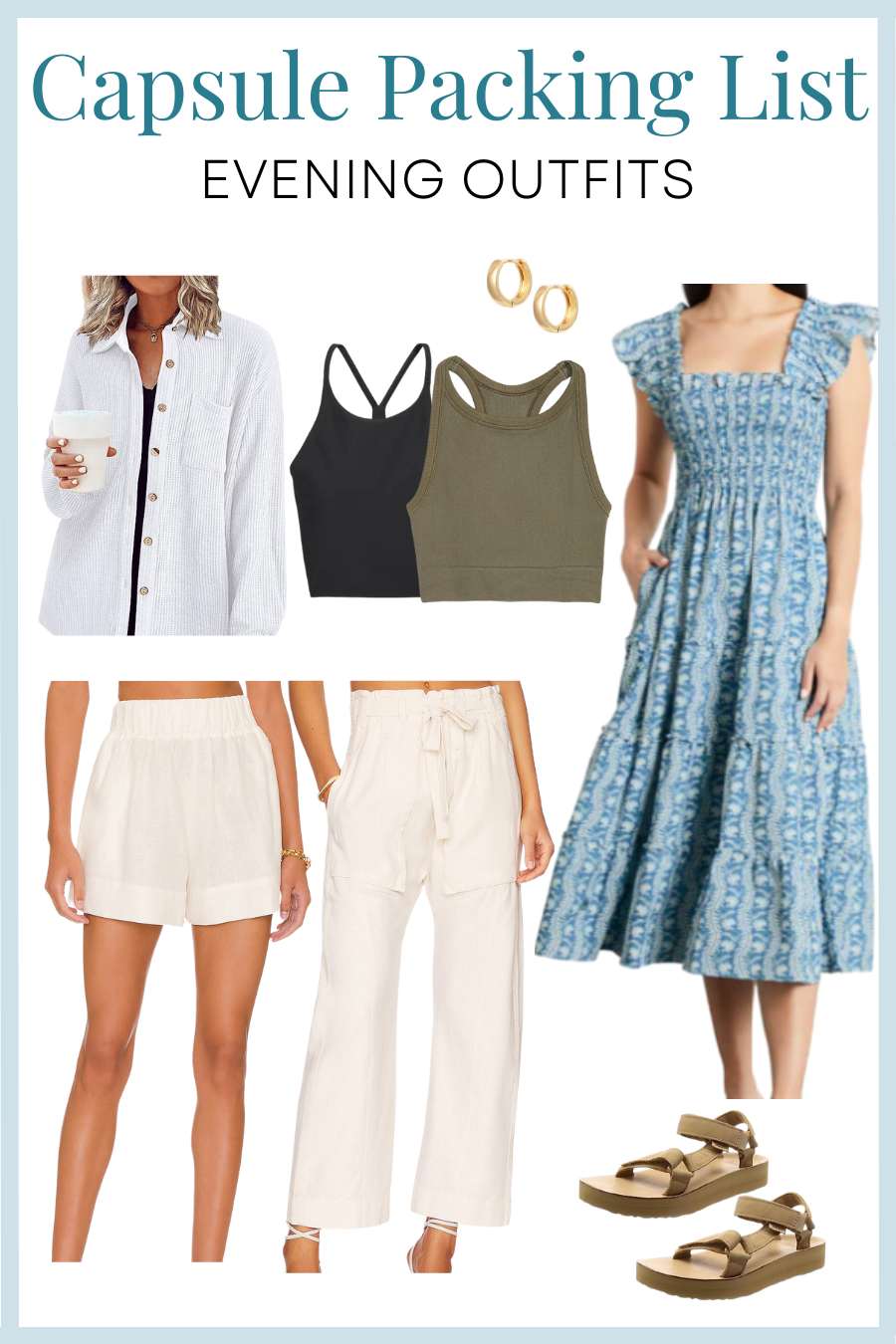 Travel set worn three different ways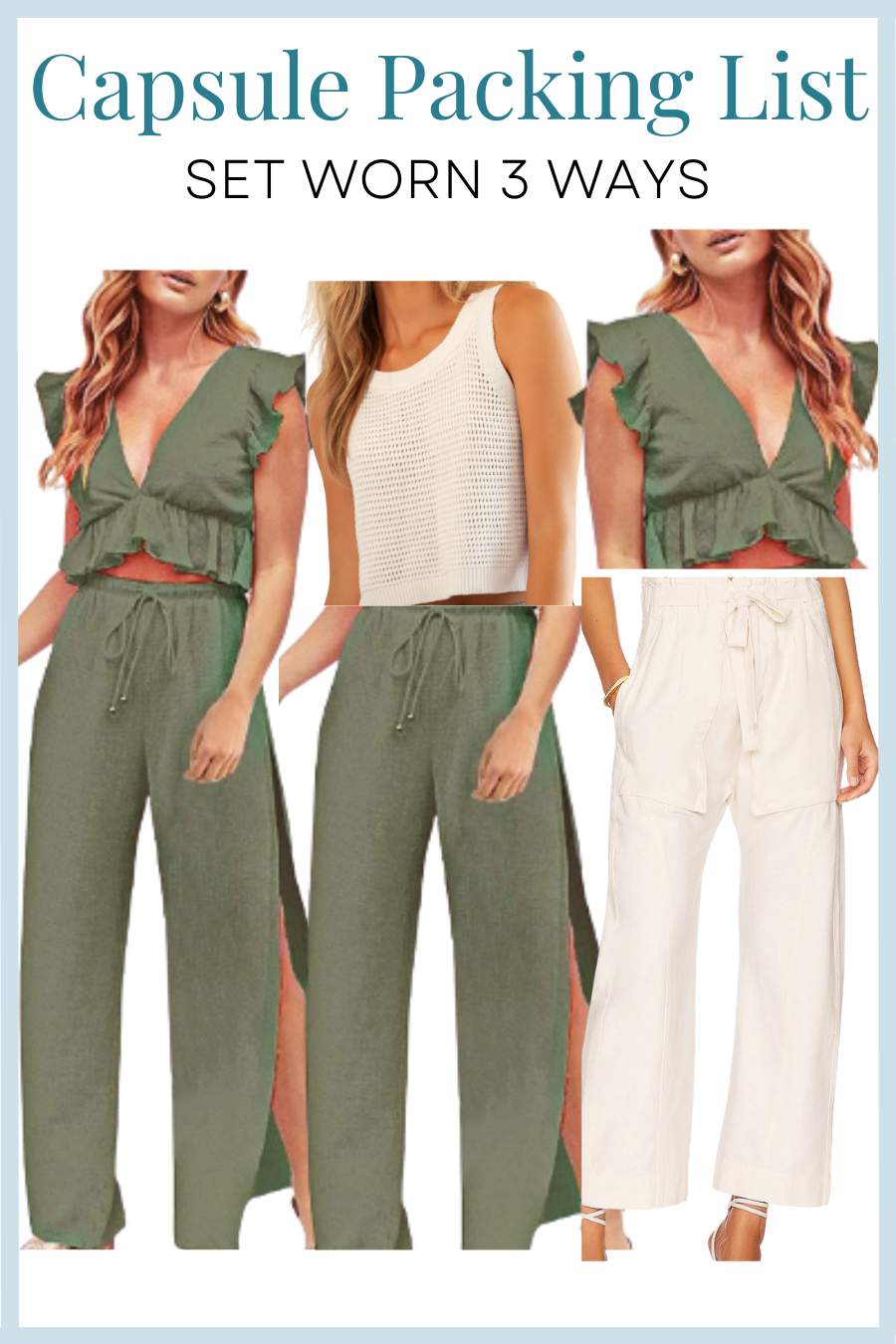 Packing Tips for a Travel Capsule Wardrobe
Use compression packing cubes
Compression packing cubes are an absolute essential part of packing efficiently. Not only will they allow you more space in your bag, they can also be used to organize your clothes into different categories. These are by far the best packing cubes on the market!
Take pictures of your different outfit combinations
Take pictures of your capsule wardrobe outfit combinations and create an album in your phone where they are all saved in one place. This saves you time when you are deciding which outfit to wear for an occasion and also ensures that you will not forget any important styling combinations!
Leave any questionable items at home
If you are slightly unsure if a clothing item should make the capsule wardrobe cut, most likely you should leave it at home. If you are unsure about it before you leave, you will definitely be unsure about it while you are traveling! It is ok to leave items at home. Remember that there are shops all over the world with great clothes. You can always add an item to your capsule wardrobe while traveling!
---
A travel capsule wardrobe is a great way to simplify your packing list, travel lighter and look great while you're on the go. By following the tips in this post, you can create a capsule wardrobe that is both stylish and functional. Let me know in the comments your favorite pieces in your capsule wardrobe! Be sure to browse our other packing guides to ensure you have all of your travel essentials before your next trip.
Additional resources: