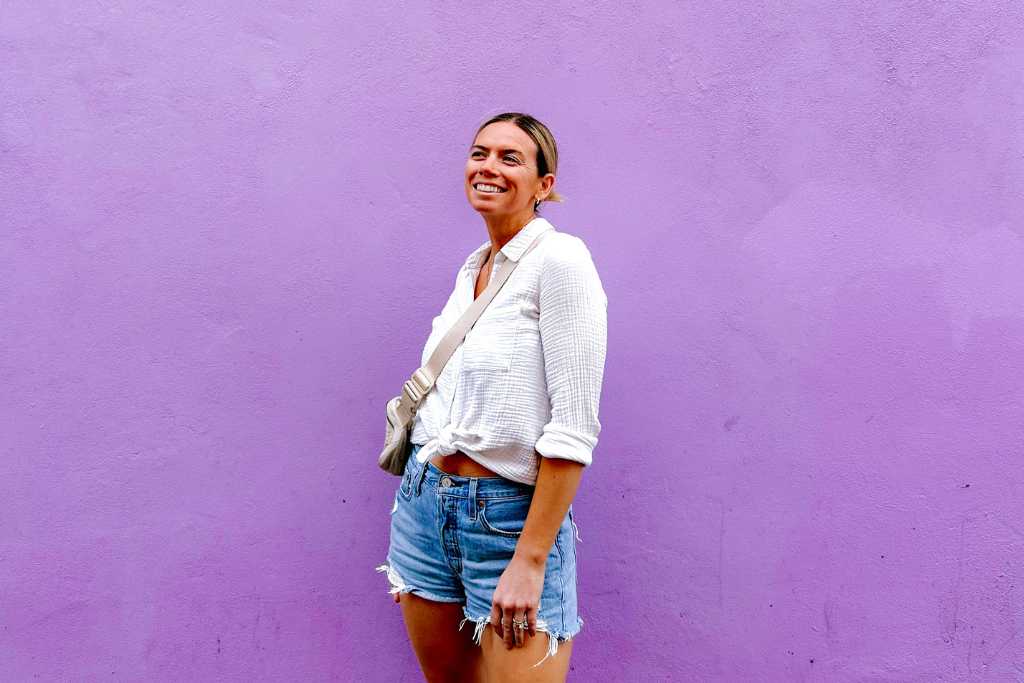 Let's get real here for a minute – it is always difficult to stay healthy while traveling! Between the planes, trains, cars and different hotel rooms, it is nearly impossible to stick to your typical routine which leads to fatigue and potentially illness. It is one thing if you are going on a quick weekend trip but once your trip lasts more than a few days, it is essential that you take some precautions to make sure you feel good the entire time you are traveling. There is also a difficult balance between enjoying yourself to the fullest and keeping your physical and mental health in check. In this post, we will talk through some realistic ways to stay healthy while traveling without sacrificing any travel fun!
We personally did not realize the importance of staying healthy while traveling until we became full time digital nomads. Travel burnout is very real and you want to avoid that if possible.
Bottom line is that in order to feel good and stay healthy when traveling, you need to practice some discipline. There are a few simple things you can do that will go a long way to make you feel better and give you longevity while on the road. If you practice these healthy habits at the start of your vacation, you will feel better for a longer duration. It is impossible to be perfect and execute on all of these healthy travel tips every day but as long as you try a few of these each day, you will feel better and healthy while traveling.
Please note that we are not health experts and are in no way liable for any medical or health advice that you follow from this post.
How to Stay Healthy when Traveling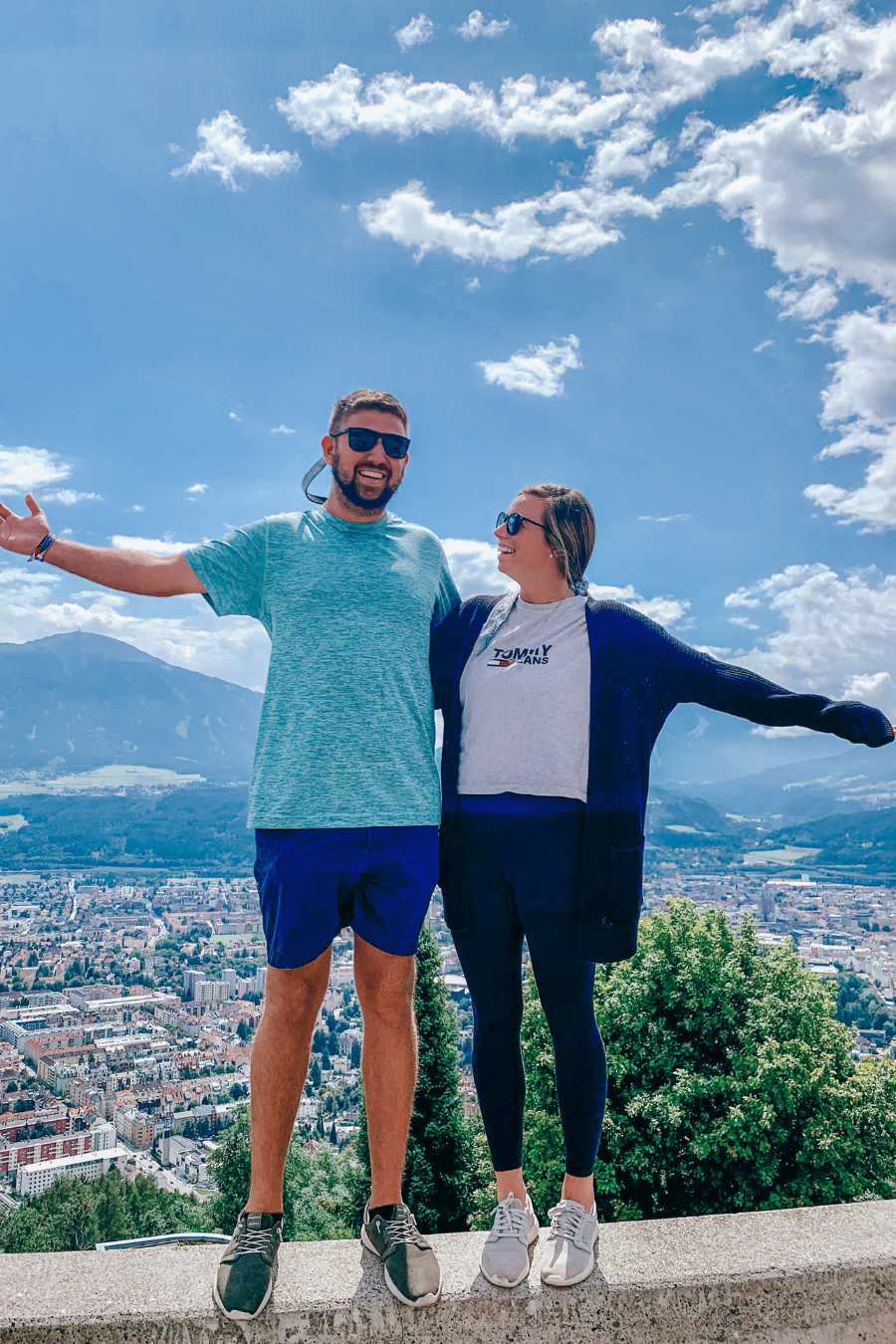 Stay hydrated
Hydration is the absolute key to longevity and feeling good while you are traveling. Even if you do not drink any alcohol, flying on a plane alone will naturally dehydrate you. Here are some ways we stay hydrated while traveling.
Drink a hydration tablet at the start of each day.
Always carry a refillable water bottle with you.
If you do not have space to carry your refillable water bottle, buy a large water bottle from a convenience store to drink while being a tourist around the city.
If traveling to a country where you are not supposed to drink the tap water, stock up your housing with jugs of water from a convenience store.
Keep a consistent sleep schedule
Sleep is essential to feeling like your best self and you definitely want to feel your best while you are traveling. From overnight flights, different hotel rooms and change in time zones, it is often difficult to sleep well while traveling. One way to get better sleep during all of this is to go to bed and wake up within the same two hours every day. This will help your body adjust to traveling and feel better overall.
If you fight your jet lag right away after an overnight flight, you will sleep better and more consistently throughout the rest of your trip. Read our guide on how to survive and thrive after an overnight flight to help fight your jet lag!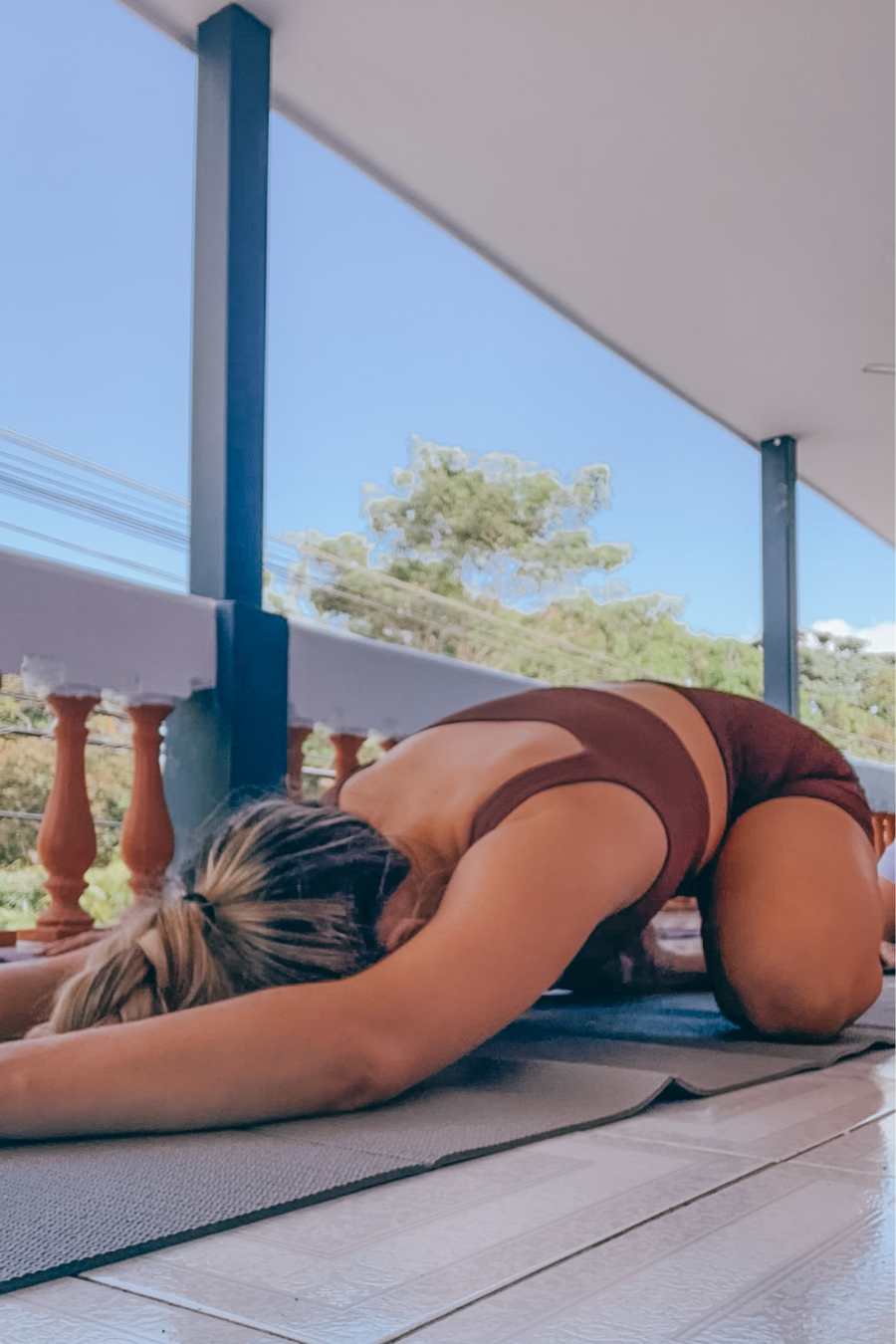 Get up and get moving
Going for a walk as soon as you wake up will set you up for success the rest of your day. Not only will this help fight a potential hangover or jet lag, but it also helps your overall health and your body will thank you for it.
If you can, try and fit in a workout beyond walking for a bit. There are so many hotel room workouts that will give you a quick sweat and leave you feeling energized to take on your travel itinerary! Here are some of our favorite travel workout equipment that make it easy to workout without taking up space in our backpacks or needing lots of space.
Wear sunscreen
Sunscreen is especially important to stay healthy while traveling if you are going on a warm weather vacation. Even if you are not hitting the beach or pool, just walking around a city for the day in the sun can drain you. Protect your skin to avoid skin poisoning at all costs! If you get sunburnt on vacation, your overall health will suffer while traveling.
Use code JLJ10 for 10% off all eSIM purchases.
Embrace sober days
Depending on the length of your trip, it may be smart to minimize or avoid alcohol consumption every few days. Drinking alcohol will impact your overall hydration and sleep quality which are two of the most important pieces to stay healthy while traveling. If you take one day off drinking every few days, your body will get a good reset and be ready to take on the next few days of fun!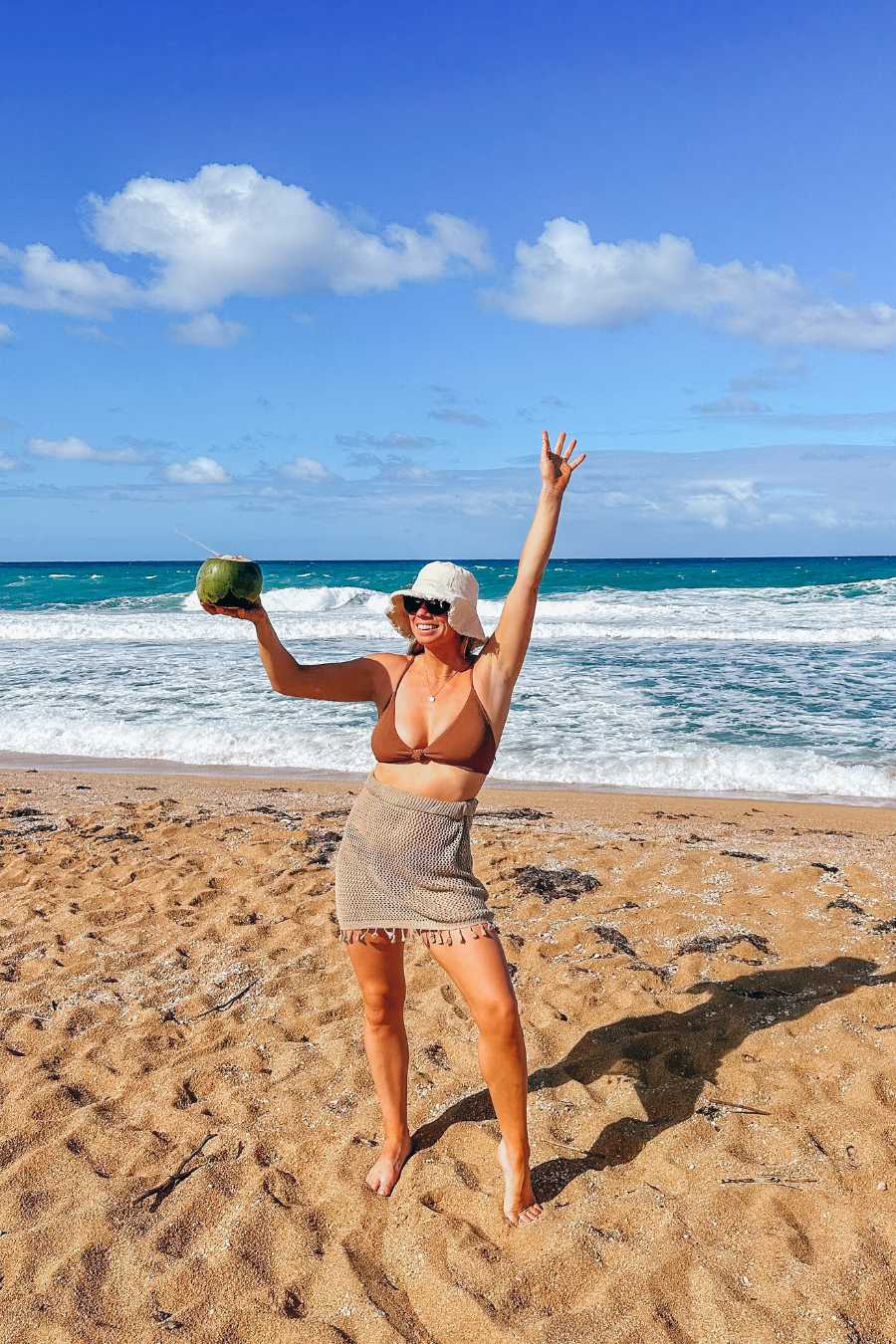 Cook a few of your own meals
If your housing allows for it, cook a few of your own meals. Cooking your own meals will help both with budget and a healthy lifestyle! We love to cook meals with lots of veggies that you may not get served when dining at a restaurant. We are all about trying new restaurants while traveling but every few meals it is nice to load up on nutrients and cook it yourself.
If your housing does not have a kitchen to work with, we typically stop in a grocery store each day to get a serving of a fruit or vegetables. Grab an apple, banana or veggie pack to picnic in a park and give your body some much needed nutrients! This is a budget friendly way to eat some healthy foods without needing a kitchen.
Take vitamins
It is important to stick to your typical vitamin regimen while traveling. It will throw your body off if you skip this portion of your routine while traveling! There are so many great pill organizers at a low cost to make it easy to follow your typical routine.
We also like to take an extra vitamin C packet or tablet every few days to fight off any illnesses picked up while traveling. You will be exposed to so many germs and people when flying and walking through crowds, this little extra dose of vitamins will help to fight off those potential exposures.
Focus on your mental health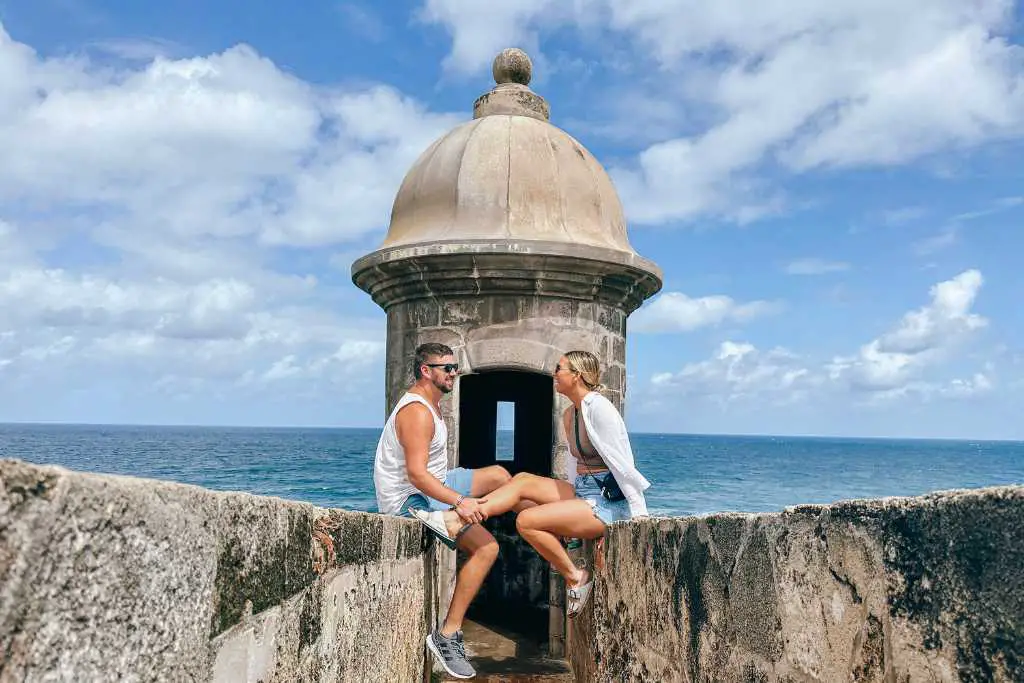 Mental health is just as important as physical health when trying to stay healthy overall while traveling. Even if this is a vacation that you have looked forward to for months, travel can be very stressful. It is essential to acknowledge when you start to feel overwhelmed and take some time to yourself to calm your nervous system.
Things like flight or crowd anxiety can lead to panic attacks and will take a huge toll on your body both physically and emotionally. Take some time to check in with yourself each day and see if you need a few minutes to calm your nervous system so that you can be your best self and enjoy your vacation! Here are some ways to manage your mental health while traveling.
Meditate and breathing exercises
It is truly amazing what taking a few deep breaths can do for your body. If you are not used to breathing exercises, we recommend downloading the calm app to follow simple breathing and meditation practices.
Focus on the things you can control
Travel often leads to unpredictable and stressful situations so it is important to manage tasks that are within your control. By doing this, you leave the capacity to be able to take on things that are out of your control.
We call this type of travel stress management "taking care of your future self". A few examples of doing this are to pack your bags the night before an early flight, figure out your airport transfer before you take off on your next flight or charge your devices overnight. While these things may seem easy, oftentimes travel gets so busy that these simple tasks get overlooked. By taking care of the simple tasks, you will have more headspace to manage any unforeseen tasks that come up.
Take a break when needed
Sometimes we are just so excited to explore a new destination that we jampack the itinerary and completely exhaust ourselves. Trust us, we get it! If you start to feel overwhelmed and need some time to recharge, it is totally acceptable to skip an activity and take a nap or read alone in your room. You will be better off if you skip one activity in order to be the best version of yourself for the rest of your trip.
Be prepared for illness and injuries
Sometimes no matter how much you try to stay healthy while traveling, you still may catch a bug or get an injury. Medicine is not the same around the world so it is important to prepare for basic illness or injuries while traveling. Pack a few doses of medicine that your body is used to just in case you get sick.
We also recommend having a small first aid kit with you while traveling. This way you can manage any small injuries that occur.
---
Travel is our favorite thing to do in the world but it is also exhausting and can take a toll on both mental and physical health. Hopefully these tips on how to stay healthy while traveling will help to keep you feeling like your best self while taking that much deserved vacation!