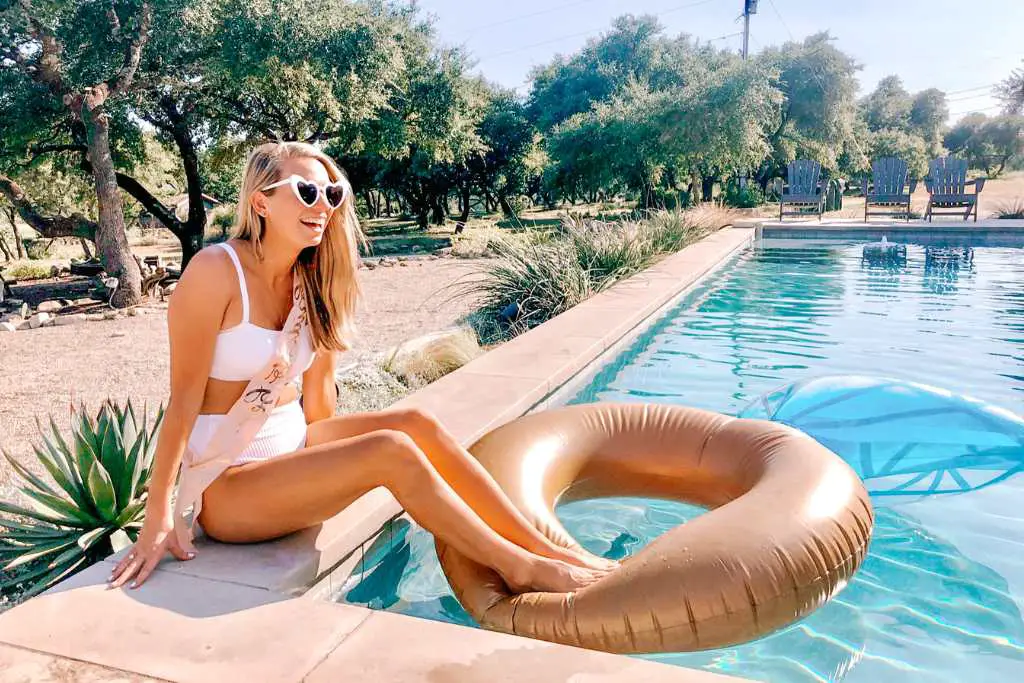 Whether you are planning your own bachelorette party or reading this for your bestie, I'm sure that all you want is to plan the perfect bachelorette weekend! A seamless bachelorette weekend without any drama or mishaps is totally possible with the right amount of work put in ahead of time. My bachelorette party was personally my favorite part of the wedding process. I mean the wedding is fun, but there really isn't another time that you get all of your best friends together for the most epic girls weekend!
There are so many factors that go into planning a bachelorette party from setting a budget, who pays for what, itinerary planning and making sure that everyone has a great time. This guide on how to plan the perfect bachelorette will cover all of these questions! I have become a group trip planning expert over the years and planning a bachelorette party is just a little more complicated version of that.


If you are feeling overwhelmed with bachelorette planning, check out if our planning services are right for you! You'll gain access to the ultimate group trip planning spreadsheet, email drafts, theme brainstorming, professional design services and so much more.
Basic bachelorette planning tips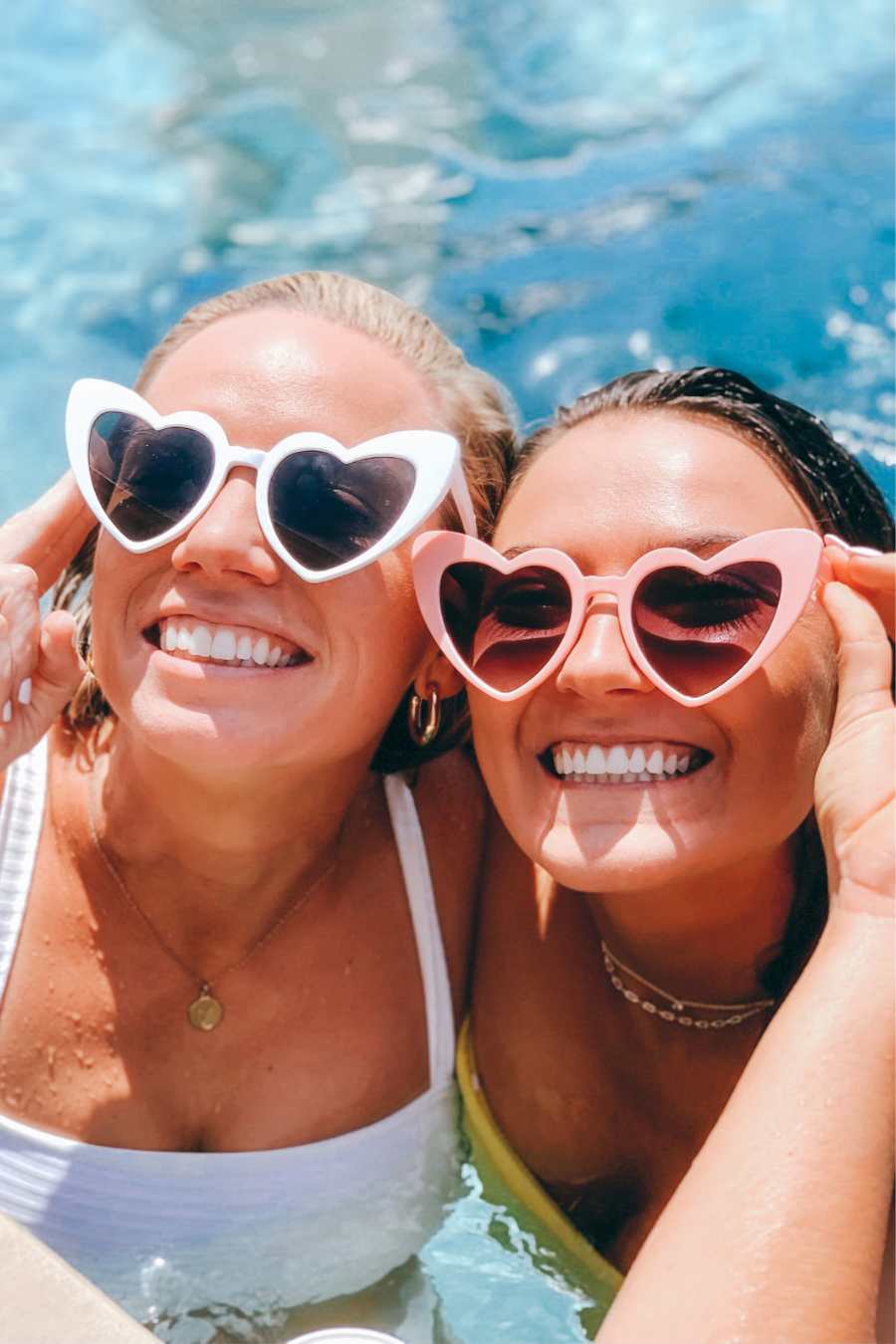 Stay true to your bride
Every bachelorette party is truly different because every bride is unique and special in her own way. I have now both planned and attended multiple bachelorette parties and can say for sure that I have never been to one that is the same. It is important to not get caught up in trends and keep your bride's preferences top of mind. Not every bride will want to wear a large sash and stand out in a crowd. Plan your weekend with your bride in mind and choose activities based on what she will love!
Be clear about your budget and stick to it
There are definitely ways to plan a bachelorette party on a budget but most bachelorette parties are expensive. As long as you are clear about the budget from the very beginning, the guests can plan accordingly. It is also possible that some guests may not be able to attend because they simply cannot afford it. Be transparent from the beginning about estimated costs so that no one is blindsided at the end of the trip!
There are always ways to plan your weekend if some members of the group have a smaller budget than others. For example, you can make more expensive activities optional. If the bride really wants a spa day but not everyone can afford it, make it optional! Then you can also throw in some free activities like hiking and window shopping.
Communication is key
I always think it is better to over communicate about travel planning rather than leave people in the dark. When I plan bachelorette parties and group trips, I will send multiple emails/texts/alerts about details and budget updates. If you communicate throughout the process then there will be less questions as the bachelorette weekend approaches and everyone will know what to expect!
Who pays for what on a bachelorette party?
This is one of the most commonly asked questions when it comes to bachelorette planning and there is not one straightforward answer. Finances are one of the most stressful pieces of bachelorette planning and it can be a point of contention amongst the group. Not everyone agrees on etiquette when it comes to paying for the bride on the bachelorette weekend and each situation is unique.
Depending on the bride's financial situation, she may want to pay her piece to take financial stress off of the rest of the group. In my experience both as a bride and an attendee, the bride should pay for her flight and then not have any expenses over the weekend. This is obviously not always the case though. If the bachelorette party is going to be overly expensive with lots of bougie dinners and activities, it is not absurd for the bride to pay for her part of the weekend. I've also had experiences where the bride pays for her flight and housing for the weekend to help alleviate stress on the group. It's important to have honest conversations with your bride about this piece and make decisions that work best for you and your group.
Steps to plan a bachelorette party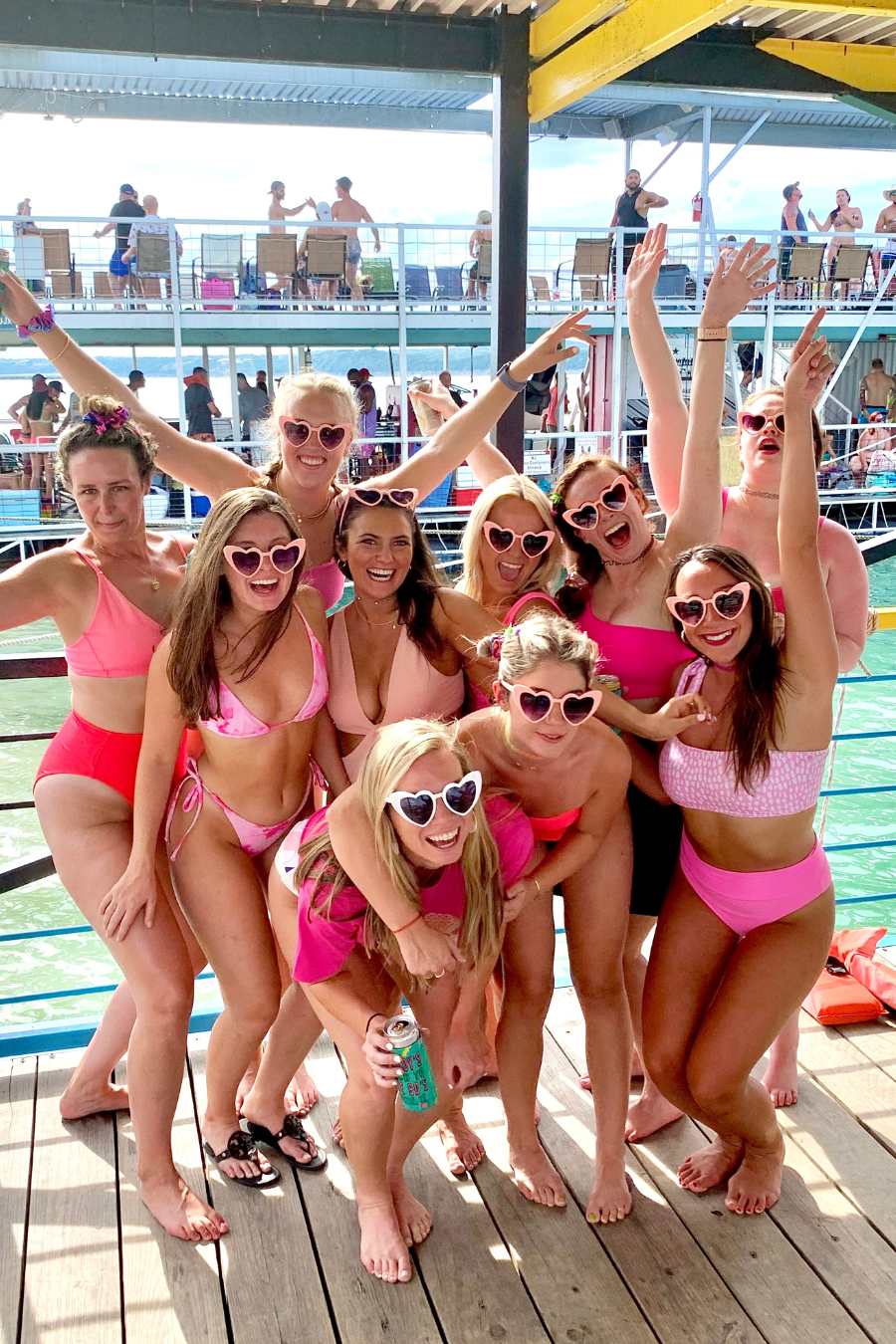 Make a guest list
The first step to planning the perfect bachelorette party is to establish who is invited. Depending on the bride, the number of people invited will vary. Personally, I had a very large bachelorette party because I wanted to celebrate with lots of close friends, not just those in my wedding party. Have your bride make a list of everyone she wants to invite with their phone number and email address. This is a crucial step in the bachelorette planning process to ensure communication is reaching everyone invited!
Choose the date
Even though I had a large bachelorette party, we did not choose the weekend date based on the availability of everyone who attended. Have your bride make an A-list out of the larger guest list to note who is most important to the bride that they attend. Choose your date based on availability of that smaller group of invitees.
Choose the destination
There are so many amazing bachelorette destinations and depending on your bride's vibe, some locations will be better than others. If your bride already has a dream destination in mind, that's great! Make sure to then choose a date when the weather is ideal in that destination.
Check out our bachelorette city guides to help choose a destination that is right for you!
Finalize guest list
Once a date is picked that everyone on the bride's A-list is able to attend, invite the rest of the guest list to get a final number.
Pro-tip: Give a clear deadline that everyone invited must confirm whether or not they are able to attend. If someone is not able to give a clear answer, then it should be noted that while they are more than welcome to confirm in the future, there may not be space for them depending on the housing chosen for the group. You do not want to hold off booking housing because there are some people being flakey about committing to the weekend.
Book your housing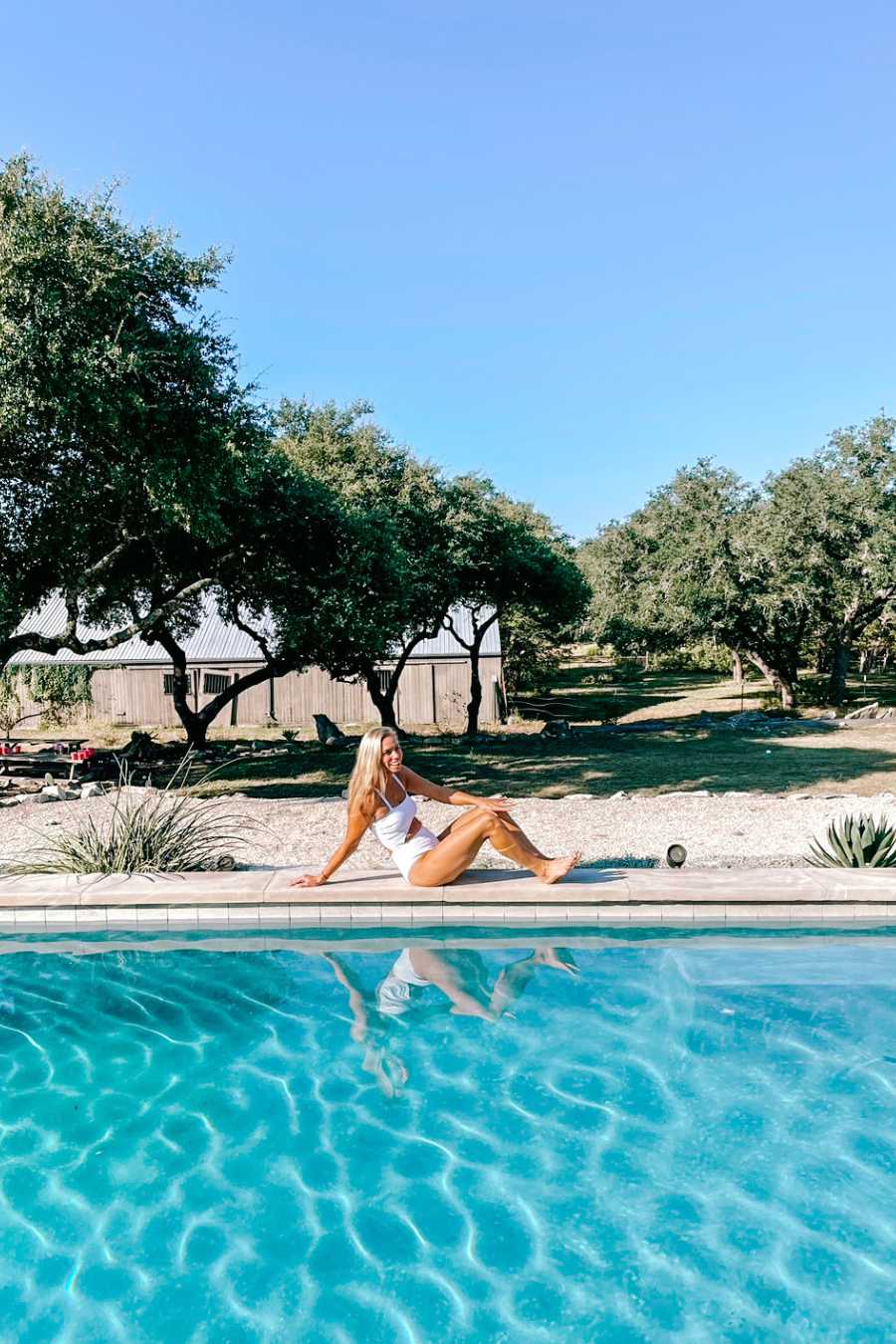 As soon as you know the date, destination and number of guests, book your housing ASAP. Depending on the destination, the best housing options will book up quickly and you do not want to hold off booking once you know those details.
Depending on your group size and bride's preferences, a house rental may be a better option over a hotel. Ask your bride what she would prefer to browse your options from there! If planning a bachelorette party on more of a budget, a house rental will typically be cheaper than hotel rooms for the weekend but again, that may vary by location.
For my own bachelorette party, I wanted a big house that everyone stayed in together. We ended up splurging a bit more on the house but then we also spent most of our time there to make it worth it!
Choose a theme
One of the most fun aspects of planning a bachelorette party is choosing a theme and leaning into it for the entire weekend! Things to consider when choosing a theme for the weekend:
Does your bride have a color she loves?
Is there a theme that fits the location of the bachelorette party?
What makes your bride unique?
Does your bride like things more obnoxious or more subtle?
There are so many unique and fun bachelorette party themes out there. I love to add personalized twists to the classic themes that make your bride feel special. Use a theme to build a vision board for inspiration and then make little changes that will be unique to your bride and your weekend.
I absolutely love party planning and theme brainstorming. If this part of bachelorette planning is not your favorite, consider using our professional design services to build an epic theme and logo personalized for your weekend!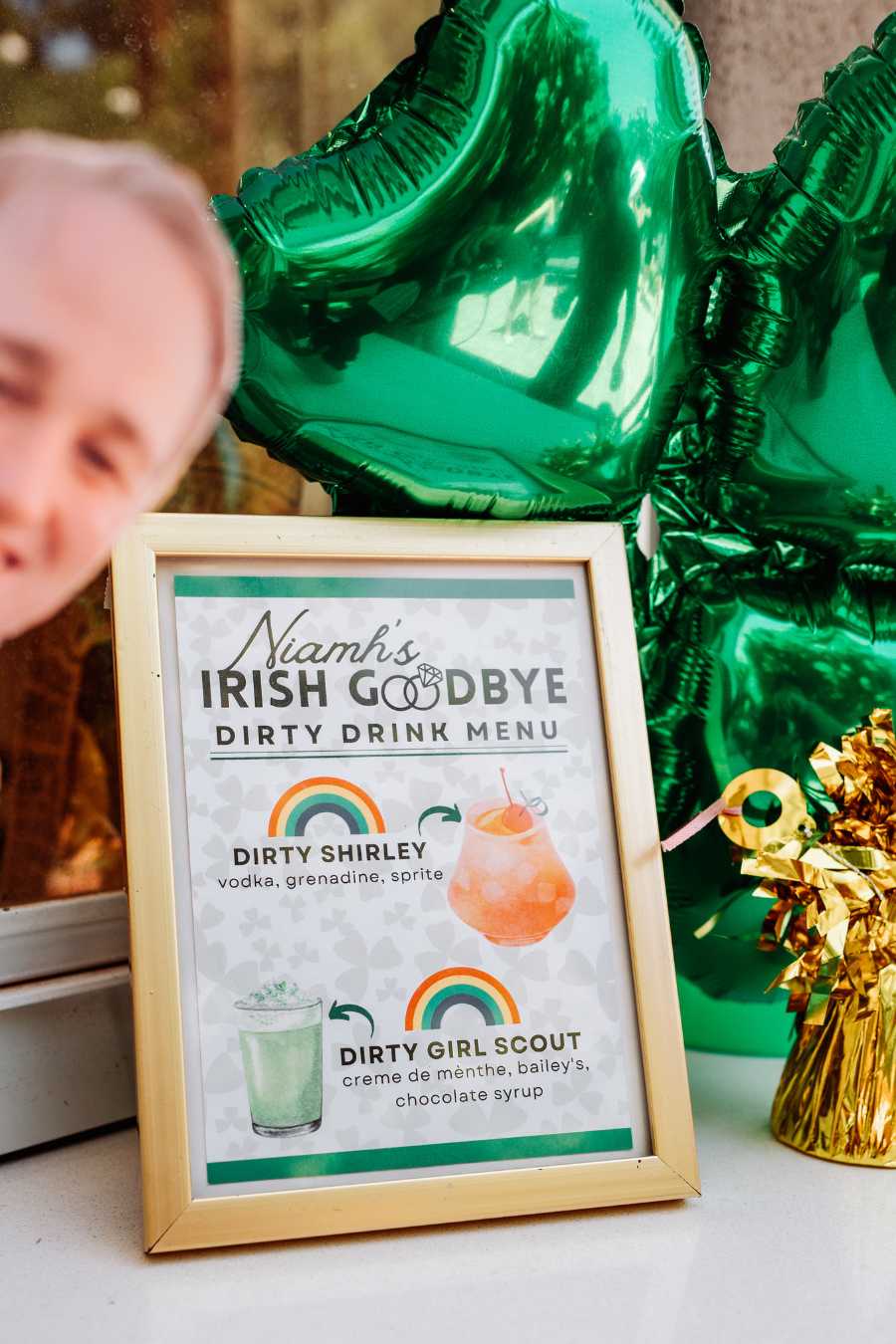 Build your itinerary
There are a lot of things to consider when building the itinerary for a bachelorette party. Make sure to ask your bride these things before mapping out the whole itinerary.
Are there any must-do activities that you want to do over the weekend?
For example, a boat day on Lake Travis was a must for me in Austin. That was the only big activity we planned for the weekend.
Do you prefer to eat in or have group dinners?
Depending on your group size, a group dinner out may not make sense. Group dinners can be very expensive and often it makes more sense to eat at the house and then go out after. But if you are a small group and your bride is a foodie, then book that fancy dinner reservation that she will love!
Do you want to go out every night or plan a night in with everyone?
You want everyone to have stamina for the weekend. Depending on your housing choice, it may make sense to have a night in to play games and just hang out with the group.
Here are a few other factors to consider when building your itinerary.
Factor in your check-in time and time to set up décor.
Typically for rentals, you are not able to check in until 3 – 4pm. I highly suggest requesting early check-in if possible so that a small group can go decorate the house or hotel room while another group entertains the bride while the setup is happening.
Remember your budget
Be intentional about which activities you are booking including dinner reservations. These will most likely take a large chunk of your planned budget.
Consider your housing location
Take into consideration how far and accessible your housing is from your activities, bars and restaurants. You do not want to plan multiple back-and-forth trips to your housing if it is not a convenient location to your activities.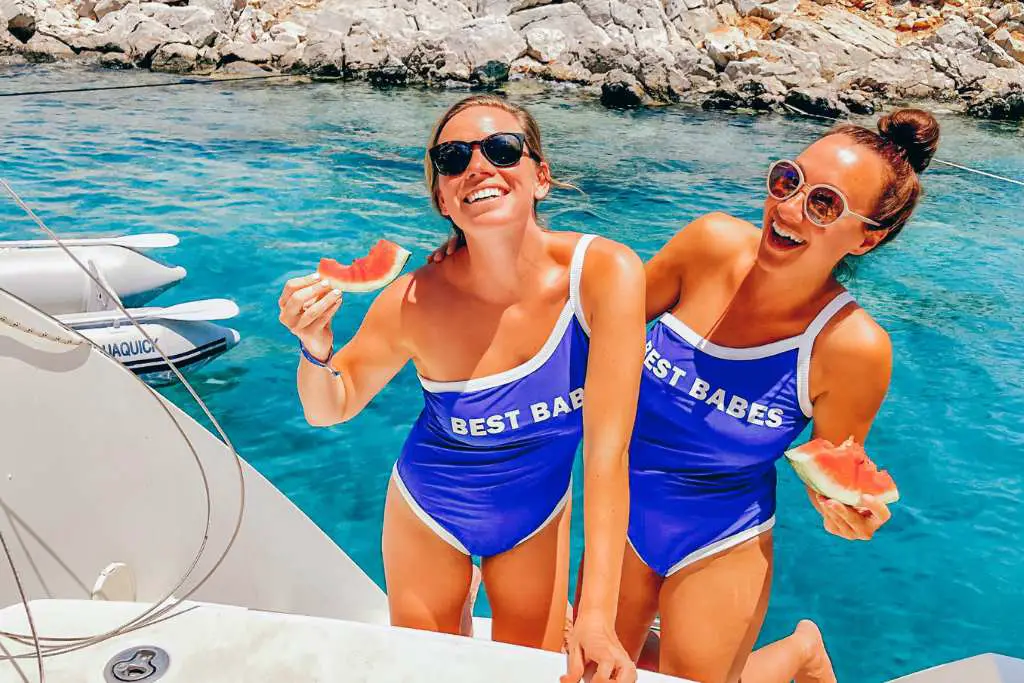 Order food and drinks for the house
Survey the group on food and drink preferences
Send a survey to the group to learn if anyone has any food allergies and what they think they will want to drink over the weekend. This is such an important step to plan a bachelorette party because you want to be as accurate as possible on your grocery order! You do not want to order a large bottle of gin if no one is going to drink it. Or if someone has a specific food allergy, make sure that there are meal options for them on the grocery list. This step in bachelorette party planning will help you make an accurate grocery list.
Research and set up delivery services
The more you can get delivered to the house vs having to shop when you get to your bachelorette destination, the better! There are so many online ordering sites that you should be able to get all of your food and alcohol delivered close to your check-in time. You should plan out which meals you will be eating at your housing based on your specific itinerary and the group's preferences.
Order décor and house items
You will need to order décor items before departing on your bachelorette weekend. If you are all flying to a destination, you may want to split up where all of the décor pieces are being sent so that not one person is stuck flying with lots of items. Another option is for the MOH to pay to check an extra bag and put all of the décor pieces in there. There are lots of ways to get creative with this piece like when I was planning my besties bachelorette in Scottsdale, we were lucky enough to have a friend living there that I could ship all of the random amazon items to his house. If anyone is driving vs flying, they should be able to fit more items in their car. Keep a list of all items in your planning spreadsheet and who is handling them.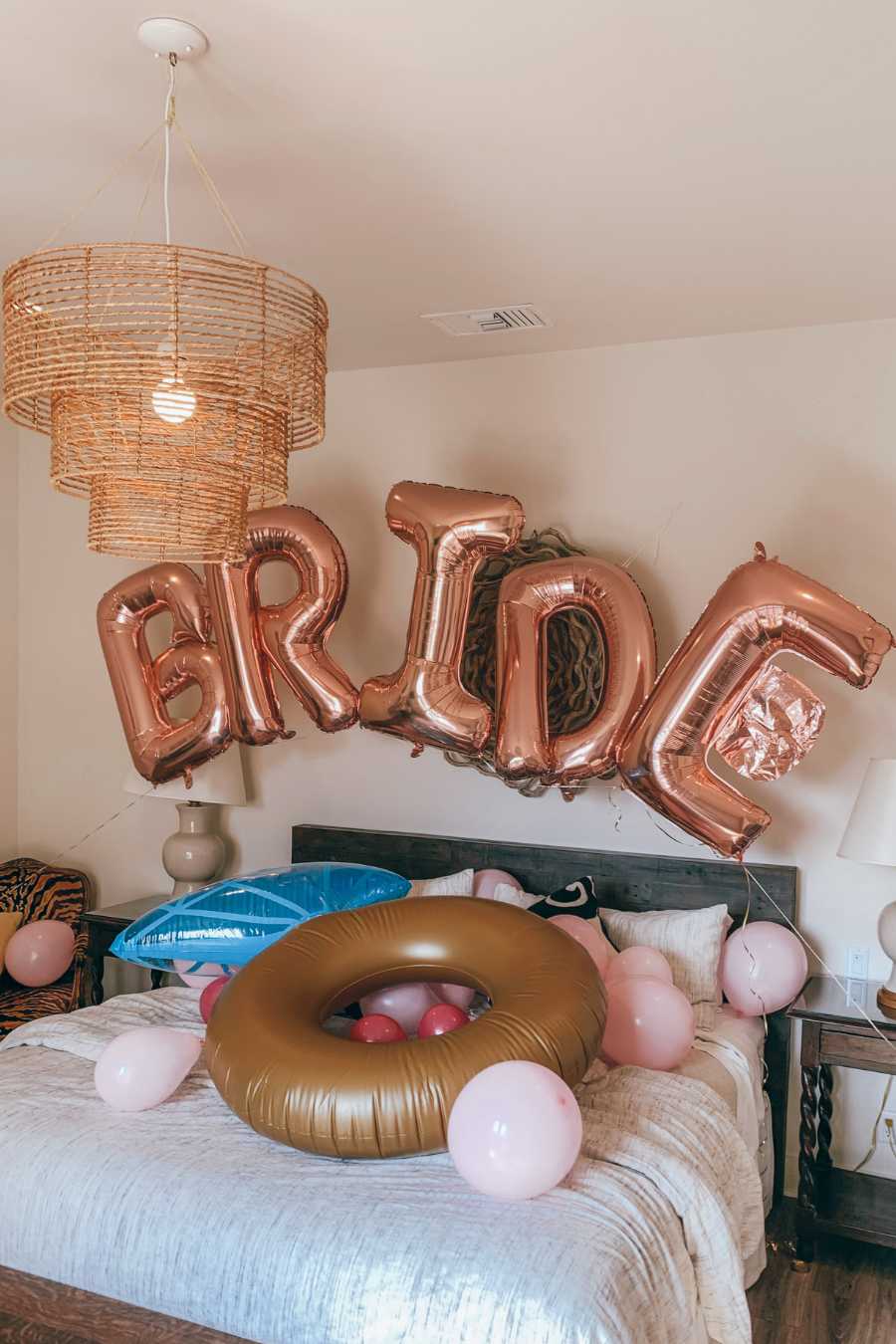 The most important piece of bachelorette planning is to make sure that your bride feels loved and supported by all of her besties. All of the fun and memories are just bonuses!
I hope this step-by-step guide on how to plan the perfect bachelorette weekend sets you up for success to plan the most epic girls weekend! If you are still feeling unsure and overwhelmed, check out our bachelorette planning and design services to ensure that everything runs smoothly.