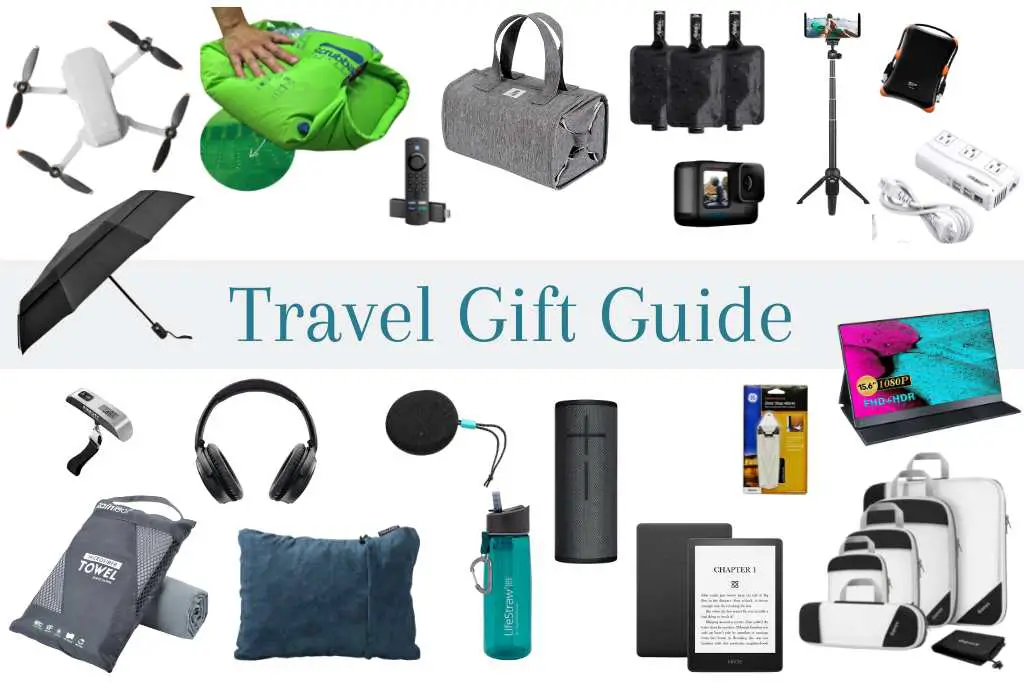 Are you shopping for your favorite traveler or just want to treat yourself for your next adventure? Here are the best gift ideas for travelers to purchase this holiday season! This guide includes items for any budget from $10 – $600 and each one of these items are reliable for every traveler. You can shop all of these products directly from our Amazon Storefront and many of these items are also included in our Backpacking Essentials: 10 Items Every Traveler Needs post. The Jet Lag Journey is all about practical travel, so we only recommend products we truly believe in!
Big Ticket Items: Gifts for over $500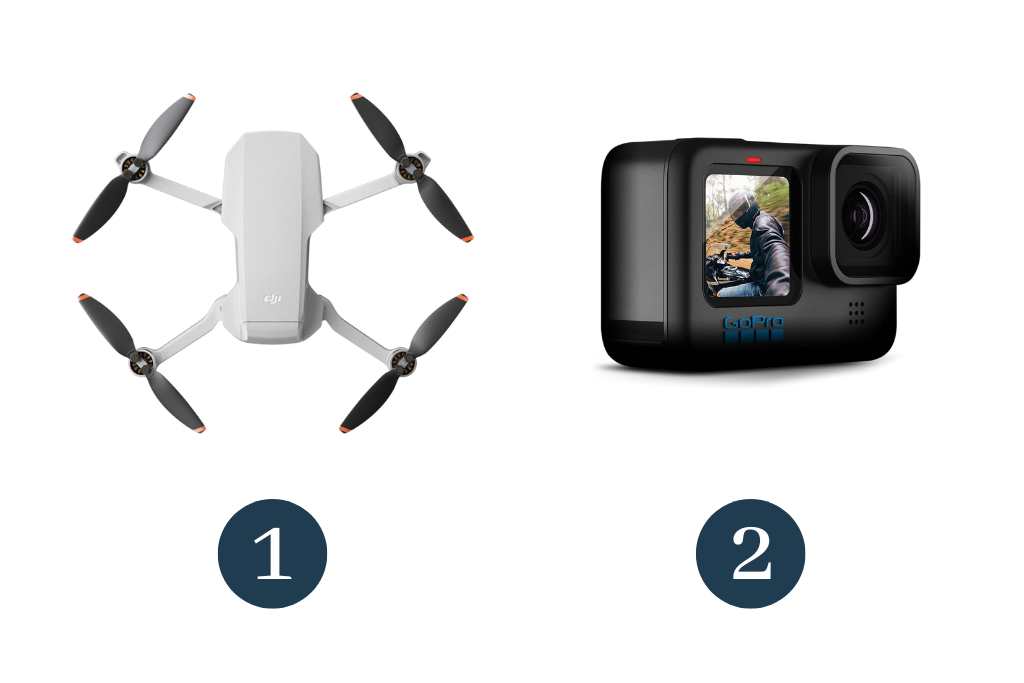 If your favorite traveler is in the market for a drone, this is the best option to start! We got ours as a wedding gift and absolutely love it. This option comes with three extra batteries and a travel bag that fits in any backpack.
This is another splurge item if your traveler needs an upgrade or has upcoming trips that are worth documenting. We love our GoPro especially when traveling to tropical locations!
Splurge: Gifts for under $250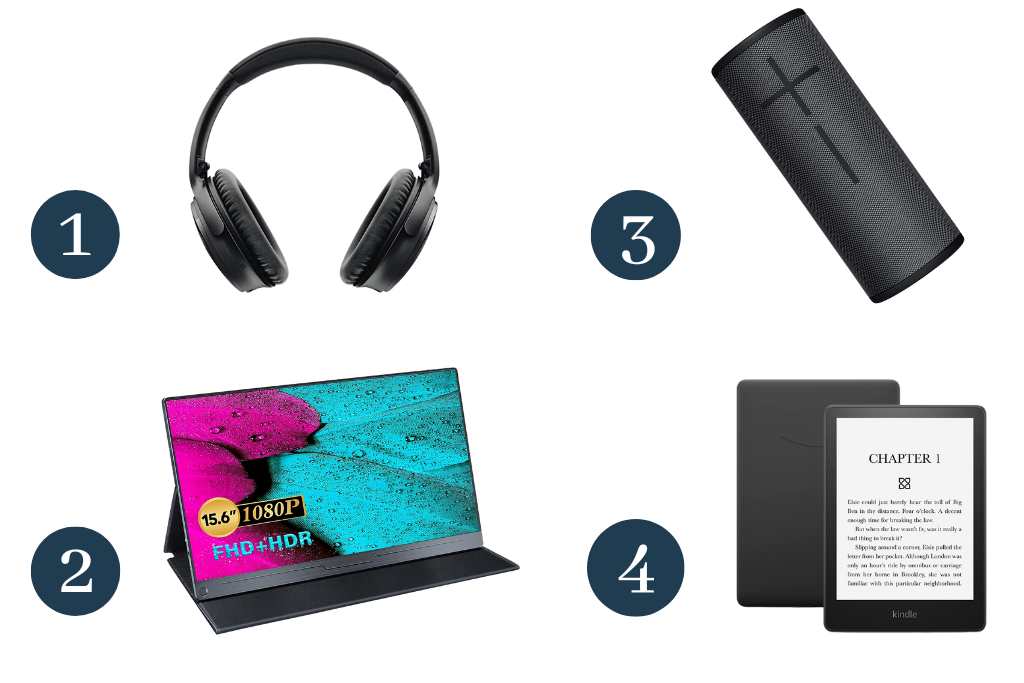 We never get through an overnight flight without noise cancelling headphones. For every traveler who works in loud spaces or needs to catch some sleep surrounded by noise, these are an essential item to take on the road.
With remote work on the rise, these monitors are becoming more and more popular! Bring your second screen with you wherever your travels take you. More monitors mean more productive work which ultimately means more time for travel – yay!
We use our speaker constantly when traveling! You never know when you want to jam out on the road. This one is lightweight and easily fits in any backpack.
This is the easiest way to keep up your reading while on the road. There's no way to carry around hard copies of all of the books you want to read. If your favorite traveler loves to read, it's time to invest in a kindle!
The Essentials: Gift ideas for under $50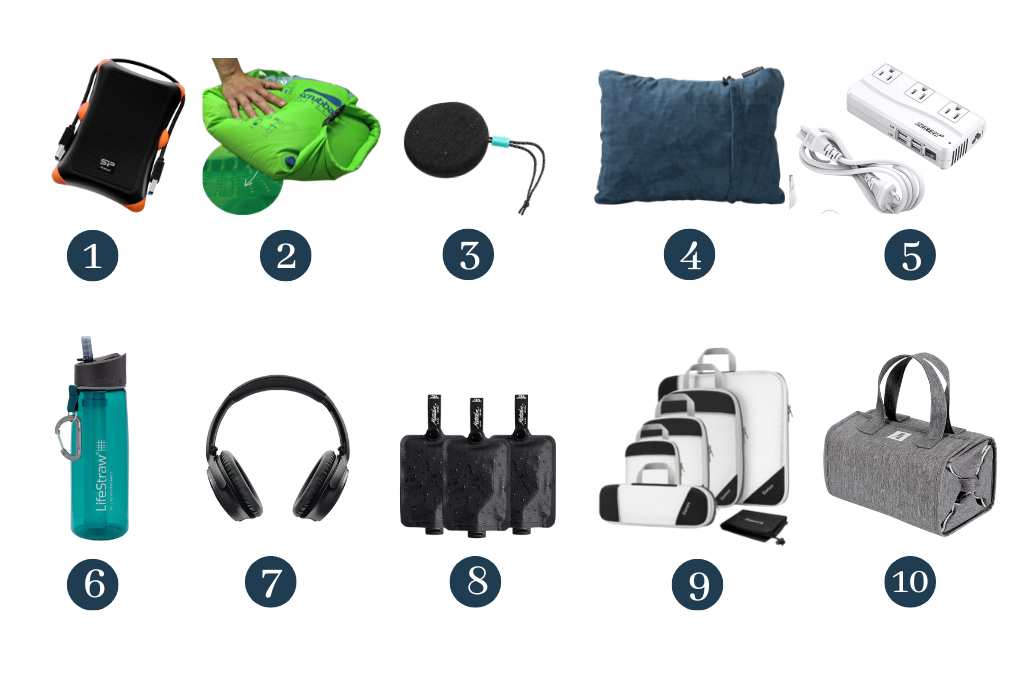 Our computer's storage filled up very quickly when we were traveling and we realized we needed to invest in one of these. We absolutely love this particular one and it is very durable for travel!
We got this as a gift before backpacking Asia and honestly it was such a lifesaver! It is super easy to use and can roll up to take up no space at all. We clip ours to the top of our backpacks!
If your travel partner has a snoring issue (ahem like one of us), this is essential to sleep on the road. We have a fancy white noise machine in our apartment but love to bring this one while traveling so we can still get a peaceful night's sleep!
This might seem like an investment for a travel pillow but it is 100% worth it. It rolls ups and can clip onto your bag when not using it. It is comfortable on a bus or plane but also works as extra pillow support when your housing only leaves you with a piece of cardboard as a pillow.
Use code JLJ10 for 10% off all eSIM purchases.
This is by far the best travel adapter! It works in almost every country and has multiple spots to plug in all of your devices at once. Every traveler needs one of these.
This water bottle is great for travel! Get clean water anywhere you go.
Here is a more affordable option for noise cancelling headphones if the Bose option above is too much of a splurge. Seth has a similar pair (the exact ones do not exist anymore) and they still work great!
These bottles are a great way to pack skincare, shampoo or whatever toiletry liquids you bring along with you on your travels. The secure cap is huge to know your liquids are safe while being knocked around in the air.
There is a reason that these are on our gift ideas for travelers list – they are the holy grail of packing cubes. If you haven't ordered these for yourself or your favorite traveler, what are you waiting for? You can practically fit double the amount of clothes compared to other packing cubes and they are super easy to use!
I am obsessed with this toiletry organizer! It is compact but also fits lots of different shapes and sizes for everything you need to pack. You can also detach the individual compartments if you do not need to use all of them.
Practical: Gift ideas for under $25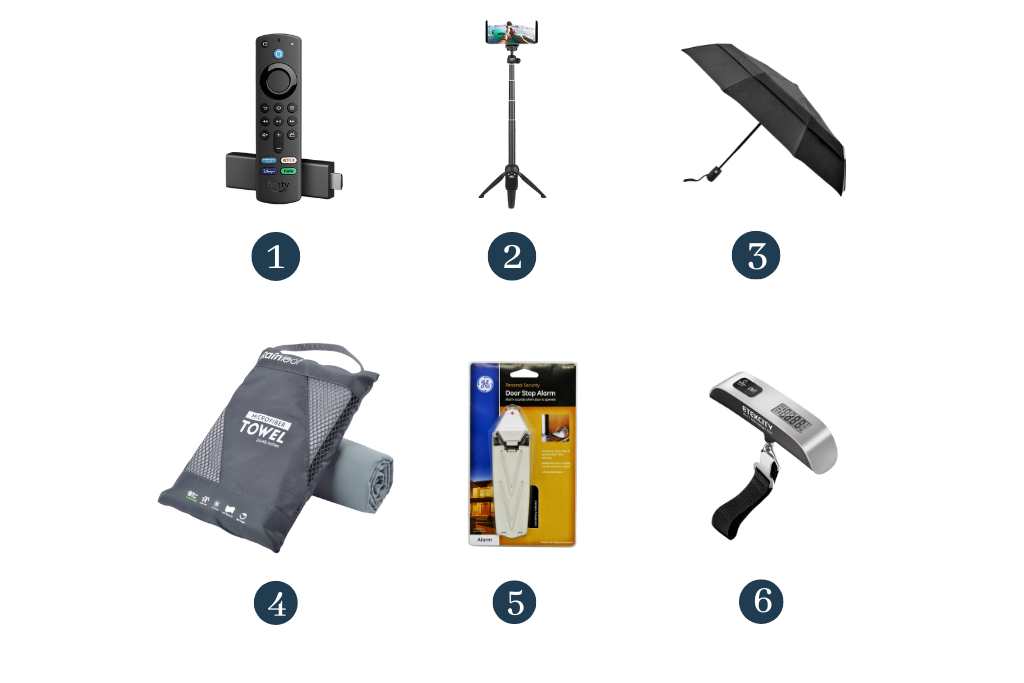 Are you on the road for a long time? You can make any TV a smart TV by bringing a firestick along with you. We use ours constantly when we need a little downtime or to make any housing feel like home and binge some Netflix.
Love this versatile duo as a gift idea for a traveler! You don't need an expensive set up to get high quality content. It also comes with a remote so makes taking pictures of yourself super easy!
Every traveler needs an umbrella on the road! This one is compact, lightweight and durable.
We have used this exact towel for years and never travel without it. It barely takes up any space and is a lifesaver if you find yourself without a towel! It also dries almost instantly.
This little gift can go a long way to add an extra layer of security in unfamiliar housing.
This is our last suggestion but certainly not least! If you are a backpacker, you probably need to check your bag's weight before every flight. It will end up saving you money in the long run to make sure you aren't paying to check a bag on those cheapo airlines!
---
We hope some of these gift ideas help out your favorite traveler! For more travel and packing advice, you can also read our posts about How To Pack Light and How to Prepare for long term travel.