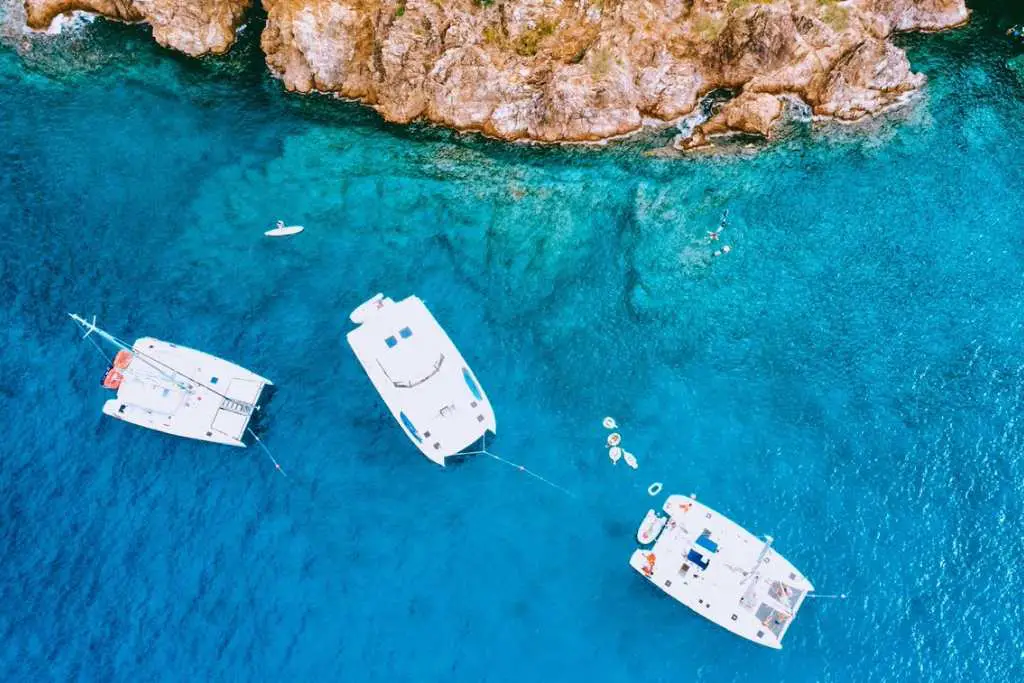 Sailing the British Virgin Islands is an absolute travel bucket list item. The islands are beyond stunning and they have some of the best bars and beaches in the entire world. We love a reason to go on a sailing trip so renting a catamaran was a no brainer, but it is possible to follow a similar itinerary even if you are not renting a yacht. It is also impossible to cover every island in 7 days, but I think we covered all of the best parts in this 7 day itinerary through the British Virgin Islands.
Most boat rentals are also Saturday – Saturday, so that is how we arranged this 7 day itinerary. Our rental was also out of Nanny Cay on Tortola so this is the route that made sense from that starting point. If you are coming from elsewhere, you may want to switch up a few days. You can definitely still follow the same order even if your days of the week are different. Grab your best mates and follow this 7 day sailing itinerary through the British Virgin Islands for an absolutely epic week!
Before planning your itinerary, make sure to also read our posts on How To Plan A Sailing Trip and Sailing Trip Packing Essentials to ensure smooth sailing all week long!


Getting there (Flight options/ Ferry/ Customs)
Flight Options
There are a few options for getting to the British Virgin Islands from the United States. You can fly directly to Tortola (EIS) which is the easiest option, but will be significantly more expensive. It is cheaper to fly to St. Thomas (STT) in the U.S. Virgin Islands, but logistically takes more steps. Travel protocols are changing everyday. We had to fill out this form to enter the USVI before even getting the British Virgin Islands. This may change when you are booking your trip, but definitely something to keep in mind.
Ferry to and from The British Virgin Islands
If you fly into St. Thomas airport, you will need to ferry to the British Virgin Islands from there. We recommend taking Smith's Ferry from Charlotte Amelie to Roadtown. It is a 10 minute drive from the airport and there are multiple taxis ready to take groups when you get off your flight. The ferry costs $65 so take that into account when deciding which flight is right for you! Petite Pump Room Bar & Restaurant is directly above the ferry entrance and is a great spot to relax and officially start vacation while waiting for the rest of your group and the ferry.
On your way back to St. Thomas, there are also multiple ferry options. We took the Roadtown Fast Ferry because that was closest to our marina. This ferry also cost $60. It is important to always book ferry tickets in advance because they will fill up and you can be left stranded on either side of the islands.
Customs
Whether you fly directly to Tortola or take the ferry, you will have to go through customs upon entry in The British Virgin Islands. Make sure to be up to date on any entry requirements as they are constantly changing. There are also different requirements for the USVIs and BVIs, you need to be able to cover both depending on your travel plans.
Housing
Most likely your group will arrive a day or two early before boarding your boat for the week. Especially if you fly into St. Thomas, you will want to give yourself an extra day before starting your sailing itinerary in the British Virgin Islands. Plus it is always fun to get together on land and share housing before the sailing begins! Our group absolutely loved our stay at this massive Airbnb with a pool and a view. There are minimum housing options for larger groups, so definitely look into this as well as soon as you start your planning. We had two nights here to bond before the vacation even really started. There are also plenty of hotel options if that is easier to plan logistically but will also be more expensive.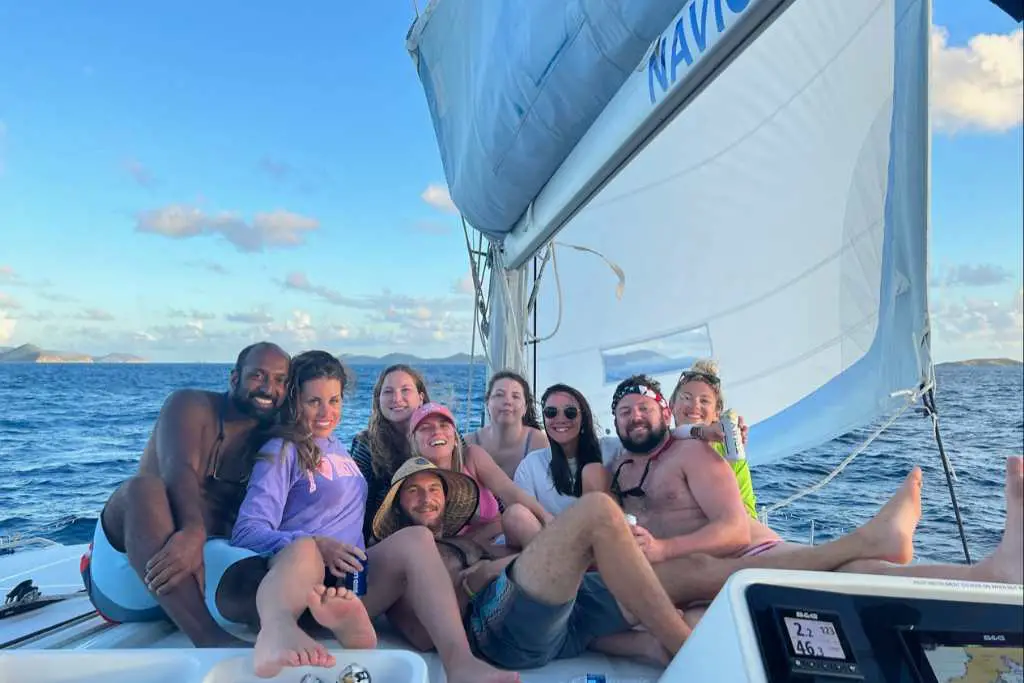 DAY 1 (Saturday): Check into your boat, Sunset sail to Bight Bay and Willy T's
Boat Check-in
Once your boat is settled and provisions are put away, time to set sail to Bight Bay! Bight Bay is located about an hour from Nanny Cay. We were able to leave the dock around 4pm so there were still plenty of mooring balls in front of Willy T's when we arrived around 5pm. Bight Bay is first come first serve with mooring balls, so definitely try to get there as soon as you can so that you can be as close as possible to the bar!
Bight Bay and Willy T's
Spend the night partying it up at Willy T's. Highly recommended losing a few layers and jumping from the ledge at night – it is a thrill! Don't worry that you are missing the daytime party here, we will circle back at the end of the week for a day party.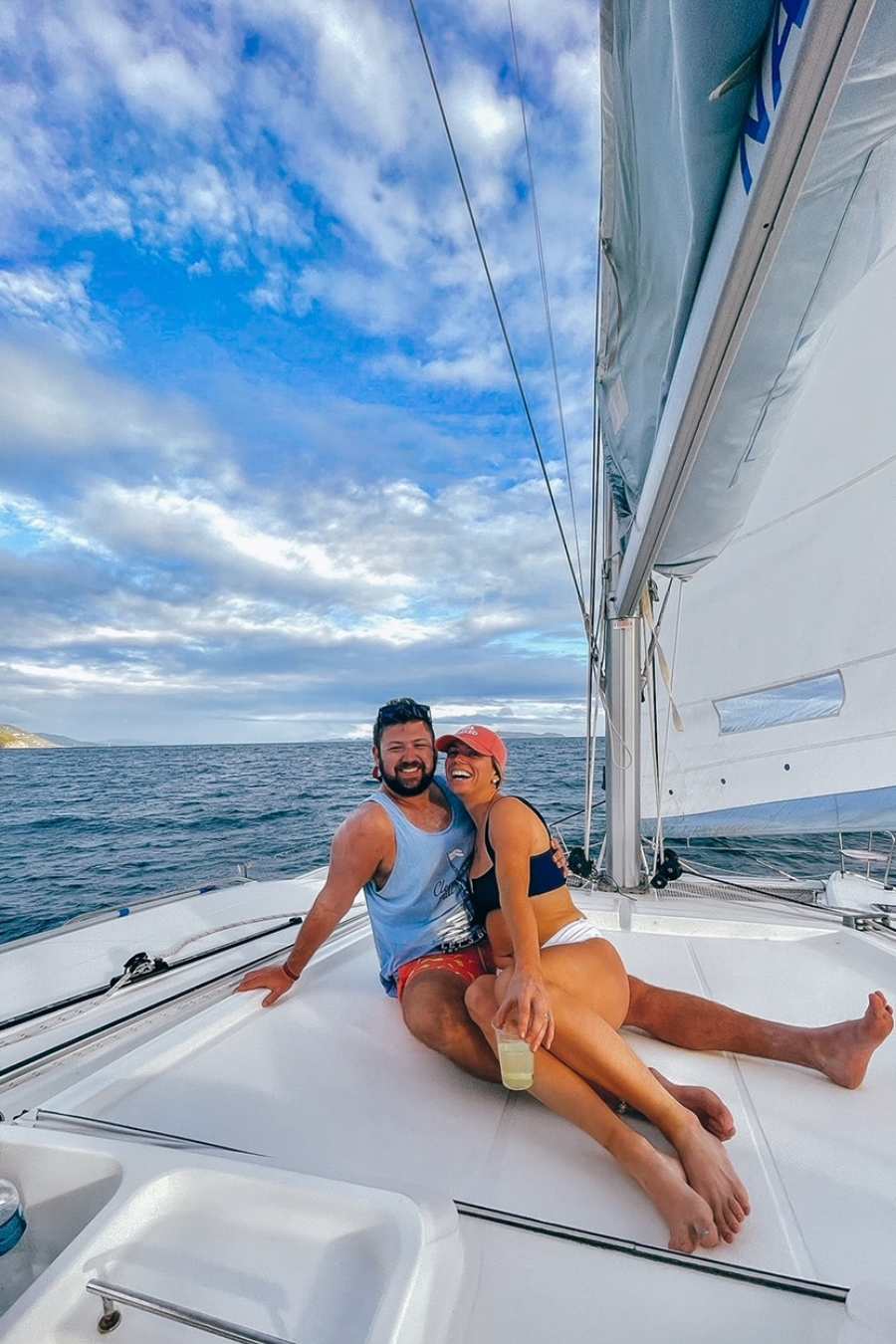 DAY 2 (Sunday): Snorkeling at The Caves, Sail to Virgin Gorda, Dinner & dancing at CoCoMaya
Snorkeling at The Caves
Time to grab a coffee and a hydration tablet after your night at Willy T's because you have an exciting day ahead of you. First up is snorkeling at The Caves which is a must do on the itinerary while sailing the British Virgin Islands. You'll want to get to the Mooring Balls early because they fill up quickly. Luckily the caves are a short journey to the other side of the Peninsula from Bight Bay. The Caves are spooky and beautiful all in one. Don't be afraid of the dark, it is so cool to swim through them. If you are a Harry Potter fan, very much has Dumbledore and Harry finding the horcrux vibes. Our favorite advice when snorkeling is to bring a lifejacket and use the flippers. You may think you are a strong enough swimmer but it is much more relaxing to float rather than tread!
Virgin Gorda/CocoMaya
Once you are done at the Caves, time to sail over to Virgin Gorda. This sail will take 1.5 – 3 hours, depending on how fast you are moving. We pre-arranged a docking slot at Virgin Gorda Yacht Harbor. Once docked, we all got ready to head to dinner at CocoMaya Restaurant. The restaurant is a 20 minute walk from the harbor or a 5 minute taxi ride. There are plenty of taxis that will charge $3-$8 a person for the ride.
The food is delicious and the vibes are even better at CocoMaya. It is a bit pricey, so if you are on a budget maybe skip the dinner and just stop for a drink at the bar. Definitely make a reservation ahead of time if you are a big group. It is a popular restaurant! Either way, stop in to check out the fairy lights right on the beach. Try and be there around sunset for some spectacular views! After dinner, we stayed around for cocktails and dancing with a DJ set up. Be careful about staying out too late because day 3 is a good one and you'll want to get moving on the earlier side.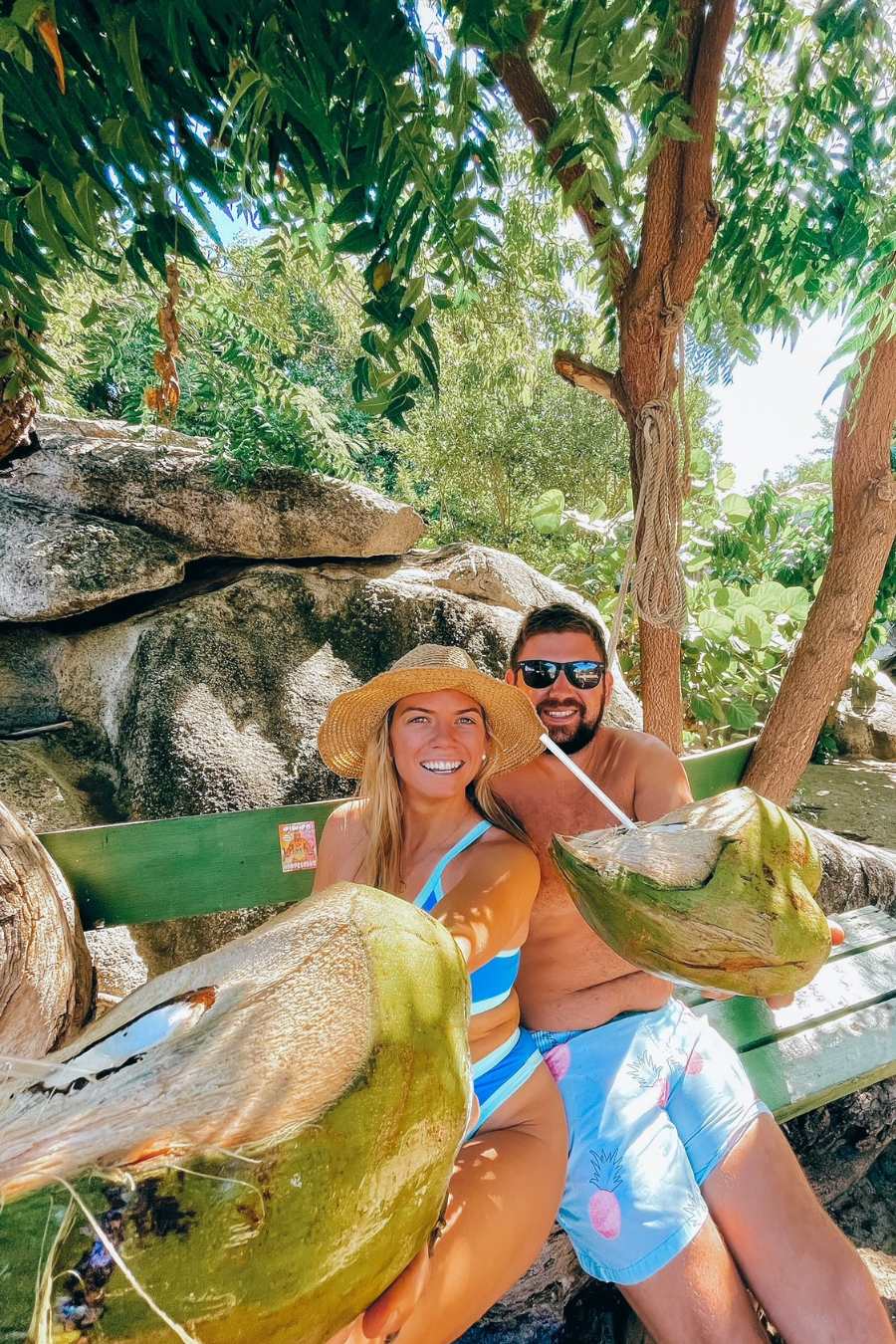 DAY 3 (Monday): The Baths National Park, Poor Man's Bar, Top of the Baths restaurant, Sail to Leverick Bay
The Baths National Park
This national park is an epic stop on the British Virgin Islands sailing itinerary. All in all, it is about a 6 hour excursion. Our plan originally was to dingy and swim into Devil's Bay with dry bags to enter the park but it is actually much easier to take a taxi from the Yacht Harbor. It is a ten minute drive and our driver charged $8 per person round trip. This way we didn't worry about swimming in with all of our belongings. We still recommend packing light and wearing shoes that you are comfortable getting wet because you will be walking through water. I carried a small backpack with enough space to carry a towel, wallet, cover up and cell phones. You can take the taxi to The Top Of The Baths to enter the park from land.
Devil's Bay
Devil's Bay is a cove covered in uniquely shaped rocks and mini whirlpools formed from the current. If you get there early, you will have the beach to yourself for about an hour. We arrived around 9am. The cruise ships start taking over around 10:30 so we recommend an early start to beat the crowd! Take your time carefully swimming around the cove and climbing rocks. If you are looking out towards the ocean, on the right side about halfway to the end of the ropes there is one whirlpool in particular that is like a water slide. The current pushes you in and out of the cave with ease and it is a blast! Once you are done in Devil's Bay, time to head to the Baths.
The Baths
The Baths were totally not what we were expecting. We were picturing a collection of hot springs but in reality it is really a long trail through a series of rocks in knee height water. This is why you want to limit the amount of items you have on you. You will be dodging rocks right and left. If you are a large person (like Seth) then be ready to get low! It is not a difficult hike so definitely don't let this deter you but just be prepared. The rocks and water are simply beautiful! The trail takes about 30 minutes overall.
Poor Man's Bar
Time to treat yourself to a cocktail after all that hiking! Poor Man's Bar is located at the very end of the trail, before you start to head back uphill. They serve an assortment of frozen cocktails but we would recommend a fresh coconut with a rum floater. Hydrating and delicious! This bar is cash only and drinks are around $10. There are some snacks served there but the real meal is at the next stop, The Top Of The Baths Restaurant.
Top Of The Baths Restaurant
It seems obvious but yes, that is the real name of the restaurant. We made a reservation for 12pm but it was pretty empty when we got there so it was probably not necessary. Either way, it doesn't hurt to have it ready if you are with a big group just in case it is a busy day. The food and drinks at The Top Of The Baths were delicious and fairly priced. We recommend the mahi mahi sandwich and a Pina Colada! There is also a pool there to cool off with a view and a nice change of pace from salt water. There are also gift shops nearby for souvenir shopping.
Sail to Leverick Bay
The sail from Virgin Gorda to Leverick Bay takes about an hour and a half. We docked here for the night without a set plan because it was a long day exploring. The mooring balls here are first come first serve basis and there were plenty available when we arrived. The sunset in this Bay is absolutely gorgeous! A few of us checked out Saba Rock Resort for cocktails. It was beautiful but definitely intended for couples enjoying their honeymoon, not a big group looking for the party. They were closing down the bar early around 9pm. There are a few yacht clubs in this bay, Bitter End being the most famous. Bitter End was unfortunately destroyed in 2017 from hurricane Irma but is set to reopen in 2022!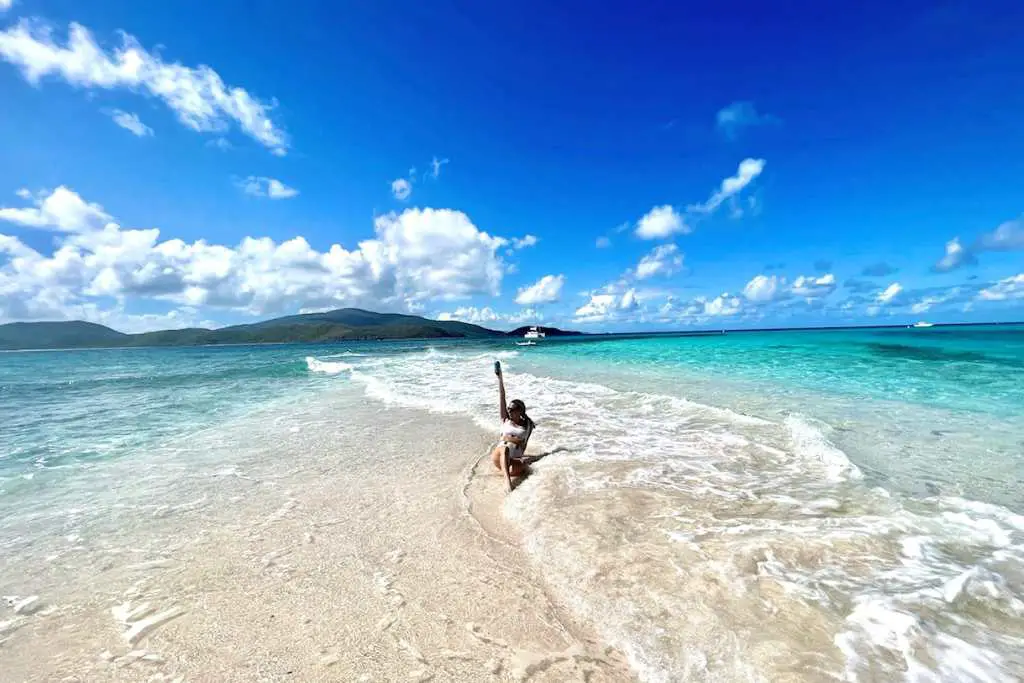 DAY 4 (Tuesday): Explore the Necker Island Sandbar, Sail to Jost Van Dyke
Necker Island Sandbar
The sandbar off Necker Island is one of the coolest stops on this 7 day sailing itinerary through the British Virgin Islands! Necker Island is owned by Richard Branson and is really exclusive, so it must bother him that normal folks stop nearby to say hi! The sail from Leverick Bay to the Sandbar is about 20 minutes and on the way to our next destination, Jost Van Dyke. Again, you'll want to get there early to beat any other boats.
We arrived around 10am and had it to ourselves for about 2 hours. Next we anchored as close to the sandbar as we could get and then took the dinghy to the shore. We had dry bags that we brought with the drone, speaker and a couple phones to document our time there! Definitely pack a little cooler so you can stay for a bit. Honestly, this was our favorite stop of the entire week! How often do you get to experience a private island by yourself? After a couple hours exploring the little island, time to get back on the boat for a long sail.
Use code JLJ10 for 10% off all eSIM purchases.
Jost Van Dyke
The sail from the sandbar to Jost Van Dyke is around 4 hours which is the longest sail of the trip. Take the time to relax, nap, read, play cards – however your group wants to fill the time. Jost Van Dyke is one of the most popular stops in the British Virgin Islands for good reason. There are tons of bars, restaurants and beautiful swim spots! We docked in Great Harbor on a mooring ball the first night so we could explore the bars in that area. Talk to your captain about reserving a mooring ball ahead of time to make sure you have a spot!
Sidney's Peace & Love
We made a reservation at Sidney's Peace & Love for 7pm. The restaurant is about a 10 minute taxi ride from the harbor. Your group will need to take the dinghy in from the boat and there are a few taxis waiting but Sidney's can also schedule you one. If your entire group likes Lobster, this dinner is a no brainer. Each person gets an entire lobster meal to themselves with multiple family style sides. With cocktails, the meal cost $80 a person and was absolutely worth it for the amount of food!
Foxy's Beach Bar
Foxy's is one of the most famous bars in the British Virgin Islands for good reason. There's games, music, dancing and all of the good vibes. Our group did a disco jungle theme night here and had an absolute blast! There are other bars in the area that are worth exploring but Foxy's is definitely the most well known.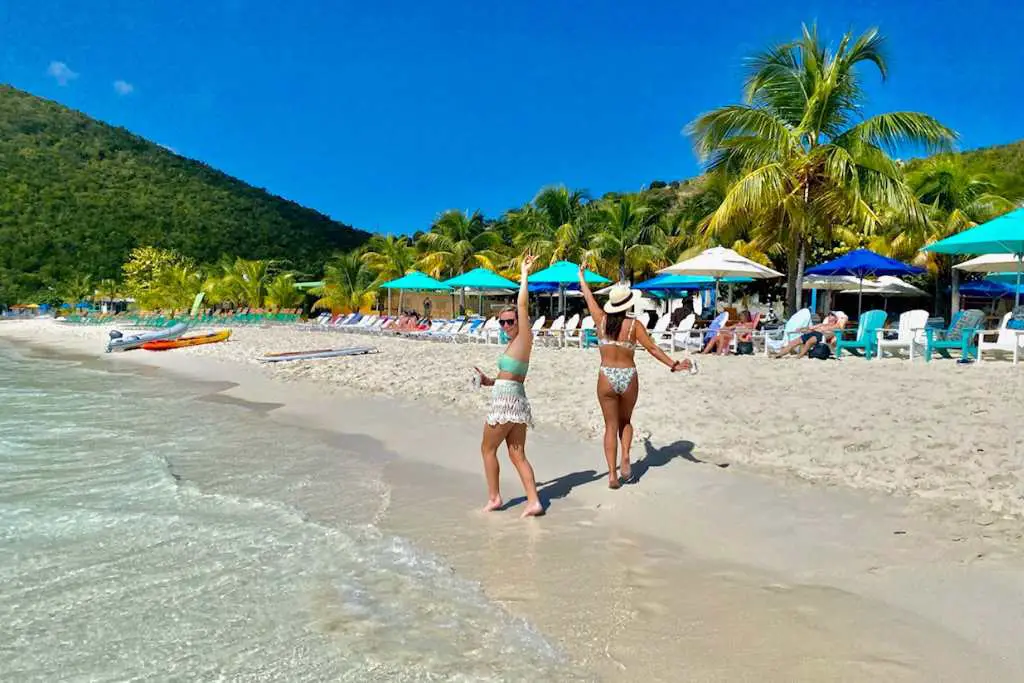 DAY 5 (Wednesday): White Bay and Soggy Dollar Bar
White Bay (Soggy Dollar Bar)
White Bay is the epitome of beach bar bliss! Many people come to the British Virgin Islands just to go to Soggy Dollar Bar. The sail from to White Bay from The Great Harbor is only 10 minutes. Top of this list to visit in White Bay is Soggy Dollar Bar, home of the original painkiller. There are tons of refreshing cocktail options if the painkiller isn't your favorite. There is also a live webcam that you can send to your friends and family who are not with you so they can be super jealous of your vacation!
Other bars in the bay to check out are One Love Bar and Grill and Coco Loco. Our group went on our own bar crawl down all of the beach bars to check them all out. We ended up closing the night out at Ivan's Stress Free Bar for some serious fun and dancing. Ivan's is located in White Bay but you will have to get there on the dinghy, not by land because there are rocks in the way and it is not safe to walk! We didn't have a set plan for this night on the sailing itinerary in the British Virgin Islands because we knew it would be a big party day but feel free to add another location here if your group can handle it.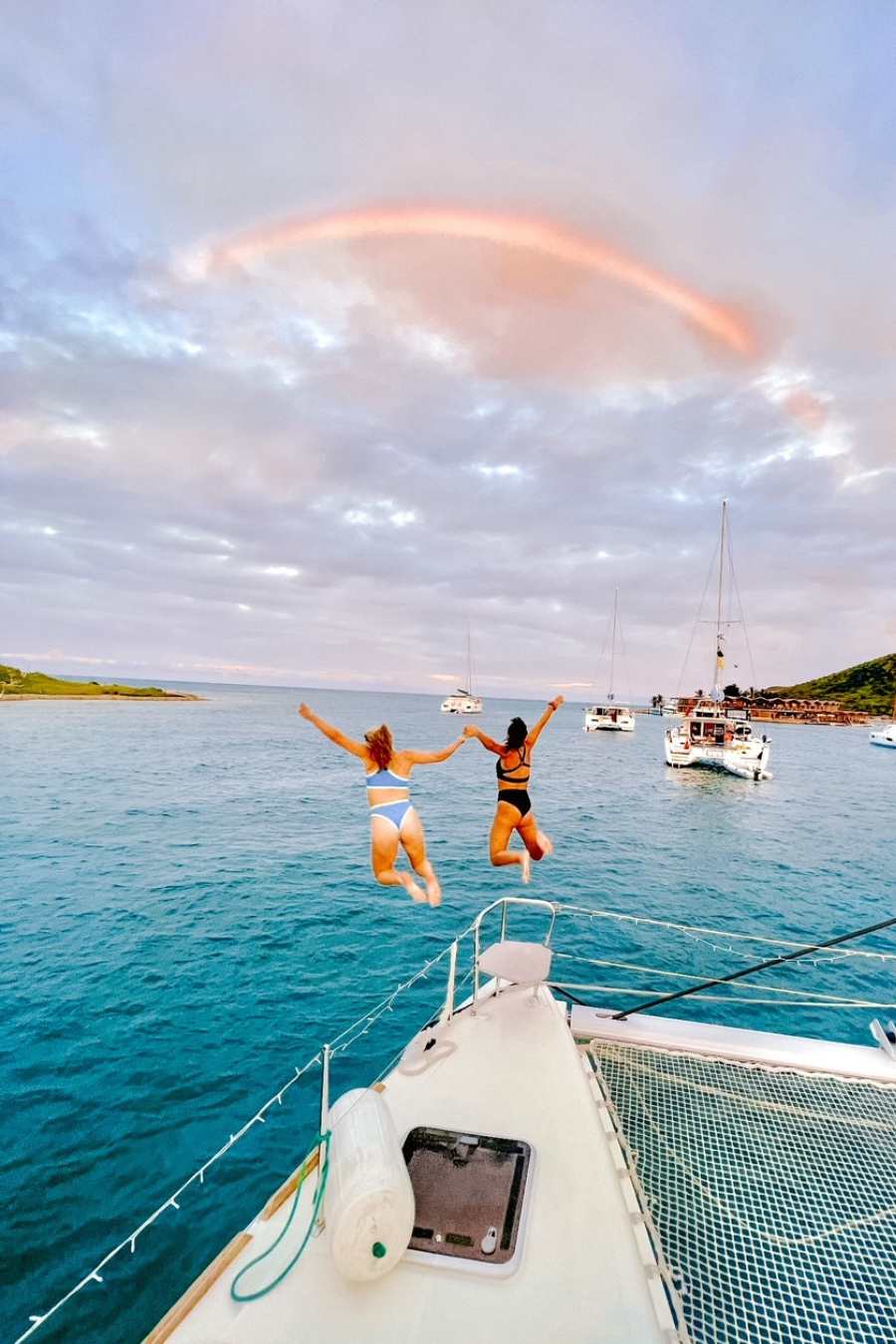 DAY 6 (Thursday): Explore Cane Garden Bay, Sail back to Bight Bay
Cane Garden Bay
After a lot of activity the previous two days, we were ready for a relaxing morning. We sailed over to Cane Garden Bay from White Bay which took around an hour. Another option here is to sail to this bay after your day in White Bay (Day 5/Wednesday evening) to catch what is supposedly one of the best sunsets on the islands! We had a mooring ball reserved in advance here. We spent the morning relaxing, swimming/floating around the boat and watching surfers. After some relaxation we went to shore to explore the west side of Tortola for a bit. Check out Paradise Club Lounge for a picturesque moment on the beach with swings. After exploring the island, we set sail to circle back to Bight Bay, the same place that we started the week. This trip took about 2 hours.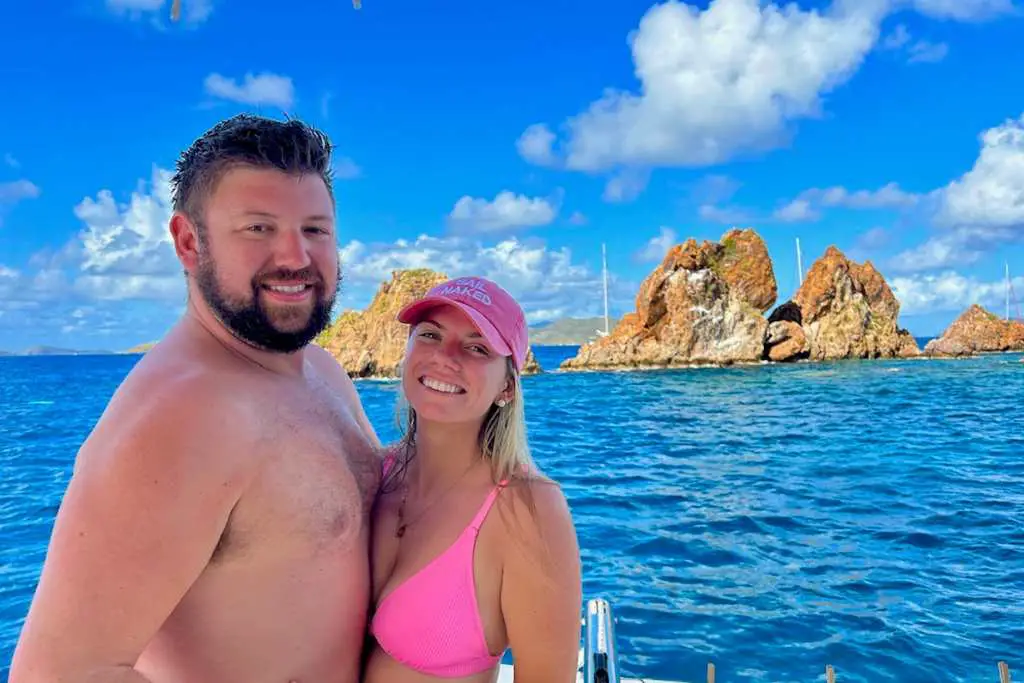 DAY 7 (Friday): Sunrise sail, The Indians, Willy T's, Sail back to Nanny Cay
Sunrise sail
Ah it is the last day on the boat – time to make the most of it! It is so important to do at least one sunrise sail while on your boat, if not more! It is truly something special to watch the sun rise on open water with sails blowing in the wind. Plus since it is the last day, it is important to get an early start.
Snorkeling at The Indians
The Indians are one of the most famous snorkel spots in the British Virgin Islands. They are a picturesque group of rocks and if you get there early enough (which you should since you got up for the sunrise), you will have a front row view! There are only eight mooring balls close to The Indians, so be sure to head right over after you are done with your sunrise sail. If you don't catch one of the mooring balls, then you can anchor nearby but will likely have to take the dinghy in closer. Adventure around the rocks and take note of all of the crystal clear water and beautiful fish living their best life!
Willy T's
Is there really any other way to end your time in the British Virgin Islands? Willy T's is the most logical spot to leave your last bit of dignity behind. We only experienced this epic bar at night at the beginning of the week so time to send it during the day. Jump off the top, snorkel and drink all the painkillers you can to live your last day to the fullest. It truly is such a special place to let loose!
Sail Back to Nanny Cay
After an epic day at Willy T's, it is time to sail back to the marina to return the boat. Technically the boat is not due until Saturday morning so if your group is somehow responsible enough to be all packed and cleaned, you can certainly add in another stop here on the British Virgin Islands sailing itinerary. Typically with such a big group though, it will take time to clean and pack everything up from the boat so it makes sense to get back to the dock on Friday night. There are a few bars in Nanny Cay to explore if your clean up is done early enough or it is a great time to just relax one more night on the boat with your crew.
Checkout (Saturday)
Be sure to communicate with your captain any checkout requirements and what is expected from the crew. Our entire group flew out on Saturday from St. Thomas so we had to take the ferry back and catch our flight. Even as experienced travelers, this was a LONG travel day. In the future we will break it into two days and get a hotel or Airbnb on St. Thomas before flying back or splurge on the extra flight cost to go directly from Tortola.
---
We hope this itinerary helps plan your epic week sailing through the British Virgin Islands. It was truly one of our favorite trips we have ever taken. Never hesitate to reach out with any questions about sailing or the British Virgin Islands in general. Happy traveling!