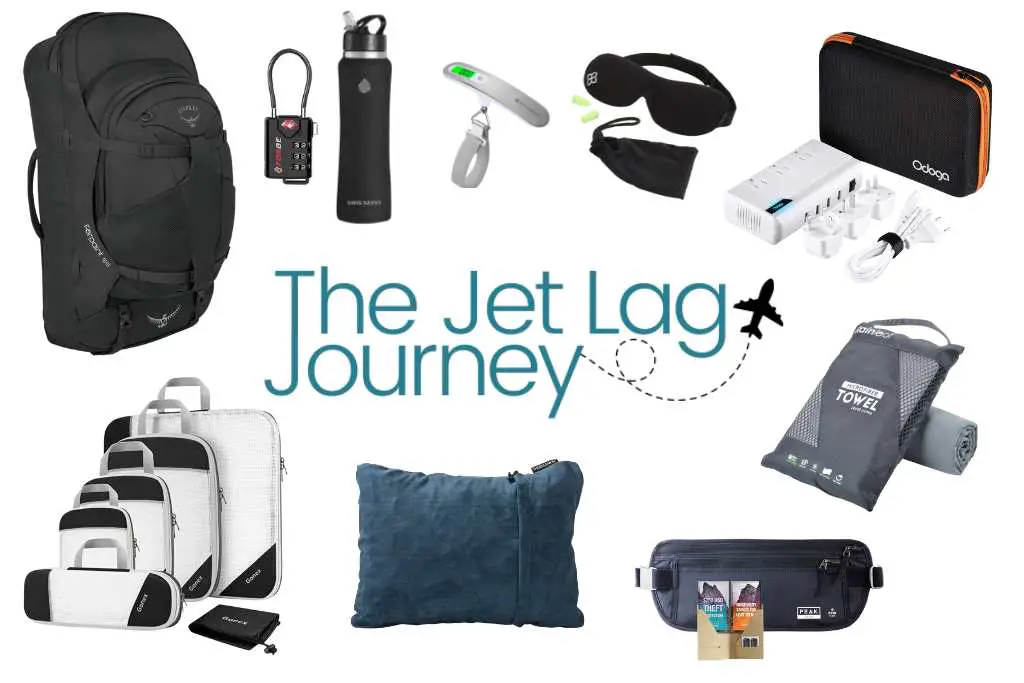 When you first start planning your backpacking trip it can be extremely overwhelming. You are asking the big question, how do I begin to pack? Before you even think about clothes, you need all of the backpacking essentials to hold your clothes and other belongings. As a backpacker it is so important to have a system set up with your belongings. When you move from city to city every couple of days you want to make your life as easy as possible by knowing exactly where you packed all of your items. You also want to make sure that you can pack and unpack as quickly as possible. All of these items in the guide below will help make your trip easy.
You can shop all of the backpacking essential items listed below in our backpacking essentials amazon list. Also as you plan your next big trip, be sure to also read our post about How To Prepare For Long term Travel.
1. A Backpack
This seems silly, but whatever backpack you decide on will become your best friend whether you like it or not. This backpacking essential is the outermost layer that protects all of your items and you will spend everyday carrying it. We highly recommend the Osprey Fairview 55! We used this when we traveled around the world for 6 months and we continue to use it any trip we take. Honestly, I don't foresee needing a new backpack for many years. This one in particular has a separate day back that can attach or detach from the bigger backpack. This is great to use during the day to bring everyday items around a city. It also fits as a carry on so you do not need to worry about checking a bag which saves you tons of money when you take multiple flights around the world.
2. Compression Packing Cubes
Space is everything when backpacking. You want to fit as much as you can in that backpack you pick out. These Compression packing cubes are a backpacking essential because they give you inches of space in your backpack and are so easy to use. Simply lay your clothes out, zip them up and use the compression zip on the bottom to watch inches of space disappear. They also come in a set of multiple sizes so you can organize your clothes in a way that makes sense. It is so important to know exactly where each piece of clothing is packed so you can access it as quickly as possible. These cubes fit perfectly in the Osprey backpack and definitely qualify as a backpacking essential.
3. Outlet Converter
Another important item on this list of backpacking essentials is this outlet converter is an all in one charging station for your devices. It works for over 180 countries and is a great place to plug in all of those elections that need charging. Have you ever needed to charge at an airport and can only find one outlet but have multiple devices to charge? Well with this converter, you only need one to charge all of your devices at once. It includes three outlets and four USB charger.
4. Microfiber Towel
Whether or not you are traveling on a budget this microfiber towel is a backpacking essential. This towel is lightweight and dries within minutes of use. This lightweight towel is perfect for camping, the beach or a trip to a waterfall. Also, some budget housing options around the world do not include towels with your stay so you will definitely need this when you get out of the shower!
5. Eye Mask and Ear Plugs
Traveling often leaves you sleeping in some really uncomfortable and loud places. Planes, trains and busses become your bed in no time. I am a big fan of naps any chance I can get so this eye mask is essential for sleeping in any location. Lots of transportation will also leave lights on even at odd hours. If you have this comfortable set, it will be no hassle at all! These backpacking essentials will set yourself up for success.
6. Compressible Travel Pillow
Like I said before, travel leaves you sleeping in some uncomfortable places. An extra pillow is a game changer when caught needing some shut eye in unusual places. Everyone has their own preference on which travel pillows are the best but this one is our favorite. It rolls up to a small size and can clip directly on your backpack when you are not using it. One of my biggest pet peeves is the lack of pillows in different hotels and hostels. Since this travel pillow is shaped like an actual pillow, you can slide it under whatever piece of cardboard your hotel provided and it makes it a normal sized pillow! A good night's sleep and comfortable pillow go hand in hand as backpacking essentials.
Use code JLJ10 for 10% off all eSIM purchases.
7. Water Bottle
Every traveler needs a water bottle for a multitude of reasons. It keeps you hydrated throughout the day and also saves you money so that you are not constantly buying water bottles when in airports. This water bottle was featured on Shark Tank and it actually cleans water through UV light.! This bottle will keep your water cold for hours and also provide clean water anywhere in the world.
8. Luggage Locks
Safety is key when traveling. Locking your luggage will protect your belongings against pickpockets and also potentially deter thieves. It's not guaranteed, but if they see that you have a lock on your pockets, they might move on to a different target. It also gives you peace of mind when taking a nap on a train or bus. You can sleep comfortably knowing that your belongings are locked and safe in your bags. These locks in particular are lightweight and easy to use. They come in a pack of six so that you have extras to put on purses or extra bags you are carrying.
9. Money Belt with RFID Block
This lightweight and comfortable money belt is great when traveling around crowded cities. You can trust that your cash, keys and credit cards will be protected when this is around your waist. It works under t-shirts or even dresses. Purses are an easy target for pickpockets so wearing this instead ensures your belongings are protected. This money belt in particular has RFID block protection built right into the fabric of the money belt. Anything you put in the belt will be protected against electronic theft.
10. Luggage Scale
If your travel entails taking multiple flights, this luggage scale is essential to ultimately save you money. Most airlines are extremely strict when it comes to carry on sizes and weight. This scale will make sure that your backpack is the right weight before you get to the airport. If you are close to the weight capacity, put on as many layers as possible. Also, put any heavy electronics in your pockets so it is not counted when your bag is weighed! These tips helped us when we traveled on super strict airlines. This luggage scale is also lightweight so it should not be an issue adding it when you throw it in your bag as the last item.
Additional travel resources:
All of these backpacking essentials will make your travels both safer and efficient. The more prepared you are before you leave, the better off you will be on the road.