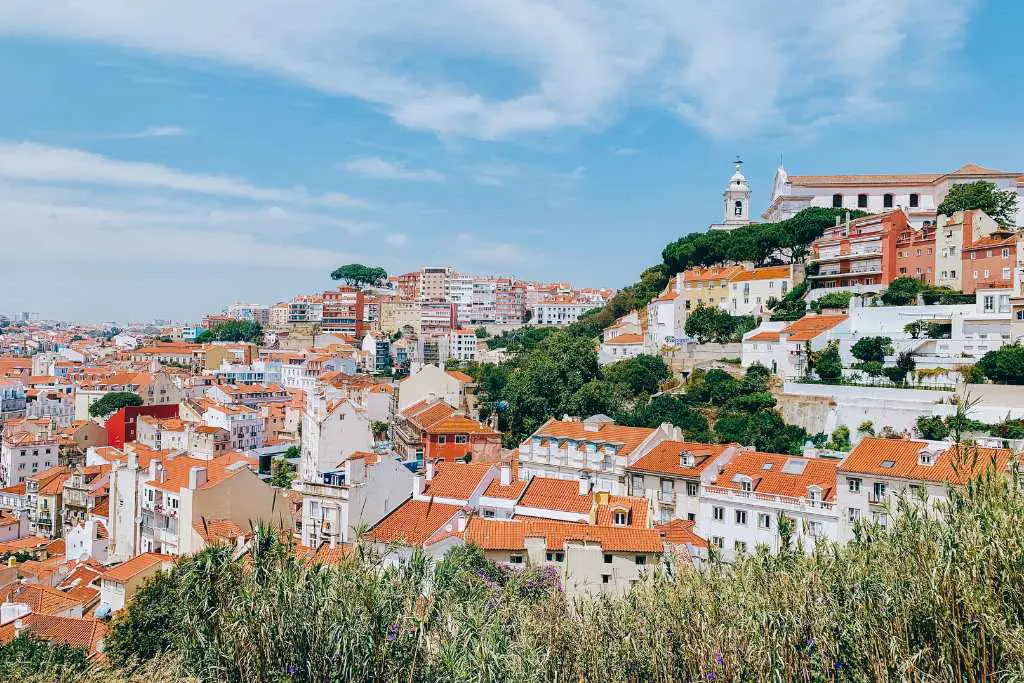 Lisbon is one of the most popular destinations in Europe for good reason. There is so much to explore and experience in this amazing city! Lisbon is an easy trans-Atlantic flight from the East Coast of the United States and is known for its unique charm, architecture and vibrant nightlife. Lisbon is also a gateway to experience more of what Portugal has to offer. Here is a complete guide on where to eat, drink, stay and explore in Lisbon, Portugal!
How to get to Lisbon
Lisbon is accessible by plane, train or bus depending where you are coming from.
Getting to Lisbon by plane
Lisbon Portela Airport is the closest and easiest airport to access the city. There are numerous flights to Lisbon from various cities around the world daily. Once you arrive at the airport, you can take a taxi, bus, or metro to your destination. Uber is available in Lisbon as well as Bolt, a popular ride transportation app used across Europe.
Skyscanner is one of our favorite tools to find cheap flights around the world. Browse your options here!
Getting to Lisbon by train
You can also get to Lisbon by train depending on your city of origin. Lisbon is connected to other major cities in Portugal and Spain including Porto, Coimbra and Madrid. Lisbon Oriente Station is located just a few miles outside of the city center and you can take a taxi, ride app or public transportation to your destination.
Getting to Lisbon by bus
There are a variety of bus companies which run daily to Lisbon. This is a convenient and budget-friendly way to get to the city. There are regular buses from various cities in Portugal and Spain, as well as other international destinations.
Pro-tip: Always use Rome2Rio to see all of your transportation options!
Currency and Tipping in Lisbon
The currency in Lisbon is the Euro (EUR). It's a good idea to have some cash on hand for small purchases, but most places in Lisbon also accept credit and debit cards.
Tipping is not required in Lisbon, but it is common to leave a small tip at restaurants, cafes and bars if you received good service. A tip of 10% is generally considered sufficient. As always, feel free to leave more if you feel as though you received excellent service. It is also common to round up the bill to the nearest Euro at bars and cafes.
When looking for an ATM in Europe, we highly recommend using an ATM machine that is associated with a bank. Bonus points if you can find one that is located in the main entrance to a bank as this will not only have the best conversion rate, but also elevated security to prevent any card scanners from being installed. Read 50 Europe travel tips here to avoid travel scams!
Use code JLJ10 for 10% off all eSIM purchases.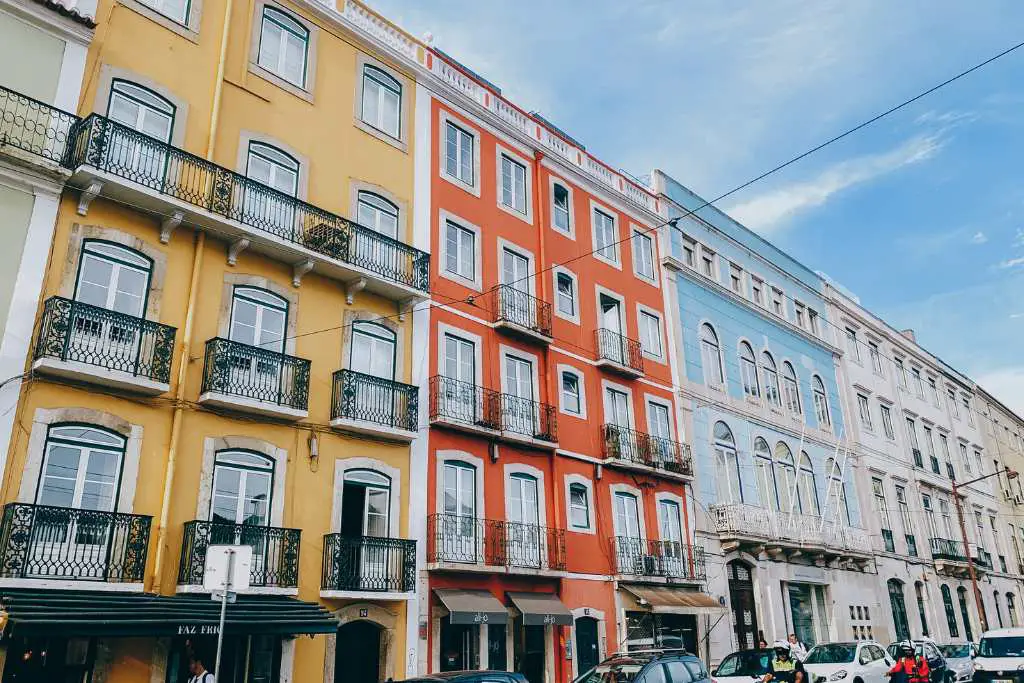 Where to stay in Lisbon
Lisbon has a wide range of accommodation options to suit different budgets and preferences. If you're looking for a traditional Portuguese experience, you may want to consider staying in a guesthouse or an Airbnb in one of the city's historic neighborhoods, such as the Alfama or Bairro Alto. If you prefer a more modern experience, there are also plenty of high-end hotels and serviced apartments located in the city center and surrounding areas.
Boutique stay in Lisbon
Casa das Janelas com Vista: For a more homey stay in the Bairro Alto district, we highly recommend Casa das Janelas com Vista. Enjoy some wine in the living room area after a day exploring the city and meet some fellow travelers.
Memmo Alfama – Design Hotels: The views from the rooftop bar and pool of Memmo Alfama are absolutely breathtaking. Between the luxury rooms and the different outside areas, this is a perfect stay for Lisbon.
Mid-range stay in Lisbon
Hotel Riverside Alfama: This hotel is a five minute walk from the traditional Fado music area of the city, as well as close to the river. We particularly like Hotel Riverside Alfama because of the complimentary breakfast and centralized location.
Where to stay in Lisbon on a budget
Lookout Lisbon! Hostel: We stayed at this hostel our first time in Lisbon. The location is great in Bairro Alto and just a ten minute walk down to the river. This is also very close to the main nightlife section of the city.
Traveling on a budget? Read 40 ways to travel cheaper!
Famous foods to try in Lisbon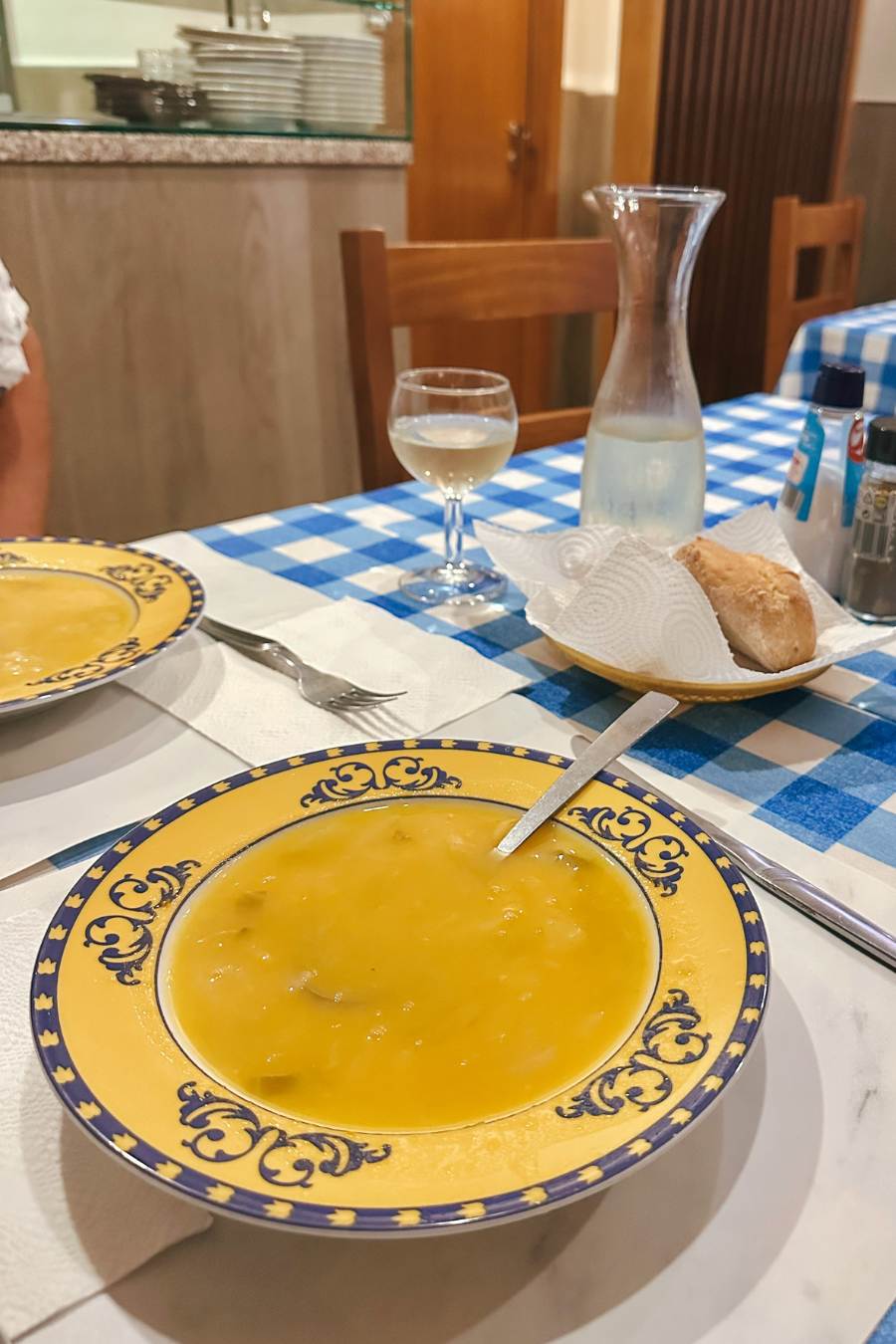 Lisbon is known for its delicious cuisine, which is influenced by a mix of Portuguese, Mediterranean, and African flavors. Some of the city's famous foods include:
Pastéis de nata
These small, flaky pastries are filled with a creamy egg custard and dusted with cinnamon. They are a popular snack in Lisbon and can be found at bakeries and cafes throughout the city.
Bifana
This is a traditional Portuguese sandwich made with marinated pork and served on a bun. It is typically served with mustard and piri-piri sauce.
Sardines
Lisbon is known for its fresh seafood, and sardines are a popular choice. They are often grilled and served with potatoes and vegetables.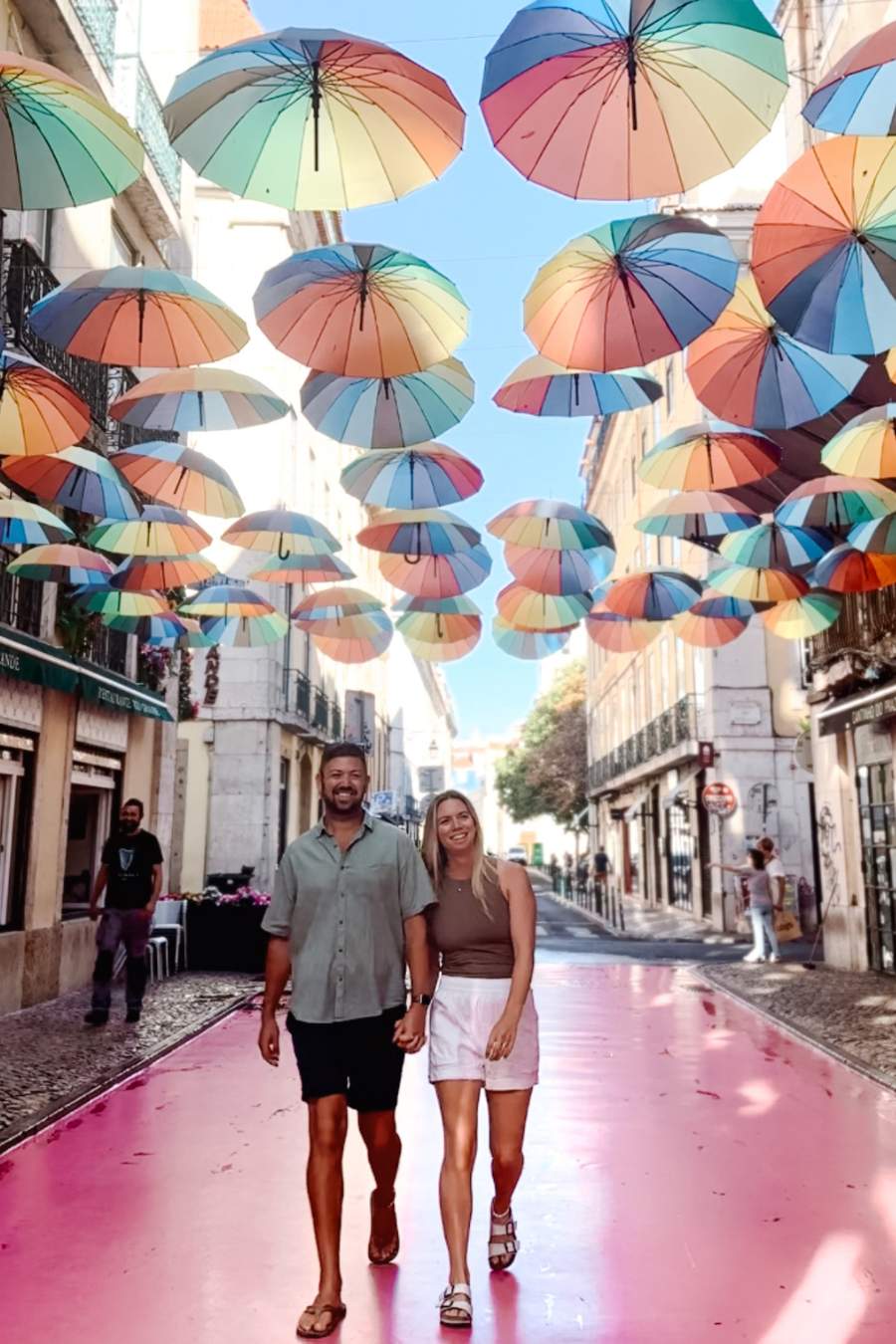 Where to eat in Lisbon
Lisbon is home to a wide variety of restaurants, ranging from traditional Portuguese tavernas to modern bistros and fusion restaurants. Here are some recommendations for local restaurants in Lisbon:
Time Out Market: This is the most popular place to experience local dishes in Lisbon. You can browse a multitude of options here and there is truly something for everyone in Time Out Market!
Valdo Gatti Pizza Bio: We had delicious pizza for lunch here during our time in Lisbon. We got really lucky that we were able to get a table without a reservation because during peak hours they book up days in advance!
O Mercado: This popular restaurant serves traditional Portuguese cuisine with a modern twist. Located in the Mercado da Ribeira market, it's a great place to try a variety of Portuguese dishes.
A Cevicheria: As the name suggests, this restaurant specializes in ceviche, a Peruvian dish made with raw fish marinated in citrus juice. They also serve a variety of other seafood dishes.
Art Italiana: This is a small Italian restaurant with delicious pasta. We particularly loved the gnocchi gorgonzola and the spaghetti frutti di mare.
100 Maneiras: This Michelin-starred restaurant serves creative, modern Portuguese cuisine using locally-sourced ingredients.
A Travessa: This restaurant is located in the historic Chiado neighborhood and serves traditional Portuguese cuisine in a charming, rustic setting.
Taberna da Rua das Flores: Located in the trendy Bairro Alto neighborhood, this restaurant serves traditional Portuguese dishes in a cozy atmosphere.
Solar dos Presuntos: This restaurant serves traditional Portuguese cuisine and is known for its delicious cured meats.
Trattoria Lisboeta: We particularly recommend this affordable restaurant in the Bairro Alto neighborhood to have a short walk post dinner to the main bar area.
O Faia: This is located in the Alfama neighborhood and has a traditional Portuguese atmosphere and Fado music daily.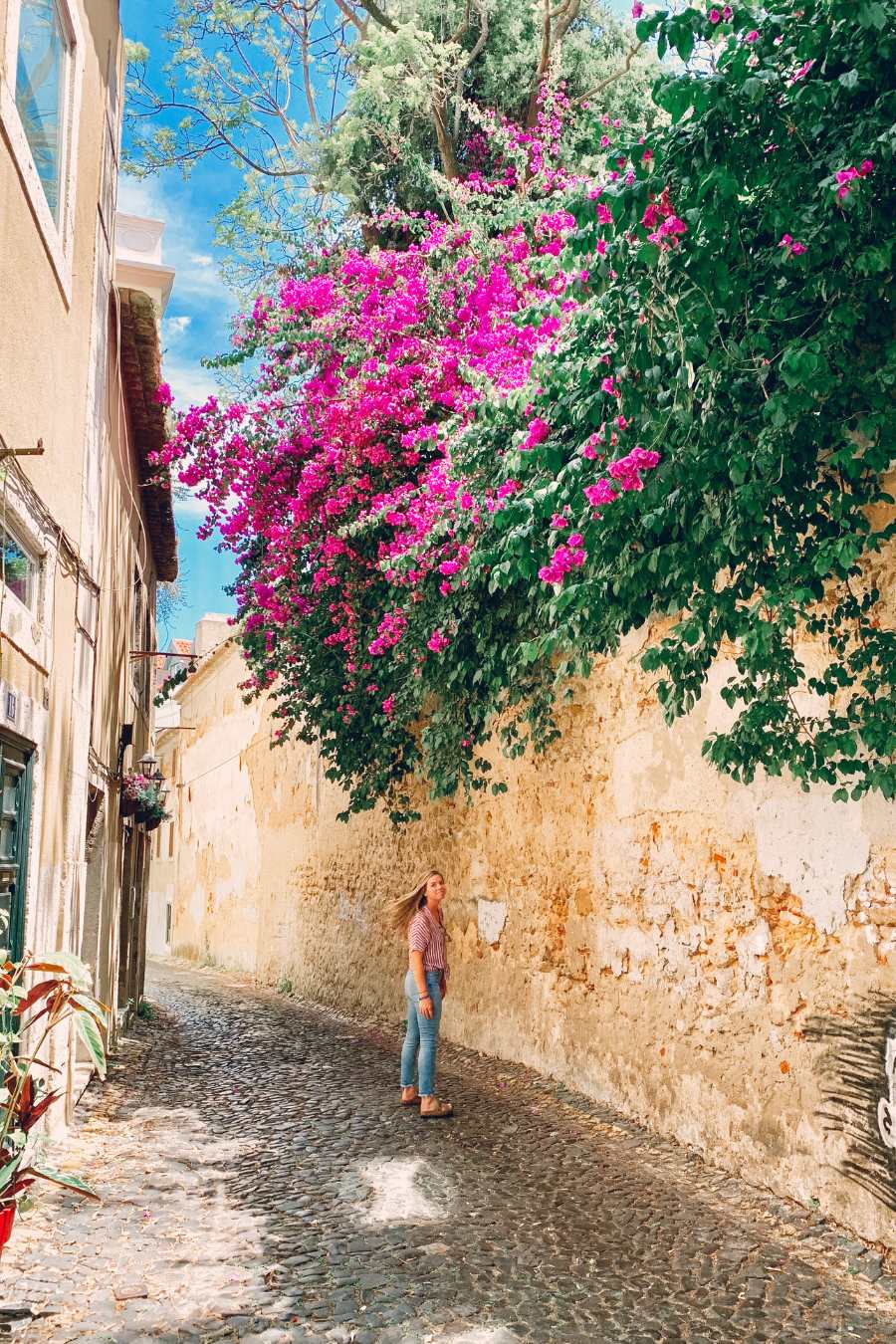 Where to Drink in Lisbon
Lisbon is known for its vibrant nightlife and there are plenty of great bars to choose from. Here are some recommendations for the best bars in Lisbon!
Red Frog Speakeasy: For cocktail lovers this speakeasy is an absolute must during your stay in Lisbon. Due to its small size, it is important that you make a reservation if you are planning on stopping here for a drink.
Toca da Rapose: For a much more intimate setting make sure you head to Toca da Rapose known for having some of the best cocktails in Lisbon.
Black Tiger Bar: Incredibly cheap liters of beer on a side street only a short walk from the Pink Street.
The Couch Sports Bar: Located just above the Pink Street this sports bar has outdoor tvs as well as a ton of indoor tvs and will even turn the sound on for a big match. This is a great spot to catch any sports match and an affordable pint.
Bar 104: Located at the heart of Bairro Alto's bar areas, this bar has incredibly cheap giant cocktails and cheap beer. This is a good place to start your night out in Lisbon and explore the street around this bar!
Pavilhão Chinês: Located in the trendy Bairro Alto neighborhood, this bar is somewhat of a unique museum and creative cocktails.
Lux Club: This downtown rooftop bar offers panoramic views of the city and serves a variety of cocktails and light snacks. Lux is also one of the most popular nightclubs in Lisbon.
A Ginjinha: This quaint bar is known for its cheap and delicious ginjinha, a cherry liqueur that is a popular drink in Lisbon.
Botequim da Esquina: Located in the trendy Principe Real neighborhood, this bar has an extensive list of drinks and snacks. There is also live music played regularly here.
The Insólito: This bar has a chic atmosphere known for delicious cocktails in the Lapa neighborhood.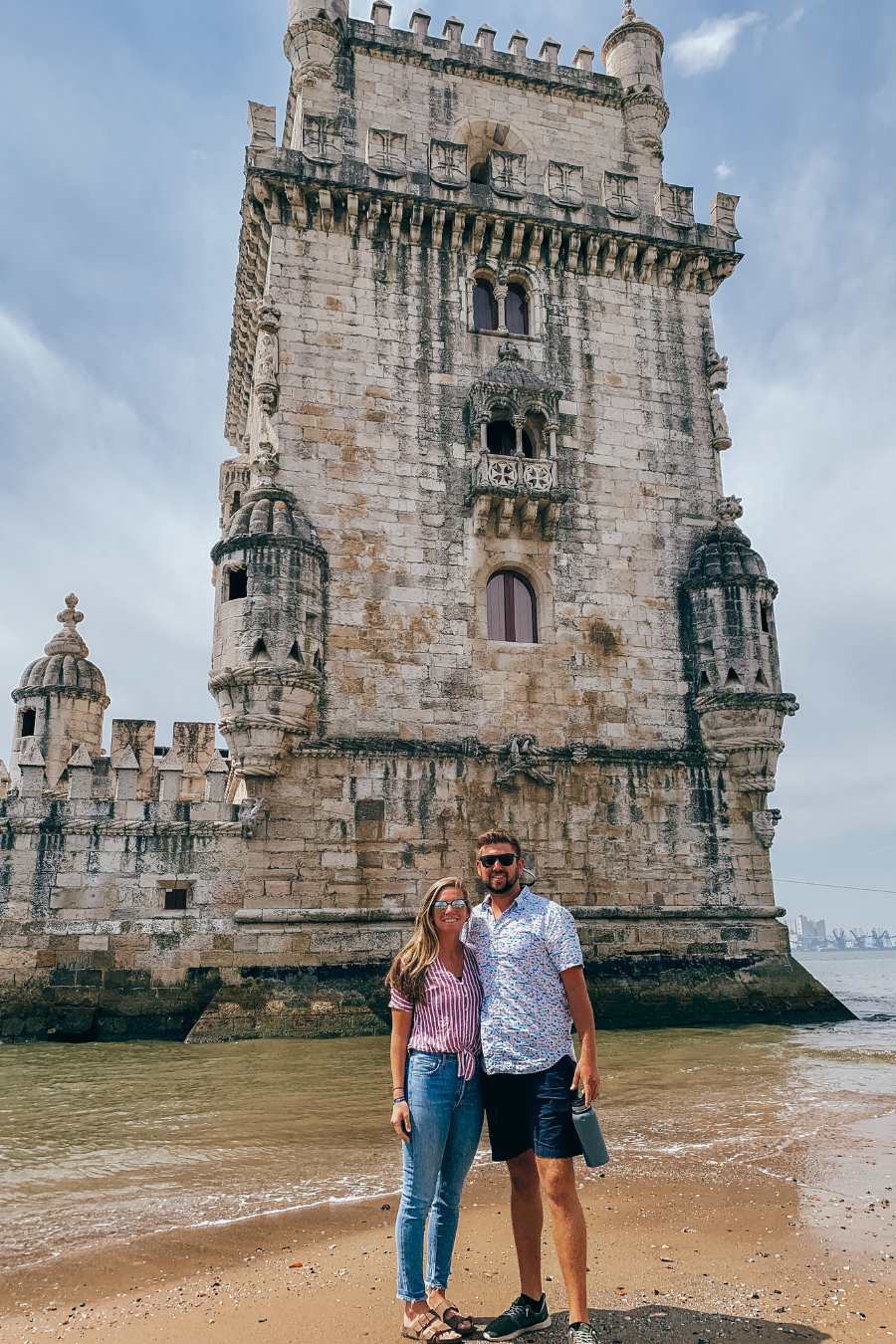 Things to do in Lisbon
Lisbon is a city with a rich history and culture, and there are plenty of things to do and see during your visit. Here are some recommendations for things to do in Lisbon!
Visit the historic Belem Tower
Located along the waterfront, this iconic tower is a UNESCO World Heritage site and a popular tourist attraction. You can easily get to the Belem Tower from the city-center by using a rideshare app or taking the public transportation.
Explore the winding streets of the Alfama neighborhood
This historic neighborhood is known for its narrow streets, colorful houses and lively atmosphere.
Do a free walking tour of the city
Lisbon has a rich history and culture, and there are several tours available that will take you to some of the city's top attractions. This is the easiest way to learn the history of the city!
Visit the Jeronimos Monastery
Located in the Belem neighborhood, this beautiful monastery is a UNESCO World Heritage site and a must-see for anyone visiting Lisbon.
Visit the Rossio Square
Located in the heart of the city, this square is a popular gathering place and a great place to people-watch.
Walk along the Pink Street
This popular pedestrian street is painted pink and is lined with enjoyable bars and restaurants.
Visit the Gulbenkian Museum
Located in the city center, this museum features a collection of art, artifacts and other treasures from around the world.
Take a stroll along the waterfront
Lisbon has a beautiful waterfront area with a promenade that is perfect for a leisurely walk.
Explore the city's parks and gardens
Lisbon has several beautiful parks and gardens, including the Jardim da Estrela and the Jardim da Praca do Imperio.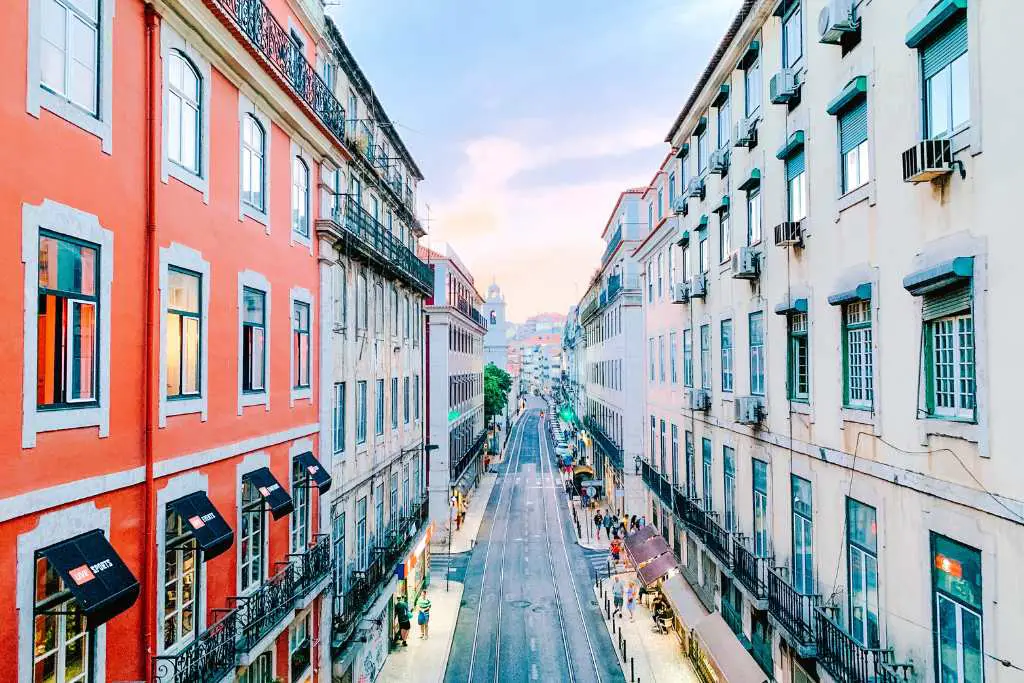 Best day trips from Lisbon
Lisbon is surrounded by a number of interesting and picturesque towns and cities that make for great day trips from the city. Here are some recommendations for the best day trips from Lisbon.
Sintra
Sintra is the most popular day to take from Lisbon because of the stunning palace and gardens. Located just a short distance from Lisbon, Sintra is a charming town known for its beautiful castles and palaces, including the Pena Palace and the Moorish Castle. We recommend booking this day trip with an official tour because it is very difficult to get tickets on your own. By booking an official tour, it will take away the stress of planning the logistics of the day.
Cascais
Cascais is located along the Atlantic coast and is known for its beautiful beaches, historic center and lively atmosphere. You can book an official tour to go here or easily do this day trip on your own by taking a 45 minute train from Lisbon.
Fátima, Nazaré, and Óbidos
Experience all that the countryside of Portugal has to offer with this day trip to these three charming cities.
Arrábida Natural Park
Located just south of Lisbon, this beautiful natural park is known for its stunning coastline and hiking trails.
How to get around Lisbon
Lisbon is a relatively small city and is easy to navigate. Be warned though, Lisbon is a very hilly city. There are steep streets so use caution when walking or biking.
Walking
Lisbon is a fairly walkable city, and many of the city's top attractions are located within the city center. Walking is a great way to explore the city's narrow streets and charming neighborhoods. With this said, Lisbon is very hilly! Be sure to add 10-20 minutes to your walking time when planning out your day.
Public transportation
Lisbon has an extensive network of buses, trams and metro lines that make it easy to get around the city. The city's metro system is relatively easy to use and covers most of the city, although it can get crowded during peak hours.
Rideshare services such as Uber, Bolt and FreeNow are also available in Lisbon, making it easy to get around the city. Bolt is typically the most affordable rideshare option in Lisbon.
Bicycles
Lisbon has an extensive network of bike lanes and is a relatively bike-friendly city. You can rent bikes from several companies around the city or use one of the city's bike-sharing programs.
---
Lisbon is an incredible city to visit in Portugal! We have been there multiple times now and love it more each time we go. We hope this complete city guide on the best things to do in Lisbon helps plan your trip to this amazing city! Let us know in the comments which thing to do is your favorite. Happy traveling!