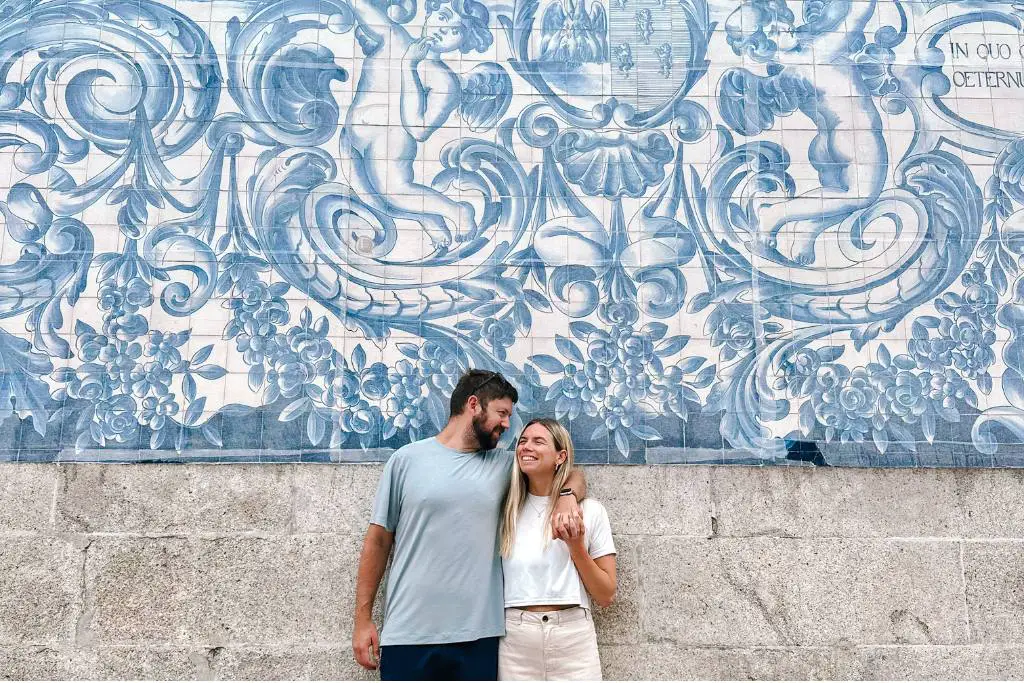 Porto is the second largest city in Portugal and is located on the Douro River in the north of the country. It is famous for its port wine, stunning views of the Douro River and historic Ribeira district. We spent a week in Porto and absolutely fell in love with this city. As much we love Lisbon, Porto won us over as our favorite city in Portugal!
Porto and Portugal in general is a very manageable destination to visit if you are traveling to Europe for the first time or are nervous to take an international trip. It is very walkable and all of the people are friendly!
How to get to Porto
Getting to Porto by plane: Porto's international airport, Francisco Sá Carneiro Airport, is located about a 20-30 minute drive to Porto's city-center. While there are not many direct flights from the United States to Porto, there are many European cities that fly to Porto. Many travelers will have a layover in Lisbon to get to Porto by plane.
The best way to get to your housing from the Porto airport is to order a car through a rideshare app like Uber or Bolt, or to take one of the public buses.
Skyscanner is one of our favorite tools to find cheap flights around the world. Browse your options here!
Getting to Porto by Train: Porto is well-connected to the rest of Portugal by train. The Alfa Pendular train service is the fastest way to get to Porto from Lisbon, taking just 2 hours and 40 minutes. The Intercidades train service is also a good option, taking about 3 hours and 10 minutes.
Getting to Porto by Bus: There are several bus companies that offer regular bus services to Porto from all over Portugal. The journey time from Lisbon by bus is usually around 4 hours.
The best time to visit Porto
The best time to visit Porto is from mid-spring in April until the end of October, when it is still warm and sunny. We visited Porto at the end of July and while it wasn't unbearably hot yet, it was definitely getting there! You can definitely still visit Porto in the peak summer season but prepare for crowds and heat. Nonetheless, the best months are undoubtedly May and September.
Porto is also a great winter destination in Europe because the weather will be mild. It may not be boating temperatures, but you can still enjoy the views and everything the city has to offer. It will also be less crowded with tourists during the winter months.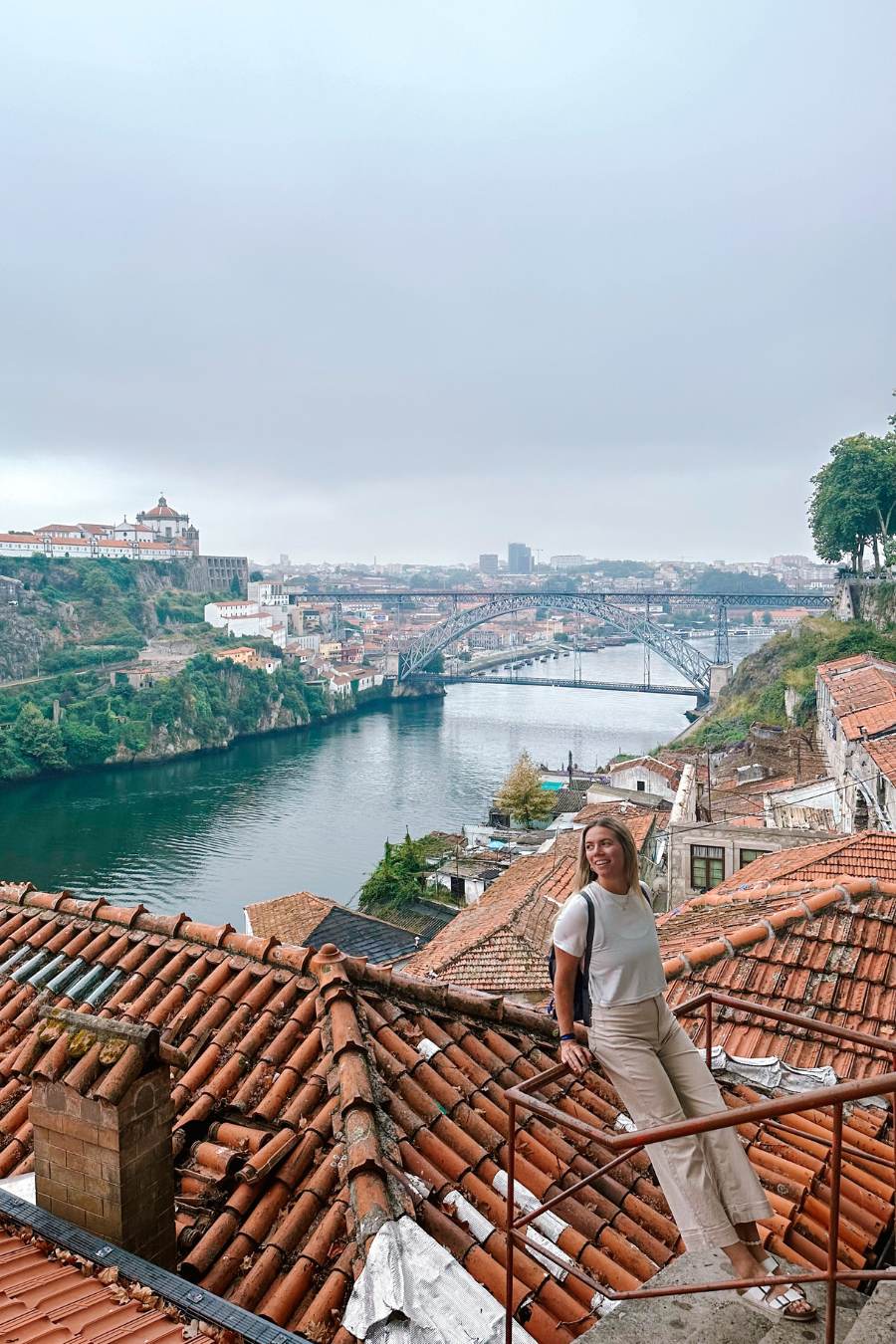 Currency in Porto
The currency used in Porto is the euro (EUR). Unlike the rest of Portugal, a lot of bars and restaurants around Porto will not accept credit cards. Always check before you place your order if you will need to pay in cash.
Read 50 Europe travel tips and learn how to avoid any ATM scams.
Is Porto expensive?
While Porto has gotten more expensive in the last few years, it is still definitely one of the cheaper destinations to visit in Europe. It is a great place to travel on a budget! Porto is now similarly priced to surrounding countries like Italy. A typical meal in Porto costs around €15 and €3 for a beer.
Since Porto is famous for the wine, wine is by far the cheapest drink on most menus (typically around €2 a glass). It is a great way to get a taste of the local flavor and dive into the culture!
How many days do you need to visit Porto?
While Porto is a smaller city, there is still so much to see and do here, especially if you add in day trips to vineyards and up the Douro river. We stayed in Porto for five days as digital nomads and were able to see most things we wanted to do.
If you are not working and will have your days free, we recommend at least three days to see most of Porto. If you prefer to travel at a slower pace or have a long list of must-have activities while in Porto, we recommend staying at least five days.
Use code JLJ10 for 10% off all eSIM purchases.
Where to stay in Porto
Since Porto is not a large city and housing is not too expensive, we recommend staying walking to all of the main sites in Porto. This way you will be close to everything you want to experience in Porto!
The Ribeira District
This district is the historic center of Porto and it is a UNESCO World Heritage Site. The Ribeira district is known for its narrow streets, colorful houses and waterfront views. It is a great place to stay if you want to be in the heart of the action.
1872 River House: This boutique hotel has a great rooftop terrace with views of the river.
The Editory House Ribeira Porto Hotel: With its central location, this is a great option to stay for your time in Porto.
Baixa
Baixa is the commercial center of Porto and it is home to many shops, restaurants and bars. It is a great place to stay if you want to be close to everything.
Hotel da Bolsa: This 5-star hotel is located in a former stock exchange building in the heart of Baixa. It has a beautiful ballroom and a rooftop terrace with views of the city.
Where to eat in Porto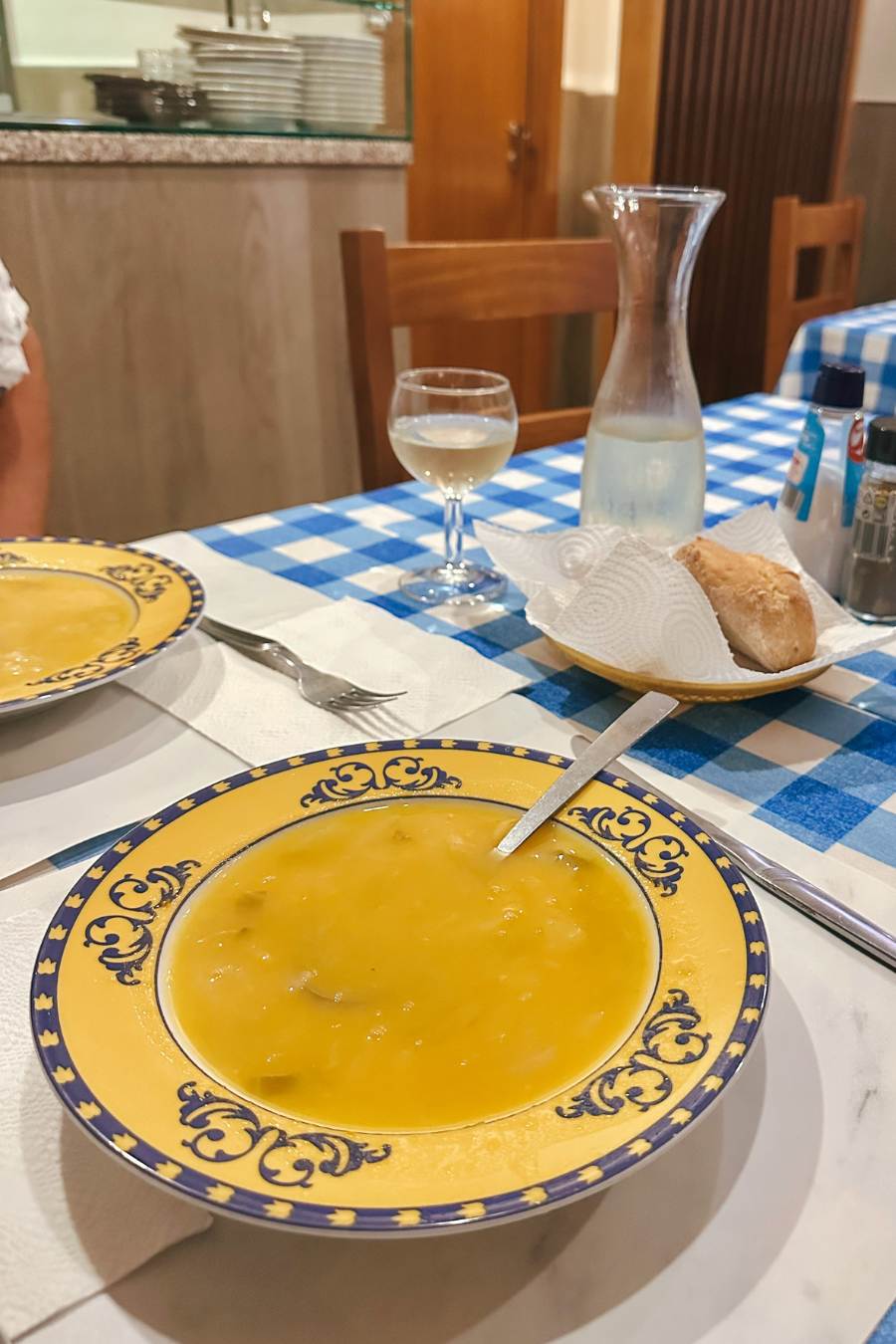 Porto is home to tons of local restaurants that are both delicious and affordable. We went out to many amazing meals during our time in Porto! Here are some of the best places to eat in Porto.
Novo Mundo: Quaint restaurant with a daily set menu. We had one of the best meals during our time in Porto here and it was incredibly affordable.
Lareira – Baixa: Great place to go for traditional Portugese food. We highly recommend getting the octopus salad here.
Taberna Folias de Baco: Great restaurant to go to for some cheap Portugese sausages.
Restaurante Cane Verde: One of the best places to eat in Porto on a budget. We recommend getting there at least ten minutes before it opens in order to get a table as it fills up immediately.
Where to drink in Porto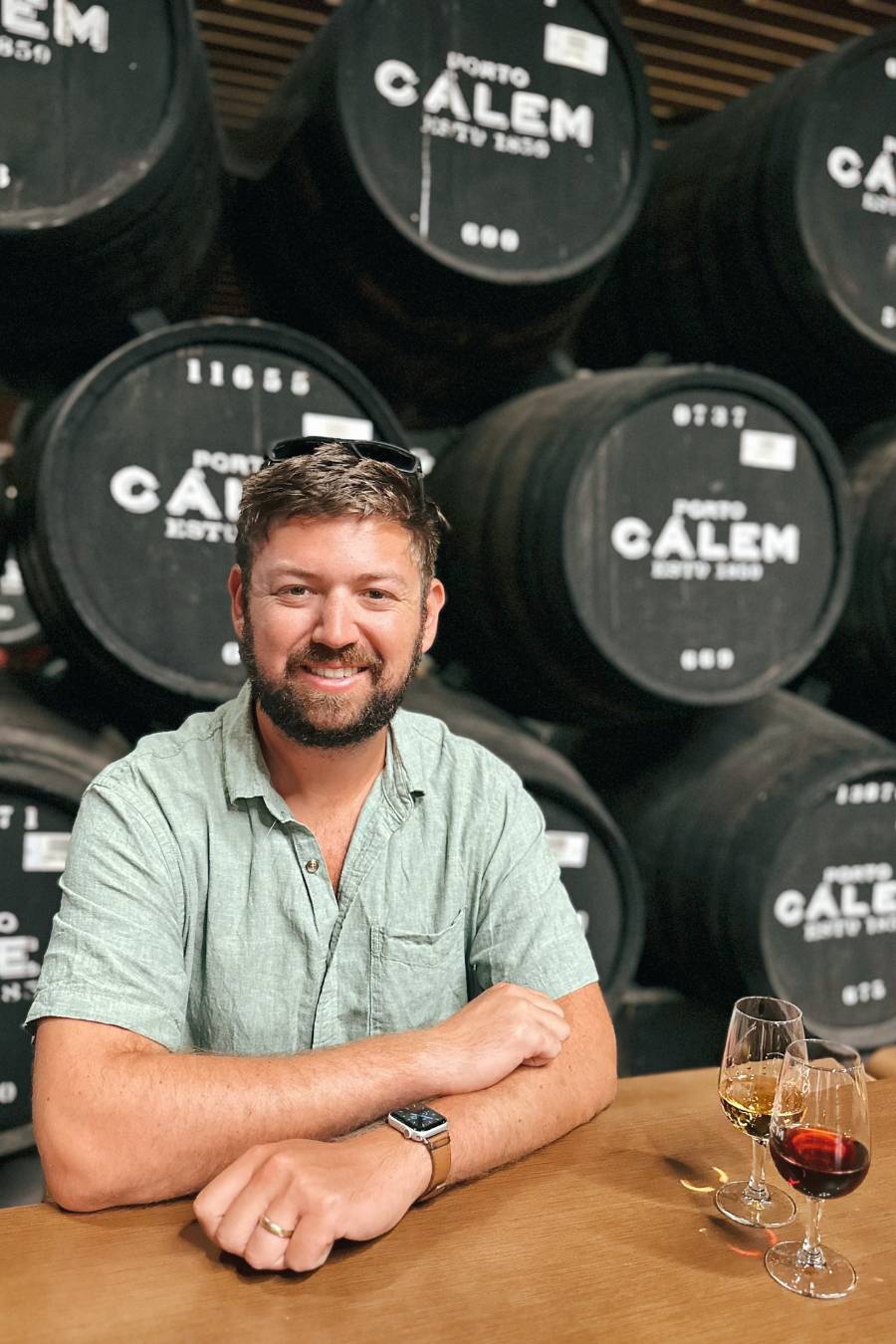 We were shocked by how lively the bar scene and nightlife was in Porto. Like most things in the city, it was a cheap city to enjoy the nightlife and meet other travelers. Whether you want a night out with friends or just want to enjoy a quiet glass of wine on a side street, Porto has the bar scene for you!
Honey Bee: This small bar on a side street was the perfect place to enjoy a glass of wine during the day. At night it becomes more lively with music and a dance floor.
Capela Incomum: This wine bar is in an old church and offers both unique indoor and outdoor seating. We enjoyed our time relaxing here!
Base Porto: Really cool outdoor bar built on top of a parking garage and shopping center. We recommend getting a drink and finding a shady spot to enjoy drinking in this park in the center of the city.
Mirajazz: We almost gave up on finding this bar because it is located up a side alley of steep stairs, but once you get up to it you have beautiful views of the Douro River and can enjoy some nice jazz music.
Bar Baixa: This bar is right on the main nightlife street. We recommend popping into any of the bars on this street and bringing your drink back outside to enjoy the vibes of everyone drinking in the street.
Castle Rock Pub: If you are looking for live music this quaint bar is the perfect spot to grab a cocktail and enjoy the band.
Bonaparte Downtown: Irish bar that is really more of a cocktail bar. Great spot to go for a nice drink before or after dinner.
The best things to do in Porto
Visit the Ribeira district
The Ribeira district is the historic center of Porto and it is a UNESCO World Heritage Site. The Ribeira district is known for its narrow streets, colorful houses and waterfront views. It is a great place to wander around, take photos and enjoy the atmosphere of this beautiful city!
Take a boat trip on the Douro River
The Douro River is breathtaking and flows through the heart of Porto. Taking a boat trip on the Douro River is a great way to see the city from a different perspective and to enjoy the beautiful scenery.
Read about our Porto sailing experience with the amazing Douro Captain team here!
Stop by Porto São Bento
The Porto São Bento train station is actually one of the top things to see in Porto because the inside is stunning. It is a great place to see azul tiles and other beautiful art on the walls!
Visit the São Francisco Church
The São Francisco Church is a beautiful Baroque church that is located in the Ribeira district. The church is known for its ornate interior and its golden altar.
Take pictures in front of Igreja do Carmo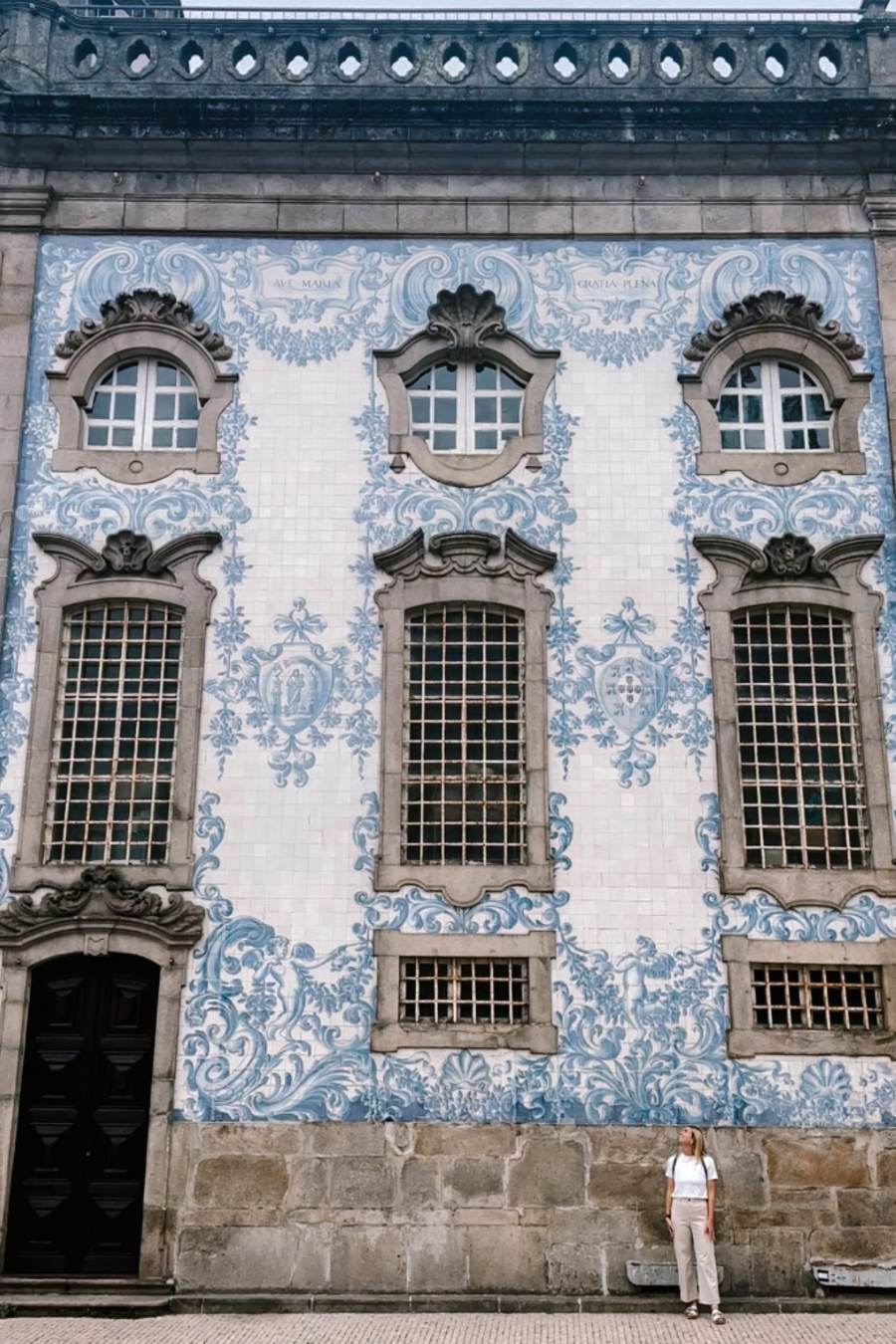 This church is the most iconic photo spot in Porto because the azul tiles on the side. It is simply stunning!
Watch the sunset at Jardim do Morro
If you do anything in Porto, please do this! The sunset experience at Jardim do Morro is magical. Hundreds of people gather to watch the sun set over the Douro River. We recommended stopping in Pingo Doce for some beer or a bottle of wine to sip on while you enjoy the views and the atmosphere. If you want a good seat in the crowd, plan to arrive 30 minutes before the sun begins to set.
Explore the Livraria Lello bookstore
The Livraria Lello bookstore is one of the most beautiful bookstores in the world. The bookstore is known for its spiral staircase and its stained glass windows. There is typically a line to enter the bookstore, so be sure to book tickets in advance if possible!
Walk across the Dom Luís I Bridge
The Dom Luís I Bridge is a double-deck metal arch bridge that spans the Douro River. The bridge is a popular tourist destination and it offers stunning views of the city.
Visit the Serralves Museum and Gardens
The Serralves Museum and Gardens is a beautiful park and museum complex that is located on the outskirts of Porto. The museum houses a collection of modern and contemporary art, and the gardens are a great place to relax and enjoy the outdoors.
Taste port wine
Port wine is a fortified wine that is made in the Douro Valley. There are many port wine lodges in Vila Nova de Gaia, which is located across the Douro River from Porto. You can take a tour of a port wine lodge and sample a variety of port wines. We took a lovely wine tour at Calem Wine Cellars!
Try Pastel de Nata
Pastel de Nata is a custard tart that is a popular pastry in Portugal. It is typically served warm with a dusting of cinnamon. You'll find this tasty treat in any cafe or pastry shop!
The best day trips in Porto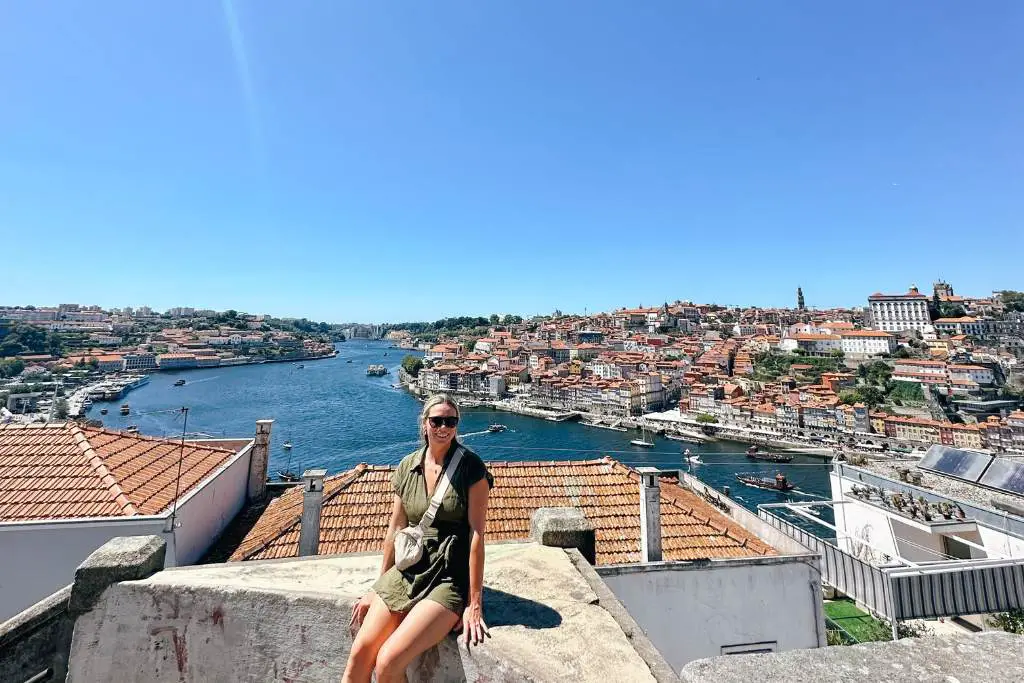 Visit Aveiro
Aveiro is a charming city that is located about an hour south of Porto. Aveiro is known for its canals and its colorful moliceiros boats.
Relax on the beach
Porto is located on the Atlantic Ocean and there are many beautiful beaches within easy reach of the city. If you are looking for a beach day, Porto is a great option.
Visit Guimarães
Guimarães is the birthplace of Portugal and it is a beautiful city that is located about an hour north of Porto. Guimarães is a great place to learn about Portuguese history and culture!
Hike in the Douro Valley
The Douro Valley is a beautiful wine region that is located north of Porto. There are many hiking trails in the Douro Valley that offer stunning views of the vineyards and the river!
Basic Tips for visiting Porto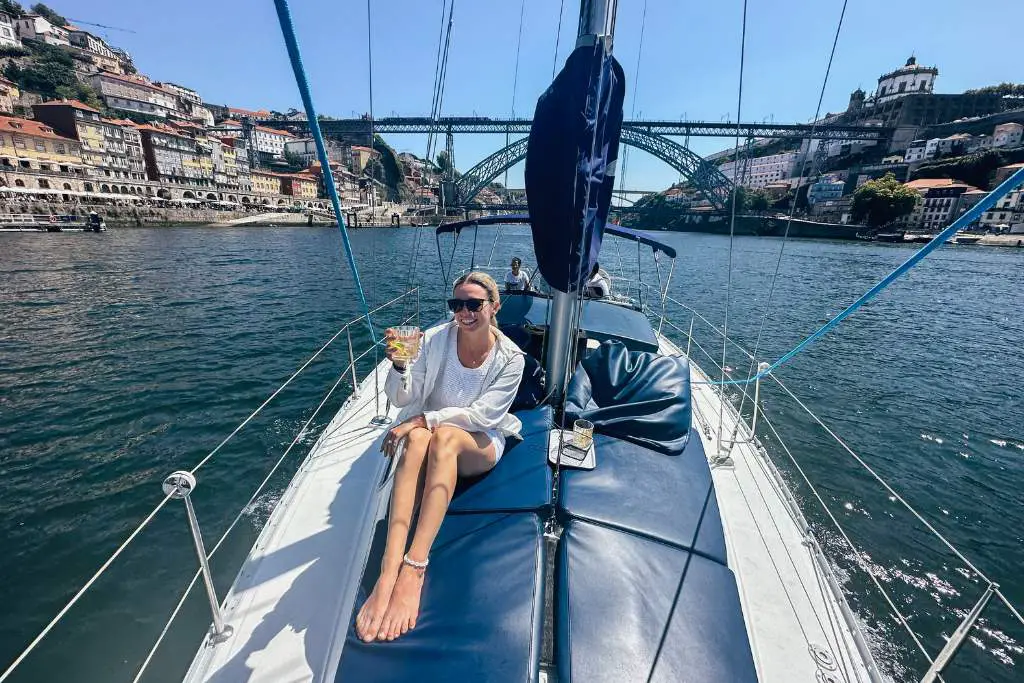 Grocery shop at Pingo Doce
This is the biggest grocery store chain in Portugal and will sell anything you need while abroad, including toiletries.
Portugal is very hilly
The hills are Portugal are no joke. Be sure to factor in an extra 10-20 minutes to your estimated walking time!
Have cash ready
Many places in Porto are still cash only. Be sure to be ready to pay with cash if needed!
Download Bolt
Bolt is a rideshare app that operates the same as an Uber or Lyft. It is the most popular rideshare app to use in Portugal, be sure to download the app before you go overseas so it is ready to use.
---
Porto, Portugal is truly one of the most beautiful and unique cities to visit in Europe! Between the Douro River, terracotta rooftops and azul tiles, we absolutely fell in love with Porto during our time there. We hope this guide on where to stay, eat drink and explore in Porto helps plan your trip to this lively city in Portugal!