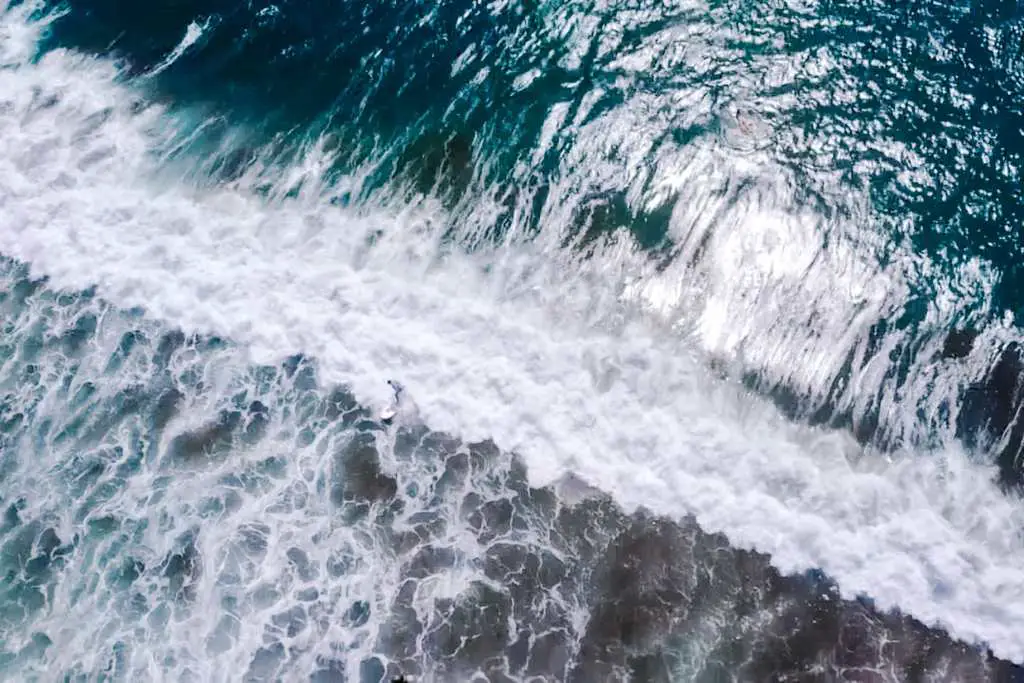 Jaco is a popular beach town located on the central Pacific coast of Costa Rica. There is truly something for everyone in Jaco. Dive into the ocean with a surf lesson, take a yoga class, try one of the great local restaurants, or dance the night away at one of the many fun bars. Jaco is great for a long weekend trip with friends or to stay for an extended period as a digital nomad.
We spent a few weeks living in Jaco in January of 2023 and absolutely loved it. It was the perfect place to meet fellow travelers, work remotely, and enjoy the perfect Costa Rica Weather!
For more information about Costa Rica, read our favorite Costa Rica travel tips before you go on your trip!
When to visit Jaco
Jaco is warm and tropical! Each day was hot and sunny but it was easy to cool off at the beach or pool. The dry season runs from December to April and the wet season runs from May to November. The dry season is generally considered the best time to visit, but you can also visit during the cusp months of the dry season and most likely the weather will be the same as the dry season.
How to get to Jaco
How to get to Jaco by plane
The nearest airport to Jaco is the Juan Santamaria International Airport (SJO) in San Jose, which is served by a range of domestic and international airlines. From the airport, you can take a taxi or a shuttle bus to Jaco. The drive to Jaco from SJO is about an hour and a half – two hours. There are plenty of companies that offer a service to take you from the airport directly to your hotel. We booked a Standard Minivan by Easy Ride for our transfers, but we recommend also asking your hotel or hostel if they provide a service.
How to get to Jaco by car
If you rent a car during your trip to Costa Rica, you can drive to Jaco from San Jose or other parts of the country. A car may be helpful to adventure around the area but it is not necessary for your trip to Jaco as there are tons of companies who run trips to all of the major destinations.
How to get to Jaco by bus
The cheapest way to get to Jaco from San Jose is on the public bus. The bus terminal in San Jose is located downtown and the bus runs frequently throughout the day.
Currency and tipping in Jaco
Do you need to tip in Jaco?
Tipping is not expected in Costa Rica but it is appreciated in some situations like at restaurants and hotels. If you receive good service, it is common to leave a small tip of 10-15% of the bill.
Currency in Jaco
Jaco uses the Costa Rican Colón and the exchange rate is about 1 USD to 570 CRC.
Is Jaco expensive?
Jaco was much more expensive than we were expecting it to be. It is important to look out for happy hours and daily specials if you are traveling on a budget.
Where to Stay in Jaco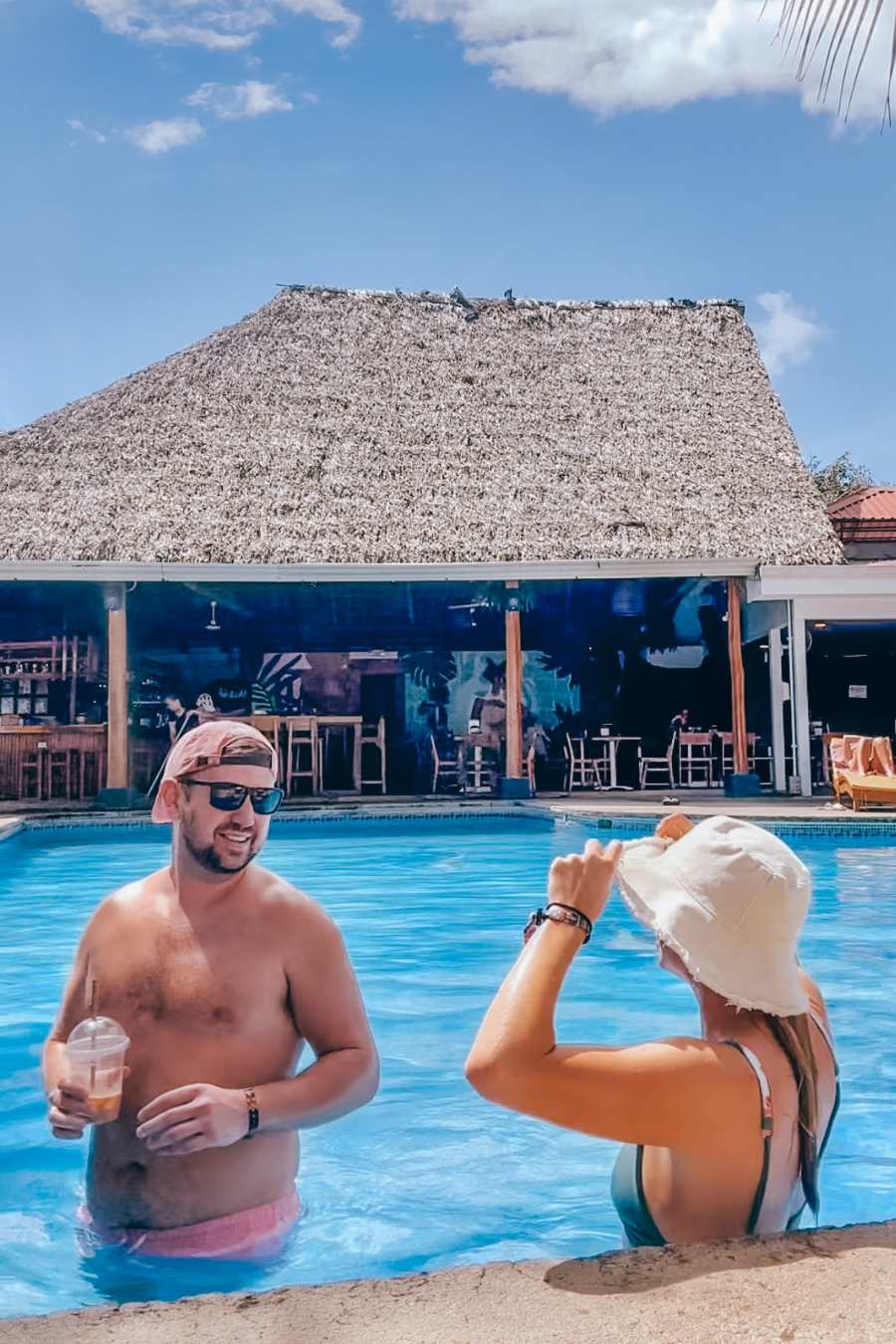 There are great housing options for any group in Jaco. As for location, we recommend staying within walking distance to the beach as the beach is truly the best part of visiting Jaco! We went for beach walks several times a day and couldn't imagine staying somewhere in Jaco where the beach is far away.
If you are looking to meet other travelers, we recommend staying at a hostel. There is a great community of travelers in Jaco and this is the best way to connect with like minded individuals. Even if you opt to stay elsewhere, it is always a good idea to go to the hostel bars to make friends!
The best places to stay in Jaco
This is where we stayed during our time in Jaco and had a wonderful experience. The restaurant and bar on the beach are overpriced but a convenient addition to the property. We also worked remotely here easily and used the communal kitchen to cook most of our food.
Read our complete review of the Selina hostel here!
This is another great hostel to choose in Jaco. We made a friend that stayed here and the rooms were spacious and clean. We did hear that the wifi can be spotty so if you are working remotely, take that into consideration.
This is a nice hotel in an ideal location walking distance to all of the shops and restaurants.
This is another great hotel for a couple or family. It is right on the beach and walkable to downtown establishments!
Where to eat in Jaco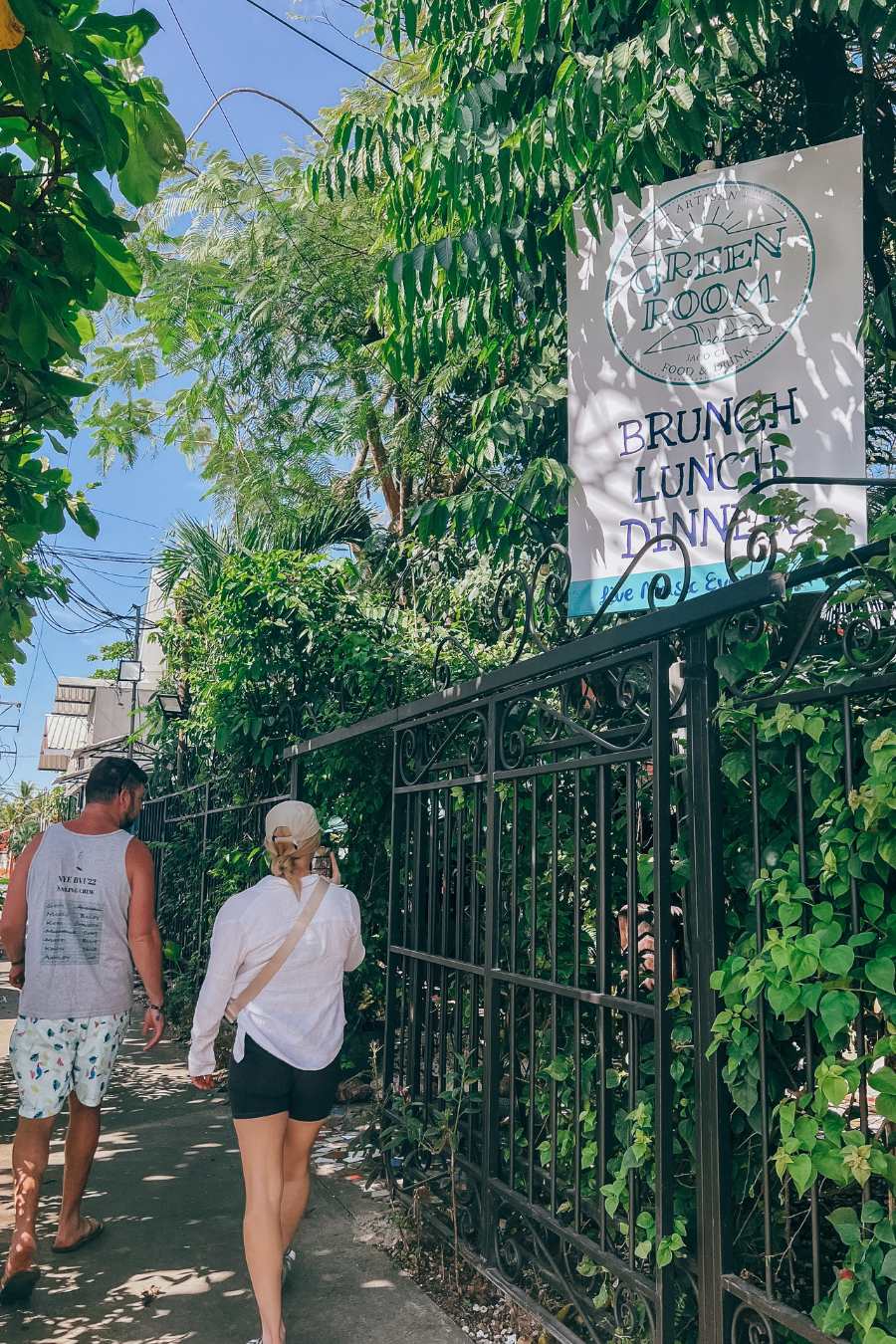 The best restaurants in Jaco
The Green Room is a vibey restaurant great for any meal including breakfast. They have live music every night and feature paintings by local artists all around the establishment.
Jaco Bar is also one of our favorite places to drink because of the great happy hour but the food is also delicious! We voted them the best ceviche in Jaco which is a popular dish to try in Jaco.
This is probably the fanciest restaurant in Jaco if you are looking for delicious seafood and a nice dinner. It is pricier than other establishments but you can't beat the sunset views!
Use code JLJ10 for 10% off all eSIM purchases.
We went here multiple times because they have a great selection of items on their menu. We recommend the pork tacos and a spicy margarita!
This is a delicious and cheap sushi restaurant.
This restaurant is located just off the main street in Jaco, and it is known for its delicious burgers and sandwiches. The menu includes a range of options, including burgers, chicken sandwiches, and veggie burgers. It is a great option for dinner with a sunset view.
This is another delicious sushi spot with a variety of options on the menu.
This is another beach bar and restaurant that travelers love for sunset! There are great views, food and cocktails.
This cute spot in the center of Jaco is known for their seafood and also has lots of options on the menu.
This island styled bar is a great option to try local dishes for lunch or dinner.
Try delicious seafood at this fun restaurant.
This is the best coffee shop in Jaco! The iced coffee is amazing and the staff is super friendly.
Where to drink in Jaco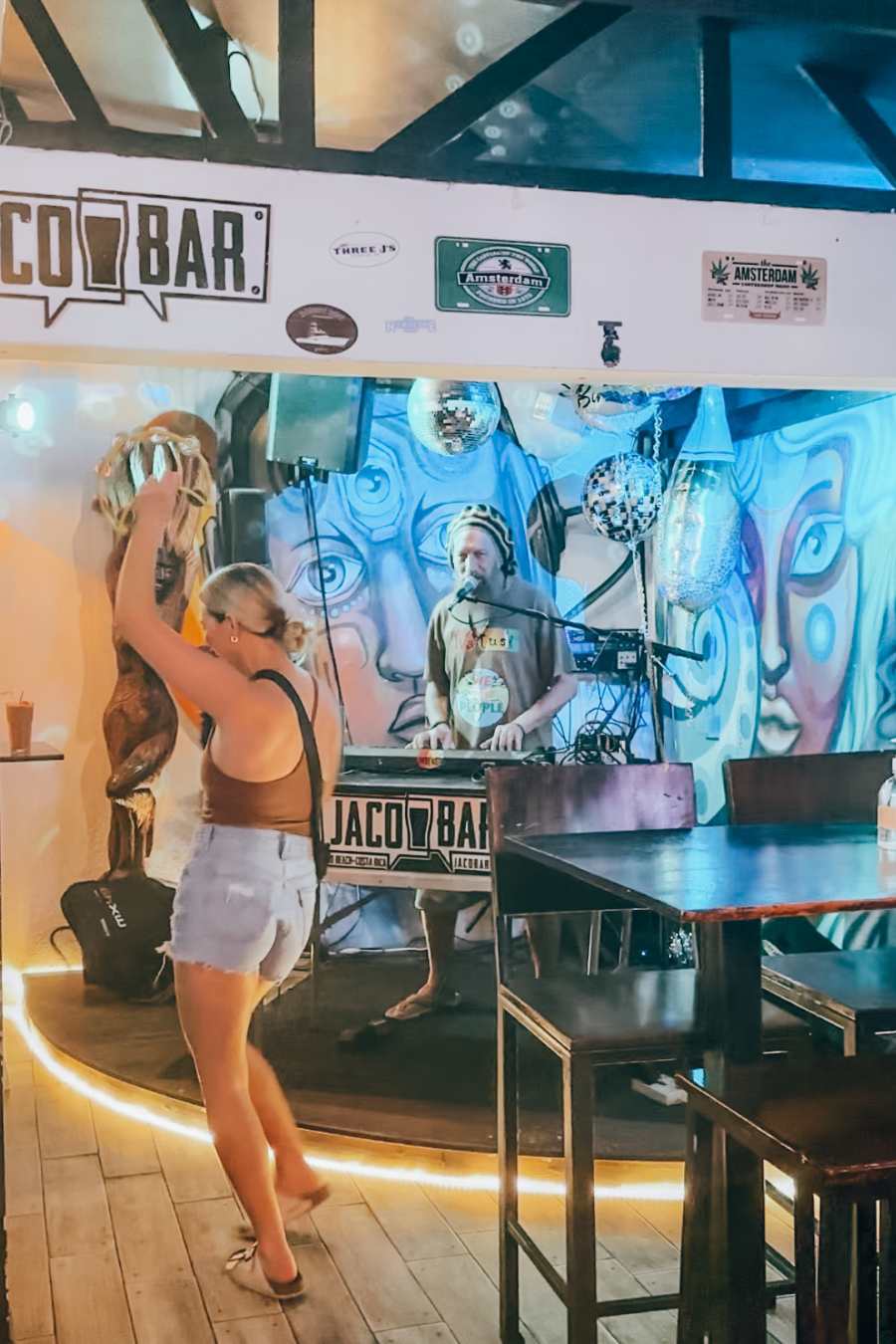 Jaco is known for its lively bar scene. You can find casual bars to watch sports or listen to live music and clubs that will keep you partying all night long. It is up to you how you want to enjoy the party scene in Jaco.
Almost every bar and restaurant has happy hour from 4-6pm. Make sure to ask the bartender if there are any specials!
The best bars in Jaco
This is the bar we frequented the most in Jaco. During the day it is very chill and relaxed to enjoy happy hour or a sports game. At night, it turns into an active bar for a night out with friends. There is also live reggae music on Sunday nights!
This bar is located right on the beach and has delicious cocktails. It is a great spot for happy hour and to watch the sunset!
This is the bar attached to The Selina Hostel and it is a fun social bar! It is pricier than other bars but worth it to meet other travelers before a night out.
This bar is located at Hermosa beach and is most known as the Sunday party. Every Sunday there is a huge party here right on the beach with a DJ and fun vibes! If you are staying near Jaco beach, you will need to take an Uber or taxi to the party. There are taxis waiting at the bar to take people home after the party.
This is a great indoor/outdoor bar to watch sports.
This is a small local bar with cheap drinks.
This is the best bar for late clubbing on a night out.
Things to do in Jaco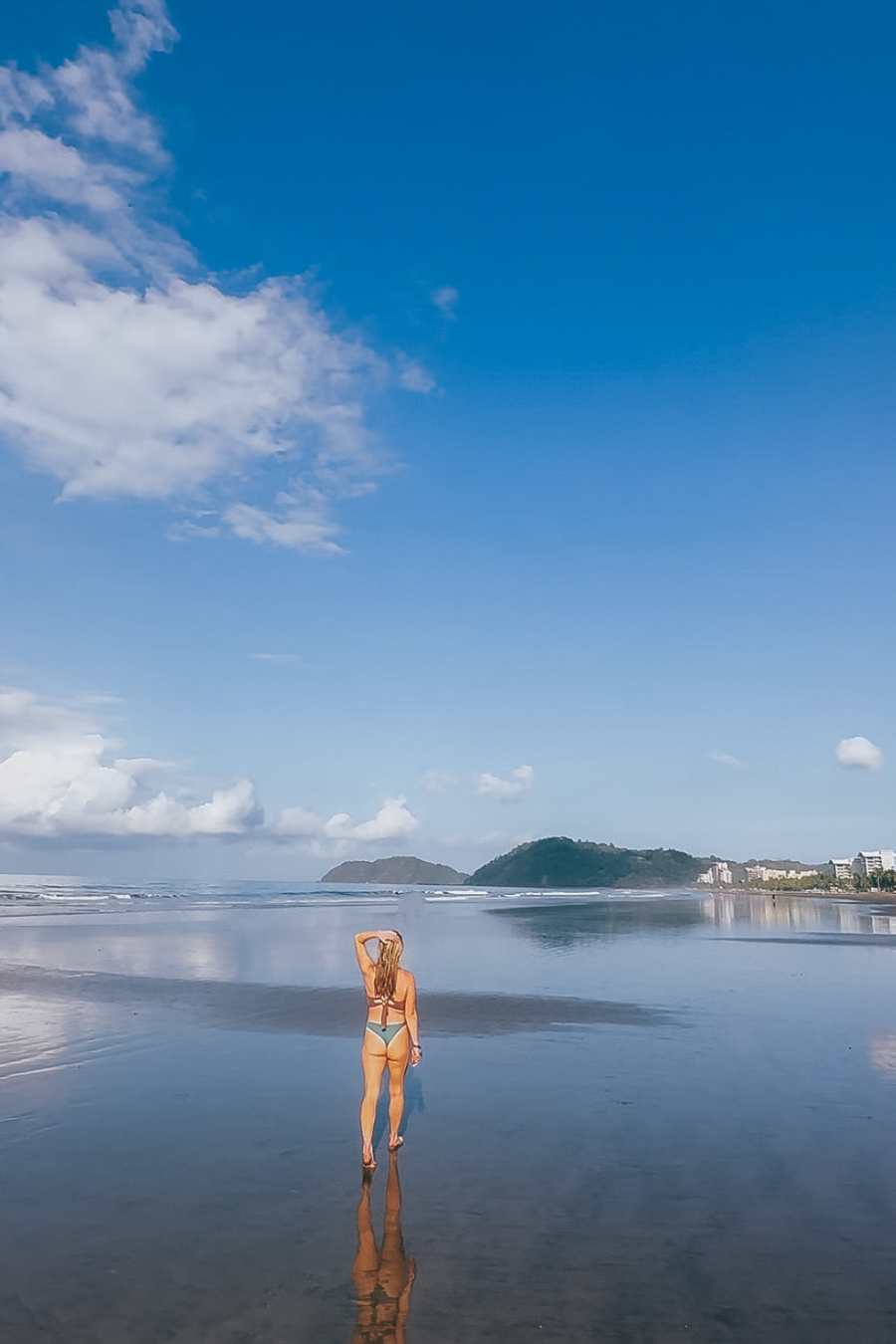 There are so many different adventures and trips to take from Jaco.
Browse all of the best activity options in Jaco here!
Go to the beach
Jaco beach is absolutely beautiful. It is the perfect place to swim, lay in the sun, and surf. The beach is also pretty flat so it makes long walks easy and enjoyable.
Take a surf lesson
Jaco is a great place to try surfing for the first time and many people improve their skills here.
Go on a tour to Tortuga Island
This is an absolutely beautiful island to visit from Jaco. Cruise in crystal clear water and enjoy a day on the island.
Visit Manuel Antonio National Park
This beautiful national park is located a short drive from Jaco, and it is home to a number of excellent hiking trails, as well as a number of beautiful beaches.
Take an ATV Tour
Ride through the jungle on ATVs with a group to see unique scenery and immerse yourself in the wildlife!
Take a zipline tour
What better way to see the jungle and waterfalls than by ziplining through them?
Visit Parque Nacional Carara
This national park is located just a short drive from Jaco and it is home to a diverse array of plants and animals. There are also a number of endangered species such as the scarlet macaw and the giant anteater in this national park.
Go on a crocodile Safari
This popular tour takes visitors on a boat ride through the Tarcoles River, where they can see a large number of crocodiles up close.
Visit Tarcoles Bridge
This famous bridge is located just a short drive from Jaco and it is home to a large number of crocodiles that can be seen up close from the bridge.
Sunset hike to Mirador de Jacó
This is a stunning observation deck that overlooks Jaco Beach and perfect for a sunset hike!
Go Horseback riding
Many people opt to enjoy the beach on horseback. It is a peaceful and fun way to experience the beauty of the beach!
Transportation in Jaco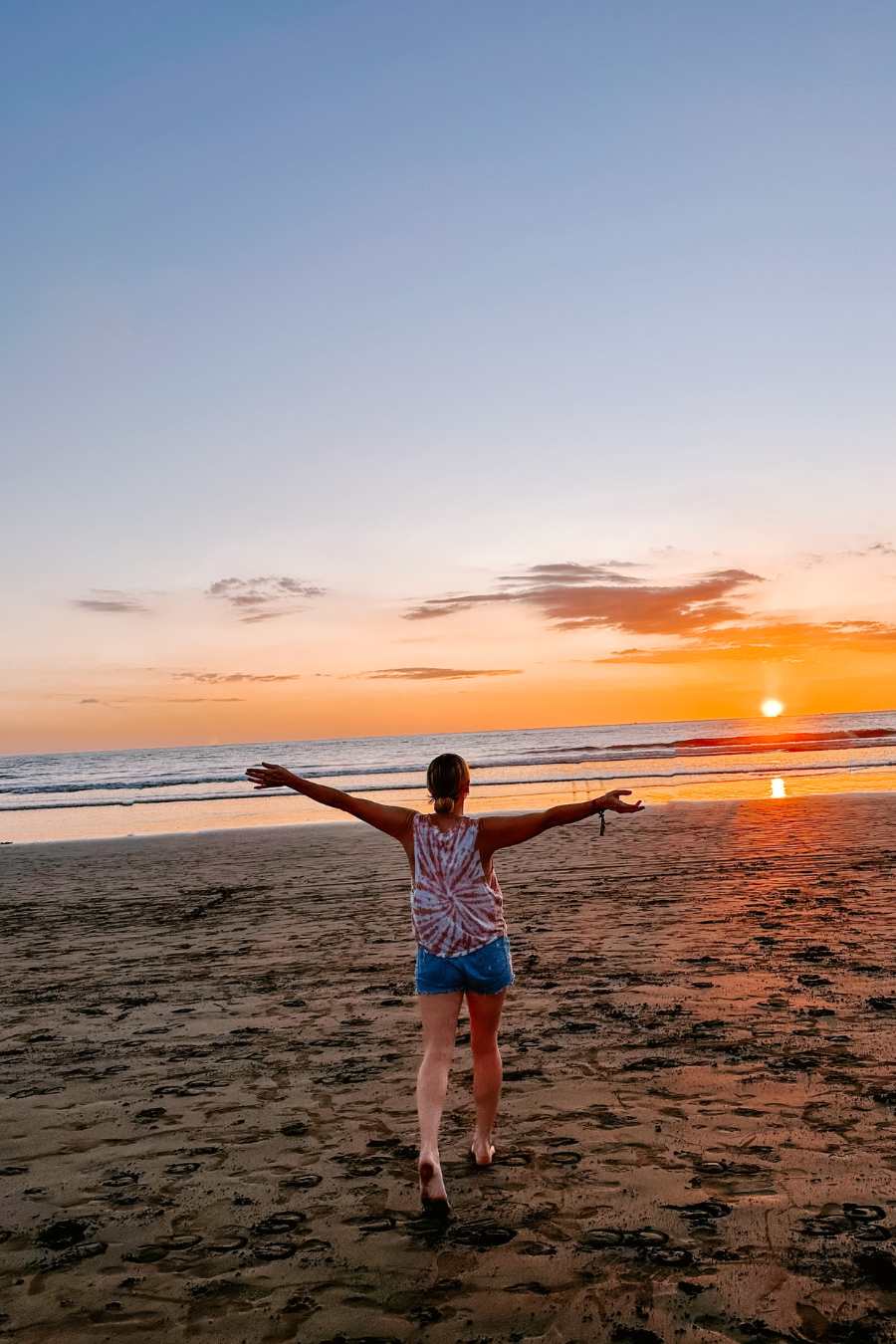 Walking in Jaco
Jaco is relatively walkable, especially if you opt to stay on the beach close to the main strip of bars and restaurants.
Public Transportation in Jaco
There are a number of local buses that operate in and around Jaco and they are a cheap and convenient way to get around. The buses are typically marked with the destinations they serve and they are a good way to explore the surrounding area.
Taxis are another popular way to get around Jaco and they are readily available throughout the town. Uber was also available while we were in Jaco, it just took a few minutes longer to arrive than the taxis if they were available. Make sure to establish the cost of your ride before starting your taxi ride!
Rental cars
If you are planning to explore the surrounding area in more depth, you may want to consider renting a car. There are a number of car rental agencies located in Jaco, and they offer a range of vehicles to suit different budgets and needs.
Motorbike
Many travelers opt to rent a motorbike for the day to explore surrounding areas. We do not recommend this if you are not an experienced motorbike driver as the streets are very windy!
Bicycles
Another option for getting around Jaco is to rent a bicycle. There are a number of bike rental agencies located in the town, and cycling is a great way to explore the surrounding area at your own pace.
Safety in Jaco
Jaco used to be known as an unsafe place to visit but we felt very safe here. As always, walk with a buddy and be aware of your surroundings. It is not recommended to walk on the beach alone at night. Make sure to have all of your personal belongings zipped safely on your body to avoid pickpockets.
Additional resources:
We hope this complete city guide on the best things to do in Jaco, Costa Rica helps plan your trip to this beautiful destination! Let us know in the comments your favorite recommendation for Jaco. Happy traveling!