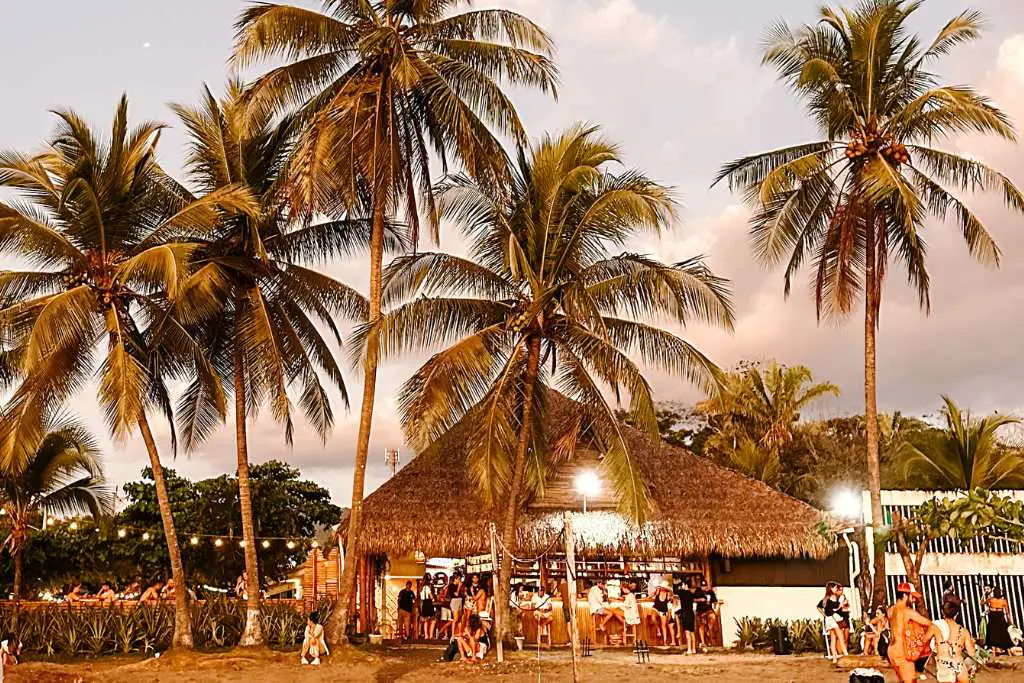 Selina hostels are one of the most popular places to stay in the world as a digital nomad and backpacker. We stayed two weeks at the Selina Hostel in Jaco in January of 2023 and enjoyed our first experience with this infamous housing! This post is a complete review of the Selina in Jaco. We did our best to provide as much detail as possible so you can prepare for your stay and decide if the Selina in this location is the best choice for your visit to Jaco.
Overall thoughts on the Selina hostel in Jaco, Costa Rica
Overall, we absolutely loved our experience here. It had been a few years since we jumped into the hostel lifestyle and as digital nomads, we felt like it was our duty to test out a Selina. They go above and beyond to create an environment that is inviting and practical for digital nomads. We were able to both get our work done and socialize with amazing like-minded travelers from all around the world.
As a negative, we did feel like they were the Ryanair or Spirit Airlines of hostels. Everything is an extra cost and overpriced at the Selina. Even access to the coworking space was $10 a day per person, which seemed steep considering they pride themselves on being the best place for digital nomads to stay. Their airport shuttle was even $40 more than the other companies that you can book the same service through. There are a few daily or weekly free events for residents which are all great! Yoga was the best daily event to attend.
Tips for booking at Selina
Always book directly with them or through a reliable site like booking.com. We originally booked our stay through a random third-party site and there was a mix up with our booking where it didn't register as the room with a private bathroom. We had to contact Selina and pay extra to upgrade even though we did have the private bathroom with our original booking.
If you are traveling for an extended period, consider booking with their monthly deal. You get access to the coworking space for free and 10% off at the restaurant. Again, the Selina is priced higher than other places but depending on your budget and priorities, it may be the best hostel for you!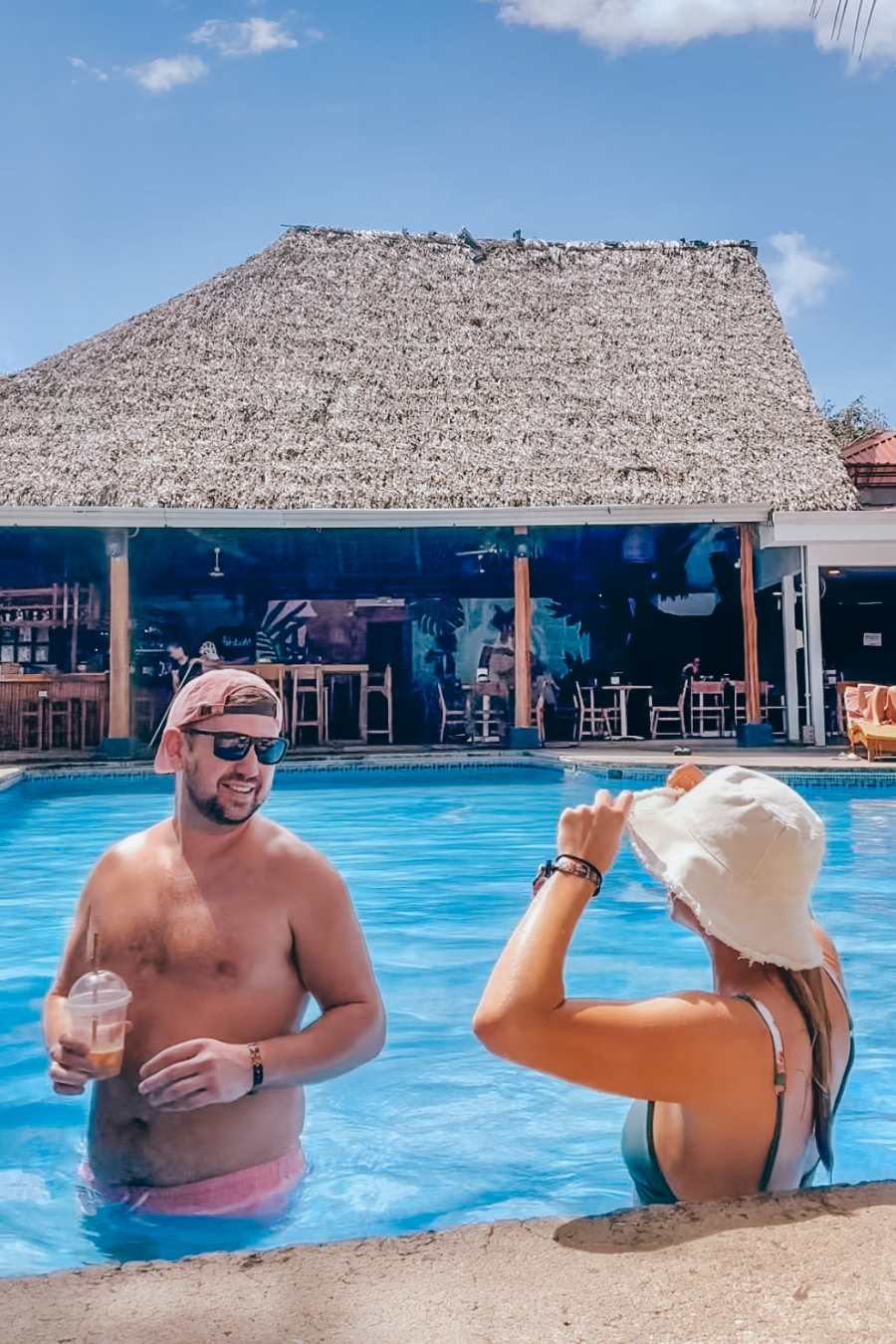 A complete review of the Selina hostel in Jaco, Costa Rica
Location
The location of the Selina Hostel in Jaco really can't be beat. It is right on the beach and walkable to all of the major bars and restaurants downtown Jaco. We were able to wake up and be on our morning beach walk in less than 5 minutes! There is also a large grocery 5 minutes away walking.
Room and comfort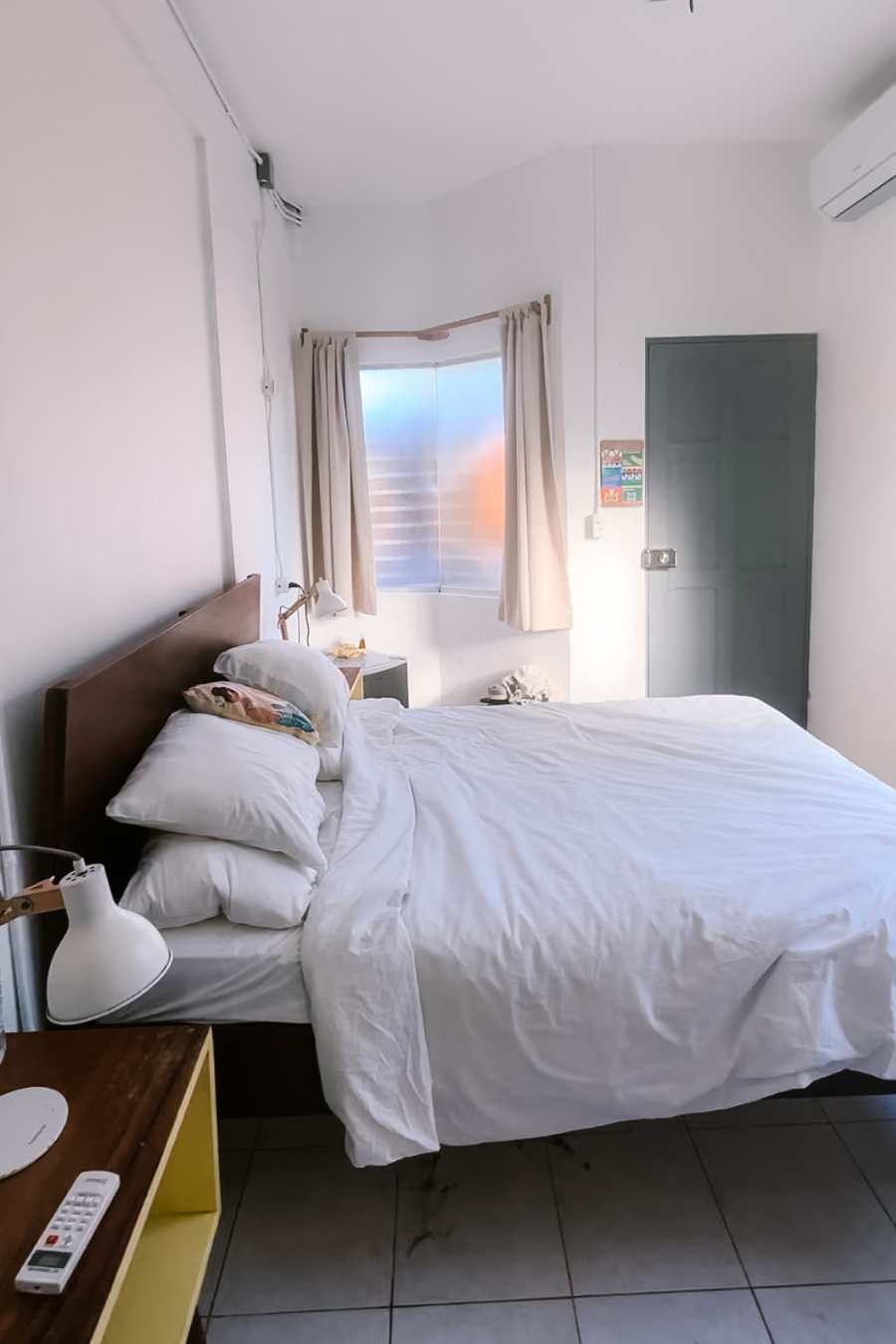 We opted to pay for a private room with a private bathroom. This costed more than we would normally pay, but we weren't sure what the rooms were going to be like since it was our first Selina experience.
The room was a little dingy, but had all of the basics that you would need. There was even a desk and a small refrigerator which were huge perks! If necessary, we were able to take any important meetings from our room to guarantee quiet. The refrigerator was great to store cold water, some beers and food we maybe didn't want to keep in the communal kitchen.
The air conditioning in the room worked great and kept us comfortable all night.
The bed was surprisingly one of the most comfortable sleeping situations we have had in a hostel. They were equipped with two sturdy pillows for each of us and a thick comforter.
The bathroom had a big shower with shampoo, conditioner and body wash which is a great benefit as a traveler to not have to buy your own! There was a clothing rack with space to hang a few items and unpack your bag.
One of our friends booked a cylinder which is a private room but not a private bathroom. It is a great space for one person but we would not recommend it for a couple as there is little space to move around in the cylinders!
Coworking space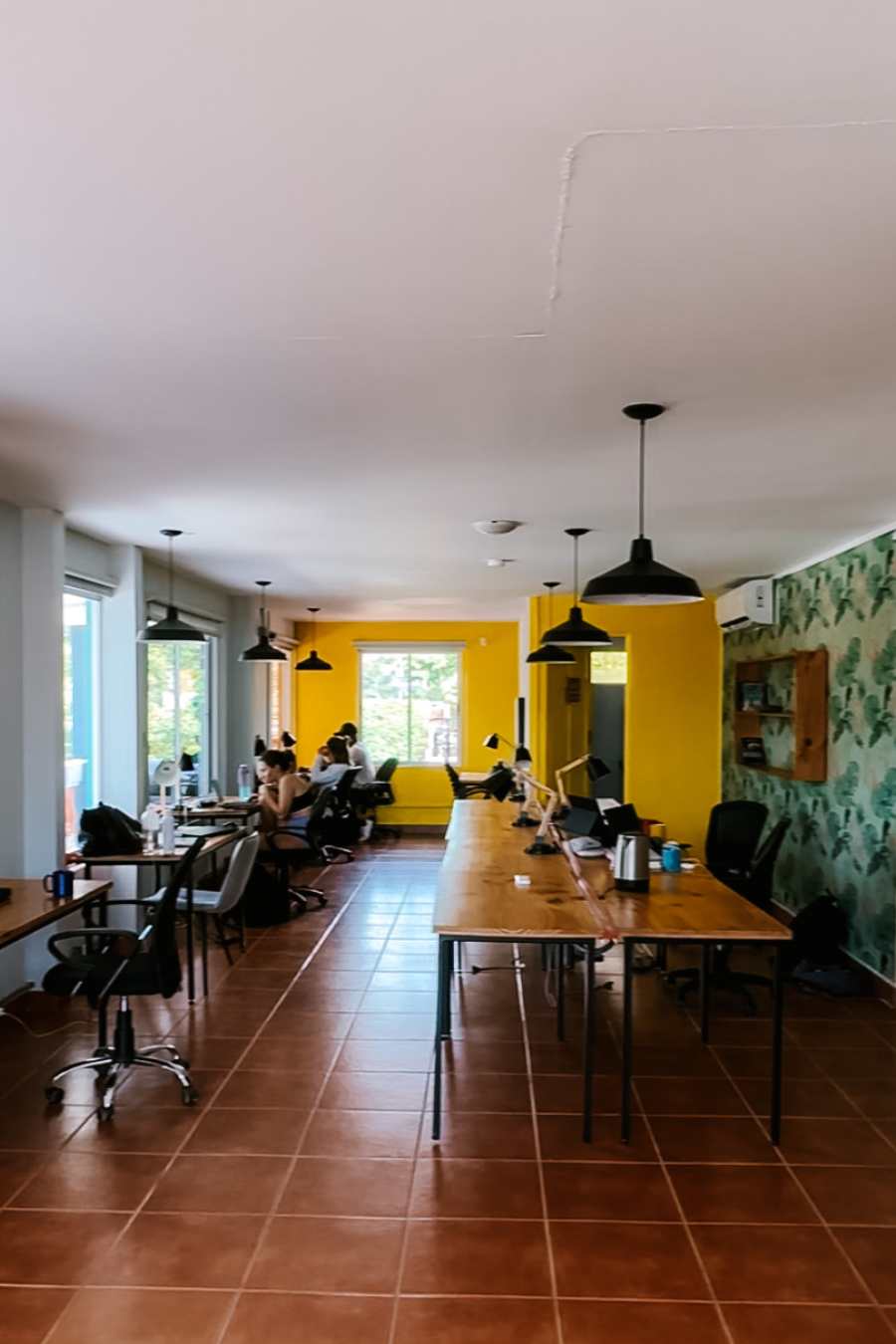 This was probably the biggest perk of staying at Selina. The space was equipped with its own wifi and plenty of desks. There were only a few times that the room filled up. There is also a private room and phone rooms you can book if you need to take an important call. Again, everything is an extra cost but sometimes that is necessary depending on your job.
They claim to have free coffee but the pot was not easy to use. We opted to buy our own instant coffee and just use the hot water heater. There was a water filter which was great to refill water while working in the space. We did hear that the Jaco coworking space is one of least impressive compared to the other Selina locations so that is reassuring if visiting a different destination!
Bar and Restaurants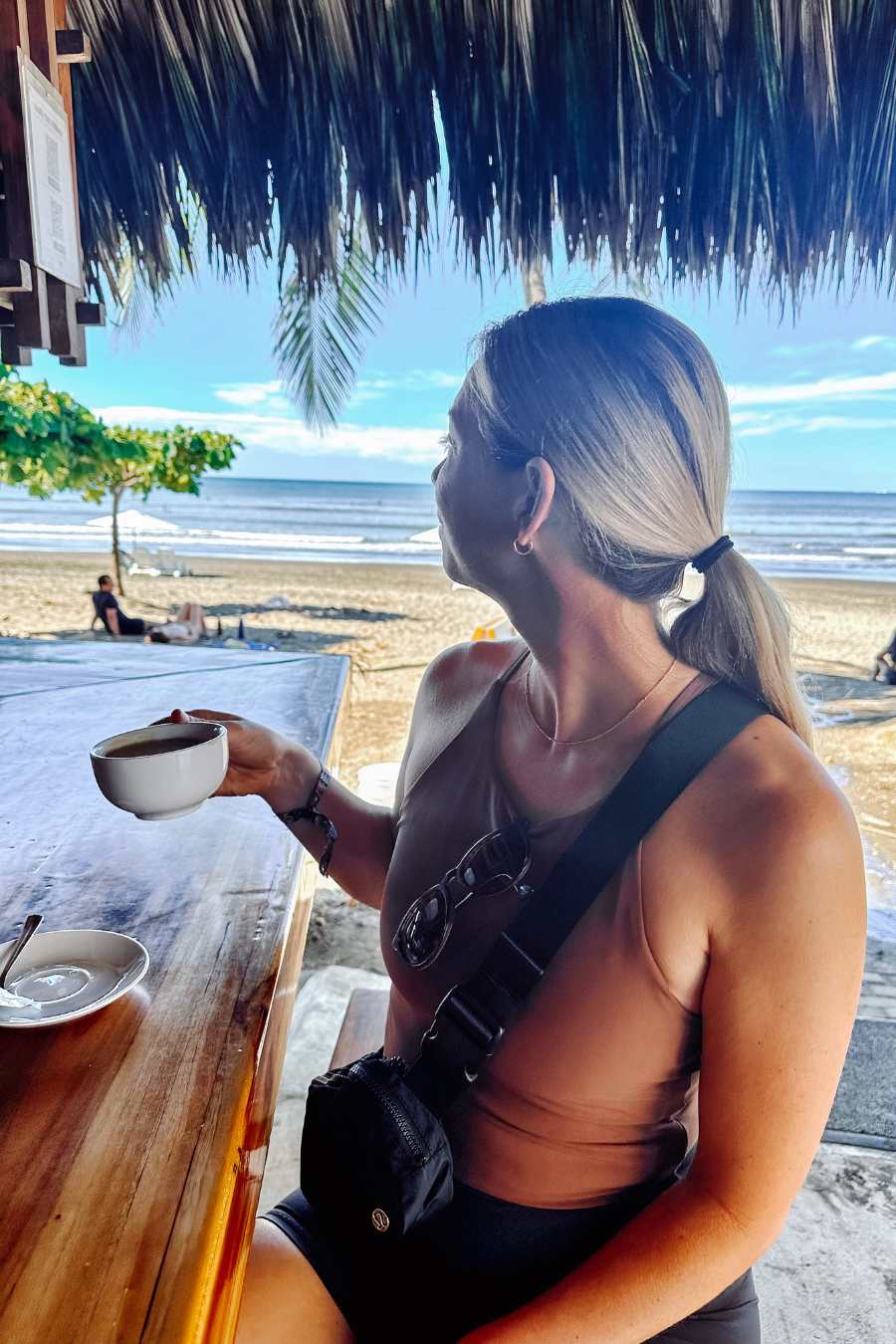 The Beach is the ultimate beach bar and restaurant. The food and drinks are great and you will meet amazing other travelers from all over the world. However, it is completely overpriced and the service is not the best. That is not a comment against the staff as they are all super friendly! Although if you are looking for a nice sit-down meal, this is not the place. This is a great place to grab a sunset beer at happy hour and meet friends. The food is actually pretty good but again, it is overpriced and may take longer than expected to come out.
Communal kitchen
The communal kitchen at the Selena in Jaco was in an outdoor covered space. There was a stovetop, two microwaves, a toaster and a blender. There were two refrigerators for the space to use and we never had an issue storing food. You simply label your food with the permanent markers provided. There is a big table to eat and prepare your food. It was crowded at times but again, we rarely came across a time when we weren't able to prepare and eat our food while competing for space. The communal kitchen was one of the most common spaces to socialize in the hostel.
Use code JLJ10 for 10% off all eSIM purchases.
Pool and communal space
The pool is located right next to The Beach Bar & Restaurant. It is a great spot to socialize and meet other travelers. You can order drinks from the bar to enjoy by the pool. We never had any issues with overcrowding but unless you get there early, you most likely will not get a lounge chair for the day.
Around the pool there are other picnic tables and other spots to relax, work and socialize!
Daily Events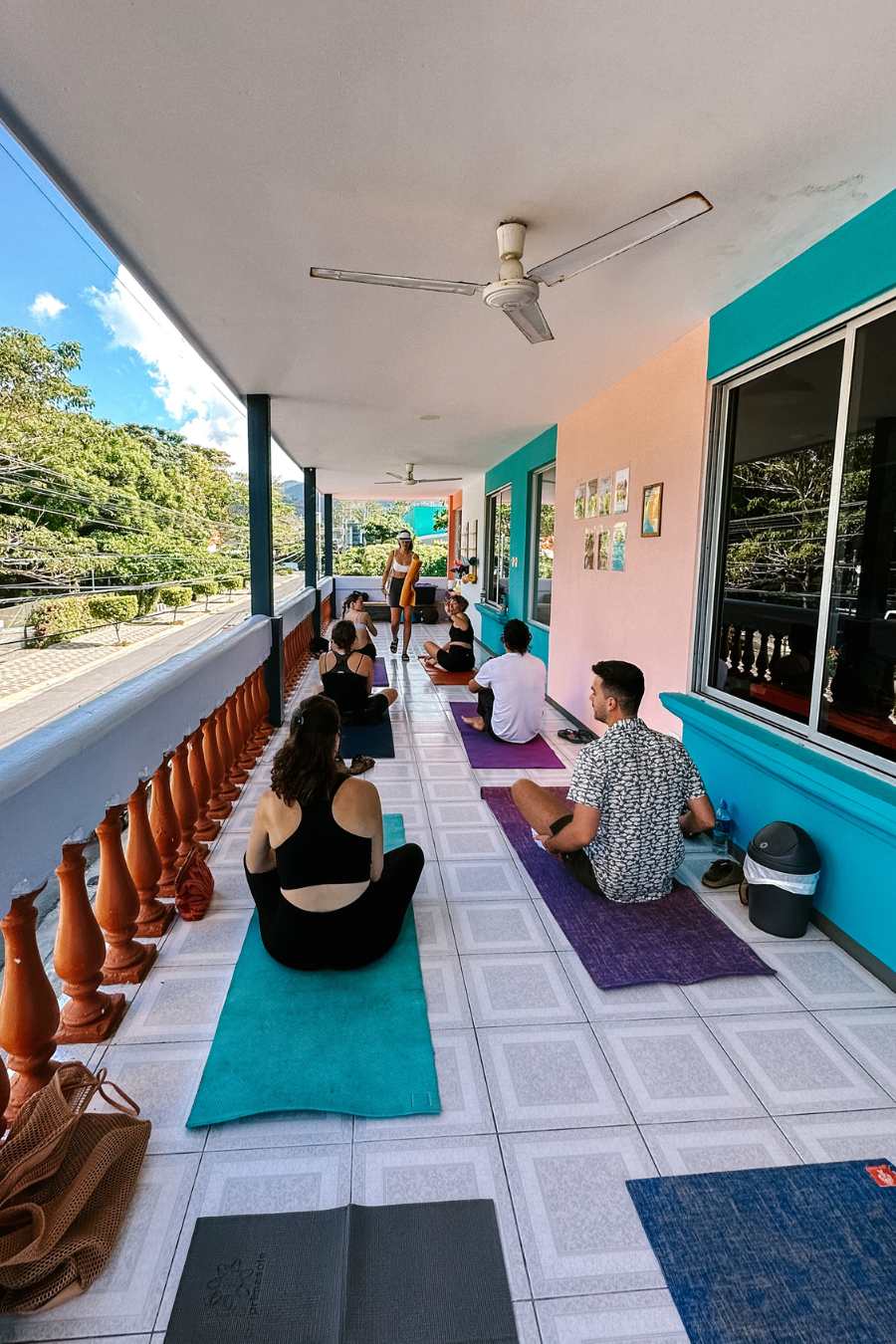 One of the perks of staying at The Selina in Jaco is the daily events. The daily yoga in my opinion was the best part. It was another way to meet people and get in a relaxing workout in the morning. There is also a weekly cocktail making class, salsa dancing class and other various activities.
Laundry Service
Laundry is available for $12 a bag. You can drop it off at the front desk and it should be ready in about 24 hours. Keep in mind that there is a risk that items may go missing if you do not do laundry yourself.
---
Overall, we had an incredible experience staying at the Selina in Jaco, Costa Rica. Like stated before, a lot of aspects were overrated and overpriced. Depending on your budget, you may be better opting for a more affordable hostel option. Our favorite aspects were the reliable wifi, the location and the ability to easily meet other travelers.
Let us know in the comments your favorite aspect of staying in the Selina hostels and which location is your favorite!