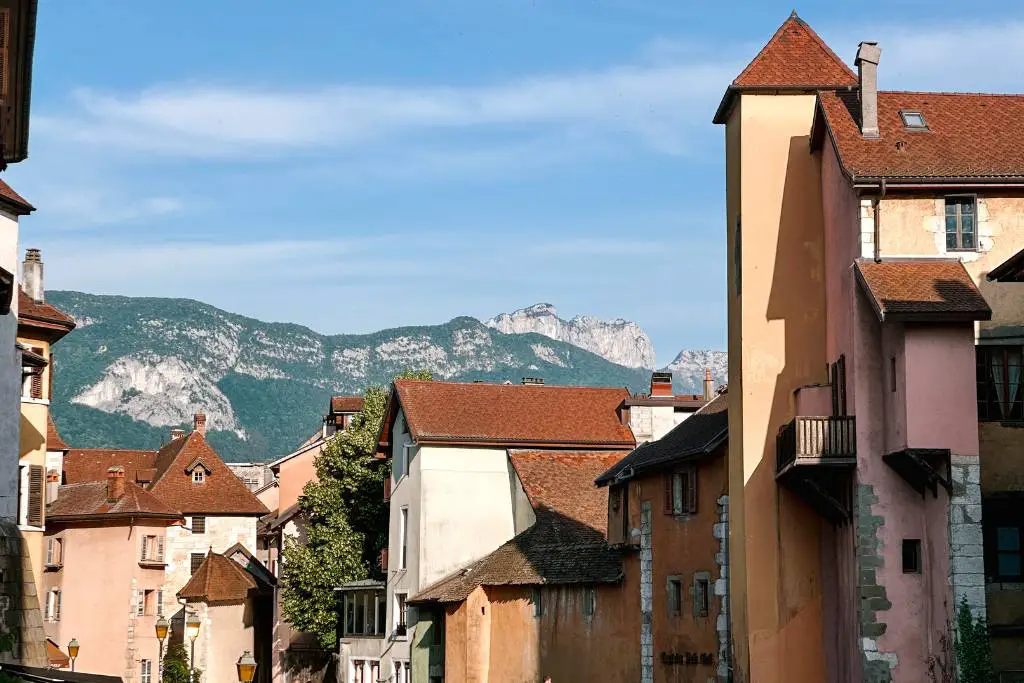 Annecy is a beautiful city in southeastern France, located on the shores of Lake Annecy. It is known for its stunning scenery, charming Old Town and vibrant atmosphere. Annecy is a popular European tourist destination, especially during the summer months because of the gorgeous lake accessible from the city. We spent about a week living in Annecy as digital nomads and absolutely fell in love with this charming city in the French Alps. We did not know how much we would love Annecy until we experienced it for ourselves. Read the best things to do in Annecy to plan your trip here and fall in love with this Lake town just as we did!
How to get to Annecy, France
The nearest airport to Annecy is Geneva, Switzerland. From the Geneva airport, it is about a 45 minute drive to Annecy. BlaBlaBus and the local bus La Region 272 are the two airport bus options that run a couple of times a day. Another way to get to Annecy from Geneva is to take the public transport into Geneva center and take a Flixbus from there.
From France, you can also get to Annecy by flying into Lyon Saint-Exupery and take a bus which takes about 2 hours. Annecy is also a 4 hour direct train ride from Paris which makes it the perfect compliment to any trip through France.
Do you need to rent a car to visit Annecy?
We managed to visit Annecy without renting a car because we only did activities that were walkable from Lake Annecy and the Old Town. With that said, you will need a car depending on the amount of hiking and outdoor activities you want to do outside the Annecy itself.
Use code JLJ10 for 10% off all eSIM purchases.
Best time of year to visit Annecy
The best time to visit Annecy is September to October as these are the driest months of the year and just after the peak of tourist season. A lot of housing in Annecy doesn't have air conditioning so it can be quite hot in the summer months when temperatures rise above 80 degrees. We visited Annecy in early June and were comfortable without air conditioning, but could see how it is not manageable in the warm summer months.
How many days do you need to visit Annecy
Annecy is the perfect base camp to explore the surrounding region of Haute-Savoie. Depending on the hiking you want to accomplish in the French Alps, we would recommend spending at least 3-4 days in Annecy. This gives you enough time to explore the surrounding towns on the lake, rent a boat for the day and do a couple of the nearby hikes.
We visited Annecy, France before exploring Switzerland since they are very close to each other!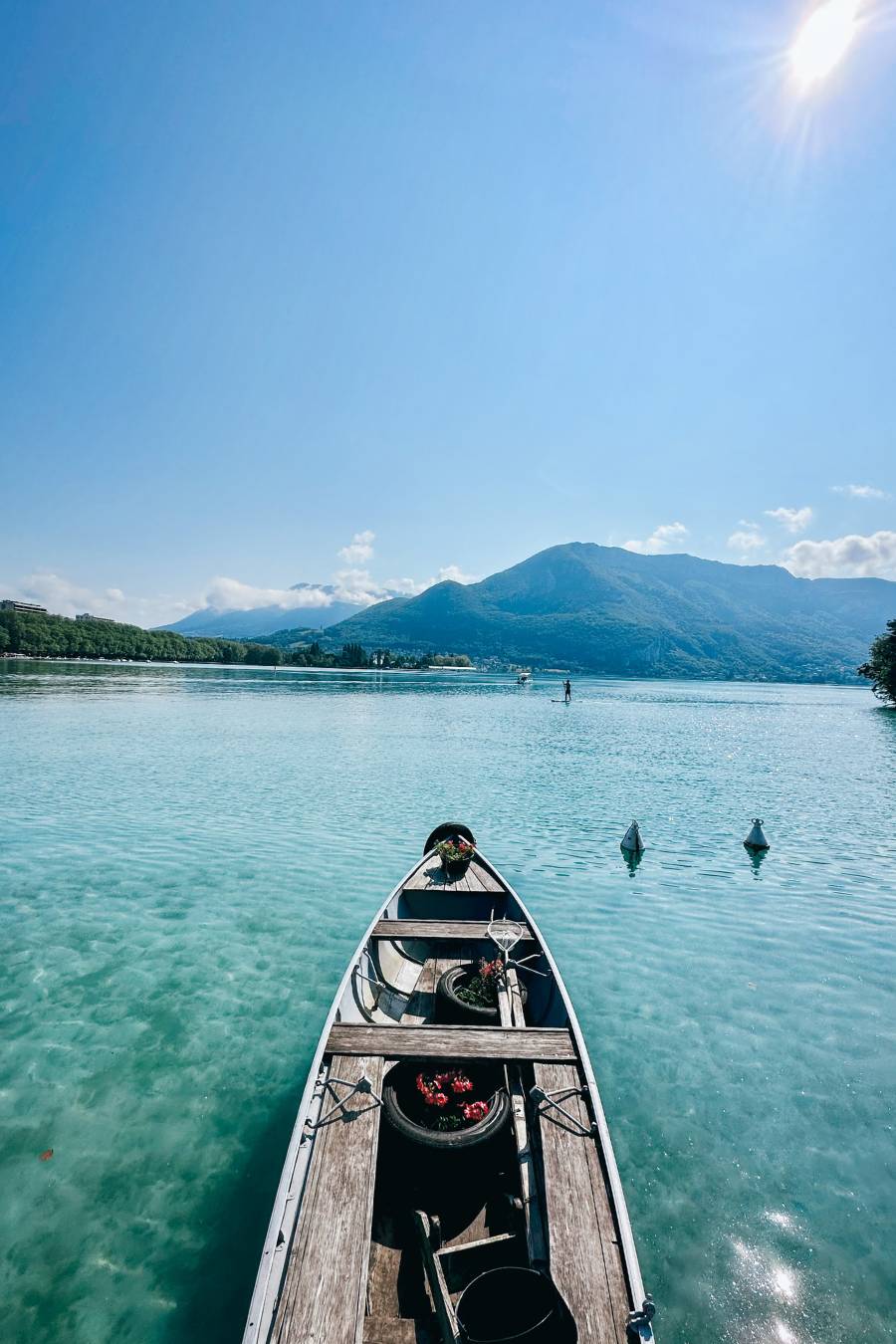 Where to stay in Annecy
The best area to stay in Annecy is the Old Town. This area is filled with restaurants and bars as well as charming bridges over the canals. On the weekends there are markets lining the canals with fresh foods and local products to buy. Here are a few hotel recommendations in Annecy's Old Town.
Hôtel du Château: Located five minutes from Lake Annecy and at the foot of Annecy Castle, this central hotel provides continental breakfast and rooms at reasonable prices.
Le Pélican: While this hotel is on the more expensive side, it is across the street from Lake Annecy and has a beautiful outdoor pool with lake views.
Allobroges Park Hôtel: Located in Annecy and just ten minutes from Lake Annecy and the Old Town, this hotel is a great option for a great price.
Hébé Hotel: This four star hotel is located just 800 feet from Annecy train station and is a ten minute walk to Lake Annecy.
The best things to do in Annecy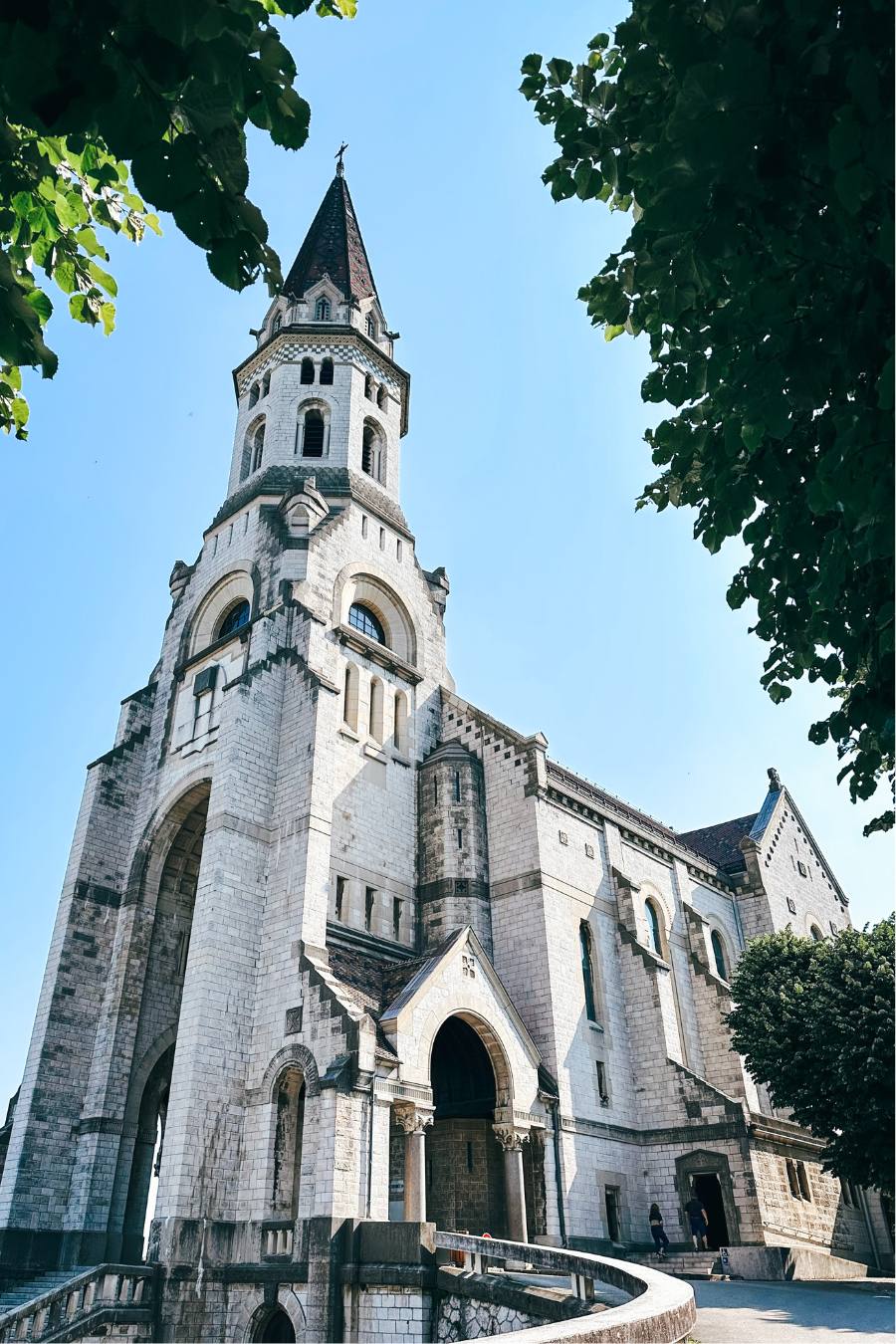 Explore Annecy Old Town
Annecy's Old Town is made up of canals, bridges and medieval beauty before opening up to the lake. We spent hours just wandering these streets and taking in the unique beauty of Annecy!
Rent a boat on Lake Annecy
There are tons of vendors lined on the edge of Lake Annecy that provide both pedal boats as well as motor boats to rent and explore the lake. This is the perfect activity to cool down on a summer day!
Chateau d'Annecy
This castle on the hill is an iconic structure in Annecy and now houses a museum covering the history of the area.
Eat Tartiflette
This dish is made with potatoes, onions, bacon and Reblochon cheese. It is typically baked in the oven until the cheese is melted and bubbly. It is absolutely delicious!
Walk along the promenades
The promenades are a series of walkways that line the shores of Lake Annecy. They are a great place to go for a walk, take a bike ride or simply relax and enjoy the view. We walked along the lake almost every day that we were in Annecy!
Visit Puente de los Amores
This famous bridge offers stunning views of the lake and mountains. You won't miss this bridge if you walk along the lake to the left side from town along the promenade.
Take the ferry to the surrounding towns
There are boats that operate similar to buses to connect all of the lake towns. Take in the views of the mountains from the water while moving between these beautiful towns to see more of the surrounding area!
Hike Mont Veyrier
This mountain is about an hour drive from Annecy and takes approximately two hours to hike to the top.
Hike Croix du Chef-Lieu Sevrier
This hike has some of the best views from the west side of the lake! We did this hike and while it was challenging at times, the views at the top were absolutely worth it. We walked this hike from Annecy and it took a total of about 3-4 hours.
Hike Semnoz
This mountain is only 30 minutes away from Annecy and offers hiking trails for all levels of difficulty.
Where to eat in Annecy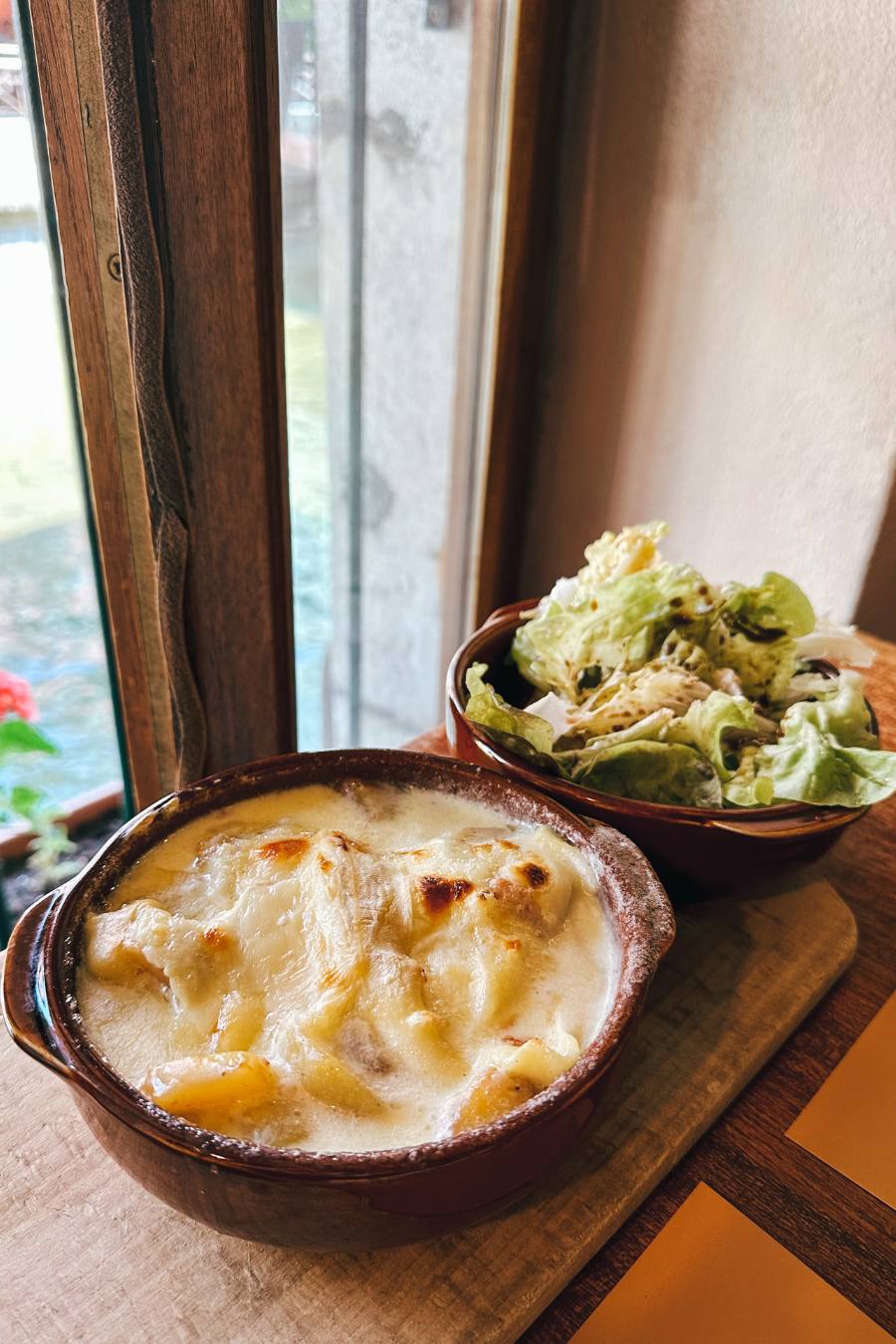 Annecy is known for its traditional Savoyard cuisine, which is influenced by the region's Alpine location. Food in Annecy is influenced by both French and Swiss food since it is in France but adjacent to Switzerland. It is also a cheaper place to visit than Switzerland, so it is a good place to try foods that Switzerland is known for at a more reasonable price. Some of the most popular dishes to try in Annecy are fondue, raclette and tartiflette.
The best restaurants in Annecy
Tete de Cochon: This is one of the most popular restaurants in Annecy and has reasonably priced food.
Casetta di Tony: This is the perfect place to grab a sandwich or pasta to go and walk to the lake for a picnic. We ate here after a long hike and it was one of our favorite meals in Annecy!
Le Bouillon: One of the best restaurants to enjoy a pre-fixed menu in the Old Town.
Le Lilas Rose: A lovely restaurant in Old Town to try fondue and tartiflette with beautiful canal views.
Creperie Ti Mad: The perfect place to enjoy a crepe after (or before) a meal.
Where to drink in Annecy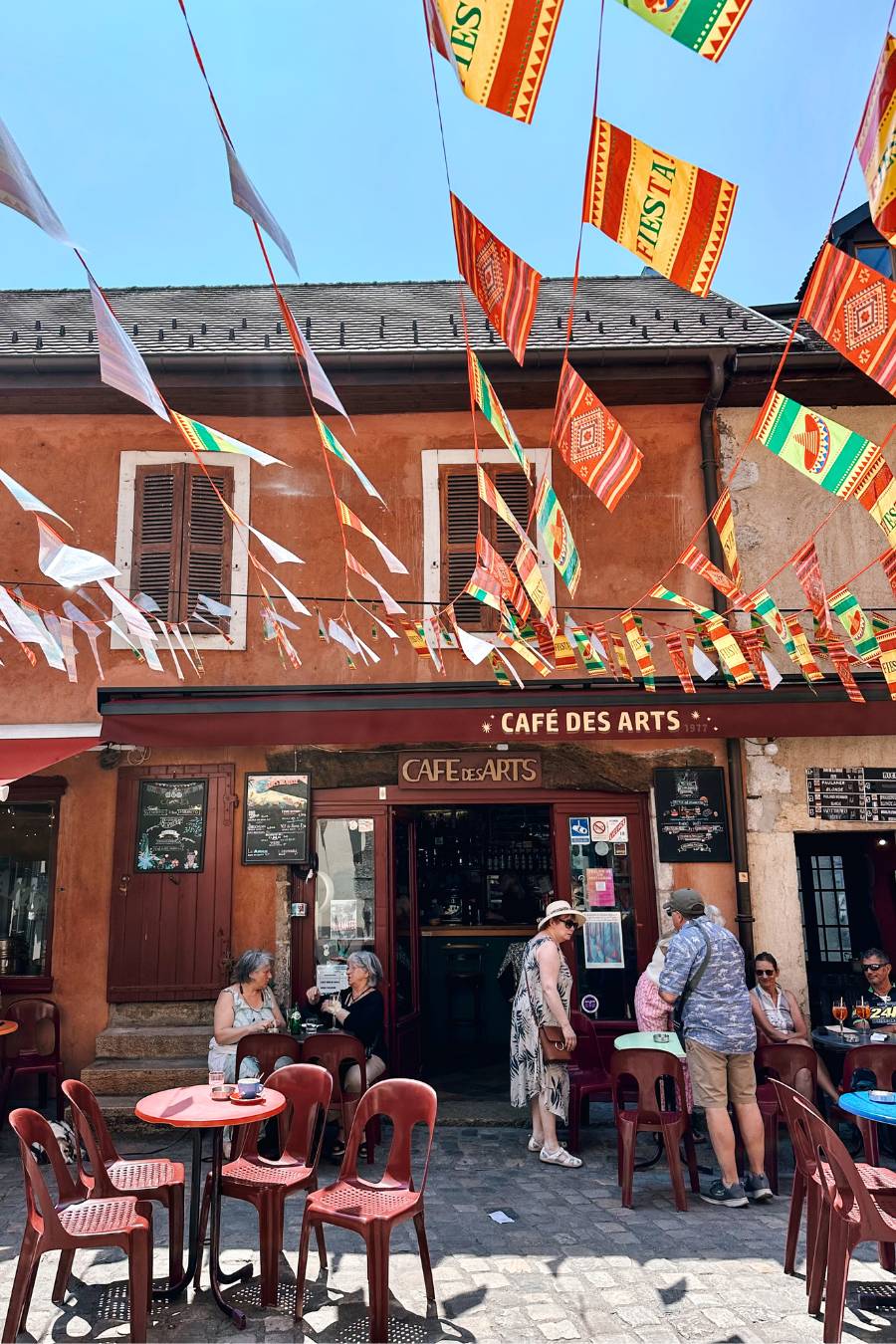 Annecy is not necessarily known for a thriving nightlife, but there are still tons of pubs and bars in the Old Town to enjoy a cocktail or pint after a long day of exploring. Also since Annecy is in France, there is plenty of great wine and champagne to enjoy in Annecy!
The best bars in Annecy
Captain's Pub: Perfect pub for people watching as it sits right at the end of one of the bridges on the canal.
Café des Arts: A lively pub in the Old City.
Le Petit Bistrot: This bar is a very short walk outside of the Old City with quaint vibes.
Best day trips from Annecy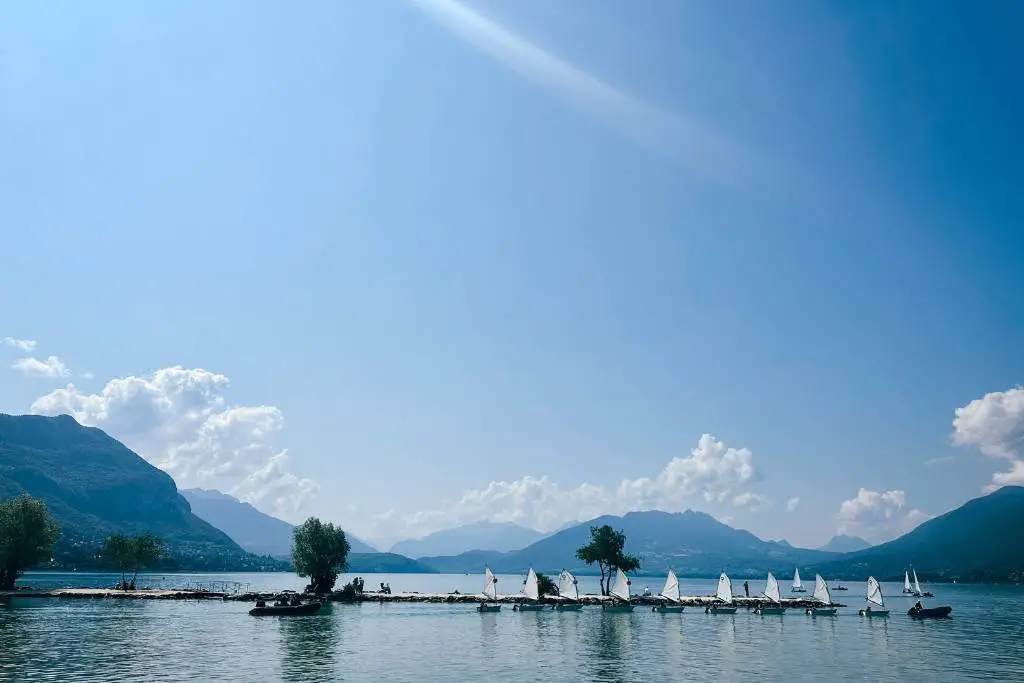 Annecy is a great home base to explore surrounding areas in the Alpine region. Here are a few day trips you can take from this city!
Chamonix
This famous ski resort town in the French Alps is only an hour drive from Annecy.
Geneva
Only a 45 minute ride away and the home to the United Nations, Geneva is the perfect day trip and if you haven't been to Switzerland. This way you can cross another country off of your list!
Thones
This charming town is only a 20 minute drive from Annecy. Thones is the perfect place to go hiking, biking or fishing.
Semnoz
This mountain is perfect for hikers of all skill levels and is only a 30 minute drive from Annecy.
Gorges du Fier
This is a famous attraction close to Annecy where you walk down into the mountain on a footpath and can see unique natural structures. There is a small fee to go down into the gorge.
---
We are so thankful that we discovered this hidden gem of a French town! If you were unsure if you wanted to visit, we hope this city guide to Annecy helps plan your trip to this charming city in the French Alps.