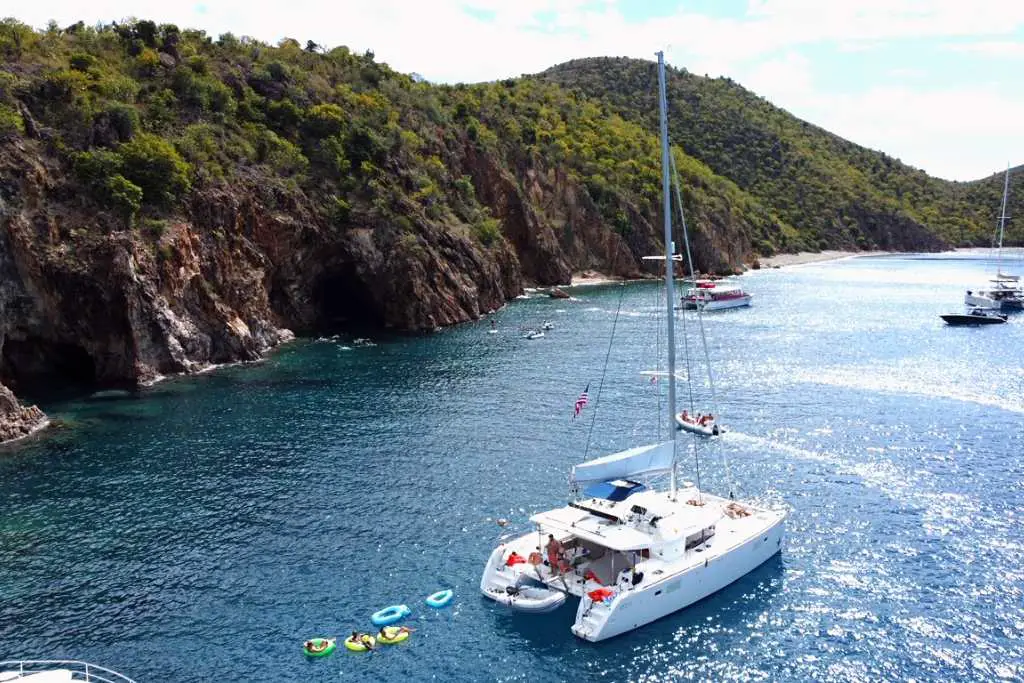 Planning a sailing trip is definitely a unique trip to plan for several reasons. You need to understand boat size, nautical distances, boat provisioning, hiring a captain, and boat fuel/water consumption. Sailing for a week in a destination with a long coastline or several island destinations is actually an efficient and epic way to travel. This guide on How To Plan Your First Sailing Trip will break down the step by step process of finding the perfect boat for you, ways to navigate the skipper market, and lastly how to plan your route.
Be sure to read our guide on sailing trip packing essentials to make sure you have everything you need for the perfect sailing trip!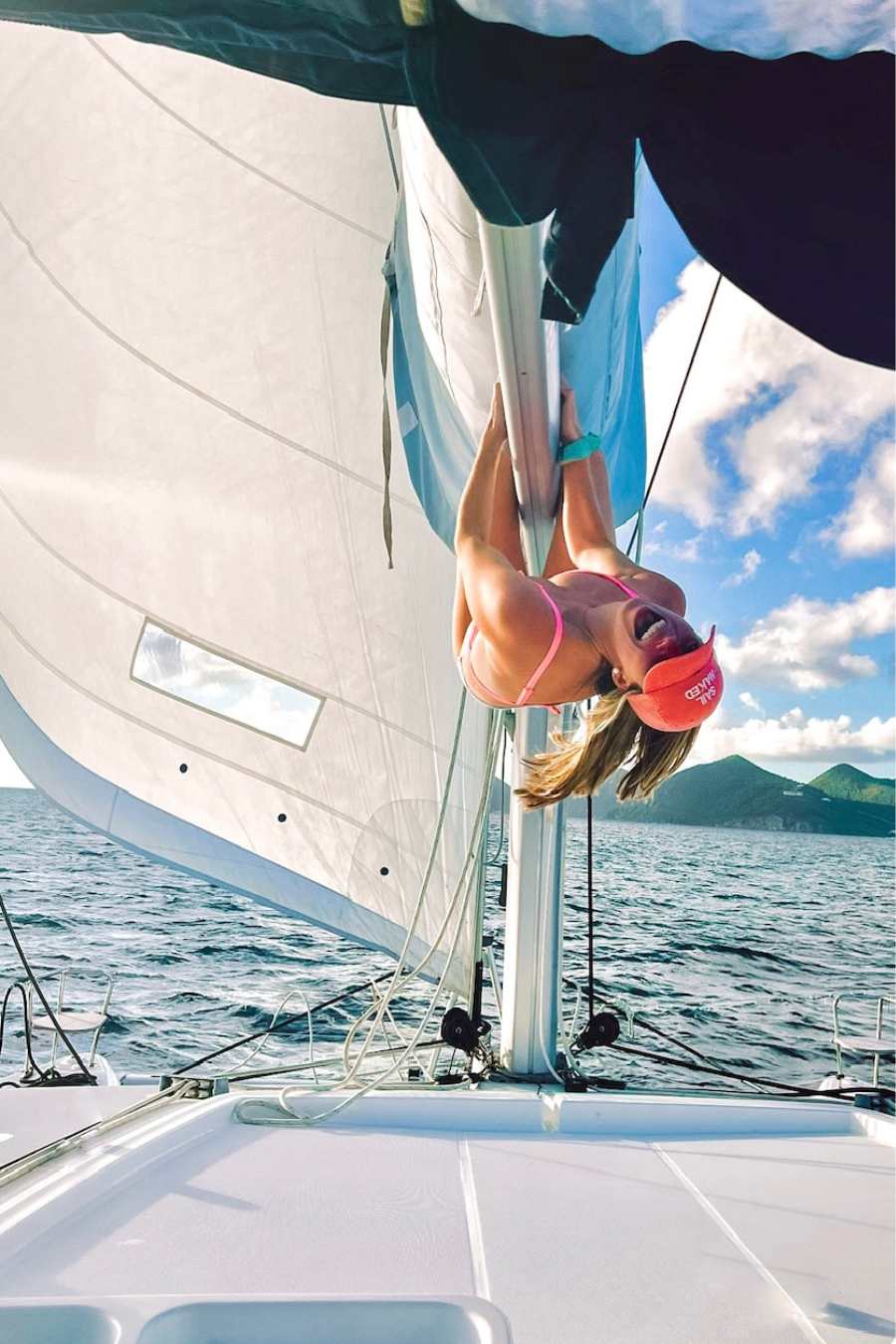 Step 1: Find your Perfect Boat
The first step to plan your first sailing trip is to find your boat. The vessel you choose will be both your main source of transportation and housing for the trip.
Sticker Shock
Regardless of the boat you go with, you will most likely experience some sticker shock when looking at boat options. It is important to remember that this is both your housing and transportation. Instead of finding Airbnbs or paying for taxis to and from ferry ports plus the cost of ferries, it is actually a relatively cost effective way to travel. Also the total cost is split amongst all of the guests. For example, if you see $12,000 as the total cost and you have 10 guests, that is really $1,200 a person for housing and transportation for a week of travel. To break it down even more, that is $170 a night per person.
Boat options
When booking your boat you will first be faced with two options. A monohull which is typically smaller, narrower and almost always cheaper. Or a catamaran which is larger, wide and more expensive.
Catamaran
Personally, we always go with the catamaran as it provides a lot more room for everyone to fit comfortably. They also have lots of outdoor space in both the front and back of the boat. Typically catamarans will sleep a max of 12 people. They fit 8 in the 4 double rooms, 2 in the front single cabins and 2 sleeping on the pull out bed in the saloon. It is enticing to pack your boat to the brim but remember that your skipper will take one of the front cabins. They will use up a sleeping spot on top of taking a salary for the week. Each trip we have done we had a total of 11 people on the boat, including our skipper. This meant one person sleeping in the saloon and everyone else had a room. On both the Lagoon 400 and 450 this number was very manageable.
Monohull
If you are balling on more of a budget, a monohull is still a great option. A typical monohull can also sleep up to 12 people but will feel very crammed due to less outdoor space. There are the same amount of sleeping spots on them. We would recommend not having more than 10 people on this size boat. We know people who prefer sailing on a monohull over a catamaran so there is no wrong choice.
Amenities
Most boat amenities only pertain to the skipper driving the boat so it is smart to consult with an expert on those details. We recommend paying attention to the boat's year, the number of refrigerators and the size of the water tank. Also take note if it potentially allows for you to be able to rent kayaks or other water toys from the charter company for the week. That is a big perk that can ultimately save you money if your group plans to do something like that!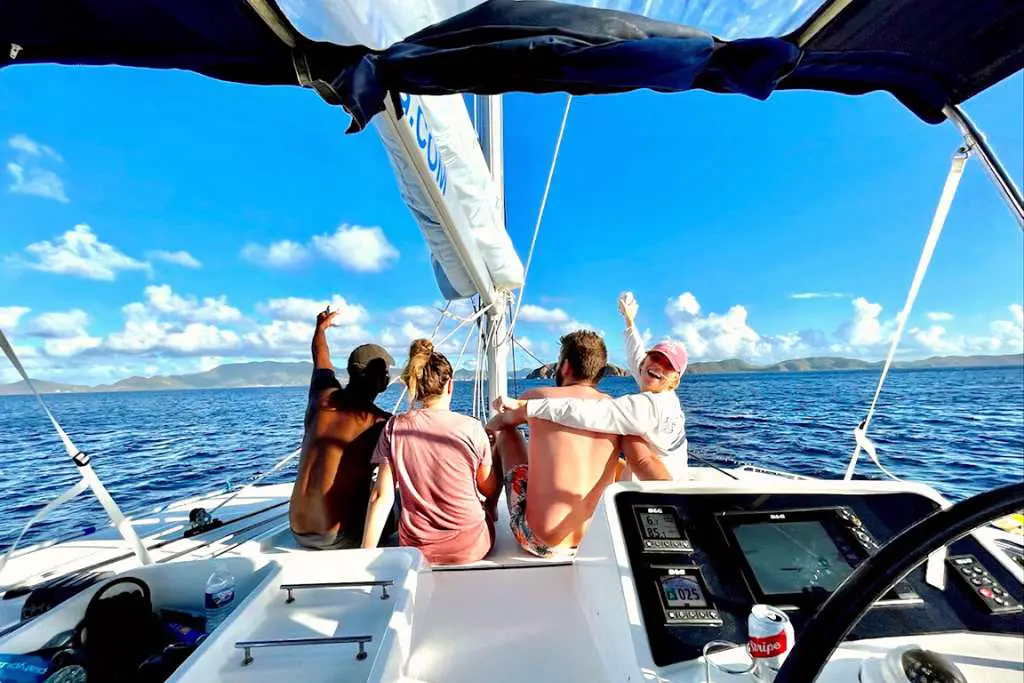 Step 2: Book your boat
The next step to plan your sailing trip is to actually book your dream boat. There are three main options to get this done. There is no wrong or right option, it is just what works best for your trip and your budget!
Charter company
The simplest option is to book directly with the charter company. Each location has different options but Navigare and Dream Yacht Charters are two of the biggest in the world. Navigare is what we used in the British Virgin Islands through Zizoo!
Use code JLJ10 for 10% off all eSIM purchases.
Zizoo
Zizoo is an international marketplace for yacht charters. It is known as the AirBnB for boats. Charter companies will list their boats on Zizoo in order to reach a larger audience. Pricing is usually the same between Zizoo and the charter company, so it really does not matter which one you go with. Sometimes it is easier to work directly with the charter rather than communicating through Zizoo as a middle man. We booked our British Virgin Island trip through Zizoo and our boat was a Navigare charter boat. When we booked, Zizoo had worked out a discounted price with Navigare that actually ended up saving us money. There's not a real rhyme or reason behind all of the logic, best practice is to check all of the options for the best pricing!
Private seller
Another option is to search the internet to find someone posting their boat on their own for charter. This is probably the best way to find a deal, but is also the option that will provide you with the least insurance of the boat. There is no true way to guarantee that the boat is in good condition and actually there when you arrive. We would advise working with a legitimized company but obviously there are exceptions out there.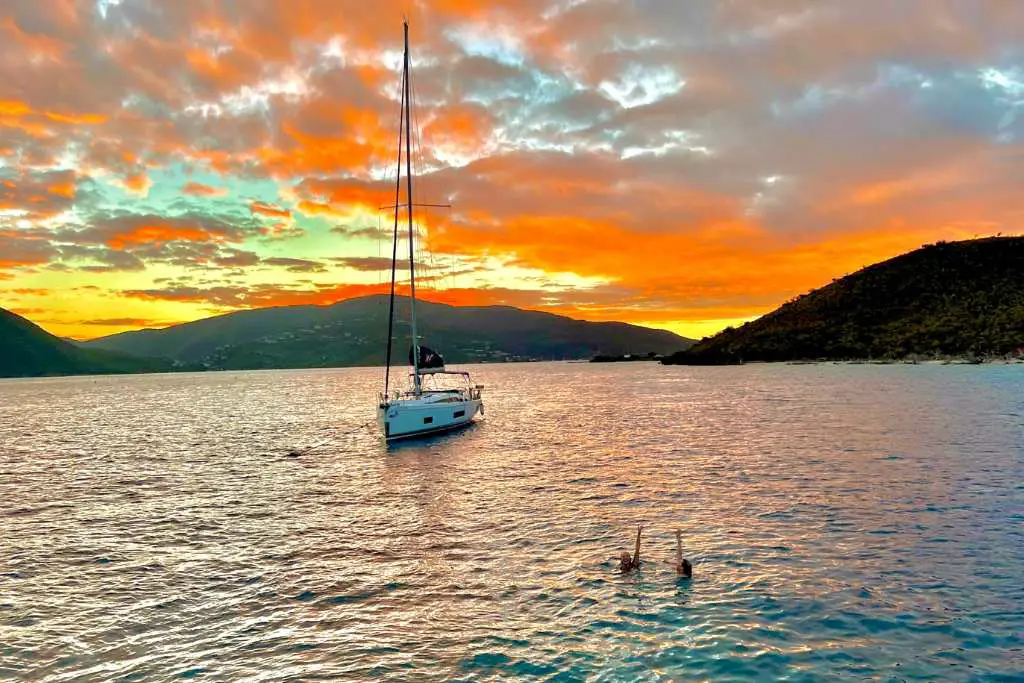 Step 3: Find your Skipper
Check your network (which now includes us – yay!)
After sailing in Croatia back in 2017, every time we have booked a boat we have found our skipper through a network of skippers that we met our first week on The Yacht Week. If you happen to know anyone in the industry, whether as a hostess or a skipper, that should always be your first resource when trying to find a skipper. They will know your vibe and can try to match you accordingly. Now the skipper network is absolutely massive, our skipper from our British Virgin Island sail week flew in from Israel, had never been to the BVIs prior and still ran into over 15 skippers that he knew on the islands.
Work with Yachting companies
The second resource should be working with companies that provide both group and private charters. These companies typically work with skippers ranging in age from 24-35 who always have a good time. A great company to reach out to is TheBucketLust. The team there will most likely provide you with a couple skipper options. From there you can look them up on Facebook and see if you have any mutual friends that could shed some light into their vibe.
Keep in mind that the guaranteed high quality that comes with a recommendation from a company like TheBucketLust also comes with a slightly higher price tag than if you were to go with your third resource.
Use the Charter network
Your third option is to just allow the charter company to assign you a skipper from their network. The benefit of this is that they will already have a rapport with the charter company and probably sailed your boat before. They will also definitely be experts in the area as they will most likely be a local. Depending on what your boat is looking for, this is absolutely a great option. We prefer to have our skipper feel like he/she is a part of the crew, so like to hire someone younger. This is not everyone's preference though!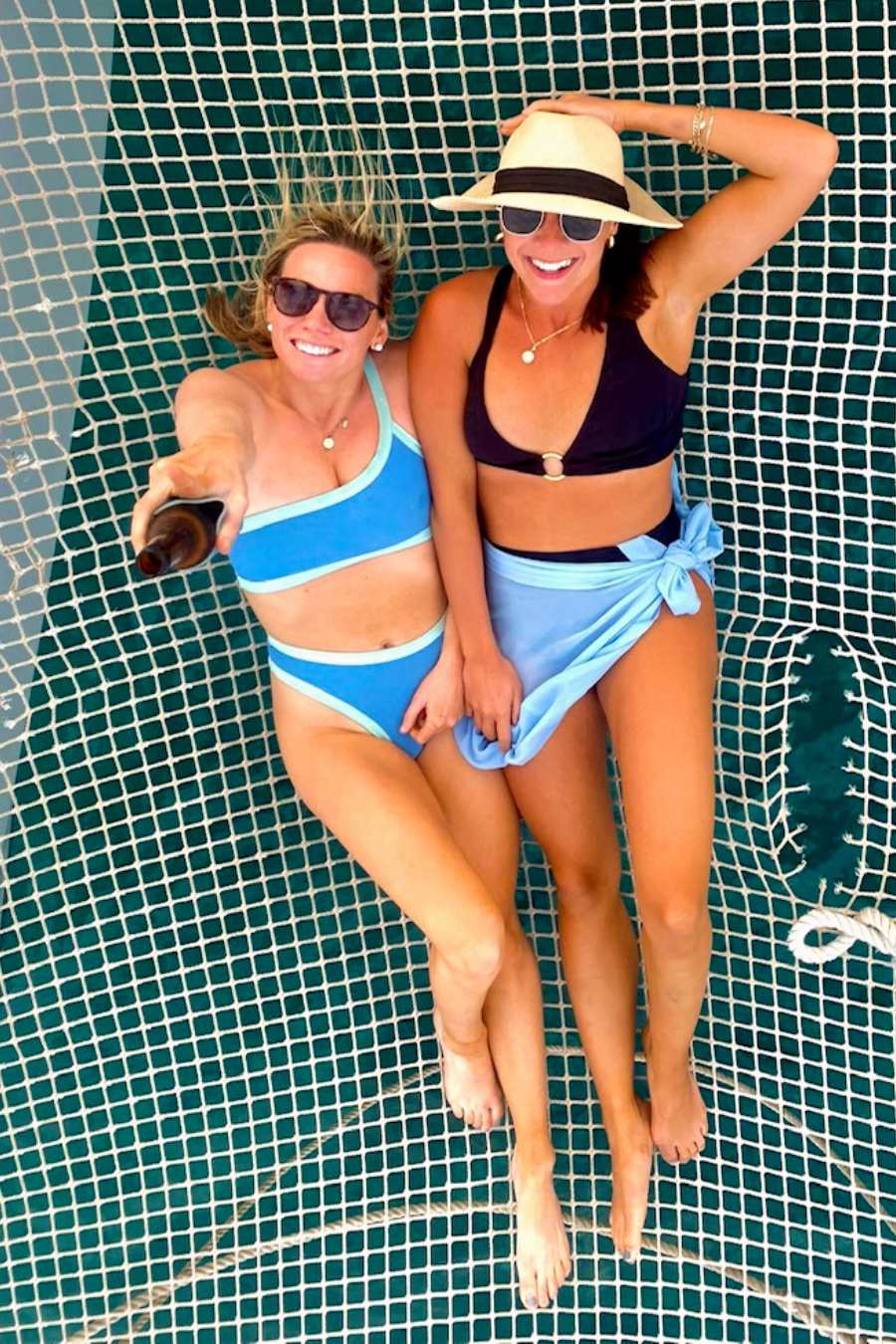 Step 4: Plan Your Route
Determine your must haves
Ask everyone on your boat to do some quick research to see if there are any must haves on the trip from sights to bars/restaurants. If it is your first time to a destination, you will obviously want to hit the most popular spots. From there you should be able to establish all of the islands that you want to hit. Now that you can mark on a map which islands and which areas of said islands you want to hit, you can plan out the daily itinerary.
Use Your Resources
Unfortunately, google is not helpful when trying to determine sail times between each island. This is where your skipper will come in clutch to help figure out exactly what you can accomplish in a day. We have noted our exact itinerary and all of the sail times in our British Virgin Islands Itinerary Post. Your skipper will also make sure that you are able to refill water every two days which will impact where you dock/moor. You will almost always leave and return from the same port, so ideally you work your route to be a circle.
If you are reading this post and it inspired you to plan a sailing trip, definitely invite us! We are always down to set sail with other fun party people. Beyond that, hopefully this post helps you begin planning your next sailing trip. Never hesitate to reach out with any further questions.