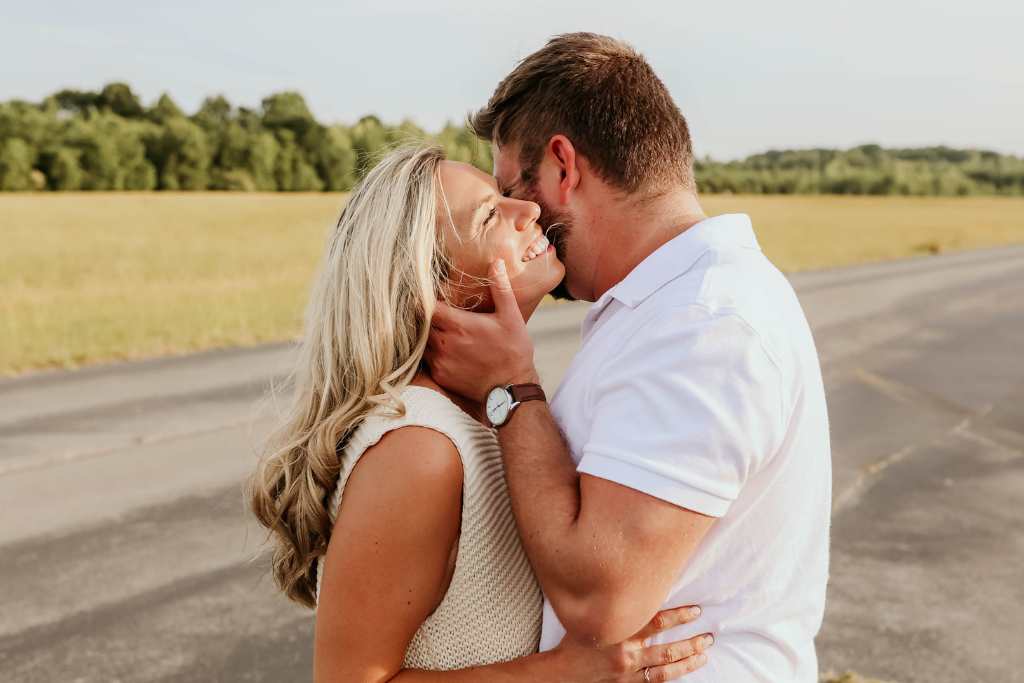 Let's be real, posing for pictures with your significant other is uncomfortable at first. The classic side by side pose gets boring real quick. Do you ever see those travel couples on Instagram looking fabulous and think – I wish we could do that? Well anyone can! Just like any other skill, it takes preparation and practice with each other to make your pictures look natural. Before we started traveling, we were pretty terrible at taking pictures. It was uncomfortable to pose in different positions and we were afraid to ask strangers to take our picture. A few trips around the globe, we are over that fear and can master a cute pose in any location.
Read below for how to prepare for a photoshoot. These tips were especially helpful before our engagement photoshoot in Florence but can be used for any occasion! Once you practice and master these, you and your partner will have beautiful and unique pictures all around the world.
1. OUTFIT PLANNING
Find Your Vibe
Planning your outfit or outfits are especially essential if you are taking pictures for a special occasion like an engagement or graduation photoshoot. Pinterest is a great place to look up outfit inspiration beforehand and find your vibe. When we did our engagement photoshoot, I did not have any dresses that were formal enough since I was living out of a backpack at the time. I ended up buying a dress in Ljubljana just a couple days before we were back in Florence for the photoshoot and I borrowed shoes two sizes too big. I walked around in my Birkenstocks until the camera started and ripped the shoes off as soon as we were done.
Take A Risk
This is great opportunity to take a risk and be bold. You can stay true to your sense of style while still reaching out of your comfort zone. Try an outfit that you always wish you could pull off because I bet you actually can! One thing to keep in mind when you prepare an outfit for the photoshoot is any insecurities you may have. Everyone is beautiful in their own way but let's be honest, we all have things we are insecure about while taking pictures. If you know that you do not like to have your arms showing in pictures, pick a shirt or dress that covers them up. The last thing you want is to invest in this photoshoot and then feel like you are focusing on that one thing in every picture that comes back. Do yourself a favor and work with the amazing body you have. Once you have your outfit planned, take a few test photos before the big day to make sure you are content with how you photograph in the outfit.
2. POSE PRACTICE
Like most things, practice makes perfect. This is so important to prepare for your upcoming photoshoot. Again, Pinterest is a great place to find pose inspiration. If you know the location of your photoshoot, you can look up pictures that other couples have taken in that city. For our engagement shoot in Florence, I simply looked up "Florence Engagement Photoshoot" on Pinterest and made a board with all of the inspiration pictures. Then we literally practiced these different poses in a mirror to make sure we were comfortable before the actual shoot. If you feel weird or uncomfortable doing this with your partner, pour a glass of wine and make a game out of it! I promise it will be worth it to practice. Not only will you be more comfortable come time for the shoot, it will also save time. This is especially important if you are paying per hour with a photographer. You want to be as efficient as possible and practicing your poses will help get you there.

3. LOCATION RESEARCH
Another way to prepare for a photoshoot is to research the locations where you want to take all of your photos. Similar to pose practice, this will ensure you are efficient with the time with your photographer. Pose practice and location research together will make sure that you capture all of your dream shots. As you look on Pinterest for different poses, also take note of where they are. Also, reading blogs about top places to photograph in a city are a great resource. One way to track this is to create a new list in Google Maps and save each spot. If you are traveling and do not have cell data, you can download the city in Google Maps and have access to each location. Once you plan your route, you can of course improvise and make stops along the way.

4. PLAN YOUR DAY
Depending on your location, it is essential to pick the optimal time of day to do your photoshoot. If you are going to a random open field without a crowd, by all means capitalize on that golden hour! On the contrary, if you are in a crowded city then you probably need to plan an early morning photoshoot. For example, you will never get that perfect sunset photo at Piazza Michelangelo in Florence since there are hundreds of people there at that time. Manage your expectations and be realistic. You can't count on hundreds of people to move out of your way or have patience while you take time to pose in front of a crowd. Also, if you want to be the only ones in the photo, the early bird gets the worm. Even at 6am when we did our engagement photoshoot in Florence, it was crazy how many other people were out and about at the same time! Since you already mapped out where you want to take pictures, think through how long you should spend at each spot. Watch the clock at each location because you don't want to miss the opportunity to avoid the crowd at another beautiful location.

Use code JLJ10 for 10% off all eSIM purchases.
5. LAUGH IT OFF
The more fun you have during your photoshoot, the more natural you will look. I promise, you look less awkward in the pictures than you feel. Think of the photoshoot as an experience rather than just worrying about the outcome. If you and your partner are completely new to this type of activity together, it is a great bonding experience. Pull your shoulders back and rock your confidence. If you have done the preparation, you just need to focus on you and your partner having fun together. The rest will fall into place! Also, remember to have patience with yourself especially if you are preparing for your first photoshoot. Some couples practice for years before they master the art of couple pictures, it is always a work in progress.
Thank you for reading! As always, reach out if you can think of any other important things to remember when you prepare for a photoshoot.