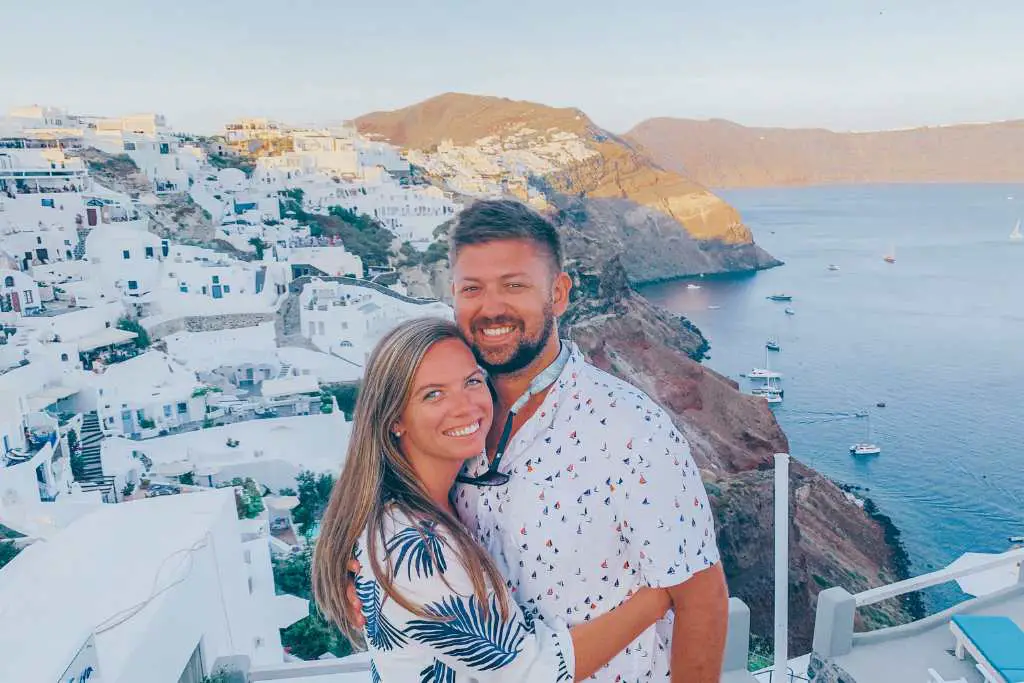 Santorini is one of the most beautiful islands in the world and people from all over flock here for the beautiful sunset views and unique architecture. This 3 day Santorini itinerary is the perfect mix of adventuring and relaxing on this absolutely stunning island.
Depending on your travel times, feel free to mix and match the days on this 3 day Santorini itinerary. You can also drop an activity if you want more downtime at your housing or at a beach! There is no right or wrong way to experience Santorini, this is your vacation.


How to Spend 3 Days in Santorini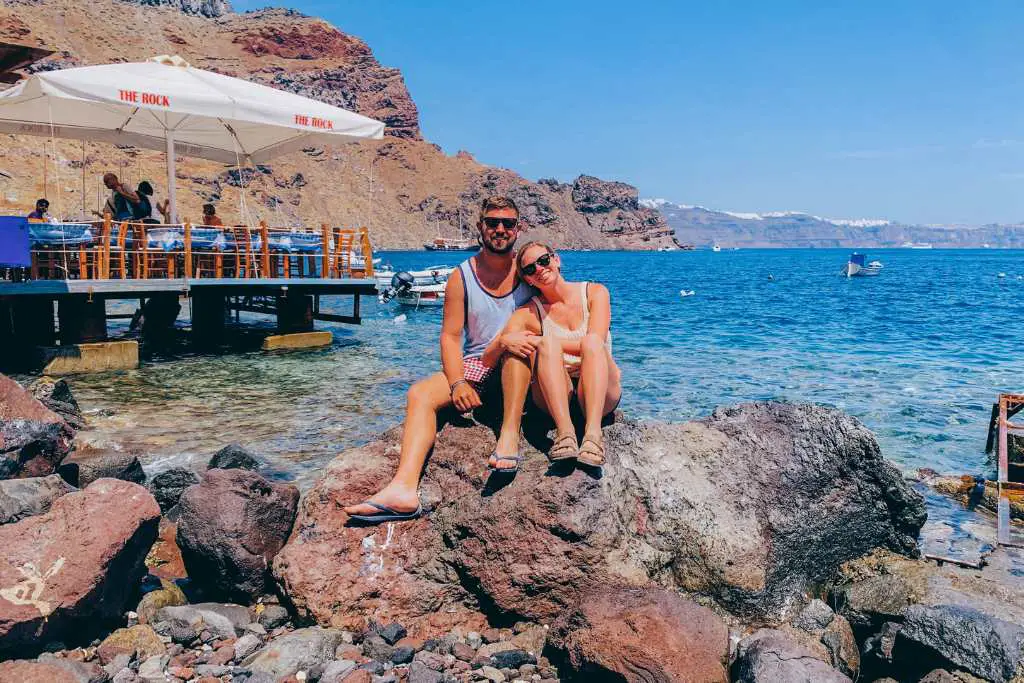 Day 1 in Santorini
Morning and afternoon: Take a boat tour to Caldera and surrounding volcanic islands
A boat tour is a must-do activity at some point during your three days in Santorini. There are tons of boat tour options depending on your budget and group size.
If you are looking for a full luxury experience, book a private catamaran tour. We were balling on a budget when we traveled through Santorini and had a wonderful time on a large group tour. All of the affordable boat cruises are a little crowded but we were able to move ahead of the group on the hikes and basically had it all to ourselves until the rest of the group caught up. It never felt like we were in a massive group.
The boat we went on did not include a sunset tour. We stayed in Fira and it was easy to just go home and shower in time for sunset in Oia. If you are not staying in Oia or Fira, we recommend doing a tour that includes sunset as the only other way to get to Oia would be by bus to Fira and then bus from Fira to Oia.
Evening: Watch the sunset at Oia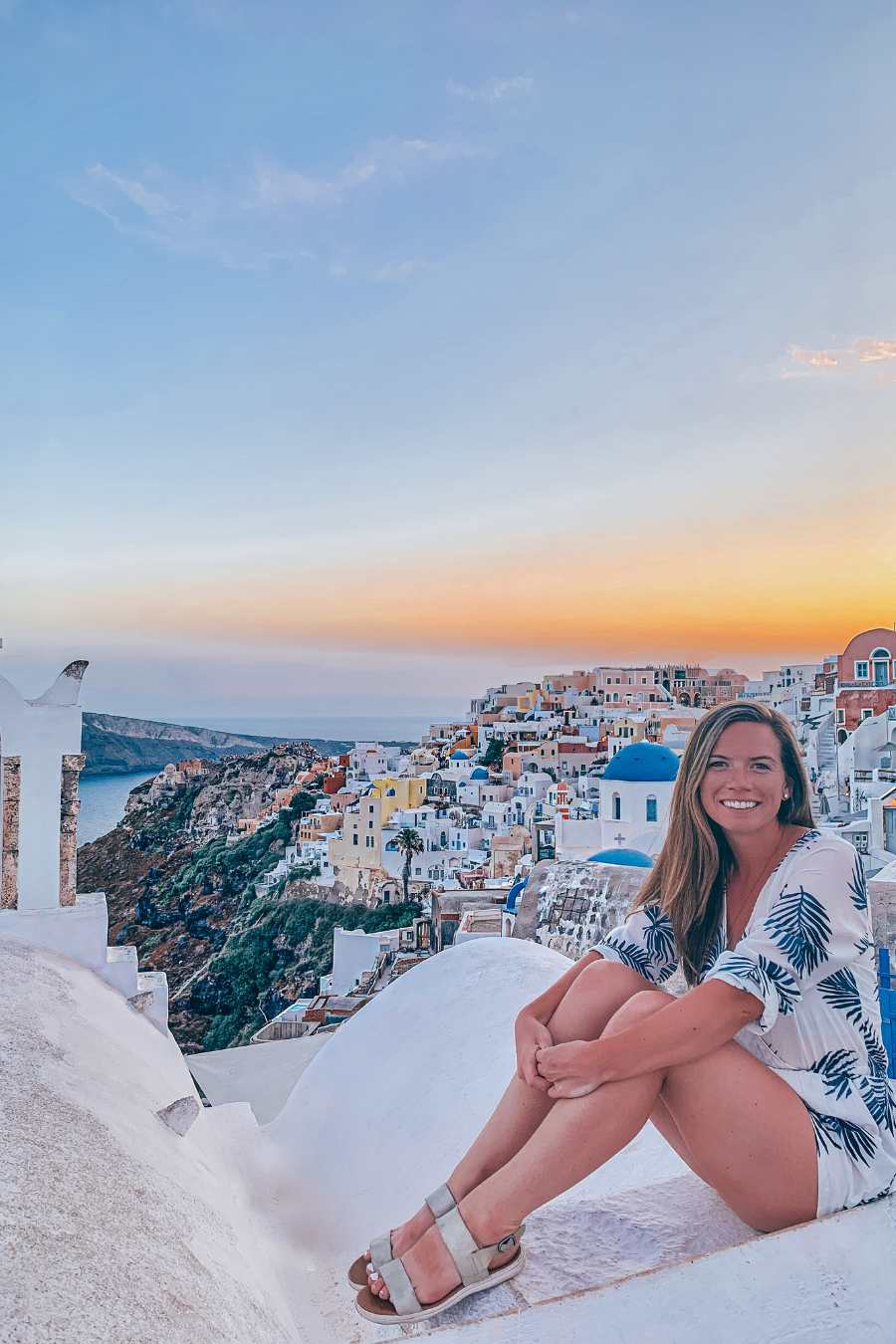 For sunset at Oia, everyone goes to the castle and it's literally packed by 5pm. We went to the view spot of the blue domes where you lose sight of the sun a little before it fully sets but it clears out and you get a really beautiful view of the caldera and Oia.
Use code JLJ10 for 10% off all eSIM purchases.
Day 2 in Santorini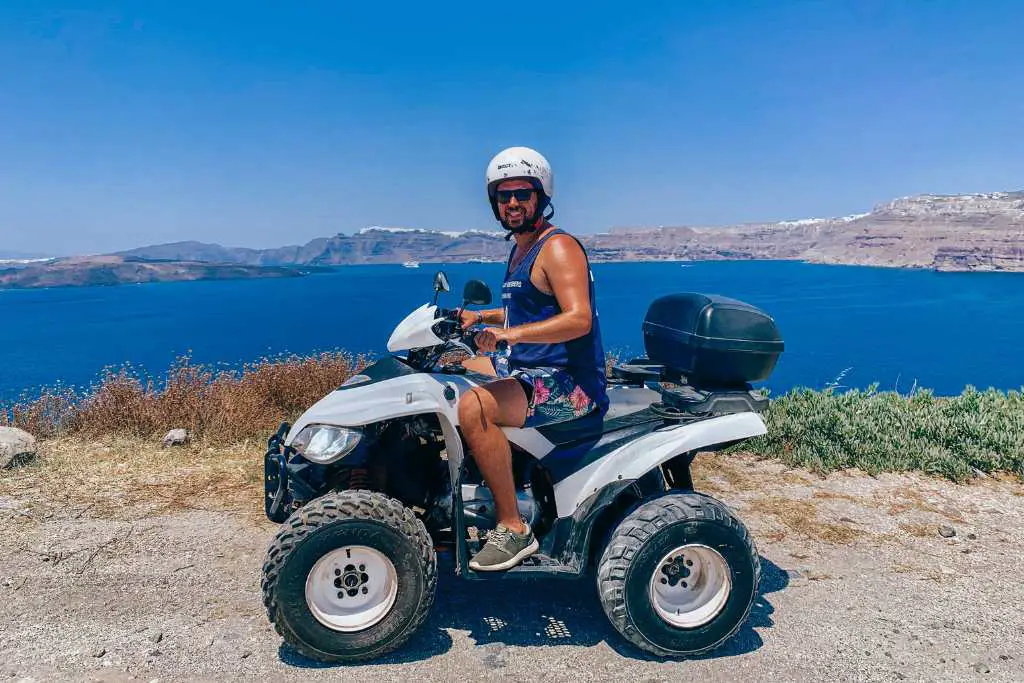 Morning and Afternoon: Rent ATVs to explore the island
Driving an ATV is one of the best ways to explore the entire island of Santorini. It is very easy to visit all of the major landmarks and still have downtime to relax on the beach. The entire tour took around 4 hours. This time could be more or less depending on how much downtime you want at each stop!
Where to rent an ATV: We rented our bike from Moto Manos in Fira. It was recommended by our hostel and all transactions were super easy! We paid 60 Euro total (40 for a 24 hour rental, and 20 for insurance). Always pay extra for insurance! Your housing may have a rental suggestion as well.
If you are not comfortable driving an ATV, there are also rental car options or you can have a guide take you around the island!
Where to stop on your Santorini ATV tour: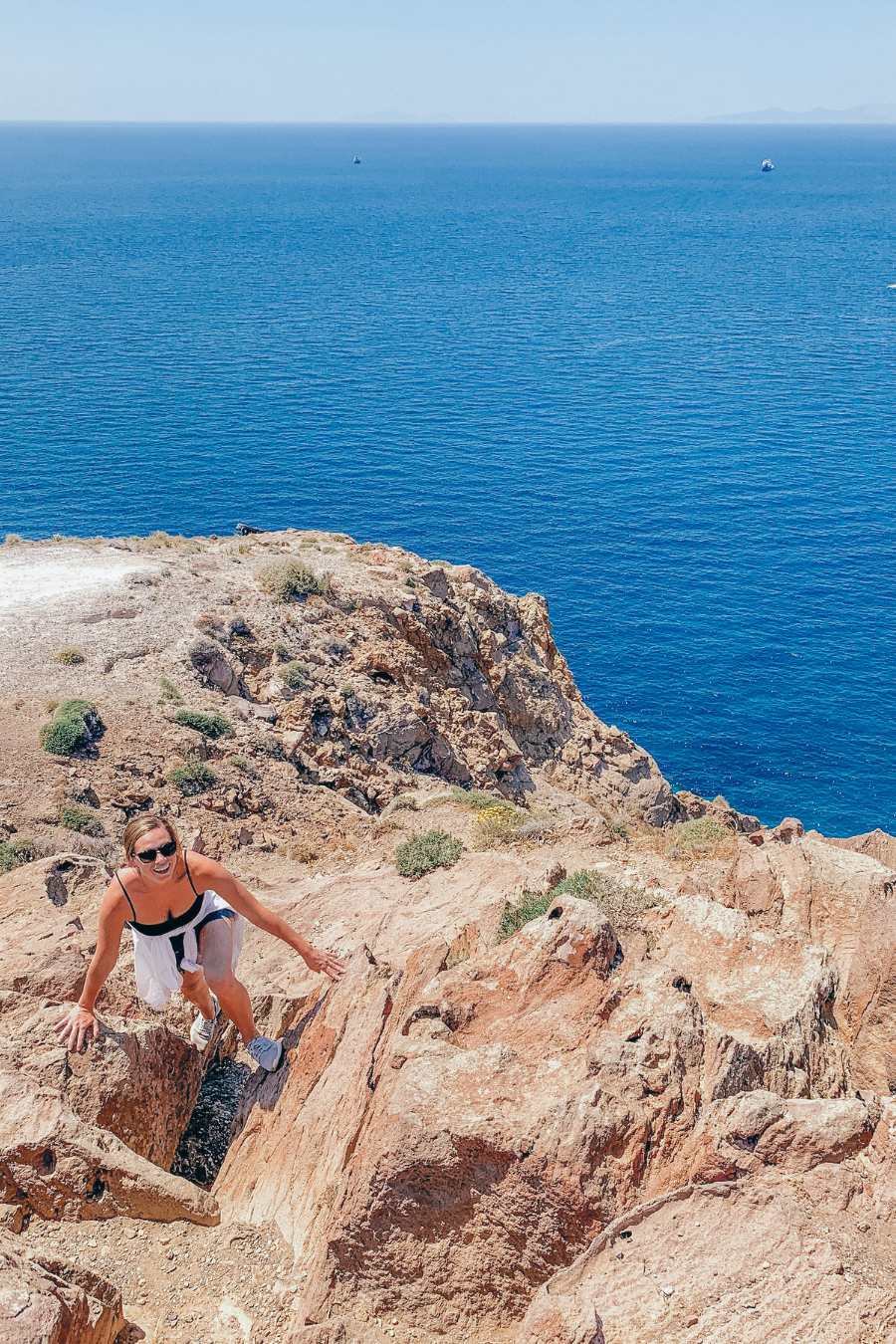 Pro-tip: Download the island of Santorini on your google maps and save each of these locations. This way you can easily follow directions all day without using data!
Perissa is a charming little beach town in Santorini and home of the iconic black sand beach. We enjoyed an amazing lunch at a spot here looking over the beach.
The lighthouse is in our opinion the best view you can find in Santorini. You climb some rocks and take in the vast blue Greece waters. We could have spent hours taking in the views from this lookout point!
The Red Beach in Santorini is one of the most famous places to relax and swim in Santorini. It has unique colors and is surrounded by volcanic rocks. There is a small lot nearby to park your vehicle.
This point is the highest point in Santorini. The drive up here is quite steep and windy, so it is essential to use caution and drive slowly. The views at the top are simply stunning and you can see the entire island!
Evening: Watch sunset at Fira
This may be an unpopular opinion, but we prefer to watch the sunset in Santorini from Fira over Oia. It is much less crowded and there are tons of bars and restaurants to pop in and try!
Day 3 in Santorini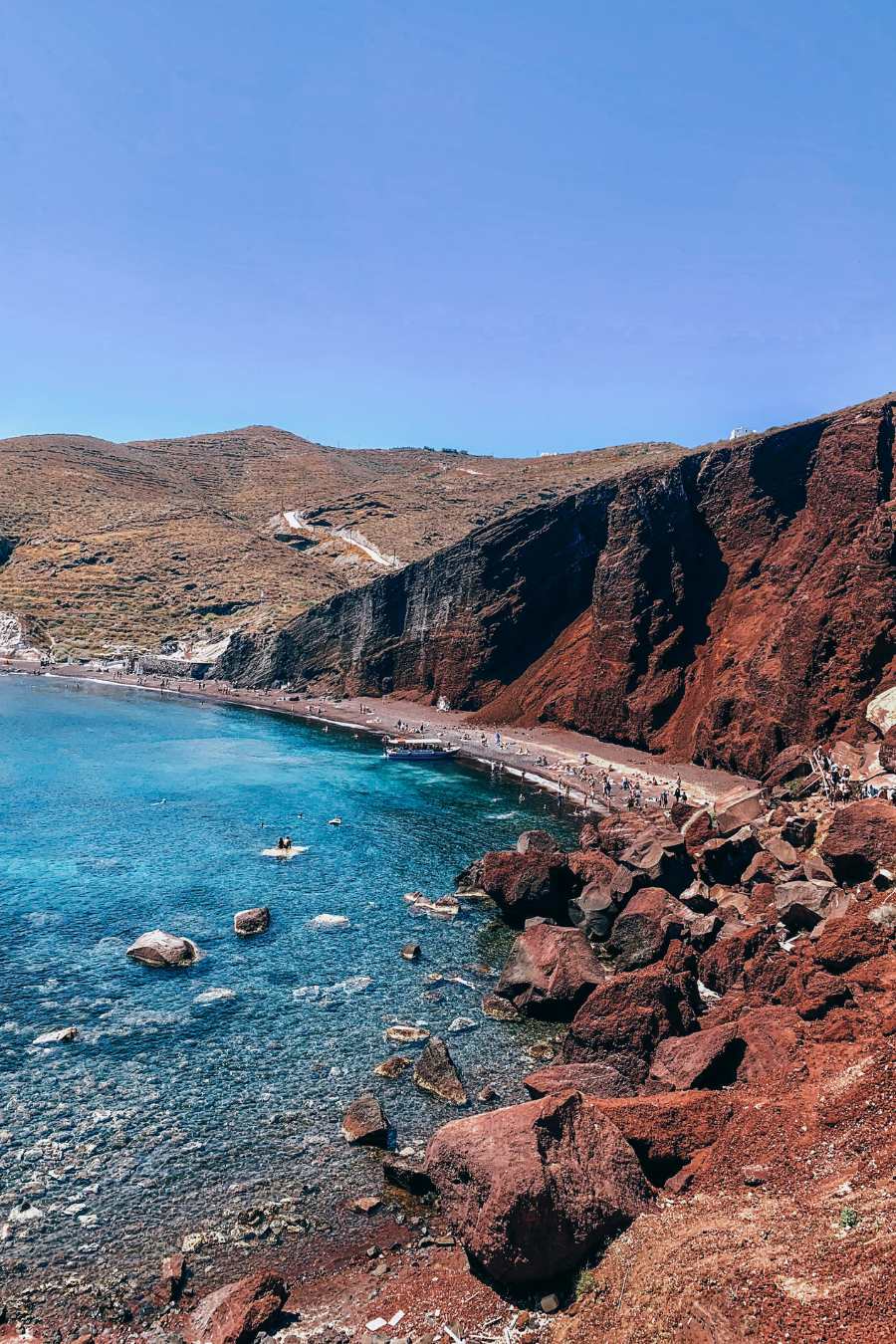 Morning: Hike from Fira to Oia
This is a beautiful hike between the two most famous towns in Santorini. It is not super difficult, but there is minimal shade so we recommend doing this in the morning and bring plenty of water.
Afternoon: Do a vineyard tour
The wine in Santorini is absolutely amazing and doing a vineyard tour is the perfect way to explore more of the island while getting a taste of some of the best Greek wines. There are multiple tour options depending on how much time you want to spend on the tour.
Evening: Dinner in Fira or Oia
Treat yourself to dinner with a view while watching the sunset.
Basic tips for planning a trip for 3 days in Santorini: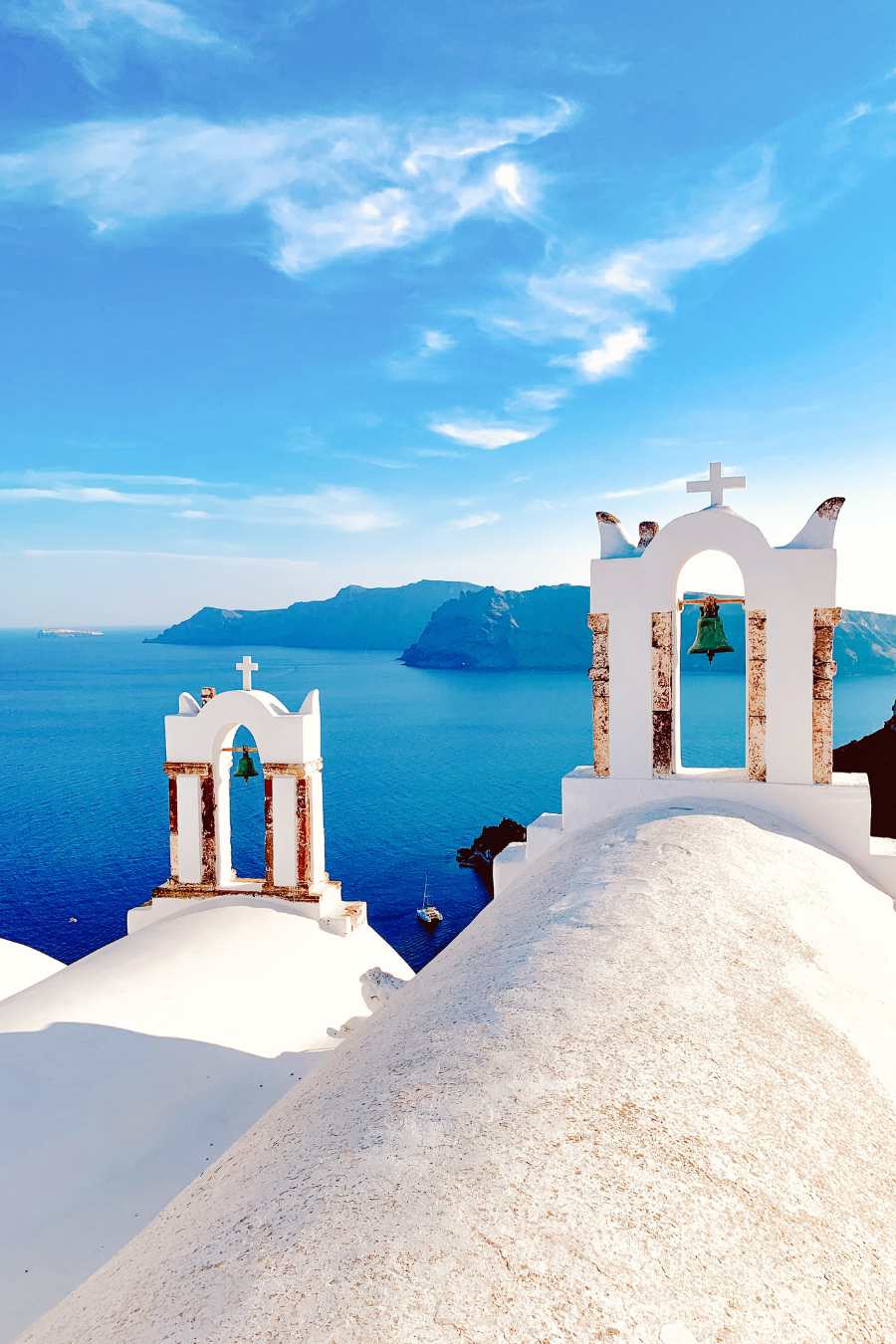 Book everything far in advance
Santorini is one of the most popular destinations in the world and many people visit here for honeymoons or destination weddings. No matter the reason, book your housing and activities in advance to ensure that you can experience everything you are dreaming of during your three days in Santorini.
Purchase travel insurance
It is always recommended to purchase travel insurance before any international vacation. We use World Nomads for all of our trips!
Don't be afraid of the bus system
The public buses that run between all of the main areas of Santorini are typically faster than hiring a driver and very easy to use. Don't be afraid to take a bus during your three days in Santorini!
Remember to pack the essentials for 3 days in Santorini
Prepare for mayhem at the ferry port
There is really no way to explain how chaotic boarding a ferry is at the Santorini ferry terminal. No amount of money can get you out of the mayhem either unless you can afford a private boat to take you to your next destination! Since Santorini is one of the most popular destinations in the world, the ferry port is crowded at all times. You will likely have an assigned seat once you get on the ferry but there is little structure as to how the tourists line up to get on to the ship. You will wait in a long line and be surrounded by a mob also trying to board the ferry. Stay calm and know that the line will eventually move.
---
We hope this 3 days in Santorini itinerary helps you plan your trip to this beautiful destination! Santorini is truly a bucket list destination and will be a place that you will remember for the rest of your life. Let us know in the comments what you are most excited to experience in Santorini. Happy traveling!
Additional Greece Resources