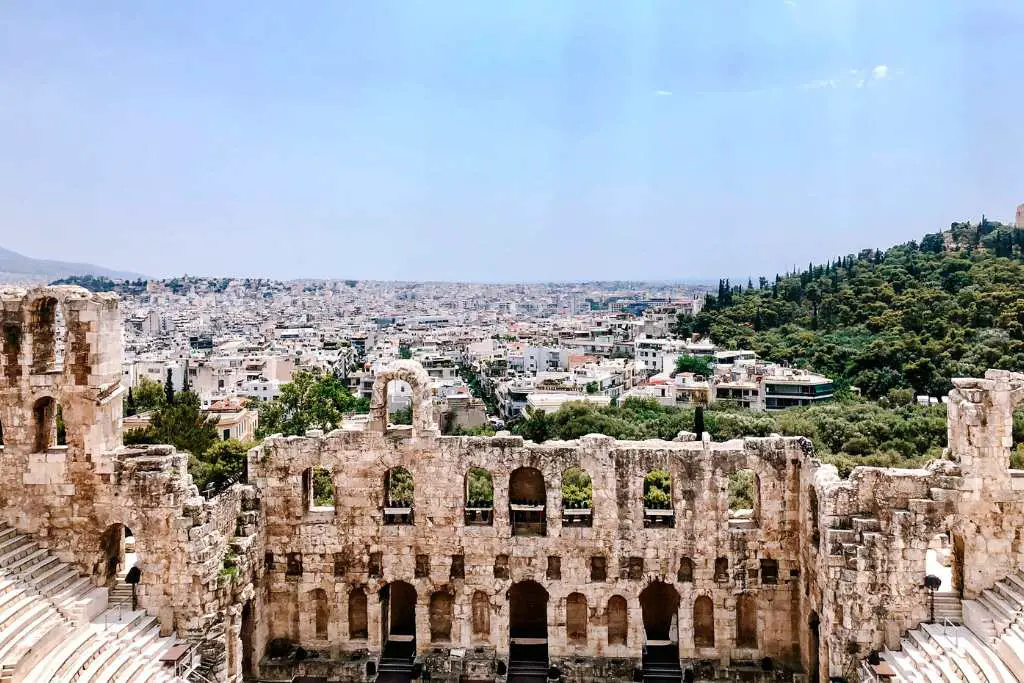 Athens is the capital and largest city of Greece and is known for its rich history, culture and vibrant nightlife. If you are traveling to Greece, most likely you will fly into Athens as your first stop. As much as you may want to immediately start Island hopping, it is important to spend a few days in Athens to see all that it has to offer. Athens is filled with so much history and some of the best food and bars in Greece.
Athens is a special place to us because it is actually where we got engaged! A few of our closest friends met us in Greece on our original 6 month trip around the world to go on The Yacht Week and Seth proposed at the best sunset spot in Athens to kick off this trip with friends.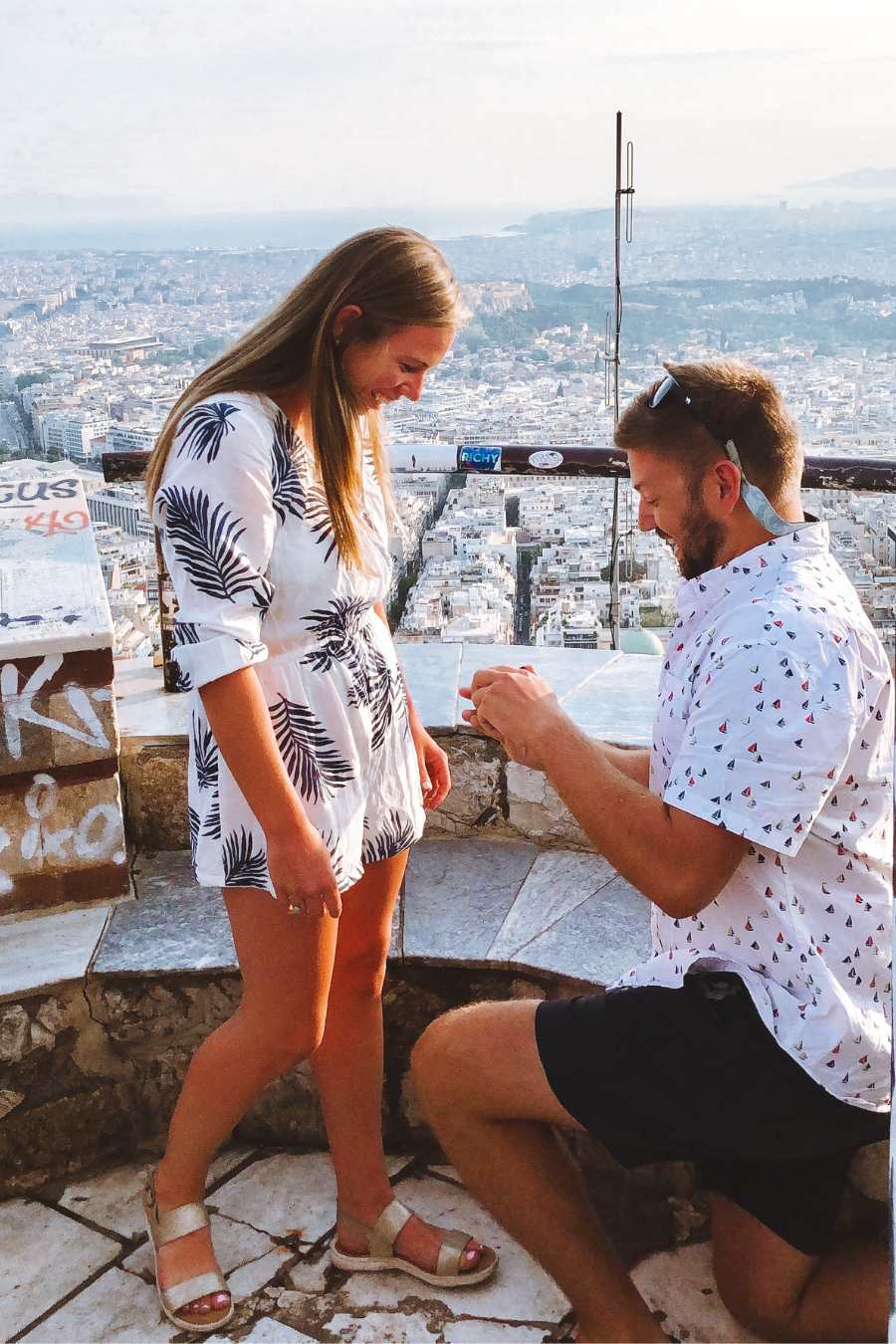 When is the best time to visit Athens
The best time to visit Athens is typically from April to October when the weather is warm and pleasant. July and August can be very hot, so if you prefer cooler temperatures, it is best to visit in the spring or fall. Athens is typically the gateway to the islands of Greece. Early summer and early fall will be the best time to start in Athens and then enjoy the weather on the islands.
How to get to Athens
Where to fly to get to Athens
Athens International Airport (ATH) is a large airport with direct flights from all over the world. The airport is about a 30 minute drive from the city center and can be reached by taxi, bus or metro.


Taking the ferry to Athens
Athens is also accessible by ferry from the Greek islands and other parts of Europe. The ferry system in Greece is very easy to use and will be the most cost efficient way to see all of the islands and get back to Athens for your flight home.
Currency and Tipping in Athens
What currency is used in Athens, Greece?
Greece uses the Euro, which is almost equivalent to the USD.
Do you need to tip in Greece?
While it is not traditional to tip in Greek culture, it is becoming expected of tourists to leave something after receiving good service. It is polite to tip 10 – 15% after a meal, drink or taxi ride.
Use code JLJ10 for 10% off all eSIM purchases.
How many days should you stay in Athens?
Generally speaking, 2 days is enough to tackle most of the major sites in Athens with a jam packed itinerary. If you prefer to travel at a slower pace, we would recommend 3 – 4 days in Athens.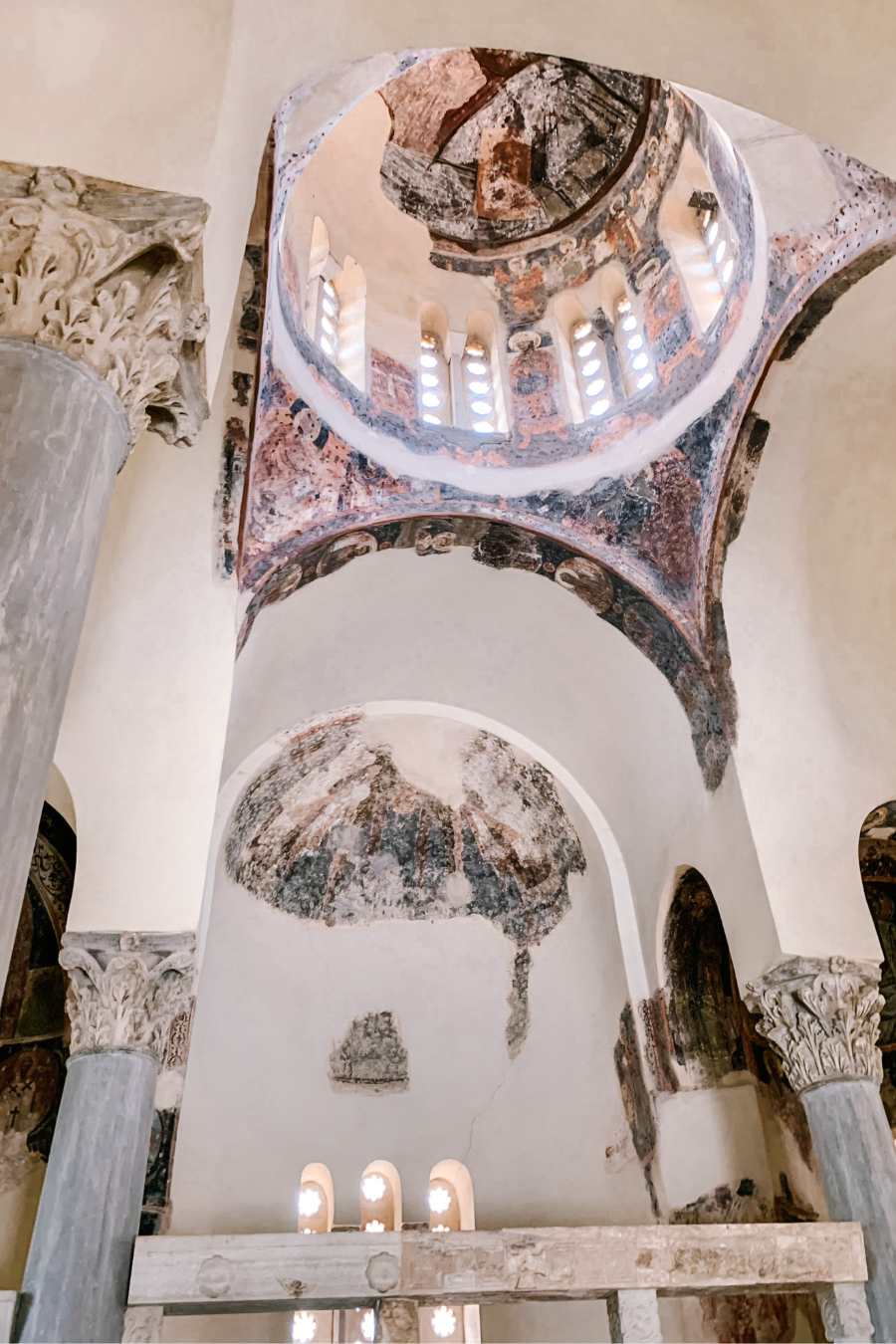 Where to Stay in Athens
Athens is a big city but most of the best areas to stay are right in the center and surround the main tourist attractions. Depending on your group size and budget, an Airbnb may be a better option over a hotel or guest house. We stayed with a group of 11 in an Airbnb in the Plaka neighborhood and had a great stay in Athens!
The best neighborhood to stay in in Athens
Plaka
Plaka is a charming neighborhood located in the center of Athens. It is known for its narrow streets, beautiful neoclassical houses and excellent dining and shopping options. Plaka is a great place to stay if you want to be in the heart of the city and be close to nightlife and the main attractions.
Monastiraki
Monastiraki is another popular area also right in the heart of Athens slightly north of the Acropolis. This is a popular bar and restaurant area and walkable to all major sites.
Syntagma
Syntagma is home to an iconic square in Athens and is a great place to stay because of its convenient location to public transport to the rest of the city. While it is still close to the main attractions, staying here gives you easy access to everything outside of the center.
Kolonaki
Kolonaki is a more upscale neighborhood located in the center of Athens.
There are also tons of great housing options for any type of traveler. There are hostel and boutique stays depending on your budget and preferences.
Where to eat in Athens, Greece
Famous Food to try in Athens
Athens and Greece in general is home to delicious and fresh cuisine with a variety of dishes and ingredients to try. Some of the famous dishes from Athens include souvlaki, a popular street food made with grilled meat and vegetables, and moussaka, a baked dish made with eggplant, minced meat and a creamy sauce.
Gyros are the cheapest and tastiest meal in Greece and you can easily find a gyro stand on every corner. They are typically around 4 – 5 Euros and always hit the spot!
The best restaurants in Athens
Athens has a dense food scene with so many incredible restaurants. Here are a few of the best places to eat in Athens!
Ta Karamanlidika Tou Fani is one of the highest rated restaurants in Athens and is located right in the center of the city. It is known for its excellent traditional Greek cuisine.
Oineas is a cute spot that specializes in homemade dishes to give you a full local Greek food experience.
Yiamas is a fine dining establishment right on the water in Athens. Stop here for a fancy night out with delicious cuisine.
To Kati Allo is the perfect place to stop for lunch in between tourist activities. Everyone who eats here raves about the unique flavors and local dishes!
This kebab shop is located near an apartment we stayed at in Athens. We got kebabs from here multiple times a day! They were so good that we had to keep going back for more.
This is a bar and restaurant with a large terrace that has epic views of the acropolis.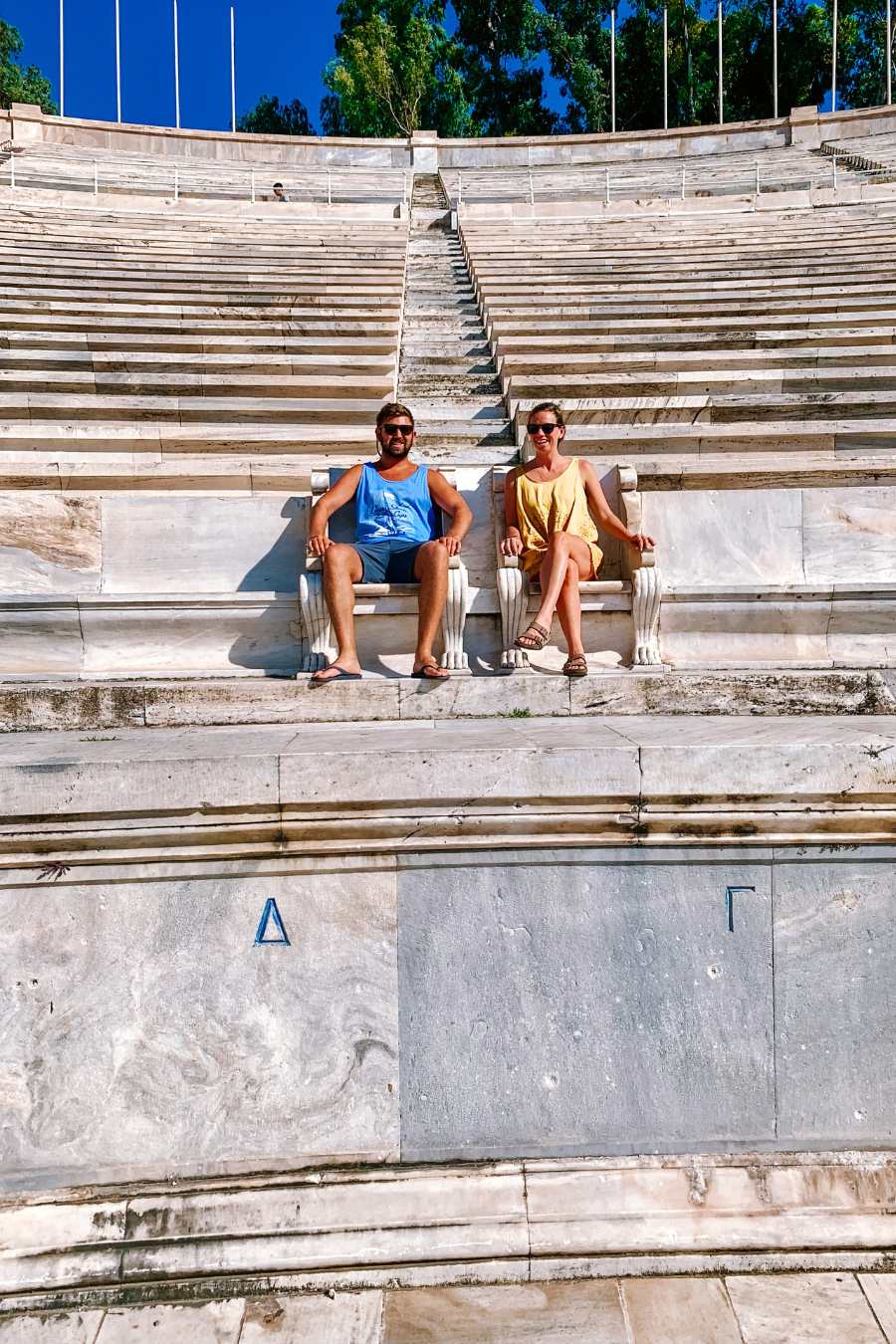 Where to Drink in Athens
Athens is a lively city with a great nightlife and bar scene. We had a great time going out with friends in Athens to celebrate our engagement and meet other sailors before getting on our sailboat for the week!
Kolokotroni Street is the most popular area to go out at night in Athens. There are endless bars to pop into and check out, each with their own unique design and menus!
The best bars in Athens
The Clumsies is a trendy bar in the center of Athens. It is known for its excellent cocktails, stylish décor and friendly atmosphere. This is a popular place for travelers to meet and have a night out together.
This is a unique and ironic bar with outdoor seating and delicious cocktails. It is actually a front for the speakeasy hidden behind the facade that you see from the outside.
Barley Cargo serves the most craft beers from around the world in Athens. It is also a lively and spacious establishment with plenty of room for a group of travelers to meet.
Located right along Kolokotroni Street, this is a classic bar in Athens with unique décor. This is a popular spot to start your night and bar hop from here!
This is a unique bar that is set in an old bank building. It gets very busy here especially when there is live music so try to go at a less busy hour to avoid the crowds.
Baba au Rum has been voted as one of the best bars in Athens for many years and is known for delicious rum cocktails.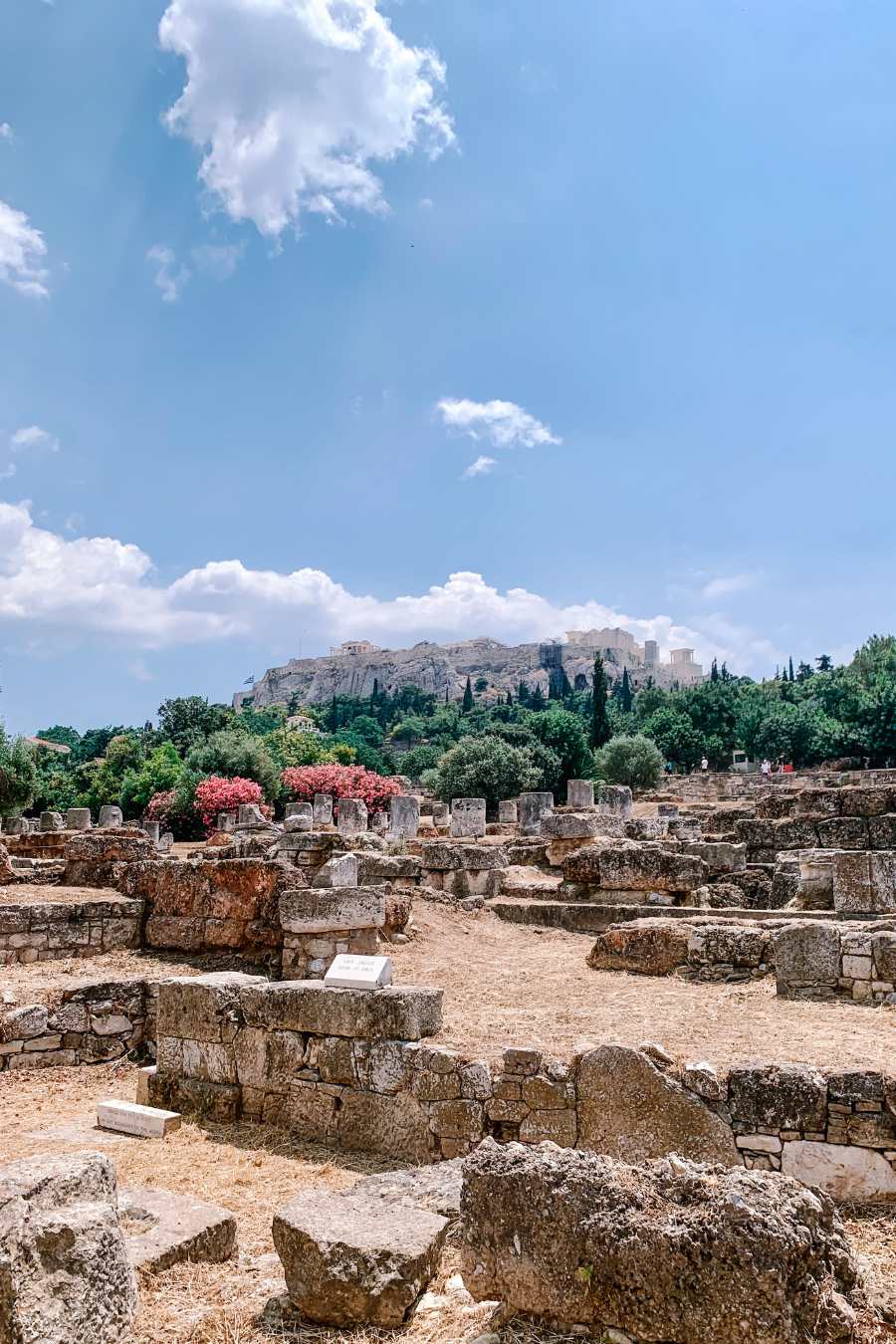 Things to Do in Athens
Athens is one of the most historic cities in the world as it was once the hub of the Greek empire. We were truly awestruck seeing these iconic places from history in real life. Taking in the history that Athens holds is one of the best parts of visiting and experiencing this city!
Browse all things to do in Athens with a trusted guide through Viator.
Climb up to the Acropolis
The Acropolis is an ancient citadel located on a hill overlooking the city. It is known for its iconic Parthenon temple and is a must-see attraction in Athens. The area surrounding the Acropolis offers breathtaking views of the city.
Walk through the Parthenon
The Parthenon is a temple located on the Acropolis and is known for its iconic columns and sculpture. The temple is a symbol of ancient Greek culture and is a must-see attraction in Athens.
Stroll through the ancient Roman Agora
The Ancient Agora is an ancient marketplace located in the center of Athens and is known for its ruins and historical significance. The Agora is where famous philosophers congregated and had many intellectual discussions.
Browse Hadrian's library
If you are a Greek history buff or want to learn more about Greek culture, Hadrian's library has major significance to history. It is another must-see site in Athens.
Climb to the Temple of Zeus
The temple of Zeus which is now a national park, is home to the ruins of the ancient temple that honored the most powerful god in Greek culture.
Skip the line for the sites listed above with this all inclusive ticket!
Go to the National Archaeological Museum
The National Archaeological Museum is a museum located in the center of Athens and is known for its extensive collection of ancient Greek artifacts.
Take a lap on the original Olympic track
As huge fans of the Olympics, this was a must-do activity in Athens. The stadium is stunning still today and it is very cool to actually be able to run on the same track as the original Olympians. There is a small entrance fee that you can pay when you get there.
Walk through Plaka neighborhood
Plaka is a picturesque neighborhood located in the center of Athens. Plaka is home to winding narrow streets, beautiful neoclassical houses and excellent dining and shopping options. Take some time to wander and explore this charming neighborhood!
Take a bus to the coast of Athens
The Athens coast is located south of the city and is home to beautiful beaches and coves. The coast is a great place to relax, swim, and enjoy the city's beautiful waters.
Climb or ride up to Lycabettus Hill
Walk up or take the funicular to the top of this hill with beautiful views overlooking the city and the Acropolis. This is a great place to watch the sunset. This is where we got engaged while watching sunset!
Day Trips to take from Athens
If you choose to stay in Athens for more than 2-3 days, you will have time to take a day trip and explore some surrounding areas. Here are a few suggestions for the best day trips from Athens!
Delphi
Delphi was considered the center of the ancient world and is about 2 hours from Athens. It is home to the Temple of Apollo, the Ancient Theater and the Museum of Delphi.
Cape Sounion
This is a peninsula town located about one hour south of Athens and is known for its beautiful beaches and ancient ruins. Cape Sounion is home to the Temple of Poseidon, a beautiful temple dedicated to the god of the sea.
Corinth
Corinth is a city located about one hour west of Athens and is known for its ancient ruins and historical significance.
Nafplio
Nafplio is a town located about two hours southwest of Athens and is known for its beautiful beaches and charming old town. This is home to the Palamidi Castle, a beautiful fortress that offers excellent views of the town and the surrounding area.
Hydra
Hydra is an island located about two hours south of Athens and is home to beautiful beaches, a charming old town and excellent dining and shopping options. This is a great city option to add as a coastal destination while visiting Athens.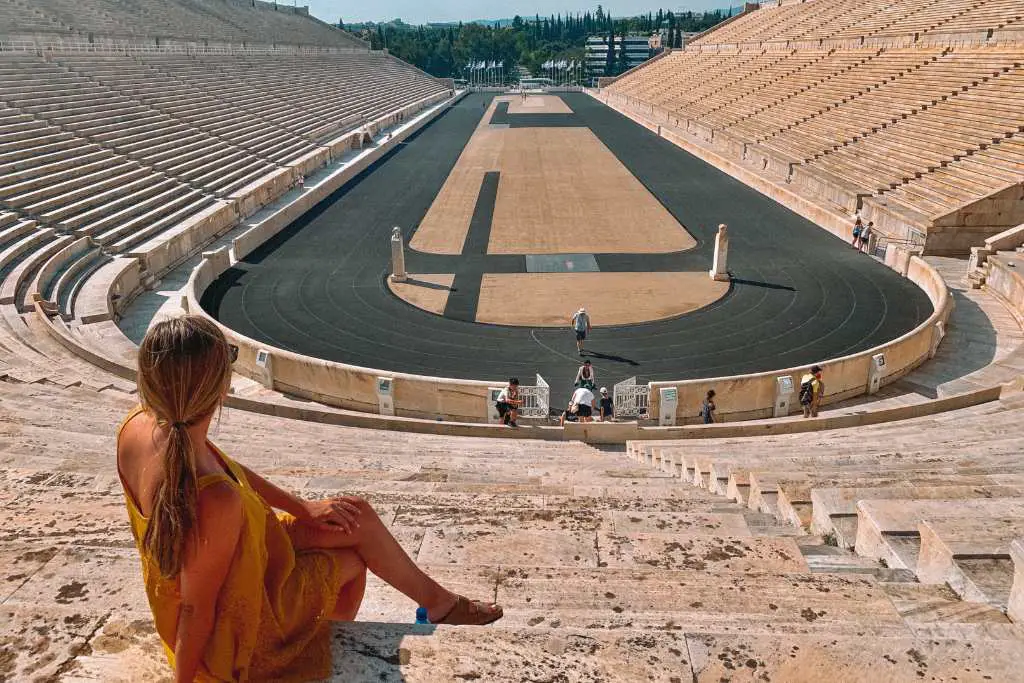 How to get around Athens
Athens is the largest city in Greece which means that there are plenty of transit and ride options to navigate your way through the city.
Here are the best ways to get around Athens.
Take the metro
The metro is the fastest and most convenient way to get around Athens. There are three metro lines that cover the city and connect to the main attractions and neighborhoods. The metro is open from 5:30 am to midnight and you can purchase tickets at the stations or from vending machines. There is also a metro line option that you can take directly from the airport as a budget friendly airport transfer option.
Ride a bus
The bus is another convenient and cheap way to get around Athens. The bus system covers the city and connects to the main attractions and neighborhoods. We took a bus easily from the ferry terminal to the city-center.
Taxi or Uber
Taxis and Ubers are readily available in Athens. You can hail one on the street or order by phone. If you are taking a regular taxi, it is recommended to agree on the price before starting your ride.
Walk
If you opt to stay in a city-center neighborhood, you should be able to walk to all of the major attractions, bars and restaurants.
Remember to purchase your Greece travel essentials:
We hope this Athens city guide helps plan your trip to this lively and historic city. Let us know in the comments what you are most excited to do in Athens!
Additional Greece Resources