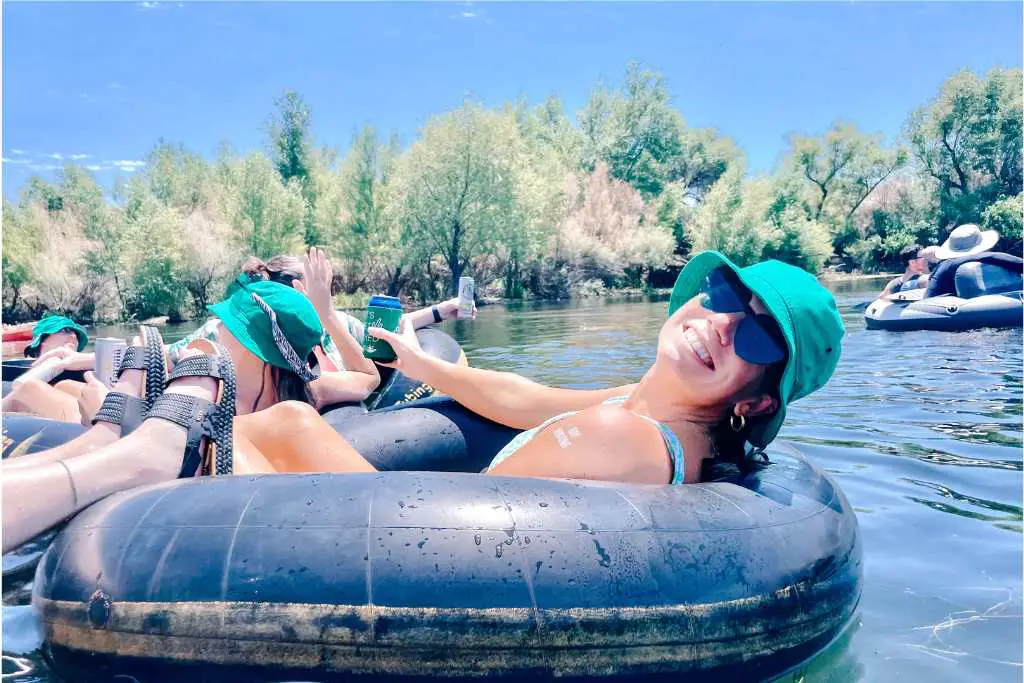 Arizona's Salt River Tubing is an absolute must-do while visiting the Phoenix and Scottsdale area. The views and refreshing water are just a few highlights of the experience! This complete guide to the Salt River Tubing will explain everything you need to know before you go.
Before I went to Scottsdale and experienced this myself at a bachelorette party, I found limited resources online that fully prepared me for what to expect at the Salt River Tubing. Hopefully this guide will leave you feeling excited and prepared for this awesome adventure!
What is Salt River Tubing?
Salt River Tubing is where you rent or bring your own tube to the Salt River in Mesa, Arizona and let the current guide you between the beautiful Arizona landscape. There is minimal effort required on your end once you are set up and situated in your tube. The river will flow easily and take you to your end destination. The Salt River Tubing is a great activity for any group size.
There are a few logistics required for this adventure so continue reading for more details on how to set yourself up for success!
How to get to Salt River Tubing
There are two major ways to get to the tubing center. If you are a large group, I recommended hiring a party bus or shuttle service to drive your crew there and back. This makes it much easier to pack and be prepared for the day because you can leave extra belongings in that vehicle while you are actually tubing.
Scottsdale Party Bus & Limo is the preferred vendor to transport groups to and from the Salt River tubing. Our group loved our experience with this company!
There is parking available at the Salt River parking lot but keep in mind that it does fill up quickly. You will want to get there early in the morning to secure a spot!
This is the address you will want to enter into your maps to get to the tubing parking lot.
9200 N Bush Hwy, Mesa, AZ 85215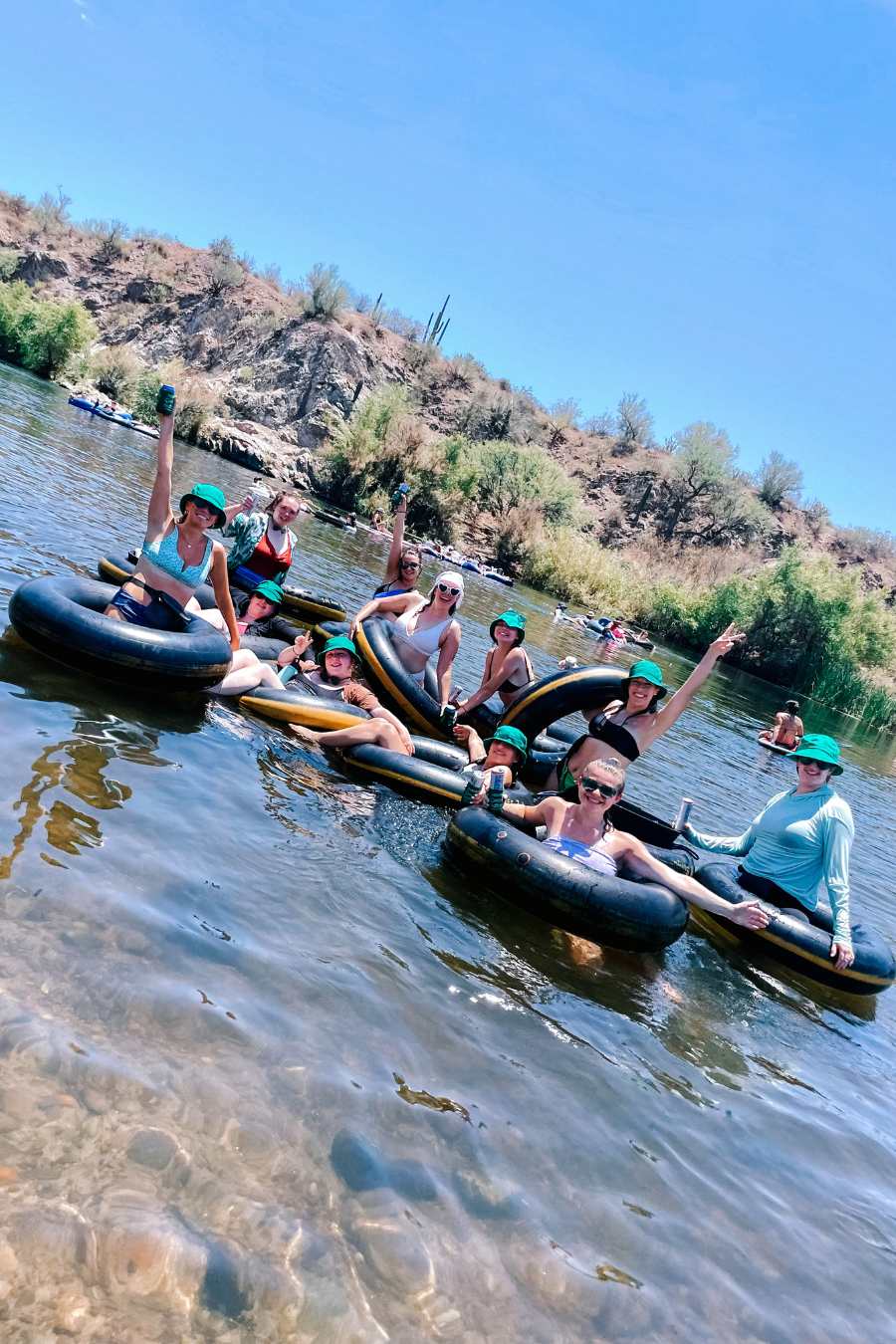 What is the best time to go Salt River Tubing?
The morning is the best time to go Salt River Tubing. The last tube rental is at 2pm so at the very least, you need to go before then. Our group arrived at 10:15 am and waited in a short line to rent our tubes. I do not recommend going much later than that because the parking lot and rental area will get very crowded.
How much does Salt River Tubing cost?
It costs $21 per tube to rent a tube for the day. Depending on your group size, you will want to rent a few cooler tubes to float alongside you. Those also cost $21 which can be split amongst the group. I recommended renting at least two cooler tubes, one to hold your ice/drinks and one to hold your extra belongings.
If you opt to bring your own tube, it is $19 per person to ride the shuttle bus down to the river.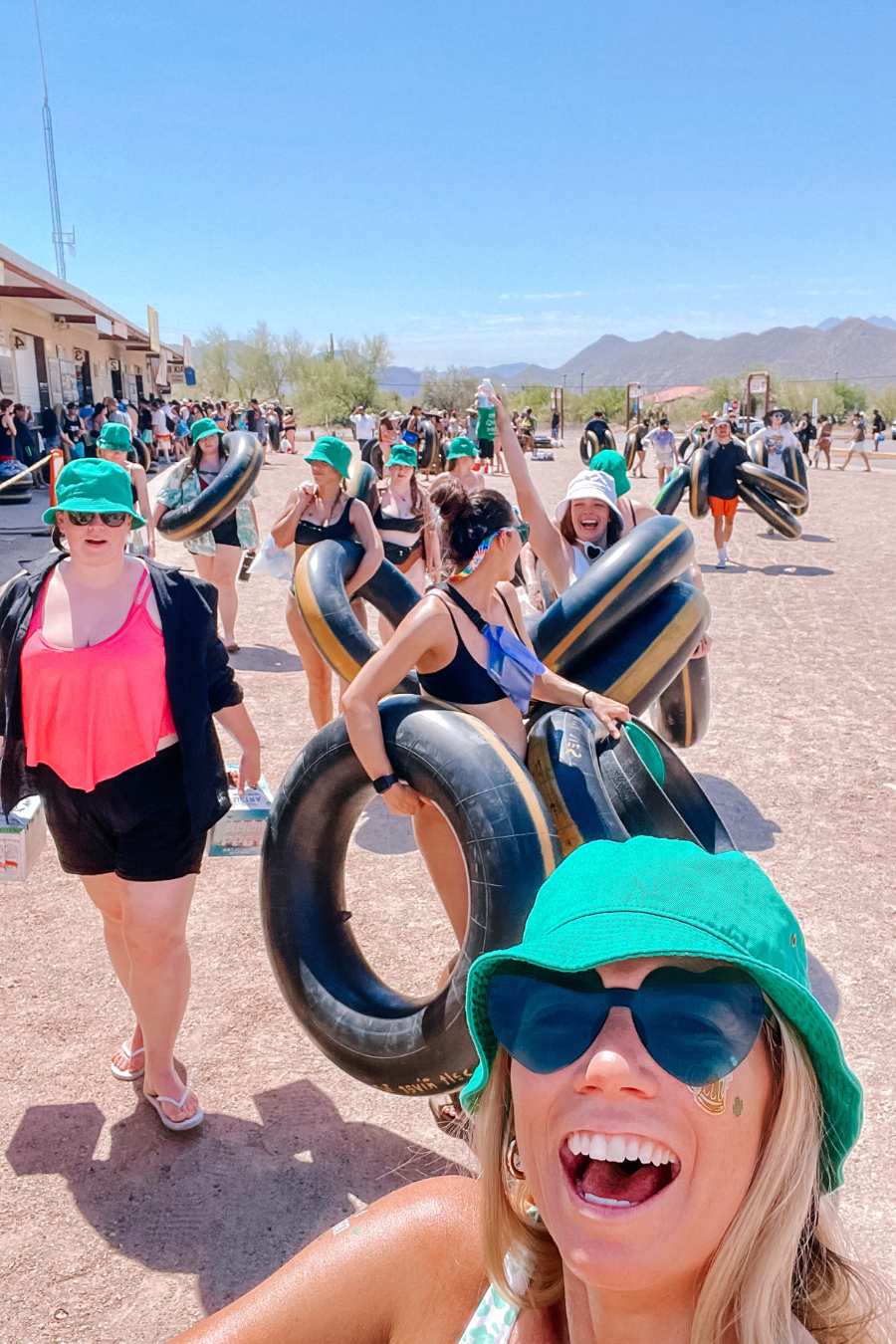 What to bring Salt River Tubing
Waterproof bag
You will need a waterproof bag to hold any belongings that you do not want to get wet while floating along the river.
Waterproof fanny pack for phone
This was the best waterproof phone bag to wear while tubing because I was easily able to take my phone out for pictures and then secure it in the bag again. Not everyone in your group needs to do this, but it is nice to have a few designated people to capture the experience!
Rope
A rope is especially important if you are floating with a large group. You will want to secure all of your tubes and cooler tubes together so that you can focus on floating and relaxing rather than worrying about your group separating from each other.
Waterproof speaker
This is a nice to have item so that your group can listen to music while floating.
Waterproof shoes
These are another nice to have item. They will make it easier for you to get in and out of the water at the entrance and exit of the Salt River. The bottom of the river is rocky so if you do not have protective waterproof shoes, it will be slightly uncomfortable.
Please note that these should not be flip flops. Any shoe without a proper back will get lost while tubing!
Microfiber towel
Put this in your waterproof bag or leave it in your transportation to dry off on the way home.
Sunscreen
The sun is no joke in Arizona! Bring lots of sunscreen to reapply during your float.
White sheet
This is another nice to have item but not necessary. The rental tubes do get hot while sitting in the sun so it is recommended to put a white sheet overtop while floating. Our group did not do this and were still ok, we just had to splash any surfaces that were overheating on the tube! A sheet would eliminate the need to do that.
Water, booze and ice
You'll want lots of water and ice to stay hydrated while floating. You can also BYO alcohol to the Salt River Tubing! Absolutely no glass bottles are allowed. There are officers standing by to check bags and make sure that there is no glass.
Pro-tip: Load these in your cooler tube after you take the shuttle down to the river. You do not want to carry the cooler tube while it is filled up and heavy!
Sunglasses and hat
This might seem obvious, but you do not want to be that person who forgets these on this activity!
Our group wore matching bucket hats and they were perfect for covering our faces from the sun and finding each other if the tubes got separated.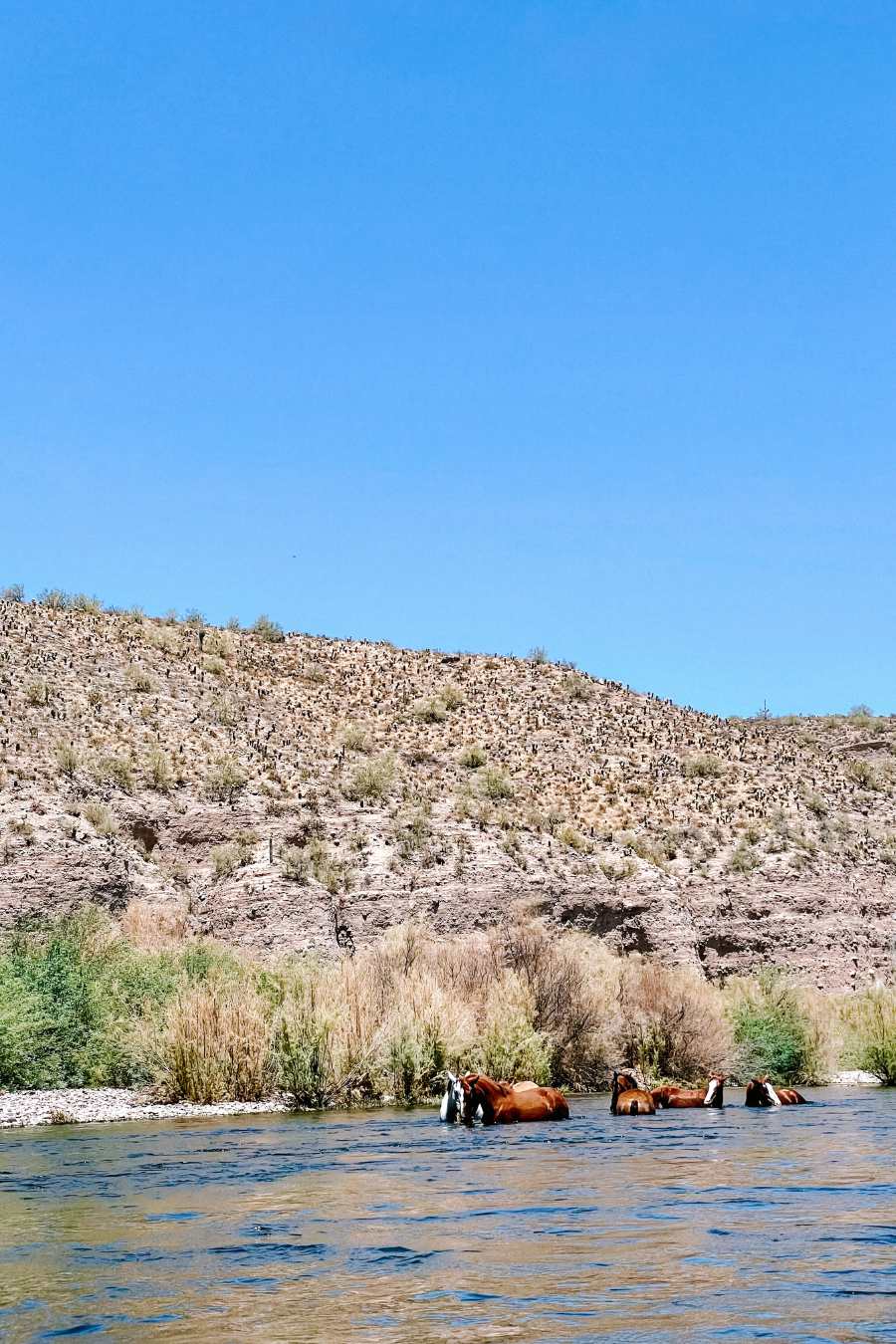 Steps to success at Salt River Tubing
It is a bit overwhelming when you walk up to the rental warehouse, so I will do my best here to give you an idea before you go!
Renting the tubes
There are multiple lines formed to rent the tubes. Designate a few people to wait in line and a few people to stand with the ice/drinks/bags while waiting for the tubes.
You will need to provide 1 ID per 5 tubes that you are renting. So for example, our group had 11 people + 2 cooler tubes. We needed 3 of us to give IDs to rent out that many tubes. Upon paying, the cashier will keep the IDs behind the counter while you are tubing. You will get IDs back when you return with the tube rentals.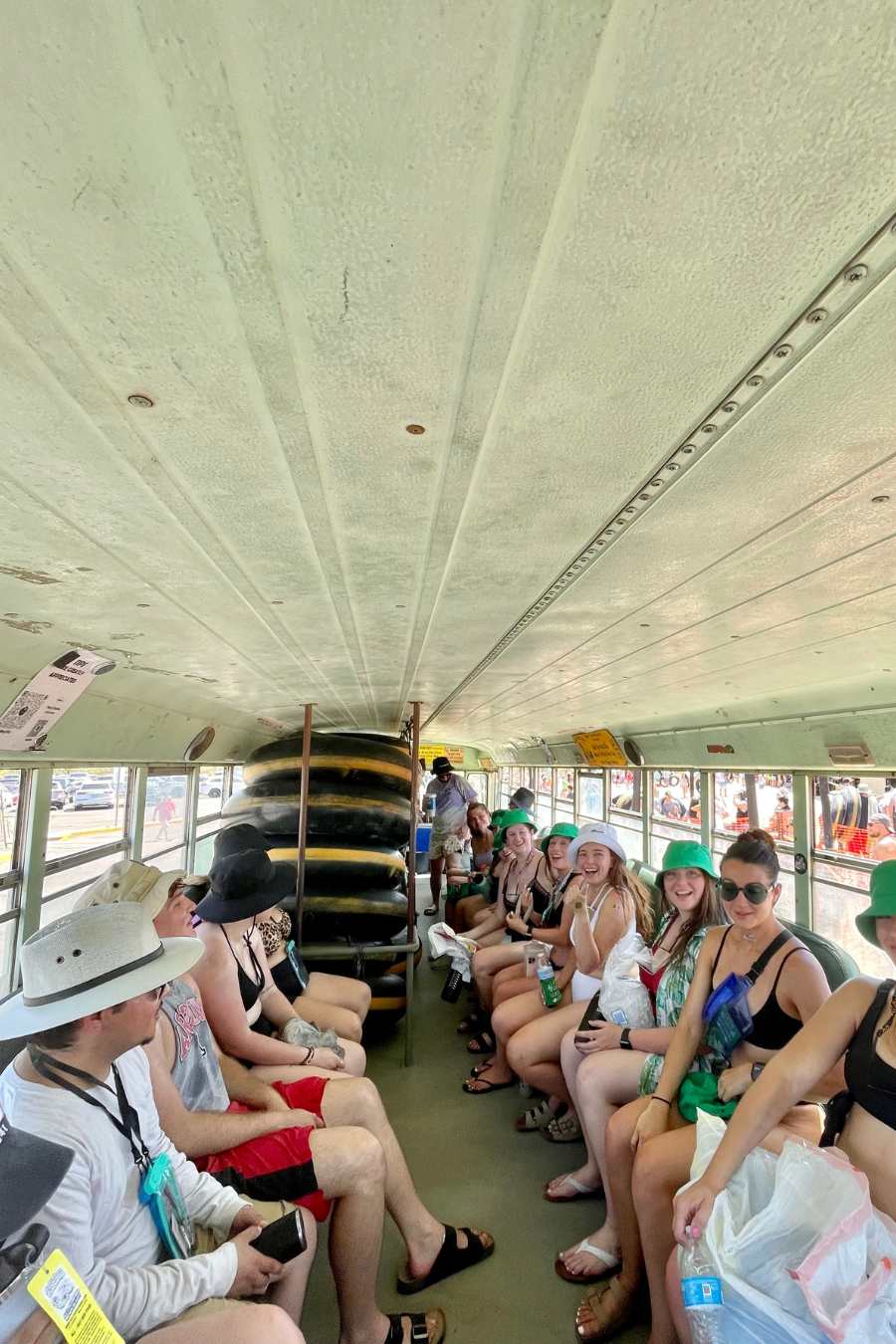 Taking the shuttle bus to Salt River Tubing
From here you will get in line for a shuttle bus depending on which tubing route your group wants to take. Here are the estimated float times: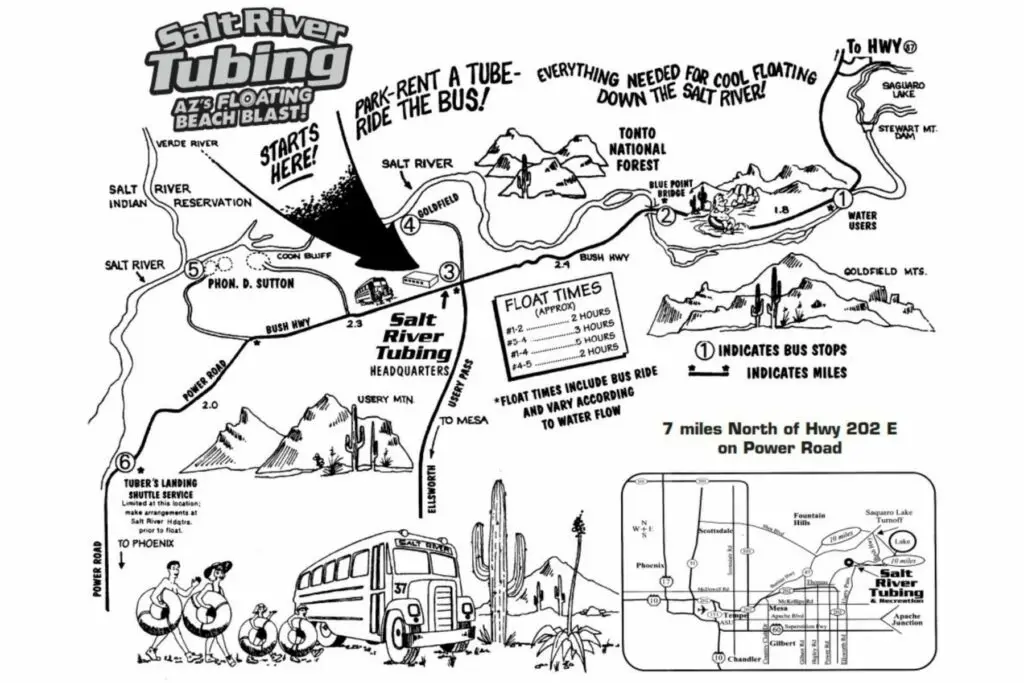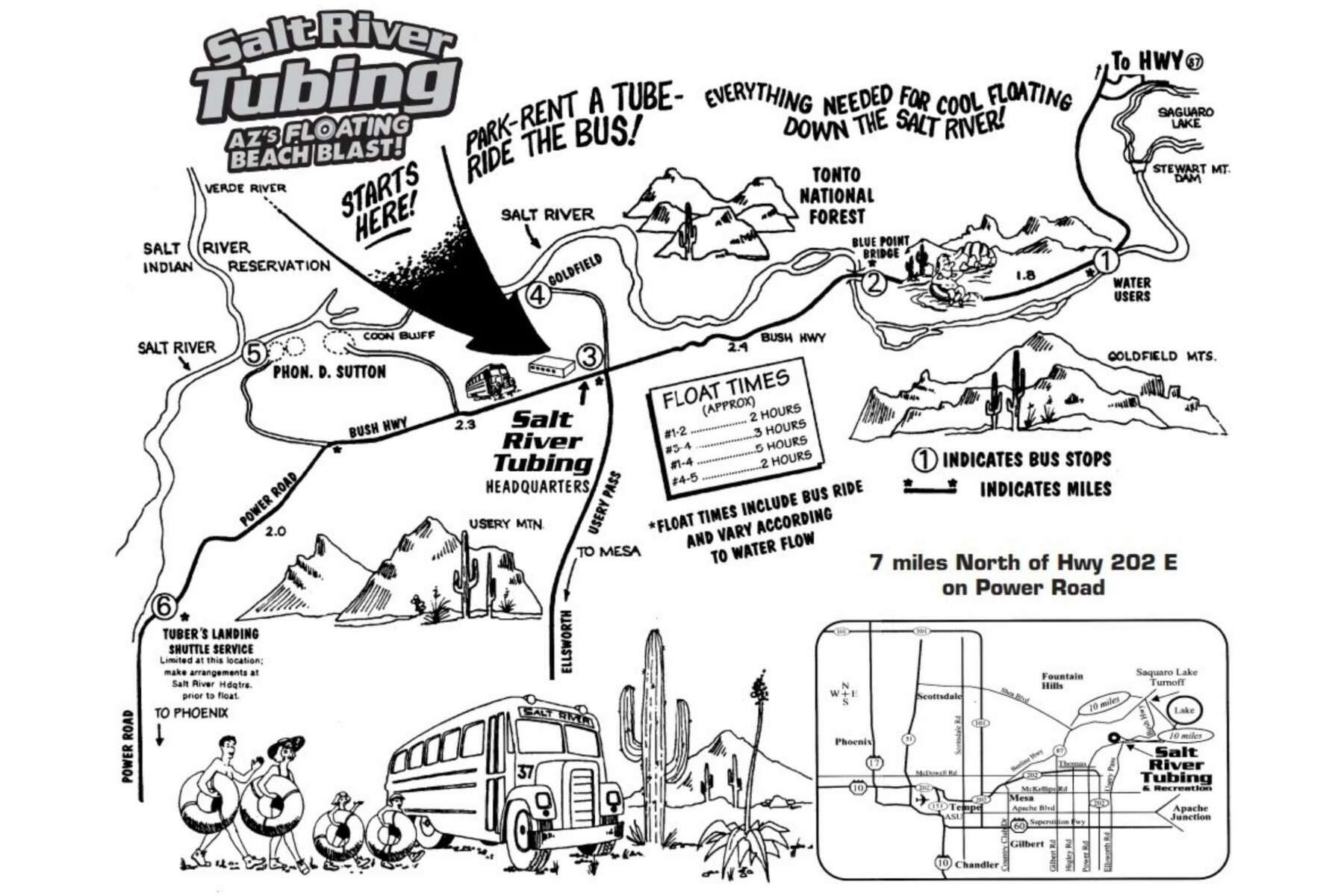 1-2 = 2 hours
3-4 = 3 hours
1-4 = 5 hours
4-5 = 2 hours
The signs are very clear which shuttle bus you should get on. If you are not sure, ask! There are tons of helpful and kind people around to direct your group in the right direction.
Be warned, the shuttle buses are not air conditioned and you will need to walk a bit from the shuttle stop down to the river. It is recommended to wear comfortable shoes and light clothing because it will be hot!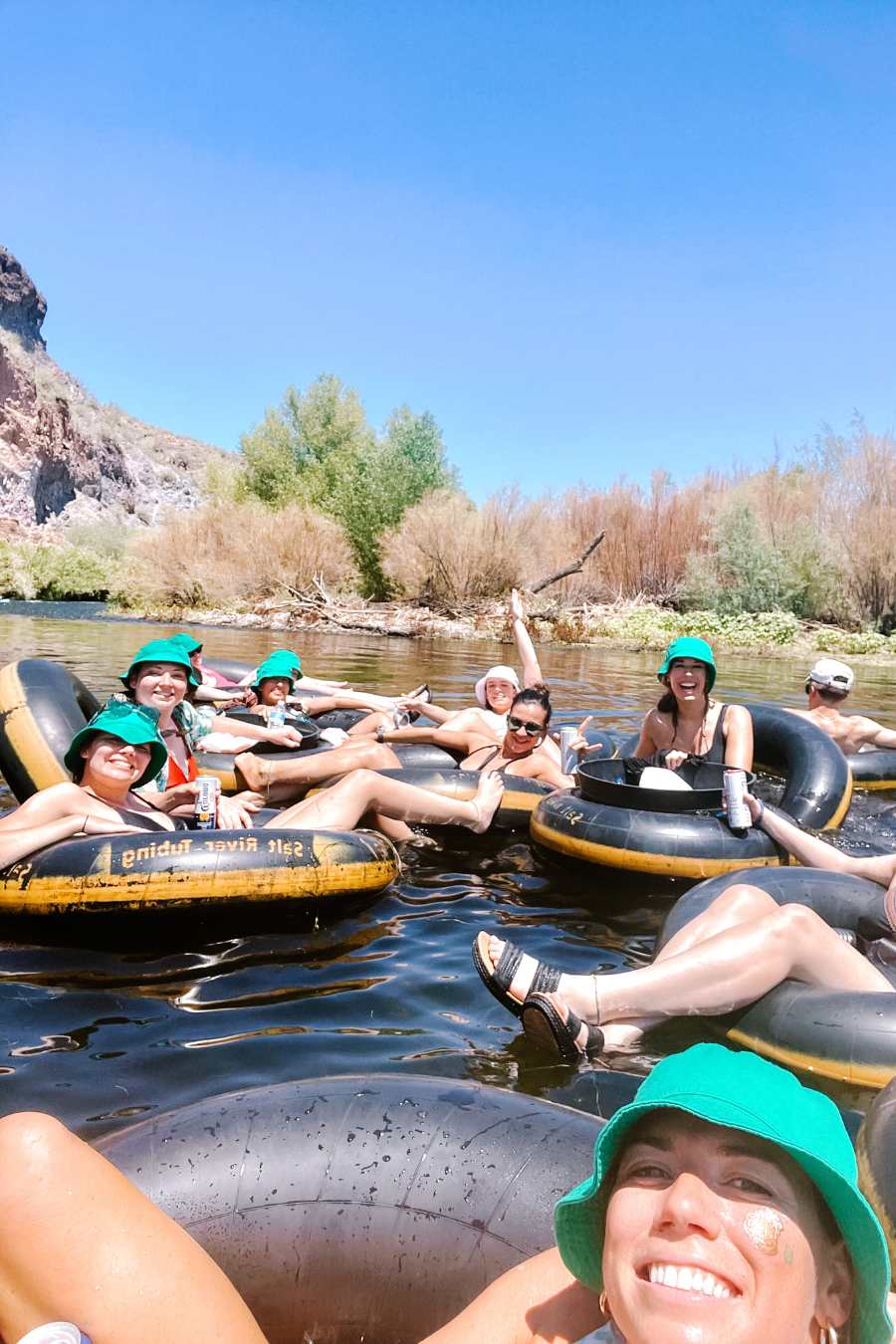 Salt River Tubing tips
Get your group situated and tied together before you all start to float.
The river will move quickly once you get started and it is hard to slow down to wait for the rest of the group. Work together to make sure everyone is ready to go before taking off!
Make sure that all personal items are secure in a waterproof bag before taking off.
It will be difficult to get situated once you start floating.
Stay hydrated and protected from the sun!
Drink water in between beers and reapply sunscreen often.
Use code JLJ10 for 10% off all eSIM purchases.
Enjoy yourself!
Take in the epic views and make sure to look around for horses. You will see them grazing in the shallow parts of the water and on the edges.
When you get to the end of your float route, follow the signs to exit the water.
If possible, wait until the last minute to exit your float. The earlier you get off, the longer you will have to walk on the rocky ground and it will be uncomfortable.
MAKE SURE to count your tubes as soon as you get out of the water!
You do not want to leave any behind because you will be charged extra.
There will be a shuttle to take you back to the main rental hub.
Additional resources:
I hope you love Salt River tubing as much as our group did! Comment any questions or recommendations that I may have left out of this post. Have fun!