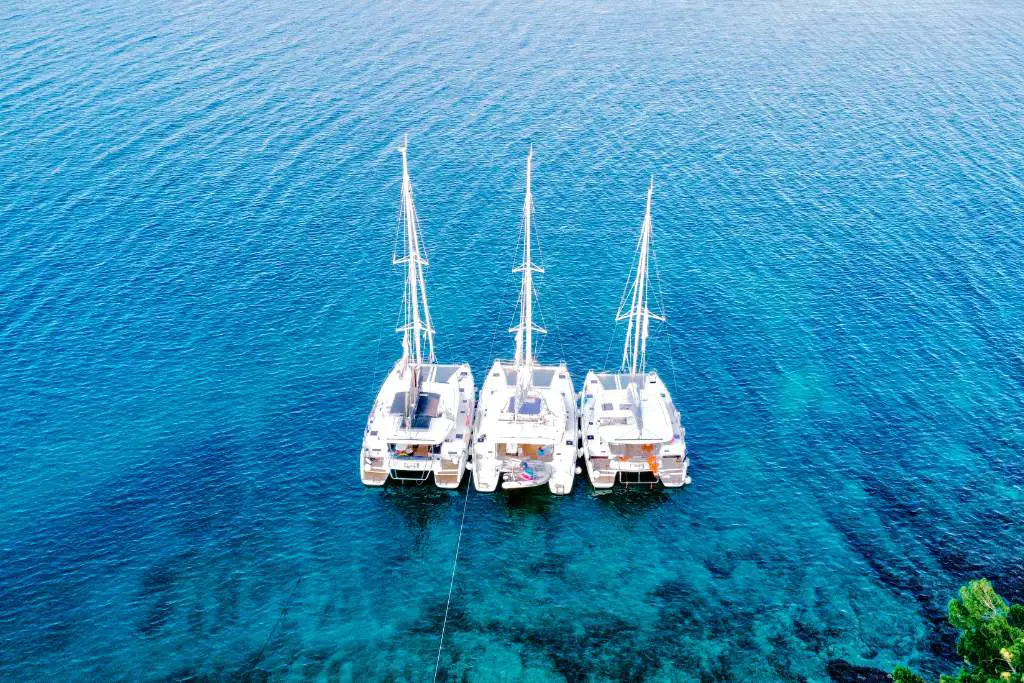 Croatia is a stunning European country with rich history and culture on the Adriatic Sea. It is also home to some of the most beautiful water and beaches in the world! If you're planning a trip to Croatia, you'll want to make sure you have enough time to see everything it has to offer. This 7 day Croatia sailing itinerary will take you to some of the most popular tourist destinations in Croatia, while also giving you time to relax and enjoy the beautiful scenery.
There is a reason that Croatia is one of the most popular sailing destinations in the world. We have now sailed in Greece, British Virgin Islands and Croatia, and we believe Croatia is the best destination for a sailing trip! Croatia is also the perfect spot for your first sailing trip because the series of islands around Split tend to make the water calmer than any of the other places in the world where we have sailed.
We have now visited Croatia multiple times over the years since it is one of our absolute favorite countries! All of the islands in Croatia are accessible through the extensive ferry system, but by far the best way to experience this country is on a sailing trip. We had a group of 30 people and had the absolutely best time on our 7 day Croatia sailing trip.
How to get to Croatia
Most likely, you will start your 7 day sailing itinerary out of Split or Trogir. The best airport to access these cities is Split Airport (SPU). You can easily take a taxi or uber from the airport to either town.
For all sailing trip routes, we always recommend that you arrive at least one day early at your starting destination. Between flight delays, lost luggage and jet lag, it is a good idea to have an extra day to deal with the potential mishaps of transatlantic travel.
We typically stay in Split prior to our 7 Day Croatia Sailing trip because it is a must-visit city on any trip to Croatia. Most likely you will set sail out of Trogir, which is about a 40 minute drive from Split. We recommend that you take an Uber from Split to Trogir on Day 1 straight to the marina.
If you have a day or two in Split before your sailing trip begins, check out our guide to the perfect road trip to see more of Croatia surrounding Split!
Day 1: Trogir to Supetar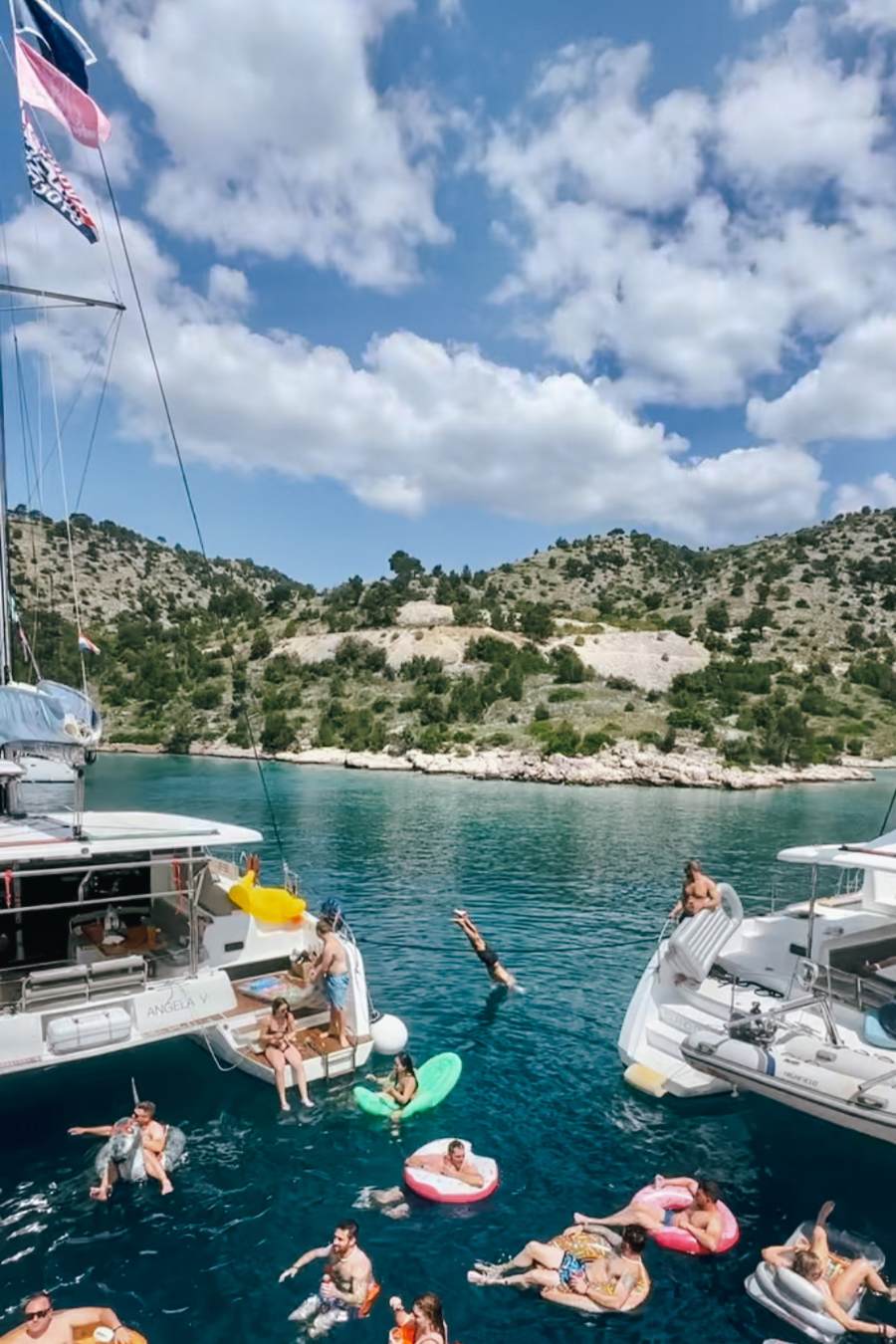 As stated before, you will likely start your sailing trip in Trogir, a beautiful town located on the coast of Croatia. Trogir is a UNESCO World Heritage Site and its Old Town is full of medieval architecture. Spend the day exploring the town's narrow streets, admiring its churches and palaces and enjoying the views of the Adriatic Sea. It is a good idea to schedule your provisions to be delivered to your boat and have a small group from the boat go to a nearby hypermarket (large grocery store in Croatia) in order to stock up on anything you weren't able to order.
We recommend purchasing early check-in for your boat so you can set sail and arrive in Supetar before dinner. Once you arrive in Supetar, have dinner and then explore the nightlife scene along the coast to kick off your week.
Another option here is to sail to the town of Milna, a small but quaint historical town on the island of Brač. While there isn't much nightlife in Milna, it is a very cute down with a beautiful harbor and historic cobblestone streets!
Day 2: Supetar to Sumartin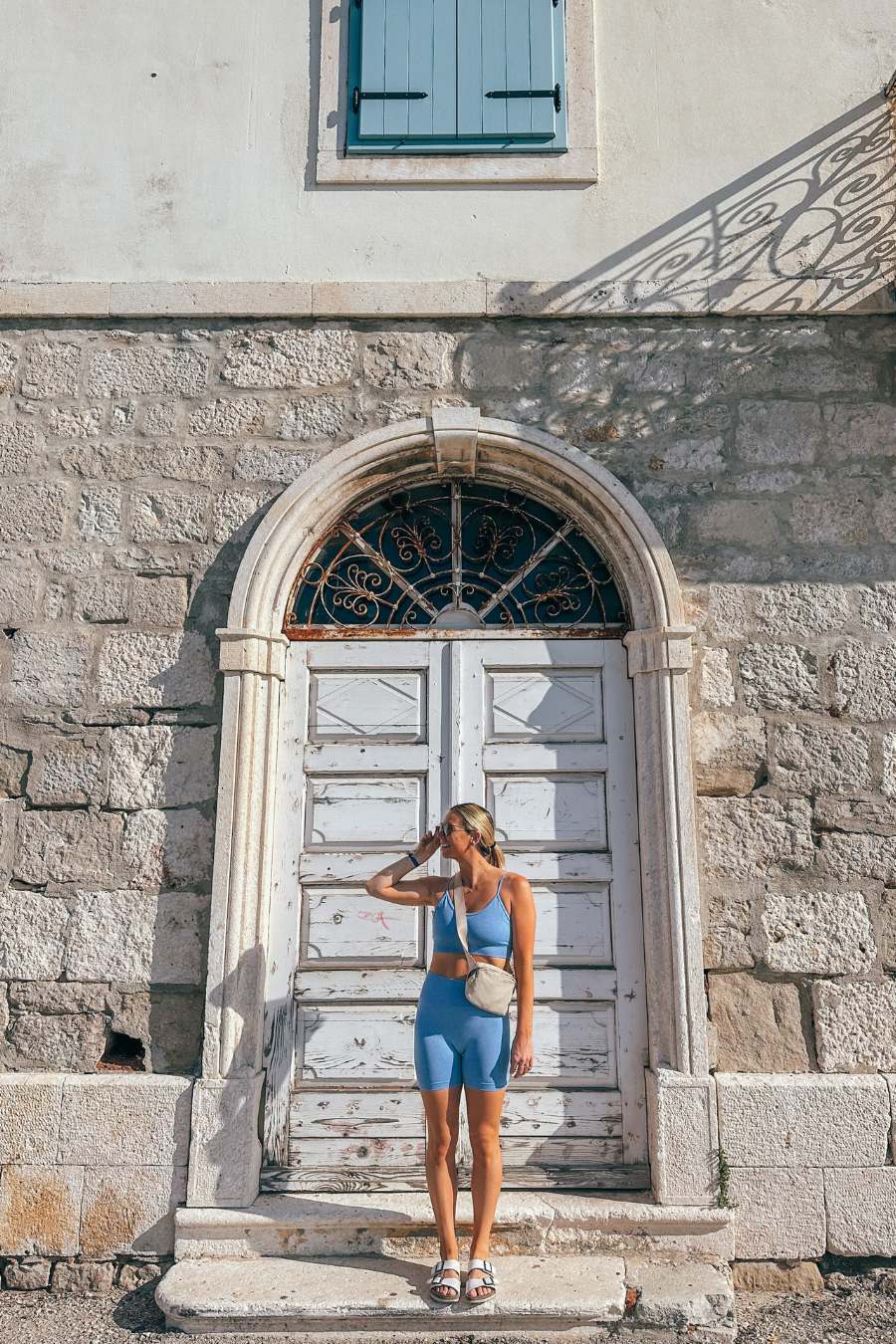 Set sail from Supetar to Sumartin where you will sail between Croatia mainland and the island of Brac. Sumartin is a small town on the easternmost tip of the island of Brač, Croatia. It is a popular tourist destination, known for its beautiful beaches, charming old town and historic Franciscan monastery. Sumartin was founded in the 17th century by refugees from the Makarska Riviera, who were fleeing from the Ottoman Turks. The old town is a well-preserved example of Dalmatian architecture, with narrow streets, stone houses and a bell tower.
Sumartin is a great place to relax and enjoy the beauty of the Dalmatian coast. The town has several beaches, including a pebbly beach in the town center and a sandy beach in the nearby cove of Lovrečina. There are also several hiking trails in the surrounding area, which offer stunning views of the island and the Adriatic Sea.
Our group had an amazing dinner and DJ party right on the water at Kartolina Lounge Food Bar in Sumartin.
Day 3: Sumartin to Hvar Natural Bay with stop at Bol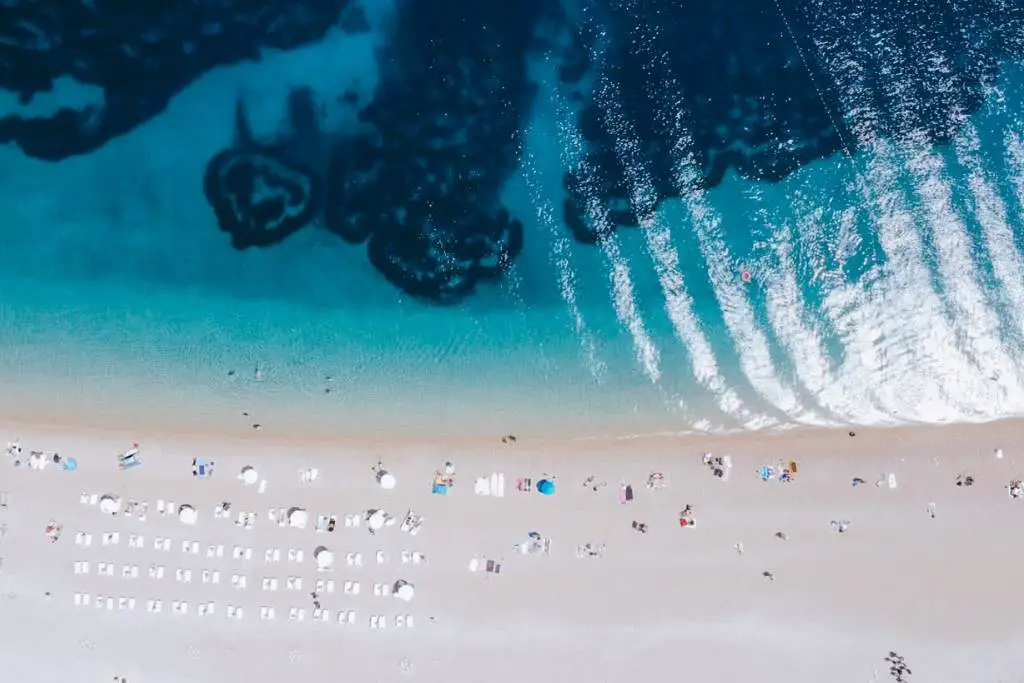 Sail between Brac Island and Hvar Island on your third day towards one of the many natural bays along Hvar for the night. Take a pit stop in Bol for the afternoon to explore the island of Brac by ATV or spend some time at the famous Zlatni Rat Beach.
Zlatni Rat is a pebbly beach located on the southern coast of the Croatian island of Brač. It is known for its crescent-shaped spit of land, which changes shape depending on the wind and currents. The beach is about 500 meters long and 30 meters wide, and the sand is a fine, golden color. The water is crystal clear and shallow, making it ideal for swimming and sunbathing.
If ATVing is more your scene, head up the switch back roads out of Bol before stopping at the top of the island for an incredible view.
The third way to spend the afternoon is to hike up to Vidova Gora, this hike is 5 km one way and takes two hours each way to complete. Vidova Gora is the highest peak on the island and from here you will be able to see out all the way to the island of Vis and beyond on a clear day.
After a day exploring Bol, board your boat to sail a bit further to one of the natural bays to enjoy the sunset and a night on the boat under the stars.
Day 4: Hvar Natural Bay to Hvar Town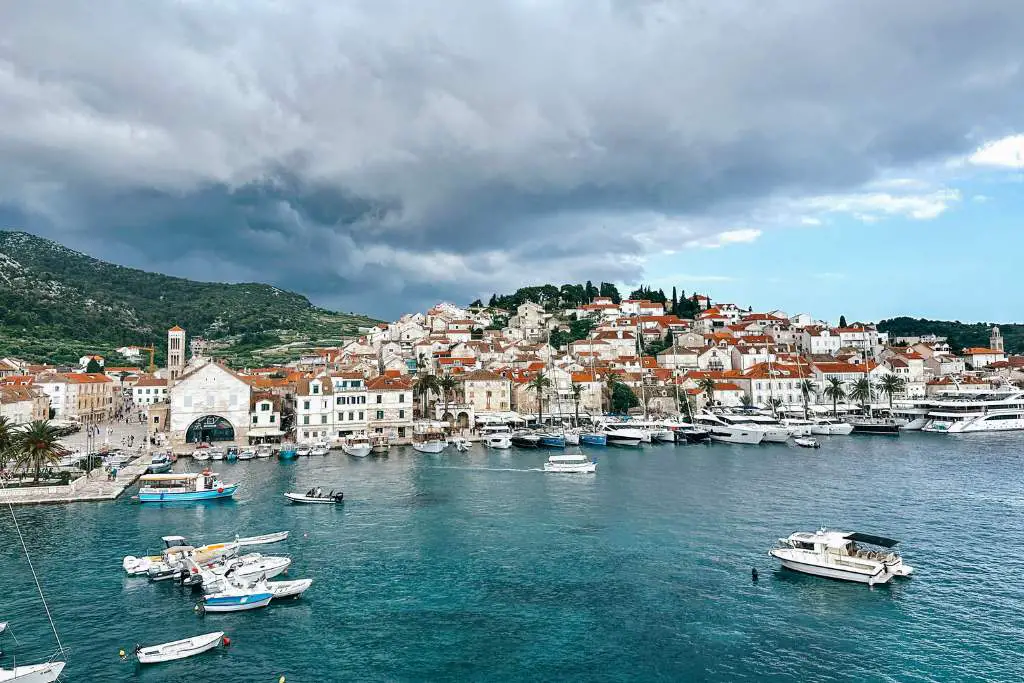 On your fourth day, sail around Hvar Island to Palmizana Marina. This is the main marina used to access Hvar Town. From the marina, you will need to take a water taxi to Hvar town. The water taxis run every hour back and forth between the marina and the town!
Hvar Town has some of the best nightlife in Croatia. Spend the day exploring the town of Hvar, which is full of bars, restaurants and shops. The old town is a UNESCO World Heritage Site and is home to many historical buildings, including the Cathedral of St. Stephen, the Arsenal and the Fortica Fortress. The cathedral is the most impressive building in the old town and is a must-see for any visitor.
In the evening, enjoy a leisurely dinner at one of the town's many restaurants and then head over to Kiva Bar for an epic night out. Read our Hvar island guide for more recommendations and things to do in Hvar town!
Expert tip: Grab a cocktail at Adriana Rooftop Bar. The views and drinks are fabulous!
Day 5: Hvar Town to Vis Island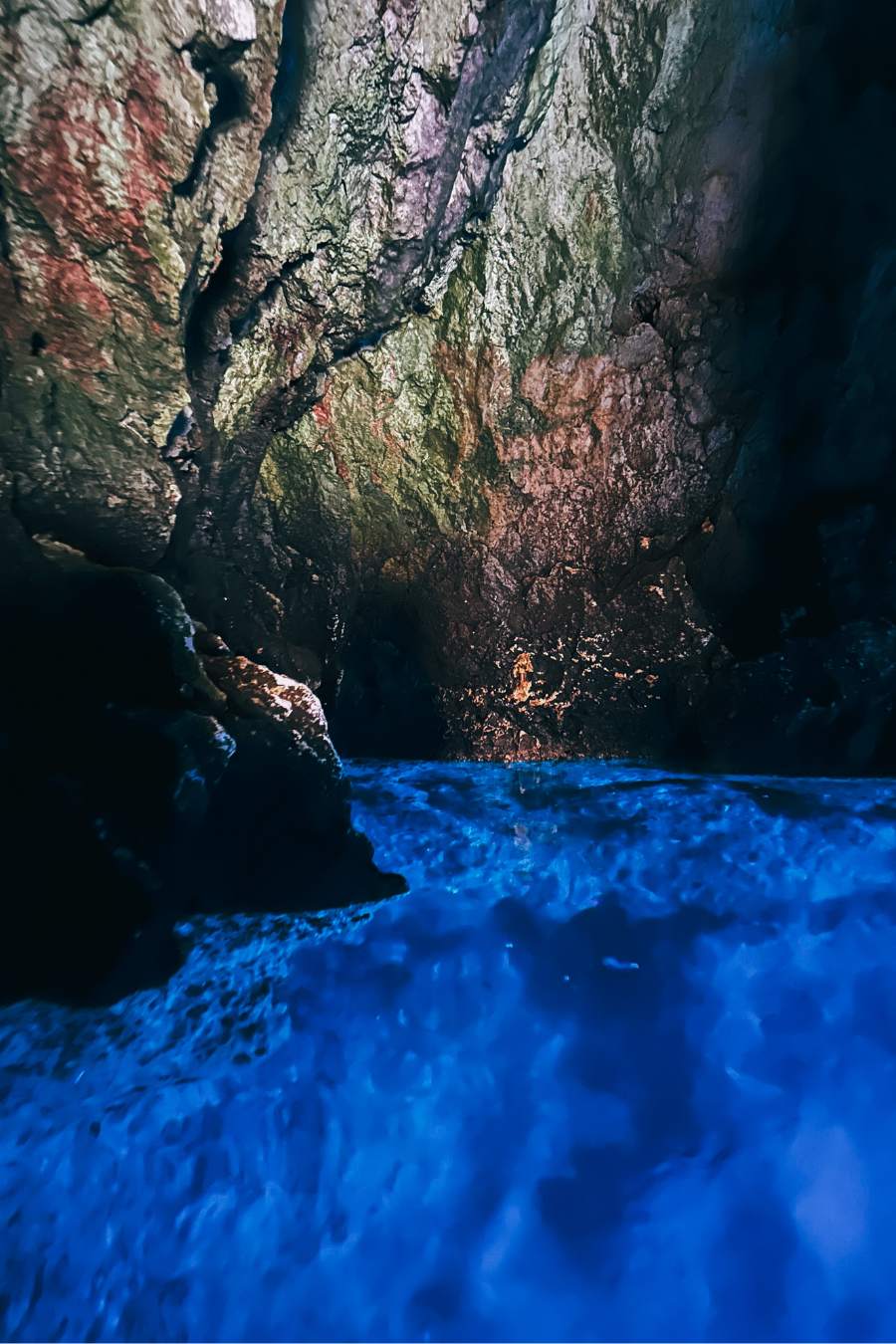 Next on your 7 day Croatia sailing itinerary, head over to Vis Island! If you have time, you can make a swim stop on the way at an abandoned submarine cave from the war.
Spend the day exploring the town of Vis, which is full of Roman ruins and its many beaches. One of the coolest things we did on Vis was attend a wine tasting at Vinarija Lipanovic, which is inside a WWII bunker.
In the evening, enjoy a traditional Peka dinner at one of the town's many restaurants and then enjoy a nightcap at one of the town's many bars. For Peka dinner, we recommend making a reservation at Roki's Place!
Day 6: Vis Island to Hvar Town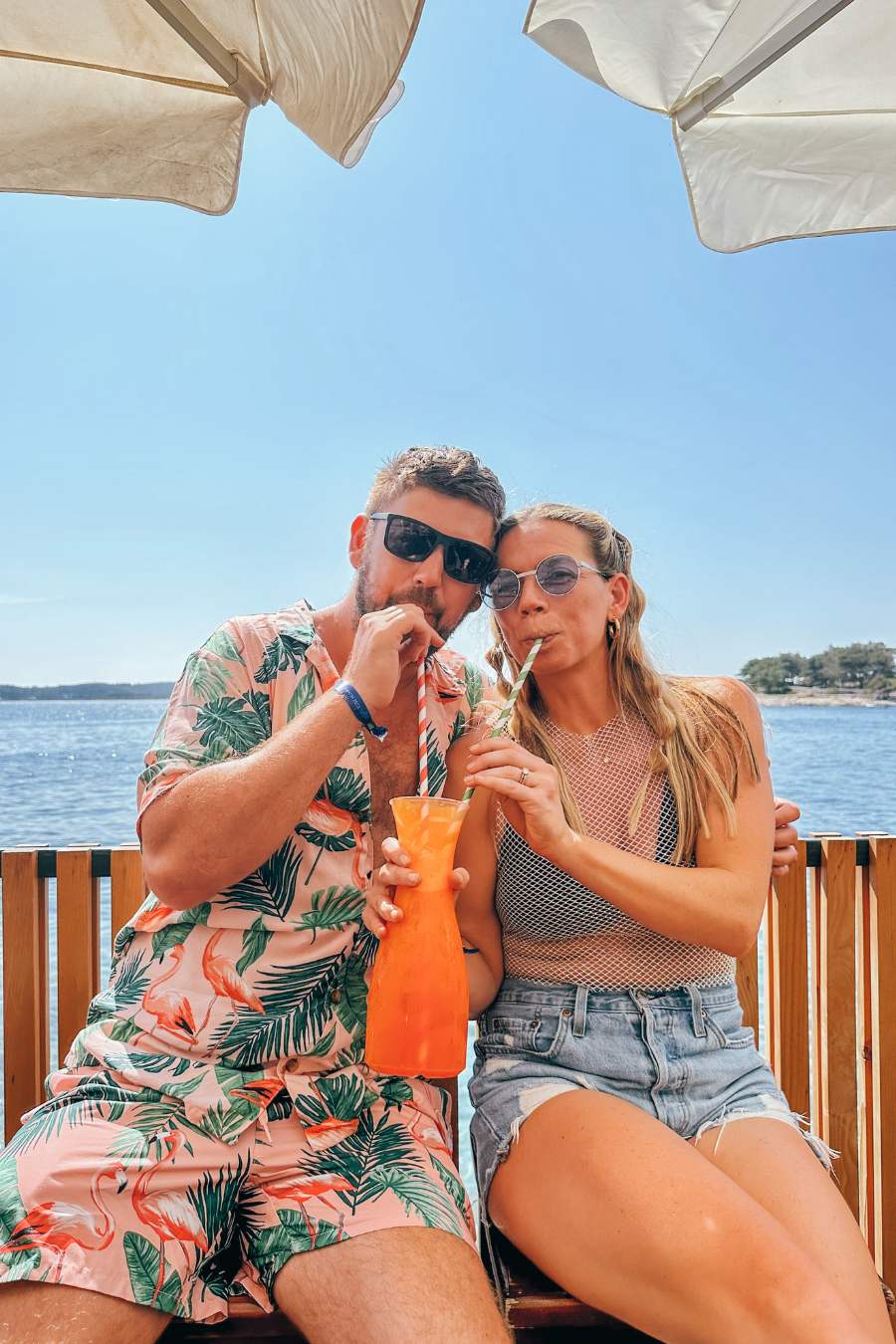 Before departing Vis In the morning, take an organized excursion to the island of Bisevo which is home to the Blue Cave. The blue glow of the cave is formed by sunlight shining through an opening in the roof of the cave and reflecting off the white limestone floor. The sunlight is refracted by the water, and the blue light is scattered more than the other colors, creating the characteristic blue glow.
Next up, get geared up for an afternoon at Hvar's famous Hula Hula Beach Club. If you plan on doing a fun theme for your trip, we always recommend breaking it out for this day as Hula Hula brings all of the best vibes! For those really looking to end their trip with a party, pair this with a night out at Kiva bar in Hvar Town.
Day 7: Hvar Town to Trogir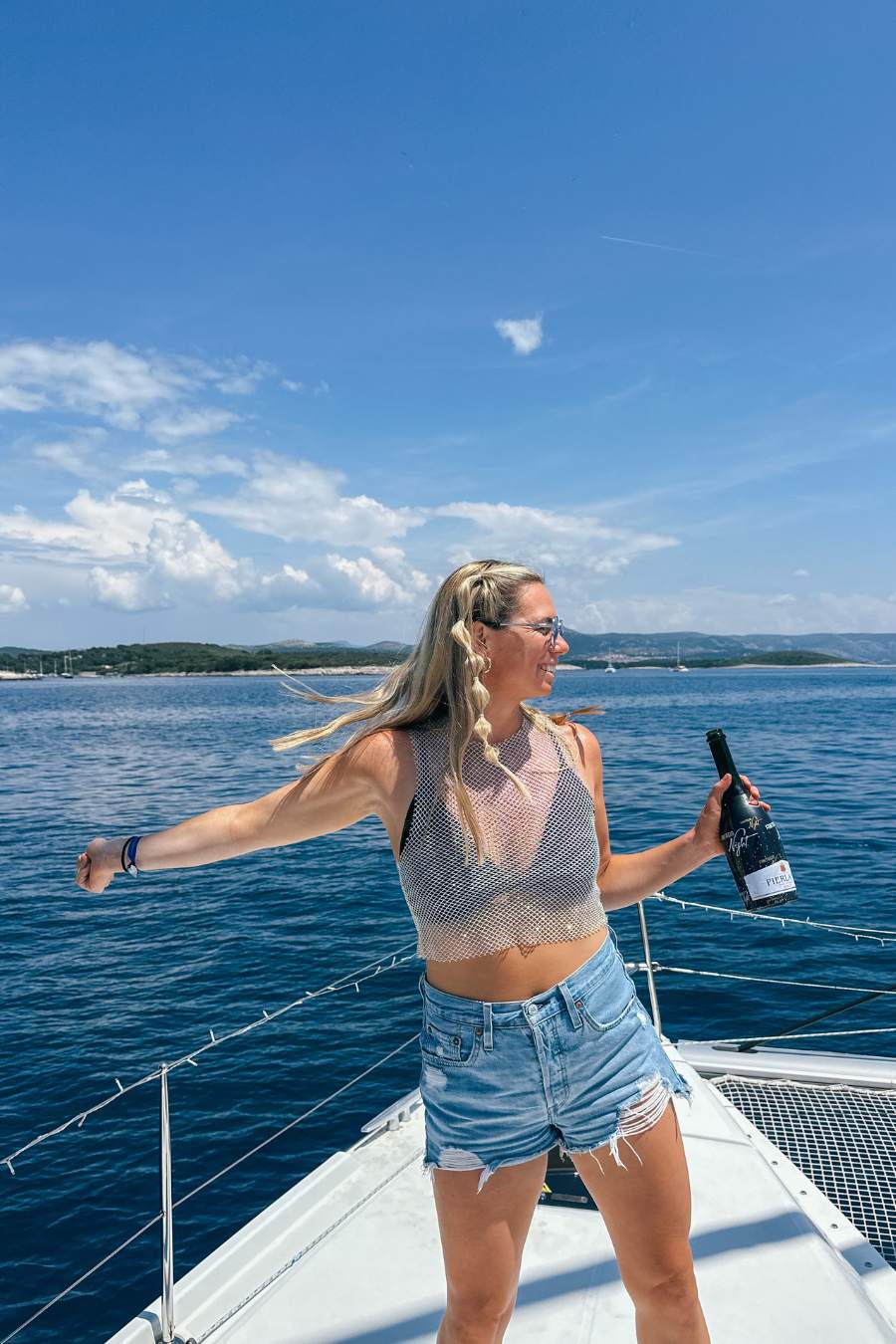 On the last day of your Croatia sailing trip, soak up the remaining hours in the sun while you sail back to Trogir. We recommend having this day as a regatta day if you are sailing with multiple boats and make a mini race of it. If you have time, stop in a cove for one more swim off the boat!
Although you don't have to check out of your boat until Saturday morning, we always recommend having the boat clean and ready to check out Friday night. We typically spend one night back on land in a hotel or Airbnb to help prevent struggling with your "land legs" on your long travel day home. We recommend spending this night in Trogir instead of Split because Trogir is actually significantly closer to the Split Airport than Split.
Trogir is home to tons of restaurants, many of which take over the small hidden piazzas as well as some great bars to go for one last drink on your trip.
Additional Croatia planning tips
Here are some additional tips for planning your Croatia sailing trip!
The best time to visit Croatia is during the summer months, from June to September. However, the weather is also pleasant in May and October.
Croatia is a relatively affordable destination. You can find budget-friendly accommodations, food and activities.
The Croatian language is spoken in Croatia, however, English is widely spoken across the entire country.
Croatia is a very safe country to visit. Of course, it is always a good idea to be aware of your surroundings and take precautions against theft and pickpocketing.
---
This is just a suggested 7 day Croatia sailing itinerary. You can of course tailor it to your own interests and preferences! There are many other things to see and do in Croatia, so feel free to explore and discover your own favorite spots.