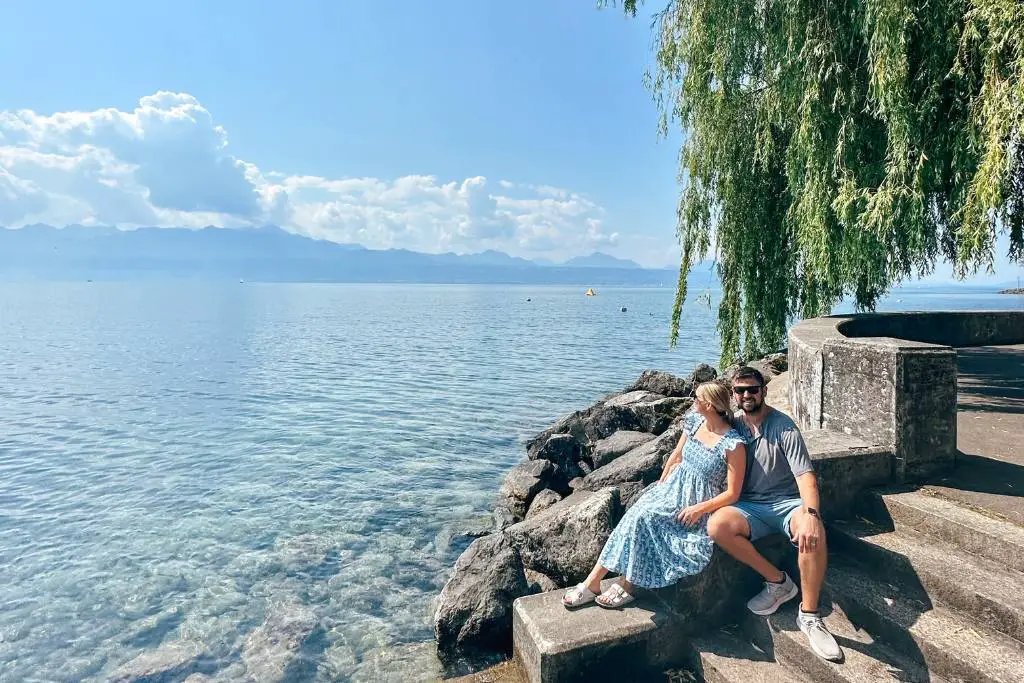 Lausanne is a beautiful and lively city located on the shores of Lake Geneva in Switzerland. It is home to the Olympic Museum and is known for its charming Old Town and stunning views of the Alps. We traveled to multiple cities in Switzerland and Lausanne was one of our favorites because of the views of the lake and the mountains! Read this complete Lausanne city guide to plan your trip to this beautiful city.
Here's the deal, Switzerland is expensive! Here are 10 ways to save money while traveling through Switzerland.
How to get to Lausanne
The nearest airport to Lausanne is Geneva (GVA). There are 86 trains per day connecting Lausanne to Geneva airport and the journey takes approximately one hour.
There are also tons of other train options if you are traveling from a different destination in Switzerland like in our recommended 10 day Switzerland itinerary!
The best time of year to visit Lausanne, Switzerland
The best time to visit Lausanne is during the warm summer months June to August when the city truly comes alive with many outdoor markets and establishments having outdoor seating. If you want to take advantage of the warmer weather but less crowds, consider visiting in May or September.
Use code JLJ10 for 10% off all eSIM purchases.
How many days should you stay in Lausanne?
A weekend or 2-3 days is the perfect amount of time to visit Lausanne. This will give you time to explore the museums and sights all around the city, with ample time to also experience the restaurants and nightlife.
Where to stay in Lausanne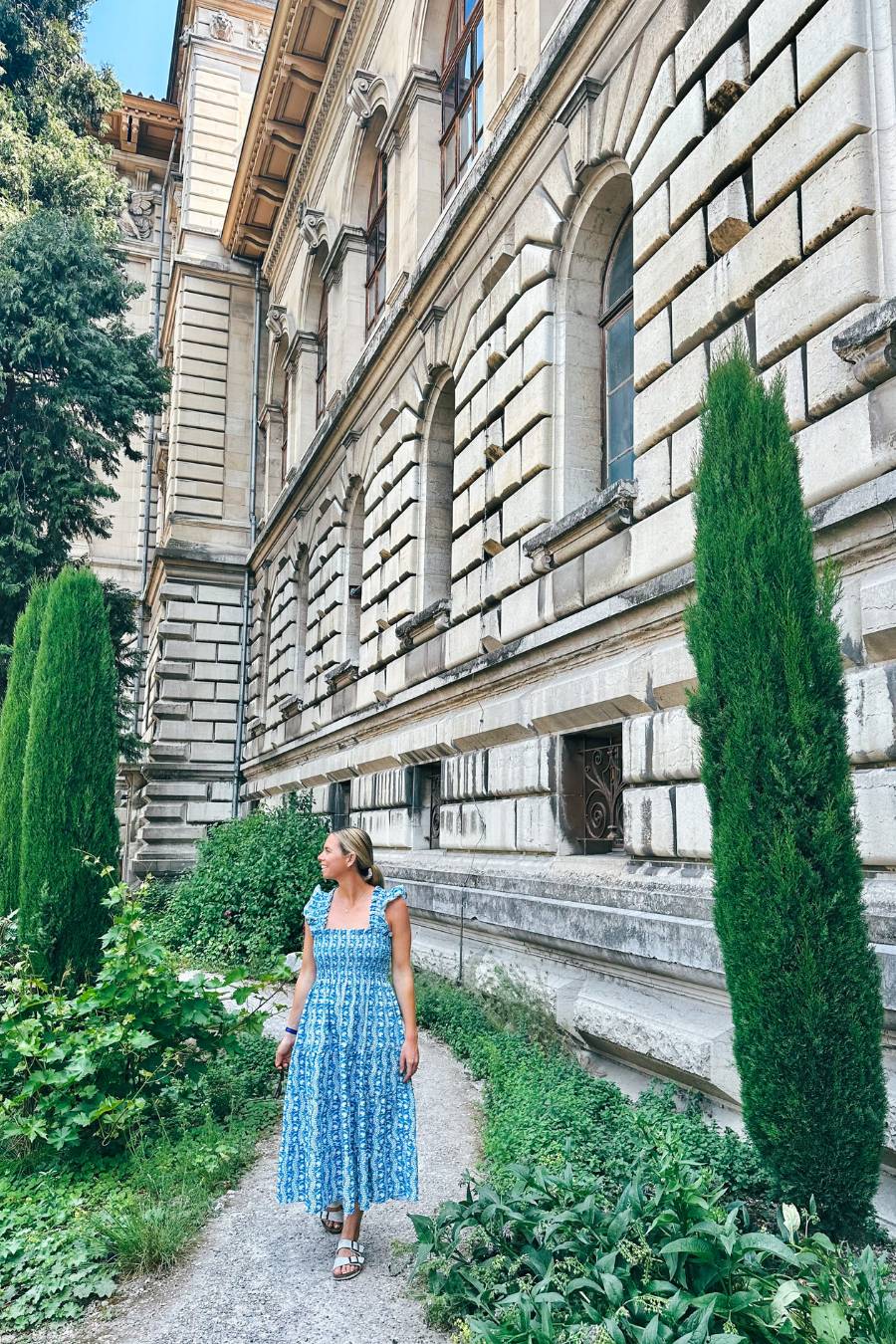 The two main areas to stay in Lausanne are in the Old Town or by the promenade on Lake Geneva. Lausanne has a very efficient public transportation system so no matter which you choose, it will be easy to also explore the other areas.
Ibis Styles Hotel: A great option if you are traveling on a smaller budget near the Old Town. There is also a rooftop bar at the hotel here!
Angleterre & Résidence: A luxury hotel option right on the lake with a pool.
Lausanne Palace: Live like royalty in the palace right in the center of the lively city!
Hôtel Agora Swiss Night by Fassbind: Another great option to stay in Lausanne on a budget.


Are you still overwhelmed with travel planning? Consider using our travel consulting services to take the stress out of travel planning!
The best things to do in Lausanne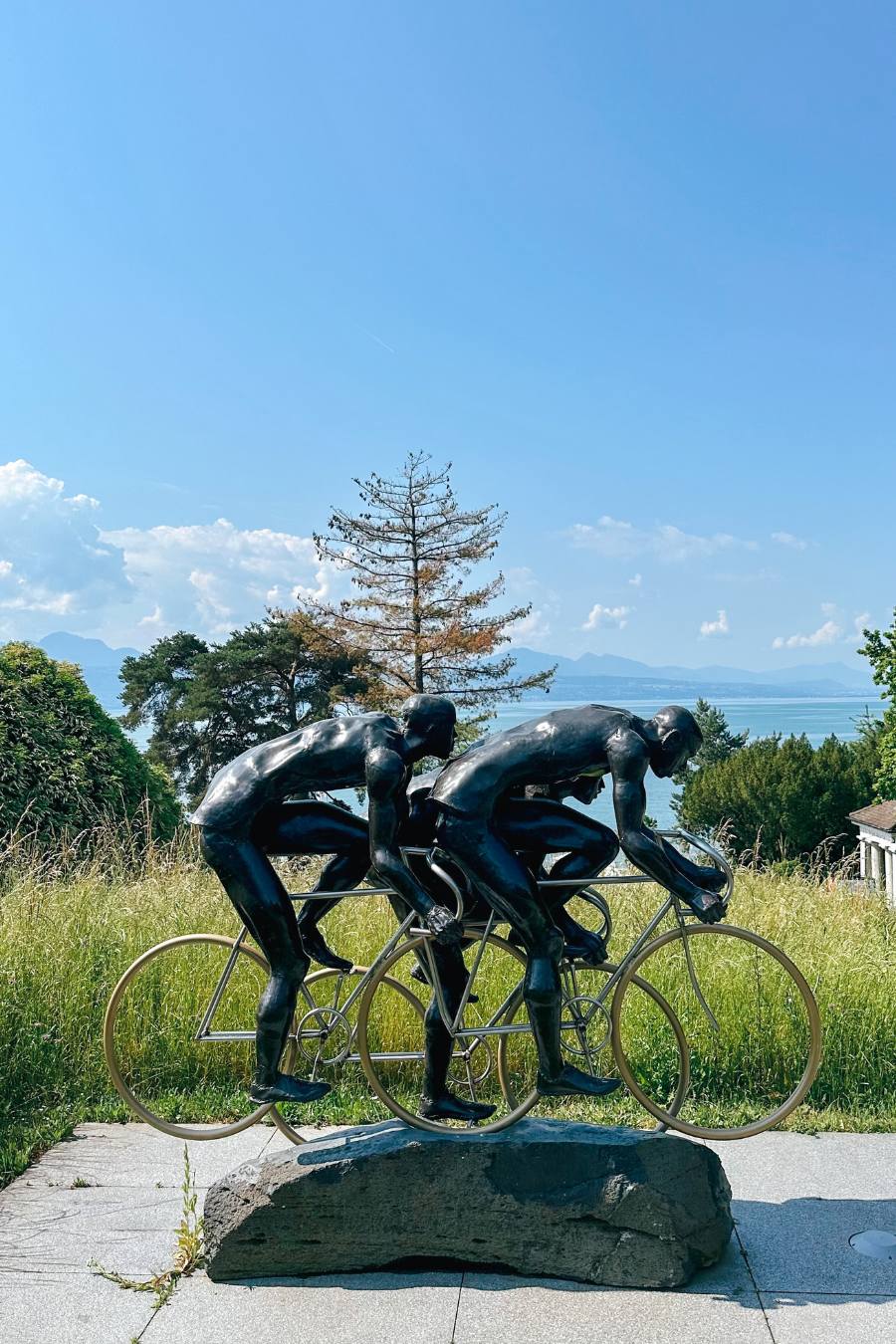 Visit the Olympic Museum
The International Olympic Committee is based in Lausanne and is therefore home to the museum that covers all of the history of the Olympics dating back to Greek origins. The museum is free to walk through the outdoor courtyard where there are statues and plaques telling unique stories about iconic Olympians. There is a fee to enter the inside of the museum.
Explore Old Town
Like many cities in Europe, Lausanne has a beautiful Old Town with unique shops and cafes. Make sure to spend some time wandering the quaint streets of the Old Town!
Take a boat ride on Lake Geneva
Lake Geneva is a beautiful lake that offers stunning views of the Alps. You can take a boat ride on the lake to see the sights of Lausanne and the surrounding area.
Journey into the Alps
Lausanne is surrounded by the Alps, making it easily accessible to either hike or bike in these beautiful mountains.
Visit the Cathedral of Lausanne
The Cathedral of Lausanne is a beautiful Gothic cathedral that is worth a visit. It is located in the Old Town and is one of the most popular tourist attractions in Lausanne.
Take a walk along the Ouchy Promenade
The Ouchy Promenade is a beautiful waterfront walkway that offers stunning views of Lake Geneva and the Alps. It is a great place to relax and enjoy the scenery.
Sauvabelin Tower
This tower offers panoramic views of the city and the surrounding area.
AQUATIS Aquarium-Vivarium Lausanne
This aquarium-vivarium houses a variety of aquatic life from around the world. This is a great rainy day activity in Lausanne!
Visit the Lavaux Vineyards
Lavaux Vineyards are world-famous and home to some of the best wine in Switzerland. This is a must-do activity in Lausanne for any wine lover!
Where to eat in Lausanne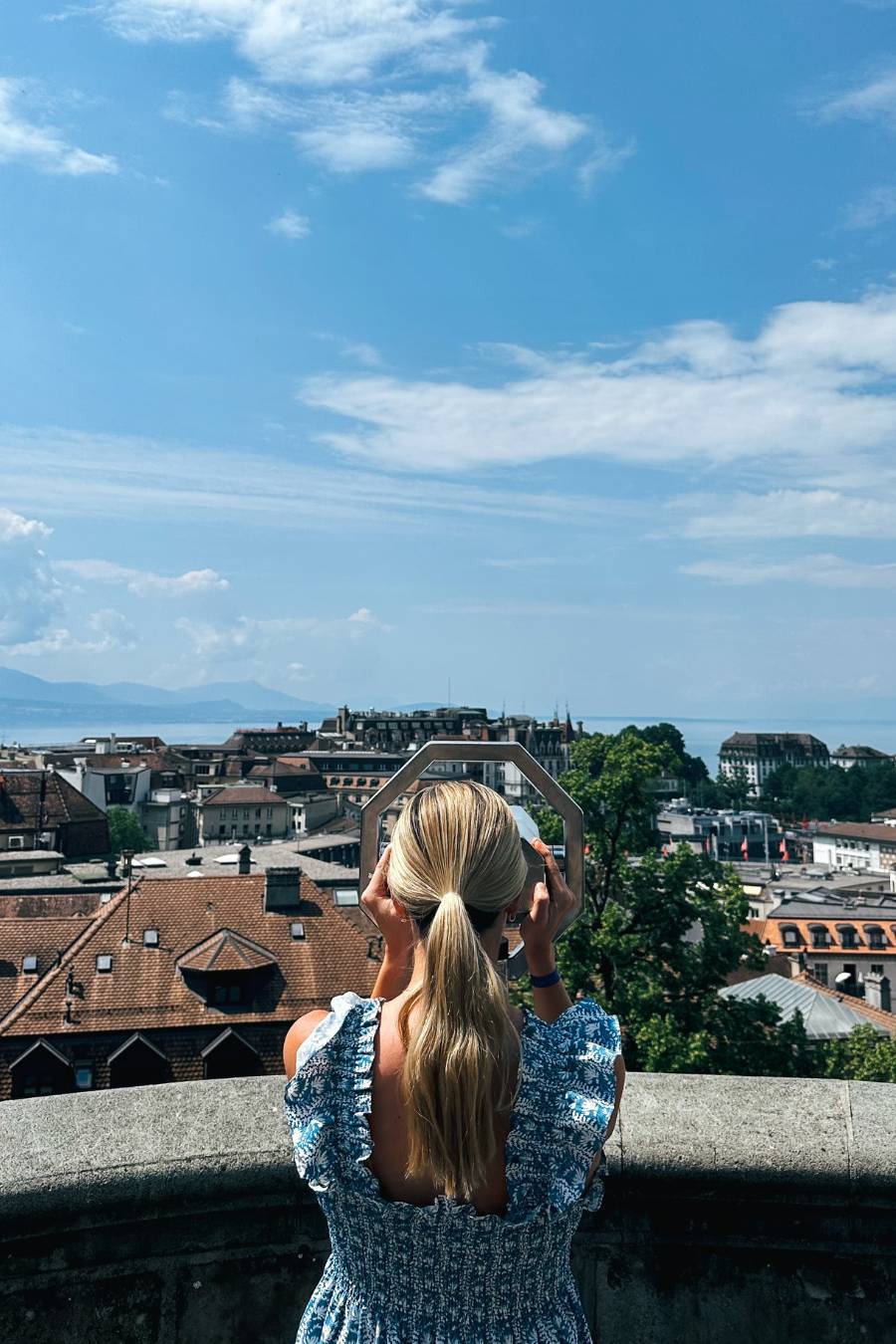 Lausanne is famous for its traditional Swiss food, which includes fondue, raclette, and rosti. Fondue is a dish of melted cheese that is typically served with bread or potatoes. Raclette is a dish of melted cheese that is typically served with potatoes and a variety of meats and vegetables. Rosti is a dish of grated potatoes that is typically served with fried eggs and bacon.
There are tons of great places to eat in Lausanne during your stay there!
The best restaurants in Lausanne
Le P tit Central: A local favorite spot with indoor and outdoor dining options.
Vieux-Lausanne Restaurant & Giraf Bar: Stop by here to try some traditional Swiss food with absolutely amazing presentation. While the prices aren't necessarily cheap, they are very fair for Switzerland.
La Poesia: If you are craving Italian during your time in Lausanne, look no further. The pasta here is fairly priced and delicious.
Brasserie des Trois Rois: This spot is perfect to try some typical Swiss and German food. We never miss out on a chance to eat pork knuckle and it definitely did not disappoint at Brasserie des Trois Rois.
Where to drink in Lausanne
The best bars in Lausanne
Mad Rooftop: A trendy rooftop bar right near the Old Town.
U Bar: Bar with good DJs and fair priced drinks. Entry is free and the music goes until 2AM.
The Rockies: Great place to grab a pint. The vibe isn't clubby and they have electric darts.
The Great Escape: Perfect spot to watch sports with great pub food and outdoor seating.
Bulldog Bar: Another great bar to watch sports. Bulldog Bar has a ton of tvs with pool and foosball tables as well.
Day trips to take in Lausanne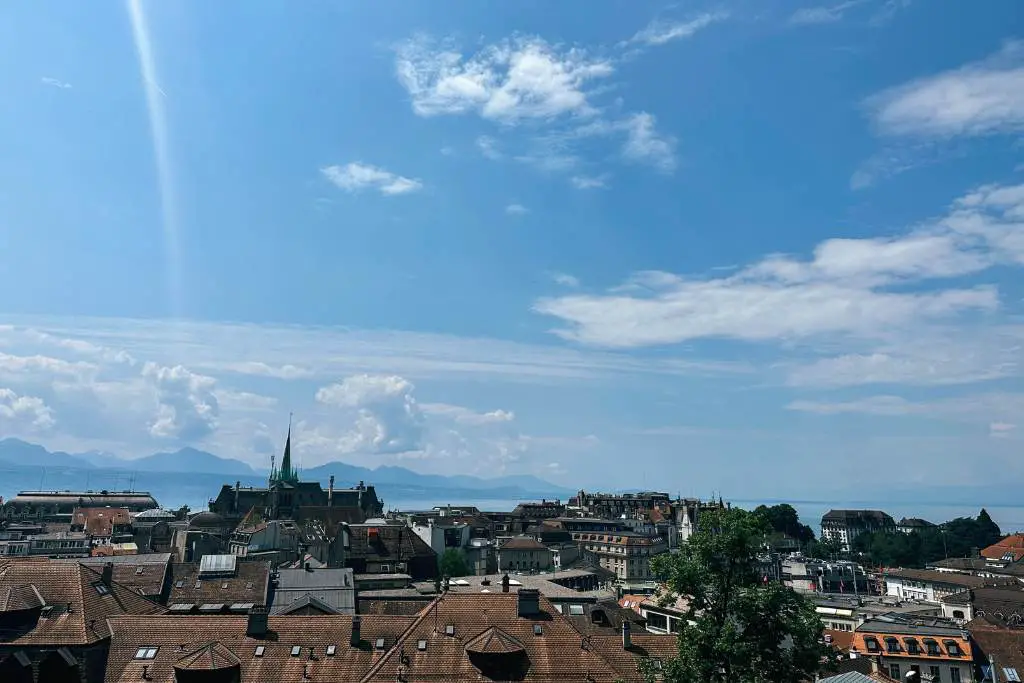 Here are a few easy nearby day trips to take from Lausanne!
Montreux
This charming town is 20 minute train ride from Lausanne and is located on the shores of Lake Geneva. Montreux known for its beautiful scenery, its jazz festival and its chocolate shops.
Chillon Castle
This medieval castle is a 40 minute train ride from Lausanne and is located on a rocky outcrop on Lake Geneva. This castle is one of the most popular tourist attractions in Switzerland.
Vevey
Vevey is only a 15 minute train ride from Lausanne and is located on the shores of Lake Geneva. It is known for its chocolate shops, wine region and its views of Mont Blanc.
Lavaux Vineyards
This UNESCO World Heritage Site is a terraced vineyard region that offers stunning views of Lake Geneva and the Alps.
---
We hope this complete city guide to Lausanne helps plan your trip to this charming city in Switzerland! Make sure to read our 10 day Switzerland itinerary to map out the rest of your time in this absolutely beautiful country.