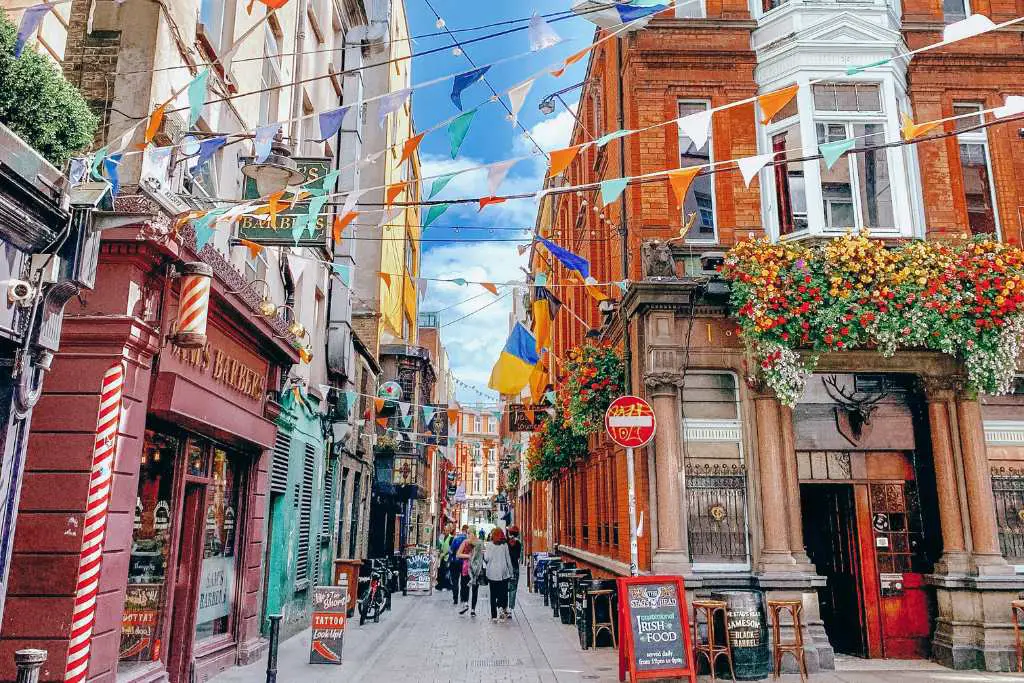 Dublin is a must visit destination when traveling to Ireland! Dublin has the largest airport in Ireland which makes it the gateway to all of Ireland and Northern Ireland. Being home to the Guinness Factory, Jameson Distillery and beautiful coastal day trips, Dublin is a location that cannot be missed. This complete city guide to Dublin will tell you where to eat, drink and explore in this amazing city.
Best time to visit Dublin
May – September is the best time of year to visit Dublin. During this period you will experience a mix of sunny and rainy days and begin to understand why the rainbow has so often been associated with Ireland. If you go during the peak summer months, you may pay more for your visit and it will be more crowded.
Since the weather is colder in the late fall and winter, it is a less touristy time to visit Dublin and will cost you less than peak season. We went on a week-long trip to Ireland at the end of October one year and while it was a little chilly, it was completely manageable. Consider visiting Dublin outside of peak season!
How to get to Dublin
Dublin Airport (DUB) is the easiest to reach on a direct flight from the East coast of the USA. There are are buses from the airport that will take you to all corners of Ireland as well as multiple stops in and around Dublin.
Dublin is easily connected to a lot of Irish and United Kingdom cities as well which makes it the perfect addition to a trip.
Read all of our favorite 10 day Europe trips here!
Currency and Tipping
Dublin uses the Euro for currency. While Dublin is cheaper than the United Kingdom cities just across the Irish Sea, it tends to be more expensive than the other main destinations throughout Ireland. Typically in Dublin a beer costs around 6.5 Euro and the average cost of a meal is 16 Euro.
It is polite to tip 10-12.5% in Ireland and Northern Ireland. If you receive great service, then it is always encouraged to tip closer to 20%.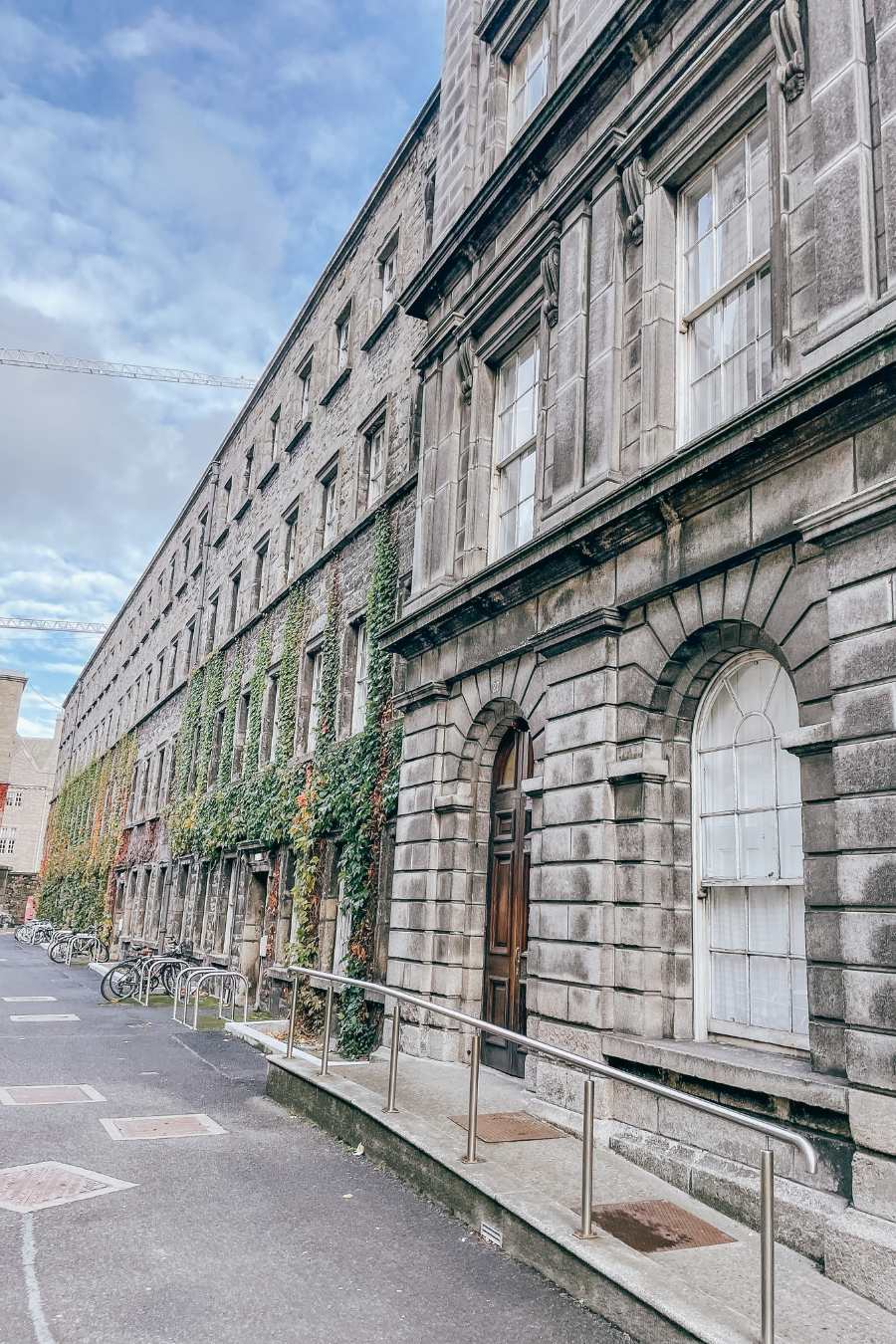 Where to stay in Dublin
Ireland tends to be a more expensive region to visit but there are still plenty of options for any type of traveler in Dublin.
Homestays and Rental Options
There are tons of rental properties available on Airbnb. Depending on your budget and group size, this may be a better option than a hotel or hostel.
Boutique hotels
Made up of 4 townhouses on the River Liffey, this boutique hotel features a fitness center and is a five minute walk from Temple Bar.
If you think the exterior of this boutique hotel has character, wait until you see the lobby. A short walk from St. Stephen's Green this hotel also features working spaces and a great area to meet other travelers.
Mid-range hotels
If you plan on spending time in Temple Bar then this hotel is the perfect location for you. There's a fitness center, pool and even a cocktail bar with outdoor seating.
Located between St. Stephen's Green and Temple Bar, this is the place to stay to be close to nightlife but not located right on top of it. The hotel also has a restaurant, lounge and fitness facility.
Budget hostels
Located right on the River Liffey and across from Temple Bar, this hostel features great common areas with games and a large kitchen.
Jacobs Inn is located near Connolly train station and the Dublin bus station. While it is slightly outside the city center, it is perfect for those hoping to see more than just Dublin during their stay. This hostel features a wide variety of accommodations for solo backpackers to couples.
This Temple Bar located hostel features modern rooms and a spacious common area with games to meet fellow travelers.
The famous brand of Generator Hostels has opened a new one in Dublin a little further out and near the Jameson Distillery. This hostel features a trendy onsite bar with pool tables.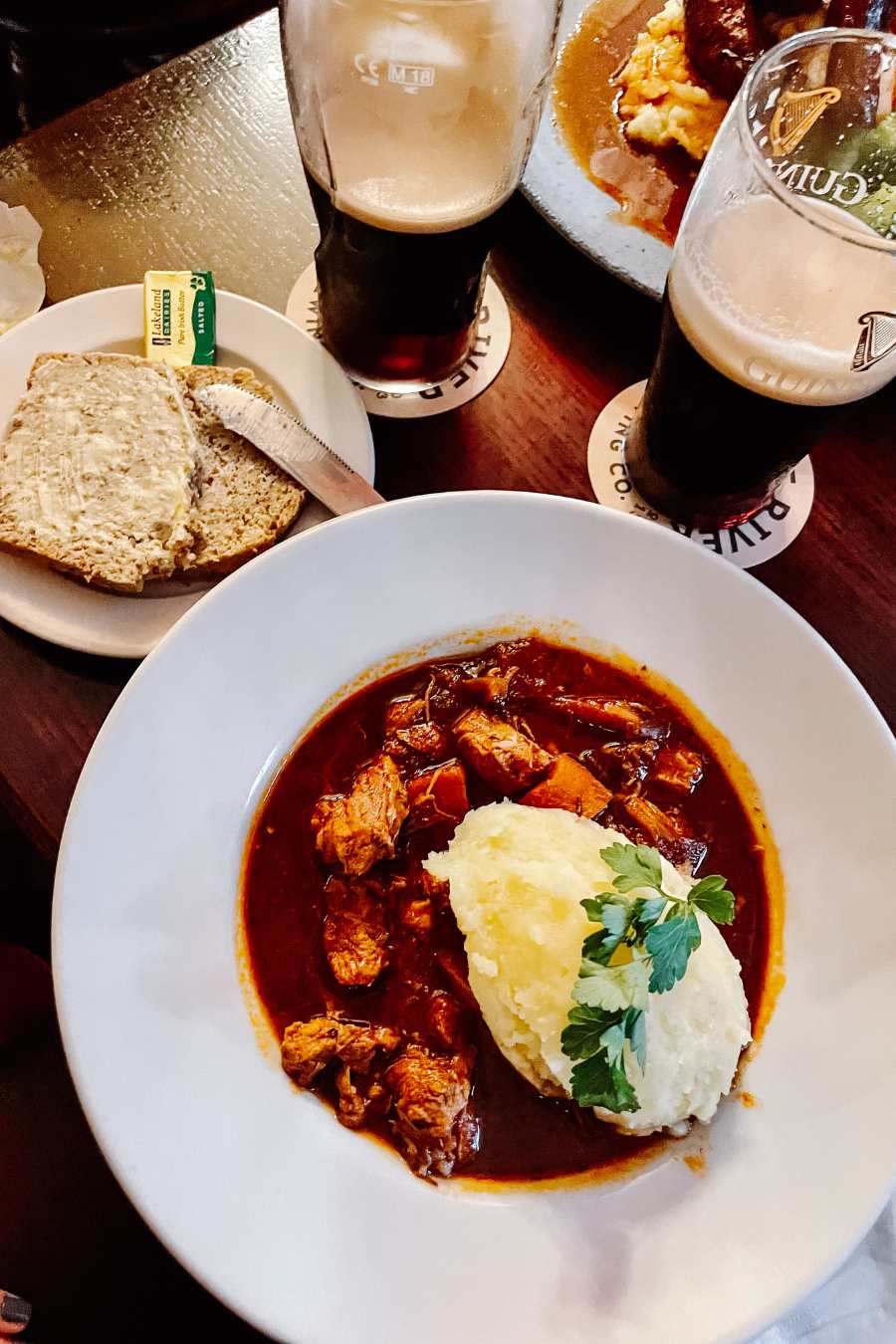 Pro-tip: Save all of these recommendations below in your google maps so you can easily find them later!
Where to eat: The best restaurants in Dublin
This renovated church in Dublin is the perfect place to go to enjoy some trad music and a great meal. It is honestly one of the coolest restaurants/bars in the world!
Another restaurant with traditional Irish food and located next to the famous Mulligan's pub. This is a great spot to stop closer to the River Liffey.
If beer isn't your thing but you find yourself in Dublin, head on over to The Winding Stair where every menu item has a wine pairing suggestion.
Enjoy some traditional Irish food in this centrally located pub.
If you happen upon the hot pink door that hides this restaurant, stop inside for a mix of traditional and modern Irish dishes. This restaurant also has delicious scallops and cod.
This more upscale restaurant is known for the decor, friendly staff and well priced menu.
If you are visiting Ireland during the NFL season, this is the perfect spot to grab a pint, some dinner and watch the games.
If you have followed our blog since the beginning, then you know we love the JD Wetherspoon restaurants around the United Kingdom and Ireland. This has the same menu as the UK restaurants and is a great spot for a cheap eat and pint.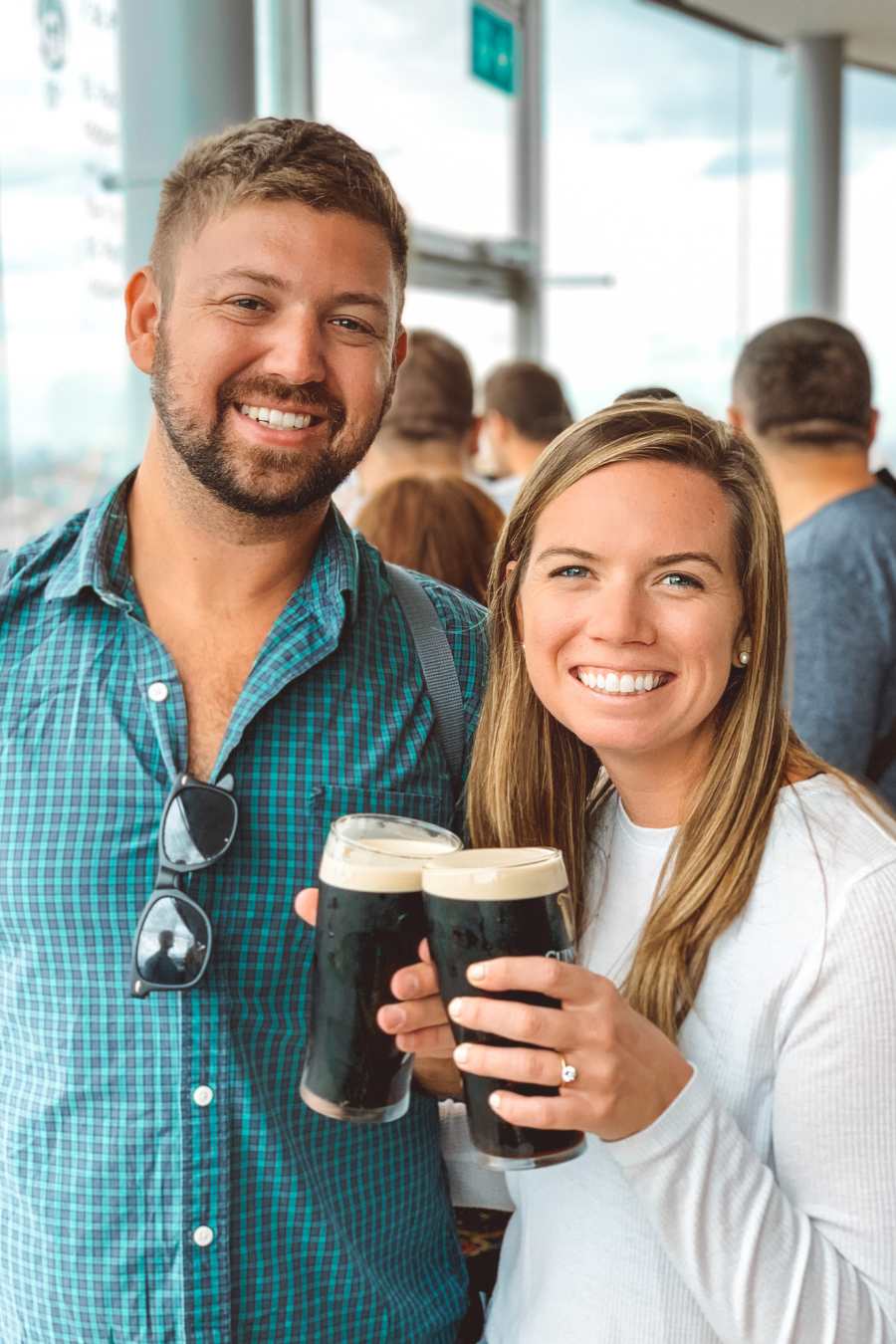 Where to drink: The best pubs and bars in Dublin
This pub is situated inside a wonky old house and is a great place to stop in for a change of scenery and a pint.
It isn't a trip to Dublin without stopping in this famed bar for a pint of Guinness.
This is a great pub to visit, especially on a nice day with its unique outside courtyard. If you are looking for a pint and some food, there is also a solid menu at The Brazen Head.
This pub is decorated by local artists and also has outdoor seating. The "toasties" on the menu are a perfect compliment for a day of drinking.
Use code JLJ10 for 10% off all eSIM purchases.
On the inside this is your standard Irish pub, however the industrial courtyard with outdoor seating makes for a cool vibe on a nice day.
This cool cocktail bar is located in the upstairs of a house. The dim lighting makes this the perfect spot for before or after dinner drinks on a romantic night. Make sure to book your reservation in advance to experience this unique speakeasy!
Great spot to experience some trad music in the Temple Bar area.
This is the famous bar that P.S. I love you used as a filming location. While this bar is a great experience, there are tons of lively nightlife spots all along Camden Street. Use this as a starting spot and do a little pub crawl with your travel buddies!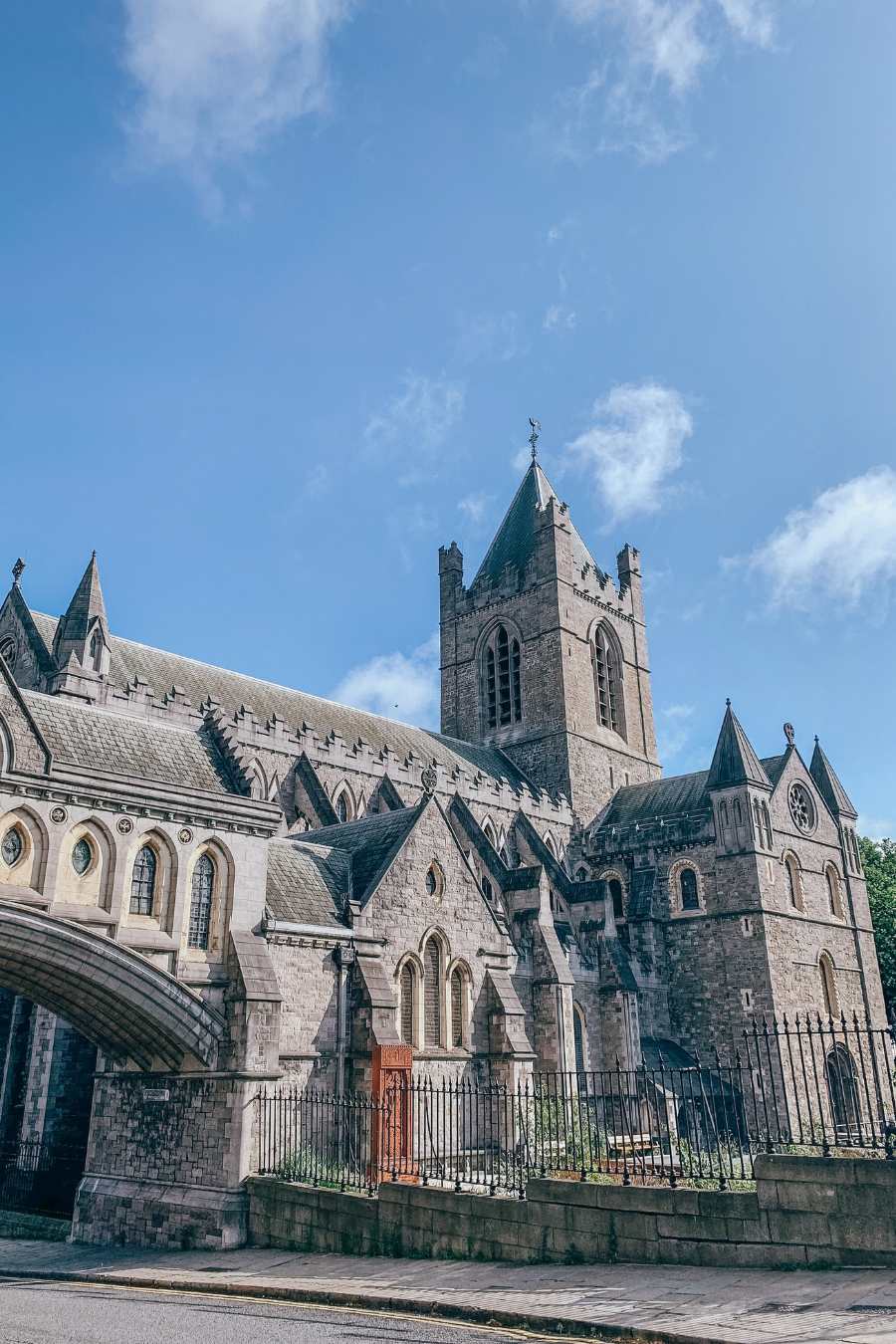 Things to do in Dublin: The best sites and museums
Listen to live music at The Church
Grab a pint and enjoy some trad music at an old renovated church.
Jameson Distillery Tour
Enjoy an interactive tour at the Jameson Distillery and learn about the difference between Scotch, Bourbon and Irish Whiskey as well as the history of the Jameson family and their delicious whiskey. Before or after the tour feel free to grab a drink at the bar located on the ground floor.
Make sure to book your reservation in advance for this tour!
Guinness Storehouse Factory
A ticket for the tour here at the famous St. James' Gate Brewery will have you learning all about the process of both making Guinness as well as the barrels it is then stored in. At the end of the tour, you can spend your ticket either on the sixth floor where you can learn to pour the perfect Guinness and get a certificate or on the seventh floor at the sky bar.
Make sure to book your reservation in advance for this tour!
St. Patrick's Cathedral
This famous cathedral was originally founded in 1191 and is one of only two cathedrals that were ever built on Dublin soil.
Dublin Castle
Take a guided or self guided tour of this castle containing 800 years of Irish history.
Trinity Library
Located on the grounds of Trinity College, this library is home to the Book of Kells and said to resemble the Jedi Archives from Star Wars.
Christ Church Cathedral
This fully operational cathedral has beautiful Romanesque interiors. There is a fee to enter as the cathedral receives no financial support from the state.
Phoenix Park
Just two miles outside of downtown Dublin, this massive park is home to the Dublin Zoo, the Presidential and US Ambassador's Residences and the Wellington Monument. This park spans 1,700 acres and is a great place to escape the hustle and bustle of the city.
The Graveyards at Glasnevin Cemetery Museum
Take a tour of this cemetery containing the graves of Ireland's most famous politicians, poets and other people of interest.
St. Stephen's Green
Take a stroll around St. Stephen's Green to get a break from the city without having to go more than a half a mile from the center. This is the perfect spot to take some time to picnic or read on a sunny day.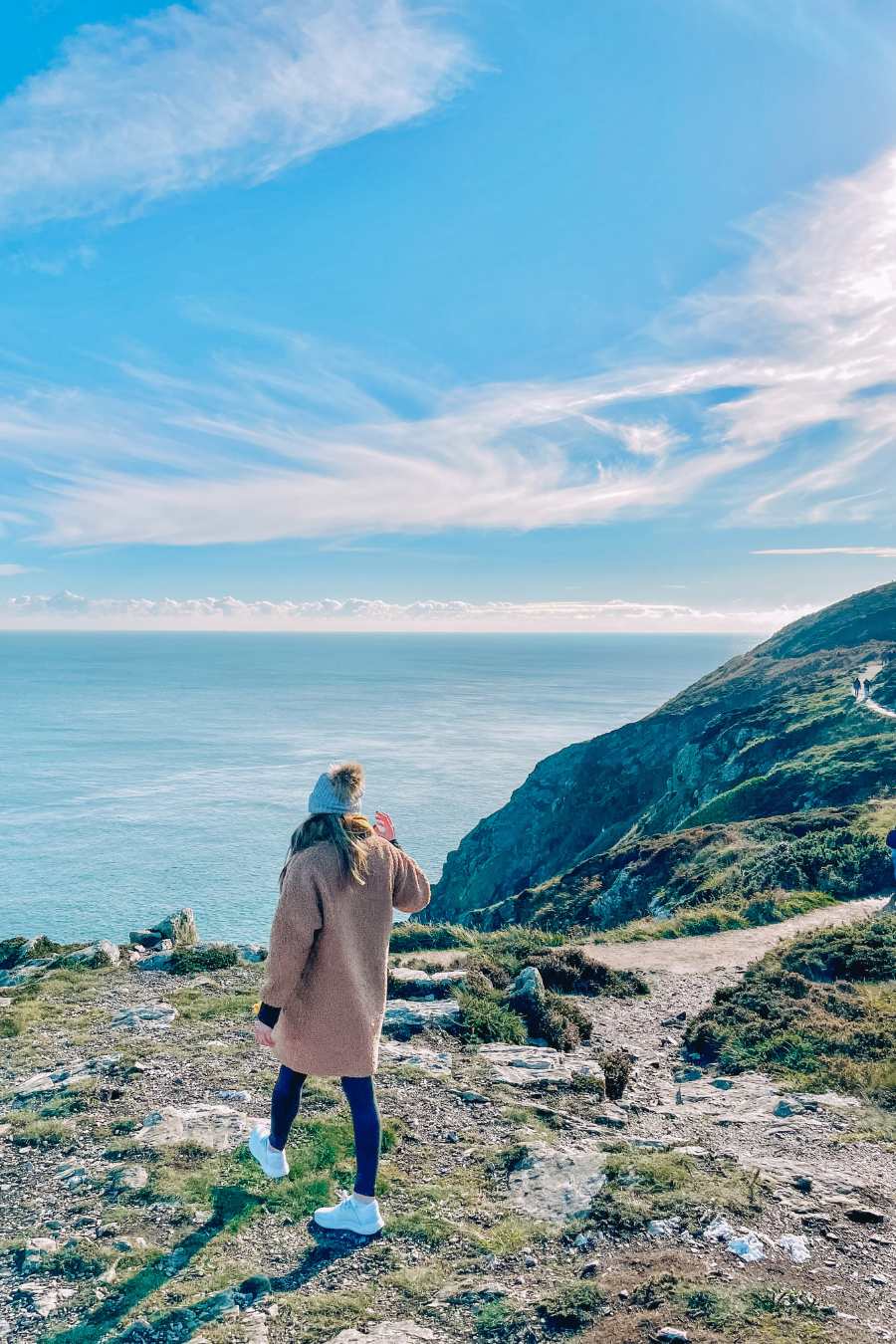 The best day trips from Dublin
Kilkenny, Wicklow Mountains, Gladalough, Sheep Dog Trials
This 10 hour day trip will take you to see beautiful medieval architecture as well as the Wicklow Mountains.
There are multiple companies that run this tour, here is one option.
Cliffs of Moher and Galway
This 13 hour day trip will take you to the west coast of Ireland to see the beautiful Cliffs of Moher and take a stop in Galway which is one of our favorite cities in Ireland.
There are multiple companies that run this tour, here is one option.
Northern Ireland Highlights Day Trip
If you don't have time to visit Northern Ireland then take this 13.5 hour day trip up to the beautiful Giant's Causeway, Carrick-a-Rede Rope Bridge and the city of Belfast.
There are multiple companies that run this tour, here is one option.
Explore the city of Howth
How to get to Howth
Take the DART train from Tara St Station. You can buy tickets at the station and they are 6.50 Euro round trip. It is roughly a 30 minute train ride to the Howth station and there is even Wi-Fi on the train. Take in the coastline views on your way!
What to do in Howth
When you get off the train, walk towards the harbor and then follow the signs towards the lighthouse walk. There are multiple paths you can take depending on how far you want to hike. The main lighthouse walk will take you approximately 3.5 hours
After the hike, it's time for lunch and a pint – you earned it! Grab lunch at one of the local pubs. We recommend either King Sitric Seafood Bar or O'Connell's Pub.
The Bray to Greystones Walk
How to get to The Bray
Take the DART train from Tara Station to Bray. You can buy tickets at the station for around 6.75 Euro round trip. The train ride will take you roughly 45 minutes.
What to do in Bray and Greystones
Walk along the promenade towards Bray Head. From here you have the choice to either hike up to Bray Head for a beautiful view of the Wicklow Mountains or to just follow along the coastal path. If you choose to hike up to Bray Head, it later reconnects with the coastal path so it is only a slight detour. The hike in total is roughly 7km and ends up in Greystones.
There are plenty of places to eat in both Bray and Greystones. If you fancy a post hike beer stop by the Beach House. When you're ready to head home, take the train from Greystones station back to Dublin.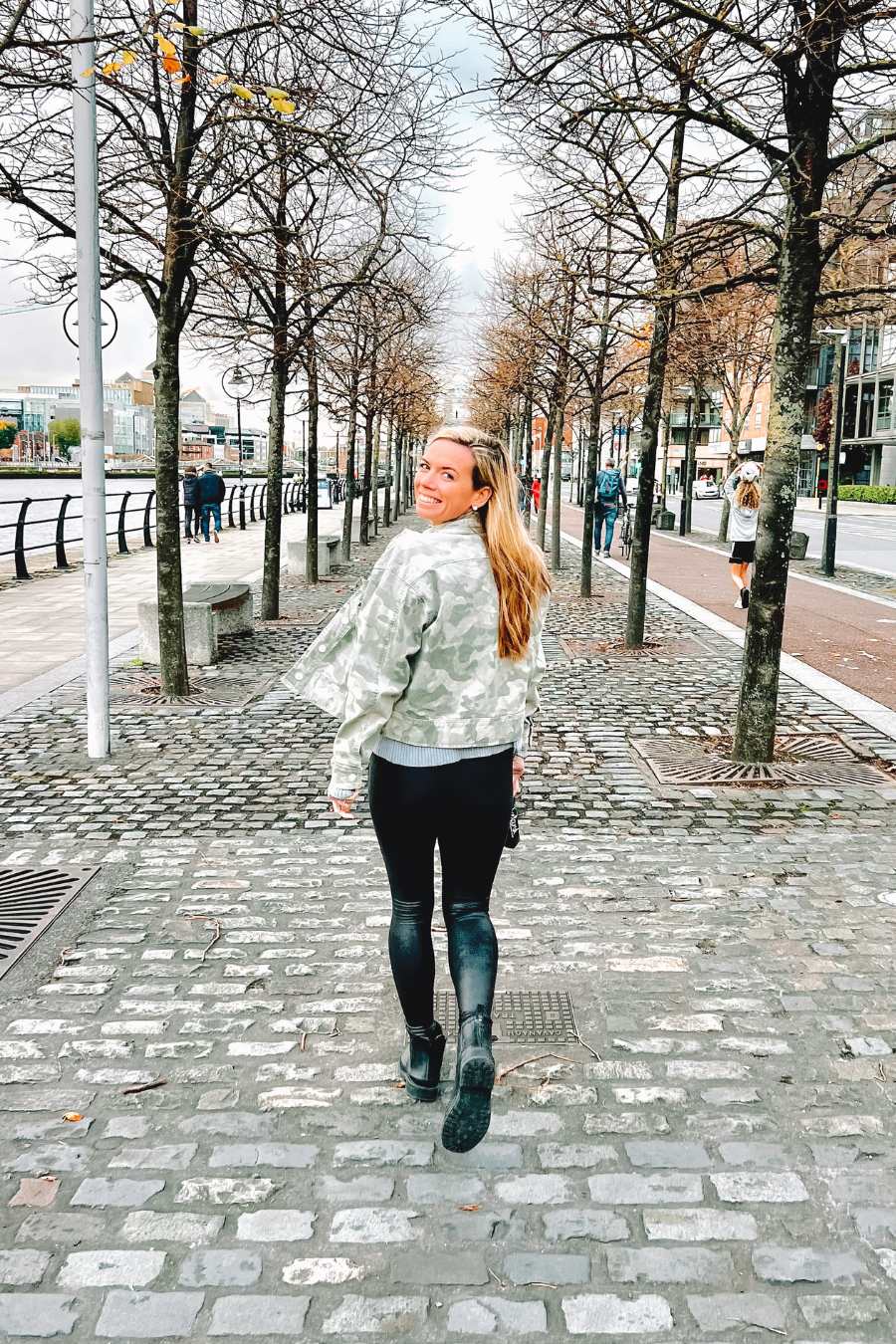 Transportation in Dublin
Public transposition
Dublin Bus is the main bus company providing public transportation in Dublin with a network of over 100 routes. If you are staying in the city center, it is very easy to take the bus to and from your housing from the airport.
Walking
Walking is a great option in Dublin once you get to the city center. It is possible to walk between all of the major sites.
FreeNow is the main rideshare available in Dublin.
Download these 15 apps before heading to Dublin!
Safety in Dublin
Typical crimes against tourists are theft and pickpocketing, especially in crowded tourist areas. Always stay alert when walking and keep your belongings safely zipped on your body. For example, never put your phone or wallet in your pocket without a zipper or flash expensive jewelry.
Make sure to purchase travel insurance with World Nomads before your trip to cover any incidents!
Additional Ireland Resources
We hope this Dublin city guide helps plan your trip to this amazing city! Let us know in the comments your favorite thing to do in Dublin.