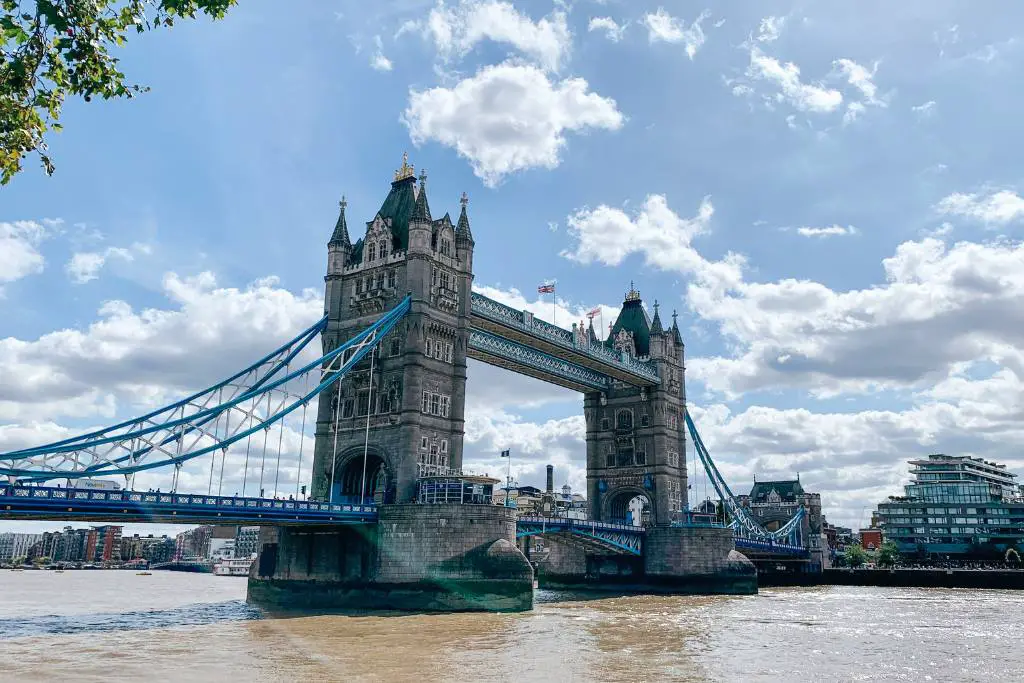 London is the capital of the United Kingdom and is one of the most popular tourist destinations in the world. With its rich history, vibrant culture, and diverse attractions, London has something to offer everyone! There is honestly so much to do in London that it can be overwhelming to plan your first trip to this iconic city. Depending on how many days you have, you will not be able to tackle everything on your list and that's ok! It will simply be a matter of prioritizing your time based on your interests and travel preferences. The good news is that no matter how many times you visit London, there will always be something new to experience! Check out this first-timer's guide including all of the best things to do in London.
How to get to London
London is easily accessible by train, ferry, bus, car or plane. Though the most common way to get to London is by flying into one of its six major airports. The most popular airports in London are Heathrow, which is most common for transatlantic flights, Gatwick, Stansted and Luton which are all very popular for flights within Europe.
All of these airports are located about an hour outside the center by public transportation, so there really is no wrong answer when booking your flight. The reality is that it will take time and effort to get to London city-center no matter which airport you fly into.
Skyscanner is one of our favorite tools to find cheap flights around the world. Browse your options here!
London is a great gateway for an international trip because transatlantic flights are often affordable and it is very easy to travel elsewhere in Europe from London. If you are struggling to choose a starting city for your Europe trip, London is a great option because of its access to the rest of the continent!
Read our favorite 10 day Europe trip routes here!
The Best time to visit London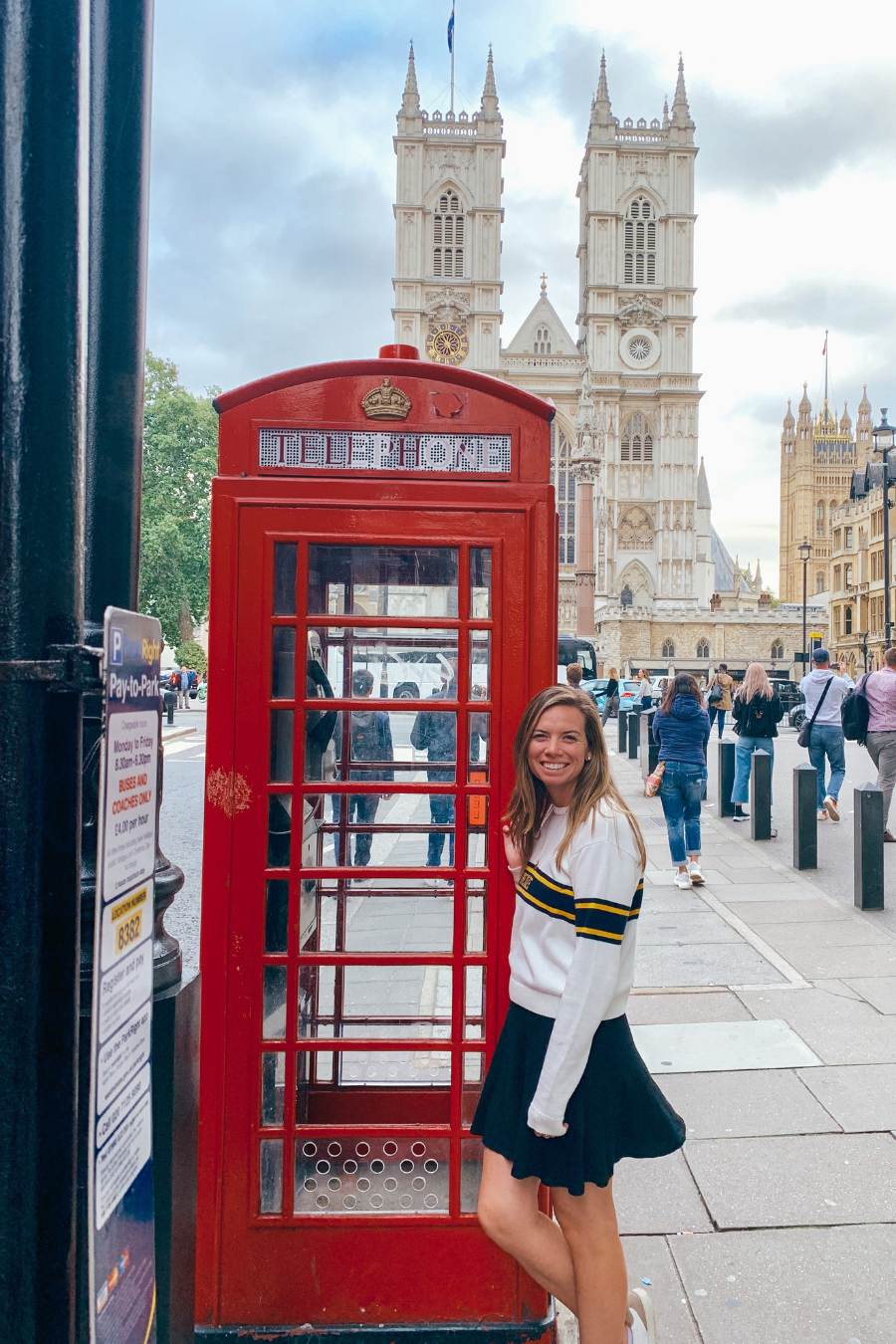 London's weather is known to be potentially gloomy, no matter the time of year. However, the best weather in London comes in late spring and early fall. During these times of year the weather tends to be mild and has the least amount of rain. While summer in London is much warmer, it is also known for being humid and rainy. Winter in London is cold and rainy but if that doesn't bother you, it is a great time to go to avoid the crowds!
Currency and tipping in London
London is in the United Kingdom so it is on the Great Britain Pound.
When it comes to tipping in London, it is customary to tip 10-15% for good service. Some restaurants may already include a service charge on the bill, so make sure that you check that before tipping.
Read 50 Europe travel tips to avoid ATM scams and more.
Is London Expensive?
It is important to keep the exchange rate in mind when spending money in London because the Pound tends to be consistently stronger than the USD. A typical pint at a bar will cost around $9 with a meal out costing around $25 on the lower end. London is one of the more expenses cities to visit in Europe!
Use code JLJ10 for 10% off all eSIM purchases.
How many days do you need to visit London?
The truth is that no matter how many days you plan to stay in London, there will always be more of this famous city to explore. Three to five days is typically enough time to explore all of the major sites if sticking to a strict itinerary. We recommend spending closer to 5 days depending on your travel pace and the amount of activities you wish to accomplish on your first time in London!
Our first time in London together, we were only there for three days and we were able to see all of the major sights. This left very minimal downtime though, so if you want a mix of relaxing while also having time to see all of the sights, we would recommend spending five days in London.
Where to stay in London
London is a very large city with tons of different neighborhoods, each with their own vibe. For your first time in London, we recommend staying in Soho because that will be the closest neighborhood to most of the major sites. The London public transportation system is extremely easy to use and even has a max amount that it will charge you in a day. No matter where you stay, it is easy to get around at a reasonable price in London!
Some other neighborhoods that we love in London are Clapham Junction in South East London and Angel in North East London.
Where to stay in Soho
Hazlitt's: Transport yourself back in history in this four star boutique hotel with antique furniture in every room. There is even a library lounge where you can sit back and enjoy a coffee or cocktail! In the morning, enjoy a delicious breakfast brought directly to your room.
The Resident Soho: While it may seem expensive, this is considered a midrange hotel in London and has spacious rooms featuring a desk, mini fridge and modern bathroom.
The Z Hotel Tottenham Court Road: While this hotel doesn't have many frills and the rooms are tight, the location cannot be beat. Make sure you pay attention to which room you are booking as there are discounted rooms that do not have windows.
Since Clapham Junction and Angel have more of a neighborhood vibe, they don't have many hotel options. If you are looking to stay a bit further out of the center in a neighborhood, we recommend looking on Airbnb or Vrbo for apartments in these areas!
Where to Eat in London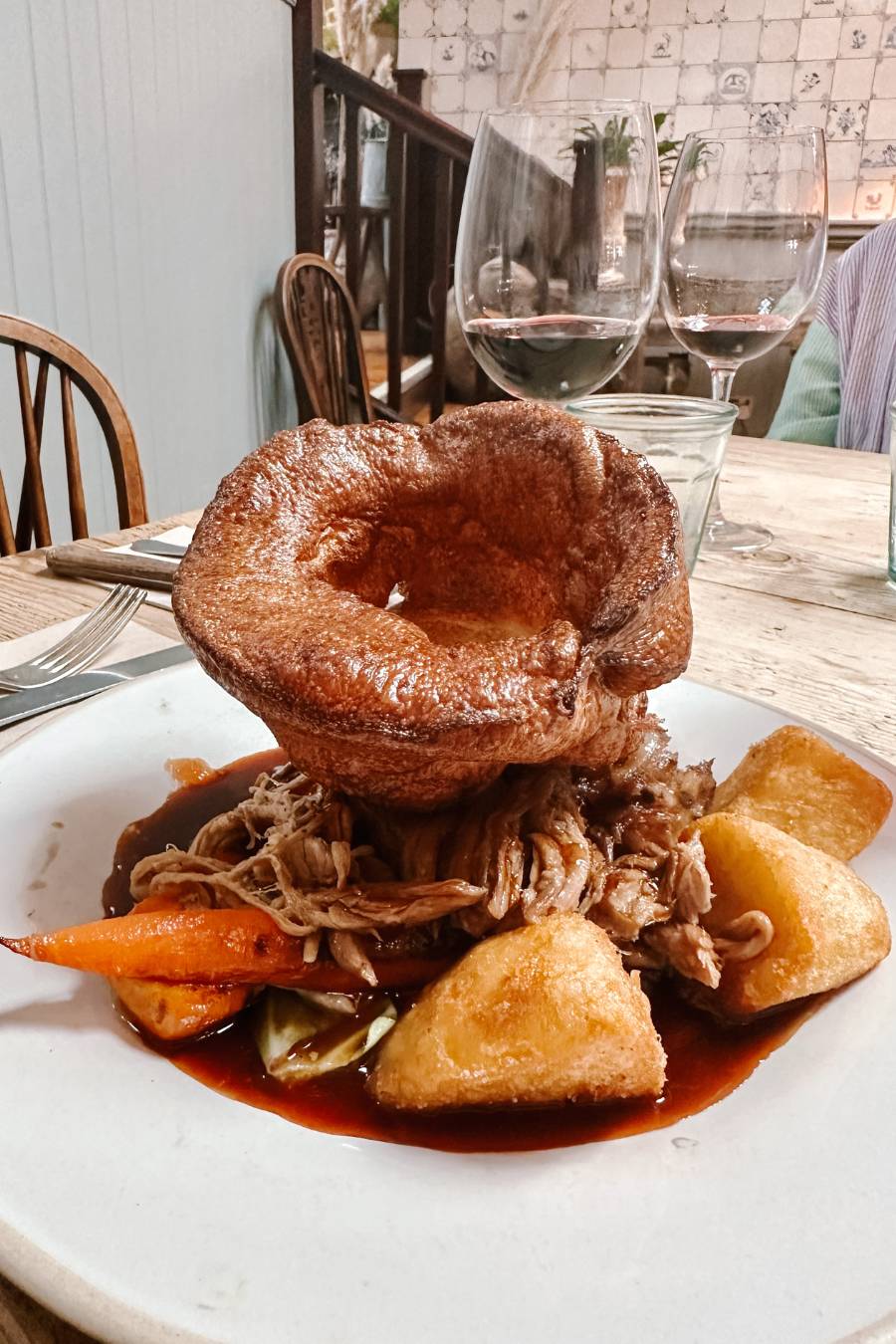 London's food scene is one of the most diverse and exciting in the world, with restaurants serving cuisine from all over the globe. From Michelin-starred fine dining to casual street food, there's something to suit every taste and budget!
One thing that makes London's food scene so unique is its multiculturalism. The city is home to people from all over the world, and this is reflected in the wide variety of food that's available. You can find everything from traditional British fare to Indian curries, Chinese dim sum and Japanese sushi.
London is also at the forefront of culinary innovation. Many of the city's chefs are pushing the boundaries of what's possible with food, and creating new and exciting dishes. As a result, London is a great place to try new things and experience the latest food trends.
If there is a popular restaurant that you want to try in London, make sure to book a reservation in advance or there may not be space for you!
The best restaurants in London
Borough Market: While this is not technically a restaurant, a trip to London is not complete without a stop in the Borough Market. We love coming here to eat because there are so many different options so you can get a taste of everything. It is truly one of the most unique markets in the world!
The Churchill Arms: Classic pub meets modern taste with this London favorite!
Dishoom: Tikka Masala has overtaken Fish and Chips in recent years as the most popular food in London. Dishoom is definitely the best palace that we have tried in London for any and all Indian food.
Aladin Brick Lane: This top rated Indian restaurant in London is both trendy and delicious!
Fuller's Ale and Pie House: There's no better place to enjoy fish and chips or a pie than in a pub. This is our favorite pub stop for traditional British food.
Circolo Popolare: If you're looking for a local spot to add some fun to your instagram feed, grab a table at this highly rated Italian spot!
Gloria: You'll drool over the pasta offerings at this cute and chic spot. Get dressed up and enjoy a night out here.
The Britannia: If you are in London on a Sunday, live like a local and indulge in a Sunday roast. This pub is home to one of the best roasts in London!
Shakespeare's Head – JD Wetherspoons: JD Wetherspoons is a chain around the UK and Ireland and is the best bang for your buck that you can get for food and drinks. This is just one of many locations in London. If you are traveling on a budget, stop at a Wetherspoons for cheap food and drinks!
Where to drink in London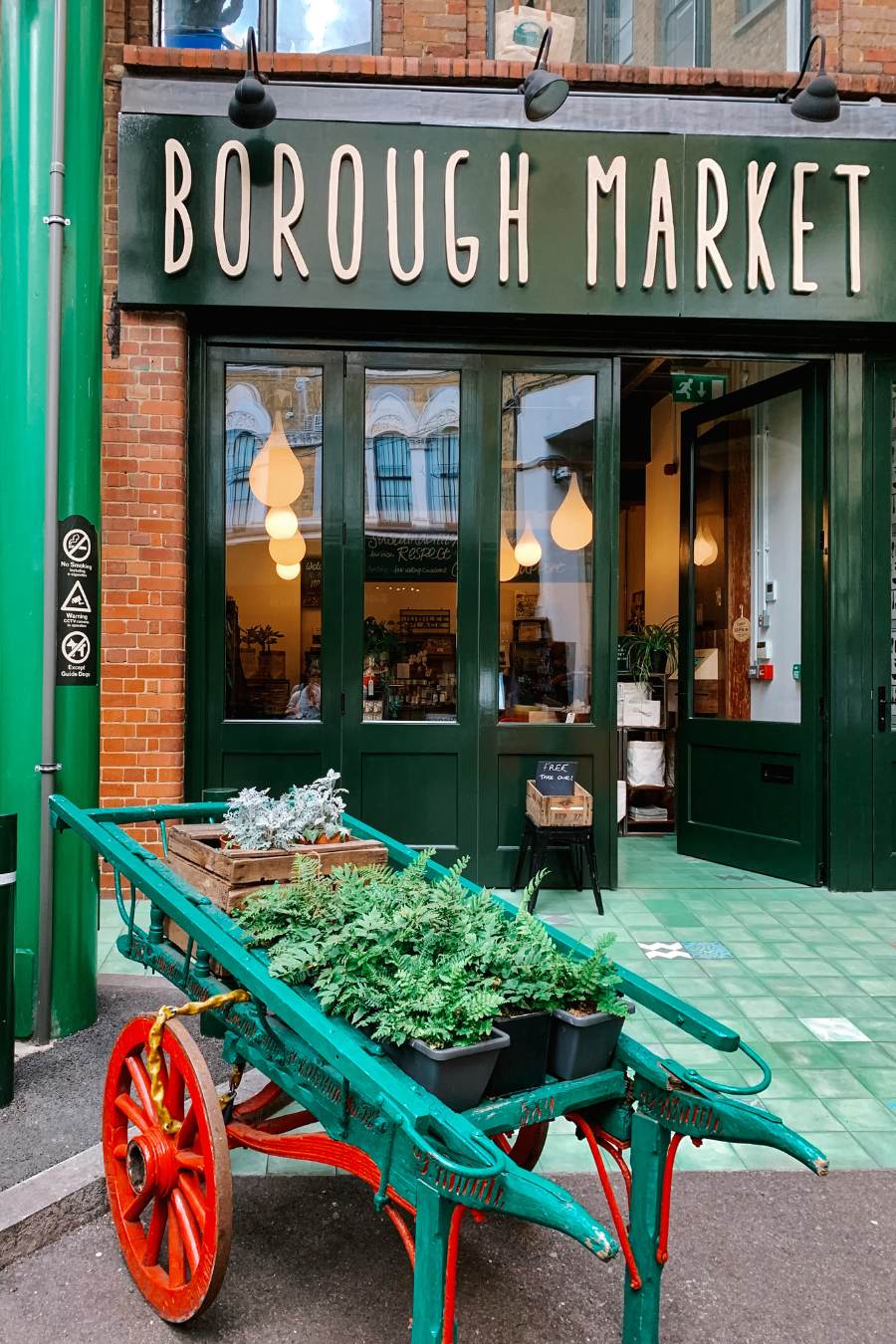 Soho is our favorite neighborhood for going out in London. It's full of different bars, clubs and pubs all offering something different.
Here are some of the best bars in London
Waxy O'Connor's: This is our favorite bar to go out at night in London! It has several bars throughout and usually features live music. It is also a great bar to go to to watch sports.
The Coach & Horses, Soho: This is a standard British Pub with outdoor seating.
BrewDog Seven Dials: Brewery sponsored bar with more of a modern feel and pub food.
The Escapologist Bar: If pints aren't your thing, then stop by the Escapologist Bar for cocktails and wine.
Things to do in London: The best sites and museums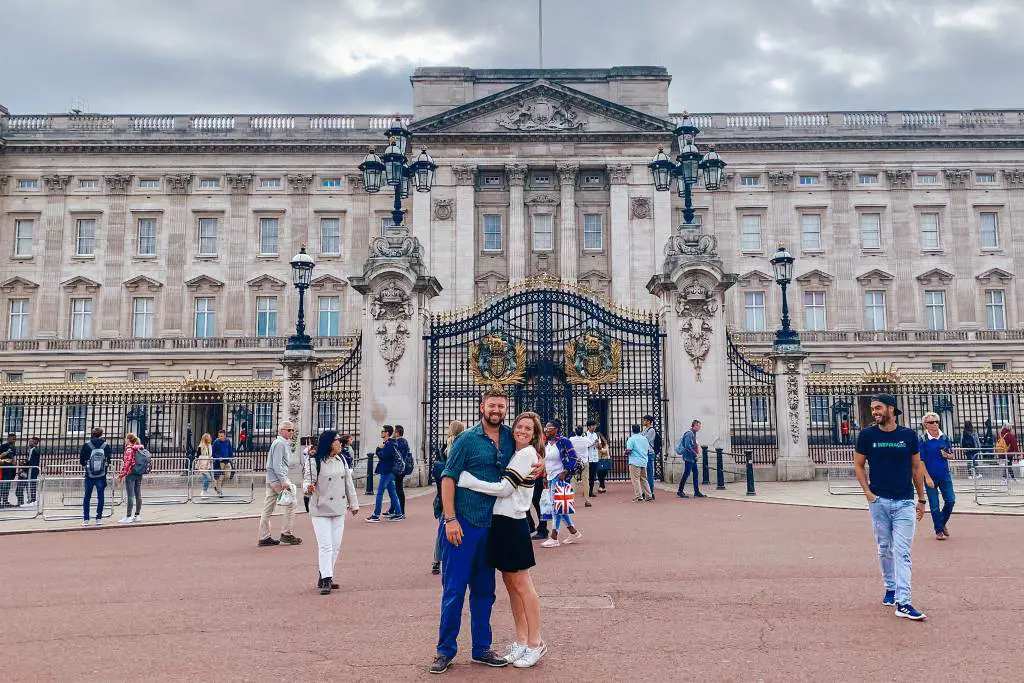 There is an overwhelming amount of things to do in London, especially if it is your first time visiting this city. Depending on which activities you want to do during your first visit, consider getting one of the passes listed below!
London Pass or Go City London Explorer Pass
There are two main sightseeing passes available in London: the London Pass and the Go City London Explorer Pass.
The London Pass gives you unlimited access to over 85 attractions over a period of time (choose the number of days that suit you). It includes popular attractions such as the Tower of London, the Tower Bridge, Westminster Abbey, and the London Eye. The London Pass also includes a Hop-On Hop-Off Bus Tour and a Thames River Cruise.
The Go City London Explorer Pass gives you access to a specific number of attractions during a 60-day period. You can choose from a variety of attractions, including the Tower of London, the London Eye, the Shard, and the British Museum. The Go City London Explorer Pass also includes a Hop-On Hop-Off Bus Tour.
Which pass is right for you?
If you're planning on visiting a lot of attractions in a short period of time, the London Pass is a good option. It's also a good option if you're not sure which attractions you want to visit, as it gives you unlimited access to a wide range of attractions.
If you're only planning on visiting a few attractions, or if you have more time in London, the Go City London Explorer Pass is a good option. It's also a good option if you're on a budget, as it's often cheaper than buying individual tickets to the attractions.
Ultimately, you need to consider how many attractions you want to visit and how much time you have in London to determine which pass is right for you!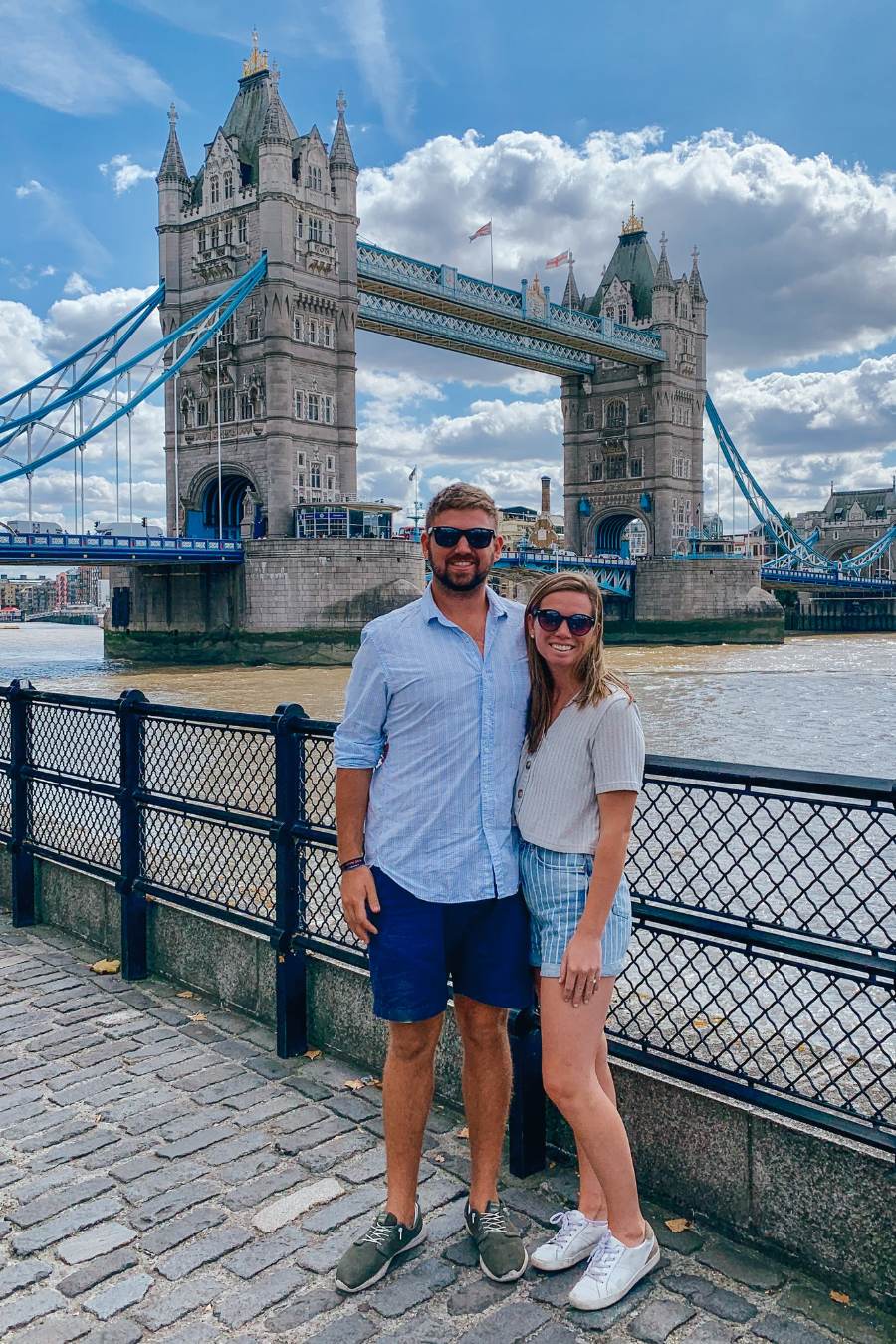 Top touristy things to do in London
Tower of London
Dating back to 1066, this was used both as a royal residence and a prison. This also now houses the crown jewels. This tour is filled with so much history and a must do during your trip to London!
Tower Bridge
Designed in 1894 to complement the Tower of London at one end of the bridge, this is one of the most recognizable bridges in the city. You can pay extra to walk on top of the bridge which is a cool experience!
Big Ben
Located on the north end of the Palace of Westminster, The Big Ben clock might be the most iconic landmark in London.
Houses of Parliament
These houses are situated on the River Thames and feature beautiful architecture. Depending on the day, it is possible to attend the debates at the House of Commons or House of Lords. This building is also an iconic landmark for V for Vendetta fans.
St. Paul's Cathedral
This is one of the most iconic churches in London. Margaret Thatcher, Winston Churchill, Prince Charles and Princess Diana all had their funerals held here.
Buckingham Palace
The palace is famous for being the home of the London royal family and the location of the changing of the guard. Take a tour of Buckingham Palace and be sure to explore the gardens in the back where London royalty throws famous garden parties.
Abbey Road
If you're a Beatles fan, this is a must see. Replicate the icon album cover image of Abbey Road with a few of your best mates!
Westminster Abbey
This is the location where kings and queens are crowned. Hundreds of people are buried under the floor including Charles Darwin and Mary Queen of Scots.
Windsor Castle
Founded by William the Conqueror in the 11th century, Windsor Castle is the oldest and largest occupied castle in the world.
Harry Potter Studios
If you are a Harry Potter fan, you need to check out Platform 9 ¾ at King's Cross Station. However, you can take your trip one step further by taking the train out to Harry Potter Studios. The majority of the films were shot in these studios with many of the sets still intact. Explore the Great Hall, Forbidden Forest and even the Gryffindor Common Room. As Harry Potter fans ourselves, this was our favorite activity in London!
Hyde Park
London is is home to multiple amazing parks to explore! If you only have time for one, Hyde Park is a must. There is a lake in the middle to rent paddle boats and even a bar to stop for a drink while exploring.
The best day trips from London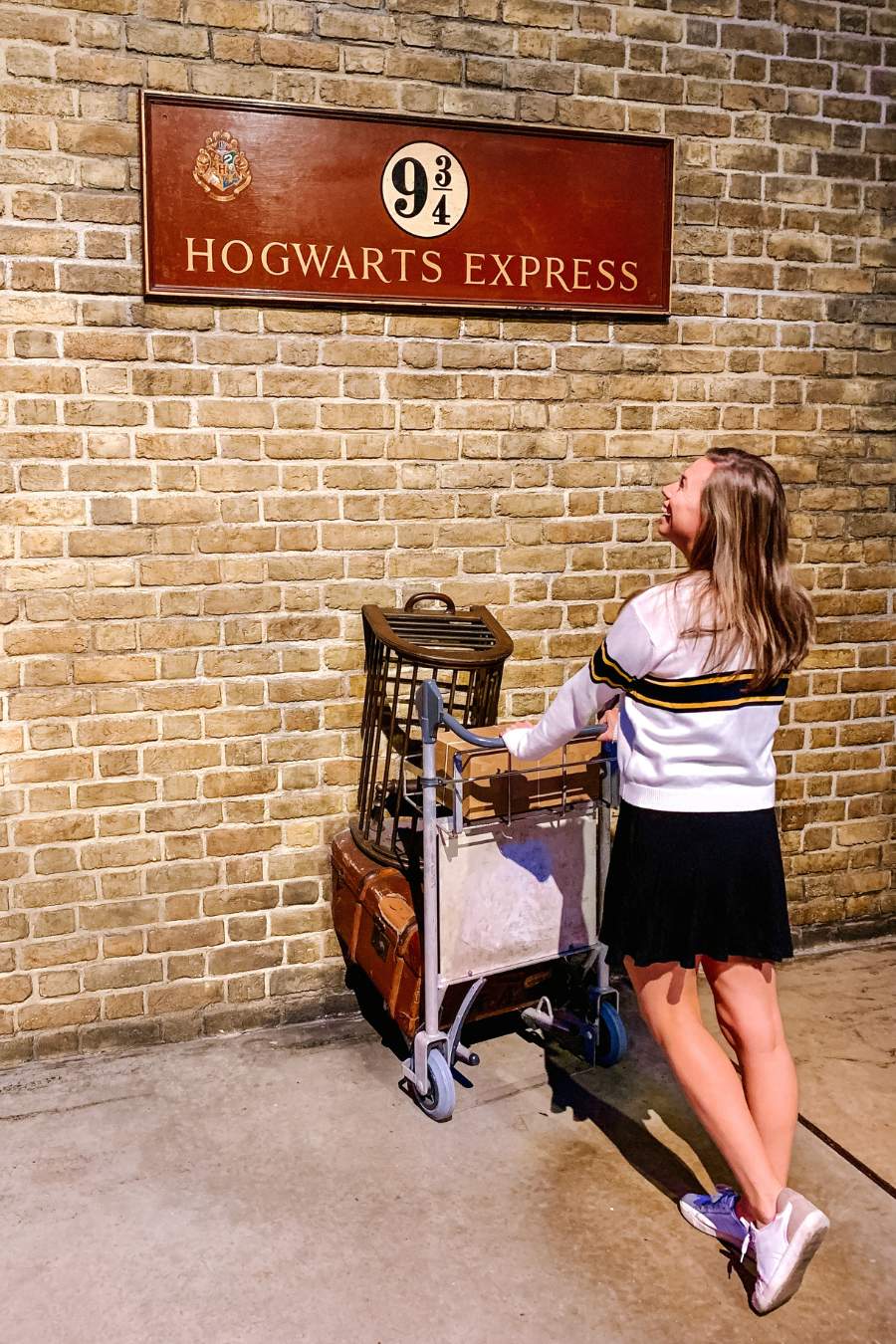 If you happen to have time in London for a day trip, be sure to check out these options to see more of England and the surrounding areas!
Bath, Windsor Castle and Stonehenge
This day is jampacked but will knock off all three of the most famous sights near London.
Oxford, Blenheim Palace, and Woodstock
This trip is totally doable on your own by train or bus. Visit Oxford and a mix of other paid and free universities, primarily Christ Church if you're a Harry Potter fan.
Paris, France
It may be a long day but it only takes 2 hours by Eurostar to get from London to Paris, take a day or spend a night enjoying a different iconic city!
The Cotswolds
Unless you have a car, you will definitely have to purchase a tour to experience this. A typical tour will include morning tea, lunch and afternoon tea for the most quintessential British experience!
Transportation in London
Public transposition
Public transportation is the easiest and cheapest way to get around the city of London. The underground and buses are very easy to use! You can now tap-to-pay on all public transportation in London as well, making it especially easy to get around.
Walking
Walking is a great option in London once you get to the city center. It is possible to walk between all of the major sites!
Uber and FreeNow are available in London. Typically FreeNow will be the cheaper option, so make sure to check the pricing on both before ordering!
Safety in London
Typical crimes against tourists are theft and pickpocketing, especially in crowded tourist areas. Always stay alert when walking and keep your belongings safely zipped on your body. For example, never put your phone or wallet in your pocket without a zipper or flash expensive jewelry.
It is always recommended to purchase travel insurance before going on an international trip. It is a small fee to pay up front in case of any lost or stolen items or unfortunate medical expenses. We always purchase travel insurance when traveling internationally through World Nomads!
Here are a few extra tips for first-time visitors to London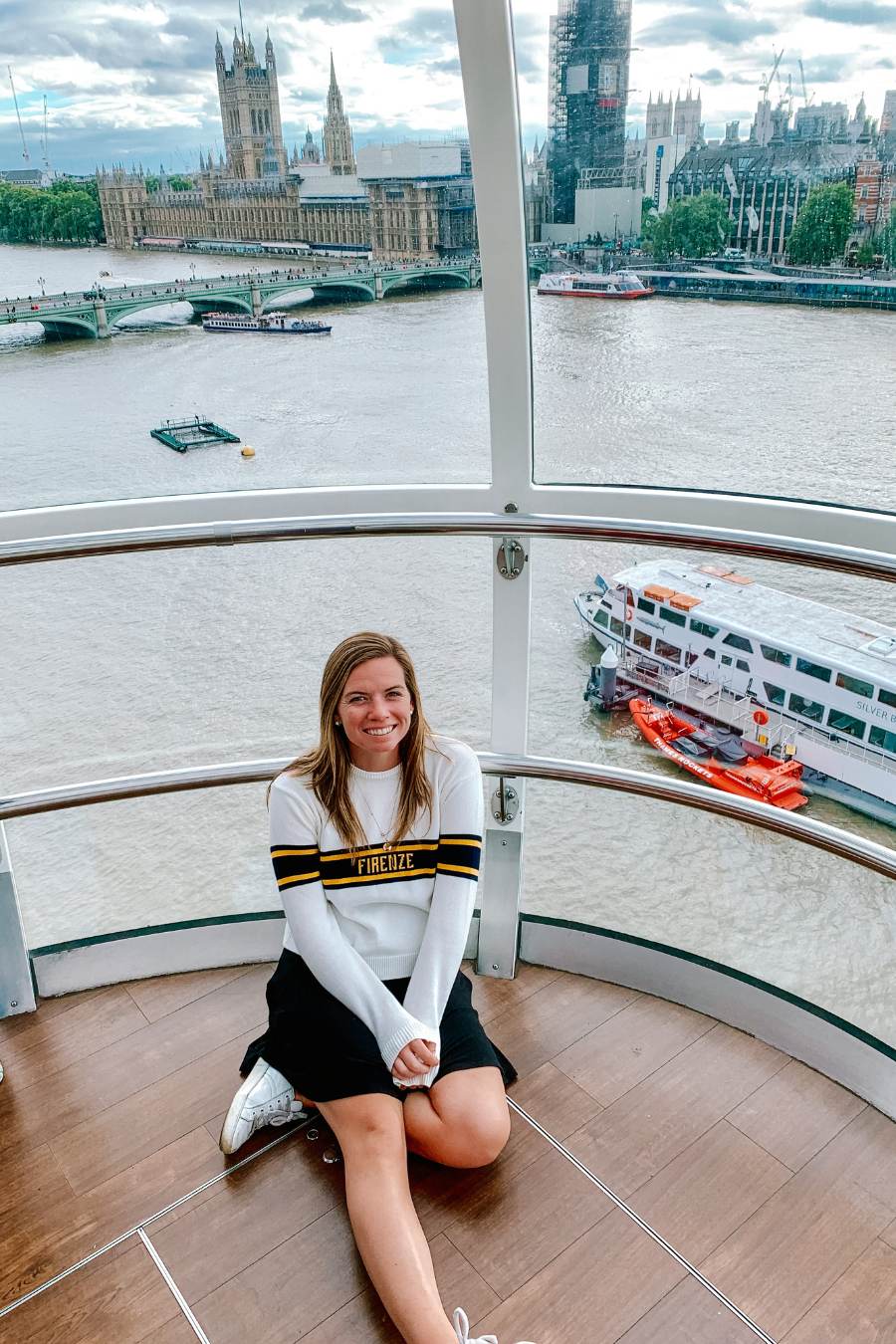 Book your tickets and reservations for popular attractions and restaurants in advance.
London is one of the most popular cities in the world to visit and activities will get booked up in advance! If there is something you really want to do on your first trip to London, make sure to book it in advance to guarantee your spot!
Wear comfortable shoes.
No matter your itinerary, you will likely be on your feet for the majority of the day while traveling in London. You will want to wear comfortable shoes!
Prepare for rain.
London's weather is unpredictable and it often rains. Bring an umbrella with you at all times in London.
Take advantage of the city's many free attractions.
If you are traveling on a budget, you do not need to do everything in London that costs money. There are tons of free things to see, do an explore that will not break your travel bank. Top of the list of free things to do in London are the multiple parks and markets to explore!
---
London is one of the most iconic cities in the world with something to offer everyone. Whether you're interested in history, culture, food, or fashion, you're sure to find something to your liking in London. Remember that while it may be impossible to do everything on your list the first time you go to London, you will always have a chance to go back! We hope this guide helps you plan your first trip to London.