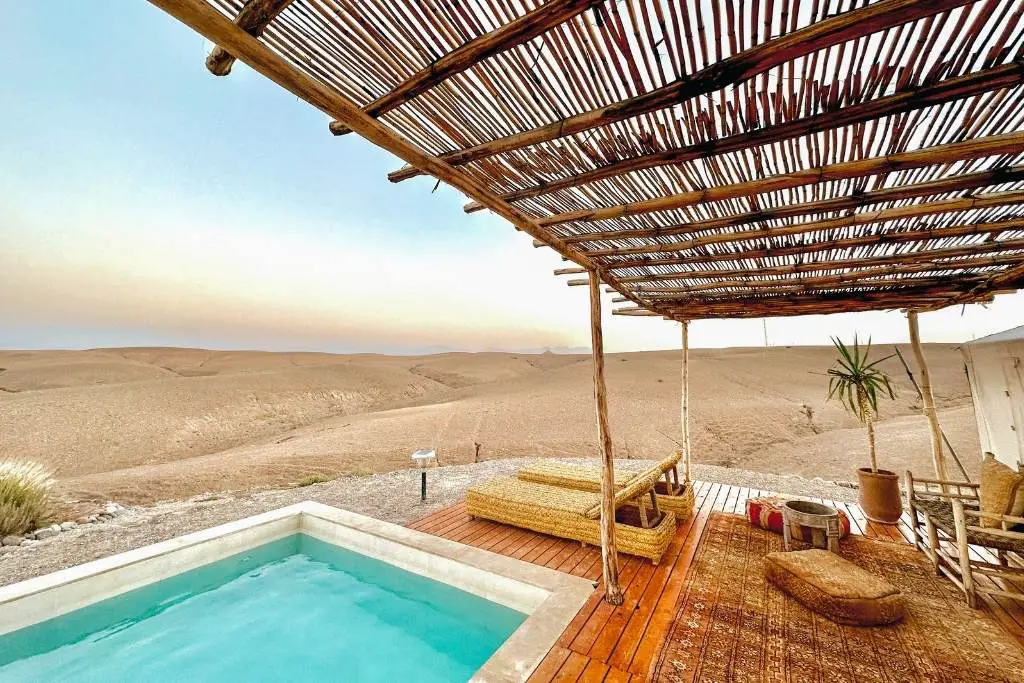 As digital nomads, we are avid fans of the Selina franchise and have stayed at multiple locations around the world. When researching where to stay in Morocco in the Agafay Desert, we knew we needed to stay at the Selina Agafay Nomad Camp! This nomad camp is by far the best place to stay in the Agafay Desert. Whether you are a solo traveler, traveling with friends or as a couple, this desert camp is the place for you. With a variety of housing options from dorm rooms to private tents with a pool, there is something for every traveler at the Selina Agafay Desert camp! Read this post for more details about our stay in the Agafay Desert.
How many days should you stay in the Agafay Desert?
Since we were only in Marrakech for a total of two days, we stayed one night at the Selina Agafay Desert Camp and one night in the city. Ideally, it would be best to stay 1-3 nights in the desert. We would not suggest more days than that because while there are plenty of activities to fill the time at the camp, there are no other establishments nearby. You will spend your time entirely at this desert camp.
The Selina desert camp provides absolute peace and serenity. It is the perfect place to stay if you are searching for some much needed rest & relaxation, with the option to socialize and meet fellow travelers in a desert oasis.
Selina Nomad Camp Agafay Location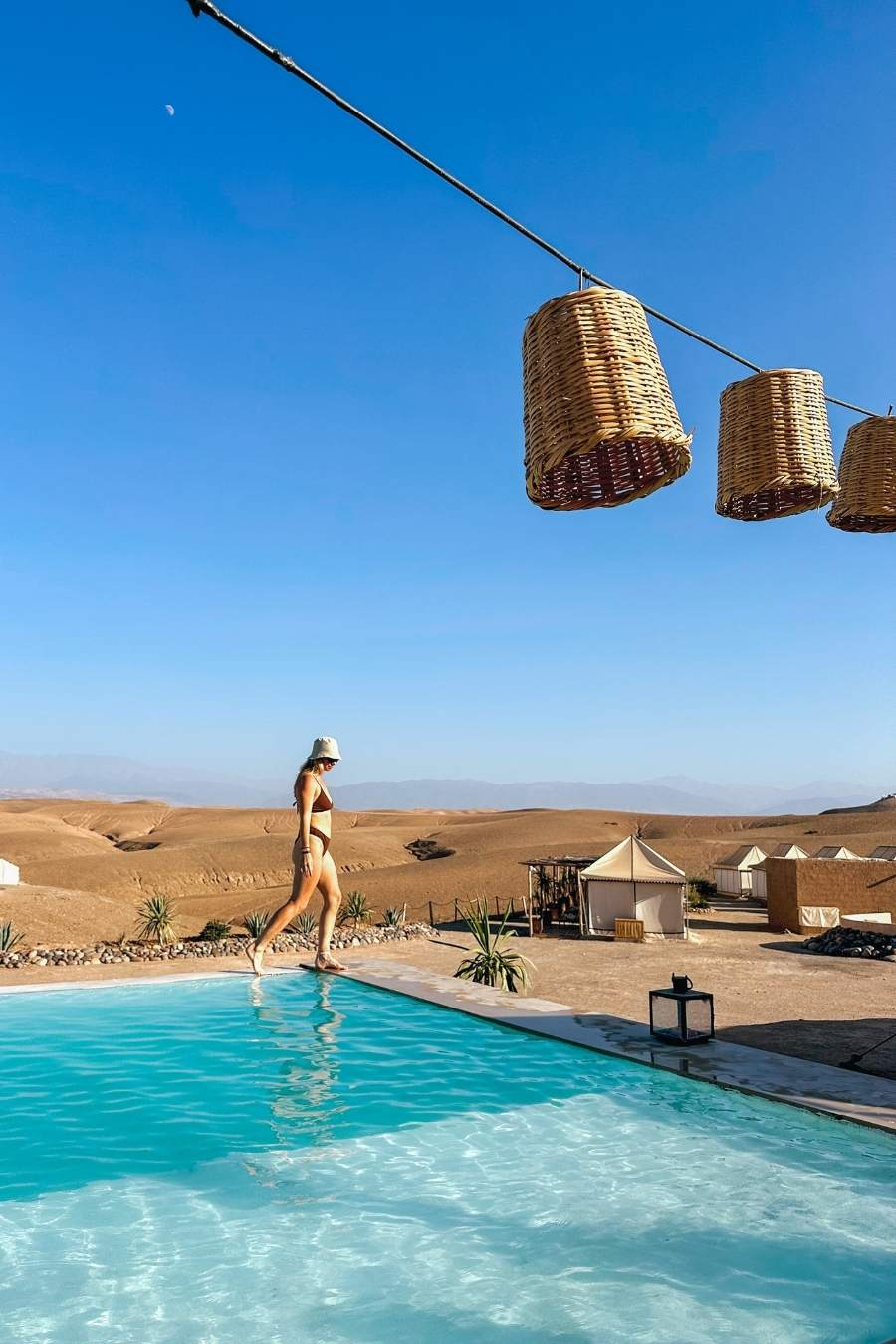 Th Agafay Selina is conveniently located about a 40 minute drive from Marrakech. Even though this hotel is one of the closer luxury desert camps to the city, it is still fully immersed in the desert. You will feel completely isolated and at peace while staying in this desert camp!
We booked transportation to the camp through Selina's website and it was absolutely worth it. A driver picked us up from the airport and took us to the camp with no other stops or issues! We recommend just handling all transportation with your housing, especially if this is your first time visiting Morocco.
Accommodations at the Selina Agafay Camp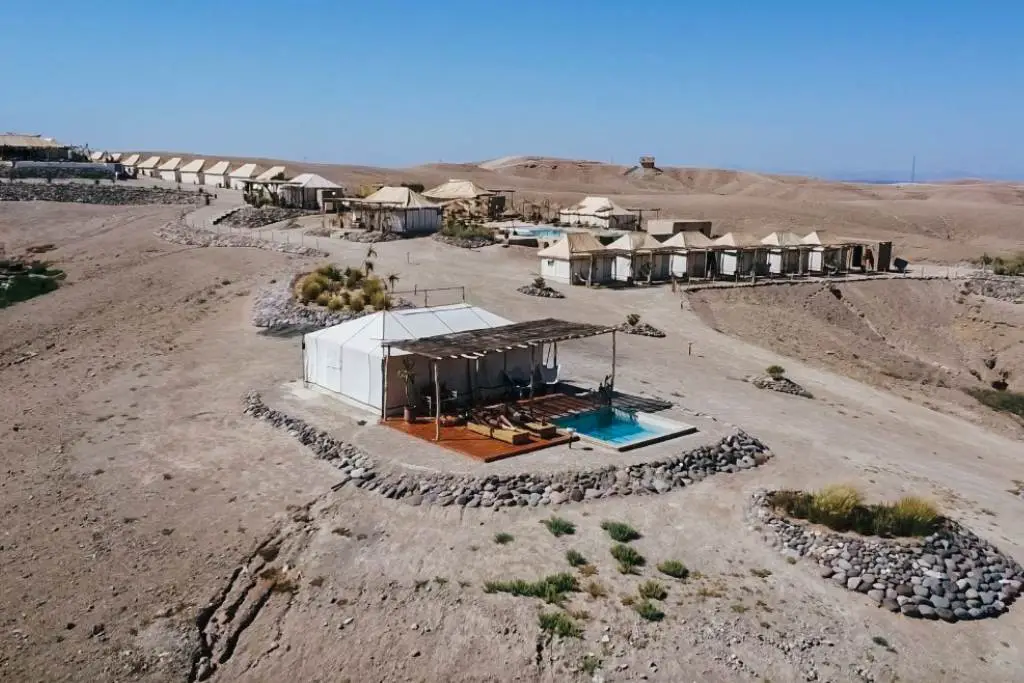 There are a variety of room and bunk options to accommodate any budget or travel preference at this Agafay desert camp . Here are the different room options!
Beduin: This is the cheapest option in the dorm room with a shared bathroom.
Micro Tent: This is a budget-friendly option for a couple to have their own room with a shared bathroom.
Glamping Standard: This tent has a private room and bathroom. Great for a couple who wants more privacy on the campground!
Glamping Suite: This suite is slightly bigger than the standard glamping option.
Glamping Loft: This is the most expensive and luxurious option at the Selina Agafay Nomad Camp. This is a large tent with a private pool, bathroom and large suite.
We originally booked the glamping standard room because as digital nomads, we do our best to stick to a strict budget. We decided at the last minute to upgrade to a glamping loft with a private pool and it was absolutely worth it! While there are epic views from any room at the campground, the luxury lofts are in a slightly more private area and have a beyond stunning view of the rolling desert hills. It was incredible to drink our morning coffee in the absolute peace and quiet of our private deck and pool area.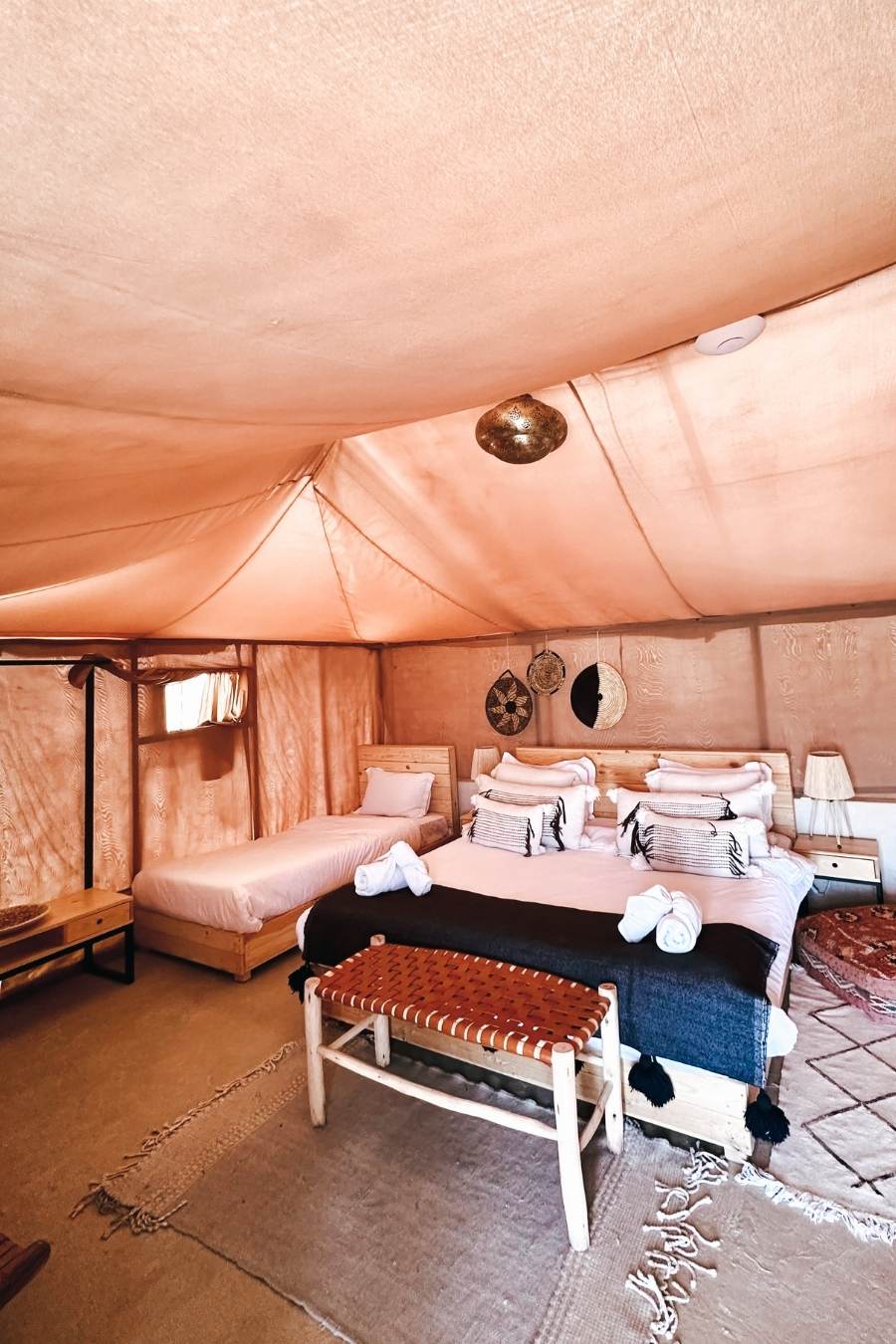 The rooms were very clean and spacious in this desert camp! Keep in mind that while it is still a luxury accommodation, it is in the middle of the desert. The tents do zip all of the way down to keep wind and bugs out but it is not foolproof. It is possible that some bugs may find their way into the glamping tent!
Selina Agafay Amenities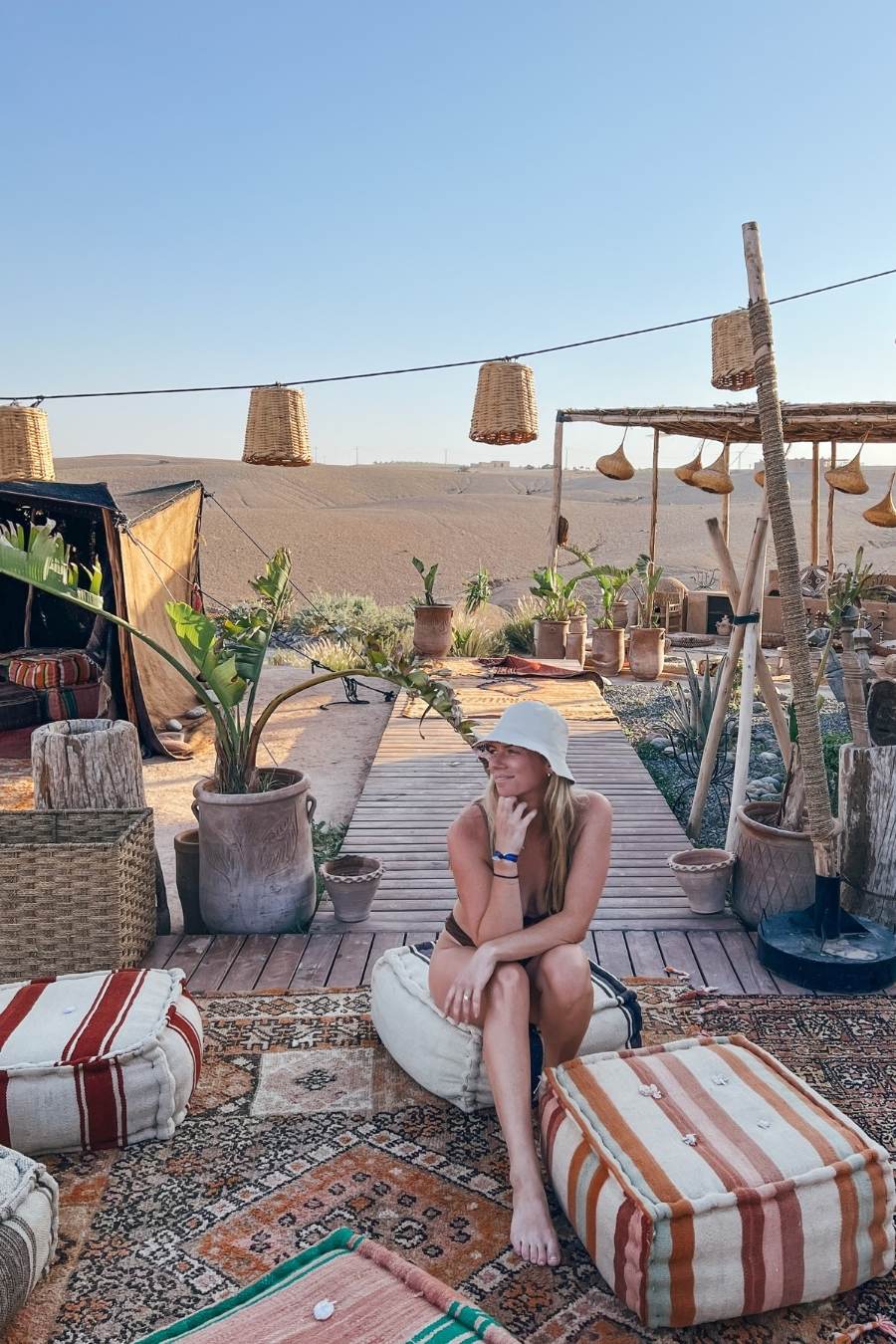 There are a variety of amenities to enjoy while staying at the Selina Agafay desert camp. Even though we had our own private pool, we spent most of our time relaxing and socializing with other travelers at the bar and pool area.
WiFi
CoWork space
2 pools and large deck areas
Fire pit
Movie room
Bar and restaurant
Multiple lounging areas
Bar and restaurant
Since the restaurant at this Selina is the only dining option nearby, it is essential that they provide great service and meals. It did not disappoint! We paid for breakfast with our room and it was a large buffet with a variety of options. The lunch and dinner menus were also incredible. One of our favorite meals in Morocco was the dinner we ate at this nomad camp!
The staff were all very friendly and helpful. We never waited too long for food or drinks!
Activities at the nomad camp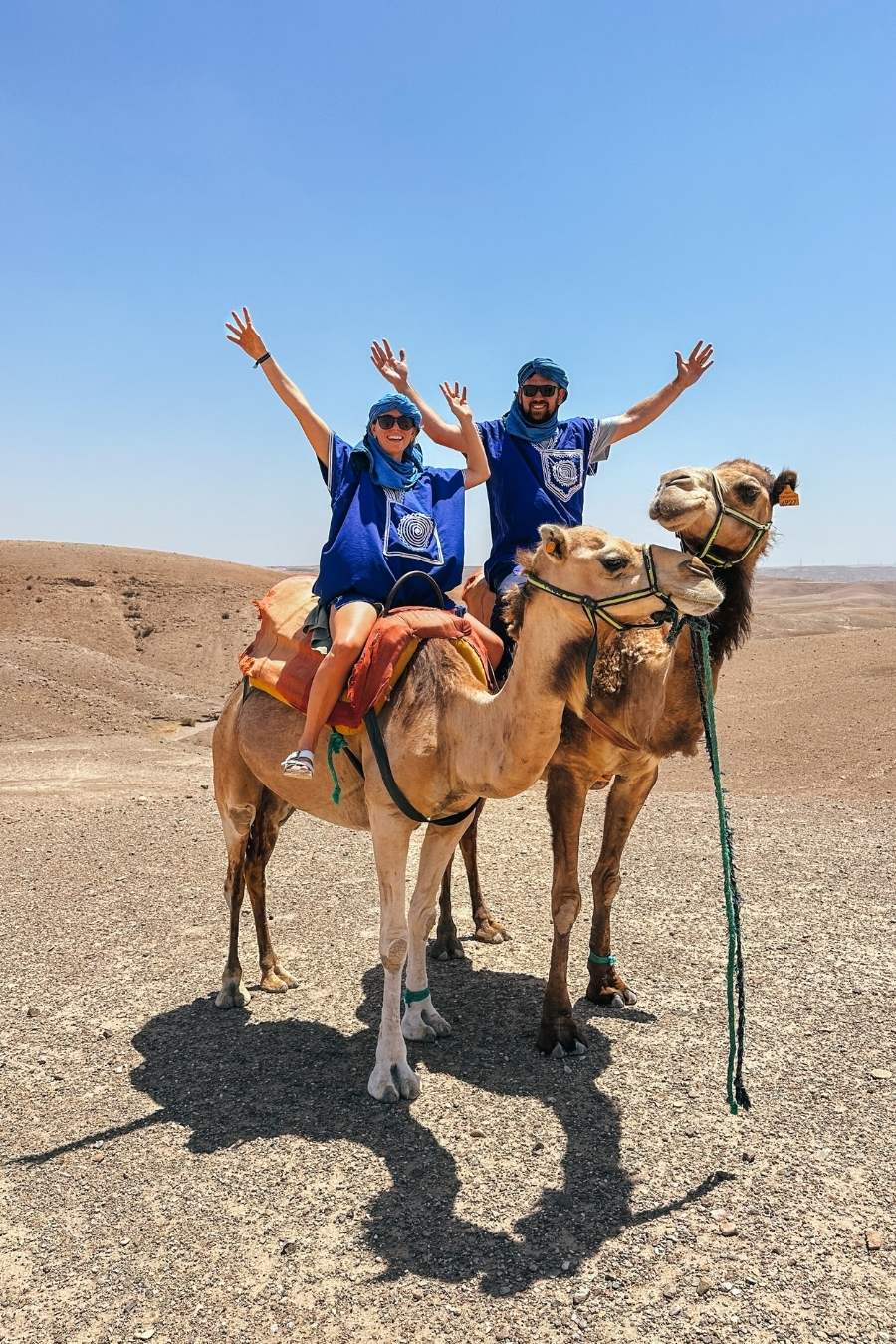 The Selina provides every possible activity option while staying in the desert. Depending on your comfort level, there are a variety of activities to immerse yourself further in the desert and experience local culture. There is plenty to do during your stay at this desert oasis!
Camel trek
Hot air balloon
Quad ride
Dune buggy ride
Day trip to Ourika Valley
Day trip to Ouzoud Waterfalls
Marrakech city tour
Day trip to the Atlas Mountains
Spa massages
Since we only had one night here, we opted to do the Camel ride in the desert. It was a bucket list experience for the books!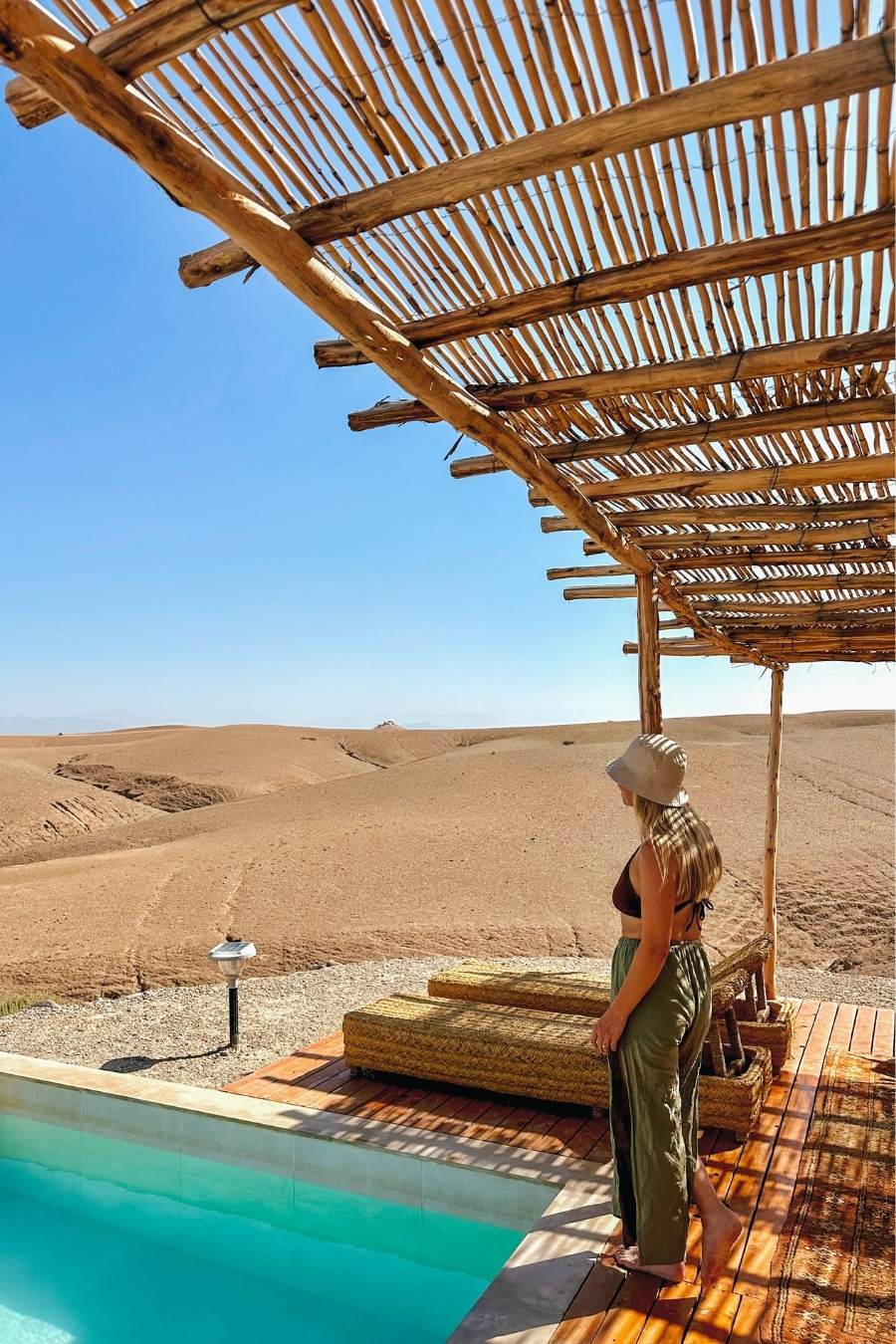 The Selina Nomad Camp Agafay was the desert oasis destination of our dreams! Every detail of this hotel is dedicated to providing guests with a memorable Moroccan experience in the Agafay Desert. The hotel is located just 40 minutes outside of Marrakech, the rooms are spacious and comfortable, and the staff is incredibly helpful.
If you're looking for the ultimate glamping stay in the Agafay Desert, be sure to check out the Selina Desert Camp. You won't be disappointed!